If The Black Cat and Dames show Hollywood entering the Code Era so suddenly you can hear the gears grind, The Scarlet Empress somehow escaped it entirely. It was one of the first films to bear the Hays Office's stamp of approval. But you'd never know that to watch it. You'll barely get five minutes into it before you see a spectacle that would turn heads even now: a graphic montage of torture methods, featuring floggings, beheadings, and a whole lotta full-frontal nudity. The warped sexuality of The Scarlet Empress never reaches those heights of blatancy again, but the censors would still need to have been asleep at the wheel to miss it.
This, as it turns out, is what the mother of little Sophia, the future Catherine the Great of Russia, thinks would make for a good bedtime story. She's intent on grooming her daughter to be a queen someday, and takes her doll away because, at the ripe old age of seven, she needs to put away childish things. As soon as her mother leaves, though, Catherine pulls another out from under the blankets. This turns out to be foreshadowing: The Scarlet Empress will be the story of a woman who gets what she wants, no matter the consequences.
But, foreshadowing or no foreshadowing, it'll take her a while to get to that point. The first half of the movie gives legendary actress Marlene Dietrich the acting challenge of her career: can she play an ingenue? She does better than you might expect as John Lodge steps off a romance novel cover as Count Alexei, grand master of the hunt, with promises of marriage to his prince, "The handsomest man the Russian court, tall and formed like a Greek god, a model in fashion and deportment which all of us strive to follow." Not realizing the implications of him offering this florid description in place of an actual portrait, Sophia goes with Alexei to meet Grand Duke Peter. He's somewhat less than advertised, a bug-eyed, buck-toothed creep who's less interested in Sophia than his toy soldiers and the mistress who's always cleaning them up for him. He's often described as "mad" or "moronic," and while I can't condone the film's depiction of mental illness and/or disability, I also can't help but praise Sam Jaffe's physical transformation, or the delicious creepiness of his vocal performance. He says everything in a hoarse, insinuating whispers even, somehow, when he's shouting.
This is such a departure from the formulas of historical romance that it often seems like director Josef Von Sternberg is more interested in creating a parody than a straight-faced drama. The contemporary audience seemed to have no idea what to make of it. The Scarlet Empress ended Von Sternberg's distinguished career, even though it's now the most beloved out of all his films. Maybe viewers who wanted a more conventional take on the same story simply took their business elsewhere. 1934 was a year of competing Catherines, with Douglas Fairbanks Jr. starring as Peter in the British production The Rise of Catherine the Great. In fact, if they weren't so close together, Rise could almost be the source of Von Sternberg's parody. Fairbanks looks much more like The Scarlet Empress' Alexei than Peter, with his long, dark hair and thin mustache. He and Catherine even get a meet-cute when she gets lost in the palace trying to run away from her impending marriage and discusses Peter's flaws with Peter himself, unbeknownst to her, in a scene delivered with so much winking irony it's a wonder the screenwriter's eyes didn't plop out of their heads.
The Rise of Catherine the Great tries to fit a deeply unromantic piece of history into the historical romance formula. Peter is a dashing Fairbanks-style hero right up until the film seems to remember the historical Peter and awkwardly swerve into more morally ambiguous territory as he celebrates his mother's death and his courtiers call him mad without any evidence appearing onscreen. When Catherine responds to his womanizing ways with sexual adventures of her own, it all turns out to just be an act to make him jealous, because deep down all she wants is to be loved. Dietrich's Catherine would just have laughed in scorn if she could see her alter ego.
But where The Scarlet Empress differs most from The Rise of Catherine the Great isn't so much how it tells the Tsarina's story as how it shows it. Rise is all tastefully rococo, its characters wandering the elegant sets in stockings and powdered wigs. As a non-historian, I can't be sure if this is accurate to the fashions of Peter and Catherine's court or just a budget-conscious studio recycling materials from their pre-Revolutionary French epics. Either way, Von Sternebrg's furs and rubies feel more authentically Russian, and that's when he's not ditching historical accuracy altogether to showcase Marlene Dietrich in her trademark androgynous military gear. (Unfortunately, not even she can pull of some of the ridiculous gowns she wears, especially one with ball-shaped sleeves covered in little thread tipped in what looks like dandruff; she looks less like style icon and more like a hairy sea urchin.) The Hollywood budget also allows for several striking exterior shots of the iconic St. Petersburg skyline, though Sternberg prefers to embrace the artificiality of his miniatures and two-dimensional silhouettes. (In fact, The Scarlet Empress may have inspired a classic cliché about Hollywood extravaganzas: the credits promise "A Cast of 1000 Extras.")
But what makes The Scarlet Empress a classic is the grotesquerie of its interior sets. Von Sternberg claims everything onscreen is historically accurate, but that can't be much more than Hollywood ballyhoo. The hideous, horrible statues that loom over every corner of the Czar's palace are defiantly modern. When a clip from the film appeared in a documentary I showed the summer film class I once TA-ed featuring a horribly contorted Christ figure raised on a crucifix, one of the students asked if it was supposed to be an ape. When I say "looming," I'm being literal: all the chairs in the royal court are dwarfed by carved figures several times their occupants' size. The Dowager Empress is introduced sitting in a throne carved with an eagle so enormous it seems like it is the main attraction and she's just an ornament. The guests at dinner all sit under hunched-over saints, all apparently contorted in agony. You could say that about all the figures who decorate these sets. Many of them are grotesquely corpselike, with knobby fingers and visible ribs. A skeleton holds up a bowl at the banquet; even the rattle one courtier uses to entertain then newborn royal heir is skull-shaped. Maybe Von Sternberg's making an ironic comment on the connection between the Orthodox Church's cult of martyrdom and the Czars' sadism that he demonstrated in the opening montage. Or maybe it's just one more example of the sadomasochistic kinkiness that's always bubbling under the surface of the film: watch how Alexei plays with the arrows piercing St. Sebastian as he flirts with Catherine.
Rise director Paul Czinner wasn't nearly the craftsman Von Sternberg was. Though his sets are far less impressive, he seems more concerned with showing them off than serving the story. This a movie of wide shots for a story that should be close-up, and the actors disappear into the overly busy background. The low-contrast, black-and-white photography does this approach no favors: big chunks of the film are nothing but indistinguishable grey noise. Von Sternberg's also makes his actors small, but here, it's more clearly purposeful. His heavy contrast of lights and shadows keeps them from ever getting lost. And he saves those wide shots up for effect. It's almost a cliché to talk about "claustrophobic horror," but The Scarlet Empress, like The Trial, is an example of agoraphobic horror. The ceilings loom high out of sight; the doors are large enough to fly a jetliner through. And it all fits the grim fatalism of this story of royal power swallowing up an innocent woman and finally making her as cruel as itself. 
Disappointed with the Grand Duke but still not completely disillusioned, Catherine turns her attention to the romantic Count Alexei. The older and wiser Dowager Empress laughs at her naïveté, and she has good reason to. As Catherine learns in one memorable scene in the Empress' private chambers, her mother-in-law has her own affair with him. The Empress is not subtle about relaying this information: she asks Catherine to walk through the secret passage behind the mirror (held by an enormous devil) and let her secret visitor in. The visitor, of course, is Alexei. Distraught, Catherine run into the cold night and, when a guard questions her, she finds a way to give the frigid Grand Duke an heir – just not his.
After a time skip, Dietrich emerges as the ice queen we all know and love. The film is ambiguous about this development. It's hard not to cheer on her total cool and smoldering sex appeal. But there's darker undertones to her empowerment. It mat be hard not to react to her trademark icy glare with admiration, but it's equally difficult not to react to the final shot of her face in frothing, manic triumph with equal amounts of horror. (Though, given men's tendency to react that way to any woman in power, I don't entirely trust that reaction. Here's the image for anyone who wants to decide for themselves.)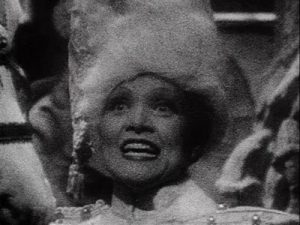 The Dowager Empress says, "We would have had much less trouble in Russia if I'd been born a man instead of a woman. We women are too much creatures of the heart. Aren't we, Catherine?" The implication carries throughout the film: a woman manages to triumph in the heartless world of men, but only by becoming heartless herself. There's multiple ways to interpret this. Is it a feminist film about a woman's empowerment? An anti-feminist film about how power makes women monstrous? Or is it neither, and simply a statement about how power itself is monstrous? But that's the thing about The Scarlet Empress: it's too slippery to fit neatly into any one of these readings.
And Von Sternberg pulls no punches in showing the cruelty of Catherine's world. When Peter takes the throne after his mother's death, we see one of the most brutally efficient, and just plain brutal, images of the horror of absolute power ever put on film. A quick-cut montage dissolves between the text of royal proclamations and their human cost as peasants are murdered and tortured, all watched over by Peter's cackling, transparent face. He marches his soldier through the middle of the palace and holds a sword to his queen's throat. She reacts with "What's-up-Doc?" calmness to his violent threats. It's clear who has the real power here.
She consolidates that power through a sexuality that inspires passion in the viewer but remains totally passionless on her part. She's heartless, sure, but when she turns the tables on Alexei, it's hard not to cheer her on just a little. She invites him up to the same chambers where he had once met the former Empress and seems to be literally throwing herself at him. But then she coIdly asks him to open the passage for her; even when he sees her new lover there, he still obeys, almost with admiration. 
The feverish climax is another kind of callback. Catherine leads her army on horseback through the palace, but this battle isn't an exercise. It's deadly serious. It's certainly a more honest take on the material than Rise's, which ends at the same moment. But instead of leading the charge to depose and murder Peter, Catherine tries to save him from execution. When she learns she's failed, she breaks down and cries. In the world of The Scarlet Empress, that depth of feeling would make her unfit to rule. Empress does far more to empower its heroine; but it's also does far more to show the dark places that power takes her.
First you get the money, and then you get the power. You can help Sam out with that first step on Patreon!