Sorry, Tom Hanks.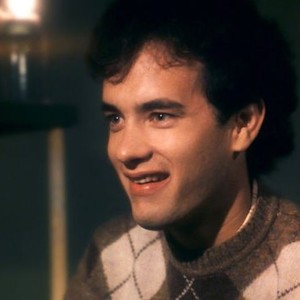 Mazes and Monsters was written by Rona Jaffe based on the media perception of the disappearance of James Dallas Egbert III, who allegedly disappeared while playing live-action Dungeons & Dragons in the steam tunnels under Michigan State University in 1979. As it turns out, while Egbert dabbled in the game, he was never a serious player and his problems were actually about mental illness. He wasn't in the steam tunnels at all, and the closest we have to a similarity to Robbie's story in this work is that some people at a con happening that weekend thought they'd seen him at the tables.
Book and movie are generally pretty similar, with some dialogue even being taken word for word in places. Four students—Jay Jay (Chris Makepeace), Kate (Wendy Crewson), Daniel (David Wysocki), and Robbie (Tom Hanks, of course)—at fictional Grant College play Mazes and Monsters, an obvious D&D parallel. Jay Jay gets the idea that the quartet should play in the forbidden Pequod Caverns, where two students got lost and died some years earlier. Jay Jay takes enormous pride in having invented LARPing, which had been around for several years at that point. Unfortunately, Robbie begins to believe he really is Pardieu, his Holy Man character, and eventually, he disappears, wandering the streets of New York for seven weeks in the book and about a day in the movie.
Now, normally, I would be telling you all the places book and movie don't line up and going into detail on something that caught my notice. But I have to tell you that this is hands down the worst book we've looked into thus far. Any number of them were ones I essentially devoured. This one, I read in twenty-minute chunks, which was about as long as I could take it. So what we're going to do here is go over a numbered list of Things Rona Jaffe Doesn't Understand, which will also include a few of the differences between book and movie.
1. Dungeons and Dragons. Now, this may seem pretty obvious, but the problems with her understanding really do underlie the entire work. In the book, the characters are playing at "the third level," which means they can make up their own adventures. Now, they've been playing, at least the characters minus Robbie, so often the year before that their fourth player dropped out. And their characters are apparently third level. They're ninth level in the movie, but still—it would be absolutely shocking to have a character that low-level after that length of time.
Further, she doesn't understand how classes and species work in the game. Jay Jay plays a "Sprite," which reads kind of like a pixie, I guess, and Sprites have sonar. But his character is not given a class. Kate plays a human fighter, but it's kind of taken for granted that she's a human, because she's not a Sprite. Pardieu is, as established, a Holy Man, and supposedly there's only one per generation. Also it is, again, assumed that he'll be human and that he will have an ascetic sort of holiness. He has spells, but he can only use them once, because they're all tied to artifacts. He is the only caster, and there are Definitely Three Players to the game. No more, no less.
I could go on. To anyone who's played any tabletop or live action role-playing games, each new section set in-game is a wealth of "you really don't know what you're talking about, do you?" No one even seems to realize that it's possible to build a character that doesn't start at level one. It's genuinely shocking that the movie shows them using twelve-sided dice, because although D20 tends to be a gamer's weapon of choice, at least the movie knows we're not just using D6.
2. Making tofu. This is a minor point, but when Kate goes back to San Francisco over Christmas vacation—the timeline is very different in the movie, with Robbie disappearing on Halloween and not April Fool's, so this sequence isn't in it—she and some of her friends make tofu. As an afternoon project. I'm not an expert, but no. Especially not if you're starting from whole soybeans.
3. Hot tubs. Kate's father lives in such luxury that he has a hot tub and a Jacuzzi. Really. It's spelled out. Now, it's true that the Jacuzzi family sold aircraft in the '20s, but I'm pretty sure that's not what we're talking about here.
4. Time zones and their relationship to New Year's Eve parties. Robbie is at a New Year's Eve party in Greenwich, Connecticut. He calls Kate at her New Year's Eve party in San Francisco at midnight. Now, even the Rose Parade route in Pasadena has long since settled down by 3 AM, and it's implied that the party Robbie is going to is still in full swing at San Francisco midnight.
5. The difference between writing and typing. To be fair, this isn't on Rona Jaffe; this is on the script versus the set design of the movie. But Jay Jay says he types up a notice to put on the bulletin board. Here is that notice.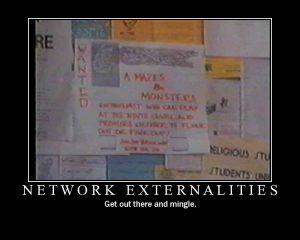 6. Drugs. From the book, "He'd heard about a party once where someone had put LSD into the punch and everyone gone crazy." Now, I don't do drugs. However, this is not how they work, and someone who smokes as much pot as these kids are said to would know that. At least the drugs aren't blamed for Robbie's psychotic break, I guess.
7. Historical monks. Among other things, Robbie wants to give away all his worldly possessions and stop sleeping with Kate. Which, you know, fine, I guess. But he's willing to pay for the others' food but not their beer, which misses how much beer people drank in the Middle Ages. If they were drinking beer with dinner, Pardieu would see it as normal.
8. Semesters. As established, Robbie disappears on April Fool's Day, which is said to be the last day of winter semester. Based on internal clues from the book, it's winter quarter, and the school is not on a semester system.
9. Sex work. Book-Robbie is, in a scene Tom Hanks blessedly avoided, drawn to what he calls "the Street of the Messages," where he believes teenagers are receiving messages from older men and I guess taken on quests. A girl who's described as looking like she's thirteen takes him out for coffee and probably doughnuts; they're only described as "small cakes," because we see it from Pardieu's perspective. And she teaches him how to be a sex worker and assumes he's on drugs. There's a lot to unpack there, and I'd rather just move on. It's quite a relief that Tom Hanks gets to stab one of 1982's finest made-for-TV punks instead of a john, I guess?
10. Breastfeeding. Kate mentally asserts that it would be a "waste of those enormous tits" not to breastfeed. Which . . . is a lot.
11. Mental illness. Look, I'm probably missing a lot of other things, because it was hard for me to get through the book as it was, but the fact is, This Is Not How Any Of This Works. It's not just that you can't blame RPG Plus Drunk Mother Plus Neglectful Father for Robbie's psychotic break. Though you can't. It's that this isn't really what a psychotic break looks like. Robbie is in character as Pardieu for literally weeks, with one brief moment of clarity. In which he can't remember his time as Pardieu. And it seems to be . . . triggered by killing an imaginary monster instead of trying to make it not-evil?
Now, we're going to leave aside the previous Not How Any Of This Works as far as gaming—I don't think I've ever been in a session of any game where a cleric was supposed to convert a monster. Maybe those games exist, but if they do, I couldn't tell you which one. It might be interesting to play, if it was done well. Which it probably wouldn't be. But I'm trying to fathom the mental health issues you'd have to have in order to be set off by "my character killed and I thought it was fun." Unless you were afraid somehow that you might kill people in the real world, which never seems to be Robbie's problem.
All four of Our Heroes are shown as coming from unsatisfying home lives of some sort. Jay Jay is the son of a boy genius publisher and an interior designer who basically never treated him like a child, more an accessory. Kate's parents are divorced, which has left her with abandonment issues. (She is also, in the book, almost raped and stabbed in the school's laundry room by a random psycho the year before the book starts, which I guess add one more to Things Rona Jaffe Doesn't Understand, because the guy isn't a student.) Daniel is the genius son of parents who have dumped enormous expectations on him; his mother literally thinks nothing she has ever done is more important than having children and thereby providing continuity to the family line. He won't be allowed to make video games for a living; he needs to somehow save the world with computers.
As for Robbie, again, drunk mother (Vera Miles, of all people, in the movie) and neglectful father (Lloyd Bochner). He also has an older brother who ran away and has never been heard from again. He starts having dreams about his brother, who calls him on a quest. This is Hollywood Crazy Person Syndrome, here. All four are explicitly stated, over and over, including at the end by themselves, to be seeking something in the game that they aren't getting out of real life. ("Was it their parents' fault, or was it life's fault that they had to escape into a fantasy world of invented terrors?") But Robbie, because I guess of his brother, is "fragile" and can't take the constant fantasy, which given what Tom Hanks does for a living kind of makes you wonder about his sanity by these standards.
Can you see the seeds of Tom Hanks, Oscar Winner, in the movie? . . . Not really. He gets a few Big Dramatic Moments, but they are hokey as all get-out and don't showcase his genuine talent. Steven Hilliard Stern shows all the talent you'd expect from the man who directed The Devil and Max Devlin (and we should really get to that one for Byways one of these days, speaking of movies not on Disney+). Really, though, the only reason to watch this movie as far as I'm concerned is to see the scene at the end where they convince Tom Hanks that he can't throw himself off the World Trade Center because he doesn't have enough points to fly. There is no reason to read the book; that scene isn't even in it.
Next month, we'll get to another story intimately tied to the World Trade Center with Dave Barry's first novel, Big Trouble. (The climax of the movie of Mazes and Monsters isn't in the book, but the book does feature this now-awkward line: "The bar at the top, Windows on the World, was so high up that they might have been in an airplane.") Consider supporting this column, which is the one for which it's hardest to acquire research materials for some reason, by contributing to my Patreon or Ko-fi!