Career Killers is an ongoing series where we discuss films that have sunk studios, derailed genres, ended movements, and left their writers, directors, or stars unemployable. This week, Babalugats on the film Pinocchio and the answer to the question "what's worse than a child actor?"
The Career
Roberto Benigni got his start in the 1970s in Italian theater before breaking out on Italian TV and then graduating to writing and directing his own stuff. Benigni quickly developed a reputation as both a gifted physical comedian, as well as a smart, political, and edgy performer.  In 1986 he fell in with Jim Jarmusch, making the first of the Coffee and Cigarettes shorts and, more significantly, playing the third lead in Down by Law. He would also star in a segment of Night on Earth (1989), and his wife and long-time creative partner, Nicoletta Braschi would take a major role in Mystery Train (1991).  While all these films were significant hits on the indie/art house circuit and garnered Benigni with a respectable amount of acclaim among that crowd, Jarmusch still ultimately served a fairly niche audience, and Benigni remained an obscure figure in the larger American culture.
His first real shot at commercial success in America came when Blake Edwards cast him to replace Peter Sellers in the third of Edwards' grave robbing sequels to The Pink Panther, Son Of The Pink Panther. Benigni was hired to play the titular Son but only after numerous stars, including Rowan Atkinson, Kevin Kline, and Gérard Depardieu, had wisely turned the role down. The film was disastrously bad, earning a 6% on Rotten Tomatoes and netting Benigni a Razzie nomination for Worst New Star.  It was the sort of movie that probably would have ended his American career, except that nobody went to see it and so nobody really remembered he was in it.  In Italy, the film was a minor hit.
Throughout the 90s Benigni kept making films in Italy, where he remained a popular and well-respected star. Then in 1997 he finally had his massive international breakout with one of the least commercial ideas ever filmed in Life Is Beautiful, where he served as writer, director, and star.
Life Is Beautiful is a tragicomedy about a man and his child who are victims of the Holocaust, although the man maintains an elaborate upbeat fantasy in order to shield his son from despair.  The movie was and is controversial, with many of its critics arguing that it trivializes the Holocaust and that it is perverse to try and find any humor in a moral catastrophe of that scope. Defenders point out that Benigni's own father survived a concentration camp, and that he went through a great deal of research and consulting with various rights groups before making the film. And then there are of course all the usual arguments about how one ought and ought not depict historical traumas. I won't weigh in on the argument. I saw the movie as a child, thought it was good, but may view it differently were I to revisit it as an adult, having now been exposed to more graphic depictions of genocide.
Regardless of the controversies, the movie was a massive hit, critically and commercially, earning $230 million at the box office (at the time it was the highest grossing foreign language film ever released, although it would later be surpassed by Crouching Tiger, Hidden Dragon), winning the Grand Prix at Cannes, and securing 6 Oscar nominations (including Best Picture, Best Director, and Best Original Screenplay – extremely rare feats for a foreign language film) and winning Best Foreign Film and Best Actor. In his reaction to winning the Oscar, Benigni jumped up on the top of the chairs and applauded the audience in one of the most enthusiastic wins in Oscar history, and one of its most iconic moments.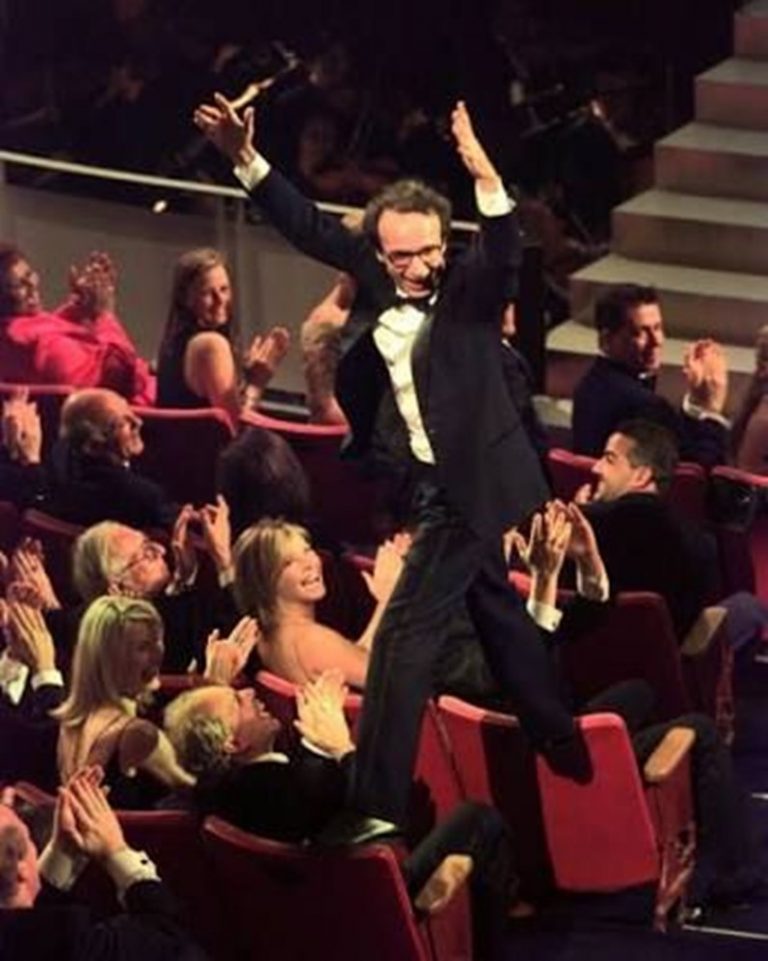 For a while it looked like Benigni was going to be the next big thing.  He appeared on talk shows, carrying on with wild antics, while the more serious press hailed him as an artistic genius. The world was open to him, and he cashed in his chips to make a long gestating passion project, a live action adaptation of Pinocchio that he had tried, and failed, to get off the ground with Federico Fellini attached as director. Benigni wanted to play the puppet himself, and while that seemed like a bad idea, how could you say no to the guy who just struck gold with a Holocaust Comedy?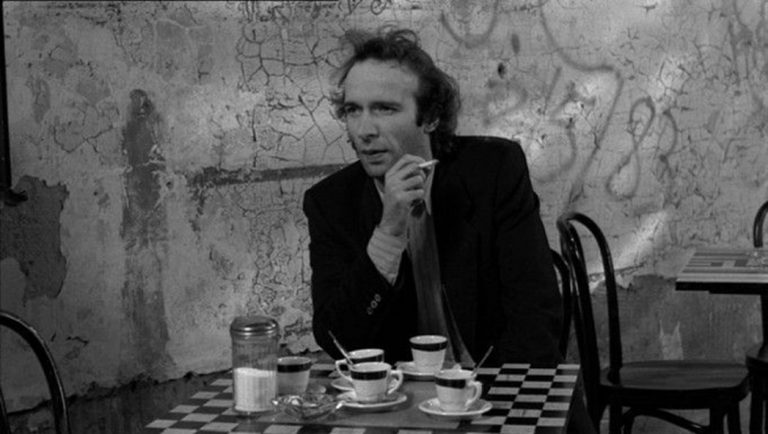 The Film
Pinocchio opens on a swarm of CGI rats as the music swells warm and whimsical and a narrator tells us, "'Once upon a time there was a king', our viewers will say. No kids. In this tale there is a place where animals can speak, a child can look like a grown up, and very often grown-ups can act like children."  This confusing, strangely accusatory narration sets the tone for what will follow.  I see you're watching Pinocchio, probably think it's about some king. No, idiot! It's about talking animals, more precisely one talking animal who shows up for two sentences in the middle of the movie and is voiced by Queen Latifah.  Also Rob plays a kid in this, so brace yourself.
We pan up to see that the swarm of rats, squeaking and squealing like they're in B-roll from Willard, are pulling a fancy Cinderella carriage. The carriage stops and the Blue Fairy steps out, played by Braschi, now more familiar to American audiences as Benigni's partner in Life is Beautiful. Benigni clearly loves his wife. His camera lingers over her constantly. The entire cast of characters are constantly, vocally, enraptured by her beauty. It is very uncomfortable.
This scene, like most of the scenes in this movie, meanders on for a while without much of a point. It feels as though it is building to some kind of joke, but the joke never comes.  This scene also gives us our first look at the dubbing, which is noticeably bad as the voice actors race through their dialogue trying to fit into the slim window of screentime, or draw out their sentences with an unintended gravitas as the Italians blither on and on mutely.
The dubbing was apparently a last-minute addition by Miramax after a critics screening of the subtitled Italian version went poorly.  I'm slightly suspicious of this story since the target audience for this movie seems like children who are too young to read, but on the other hand the voice cast is a veritable who's who of actors who were available on a weekend's notice in November of 2002. The all-star celebrity voice cast is something that works in animation but is distracting in live action. With the exception of a few actors like Queen Lattifia or Regis Philbin, everyone here falls into a very frustrating sort of familiarity. Who is that? You ask with every line. But it's impossible to place when the voices are coming out of unfamiliar heads.
Pinocchio himself gets the worst of it. First there is the problem that we know what Roberto Benigni sounds like, so his voice is doubly unnatural. I have no idea why he wasn't brought in to do his own dubbing, considering that this entire project is far more about Roberto Benigni than it is about Pinocchio.  But beyond that, this must be the single worst voice performance in cinema history.  Breckin Meyer (Road Trip, Rat Race) does the voice, and although he was 28 at the time, does his best to sound like a child. It's shrill, whinny, and every single moment that Pinocchio is on or near screen (which is damn near every moment) Meyer is blubbering and crying. It is a non-stop wall of noise that covers nearly every moment of the film. If this wasn't bad enough (and it very much was bad enough), Benigni's performance is broad, smug, and self-pleased and he films it as though he were filming a beloved comedic icon taking on a beloved iconic role in the capstone of an iconic career.  The mix between these two approaches to the character was enough for me to spend most of the movie rooting for termites or brushfires.
The plot of the movie, if you can use that term, mostly follows the original novel.  A lot was made of this film not being the Disney version, but while that usually suggests a darker more serious adaptation of misunderstood or mistreated source material, judging by this film what old Walt added to the story of Pinocchio was every bit of danger or tension, as well as any thread of narrative cohesion.  Benigni's film is whimsical in the worst way.  Soft, warm, gentle, without anything that could be mistaken for narrative stakes or plot momentum. No scares and no laughs.
Which is not to say that this isn't a deeply unpleasant, often unsettling film.  Pinocchio himself remains the amoral anarchic prick that he was written as, except in this version everyone is charmed and amused by his antics.  The creation of this character is also intensely off-putting, a lumpy dumpy balding old man in a onesie, without any make-up or effects to suggest that he's anything other than a lumpy dumpy balding old man given the voice of a screaming petulant child.  Individual scenes have little relation to one another and seemingly no purpose to exist but are often intensely uncomfortable. As in the scene where Benigni's actual real life wife is mothering his not-at-all convincing child by forcing him to take some medicine, or another in which Benigni and a young man with the voice of Topher Grace share orgasmic licks of a lollipop, everything is so excruciatingly drawn out and the payoffs so minor, so at odds with normal relatable human behavior, that it feels as though you are watching a fetish film.
And what else is there to say? I've lost track of where we are in the plot, but you know the story. Donkeys, whales, and real boys.  Everything ends happily ever after, and nobody manages to chuck the little bastard into a woodchipper. A classic timeless tragedy.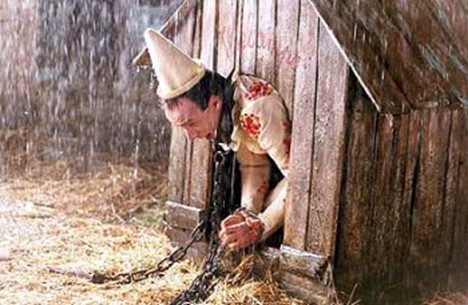 The Fallout
Pinocchio did okay in Italy, making decent box office and winning some Italian film critic awards. And in fairness, the Italian language version is not the disaster that the American dub is. And while I don't think any version of this film could work, without Breckin Meyer's awful performance the movie would be, at worst, an inoffensive and forgettable children's film.
In America however, the film was a catastrophe, earning a rare 0% on Rotten Tomatoes (with an average rating of 2.7/10) and would go on to be nominated for 6 Razzies with Benigni taking home Worst Actor.
After Pinocchio, the respect that Benigni had earned with American audiences after Life Is Beautiful (and to a lesser extent, his work with Jarmusch) was gone. In 2005 he wrote, directed, and stared in The Tiger and The Snow, a romance set against the backdrop of the Iraq War, but it received poor reviews and only a very limited release in the States. In 2012, a full decade after Pinocchio, he would have a small role in To Rome With Love – a minor Woody Allen film even by the standards of a minor period of Woody Allen films. And in 2019, he made another Goddamned Pinocchio movie (although this time taking the more appropriate role of Geppetto).
Benigni otherwise remains a popular and well-respected figure in Italian culture, and has done some theater work while also traveling around collecting honorary degrees from a surprising number of European Universities.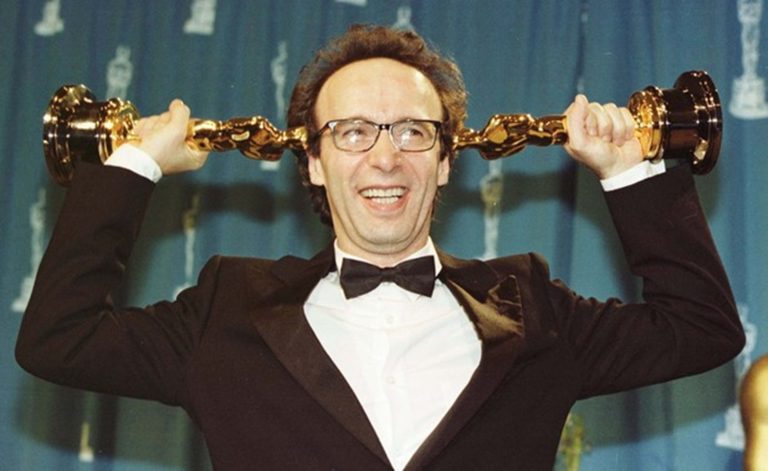 The Verdict
Roberto Benigni is a repeat offender who's shown little remorse for his actions.  Parole revoked. Breckin Meyer should also be held indefinitely as an accomplice.
Benigni's work with Jarmusch is excellent, but his shtick was always bound to wear thin with American audiences, and he's best in limited doses. While many, if not most, of the problems with Pinocchio can be laid at the feet of Miramax and Meyer, it's hard to imagine that we've really missed anything with Benigni moving away from film. As a writer, director, and performer, he's limited, and we've likely seen all he had to offer. He's had a nice career, and there's nothing kinder I can say than that I hope when all is said and done he's remembered as the guy from Down By Law.