When the late, great website The Dissolve ended operations, its commenting community had The Solute to call home, but the staff and writers of The Dissolve have been scattered to the winds of the Internet. With Dissolve On, we collect some of the essential film writing being done by these essential film writers. Because there's always a Dissolver writing something notable about the movies somewhere on the Internet.
These folks are talented and prolific, so if we missed a piece, share it with us in the comments!
For the second year in a row, Dissolver Kevin White put in the legwork to sort through the various Ex-Dissolve staff's Best Of Lists spread across the interwebs and compiled them to fashion the Unofficial Dissolve's Best Films of 2017.
Check out his letterboxd list, the sourcing to individual Dissolver's lists and the full Top 20 here!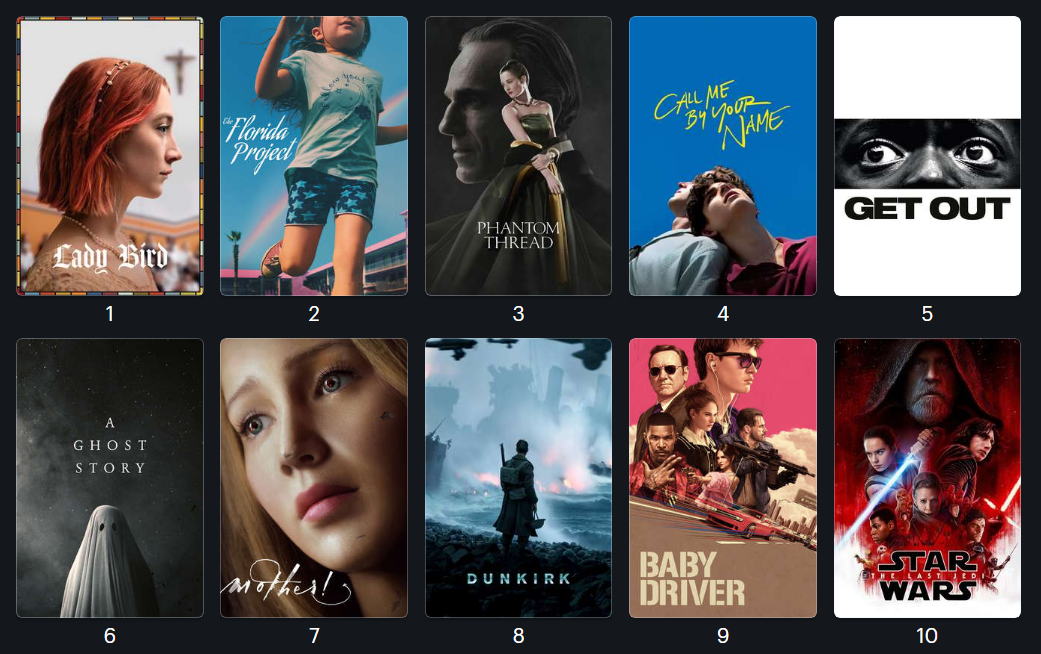 Mike D'Angelo and Noel Murray both contributed to the AV Club's Best Of Film 2017 list; check out their full individual ballots here.
Matt Singer wrote on The Best Movies of 2017 for Screencrush.
Tasha Robinson wrote on The 15 Best Movies of 2017 for Verge.
Keith Phipps contributed to Uproxx The Best Movies of 2017.
10) Keith Phipps on Rian Johnson's Star Wars: The Last Jedi:
"Walking out of Star Wars: The Force Awakens two years ago, it was easy to be overwhelmed by a sense of relief that, given how much could have gone wrong, they didn't blow it. Instead, J.J. Abrams carefully reassembled the pieces of the Star Wars universe to continue the story beyond the events of Return of the Jedi. The movie that reunited viewers with old friends while introducing a new cast of memorable characters. It was also nicely done. It was also a little bit safe. With The Last Jedi, writer/director Rian Johnson didn't so much smash those carefully reassembled pieces as arrange them into new configurations that no one had considered before, bringing in visual devices, moral ambiguity, and narrative zig-zags that bent Star Wars tradition without breaking it. As the old cast continued to take their last bows — including Mark Hammil in his best-ever performance as an aged, embittered Luke Skywalker — the new characters grew deeper and more conflicted, and the stakes mount as Johnson leaves our heroes in an even more desperate spot than they found themselves in at the end of The Empire Strikes Back. Johnson took chances, and has gotten some blowback from some quarters for it. But if Star Wars is going to continue to matter, it's going to need to take just these sort of risks."
9) Noel Murray on Edgar Wright's Baby Driver:
"Edgar Wright's frenetic pulp exercise plays like a cinematic mix-tape, dropping a bunch of archetypal heist movie characters—the ruthless boss, the loose cannon, the mouthy moll, etc.—into a mashup of some of the greatest chase sequences of all time, scored to propulsive rhythmic alt-rock and classic R&B. The technique on display here is next level, as Wright arranges shots, cuts, effects, and music into seamless visual and aural compositions. No element is superfluous. Gunshots become the rhythm track to a song. Dialogue has its own staccato rhythm. Cars spin around each other like Fred Astaire and Ginger Rogers. Baby Driver miraculously sustains the rush of its breathless opening sequence for nearly two hours. Young filmmakers are going to be ripping this picture off for decades to come."
8) Mike D'Angelo on Christopher Nolan's Dunkirk:
"The Prestige's "Transported Man" pales beside Christopher Nolan's own astounding magic trick: persuading a mass audience to see movies so structurally complex that they just about qualify as avant-garde, at least by Hollywood standards. Dunkirk recounts Operation Dynamo—the evacuation of over 300,000 Allied soldiers from northern France—in three interwoven sections that unfold over different lengths of time; watching it is like simultaneously reading a novel, a chapter, and a sentence that are all converging on the same single word. Nolan's great gift is his ability to craft cinematic engineering problems that feel vital and probing rather than sterile or academic. With Dunkirk, he conveys the breathtaking scope of a seemingly impossible task without sacrificing any of the arresting details through which history comes alive on screen."
7) Mike D'Angelo on Darren Aronofsky's mother!:
"Is it a biblical allegory? A cautionary tale about climate change? A barbed treatise on the nature of creativity? Darren Aronofsky's veiled confession about what a nightmare it is to date him? All of the above, plus the year's most audacious, polarizing provocation. Remarkable to think that this phantasmagoric assault, which in a sense encompasses the entirety of recorded history (and beyond), unfolds exclusively in a single house, which Jennifer Lawrence's unnamed, beatific mom-to-be struggles to protect from a series of invasive interlopers. Arguing about what it all means can be great fun, but Mother! is best experienced as pure sensation—a rollercoaster that ratchets you uphill for miles, until the lack of oxygen makes you lightheaded, then plummets you at 200 miles per hour through one of those haunted house rides in which something horrific pops out at you around every turn. Except that in this case, "something horrific" just means humanity."
6) Matt Singer on David Lowery's A Ghost Story:
"David Lowery's epic yet intimate consideration of grief, love, and death has haunted my 2017, ever since I saw it back in January at the Sundance Film Festival. In Park City I was stunned by its unexpected twists, and its audacious decision to follow Casey Affleck's sheeted ghost on a swirling trip through the afterlife. Watching it again only increased my admiration, as I saw just how intricately Lowery plotted this story and its slippery depiction of time. If mankind still exists in the distant future after the last bit of the natural world has been paved over with looming skyscrapers haunted by the souls of the dead, people will still look to A Ghost Story for spiritual guidance."
5) Noel Murray on Jordan Peele's Get Out:
" On paper, comedian Jordan Peele's satirical horror film sounds like a one-joke Key & Peele sketch, reimagining the "black man meets his white girlfriend's parents" premise of Guess Who's Coming To Dinner? as a nail-biting thriller. But execution is everything, and what makes Get Out such a marvel is how seriously Peele treats the genre. Anyone could've figured that he'd nail the subtle behavioral comedy of over-eager liberal whites straining to show their daughter how much they love and accept her black beau. The surprise of Get Out is how genuinely unsettling, surreal, and labyrinthine the story becomes as it plays out, Peele forgoing easy laughs in order to convey the mounting discomfort of his hero, magnificently played by Daniel Kaluuya. The film effectively puts a nightmare on screen—and one from which it's impossible to get "woke."
4) Keith Phipps on Luca Guadagnino's Call Me By Your Name:
"Luca Guadagnino's sun-drenched coming-of-age story moves at the pace of a slow summer day, only eventually revealing itself as an emotionally intense film of tremendous power. Timothée Chalamet plays a precocious 17-year-old who falls in love with a visiting grad student (Armie Hammer). Beyond that, nothing much happens, yet everything happens. It's a particular story about particular people living in a particular time and place, but it's also the story of that summer, the one you look back on and realize made you who you are, and the one whose end can only be called with bittersweet feelings."
3) Tasha Robinson on Paul Thomas Anderson's Phantom Thread:
"Paul Thomas Anderson's drama, loosely inspired by Alfred Hitchcock's Rebecca, starts off as a kind of romance , then keeps evolving over and over into different stories, each one meticulously crafted and sumptuously shot. Daniel Day-Lewis (in his supposed final role before retirement) plays an aging 1950s fashion designer who caters to high society. Lesley Manville is his sister and manager and minder; Vicky Krieps is a young waitress he adopts as his model and muse. The relationship they form is rich and complicated, but Anderson builds it around their idiosyncrasies and their stubbornness, and once it becomes clear how set both of them are in their ways, the story lays out endless possibilities for how their well-ordered world can fall apart. This is a visually stunning film about fashion, elitism, snobbery, possessiveness, and the ego of an artist, but it's also about the soft weapons of ruthlessness and politeness. And every moment of it is restrained, calculated, and striking."
2) Matt Singer on Sean Baker's The Florida Project:
"I only just now noticed there are marks visible on the floor beneath Willem Dafoe and Brooklynn Prince in this publicity shot for The Florida Project. They took me by surprise; not because photographers usually frame them out but because I couldn't believe a movie this loose and gorgeously naturalistic used old-fashioned tools like marks. Credit to director Sean Baker for crafting a movie with the authenticity of a good documentary and the stylization (particularly visually) of great fiction. The Florida Project gives us a child's-eye-view of life in a shabby Orlando motel; little Moonee (Prince) believes she lives in her own magical kingdom. Slowly, we're made aware there's a darker reality to her life. Dafoe, as the motel's manager, will break your heart and give you reason to believe there's still good in the world all at once."
1) Tasha Robinson on Greta Gerwig's Lady Bird:
"Greta Gerwig's semi-autobiographical drama stars Saoirse Ronan as a Catholic schoolgirl trying to pin down her own identity in her senior year of high school, as her angry, hurting mother (Laurie Metcalf, in one of the year's best performances) tries to push back against her decisions. It's a scrapbook-like collection of thoughts and scenes — Ronan's character, who renames herself Lady Bird, fumbles through a few romances, loses a friend and makes a new one, joins the school play, applies for college, and undergoes other little personal rites of passage. It's a closely observed, quietly emotional film about a girl strong-willed enough to throw herself out of a car on the highway to escape an annoying conversation, but still sensitive enough to have her heart broken by boys, her mother, and her family's poverty. Ronan, still one of the best young actors working today, draws sympathy for Lady Bird even when the character is being a bit of a brat; she's so clearly trying to fumble free of the world's expectations and learn how to be herself. Yet the film's quirky specificity makes this common plot arc feel fresh, unique, and endlessly surprising."
Scott Tobias shared his super-helpful Movie to See Checklist for 2017 at his Letterboxd page.
Plus, David Ehrlich dropped his annual The 25 Best Films of the Year video, a project which is always a welcome look back on the year in film and an impressive display of editing in it's own right: