When the late, great website The Dissolve ended operations, its commenting community had The Solute to call home, but the staff and writers of The Dissolve have been scattered to the winds of the Internet. With Dissolve On, we collect some of the essential film writing being done by these essential film writers. Because there's always a Dissolver writing something notable about the movies somewhere on the Internet.
These folks are talented and prolific, so if we missed a piece, share it with us in the comments!
Sam Adams on what unique pleasures film festivals like Sundance can offer in the current theatrical/streaming/cable movie-watching ecosystem, at Slate:
"The best things I saw at Sundance this year have one thing in common: You probably won't be able to see them in a movie theater. In the case of A Thousand Thoughts, a "live documentary" that combines film footage, live narration, and a performance by the Kronos Quartet, that's because the project was never designed for conventional exhibition. But Tamara Jenkins' Private Life, a bittersweet comedy about a couple's attempts to conceive a child through IVF, and Jennifer Fox's The Tale, a wrenching drama about a 13-year-old girl being molested by her track coach, could easily hold a screen at your local multiplex had the former not been produced by Netflix and had the latter—one of the most buzzed-about titles in a year that was relatively short on buzz—not been bought by HBO.
It's a bit premature to declare this a paradigm shift…"
Noel Murray on several films in Part 1 of his reportage at The Week:
"While the daily news makes it seem like the world is descending into chaos and conflict, some of our most accomplished and insightful filmmakers have been spending the 2018 edition of the Sundance Film Festival pondering a question that may strike some as frivolous: "What makes us us?"
This year's Sundance movies didn't duck hot-button issues, by any means. In the first four days of the fest, I've seen stories about Black Lives Matter, PTSD, opioid addiction, #MeToo, Russian interference in American politics … you name it. It's just that a lot of our best writers, directors, and actors are looking at the big picture one square inch at a time."
Noel Murray on several films and common themes in Part 2 of his reportage at The Week:
"Film festival programmers often try to whip up some excitement before a screening by telling audiences about the "new voice" and the "new cinematic language" we're about to experience. More often than not, they're overselling. The "new voice" ends up being just another young artist telling a story about growing up as an introverted oddball, while the "new language" involves heavier-than-usual use of flashbacks.
But while it's easy (and justified) to be skeptical about hype, this year's Sundance Film Festival actually did feel a little different."
Mike D'Angelo saw 11 films that are currently ranked in his ongoing 2018 Top Ten List and provided some fleshed out thoughts on his letterboxd page.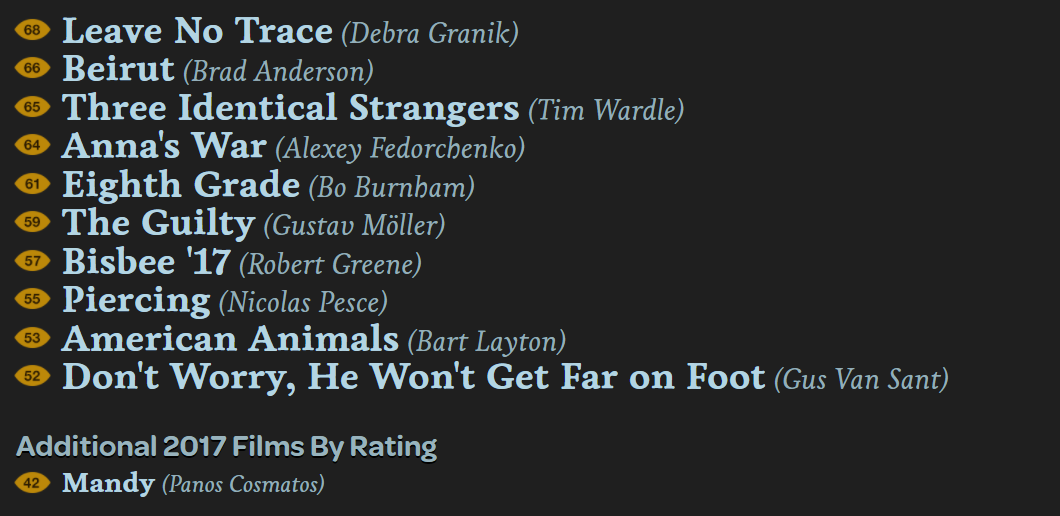 (via The Man Who Viewed Too Much, 2/4/2018)
Tasha Robinson on Reinaldo Marcus Green's "Monsters and Men" at The Verge:
"Reinaldo Marcus Green is a specific kind of Sundance success story: he debuted his short film Stop (about a racially motivated traffic stop) at the festival in 2015, got picked up for the festival's Directors and Screenwriters labs, and went on to premiere his feature debut film Monsters and Men at the festival in 2018. Neon promptly picked up the film, so expect a wide 2018 release. The feature is a loose, heavily fictionalized take on the 2014 death of Eric Garner, from the points of view of three men in New York City: the witness who films a white NYPD officer shooting an unarmed black man, the black cop who struggles with the fallout of the event, and a black high school football star who feels moved to join the subsequent protests."
Tasha Robinson on Debra Granik's "Leave No Trace" at The Verge:
"After Debra Granik directed 2010's stellar, Oscar-nominated Winter's Bone (ushering Jennifer Lawrence to wider fame in the process), she all but disappeared from the film scene. Her 2014 documentary Stray Dog is touching and heartfelt, but scattershot, so full of disconnected emotional moments that its sheer weight becomes a little overwhelming. Her new feature Leave No Trace solves the problem by stripping the story down to the bone, as a mentally ill veteran (Ben Foster) and his teenage daughter (Thomasin McKenzie) live together in the deep woods of a Portland park, until they're eventually discovered. Like Winter's Bone, Leave No Trace centers on a quiet but ruthlessly determined teenage girl and her complicated relationship with her father, but in this case, her father is an active and demanding presence in her life, and their relationship is close but frustrated instead of distant and frustrated."
Tasha Robinson on one of "The 8 Weirdest Things On-Screen at Sundance 2018" at The Verge:
"In Sorry to Bother You, the writing and directing debut of The Coup's Boots Riley, protagonist Cassius Green lives in a dystopian future where underemployed people are signing their futures away to a conglomerate called WorryFree, which houses and feeds its employees as well as working them 14 hours a day. Turns out, the company is also producing horse / human hybrids, which Cassius finds out when one of them confronts him in a bathroom stall. The hybrids are more or less full-bodied versions of that hideous horse head mask that's become such a familiar internet joke. They show up naked, and their startling, ginormous, rubbery genitals become a running joke throughout the film. A lot of Sorry to Bother You is angry and confrontational, about corporate malfeasance, racism, poverty, unions, and moral compromise. The dick jokes, both visual and voiced, function as a bit of a lighthearted safety valve — but they're confrontational, too. Somebody put a lot of thought, and giggles, into furry fake wangs here."
David Ehrlich on Josephine Decker's "Madeline's Madeline" at Indiewire:
""The emotions you are having are not your own, they are someone else's. You are not the cat — you are inside the cat." So begins Josephine Decker's "Madeline's Madeline," an ecstatically disorienting experience that defines its terms right from the start and then obliterates any trace of traditional film language, achieving a cinematic aphasia that allows Decker to redraw the boundaries between the stories we tell and the people we tell them about. The result is an experimental movie with the emotional tug of a mainstream hit, a fragmented coming-of-age drama that explores the vast space between Hollis Frampton and Greta Gerwig in order to find something truly new and ineffably of its time. This is one of the boldest and most invigorating American films of the 21st century."
David Ehrlich on Jason Reitman's "Tully" at Indiewire:
"A very different kind of adult fairy tale (one that frequently doubles as a feature-length advertisement for tubal ligation), "Tully" is a fantasy of the highest order; it might look like an episode of "This Is Us," but this story is every bit as magical as "The Shape of Water." Think of it as Diablo Cody's modern take on "Mary Poppins": What it lacks in songs, it more than makes up for in sex scenes and Carly Rae Jepsen sing-alongs. Funnier than "Juno" and almost as ruthlessly honest as "Young Adult," Cody's third collaboration with director Jason Reitman is a razor-sharp movie about the trials of motherhood, and the clear and present danger of losing yourself once you start living for someone else."
David Ehrlich on several films/his best of the fest at Indiewire:
"But Sundance 2018 didn't merely argue for the importance of the movies, it also provided an opportunity for cinema to reassess its purpose and redefine its power. These particular movies didn't simply contend that people should tell their own stories; they also examined how fallible and myopic that approach can be. They didn't only castigate people for telling someone else's story; they also celebrated film as a collaborative medium, and illustrated why a little outside perspective can go a long way. The festival returned our focus to this fact: At a time when identity is more fraught than ever before, the storyteller is an inextricable part of the stories they tell."