It's long been standard practice to write music for horror films that features an evilly dissonant augmented fourth/flat fifth chord. The Hour of the Wolf (1968), written and directed by Ingmar Bergman, is the visual equivalent of that chord. The film is like a puzzle where not only the pieces don't fit; the pieces cut and grind against each other.
Even the simplest notion of perspective is turned against us—the account of the crack-up of a painter, Johan Borg, is from the point of view of his wife, Alma. Yet early on we realize we are seeing things that she can't see in the way we do. Or is she imagining some, or all, of these things that we see?
The film's premise is that Johan, with Alma, must stay up past the 'hour of the wolf', which Bergman describes thusly:
According to the ancient Romans, the Hour of the Wolf means the time between night and dawn, just before the light comes, and people believed it to be the time when demons had a heightened power and vitality, the hour when most people died and most children were born, and when nightmares came to one.
That's not Johan's only problem, his only anxiety. As an artist, channeling Bergman's self-confession, he has to bear being outside of society, viewed, he says, as "something extraordinary, a calf with five legs, a monster."
The question is how much Johan has internalized these feelings, to the point where we wonder what's his perception of the world beyond him. As the film gets still weirder, uglier, more dissonant, we feel as if we've perhaps entered an incurably sick mind, broken by every humiliation and torment society has to offer.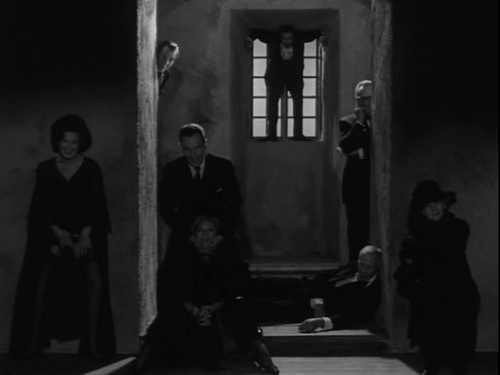 The tormentors that we see wear the trappings of decayed aristocracy, suggesting that the fundamental social oppression is class-based. Johan and Alma are invited to a dinner party at a castle, but the meal being served up to these garish and rotten people is Johan and Alma; the earlier title for the film was The Cannibals.
This is one of those parties where we're certainly glad not to be there in person, although as the scene grinds on we feel just as trapped as Johan and Alma. The conversation is inane, any sort of a safe personal distance vanished, as both Johan and Alma are treated rudely. The camerawork is stunning as we view rapid close ups of everyone at the table at a dizzying speed, while focus is maintained (credit here goes to Sven Nykvist, the cinematographer): it's the surreal lucidity of a bad dream.
The people at the party feed with delight on Johan's shame over a scandalous affair and Alma's growing jealousy as everything is cruelly exposed. That is the reality, whether internal or external (it doesn't matter), that Johan cannot repress—a trauma that will be visually represented through a moment of murderous violence, when Johan out fishing encounters a boy vampire. After being attacked, Johan kills him, in a moment that manages to be predictable and absurd at the same time, and throws his body in the water, only to have repeated visions afterwards of the body floating upwards.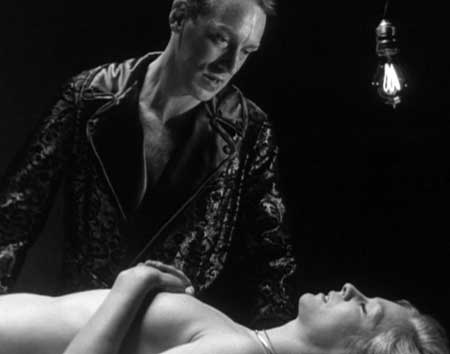 Johan is lured back to the castle to be tortured by the promise that the woman with whom he had the affair will be available. In messing with his mind and ours, the aristocrats present her body on a hospital bed, as if it were a corpse, in a room that looks like a theatre. This is Johan's final humiliation: to at long last get what he wants but in a way that is beyond belief.
While we begin to realize that, in a warped sense, Johan deserves his terrible fate (whatever we think it might be), the ending of the film has no resolution. Alma never even finishes her closing sentence.
If there's no catharsis of which to speak, we certainly do feel the knife edge of Bergman's provocative self-confession turned into a vivid and menacing picture of society. He argues that none of us can escape how we are made to feel guilty for being ourselves; our punishment is self-inflicted: isolation, abnegation, withdrawal—and, even more tragically, believing that no one deserves to love us because we hate ourselves for what we desire.
Bergman, moreover, in his typical manner, makes us wonder about Alma's outcome too. How has she been broken? Seemingly always in the shadows, is she completely innocent? For that matter, is anybody?
It's rare, to me, that any film so laced with acid can be categorized as horror, because to be frightening there has to be some sort of conflict that creates an irrational monster out of what we fear. But the conflict in The Hour of the Wolf derives from an obvious social fact: the film insists that we fail to reexamine carefully our social obligations at our peril, yet reminds us that people can never live outside of society for very long without losing a fundamental part of themselves, if not their minds.
It seems like an argument we're forever having with ourselves—and we can turn off the conflicting voices only during the moments when we lack self-awareness. For the running time of the film, we see this argument play out in a memorably brutal way.
The Hour of the Wolf leaves us with one final question: are there rational monsters that we can see and fear? Maybe out of this apparent paradox, we can see ourselves in a profoundly disconcerting way: as the monsters we are.