When I wrote up Happy Endings in the review of the best TV shows of the 2010s (#3!), I kept the writeup short because "I would just be quoting hilarious line and ridiculous plot after hilarious line and ridiculous plot." I fear I may have done that here anyway, but beyond simply wanting to recap some of my favorite jokes, bits, and plots, I've also attempted to get into the specifics of what made this show great. Let's dive in.
It's almost fascinating that for what is essentially an insanely high-energy screwball sitcom– Friends via 30 Rock if it was even more amped up on rapid-fire dialogue and wordplay and set in Chicago– Happy Endings started with such a high concept and specific premise: When two members of a group of lifelong friends are going to get married, and one leaves the other at the altar, how do the remaining friends "take sides"? Who do they spend time with? Does the broken-up couple share custody of them, so to speak?
Fortunately, this premise gets dropped almost immediately, as creator David Caspe and the writers realized they had a truly special cast capable of carrying the show's screwball energy and rapid-fire dialogue. (It may be the best sitcom ensemble cast since NewsRadio, or at least Arrested Development.) That verbal patter and the 30 Rock-esque jokes are probably what the show is most known for, but it's a terrific stew of everything from wordplay to slapstick to absurdity to increasingly escalating farce.
The relationships between the characters and how they met are so convoluted that when we recorded the Dude & Broad cast episode on the show, I made this (possibly more convoluted) visual guide to explain them: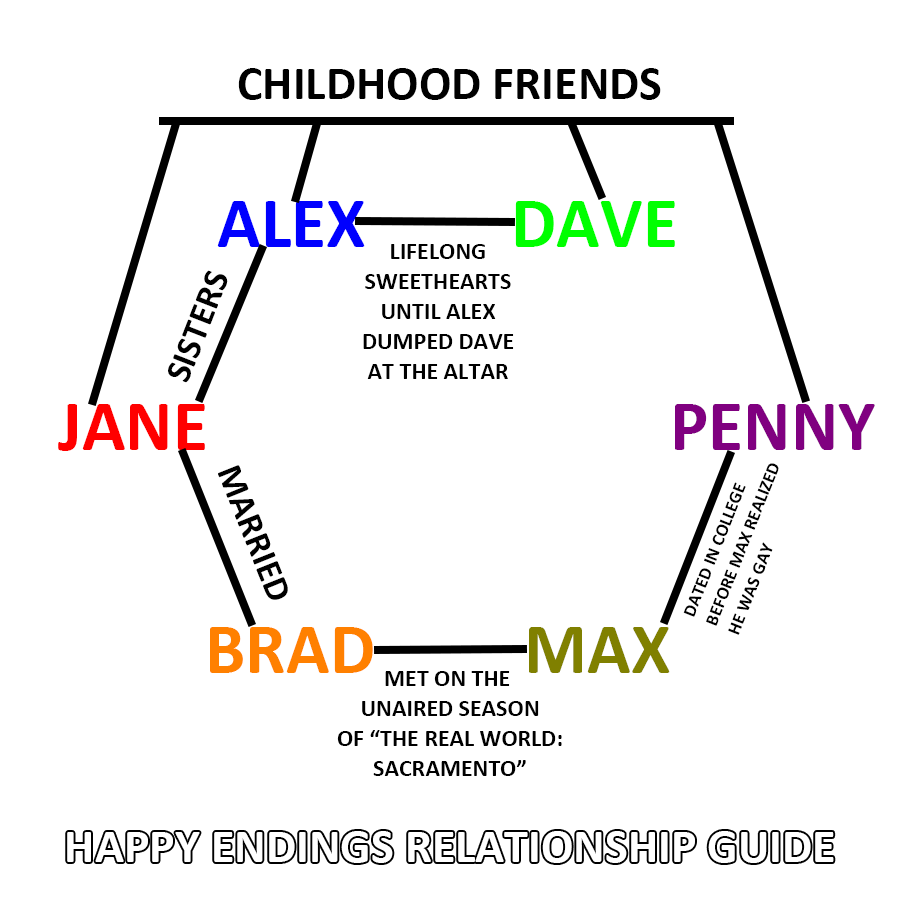 So the show starts with Alex leaving Dave at the altar, but not long afterward they reconcile– possibly just so the writers could have this group of six friends all hang out together and maximize the show's comic potential, but it was certainly the right choice.
Those six characters fit into their comic ecosystem perfectly and are all perfectly cast:
Jane Kerkovich-Williams (Eliza Coupe) is the driven, headstrong, hypercompetitive, perfectionist, type-A no-nonsense control freak of the bunch.
Brad Williams (Damon Wayans Jr.) is her effete husband, sensitive and giggly and into rom-coms and personal grooming products, the kind of guy who would've been called "metrosexual" if the show had premiered five years sooner.
Alex Kerkovich (Elisha Cuthbert) is Jane's younger sister, good-hearted but very much a daffy airhead who overestimates her own capabilities, and also the massive eater of the bunch.
Penny Hartz (Casey Wilson) is energetic, high-strung, and neurotic, the most likely of the bunch to spin a web of ridiculous lies to avoid some imagined possible embarrassment, and also the most likely of the bunch to engage in an injurious pratfall.
Max Blum (Adam Pally) is the anti-stereotypical gay man, grubby and slovenly and intermittently-if-at-all employed, the kind of guy who might trade pointers with Andy Dwyer about living in a pit.
Dave Rose (Zachary Knighton) was the most ill-defined of the bunch early on as the group's everyman, but over time he became more and more the guy who mistakenly thinks he's the cool one of the group, the sensitive-and-wise-yet-hip food truck owner whose ideas are mostly terrible and lame. (Watch that clip at the top if you didn't already to see what "terrible and lame" means.)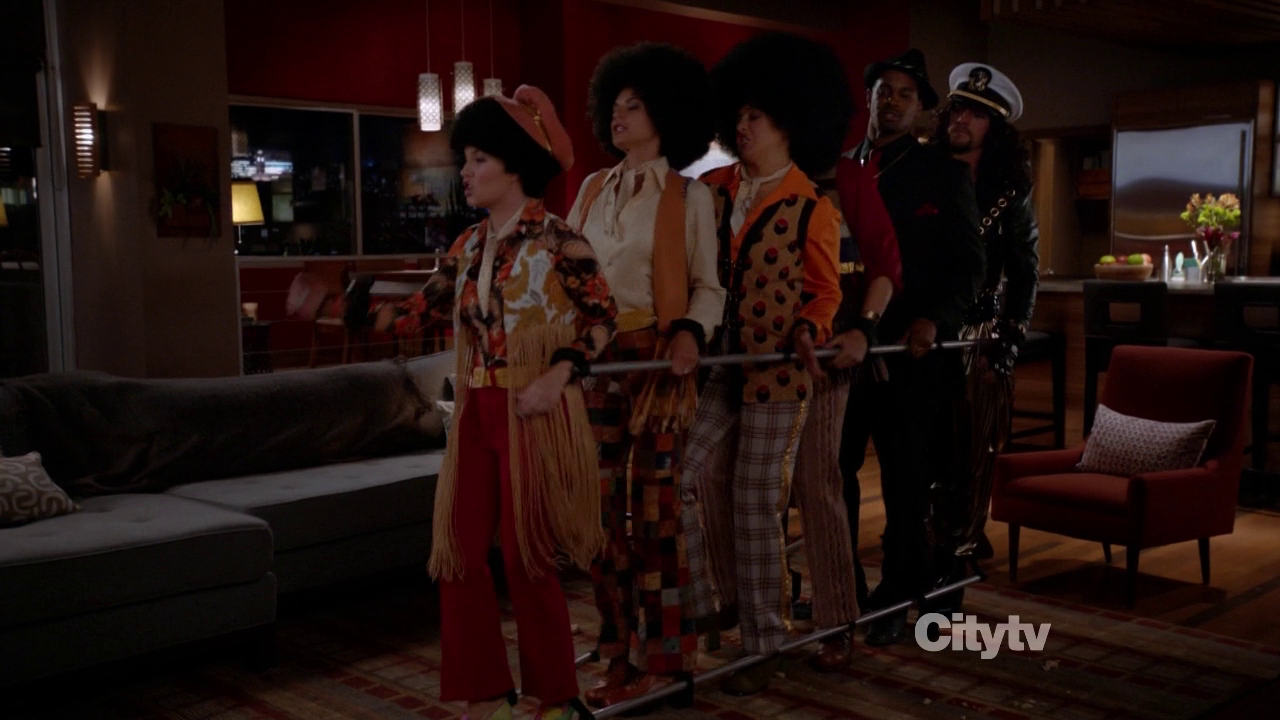 While there are some good episodes in season 1 once the show drops its concept, it's in season 2 where the show really starts to shine. Season premiere "Blax, Snake, Home" kicks the season off with the manic energy from the get-go. It's the first anniversary of Alex and Dave's aborted wedding, and the gang is vacationing in the honeymoon suite they received as a wedding gift… which, before the cold open ends, devolves into a stabbing, a fake allergic reaction to shellfish, a real allergic reaction to shellfish, and a mass group panic.
The rest of the episode is divided into three plots. Dave and Alex resolve to be more honest with each other (Dave's shellfish allergy was fake; he told Alex he had it because he didn't want to eat her "jambalaya"), and after a series of uncomfortable truths they tell each other– most directly spurred by Dave's "I'm not really afraid of dogs; I was just afraid of what would happen to a dog if you owned one"– Alex buys a pet snake, which she names Tyler and feeds a diet consisting entirely of Peeps.
Penny buys a new condo and works herself up into believing it has a "spinster's curse," exacerbated by, among other things, cats wandering into her apartment. ("Is it cold in here?– I need a housecoat and a hot tea with lemon– Should I get an AOL email address?– What's happening to me?!") By the time her Roaring Twenties-themed housewarming party comes around, she's fully embraced it, eating ice cream, wearing sweatpants, and generally carrying an air of having entirely given up.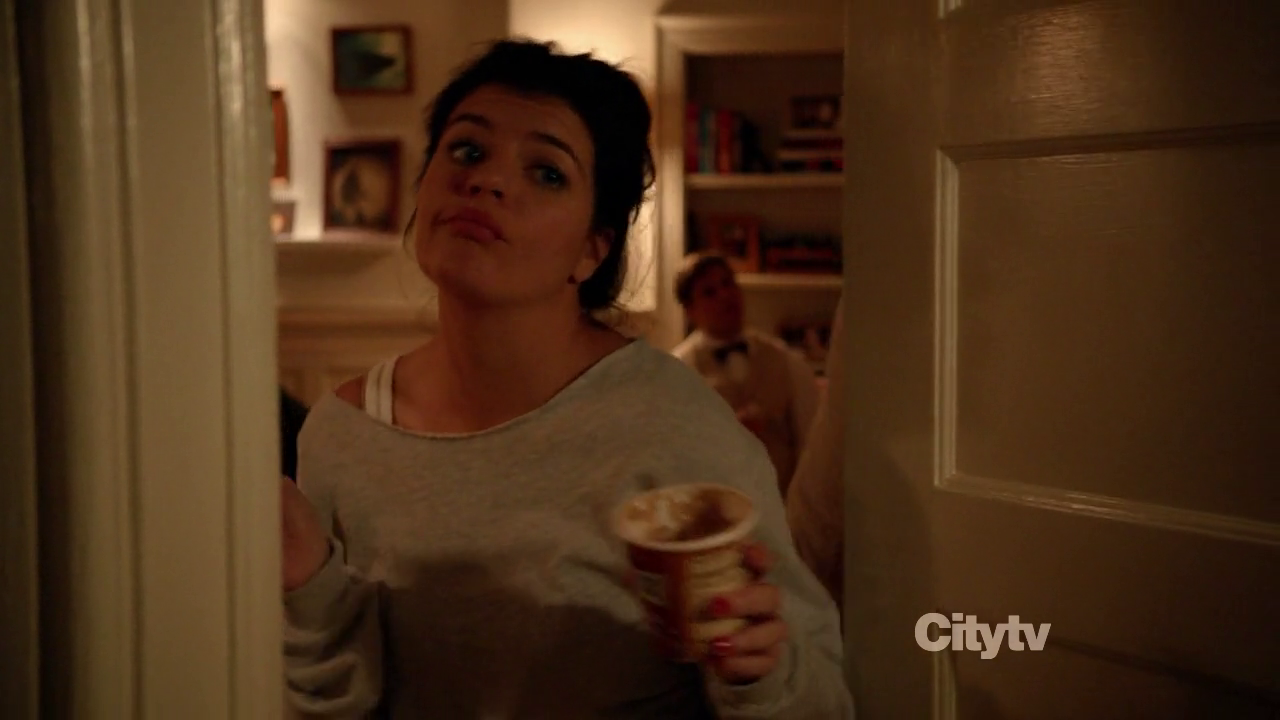 But my favorite of the three stories is "Blax," where Max is wondering why he hasn't seen Brad as much lately, and stumbles upon Brad hanging out with a group of Black guys in a bar. Brad tells him it's a networking group and implies Max wouldn't fit in; Max gets his feelings hurt, so he dresses up and poses as a professional and drops in on the next meetup. ("You're a lawyer and a dentist?" "I like cleaning teeth. Sue me!") It's then that Brad reveals it's actually just his group of Black friends; as much as he loves the rest of the gang, they're all white and there are things he needs that he can't get from just hanging out with them. ("Sometimes, I just wanna hang out with the brothers. I just need a break from talking about NPR, and recycling, or that awesome chest pass Steve Nash made." "Oh really, fam? Now you're gonna pull out that Steve Nash card on a brother." "Why are you talking like that?")
But Brad's Black friends aren't so different than his white ones, as we find out from a couple of hilarious exchanges when Max drops in on the group:
DARYL: Professionals' group? I haven't had a job in, what, like five years? Unless you count sleeping 'til 1 and trying to bring back the phrase "bust a move" as a job.
MAX: Oh my God, you're like Black Max. You're Blax!
DARYL (to Brad): Hold up, is this White Daryl?
And at the end of the scene:
DARYL: Hey Brad, if I hook you up with a partially used Borders gift card, will you give me a ride to small claims court?
MAX: Damn it, I am white Daryl!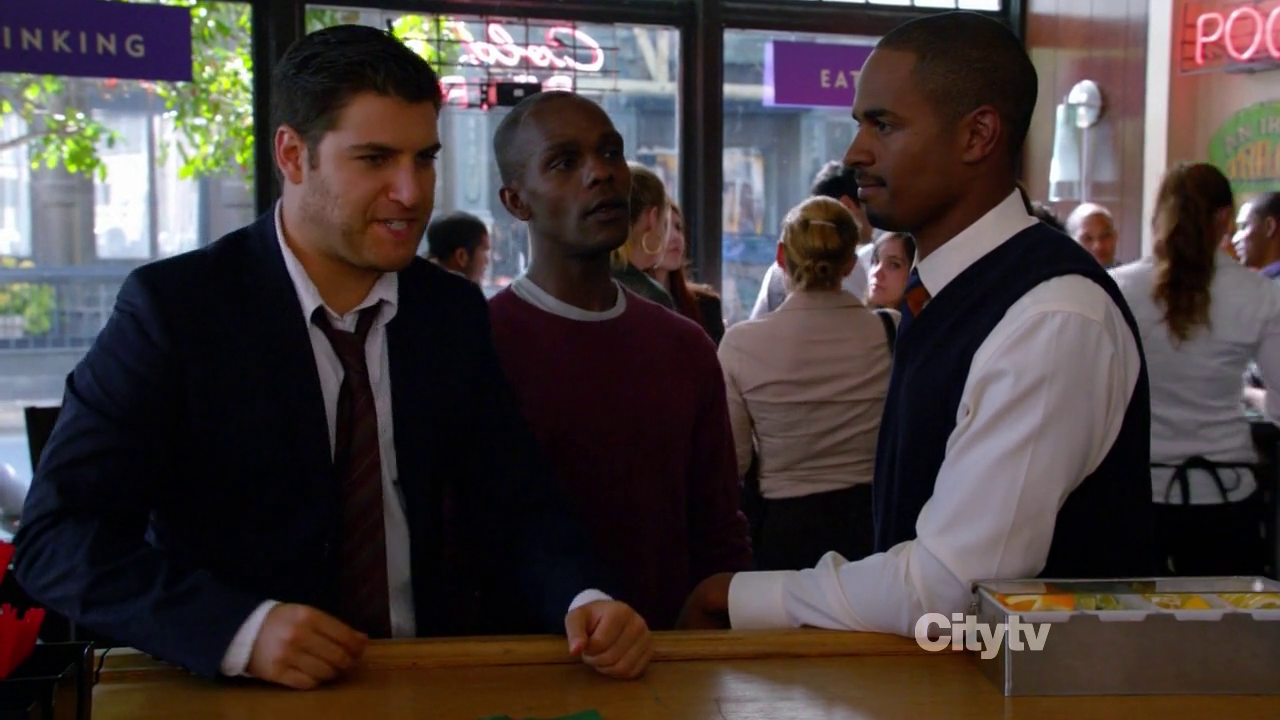 I like to think these exchanges work without having seen the show in part because they rely on the specificity of the characters and the dialogue. (There are a lot of ways to convey someone is a slovenly bum; "partially used Borders gift card / ride to small claims court" is so hilariously specific on exactly what type of socially-fringe character we're dealing with here.) The writing was so strong not only on the verbal dexterity and wordplay ("That place is harder to get into than Obvious Joke Here… that new alt-comedy club") but also on writing extremely specific character jokes.
And speaking of wordplay, in "Spooky Endings," the season-2 Halloween episode and one of the biggest early highlights of the series, the show also sneaks in the filthiest double entendre I've seen on network since "get rid of the Seaward":
DAVE: Well, I finally get to wear my dream costume, because I don't have to do a stupid couples costume anymore.
ALEX: For the record, you were the one who always made us wear couples costumes.
DAVE: That's not true.
ALEX: Really? So it was my idea for us to go as Carlito's Way Sean Penn and I Am Sam Sean Penn?
DAVE: I thought you loved Double Penn!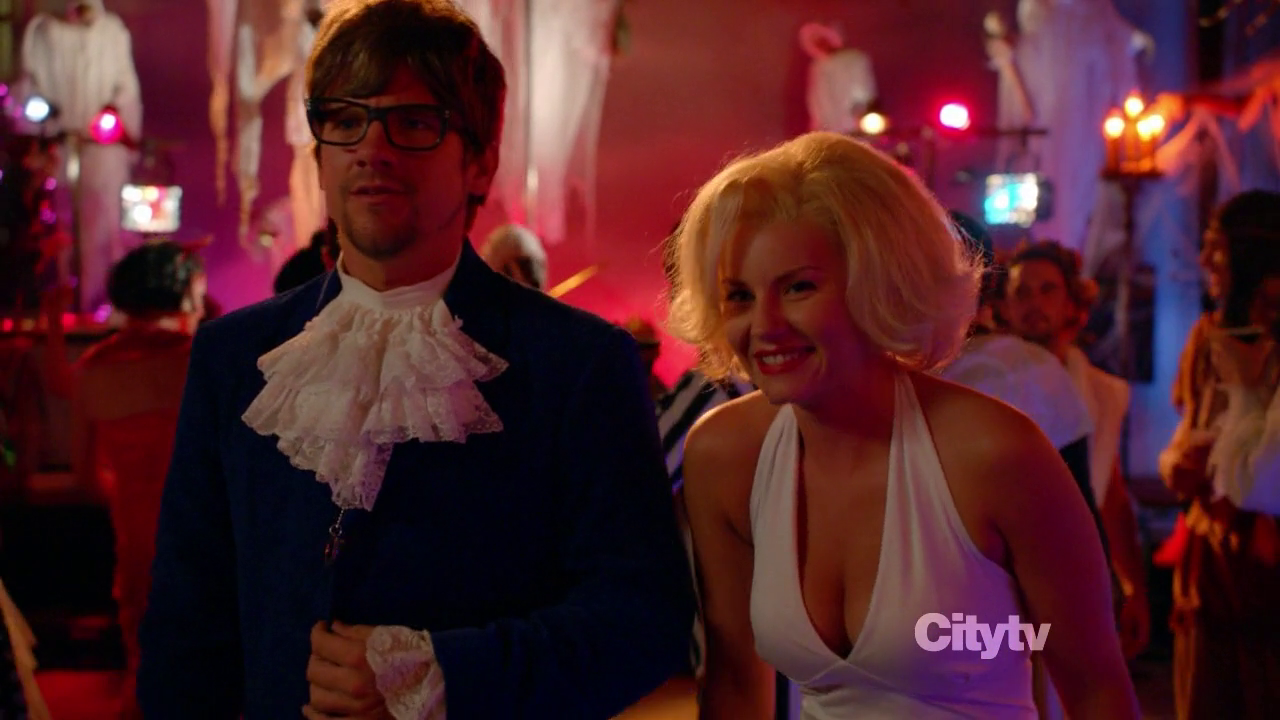 Later, Dave has to cheer up Alex, who goes to the Halloween party as (an obviously stunning) Marilyn Monroe even though she's sick and has a very raspy voice, after a gay man (played by David Walton) mistakes her for a man in drag. "Al, you are beautiful. You don't look like a man. You sound like a man, and you have a man's name, and you're wearing the most iconic drag costume of all time. On the bright side, the hottest guy here thinks you're the hottest guy here." And, funnily enough, despite the earlier exchange, they end up with a couples costume after all– "Candle in the Wind," after enough people mistake Dave's Austin Powers for Elton John that he just goes with it.
Happy Endings had a strong track record of holiday episodes besides "Spooky Endings." Season 3 gives us a great pair. In the Christmas episode "No-Ho-Ho," Jane discloses her birthday isn't actually in July, but on Christmas Day– somehow, even Alex is surprised– and she chose another birthday after a childhood of getting shafted on attention and presents.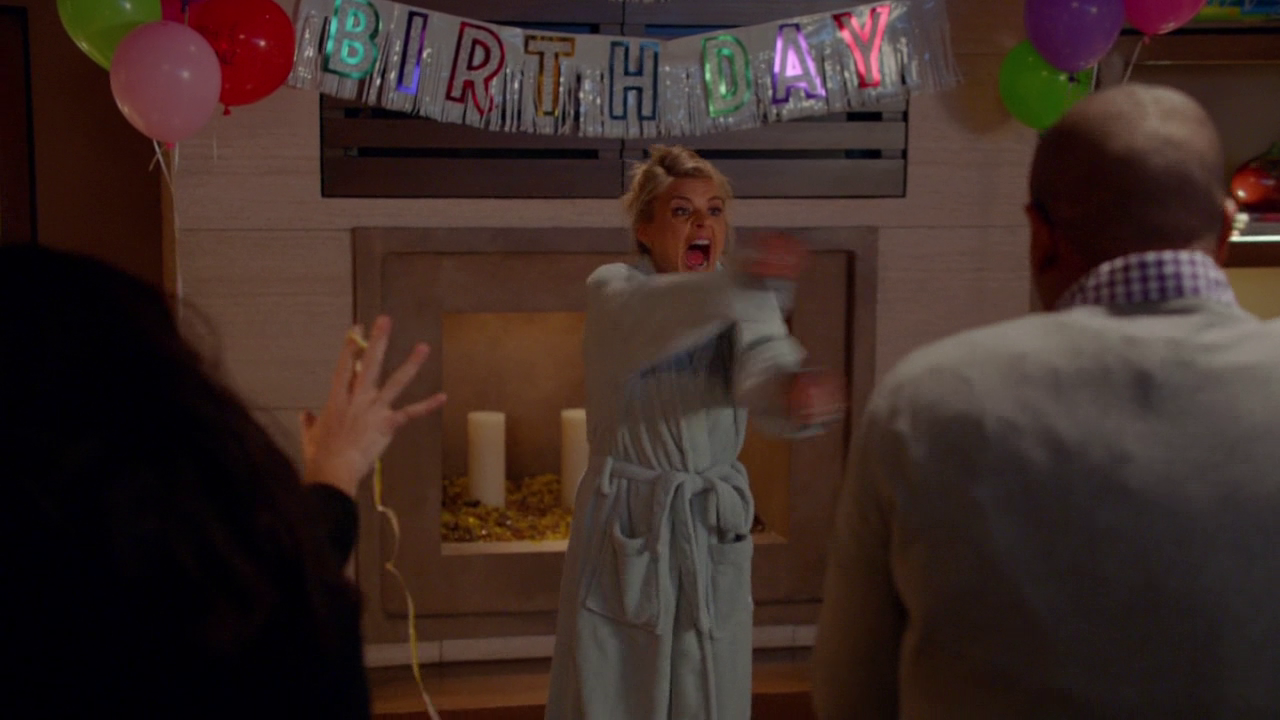 The rest of the gang tries their best to give her a Christmas-free real birthday– after one failed attempt to throw her a surprise party– but keep butting up against their draws to the holiday or the details they've forgotten. That includes Brad's hip-hop Santa, Max's eggnog addiction, and Dave's hilariously shitty attempt to improvise "Jurassic Park theme song" lyrics to his "Jingle Bells" ringtone. ("Jurassic Park, Jurassic Park, Newman gets killed bad… I'll show myself out.")
Jane finds a group of Christmas babies celebrating together, led by Andrew Friedman (It's Always Sunny's Uncle Jack), who kicks off the story-telling of horrendous gift-giving: "For Christmas, my parents gave me a bike, then for my birthday, they gave me air for the tires. You can't give away air. It's not yours to give." Once he announces their plans to destroy Christmas decorations around town in revenge, though, she quickly abandons them and returns to her friends.
From what I can tell from the tag of everyone dancing with Hip-Hop Santa, Elisha Cuthbert, Damon Wayans Jr., and Eliza Coupe are the best dancers in the cast:
Season 3's "More Like Stanks-giving" features Dave, who previously learned he was 1/16 Navajo and never misses a chance to play that up, attempting to throw an "authentic Navajo Thanksgiving." (He's the only one who has one, as he goes out to buy clams and has his car stolen by two people dressed like pilgrims; then with no money, he trades his jacket for the clams and a blanket that gets him sick; later, he gets arrested trying to scalp his Rock Bottom Remainders tickets.) It also gives the show a rare shot of backstory. Max brings over a DVD of the never-released season of The Real World: Sacramento that he and Brad appeared on ("They couldn't air the season because one of the roommates burned down the converted firehouse we were living in"), and the gang (sans Dave) watches the episode where they visited Max, who was still dating Penny at the time. A lot of backstory elements come into place here: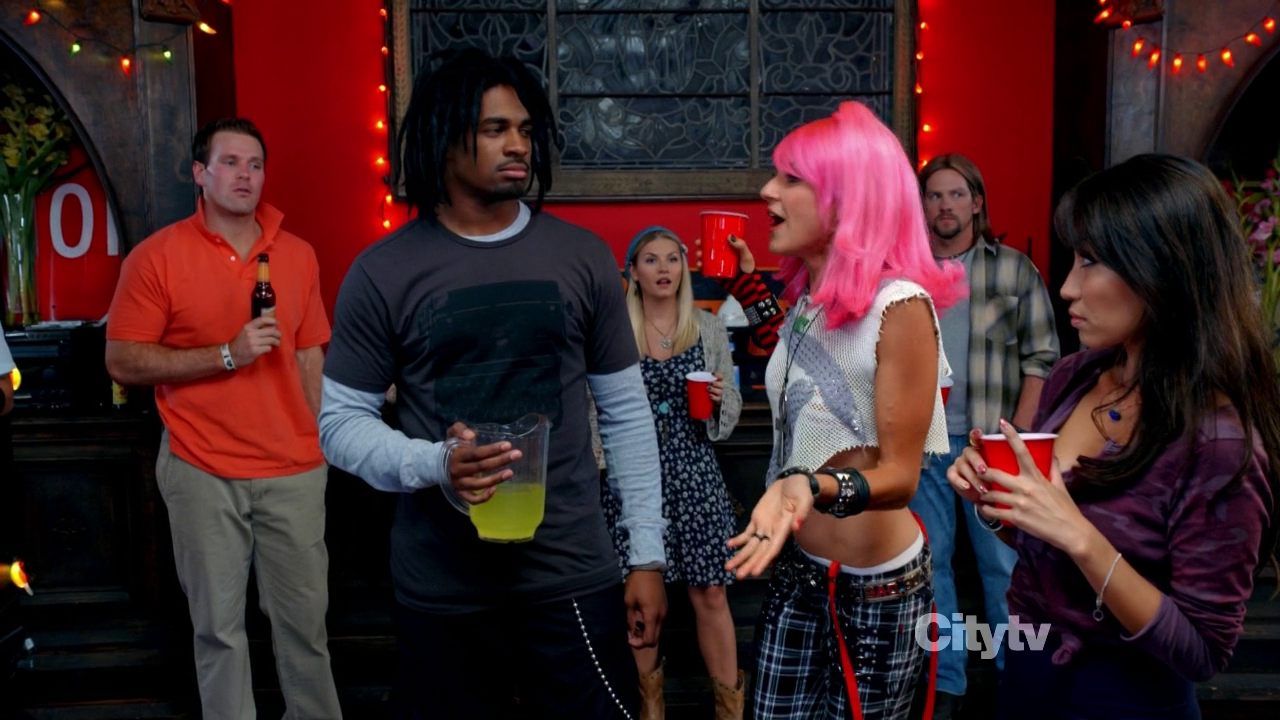 How Brad and Jane met ("So! 'Kerkobitch,' huh?" "Jared?! Boom-Boom?!").
Max's struggles with coming out (his professions of heterosexuality are "bags of sand"-level of uncomfortable and implausible).
Penny's possible unresolved feelings for Dave (which, in typical Penny fashion, she tries to cover for with Alex and just makes worse).
Max is also irked the season never aired because he believes he would've been the first openly gay person on TV. ("Aside from Ellen, Rosie, all the Queer Eye guys…" "Oh, and Norman Korpi from The Real World season 1.") When they watch his coming-out scene, he's eating a sandwich and makes his declaration so unintelligibly that everyone razzes him. ("You're definitely a hero to all the Gregs out there." "First openly Greg person on television." "They're letting Gregs into the military now.")
One of the most quoted lines in our household, even though there's never really a context to use it, is from the fight Max and Brad have over dirty dishes in the tag: "I just found out your name wasn't Maps. I thought it was Maps this whole time."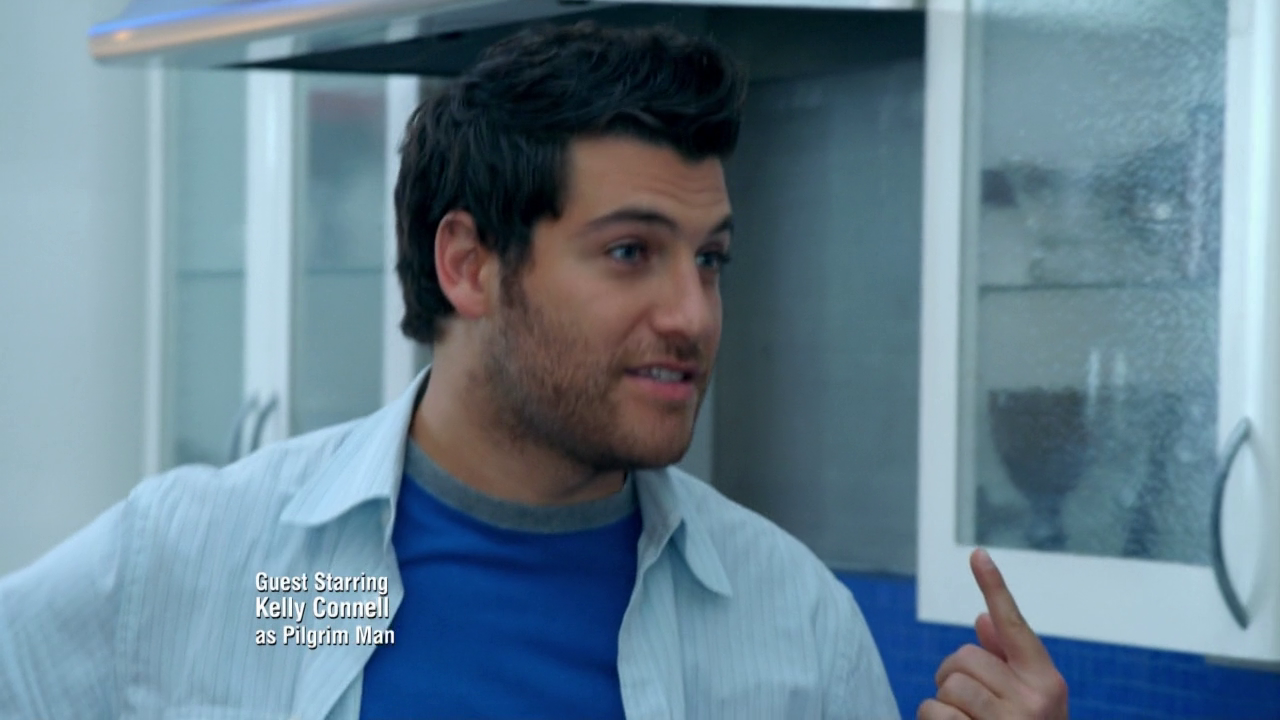 Max deserves more discussion here as a sitcom rarity: the anti-stereotypical gay man. Max is slovenly and poorly groomed, not neat and fastidious; he's not fashionable or tasteful; he's sarcastic but not sassy; he's pudgy and overweight, not a fitness fanatic; he's barely put together even at the best of times; and most of his friends assume they'll hear about his death, which probably can't be that far off, by reading something in the paper like "Dead Man Found After Six Days Under Pile of Trash and Used Pizza Boxes." He's also the kind of guy who drops "Marty Scorsese" in conversation and then adds, "Oh, I'm sorry, I like to call celebrities by the names they prefer. Bobby DeNiro, Sandy Bullock, Eddie Jimmy Olmos." (Not quite 30 Rock's "Edward James Almost, the Edward James Olmos impersonator Tracy is friends with," but pretty good all the same.)
The show uses Max's individuality to create funny stories that also manage to explore his sexuality seriously. There's the season 1 episode where Max comes out to his parents. In season 2, Max reconnects with ex-boyfriend Grant (James Wolk) on Valentine's Day, and they have a brief arc where they're dating again. In another season-2 episode, Max's high school girlfriend Angie comes to visit. Penny feels threatened by Angie's status in Max's memory, until Max explains to her that Angie was his last "straight" relationship; Penny was really his first "gay" relationship: "Dating you was like dating a super gay dude. But it was awesome, and great, and gave me the strength and courage to come out." And in a season 3 episode, Max faces his struggle to meet men by trying to figure out what "type" of gay man he is, with Jane's help; he eventually settles on "optimistic red velvet walrus," and I won't spoil for you what that means, because even I don't really know.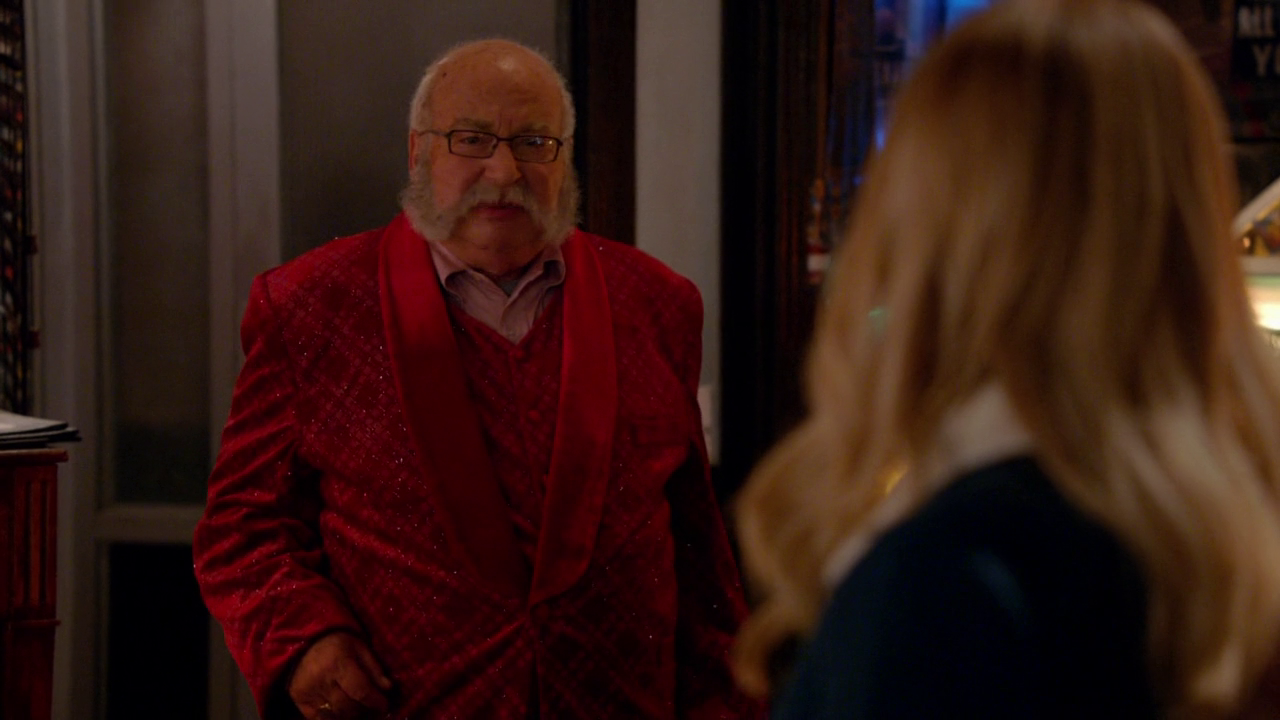 I can't give this cast enough praise for how well they embody the characters, both with their deliveries and their physical performances, how well they commit to the comedy, and their great chemistry together. But the show had a terrific roster of guest stars, too. Few guest castings have been as perfect as Megan Mullally as Penny's mother Dana, whose relentless positivity, especially about her singing career, borders on or outright crosses into delusion; season 2's "Yesandwitch" is a perfect showcase for her and her relationship with Penny and the rest of the gang. And since I apparently can't write about an episode without including a dialogue exchange, here's a hilarious one after the gang breaks Dana's positivity and she's brutally honest with all of them:
MAX: You guys don't think I'll be alone at 50, right?
BRAD: Ah, come on. You're not gonna make it to 50.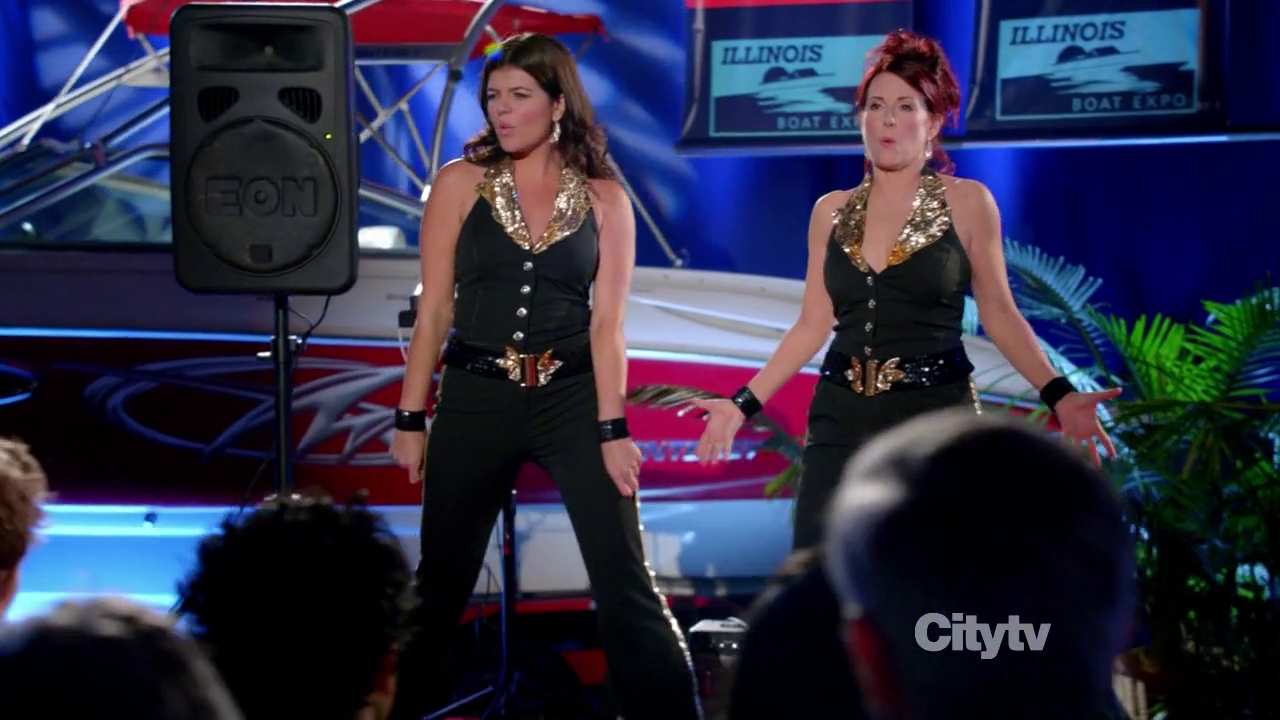 Other parental guest casting includes Michael McKean as Dave's father, "Big Dave"; Christopher McDonald and Julie Hagerty as the Kerkovich parents (Jane takes after dad; Alex takes after mom); Andy Richter as Penny's estranged father Roy, who split with Dana after realizing he was gay (speaking of taking after mom); and you get no extra credit for guessing who plays Brad's father. Other guest performers include Rob Corddry in a season-3 recurring role as Jane's boss, Rob Huebel and Rob Riggle in one-episode appearances, and several people not named Rob.
The most frequent recurring guest across all three seasons is Seth Morris as Max's weird and a little creepy dirtbag friend Scotty– and yes, that is in comparison to Max– but Stephen Guarino is also present as the group's "offensively stereotypical gay" friend Derrick, and Nick Zano gets a significant season 3 arc as Penny's boyfriend Pete. There's a hilarious scene and wink of meta-humor in one episode where Penny is shocked that Pete's friends don't fit into stereotypical sitcom roles, chain together series of elaborate lies to avoid potentially ego-bruising social awkwardness, or really, get up to any sitcom antics at all.
It's not the show's only example of self-aware meta-humor; see Penny declaring early in season 3 that she's going to say her signature "ah-mazing" less this season. "You mean fall?" "Yeah, it's more of a spring word." At one point, the show about six thirty-ish friends in the big city even makes its own Friends comparison. After Brad gets a cavity filled and is still high on nitrous, he meets up with the gang and greets Dave, Alex, Penny, and Max in order: "Ross! Rachel! Phoebe! Fat Joey!" and then later remarks to Jane "Don't patronize me, Monica."
The Friends drop is far from the only TV reference; one of my favorite gags is Dave trying to explain Treme to Penny. "No, it's not confusing. You see, Wendell Pierce is a struggling musician– let me back up: Most people don't realize that New Orleans is the main character– let me back up again: You see, jazz is derived from Negro spirituals…" which also feeds into one of Dave's defining character traits: his belief in himself as the wise, learned explainer, contrasted with the reality that he isn't really successful at explaining anything to anybody (and that's when he actually knows what he's talking about, which is often not the case).
The plots can range from sitcom-standard to absurd in their concepts, but always escalate into some terrific farce. When Angie visits, she and Dave go on a couple of dates, and Max asks him to stop because of the "bro code"; Dave rejects this because Max is gay and so Dave and Angie dating should make no difference to him. Max declares that all codes are off– "It's a code war!"– and this leads to antics like Dave destroying a support pillar in their apartment ("no more building code, bro!") and Max giving Dave a perm while he's asleep ("Hair Code for Men!") The various reactions to Dave's perm lead to some of the show's great signature one-liners. ("You look like a quaalude dealer." "I look like a Jonas uncle.")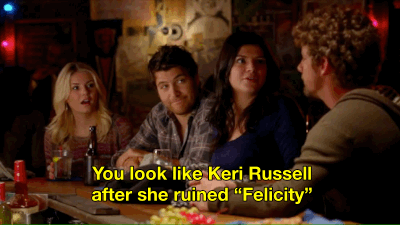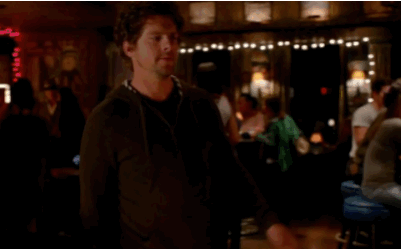 A few other examples of the show's plots:
Max uses his bootleg limousine to give tours of Chicago and enlists Brad and Jane to put their couples-improv class to use and be his ringers to drum up business.
Jane tells Penny to stop changing for the guys she dates and instead to change them; Brad overhears Jane bragging about how she changed him and decides to revert to pre-Jane Brad, complete with reviving his Black-led Jackass ripoff, Blackass.
Dave gets a liquor license for his food truck and turns it into a mobile speakeasy; everyone in the gang who drinks there ends up having a sex dream about Dave (always set to "Baker Street"; Penny's dream has the famous riff played on finger-picked guitar instead of saxophone). Meanwhile, the speakeasy sends Dave on a "rocket ride" (his words, repeatedly) of success, which leads him to make more famous friends, like Colin Hanks. ("Dave, listen to me. There are two things I always say. One: Yes, that Hanks.")
Max and Brad start a bar mitzvah hype-man service, but Max gets jealous when Brad starts to outshine him. Penny has complicated feelings about the attention she's getting from 13-year-old Jewish boys. ("Well, you're a goy with vaguely Semitic looks, who gives off a real strong vibe that you know your way around a Handrew Jackson." "Ja-ane! …You're making me blush!")
Alex tries to go to a Valentine's Day party in a sketchy part of town, wearing their grandmother's lucky dress and leopard fur. (Jane: "JFK once called her 'a real Chicago slut'." Penny: "Why are you always so proud of that?") She inevitably gets mistaken for a prostitute, not helped when she sticks her head in a car window and asks "Are you looking for a party?" (Alex: "After I got mistaken for a whore, it made me realize something." Max: "That your grandmother was a whore?")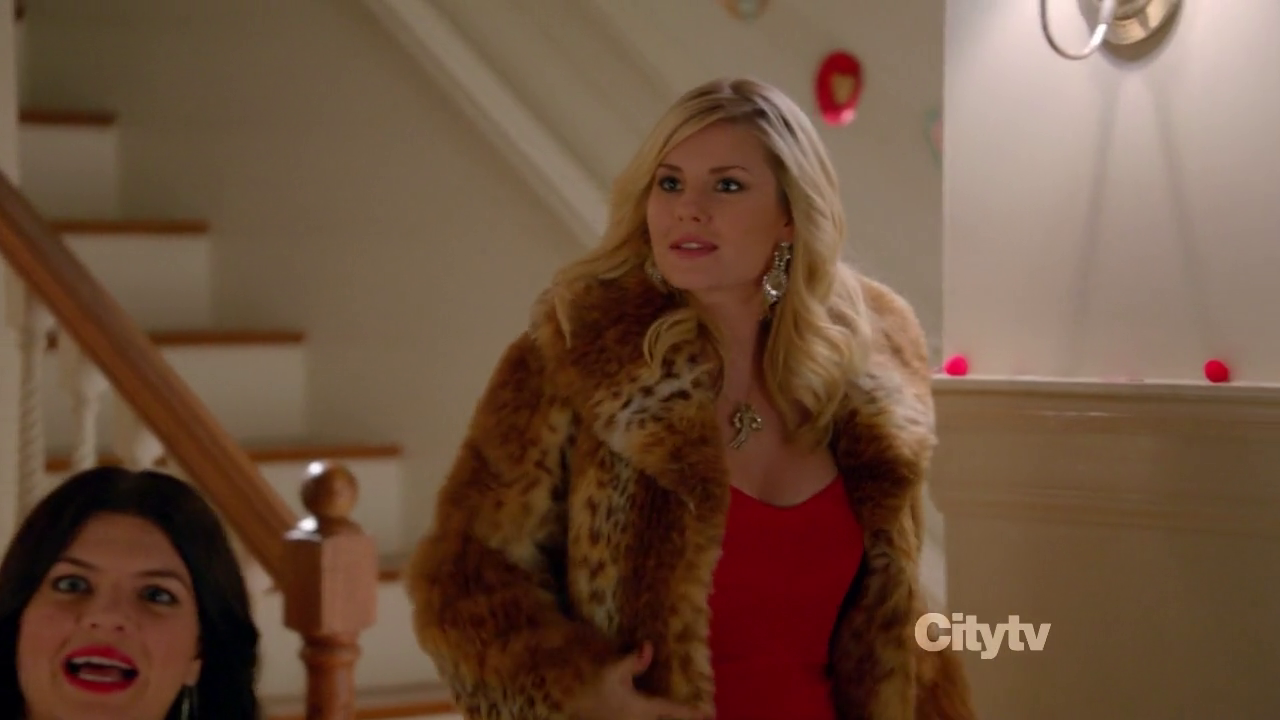 Jane and Dave decide to get involved in Max's love life and turn it into a competition between themselves; naturally, the guys they find for Max are exactly like them.
The gang pranks Max into thinking he's won the lottery (at which point he immediately declares his intentions to abandon them all); he then vows revenge when the prank is revealed. ("No one will be able to escape the wrath of Max Broom. What? Damn it! Max Blum! How'd I mess up my own name?") Without spoiling too much, this one also becomes a great showcase for Alex with an excellent twist.
Dave and Penny try to goad Brad and Jane into their annual spring fight ("Spring Smackdown"), although Alex tries to warn them against it: "It could be just like the Butterfly Effect– that one little movie led Ashton Kutcher to doing a lot of bad movies." Dave and Penny insist, because when Brad and Jane take a break afterward, Brad treats the guys to going out to fancy restaurants and strip clubs, and Jane stays with Penny and they have gal time; and also because it's what gets Max out of his winter hibernation. (He spends most of the episode acting like a bear– sleeping, growling, digging through the trash for food, and and even eating directly from a jar of honey at one point.)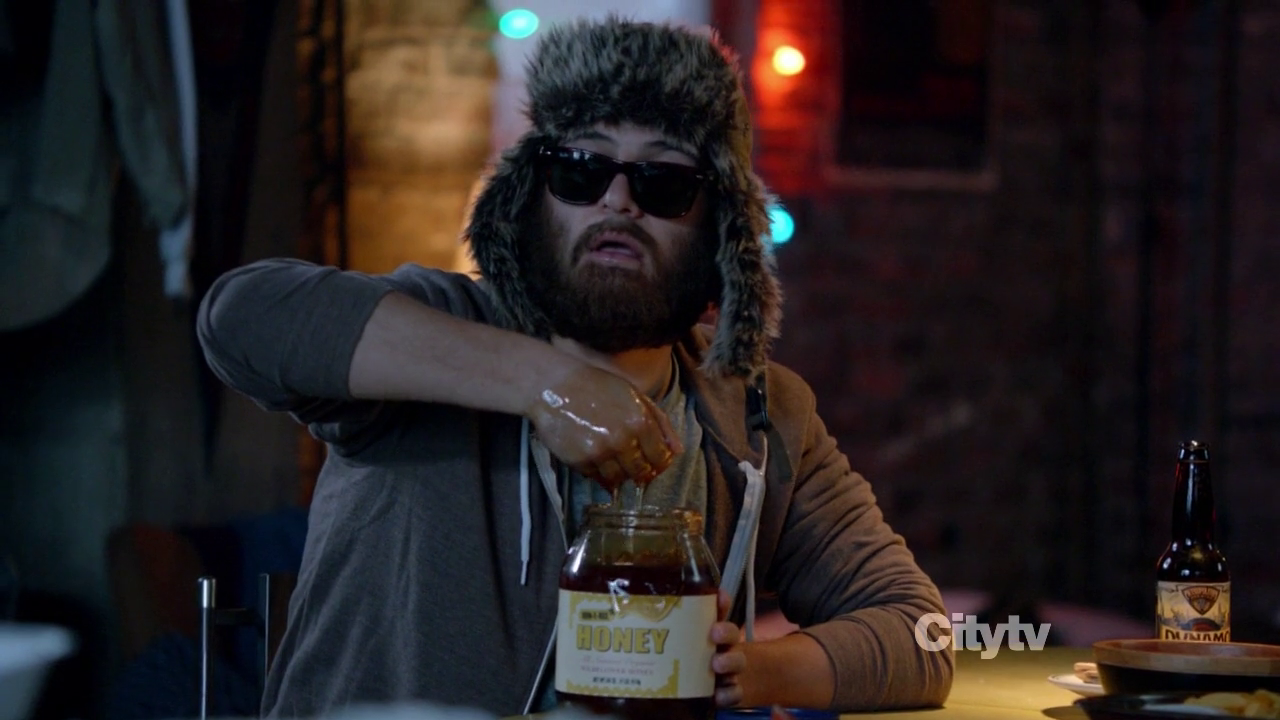 I could go on at (even more) length, but this article is long enough, and I just want to give you some samples of the kind of shenanigans the gang gets up to. As many episodes, scenes, lines, and quotes as I've put into this article, rest assured that I really am only just scratching the surface.
Many of the show's actors have gone on to notable projects since the show ended. Damon Wayans Jr. returned to New Girl, where he was initially cast in the pilot, but Happy Endings' surprise season 2 renewal sent him back to his contractual obligations for that show. Eliza Coupe got a couple of short-lived (and pretty good) starring sitcom vehicles that focused on her type-A Jane persona in Benched and Pivoting. Adam Pally joined the cast of The Mindy Project in a major role and later starred in the very funny Champaign ILL alongside Sam Richardson. Casey Wilson married creator David Caspe, and Caspe's next sitcom Marry Me more or less told the story of their courtship; Wilson also had a major recurring role in Caspe's excellent Black Monday. Some of the show's writers went on to create or produce shows like Unbreakable Kimmy Schmidt, Kenan, The Mick, Solar Opposites, and the aforementioned Champaign ILL and Black Monday. These shows almost all* range from good to great, but none of them quite had the magic of Happy Endings.
(* – I'm sorry, Marry Me. I wanted to like you a lot more than I did.)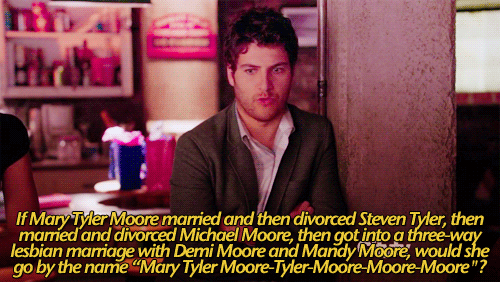 Sadly, like its network partner Don't Trust the B—- in Apt. 23, ABC didn't know what they had, deciding to move the show for season 3 from its post-Modern Family slot (where, apparently, it was significantly better at audience retention than anything else ABC tried after it) into a Friday night death slot, then cancelled it for the low ratings after the season. (Fortunately, as you may remember from my year in TV 2020 articles, we got one last go-round with the gang as they met up for a remote quarantine episode.)
In terms of the 21st-century sitcom, Happy Endings stands with 30 Rock, It's Always Sunny in Philadelphia, Arrested Development, and Party Down as the best America has to offer. And in some ways it stands alone as its own thing: a combination of 30 Rock's 90-degree-angle joke turns; Arrested Development's sheer density of gags; a lot of physical humor, character comedy, and wordplay; all amplified by a screwball pace turned up to 11; delivered by a perfect cast. It is also by far the least heralded of these five shows, and it is in my opinion a can't-miss sitcom. Ten years after its cancellation, I still find Happy Endings just as funny as I did the first time.
the Dude and Broad cast episode on the show:
A "TV Club 10"-esque primer episode list
"Dave of the Dead" (season 1, episode 7): Season 1 isn't as strong as the show would get, but the seeds of greatness are still there and the show still has a lot of great jokes. I chose this one in part because Dave decides to get the food truck he will own and run the rest of the series, and in part because Max and Jane's "who would survive a zombie apocalypse" competition is a good early example of the madcap comedy stories the show would tell.
"Blax, Snake, Home" (season 2, episode 1)
"Yesandwitch" (season 2, episode 3)
"Spooky Endings" (season 2, episode 5)
"Meat the Parrots" (season 2, episode 11): Big Dave comes to visit Dave with some big news, and Dave does not take it well. Also, Alex gets a new pet, a parrot named Tyler who is extremely racist. Tyler interacting with the group is pretty funny on its own, but Michael McKean is great as Big Dave and also shades in some history and adds something new to the gang's dynamic.
"The St. Valentine's Day Maxssacre" (season 2, episode 13): Pretty much everyone screws up Valentine's Day in some form or another, until they come together in the end to save the day for Max. I just think this one's really funny.
"Cocktails & Dreams" (season 2, episode 16): Besides the sex-dream drinks, Alex and Penny go on a cleanse and make some weird new friends. At least two great jokes I didn't mention already in the scene in Penny's bedroom.
"More Like Stanksgiving" (season 3, episode 4)
"No-Ho-Ho" (season 3, episode 7)
"The Marry Prankster" (season 3, episode 12): Max vows revenge; Brad finds a new line of work; and Alex? Well, the very first thing you read in this article– that quote in the headline– is from this episode.
Thanks to ZoeZ for letting me take the Wednesday morning slot. Happy Endings is currently available free on the Roku Channel, with a Hulu subscription, or for purchase on a number of other streaming services.