Hello, friends! Back for our fourth year of overtaking this film site like kudzu, it's your year-end TV wrapup and rankings! Let's get to it.
For starters, COVID-19 made this a very weird year for television. The pandemic delayed or scuttled a number of shows, including our top three from last year (I Think You Should Leave, The Righteous Gemstones, Barry), as well as some new ones we* were looking forward to (Mr. Mayor) and favorites we discovered during the pandemic. In addition, quite a few favorite shows from years past made their own quarantine specials, varying from table reads to Zoom meetings to 30 Rock's blend of "classic episode" and "network upfronts."
(* – "We" in this case being the residents of the Cohlchez Compound, myself and Mrs. C.)
So this series is going to start with a few oddities today: Shows we discovered during COVID, along with some of our favorite one-off specials of the year, pandemic-related and otherwise, including favorite standup specials. But first… let me get this out of the way:
BELOVED SHOWS THAT ENDED IN 2020 WHOSE ENDINGS I DIDN'T CARE FOR
The Good Place
Season 4
NBC
Especially if you participate in the daily What Did We Watch? discussions here, you've probably heard me go on at length about this ad nauseam. The show went from a tightly plotted comedy-thriller-horror to an intriguing examination of how to live morally in a complex world… then retreated back into Michael Schur's safe place, All My Characters Are Wonderful And Get Everything They Deserve Without Much Effort. Given the potential stakes of the series and areas they could have explored, I found the multiple final-season episodes focused on the main cast reassuring each other, and the way the actual Good Place and the moral implications of the entire system were rushed through, deeply disappointing.
UPDATE: For a further dissection of the problems with the show's philosophy as expressed in the ending, read this excellent Babalugats comment.
BoJack Horseman
Season 7
Netflix
The show had already started to wear on me a bit starting in season 5– beyond the endlessness of depressed characters circling the drain, I felt like it was increasingly writing Good Points Comedy to its audience, regardless of relevance or accuracy– but the ending really lost me. It struck me as contrived, one final moral judgment from the writers rather than an organic proceeding from the previous events. And on a more personal level, I have a real problem with a show about depression ending with a message that contains a significant amount of "No matter what you do to improve yourself or treat your depression, everything you've ever done will come back to haunt you and nobody will trust you anyway, so what's the point?"
Now to stuff I did like.
BEST COVID DISCOVERY THAT WON'T APPEAR LATER IN THIS LIST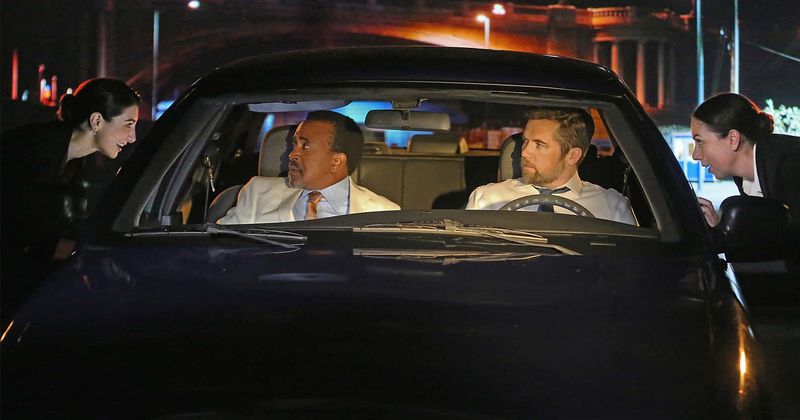 No Activity
Seasons 1-3
CBS All Access
We discovered several other shows during this time we'd previously overlooked, but nearly all of them released new seasons in 2020, and you'll be reading about them later this week. The one that didn't was No Activity, a US remake of an Australian show (even importing creator/star Patrick Brammall as one of the leads). The CBS All Access sitcom is essentially a cop/crime procedural, except the events are completely inverted from what we usually see: Rather than the actions that go toward solving the case, what we see are conversations between people waiting for something to happen. Most prominently, that's with the two cops on stakeout (Brammall and Tim Meadows) or the dispatchers (Amy Sedaris and Sunita Mani). Beyond that, it's a killer cast that shows up rotating in as the criminals or undercover agents investigating the criminals– Jason Mantzoukas, Jesse Plemons, Cristin Milioti, and more– or some of the weird or annoying people Brammall and Meadows have to deal with– J.K. Simmons, Bob Odenkirk, and Jake Johnson make appearances, among many others. Nearly the entire show is just given to funny, strange comic conversations, and that makes it both funny to watch and an easy, low-pressure show to get through during the slow and quarantined months. (The show's renewal for a fourth season– which will be animated– was announced in October.)
BEST COVID-RELATED ONE-OFFS
Happy Endings
Watch it for yourself. If you missed the old gang, they're back and up to their old tricks. A pretty funny episode that returns to the classic Happy Endings wordplay-based humor ("I look like a monster, like when Charlize Theron played that monster in that movie Bombshell") and the zippy cast chemistry that made this show such a blast. Everyone is quarantined, which leads to some hilarious twists in the Brad-Jane story, and, like every Happy Endings season, somehow ends with a wedding.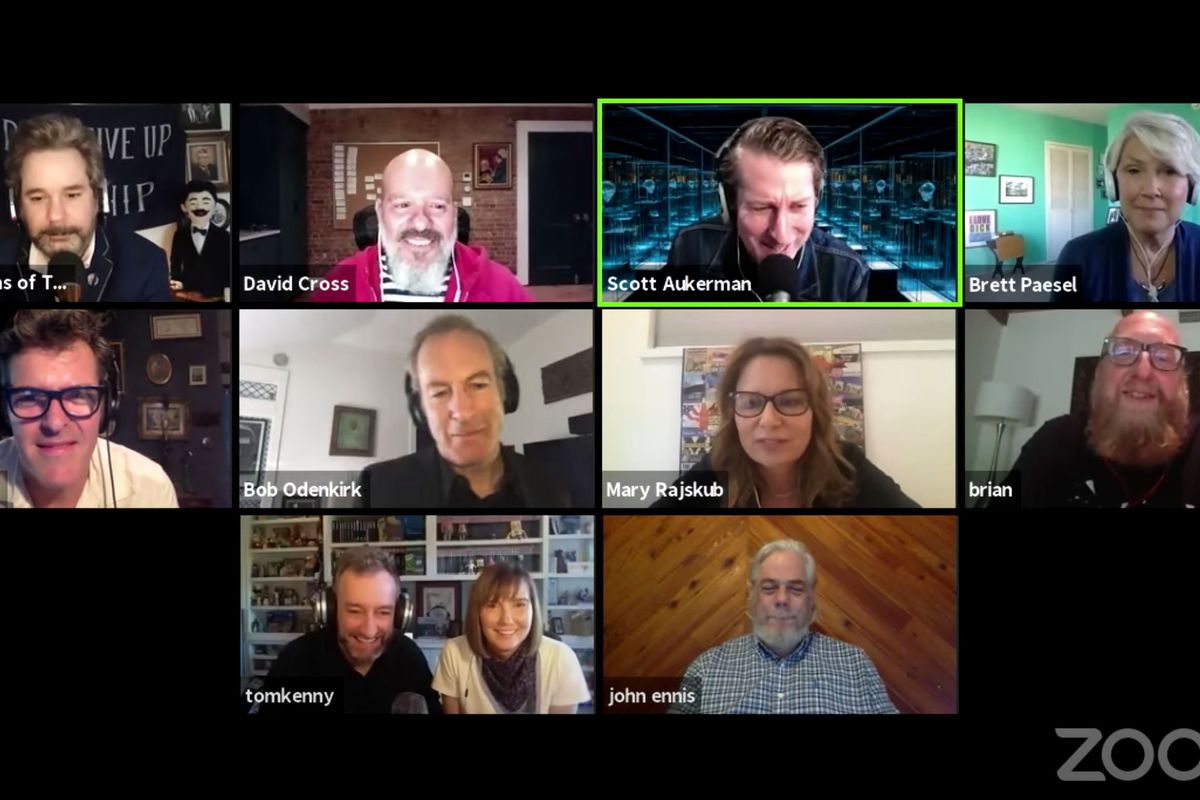 Mr. Show Zoomtacular Annual Business Call Event For Charity
This was good! A few old Mr. Show characters, but by and large new material (including for said characters). And really a remarkable collection of talent, to boot (as this show always had, but be prepared for some surprise guests). The show is framed as a GloboChem shareholders meeting, which also gives Bob Odenkirk some great chances for the corporate jabs that marked the GloboChem sketches in the original show. Also contains the only good "celebrities sing a song at you for quarantine" production. You can read a more detailed review here at Vulture:
https://www.vulture.com/2020/05/bob-odenkirk-david-cross-mr-show-zoom-reunion.html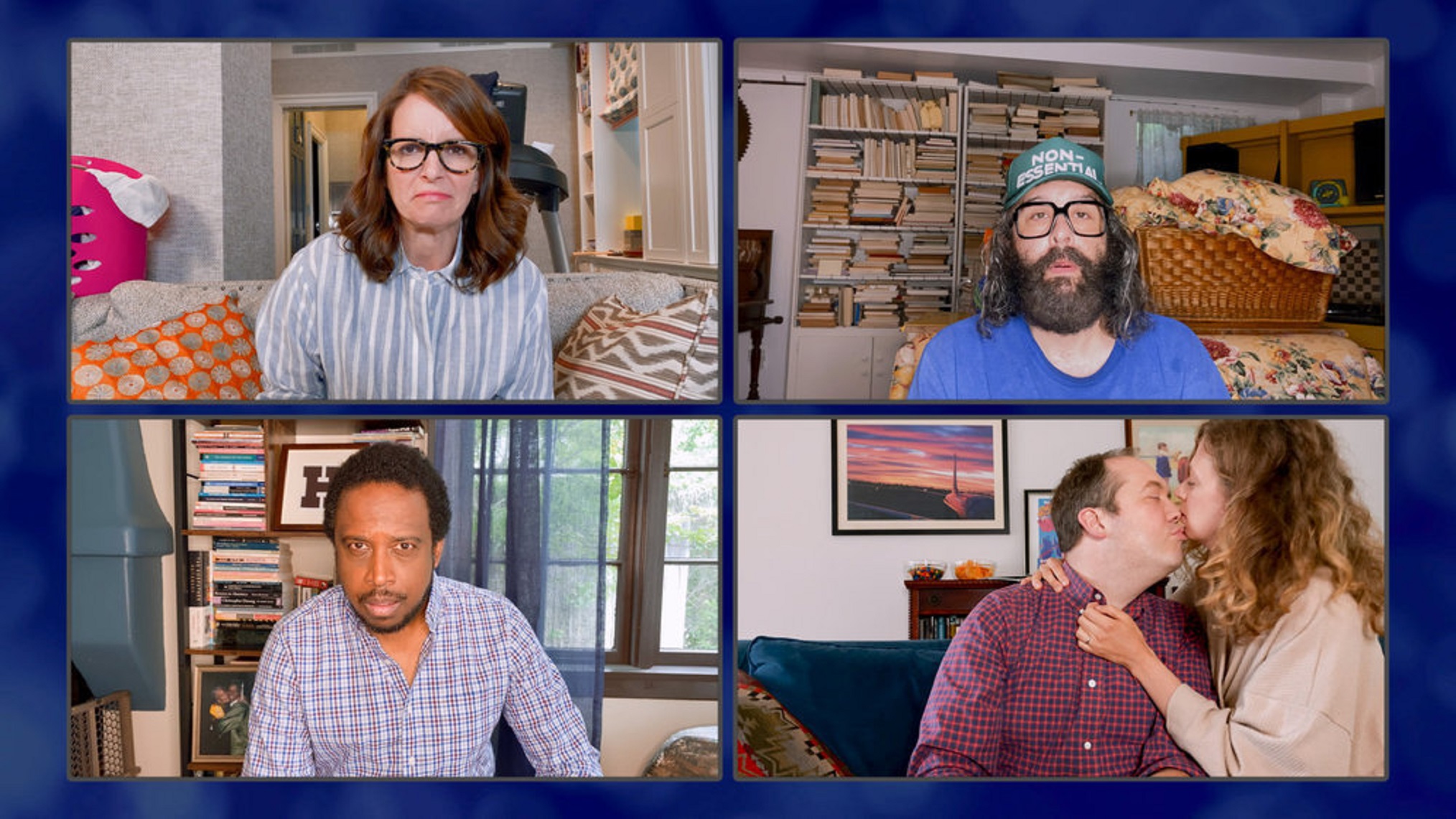 30 Rock, Peacock Upfronts
Peacock
This absolutely should not have worked as well as it did. But if you read the Vulture article on quarantine pitches for TV shows, you may agree with me that the 30 Rock pitch was the funniest and demonstrated the strongest understanding of the characters. (The Curb Your Enthusiasm one was great, too.) That turned into NBC turning the upfronts for its new streaming service Peacock into a 30 Rock quarantine episode– one which is genuinely funny and captures the old spirit of the characters far better than we had any right to expect. Even though it's essentially a commercial for the network, it's good enough to be worth watching in its own right. (And, in the ultimate touch of 30 Rock's cutting satire toward its network leaning into the surreal, the first couple of show trailers were indistinguishable from fake shows 30 Rock would have come up with.)
In case I forgot anything, here's what I wrote at the time I saw it:
Far funnier than it had any right to be. The 30 Rock writing crew still has it; Alec Baldwin and Jane Krakowski in particular are still in total control of their characters. Jenna was the real MVP, between Krakowski's performance and all the insane-celebrity jokes thrown her way, let alone the volume of freeze-frame gags. (I highly recommend you make sure you catch everything in her Instagram cooking video.) Funniest meta-moment was how long it took us to realize the actual upfronts were not 30 Rock parodies of NBC ideas.
BEST NON-COVID-RELATED ONE-OFF

Jeopardy! Greatest of All Time Tournament
ABC
I did not include this simply because the legendary Alex Trebek died last month. I included it because it was a blast to watch. You don't need a review of Jeopardy!— it's been on the air in its current form for 36 years; everyone knows what it is by now. But seeing people who are the very best at what they do compete against each other is always fun. It was also a blast to see eventual winner Ken Jennings learn from the strategies that people like James Holzhauer developed to maximize their return and their chances of winning, strategies that were not particularly considered at all back when Jennings went on his run in 2004. (As a poker player, it was a bit like watching old hands like Doyle Brunson or Phil Hellmuth adapt to the aggressive, innovative strategies online players brought to tournament play in the mid-2000s.)
BEST NON-TV PRODUCT FROM A TV CHARACTER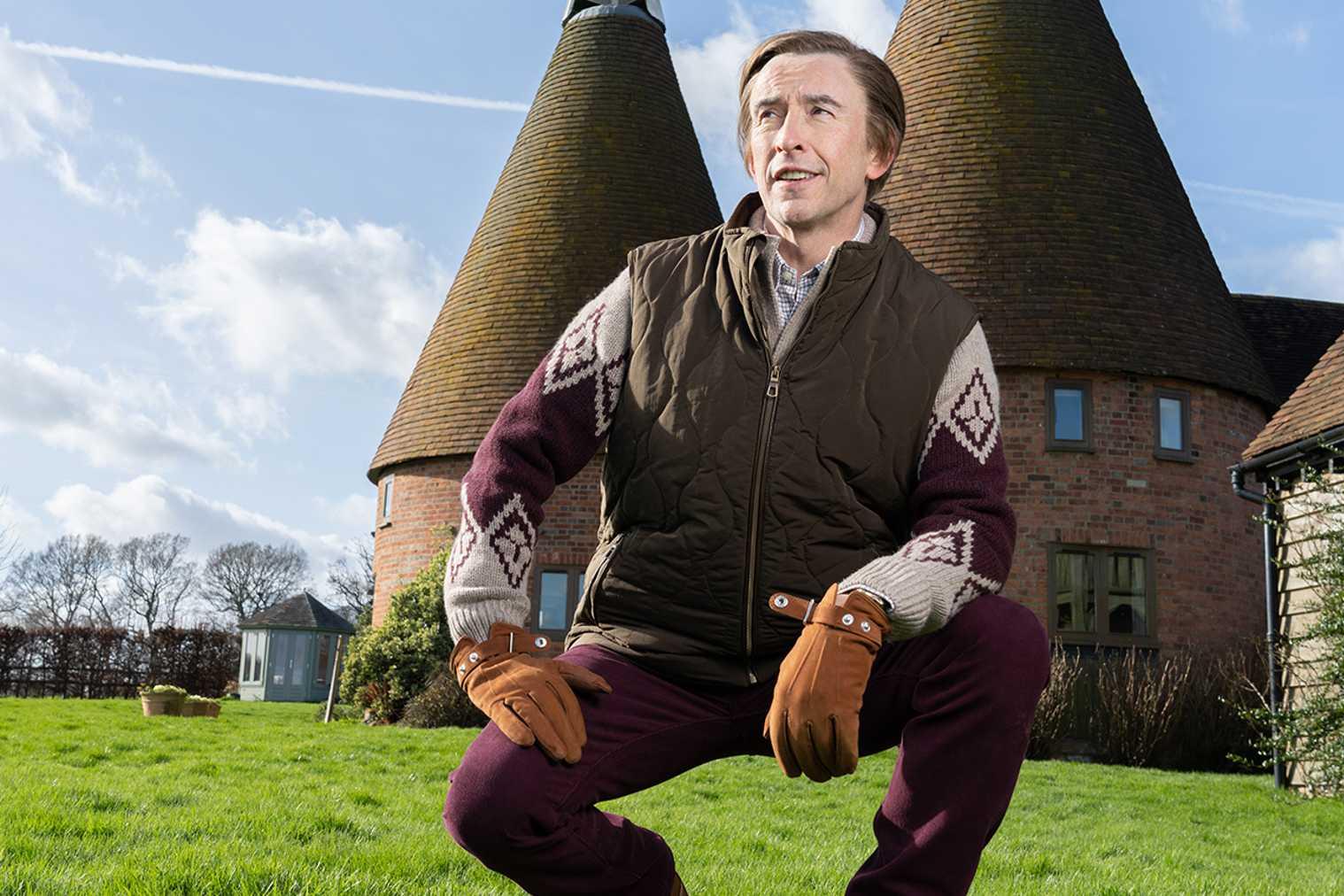 Alan Partridge
From the Oasthouse: The Alan Partridge Podcast
Audible
Podcasting is both a COVID-appropriate medium and a natural fit for Alan Partridge: The man who loves nothing so much as the sound of his own voice being broadcast now has a medium where he can do it entirely on his terms, with no guests or callers interrupting or onerous Standards and Practices departments interfering with what he wants to do. Alan's frightfully dull mind is unfiltered here, rambling on various topics ranging from his fear of his dog to strange goings in the neighborhood to not getting to see his grandkids to, of course in the social media age, dealing with the Trolls. A very funny journey through Alan's pedantic obsessions, inane trains of thought, and, indeed, dealing with one Twitter troll in particular.
BEST STANDUP SPECIALS OF THE YEAR
3. Sam Morril, I Got This
2. Mark Normand, Out to Lunch
I included these two together because they're rather similar (Morril and Normand are friends and even have a podcast together). What stands out to me from these two sets is that these guys are classic standups; they're not really narrative joke-tellers, they've got the setup-punchline form down and use it to its maximum effect. These are two great examples of what the professional craft looks like in standup. And, of course, they're really funny, or there wouldn't be any reason to recommend them. (Normand gets the edge here because I found his a bit funnier; it's more dense and he uses callbacks better.)
1. Dave Chappelle, 8:46
Whereas this is less a classic standup set and more the righteous fury of a man who's seen enough. Recorded several days after George Floyd's murder was made public news (the title refers to the length of time Derek Chauvin kneeled on his chest until he died), Chappelle delivers a brutal, savage examination of Black life in America and how it's treated and regarded. Chappelle, of course, makes this work with a tremendous knowledge of Black American history and the history of policing in America. Without spoiling any details, it's powerful, incisive, and one of the few must-see stand-up sets in recent history.
Before we go, one last item…
A SHOW I FELT COMPELLED TO MENTION
Brooklyn Nine-Nine
NBC
Season 7

I have no idea what to say about this show anymore. I have no idea what the show is going to look like coming back in the wake of months of nationwide police protests. But I still watched the last season, and it was pretty much still the same as it ever was, and I'm not sure I could tell you anything that happened in it. I think you know what you're getting at this point. Even if I don't know what we're getting from season 8.
Your normal, ordered list will kick off tomorrow and run through the rest of the week. (Follow the "Best TV 2020" tag to keep up with the whole list.)