With 25 shows in a 4-part list, one day one of these articles would have to cover seven shows instead of six. That day is today.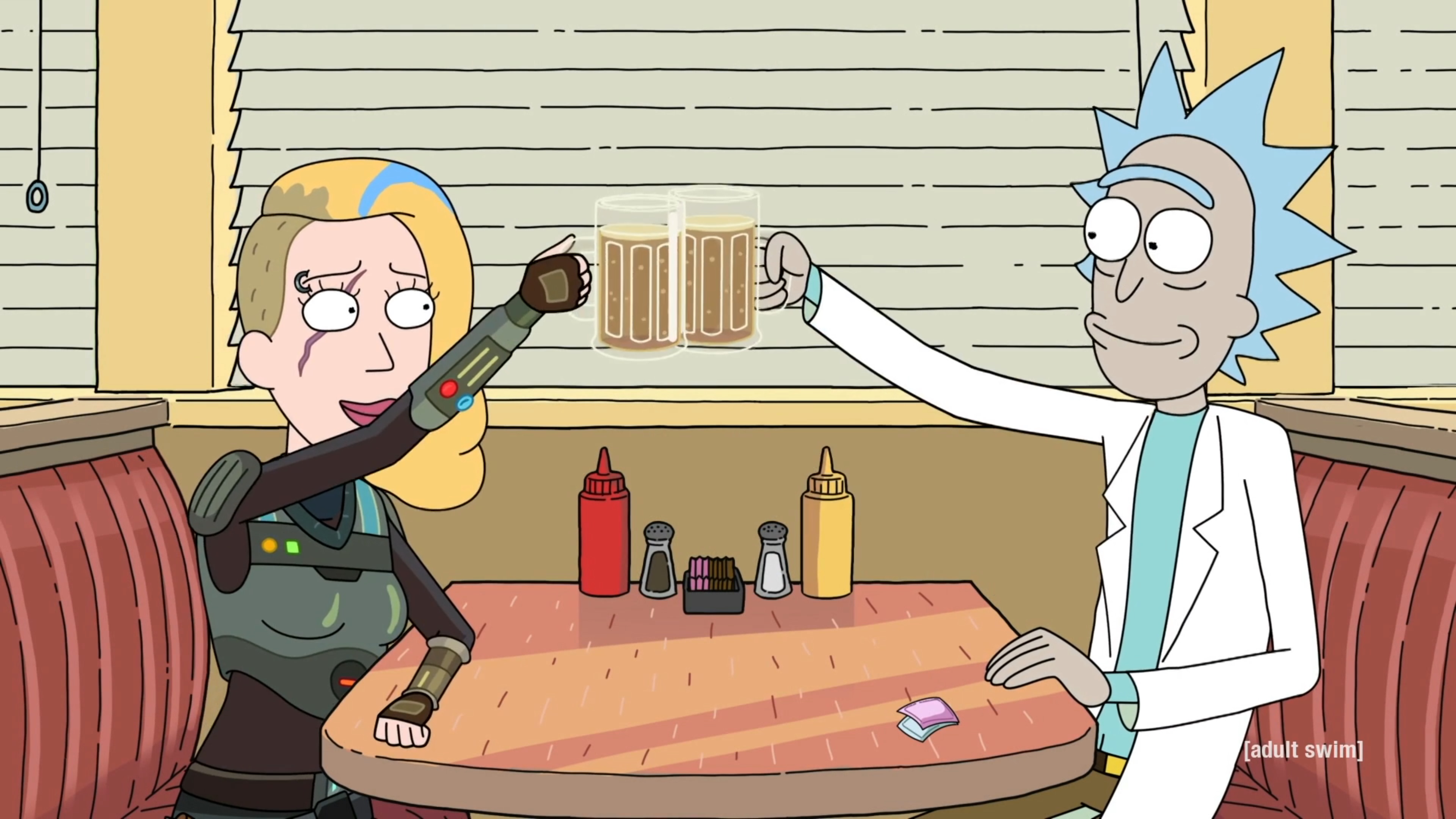 19. Rick and Morty
Season 4
Adult Swim
Only five episodes prevents this from being ranked higher, but this is arguably the strongest stretch the show's had since season 2. This run of episodes largely gets back to the elements that made the show great, including a finale that gives us some fast-paced and thrilling sci-fi action in the fashion of the best Rick and Morty. Even the usual hand-wringing over Rick's toxicity actually plays into the finale's plot instead of just being something the family yells at him for!
This show always carries the potential to be the best thing on TV, and once in a while, it shows us it still can make episodes that remind us why we came to love it in the first place.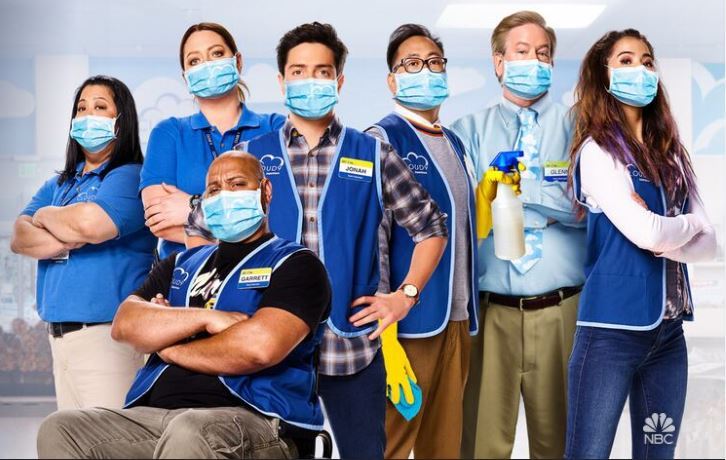 18. Superstore
Season 5-6
NBC
It's very difficult to find new things to say about this show, generally, being a network sitcom now into its sixth season. But the show has had to address a few changes and complications this year, and has done so well:
First, America Ferrara announced she was leaving the show at the end of season 5– so the show had to write in her exit and then write without her. This was complicated by…
Second, the coronavirus pandemic caused a delay in filming the finale… so Ferrara didn't actually leave until two episodes into the sixth season. On top of that, being about big-box retail, Superstore has written the pandemic, and how its workers are dealing with the conditions, into the sixth season, another example of the show tackling real-world conditions of service workers without being didactic or preachy.
So far in season 6 the show has continued just fine sans America Ferrara and during the pandemic. We'll see if that holds; the third complication is that earlier this month NBC announced that the sixth season of Superstore would be the last. Our most consistent year-in year-out show in the year-end lists will have its last hurrah in 2021. Despite the challenges detailed above, it continues to be as funny, easy to watch, and revisit-able as ever.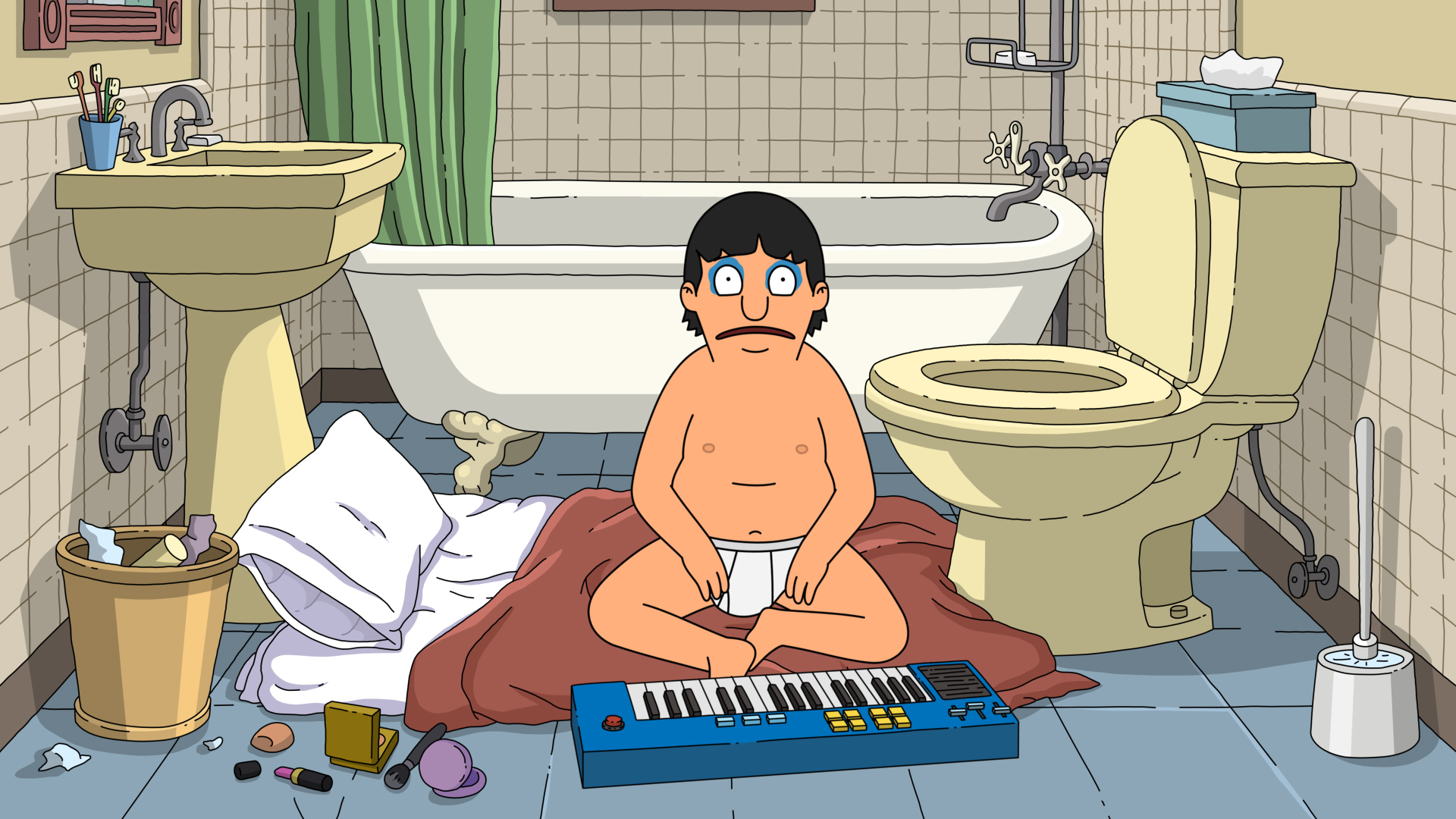 17. Bob's Burgers
Season 10-11
FOX
This is an easy show to watch and forget about, but I've been watching some of these episodes for a second time recently, and, in truth, this show continues to hold up on rewatch very well and never has a bad episode. Onto their eleventh season, one could forgive the Bob's team if they started slacking or settling into a comfortable decline. The show remains as funny as ever, though, and not even just in the poop-based episodes ("Poops! …I Didn't Do It Again" and "Diarrhea of a Poopy Kid," for example). We've got Tina trying to solve a mystery at school, Louise trying to help out another girl who hasn't made friends, Bob and Linda working in the Fischoeder's temporary nightclub, plus a few road trips, Gayle appearances, and, of course, an episode about how the kids are terrible, they're all terrible. Bob's peak and many of its most memorable episodes may have come early in its run, but perhaps they're memorable in part for being so fresh– I don't think there's any way to reasonably say this show has declined in quality, and midway through season 11, that's the sort of achievement very few shows can claim.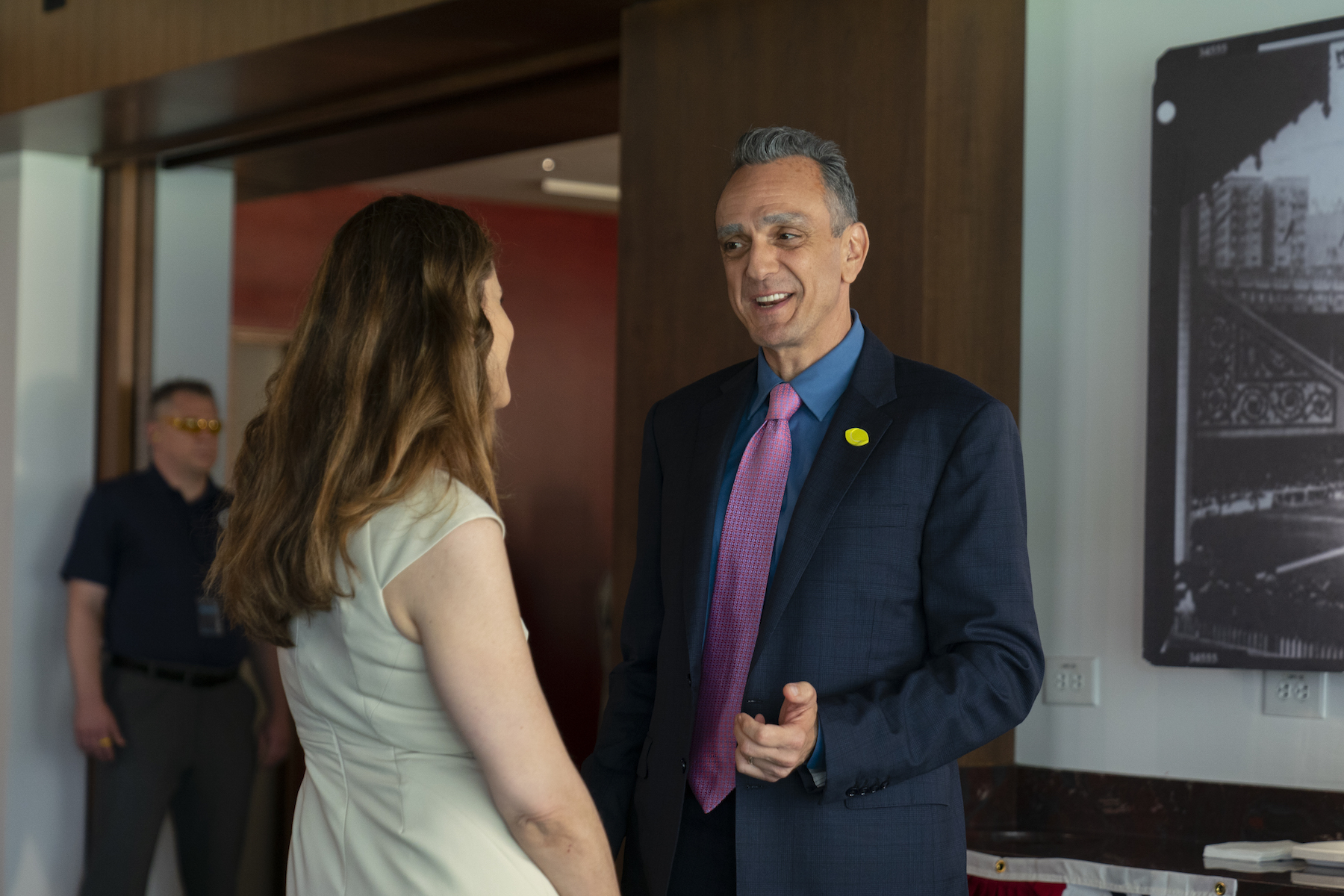 16. Brockmire
Season 4
IFC
Brockmire's final season throws a doozy of upending story turns. First, Jim receives a visitor at his house; he has an eight-year-old daughter, thanks to some long-forgotten affair in the Philippines, and her mother is dead (tsunami). Then, the show fast-forwards ten years! America and the planetary climate are even further along in their collapse, violence and water wars breaking out; what's worse, nobody seems to be watching baseball anymore. So the league's owners decide to take a long shot and hire the one man still truly passionate about the sport as Major League Baseball commissioner. (Jim takes the job in part to be near his daughter as she starts NYU; Alan Sepinwall describes the now-sober Jim as finding helicopter parenting as his new addiction.)
Jim's newfound roles, both as a parent and on a three-year contract as commissioner, lead to new responsibilities and challenges– as well as dealing with a society collapsing into techno-dystopia– that remains as funny as ever but with a lot of depth and sincerity in the relationships, not just with Jim and his daughter (Reina Hardesty is right on the money as Beth), but also some of the many people he's encountered and cared about over the years, including his ex-wife, ex-producer Charles, and ex-girlfriend Jules.
It's a strong season that only doesn't rank more highly because we had some really good TV shows this year, and it closes with a final shot that, as much as anything, reminds me of True Detective season 3's finale. Jim Brockmire led a pretty fucked up life for a long time, but in the end, to paraphrase our own wallflower: He did some pretty good things and raised a pretty good daughter and did a pretty good job getting over his addictions, and, if he's dying, he'll die surrounded by the people who love him– and maybe that's what it looks like when the light wins.
15. Corporate
Season 3
Comedy Central
A short six-episode season that would be the show's last is no worse off for it. The show tackles matters as disparate as YouTube algorithmically generated children's programming, depression (the terrific "Black Dog"), the importance of praise at work– and the importance of having someone else to talk shit with about your co-workers, what motivates the possessors of obscene wealth ("Fuck You Money"), and… farting at work.
The season has a couple of great runners, like Hampton DeVille's weather machine in development, yet another sign of Christian DeVille's supervillainy; or the company's new streaming service Hampton DeView– the jokes about both the service's struggling ratings and its shitty original shows, like Sticks & Stones, Jew Pope ("I hear that's one of the better pope shows"), and Killer Human: The Untold Story of a Human Who Killed: An Exclusive Miniseries, could have come straight from 30 Rock.
In the end, Hampton DeView ends up being a pretty sharp commentary on the entitlement of fandom; in the end, Corporate was a dark and bleak satire of the corporate world and its products and ethos (and their damage) being inescapable in our modern times, by only barely exaggerating the conditions of the real world and what we all suspect goes on behind those board room doors.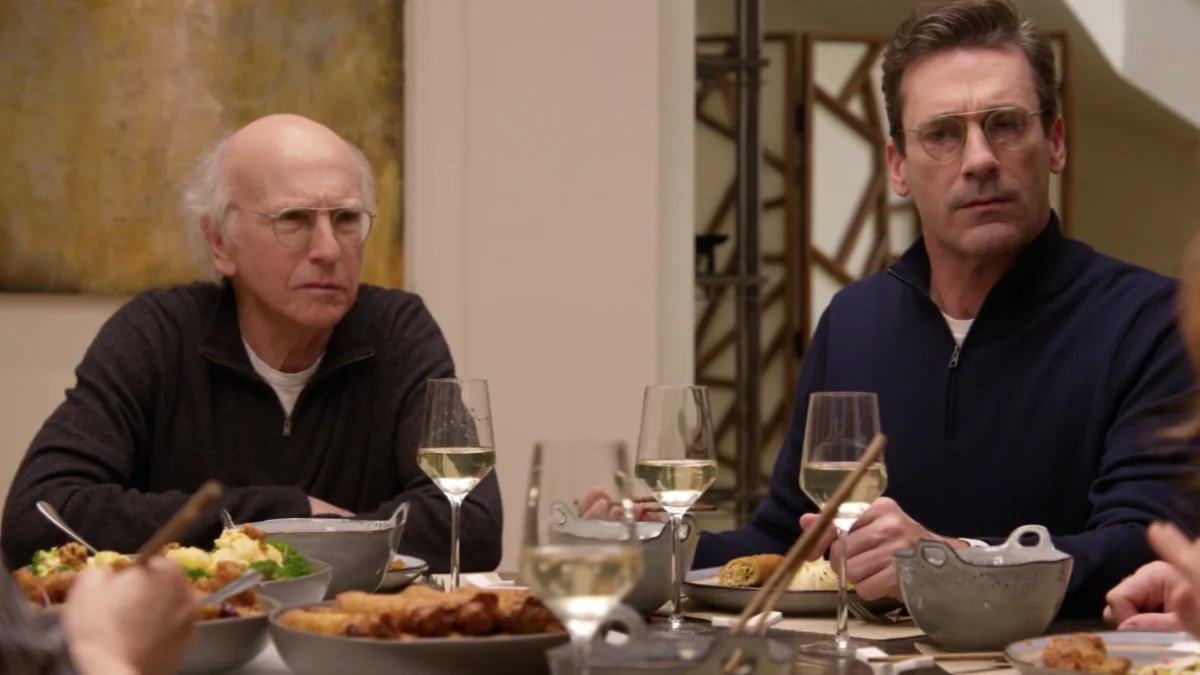 14. Curb Your Enthusiasm
Season 10
HBO
Spite Store! Curb's very funny season is anchored by Larry's frustration with Mocha Joe and his coffee shop; after getting banned, Larry opens a competing shop next door. The whole season takes some funny turns, whether it's from Larry's social fussiness leading to a sexual harassment lawsuit, a destination wedding leading to a nitpicky groom (Timothy Olyphant) and a feud breaking out during the ceremony, Larry trying to protect Jeff's fragile (physically, not emotionally) heart or demanding not to be sat in the "ugly section" of a restaurant, and in perhaps the funniest episode of the season, Jon Hamm shadowing Larry for a role and gradually coming to inhabit Larry's qualities. (Larry getting stereo-berated by Cheryl and Susie while Hamm takes notes is one of the funniest scenes of the year.) Curb and Larry David still have it; who else would decide to start wearing a MAGA hat around town just so all the people he knows will leave him alone?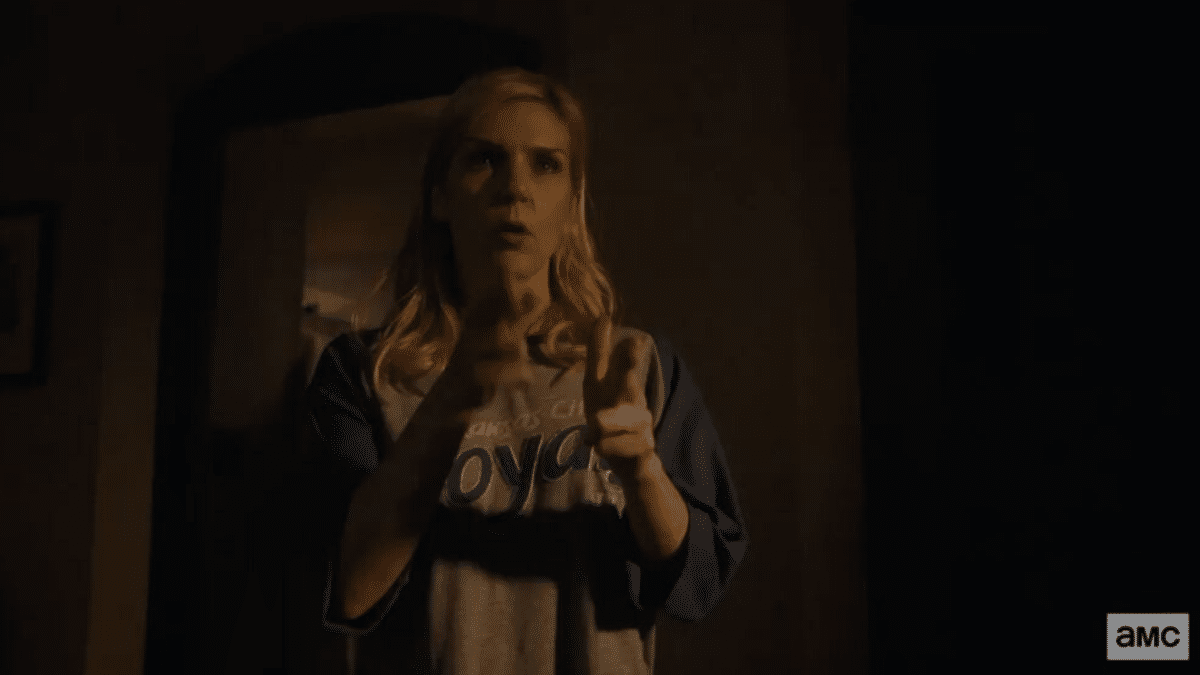 13. Better Call Saul
Season 5
AMC
Still not quite the show I hoped it would be, but a definite step forward from season 4, as season 5 immediately gives us something I've been pining for for a long time, Saul pulling ridiculous shenanigans in court to defend his clients. The bigger problems of the plots being too disparate starts to come back together as well, as Lalo Salamanca (Tony Dalton, in a terrific performance that might be described as "affably terrifying") enlists Saul to help him with a cartel matter, leading to some of the most tense plotting in the show's run yet (including an episode very reminiscent of Breaking Bad's "4 Days Out"). And the journey of Kim Wexler has taken a new, terrifying turn, as she's in all the way with Saul in a manner that might even shock him.
Of course, as so often happens with this show, the middle of the season drags a bit, but with Saul finally being Saul, the highs are higher and more frequent than they were in season 4 by some measure. I still stand by my position that this show could be tighter and could've gotten us here sooner; it's for that reason that I'm not yet entirely confident the show will handle its endgame as well as it could, but we'll find out soon enough, and this season's conflicts and character progressions certainly will give the writers enough to work with.