And now, we move to the final ten shows on the list. Thank you for sticking with me through this whole journey.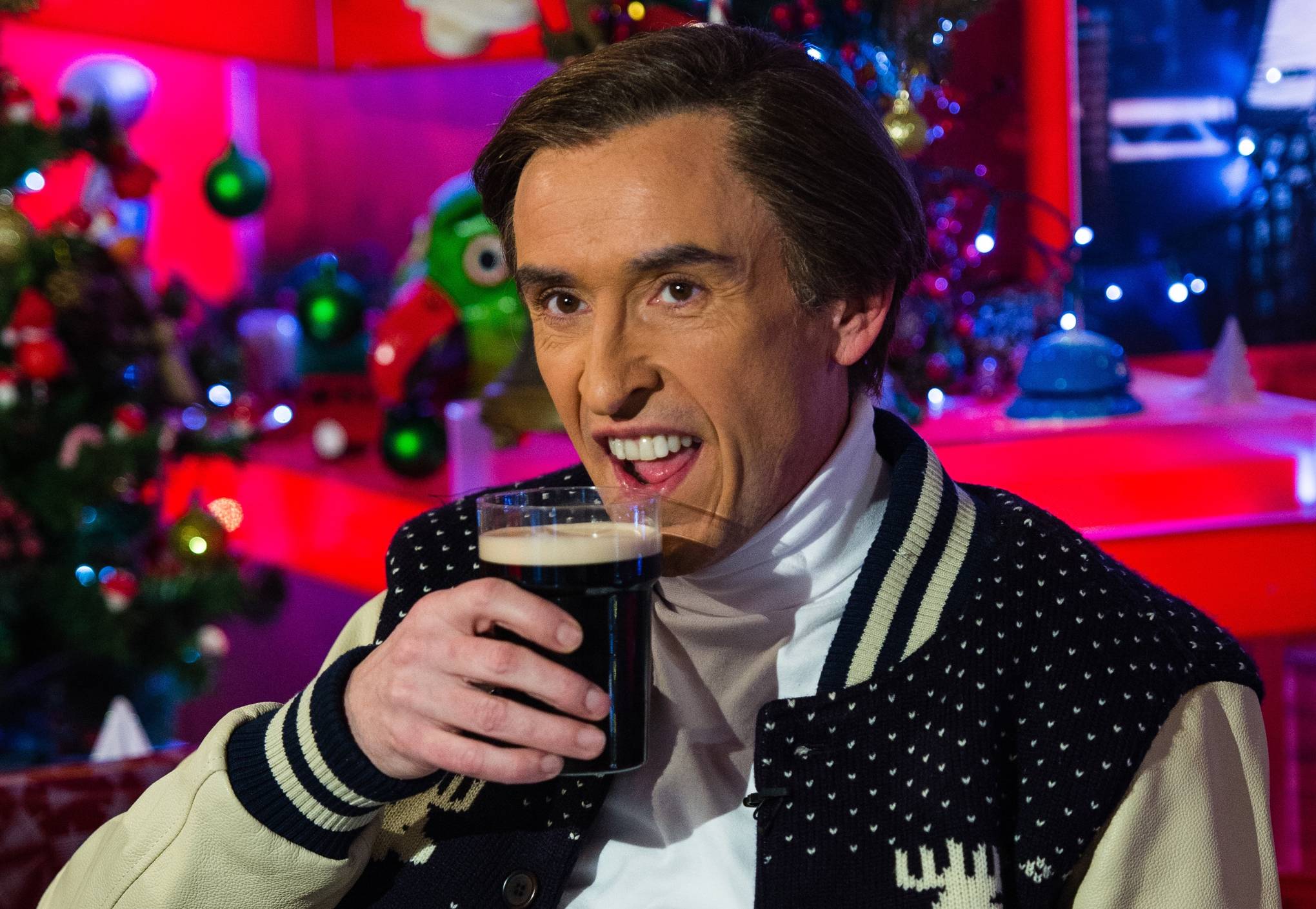 10. Alan Partridge (Mid Morning Matters, Welcome to the Places of My Life, Alan Partridge's Scissored Isle, This Time with Alan Partridge)
2010-
Fosters Funny, Sky Atlantic, BBC One
Alan Partridge is one of the most legendary comic creations in modern TV and radio entertainment, having debuted nearly 30 years ago as the incompetent sports presenter on the Chris Morris Radio 4 news spoof On the Hour, and continued into multiple spinoffs, sitcoms, and specials, where he revealed new layers to his tone-deafness, dull thinking, and ego over and over again. While some of the material is better than others– Knowing Me, Knowing You (and the Christmas special) and season 1 of I'm Alan Partridge stand out above the rest– what's remarkable about Alan Partridge material is that it remains so damned consistent.
That is, to be sure, a bit easier given that the creative team– Steve Coogan and Armando Iannucci, joined this decade by brothers Rob and Neil Gibbons– only makes new Partridge material when they have a story to tell. But the fact that Alan is such an incredibly detailed, specific, thought-out character makes any Partridge material some of the richest, best-observed character comedy of its time, and the Partridge output this decade is no different. Whether it's a live look-in at Partridge's morning radio show (Mid Morning Matters) or one of Alan's self-serving faux-thoughtful documentaries (Scissored Isle) or Alan trying to make the most of an unexpected break to get back in television (This Time), what's always delivered is classic Alan comedy, the same foibles and fixations and faults cropping up again and again, but in new and delightful ways.
Admittedly, this is cheating a bit, throwing all these shows and specials across formats under one banner (a banner that, for the record, doesn't include 2013 film Alan Partridge: Alpha Papa). But given that Partridge operates in such a specific and consistent world across all of these formats, and that this legend of comedy deserves to be recognized in his third decade of entertaining us, I don't feel it's cheating at all. In this one case, Alan truly does deserve the accolades and special treatment he's always imagined himself worthy of.
All this said, perhaps the best work done with the Alan Partridge character this decade isn't on this list at all: It's the autobiography I, Partridge: We Need to Talk About Alan, by Alan Partridge, a book full of massive ego, petty score-settling, revisionist history, poor research, general lack of professionalism, and inane tangents that reveal a deeply dull inner life. Specifically, the audiobook version, which Steve Coogan reads in character as Alan Partridge, is arguably the funniest creation of the entire decade. (There's also a second book, Nomad, not quite as funny but still well worth your time if you're a Partridge fan.)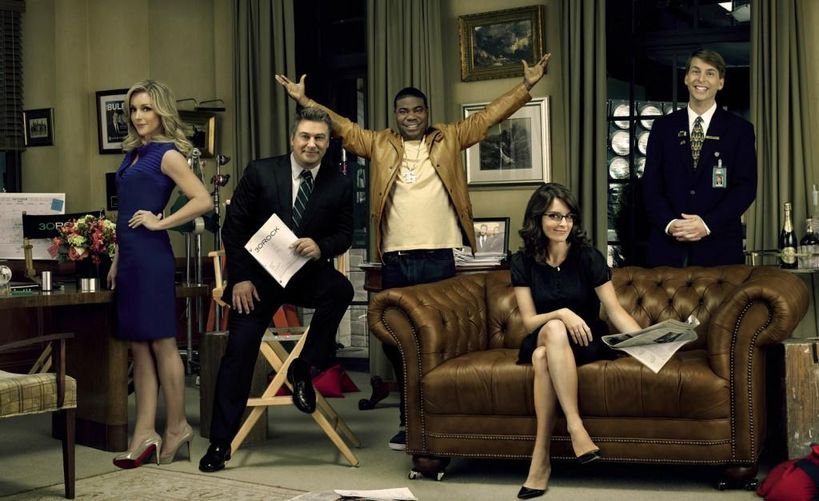 9. 30 Rock
Season 4, Episode 9 to the end, 2010-2013
Full Show: 7 seasons, 2006-2013
NBC
This was a tough show to rank. Many of my favorite episodes come from the last decade– "Tracy Does Conan," all the way back in season 1, is, I think, the definitive episode of the series– but I also thought the show finished really strong when it was time to wrap up, and despite the sagging in the middle, there's still so much brilliant material and so many killer lines in the episodes that are eligible, and I still find them sharp and funny even on rewatch– in some cases, even, moreso than I did the first time. It's not often a show this late in its run comes up with something as inspired as "Leap Day," as fun as "Queen of Jordan," as funny as "Governor Dunston," as risky as the live episodes, or as spectacular as "My Whole Life Is Thunder."
Is it still kind of a cheat to have it this high? Maybe. I dunno. It would be higher if I had the entire show to work with, I can tell you that much. It's all subjective, right? What can I say, I too like the way Angie says "ham."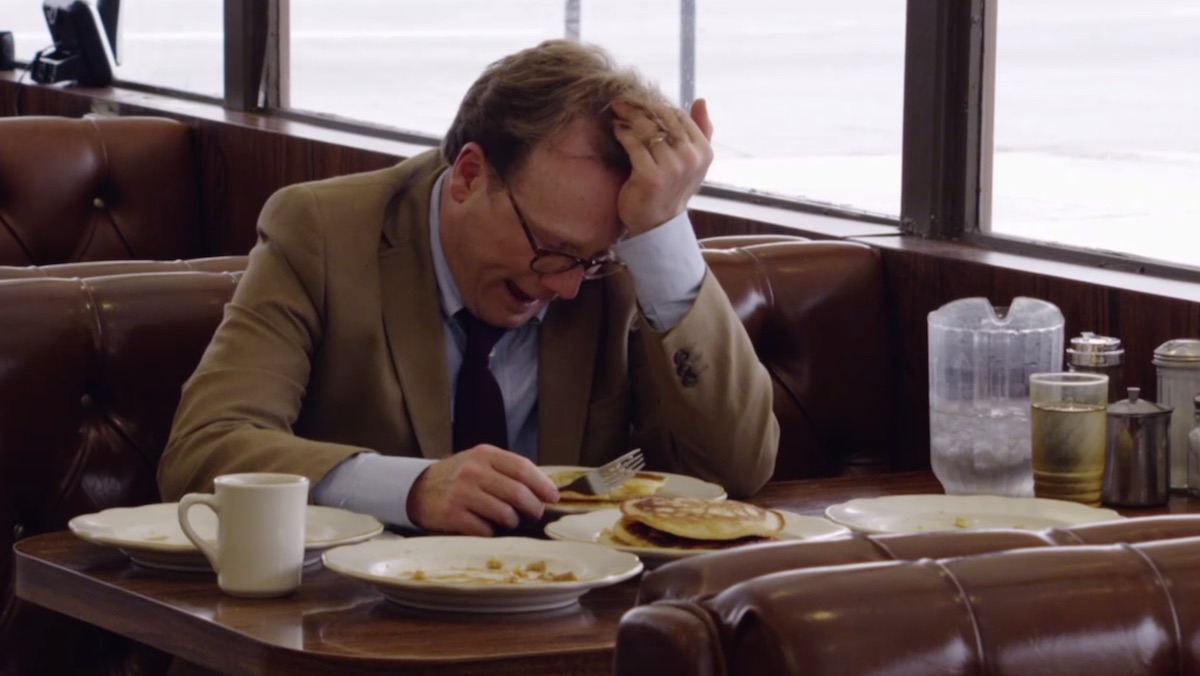 8. Review
3 seasons, 2014-2017
Comedy Central
Brutally hilarious, intensely committed, and with a stunning finale that rates as the best since The Shield in my mind, Review was a dark look at a man committed to foolishly chosen and implemented principles. Andy Daly's Forrest MacNeil, professional critic, decides to become a "life reviewer"– and aided by an evil and manipulative producer (James Urbaniak, outstanding here as Grant), ends up committing to a series of decisions that gradually destroy his life.
Both hilarious and horrifying, Review never forgets that it's a comedy, but also never flinches in the face of the real consequences of Forrest's decisions. Forrest's commitment is its own form of insanity, refusing to reject reviews that will obviously have severe consequences for him, and refusing to halt them once they've clearly gone badly, and his bumbling delusion as a square white-collar white guy makes him completely blind to some of the obvious bad decisions he's making. Review is funny and brutal, with an astounding final twist that still, somehow, manages to feel like the cruelest trick to play on someone who has already gotten a divorce, burned his father's house down, and committed a murder, all for the sake of his TV show.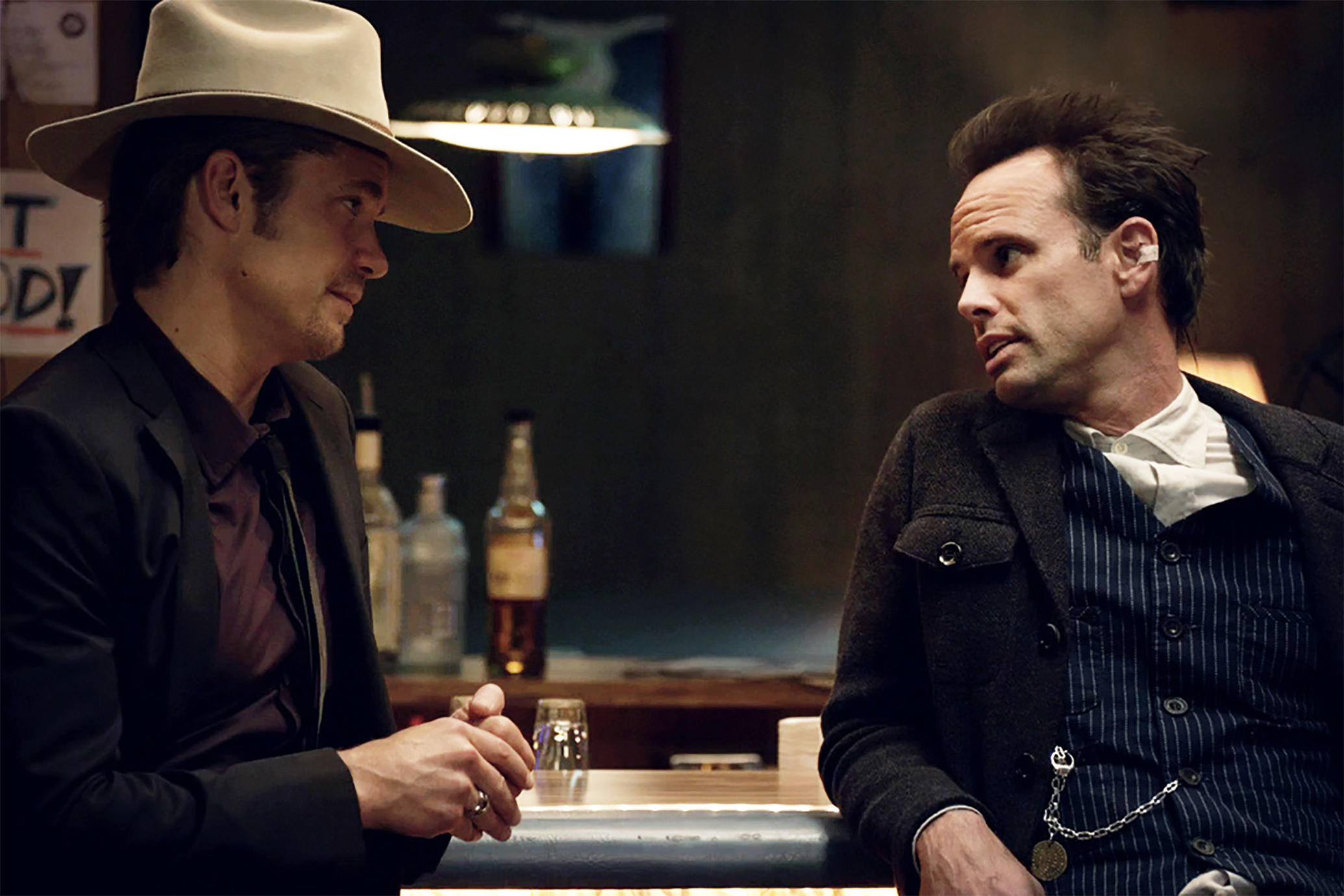 7. Justified
6 seasons, 2010-2015
FX
While we saw some of the Second Wave of Prestige TV Dramas hit their conclusion this decade, only one aired from start to finish. Coincidentally, that one also happens to be the most fun and rewatchable of the bunch. Justified succeeds in a similar fashion to The Shield, in that beyond the overarching plots, each episode (occasionally excepting the runups to and climax of a season) had its own case that needed to be solved while the main plot fell into place. This means that any given episode is enjoyable, fun, always moving forward. On top of that, it gave us three terrific dramatic seasons by my count (2, 4, and 6), with tension and tragedy running strong throughout each of those in particular.
It's the rare show that creates a fun, breezy vibe– and one that's unique among Prestige Drama, being set between Lexington and Harlan County, Kentucky, rather than in New York, Los Angeles, or history– while still creating the kind of dramatic tension and plotting that makes such a show compelling. The cast is terrific, too, anchored by frenemies Raylan Givens and Boyd Crowder, played of course by Timothy Olyphant and Walton Goggins, making his third appearance on this list and his second one I described as playing "frenemies" with the other lead. (Unfortunately, it's his last one; I don't think The Unicorn aired enough episodes to merit consideration. Certainly I didn't watch enough episodes to consider it, and by that I mean zero.)
Beyond them, though, the show found a considerable lineup of character actors to fill out its lineup either as recurring small-timers or seasonal big villains, from Damon Herriman to James Le Gros to Sam Elliott and Mary Steenburgen to Character Actress Margo Martindale and more. Probably the two biggest running highlights in this regard are Raymond J. Barry as Raylan's father Arlo, a mean son of a bitch whose regard for Raylan might as well just have recounted his famous line from Walk Hard; and Jere Burns as Wynn Duffy, a somewhat esoteric middle-manager of a criminal whose primary guiding principle is self-preservation. It's all done terrifically, even if Raylan never really has to reckon with some of the moral ambiguities he's taken or his tendency to unlawfully harass suspects and people he just doesn't like. (I can't say I'm surprised; this show was never going to be a tragedy.)
The combination of dramatic intensity with a vibe that's entertaining in the way that makes you want to revisit the show long after it's gone elevates Justified over its peers of the era to be a top-ten show of the decade. (It's not exactly the last drama you'll hear about today, but… well, you'll see.)
6. Rick and Morty
4 seasons, 2013-
Adult Swim
The first season of this show is, I think, my favorite sitcom season of the decade.
If the rest didn't quite live up to that, it was a high bar to set, and there's simply no scripted show on television as inventive and audacious as Rick and Morty. You've heard a million billion times already as to what a phenomenon it was; if you believe it's overhyped, go watch some of those season 1 episodes again– in particular, "Lawnmower Dog," "M. Night Shyam-aliens!," "Meeseeks and Destroy," "Rick Potion #9," and "Rixty Minutes."
At its best, the show was not only a terrific comedy machine– from Rick's verbose ranting to Jerry's ur-patheticness to all the in-episode zaniness of every adventure– but also astoundingly well-plotted, with twists and turns and surprises that feel wild but somehow make sense, like a rickety (Rick-ety?) rollercoaster that seems shaky but is always guided securely by the tracks and lands in the end. I say "was" a bit unfairly; the show still airs, and we'll get the second half of season 4 in 2020.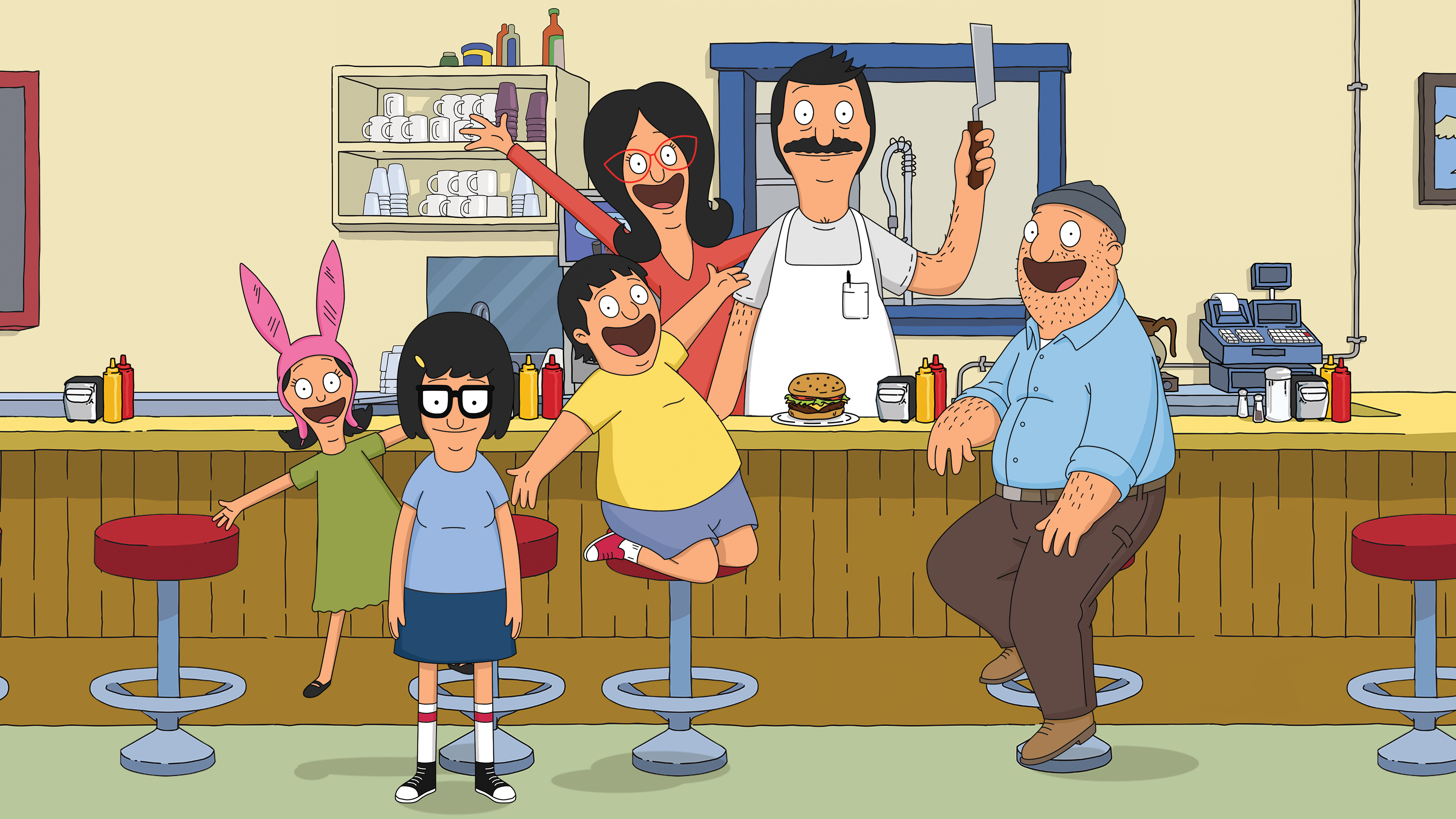 5. Bob's Burgers
10 seasons, 2011-
FOX
An outstanding, remarkable show, the mainstay of animated comedy this decade, and a show that somehow has had maybe two bad episodes out of the 182 it aired in the 2010s. While Bob's hasn't rated highly on any lists lately– it's a steady presence that's never had a downturn, which is not a good way to get buzz– season 3 was one of the best shows on the air at the time, and even going back to early episodes, I'm startled to find how fully formed the characters are: Traits that wouldn't become apparent until much later in the show's run seem like they're there in the very first episodes, once you know where to look.
Jon Benjamin has possibly never been better (I mean, there's still Coach McGuirk) as the exasperated, put-upon, but loving and devoted Bob Belcher. Kristen Schaal and Eugene Mirman are perfect as Louise and Gene, and the gender-flipped casting of Dan Mintz as Tina and John Roberts (not the Chief Justice) as Linda never seems gimmicky. (Roberts has one of my favorite comic line readings this decade, in season 3's "Tina-rannosaurus Wrecks," with Linda's inexplicable enthusiasm for announcing to a party "SORRY WE'RE LATE, BOB HAD DIARRHEA!") All these actors fully inhabit their characters; that goes just as much for recurring players, like Jenny Slate, Kevin Kline, and in particular, Larry Murphy's increased role as the show has gone on as Bob's #1 customer / best friend / devoted Belcher-ee Teddy.
It feels strange to call a sitcom's vibe loving, but that's how Bob's Burgers feels, and not in a treacly way, either: The comedy comes from this cast of characters being so weird, but they're never mocked for being weird. The show has developed such a wide cast of characters beyond the Belchers and the initial supporting bunch, all of them created strong enough to get their own day in the spotlight.
Bob's has done a few experiments with format– I've rather liked the "each Belcher kid tells a story" trilogies– but it's really more remarkable how little it's had to stray from its roots while still remaining funny. That alone is an impressive achievement. Doing it for 10 seasons and 182 episodes, with no end in sight, while being funny and always watchable, that's truly special.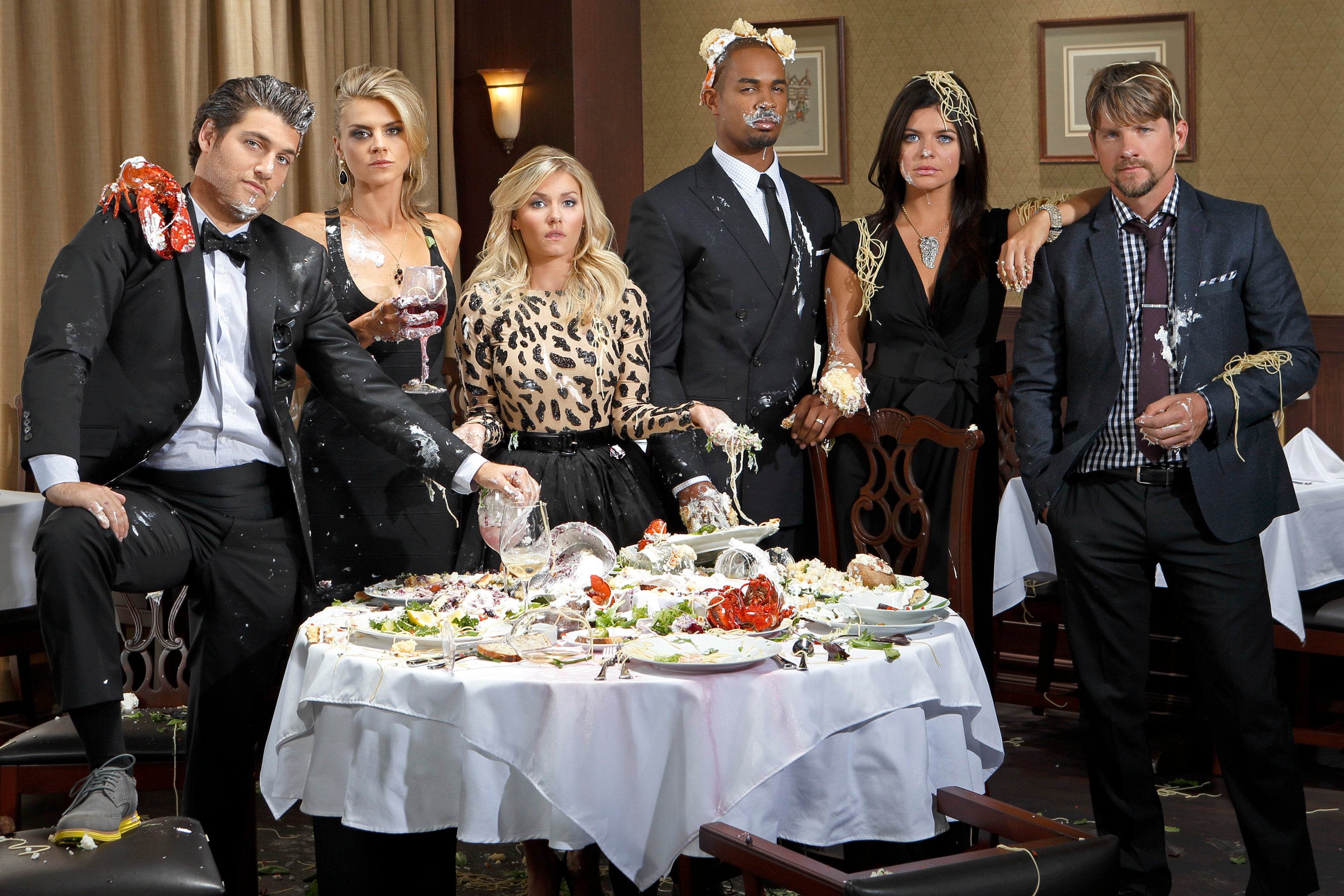 4. Happy Endings
3 seasons, 2011-2013
ABC
Every time I kept worrying I was ranking this show too highly, I remembered just how often I've rewatched it over the years, and how the screwball pace, density, and cleverness of the jokes, along with an absolutely dynamite ensemble cast (arguably the best of any sitcom this decade!), meant it's never gotten old. A crackerjack writing staff and outstanding cast chemistry (Zachary Knighton, Elisha Cuthbert, Damon Wayans Jr., Eliza Coupe, Adam Pally, and Casey Wilson) combined for that rare alchemy that elevates a sitcom from merely good to something truly special. It's Friends if Friends was more inspired by 30 Rock than by… whatever more conventional sitcoms it was inspired by.
Happy Endings was the zinger-heavy, joke-packed, fast-paced, yet very specifically drawn character sitcom that could have been a worthy followup to 30 Rock in that regard if it had been given more time, or a killer sharp-and-zippy comedy hour with Don't Trust the B— in Apt. 23 if ABC knew what they had in either. Instead, they moved Happy Endings to the Friday night graveyard for its third season, then used the subsequent low ratings to justify canceling it. A real shame, but those three seasons we have (premise pilot and a couple of early stumbles aside) still play just as well today. I can't even do it justice by trying to recap it further; I would just be quoting hilarious line and ridiculous plot after hilarious line and ridiculous plot, and you're better served just seeing the show on Hulu.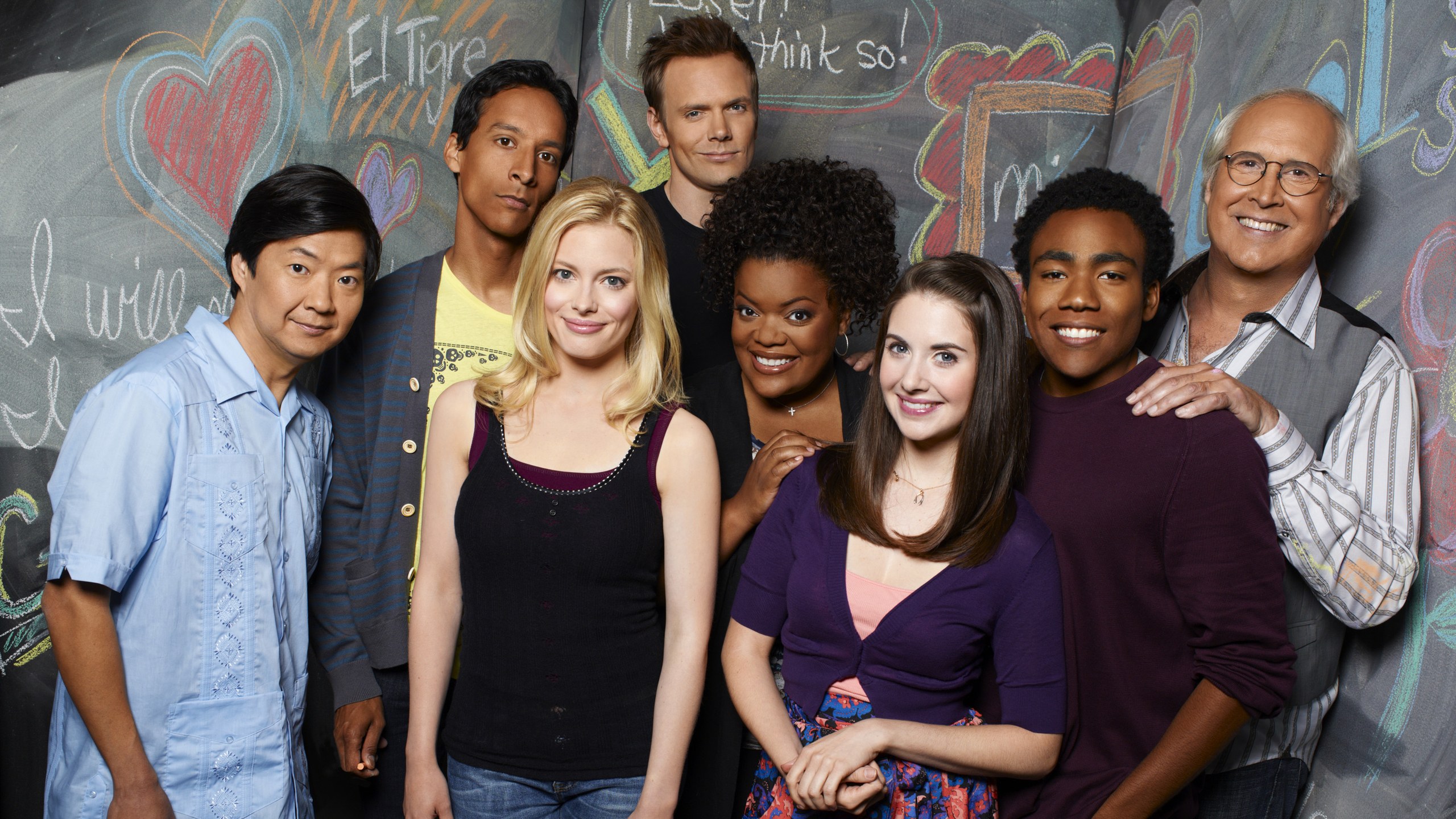 3. Community
Season 1, Episode 13 to the end, 2010-2015
Full Show: 6 seasons, 2009-2015
NBC (Seasons 1-5), Yahoo! Screen (Season 6)
I'm sad the first half of the first season gets cut off here, because for everything folks have said about how the show really took off toward the end of the season when it began experimenting with concept episodes, I find those early episodes shockingly well-done, with the depth of character work and humor that was the real secret to making the show great. Everyone is remarkably fully-formed in the pilot (like with Bob's Burgers, this doesn't become as evident until you've seen the other episodes and go back), "Introduction to Film" is genuinely moving, "Football, Feminism, and You" contains one of the show's funniest B-plots as well as one of my favorite exchanges, and "Home Economics" is the episode that delights me the most (and not just because of all the rapping about poo-poo, although it helps).
Plenty of digital ink has been spilled on Community, and I don't want to rehash what's been written elsewhere. I'll just add that, even today, the show at its best really is as full of humor and warmth as you remember it to be, even setting aside Dan Harmon's wild inventiveness in plotting and concept episodes. Sure, we don't talk about season 4, and honestly I thought the second half of season 3 kind of disappeared up its own ass (every semester can't be the "dark semester," Dan), but I'll go to bat for seasons 5 and 6, which delivered a different dynamic with cast changes and a somewhat more grounded show, but which still remained funny and insightful and warm. There really was nothing like Community on TV, and it still holds up today.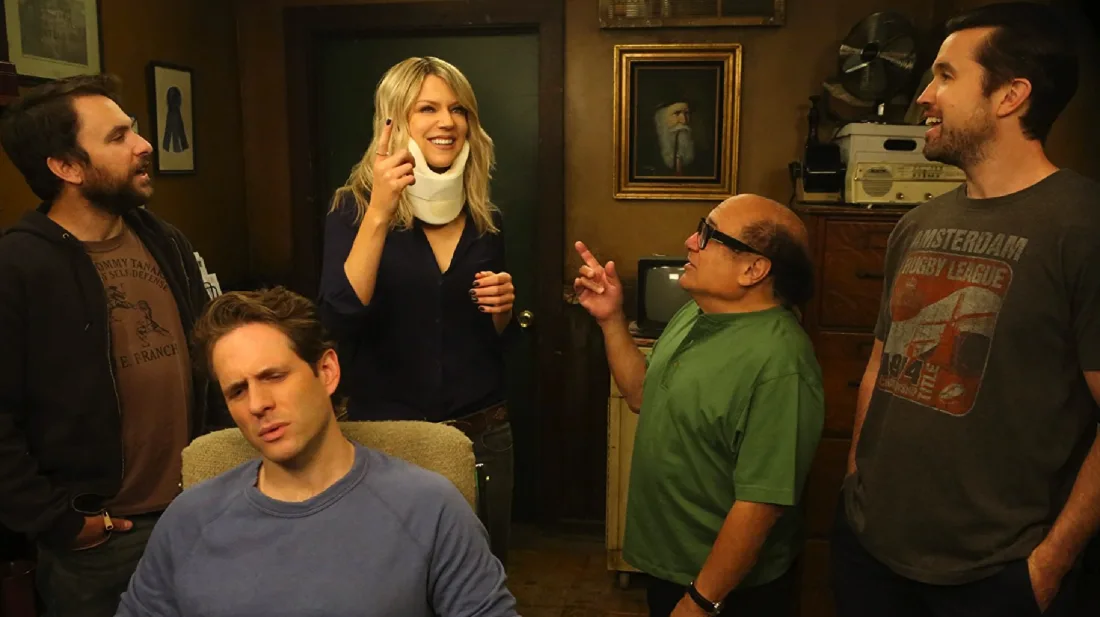 2. It's Always Sunny in Philadelphia
Seasons 6 through 14, 2010-
Full Show: 14 seasons, 2005-
FX / FXX
The defining sitcom of the 21st century had some of its best episodes in the previous decade, but it's maintained an astounding– and outstanding– level of quality since, with at least two all-time classic seasons (7 and 12) and arguably a third (9). Sunny manages to stay fresh by combining classic sitcom farce with an ever-evolving (or ever-degrading) ecosystem, where each member of the Gang retains their fundamental internal role, but the Gang itself increasingly becomes unable to cope with the outside world, doubles back on itself, and occasionally tries to address larger goings-on in the world in only the twisted way they can.
While every character was terrific and every performer grew deeper and deeper into their role (especially Glenn Howerton), this was arguably the decade of Mac: The 2010s brought us Fat Mac, Real Name Mac (Ronald McDonald!), Country Mac, and finally, possibly most triumphantly, Openly Gay Mac. We got introduced to the Ponderosas, Schmitty, Frank's brother (okay, that one was not so much a classic), and Dennis' son, among others. Other parts of the Sunny mythology that were delivered to us this decade: CharDee MacDennis, Lethal Weapons 5 and 6, "Old Lady House," and the Wade Boggs Challenge. This decade we even got the Gang applying their perspective on everything from Black Lives Matter to #MeToo to gender-neutral bathrooms to the show's failure to win any Emmys, as well as Charlie-based tributes to film noir and to the famous True Detective season 1 tracking shot.
The show wasn't always at its peak this decade– no show can be, but season 8 in particular was the shakiest the show's done– but it's delivered so many classic episodes this decade, and even more astoundingly, maintained its quality even after a run twice as long as some of our best sitcoms have had this century, that it remains an indelible part of TV this decade, a legend and a must-watch even as the Gang gears up for season fifteen. To repeat myself, Sunny earns this spot on the list by being the defining sitcom of the 21st century.
Also, sorry to anyone who thought the first day of this list being published on St. Patrick's Day was a clue that Sunny would be #1.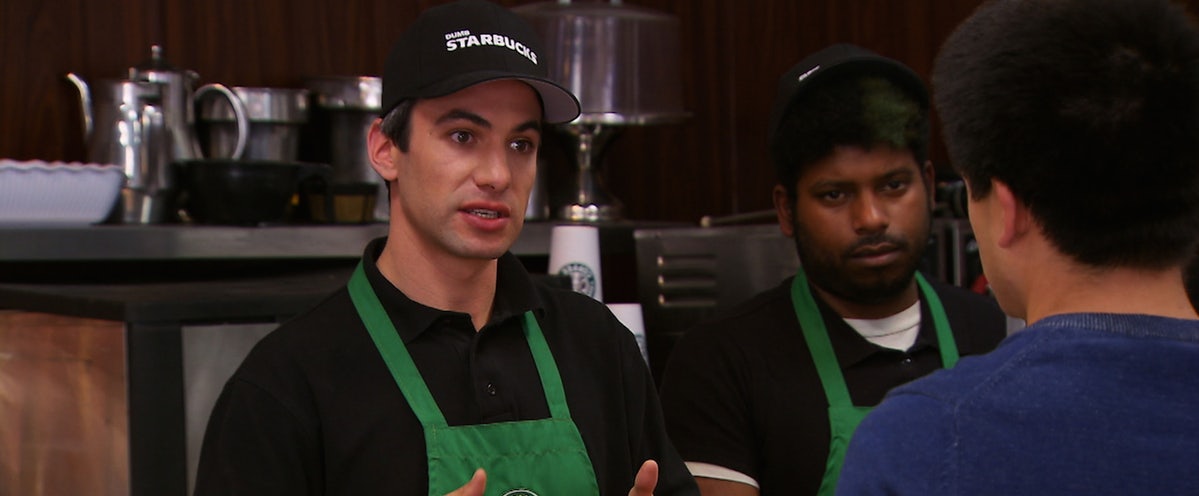 1. Nathan For You
4 seasons, 2013-2017
Comedy Central
But the show that perhaps best defines the decade itself– not to mention is perhaps the most gut-busting, audacious, and daring show to air this decade– is Nathan For You. As I wrote in ranking season 4 in my list of the best TV of 2017, Nathan Fielder sits at the intersection of satire and reality TV, taking an ordinary reality-show concept– consultant helps struggling small business– and twisting and exaggerating it with his outlandish ideas, the authority of the camera, and the awkward "Nathan Fielder" character, until what comes out is not only hilarious and ridiculous but also somehow greatly revealing of the humanity of the people who come into Nathan's orbit.
And in the case of Dumb Starbucks, Nathan For You becomes the kind of viral cultural event that both captures the media's imagination while still remaining essentially secretive as to its purpose– a feat practically impossible in the Surveillance Age. That said, multiple episodes have storylines that are picked up by the media as completely legitimate; the most hilarious of these is season 3's "The Movement," where Nathan pitches an idea for a moving service to save costs on workers by selling "moving boxes" as a new fad workout routine people can pay to participate in, and finds the perfect spokesman for his fad in Jack Garbarino.
Even the more "ordinary" episodes are often deeply funny, but when one of Fielder's concepts hits big or he goes for a truly audacious idea, Nathan For You reaches heights no other TV show can match. Fielder goes bigger and bigger with these ideas, in season 1 first staging a Bachelor-style reality show and then performing a handcuff-escape magic trick with consequences both dire and absurd if he fails. Season 2 gave us Dumb Starbucks; season 3 closes with "The Hero," where Fielder takes the idea to make an ordinary person a local hero by taking an agreeing subject, learning everything about him, and sequestering him for months while Nathan impersonates him and engineers a daring rescue attempt he will make in character.
However, it's the season 4 (and series) finale that truly pushed the boundaries of the medium with "Finding Frances," a two-hour episode where Nathan takes Bill Heath, a Bill Gates impersonator who previously appeared on the show, on a journey to track down his long-lost love. Nathan's commitment to the project and the lack of safety net in the form of a script mean the show goes incredible and unexpected places, telling us a lot about both Nathan and Bill, and providing an ending that can only surprise, again because of the lack of script.
Even with all that said, my favorite episode remains season 1's "Gas Station / Caricature Artist," as I believe it stands as the best example of an "ordinary" episode that reaches greatness. The premise of the main sketch is simple: Nathan helps a struggling gas station when he discovers that you can legally advertise an absurdly low price per gallon if you mention it requires a rebate, and then just make the rebate nigh-impossible to claim. Of course, there are people that are determined to claim it no matter the time or opportunity cost, and Nathan's night with these people reveals something deeply human about our need for connection and our sense of alienation in the 21st century, whether in seemingly normal suburbanites or clearly fringe oddballs.
And then the gas station owner offers his own advice.
"Caricature Artist" makes for a great B-plot as well simply for its wildly unexpected results– Nathan suggests a struggling beachfront caricature artist rebrand himself as a deliberately offensive one. While this seems of a piece with Nathan's idea for poo-flavored yogurt, it might be the only unqualified success for Nathan's many clients.
I say might because Nathan For You's cast of characters includes at least one, Brian Wolfe, who turned his appearance in season 1 as a private investigator struggling to get good Yelp reviews into his own reality show. Wolfe is a bit of a blustery ex-jock type, the kind of guy who definitely would have bullied Nathan in high school (well, and kinda still does– although "wizard of loneliness" is such an incredible and specific burn I can't get too mad at him), but over time he becomes fond of Nathan and even befriends him. Another unexpected Nathan For You twist.
Nathan For You was perfectly poised to capture the 2010s, between the increasing sense of alienation people felt, how increasingly phony so much of our accepted shared reality seems to be, the simple everyday struggle felt by most people in the wake of economic events, and the deluge of cheap reality shows that flooded the airwaves. But the show's not so much a conscious commentary as it is a fractured mirror, broken in just the right way to reveal how weird and bizarre our whole late-capitalist panopticon spectacle is, how willing people are to accept it, and how desperate people are for some sense of financial stability or human connection these days. And it does so while being gut-bustingly, laugh-until-you-cry funny. Nathan For You attempted feats no other show would dream of and reached heights no other show possibly could as a result, and that's why it's my pick for the #1 show of the 2010s. Not bad for a wizard of loneliness.
However…
There is one last show I must mention…
Ineligible for Consideration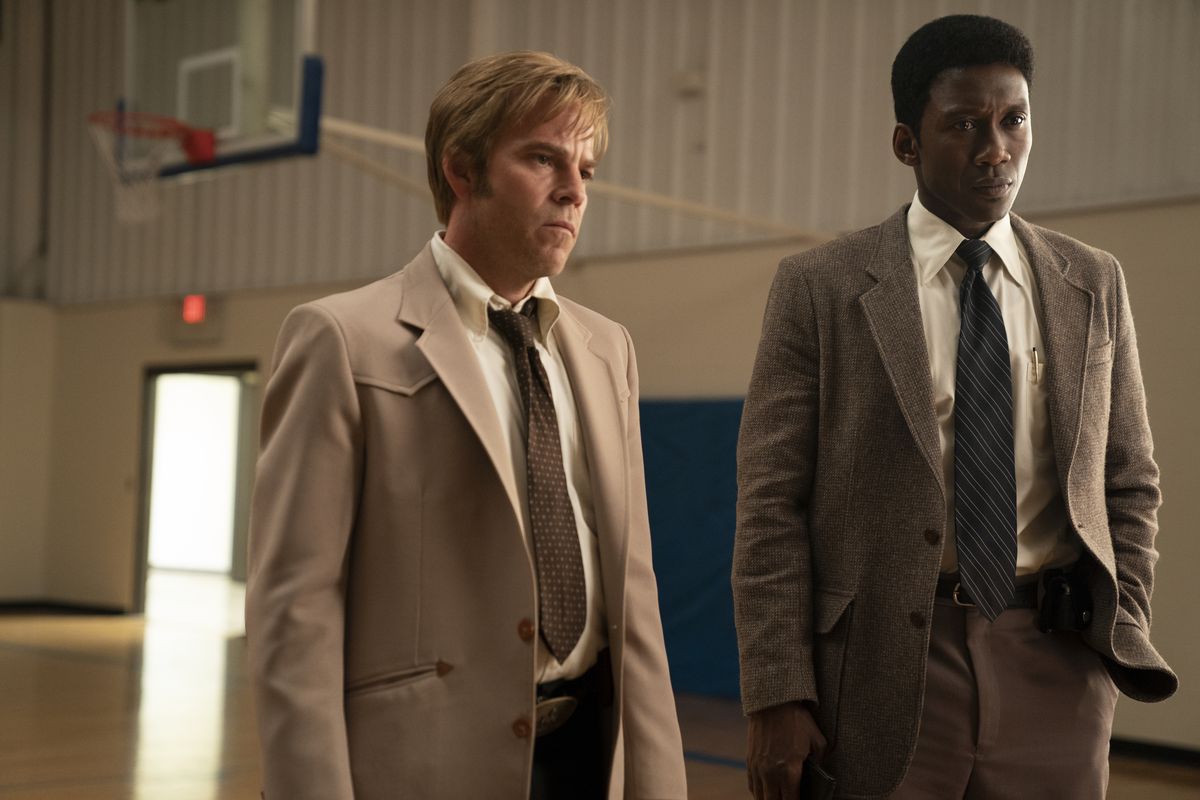 True Detective
3 seasons, 2014-2019?
HBO
This might be my personal favorite show of the 2010s, honestly. The "personal," though, is the reason I can't really rank it anywhere– I have a very personal connection to this show, one I think I've intimated and/or most of you have picked up on without me coming right out and saying it. (On top of that, I actually worked on season 3, albeit in a low-level capacity, as I mentioned in my 2019 TV roundup.) While obviously at some fundamental level all art and our reaction to it is subjective, this relationship I have to the work in large part precludes realistically evaluating it on an honest level, for a couple of reasons– first, that relationship clouds my reaction; second, even if it didn't, I'd not want to write anything critical of something I worked on or the people I worked with (even if only technically or tangentially so).
I love the show, obviously. Season two and three don't get as much love as they deserve. (wallflower's reviews here, thankfully, go at least some small way toward rectifying that.) And season one needs no additional praise from me; has there been a television line this decade quoted more than "time is a flat circle"? (I don't even think any of the most-cited Game of Thrones lines compare, and those come from the books anyway.) In any objective measure, True Detective is one of the defining shows of the decade, and it's my personal favorite, too. But my sense of conflict of interest and desire to be professional in my TV criticism, no matter the size of the audience or the paycheck, means I can't honestly rank it on this list.
And that question mark is because I have no idea whether or not there will be a fourth season. And if I did, I certainly wouldn't tell you. (Reports suggest "probably not," though.)