Part 3 of our look back takes us from #35 all the way to #11, with the top 10 coming tomorrow.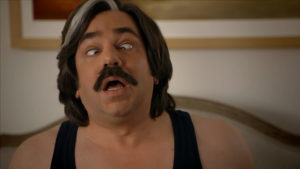 35. Toast of London
3 seasons, 2012-
Channel 4
Matt Berry has been comedy gold in nearly everything he's been in, and this is certainly no exception. In Toast of London, Berry stars as Steven Toast, a rather pompous middling actor who finds himself taking embarrassing voiceover gigs, getting into ludicrous conflicts on every production he appears in both stage and screen, and occasionally fucking the wife of his nemesis, Ray (Bloody!) Purchase.
The whole show is hilarious in that particular combination of British dysfunctional-jackass comedy protagonist and exaggerated-to-absurdity situations and characters– besides Toast and Purchase, there's the obnoxious voiceover producer Clem Fandango (yes, the names are as absurd as the characters themselves) and Toast's occasionally daft agent Jane Plough (the great Doon Mackichan), plus a host of guest and recurring characters and performers ranging from Alan Ford to Jon Hamm (and keep an eye out for Daisy Ridley in a season 1 episode!), all of which are as ludicrous and outsized as the regulars. (My favorite is perhaps the batshit theater director Acker Herron, who has a bad habit of murdering his actors when they get out of line; of course he and Toast end up fighting to the death.)
While the show last aired in 2015, it was renewed for a season four, though no timetable has been set. (With Berry on What We Do in the Shadows, it doesn't seem like it'll happen anytime soon.) Still, the show is a ridiculous scream, and Toast is a worthy entry in the canon of hubristic British comedy protagonists.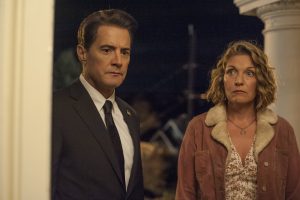 34. Twin Peaks: The Return
1 season, 2017
Showtime
I wrote a lot about this show at the time it aired, as I rated it my #1 show of 2017. A couple of the more outstanding episodes aside– "Episode 8," most obviously; it could be a stand-alone short(ish) film– I'm not sure how much rewatch value it has. The show was very compelling on first watch, but the actual story is pretty thin. Still, it's rare that a show engages my attention the way Twin Peaks does, the great parts are truly excellent, and perhaps one of David Lynch's biggest accomplishments is making Jim Belushi not seem totally loathsome.
33. Angie Tribeca
4 seasons, 2016-2018
TBS
I've written a lot about this show recently, so I won't rehash myself. I'll just recommend you read my sections on it in my Police Squad! article and my best TV of 2019 article. Suffice to say, Angie Tribeca managed to be an update on the Police Squad! format that really succeeded, getting better each year it was on the air.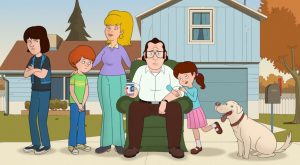 32. F Is For Family
3 seasons, 2015-
Netflix
Bill Burr is arguably the best standup comedian working today, and his sense of empathy and observation of comic detail translates perfectly to F Is For Family, a sitcom based around Burr's own childhood (and those of the other writers; Burr co-created the show with former Simpsons writer Michael Price) and starring Burr as the stand-in for his own father, Frank Murphy. Everything I wrote about the show in my very first article for the Solute still holds.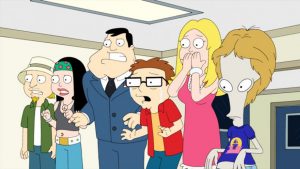 31. American Dad
Season 6, Episode 10 to Season 16, 2010-
Full Show: 16 seasons, 2005-
FOX (Seasons 1-11), TBS (Seasons 12-)
This was, admittedly, a show I was quite late in getting to. But it's both remarkably good and remarkably consistent. American Dad took a few seasons to find its formula, but since season 4 or so it's been persistently delightful. It avoids the pitfalls of post-revival Family Guy by not mistaking cruelty for humor and by avoiding pop culture cutaways altogether. The humor instead comes from the specificity of the characters, and particularly the two breakout stars: hopeless nerd Steve Smith and alien Roger. Smith patriarch Stan hides Roger in his attic from the CIA (where Stan works) as a repayment for saving his life; Roger can only leave the house in costume, which means this Paul Lynde-sounding embodiment of Chaotic Neutral pretty much adopts a new persona to insert himself into the story every episode. The show can go all kinds of places, from more typical workplace and home-life plots; to high-concept stories like the Christmas episodes or "Hot Water," where Cee-Lo Green plays a sentient hot tub who is trying to kill the Smith family, or to wild alien and alien-related adventures ("Lost in Space" is a highlight of the series). Perhaps most famously, the legendary-among-fans episode "Ricky Sanchez" takes a turn in the last minute into a Werner Herzog documentary, complete with Herzog himself narrating.
American Dad rates this highly not only for its quality but its consistency; being long-running is one thing, being long-running and good is another. Indeed, the show had one of its best episodes just last season with "Rabbit Ears," a high-concept Twilight Zone tale that riffs on Playboy After Dark, among other things. The show's had some killer writers on its staff, from Community veteran Chris McKenna to Fresh off the Boat and Don't Trust the B—- in Apt. 23 showrunner Nahnatchka Khan, and the quality of that writing shows. American Dad is often an afterthought as "yet another Seth MacFarlane project," but he's not nearly as creatively involved in it as the others, and the distinctive voice of its writers room makes it the best thing that MacFarlane has ever created.
30. Corporate
2 seasons, 2018-
Comedy Central
I wrote a lot about how great this show is in my writeups of 2018 and 2019. Its bleak outlook is perfect for the day's late capitalism, and that leads to some very dark and penetrating humor, whether from the middle management just trying to survive (creators/stars Matt Ingebretson and Jake Weisman), the executives with their own brands of next-door psychosis (Adam Lustick and Anne Dudek), or the unhinged greed and megalomania of CEO Christian DeVille (Lance Reddick). Highlight episodes include "The Long Meeting," with Fred Willard as an old-old-school executive, and "Remember Day," wherein 9/11 has been turned into a Black Friday-esque day of consumption. It's that type of show.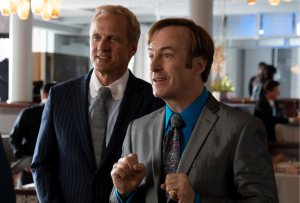 29. Better Call Saul
4 seasons, 2015-
AMC
Season 4 slipped in my mind (as I'm sure you all know by now), but the tragedy of James and Chuck McGill was one of my favorite stories on television while it ran, a tangled story of love, family, betrayal, cowardice, and fundamentally a question (on both sides!) of whether the ends justify the means. While I could still do without a lot of the Breaking Bad fan service, the main plot– and the performances by Bob Odenkirk, Michael McKean, and Rhea Seehorn in particular– is gangbusters (when it doesn't stall out like it did in season 4).
If this show actually did tighten up the pacing and trimmed the unnecessary stories, it might have been in the top 10. The quality of the best parts of the show, and the fact that even the other stuff is still so well-made, is definitely top-30 worthy.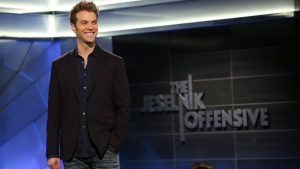 28. The Jeselnik Offensive
2 seasons, 2013
Comedy Central
I'm a sucker for panel shows, and this was my favorite of the decade. Airing on Comedy Central for two seasons, it was a great format for Jeselnik, as the guest comics provided breathers in between what could be Jeselnik's unrelentingly dark material on his first album Shakespeare and second album / first special Caligula. (To his credit, second special Thoughts and Prayers expands Jeselnik's repertoire just enough to make it his most consistently engaging special without losing his voice or comic character.)
While it was a largely typical panel show, Jeselnik's gift for the outrageous, offensive, and insulting (he had been a frequent participant in Comedy Central's roasts, after all) took the show to places no other panel show would go– and in one case, getting an entire continent mad enough to send him and his family death threats ("Shark Party"). The guest lineup reads like a who's who of standups who would go on to get their own star turns, from Amy Schumer to Kumail Nanjiani to Pete Holmes to Aziz Ansari, along with veterans like Jim Norton, Brian Posehn, Jeffrey Ross, and, in perhaps the most incredible get of them all, in one of her last living appearances, Joan Rivers. Hands-down the funniest comedy panel show of the decade.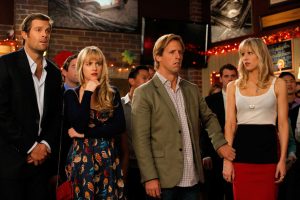 27. Ben & Kate
1 season, 2012-2013
FOX
I adored this show in its one low-watched, plagued-by-production-problems season. I had no idea Dakota Johnson could be so funny; she's charmingly awkward as the titular Kate here, single mother with a well-meaning but no-account brother (Nat Faxon) back around and a slightly sociopathic bartender best friend (Lucy Punch). I don't know what exactly caused the divide between creator Dana Fox and original showrunners Neil Goldman and Garrett Donovan, but it may have accounted for why the show was scuttled after a season. Still, Johnson is one of the most winning sitcom presences of the decade, and the whole show was imbued with a goofy sweetness that made it easy to like. (Also, yes, it's funny. It's a sitcom. It had better be.)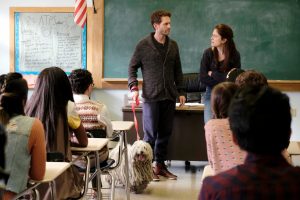 26. A.P. Bio
2 seasons, 2018-
NBC
An utterly delightful show, A.P. Bio might have seemed at first like "Let's see if we can put Dennis Reynolds in his own sitcom," but as the show went on, it revealed itself to have a surprising depth of character-based humor, astoundingly effective tragicomic plotting, and an utterly wonderful supporting cast beyond Glenn Howerton– Patton Oswalt and Paula Pell among them, but the real highlights are the kids. Heather (Allisyn Ashley Arm) is one of my favorite new characters in any sitcom in the last few years. One of my favorite shows running in 2018 and 2019; I even liked it enough to recap it regularly for a while. Season 3 should be debuting on Peacock sometime soon! (Related, I just learned that Peacock is launching April 15.)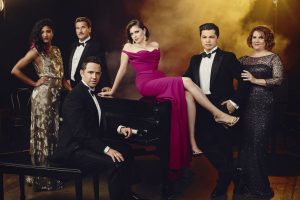 25. Crazy Ex-Girlfriend
4 seasons, 2015-2019
CW
One of the most inventive shows on television (and the rare three-time entrant on our Solute year-in-TV roundups), Crazy Ex-Girlfriend combined romantic dramedy, musical, and the tale of a woman with real mental illness. Stressed and unhappy at her corporate-law job in New York, Rebecca Bunch (star/creator Rachel Bloom) happens to run into her old crush Josh Chan (Vincent Rodriguez III) and, searching for some happiness, impulsively moves to his southern California hometown of West Covina, where she finds a job in a law firm and tries to engineer a romantic-comedy ending with Josh.
Well, that's where the series starts, anyway. Along the way, Rebecca makes new friends both at work and through Josh, upends people's lives, undertakes crazy schemes, and, finally, eventually, gets to dealing with the "underlying issues to address" that she's been running from, getting healthy as a person and ultimately changing everyone around her for the better. Four seasons of this are backed by a killer and game cast and some terrific original songs, including a new theme song for every season. If you want to see what happens when being a Manic Pixie Dream Girl goes wrong, and you like musicals, you'll love Crazy Ex-Girlfriend.
24. New Girl
7 seasons, 2011-2018
FOX
This got off to a shaky start, with too much emphasis on Zooey Deschanel's quirkiness occasionally tipping over into "adult child" territory. But the ship righted thanks to Liz Meriwether's writing staff figuring out the particulars of what made their characters click and developing their own unique world and language.
Those characters clicked because of some dynamite cast members, in particular the two longtime odd-couple best friends: Max Greenfield as fussy and perfectionist yet devoted Schmidt, and Jake Johnson as rough-hewn, grumpy old man in a 30-year-old's body Nick Miller. The show began skyrocketing once Schmidt and then Nick became breakout characters, buoyed by such oddities as the loft gang's inscrutable drinking game "True American." And aside from a couple of rough patches, the show maintained its quality throughout its seven-year run.
New Girl excelled at this strange character comedy while still remaining universal enough to portray a generation's experiences in work, in love, and at home (which, of course, often involves roommates these days). In many ways, New Girl is the defining millennial sitcom, what Friends was to Gen-Xers. Indeed, New Girl's central romance might have been the longest running will-they-won't-they since Ross and Rachel– although, thankfully, less melodramatic and more plausible.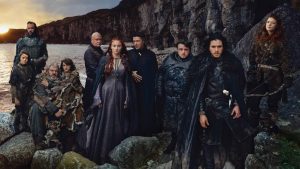 23. Game of Thrones
8 seasons, 2011-2019
HBO
We've all talked about how badly the showrunners dropped the ball in the final season, or the last few seasons; the satisfaction of setting off the long-developing plot bombs was deeply tempered by Benioff and Weiss' poor dialogue and inability to connect those plot actions to character motivations in a satisfying way. Still, this was a deep and gripping show at its best, and a true and worthy phenomenon. The bad elements don't sour the totally great ones we got, and even as the show got worse as it went off-book, Benioff and Weiss managed to trim the worst and most pointless of George R.R. Martin's excesses. Whether telling stories of court intrigue or epic battles with magical forces on each side, Game of Thrones managed to very often create a compelling and spectacular experience, even accounting for its failures.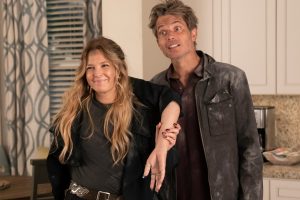 22. Santa Clarita Diet
3 seasons, 2017-2019
Netflix
Victor Fresco is an unheralded maestro of the slightly surreal workplace comedy, having run the short-lived Andy Richter Controls the Universe and Better Off Ted. Here, the workplace is traded in for a fantastical premise and the dramatic plotting that follows: What if you wake up one day and discover you're a zombie who must eat human flesh to survive? That's Drew Barrymore's dilemma in this show, as Sheila Hammond and her husband Joel (Timothy Olyphant) must figure out how to manage her condition without getting caught and also find a cure, eventually roping in their daughter Abby (Liv Hewson) and next door neighbor Eric (Skyler Gisondo).
Santa Clarita Diet was funny, moving, and intensely gripping when its dramatic plotting was at its tightest, particularly down the stretch run of season two. It's another three-time entrant on our best TV of the year lists here, and season two was so good as to merit its own article. Thus, so as not to repeat myself, I will simply lament, once again, that the show was canceled after three seasons, leaving us with a cliffhanger that will never be resolved.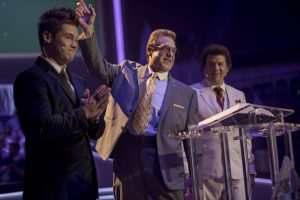 21. The Righteous Gemstones
1 season, 2019-
HBO
Only one season so far, but already one of the best shows on TV. The Righteous Gemstones has the creative team of Jody Hill, Danny McBride, and David Gordon Green at another creative peak. It was my #2 show of 2019; with only one season in the books so far, I see no need to repeat what I wrote there.
20. Who Is America?
1 season, 2018
Showtime
Sacha Baron Cohen returned to the airwaves with a one-shot show in 2018 in the vein of Da Ali G Show, once again exposing the truth underlying America's polite facade. It's even more stark than Da Ali G Show was 15 years prior; that polite facade has crumbled so much that bigotry and cruelty are out in the open, and running so strong that people can be goaded into doing obviously unhinged things by appeals to it. It was my #1 show of 2018; I don't have much to add beyond what I said there, other than that this show should have been a cultural phenomenon, yet was bizarrely lightly regarded by critics. (Except me.)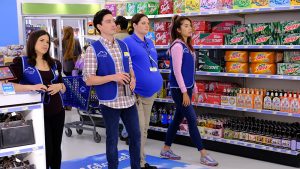 19. Superstore
5 seasons, 2015-
NBC
Another three-time candidate on my best-of-the-year lists here, Superstore is the truest modern-day successor to the classic episodes of The Office. The workplace comedy is moved from a stultifying sales job in a dying industry to a big-box store; Superstore uses the show to its fullest advantage, whether that's in detailing real problems the workforce runs into, or its hilarious interstitials of the bizarre antics customers can get up to. It's really funny with a terrific cast; my favorites are Lauren Ash as no-nonsense assistant manager Dina, and Jon Barinholtz as the earnest-yet-painfully-dense warehouse worker Marcus.
On top of how funny it is, it's a great and easy rewatch, with that same familiar and comfortable vibe that elevates "hangout" sitcoms and extends their shelf life on streaming services well past their initial run. Other shows in this vein, like The Office and Parks and Recreation, didn't quite maintain their quality for this long; Superstore is still batting at a high average even as it nears the end of season five. America Ferrara has announced she's leaving at the end of this season, which may shake up the formula a bit, but I'm confident that the chemistry of the remaining cast and the skill and experience of the writers' room will keep the show playing at a high level for some time to come.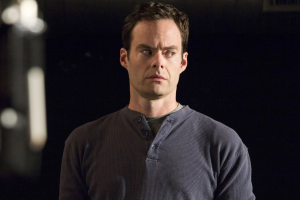 18. Barry
2 seasons, 2018-
HBO
#3 show on the best-of list two years running (and one we've had plenty to say about), Barry is certainly funny enough to be a comedy but excels at being a tragedy of a violent man. Barry Berkman accidentally stumbles into acting, and finds it gives him the purpose in life he was previously lacking as an ex-military contract killer with no drive other than to follow orders and do what he was good at doing.
Of course, it's a tragedy because one simply cannot outrun one's violent past, certainly not when trying to take the lengths of delusion and half-measures Barry does. His halfhearted attempts to leave behind a criminal past he never really can, thanks to associates like Chechen underboss NoHo Hank (Anthony Corrigan) or handler Monroe Funches (Stephen Root), often cause more damage than if he'd commit to a sure course of action. Barry seems to be trying to will himself into being an honest citizen and a good person without paying the cost for his past actions, and as the life he's built for himself begins to fray, it seems like he's going to leave himself no choice but to burn down everything around him. We'll find out soon enough.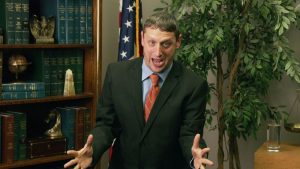 17. I Think You Should Leave
1 season, 2019-
Netflix
One brief season so far, but this phenom of a sketch show was my #1 show of 2019, and everything I said in that writeup applies here. Rarely is a sketch show so funny, so quotable, so tight, and so in line with my sensibilities. It's the kind of show you watch again and again until you've memorized every single line. I can't wait for season two.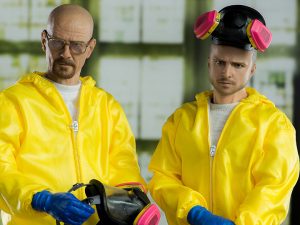 16. Breaking Bad
Season 3 to the end, 2010-2013
Full Show: 5 seasons, 2008-2013
AMC
Breaking Bad does not suffer from the problem Mad Men does by being split over two decades, not when we get the great seasons we do get here. Season 3 remains my overall favorite of the show, the one where what was necessary for the plot took precedence over any moments or points the story wanted to make. We also get season 4's cat-and-mouse game / chess match, Walt's massive ego fully unleashed in season 5, and the awful way everything comes crashing down in those final eight (or, seven of those final eight, anyway) episodes. It's still no The Shield, and these days Vince Gilligan is doing a little too much fan service in the show's universe for my liking, but Breaking Bad was the most thrilling, gripping, and tense show on television when it aired.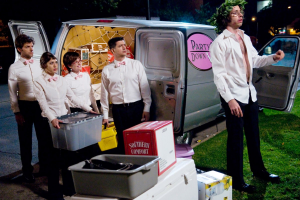 15. Party Down
Season 2, 2010
Full Show: 2 seasons, 2009-2010
Starz
Absolutely this would rank even higher if the killer season 1 could be included. Season 2 starts out a little shakier (a result of the plot changing the status quo for a few episodes), but also delivers some classics. Everyone talks about "Steve Guttenberg's Birthday Party," but: I also love "Cole Landry Draft Day Party," a ton of funny shit happens in "Party Down Company Picnic" (sort of the opposite of season 1's "Brandix Corporate Retreat," where the drama felt forced), and "Not on Your Wife Opening Night" is, appropriately enough for the theater setting, an outstanding example of farcical misunderstandings.
Even those early episodes had their moments: Ron getting high and stuck inside a coffin, Roman's utter failure as Jackal Onassis; the lamest televised orgy this side of It's Always Sunny in Philadelphia.
The finale deservedly, after so much hilarious failure, gives our characters a glimmer of hope. I really wish this show could have run forever, just keeping Ron and Roman around and rotating in new up-and-coming comic actors as the old ones left for bigger jobs, but I'm glad we got what we did. Enjoy Kyle's band's breakout performance in "Constance Carmell Wedding," the series finale.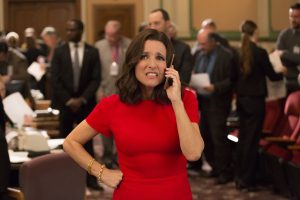 14. Veep
7 seasons, 2012-2019
HBO
It wasn't the same show after Armando Iannucci left. But I can forgive that and still rank Veep this highly in part because the final season was strong (albeit still feeling of that different show), and because the first four seasons we got were incredible, a juggernaut of a lineup anchored by the Queen of American Sitcoms. The show took a leap from season 1 to season 2, not coincidentally buoyed by the additions of Gary Cole and Kevin Dunn. It stayed at that level of one of the funniest sitcoms on TV for those three years, and even after Iannucci left had some standout moments (Jonah Ryan's political career responsible for most of them). Probably not a show that should have won every single Emmy in existence, but deservedly remembered as one of the best of the decade. Of course, for all the sharp political satire about the petty jockeying and image-managing of American politics, my juvenile self has watched this sequence more than any other.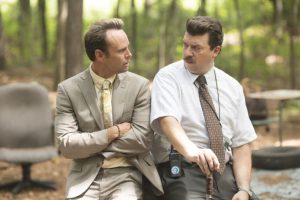 13. Vice Principals
2 seasons, 2016-2017
HBO
I raved about this show so much in my 2017 list and my Leftorium reviews (particularly the finale) that I don't know how much more detail I can go into. Suffice to say: Behind the camera, it's Jody Hill, Danny McBride, and David Gordon Green as good as they've ever been; in front of it, McBride and Walton Goggins make for a dynamite pairing, a couple of rivals who evolve into frenemies which then blossoms into a real friendship. Like so many of this team's work, it's a specific and well-observed look at a culture that doesn't get much attention elsewhere (no coincidence that this, Eastbound & Down, and The Righteous Gemstones are all set in the Carolinas), it's wildly funny, and it's really effective from a character and dramatic standpoint, too. Not a perfect show, but perhaps a perfect story, one of two dysfunctional men who develop a friendship that, despite their dysfunctions, makes them emotionally healthier, better people. Also, of course, it's funny as hell, particularly in Neal Gamby's (McBride) authoritarianism combined with his conversational tone-deafness.
12. Detroiters
2 seasons, 2017-2018
Comedy Central
Perhaps my favorite sitcom on air during its two-season run, Detroiters told a story of best friends running a small-time local ad agency, and the various oddball clients (and family members) they interact with, and their mishaps both at and away from work. Tim Robinson and Sam Richardson (both of whom were mentioned within the last five shows!) have created a wonderful universe here, one apparently true to the real-life Detroit. (It's filmed on location; Robinson and Richardson are natives– and real-life best friends.) The goofy oddballs range from Tim's "bonkers" dad (Kevin Nash!) and slacker brother (Conner O'Malley), to clients dealing with billboard dick graffiti (Keegan Michael Key) or constantly-masturbating adolescent sons (Cecily Strong), to broadcaster Mort Crim, a deadpan professional no matter what absurd story he's reading.
Fun, sweet, and low stakes, the show managed to be hilarious despite not being dark or offensive, managed to make us care despite not being a drama, and was, all in all, one of the funniest and most unique voices on television while it aired. I'm sad it got canceled, but we never would have gotten I Think You Should Leave if it hadn't, so, best to ride with the current instead of fighting it. (Detroiters was one of the rare shows I deemed worthy of weekly recaps.)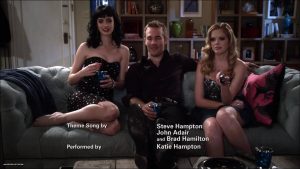 11. Don't Trust the B—- in Apt. 23
2 seasons, 2012-2014
ABC
An astoundingly daring sitcom for network, Don't Trust the B—- in Apt. 23 featured the rare outright-criminal comedy protagonist, with… well, a heart of gold isn't exactly accurate, but a strange yet true sense of loyalty all the same. Krysten Ritter is note-perfect as it-girl turned hustler and chaos agent Chloe; she's joined by Dreama Walker as the naive Midwesterner moving to the city, the wide-eyed June (literally; Walker has some of the biggest expressive saucer eyes I've ever seen). June tries to live a normal New Yorker life while Chloe continually drags her into schemes against her will.
The supporting cast is one of the most delightful on television, boasting Eric Andre as the coworker with a crush on June, but it's two other regular cast members who really shine: James Van Der Beek as an exaggerated, self-absorbed version of himself who's Chloe's best friend; and his personal assistant and devotee, Ray Ford as the protective, delightfully fey and bitchy Luther. What could be an easy one-joke pair of characters takes on a life of its own thanks to the specificity of the eccentricities Van Der Beek and Ford embody. (Possibly the best line from Luther, working as James' overprotective wingman: "Look. You're Sean Astin pretty. Not Van Der Beek pretty.")
The B's cartoon universe allowed the show to engage in completely bizarre plots and push them strange places, such as Chloe adopting a child, playing internationally-reaching pranks on a new love interest, or drugging June to get her to relax and stop stressing out about work. This outlandish show was not only one of the most unique and audacious shows on TV, but one of the most hilarious; showrunner Nahnatchka Khan took the American Dad sensibility for surreal absurdity into a live-action show and stretched it as far as it could go.
Sadly, ABC never knew what they had, badly butchering the episode order on first airing, then burning off most of season two over a summer. It's a real shame, because this singular show could have thrived with the right care from the network and the right partner for its comedy block. (It could have worked perfectly in an hour with two of the shows in the top ten… Which shows? Ah, that will have to wait until tomorrow.)