When I started this list, I was going to break it up 8-8-4, because my top four stood above and beyond every other show I saw this year. But 5 and 6 also stood above every show I saw below them, so I decided to move them over here. (8-6-6 makes for more balanced reading, anyway. Finishing this series with the smallest article would've felt anticlimactic, too. Yes, I obsess to an absurd degree over little things like this in my writing.)
Without further ado, my six favorite shows of 2018: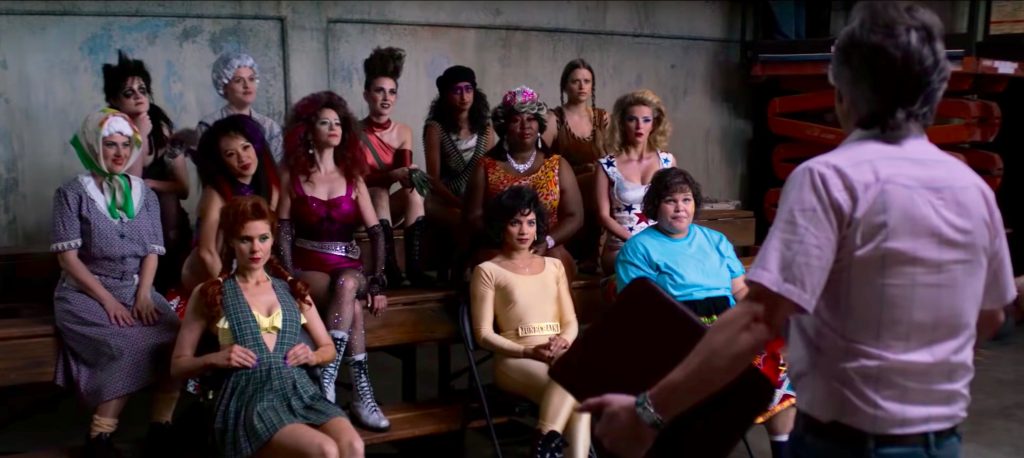 6. GLOW
Season 2
Netflix
The first season of GLOW was a very good show, but the second season elevated it to another level. The Gorgeous Ladies of Wrestling have their own local access TV show and are trying to make it a hit, dealing with trials and tribulations from creepy fandoms to ratings to creepy executives to internal conflicts.
All the reasons I liked the show in season 1 remained, but this year, the show became even more compelling thanks to a number of moving and engaging stories, from Ruth's attempts to find some sense of normalcy to Arthie's intensity and discovery of unexpected feelings to Bash's heartbreaking tragedy to Sam's attempts to be an appropriate father and a better man. (It's still pretty funny, too, especially when we get some actual in-ring action.) The ending was strong and made perfect sense and set up season 3 nicely, too.
One reason I find drama often falls flat for me, as opposed to comedy, is that comedy can win me over if it makes me laugh, even if it doesn't make me care. Drama has to make me care about the characters, and I seem to have a pretty high standard for that considering how many highly-acclaimed and -watched dramas don't do it for me. But this season, GLOW pushed itself into the rare territory of shows where I was invested in the characters and their journeys for their own sake, not simply because they were funny.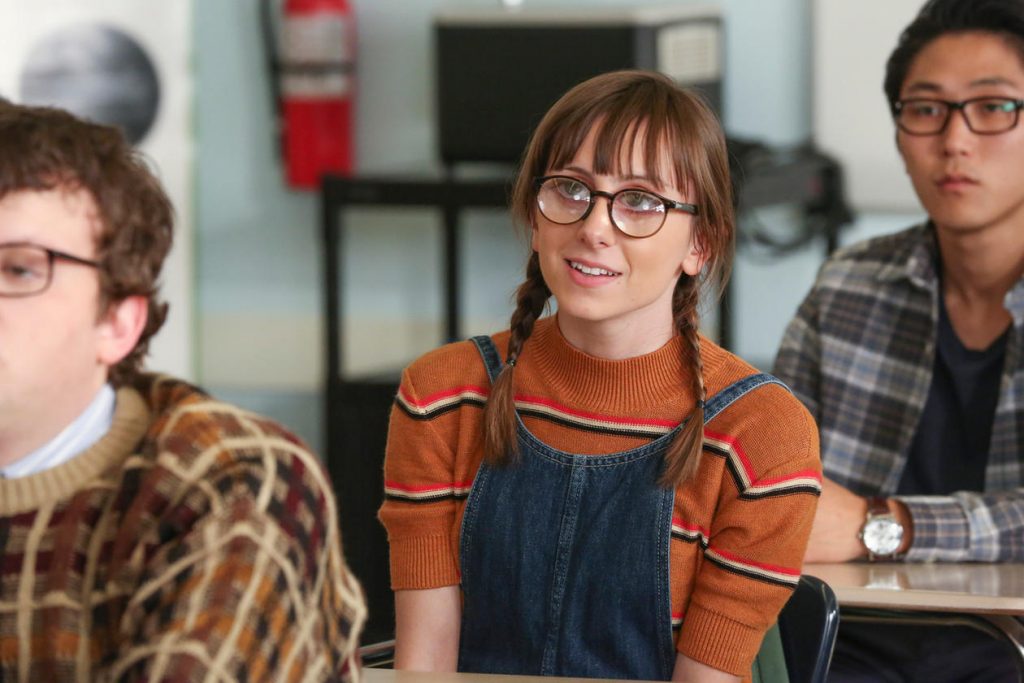 5. A.P. Bio
Season 1
NBC
A.P. Bio's debut season was admittedly uneven, especially as the show found its footing, but the second half of the show was on fire, and the high points of the show were perhaps my favorite comedy moments of the year.
The show stars Glenn Howerton as Jack Griffin, former Harvard philosopher who loses his dream job to rival Miles Leonard and disgraces himself on the way out the door, eventually taking a job as a high school biology teacher (it makes more sense than it sounds like it does) in his hometown of Toledo, Ohio, and living in his dead mother's house. Jack mostly refuses to teach his kids (a great collection of actors here) any biology at all, instead trying to use them on missions of revenge ("Miles Missions," as he calls them). Patton Oswalt plays the harried principal who tries to maintain order despite his general deference to and awe of Jack.
A.P. Bio is often a good show, but two elements push it over the top to become great despite its flaws: One is the perfect way which Jack's obsession with taking down Miles ends up being his own downfall in the season finale; "Not Creon, thou thyself art thine own bane" has rarely ever applied so well to a television character as it does to Jack.
The other is Allisyn Ashley Arm as Heather (pictured above in one of her clearer-eyed moments), my choice for TV's best new breakout character of 2018 (sorry, NoHo Hank fans). Arm brings an intensity and depth to what could easily be a one-note klutzy-nerd role, finding hidden layers to the character that make every moment she's on screen an eagerly anticipated delight. Watch "Eight Pigs and a Rat" for a Heather showcase. AAA as Heather may in fact have been my single favorite performance on TV this year. (You knew this if you read my reviews and noted the weekly "Heather Watch" section.)
A.P. Bio was renewed for season two, thankfully; I want it to get many more, so I will continue to stump for it. Please watch it if you haven't and also watch the new season starting March 7.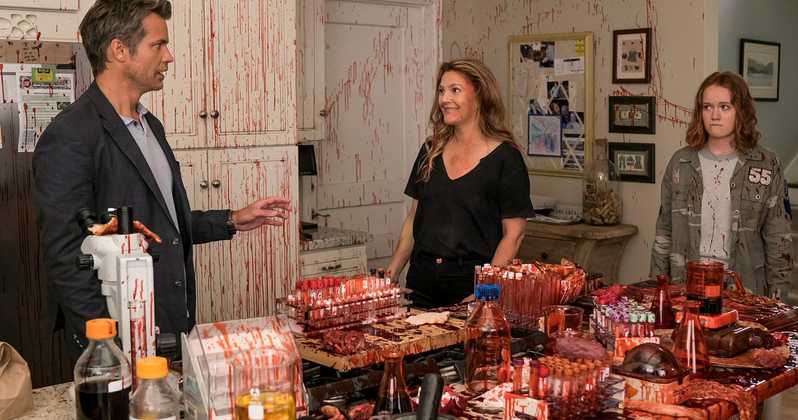 4. Santa Clarita Diet
Season 2
Netflix
I already gave this show its own article on this website after the second season blew me away. This ranking is no accident; Santa Clarita Diet is both very funny and one of the most intensely gripping and well-plotted series in recent memory.
It becomes so by keeping the plot simple, starting with the single inciting action (Sheila Hammond wakes up one day to find out she's a zombie) and exploring all the consequences and complications that might come from that. Season 2 takes the plotting and sense of consequence to a new level, as the noose tightens around the possibility that Sheila and her husband Joel will be caught for all the killing they've done to keep Sheila fed. (Natalie Morales is great as the sheriff's officer who can't stop obsessing over the case; to make a comparison to The Bible of TV Dramas, she's part Dutch and part Kavanaugh.)
It's funny, with terrific performances all around– Liv Hewson's Abby finding her inner badass is one of my favorite developments of the season– and even the ending is both dramatically perfect and completely hilarious. (It also sets up season three nicely– and yes, it has been renewed.) I'd go so far as to call this the second-best plotted series on TV this year… after the next entry in this list.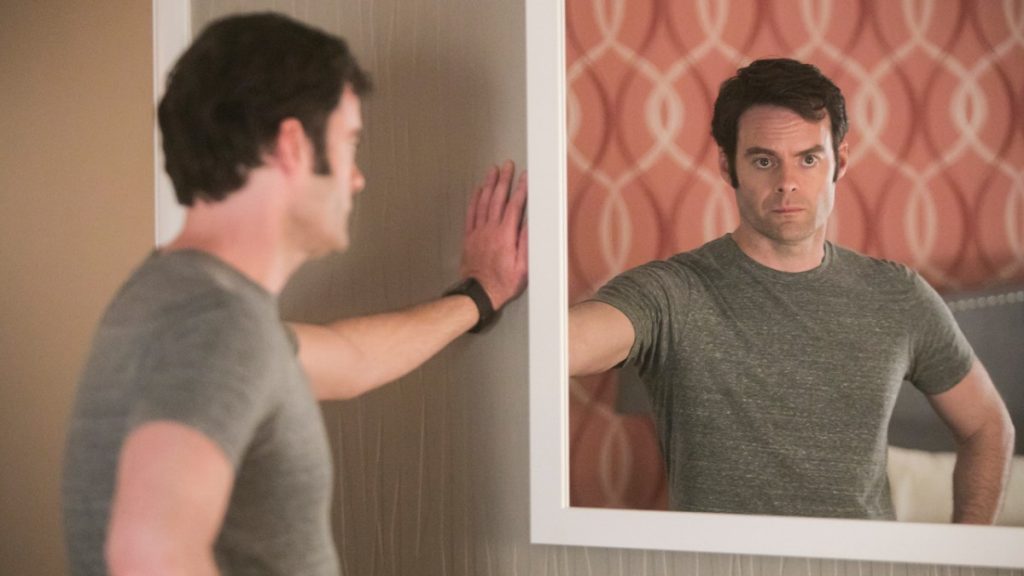 3. Barry
Season 1
HBO
We covered a lot of what makes this show amazing in our conversation after the series ended (as well as in my weekly reviews), but they all still hold true. Barry is at once a terrific character study, a pretty funny show, and the best-plotted series on television this year. Bill Hader is fantastic and was every bit deserving of his Emmy. (I would've given Anthony Carrigan the Supporting Actor Emmy over Henry Winkler, though.)
It's bizarre to me that the shows that have best learned the lessons of dramatic tragedy from The Shield in the last few years have all been half-hour comedies, but it's true. Last year we had Review with its perfectly dark tragic ending. This year, we have the three most recent entries on the year-end list: A.P. Bio with its tragedy of hubris and of creating one's own prison not by failing but by succeeding; Santa Clarita Diet with its discipline to keep to the consequences of its inciting incident and to have the screws continually tighten on the protagonists; and now Barry, with a similarly exquisite ratcheting of its plot tighter and tighter, and with Barry Berkman himself, a less self-determined Vic Mackey, but in every other way Vic's equal as a bad man and a killer determined to think himself a good man and to do anything to keep that image.
The season started off a little slow, but by the end, the necessity of that became evident: Barry's attempts to get a toehold in a new life began to clash with the demands of his old life in ways that started out as annoying irritations but quickly escalated as Barry had to take more and more desperate acts– and cause more and more destruction– to hold onto that self-image. One of the most intense shows in recent years, with a season epilogue as heartbreaking as it was tense– and with an amount of plot that other shows would have stretched out to an entire season.
I love the Solute because it's the kind of place where I can not only write the following sentence but have it be understood and largely agreed with: In a year where Critical Überdarling Drama The Americans delivered its final season, the best tragedy on television was a first-season half-hour show starring a former Saturday Night Live cast member.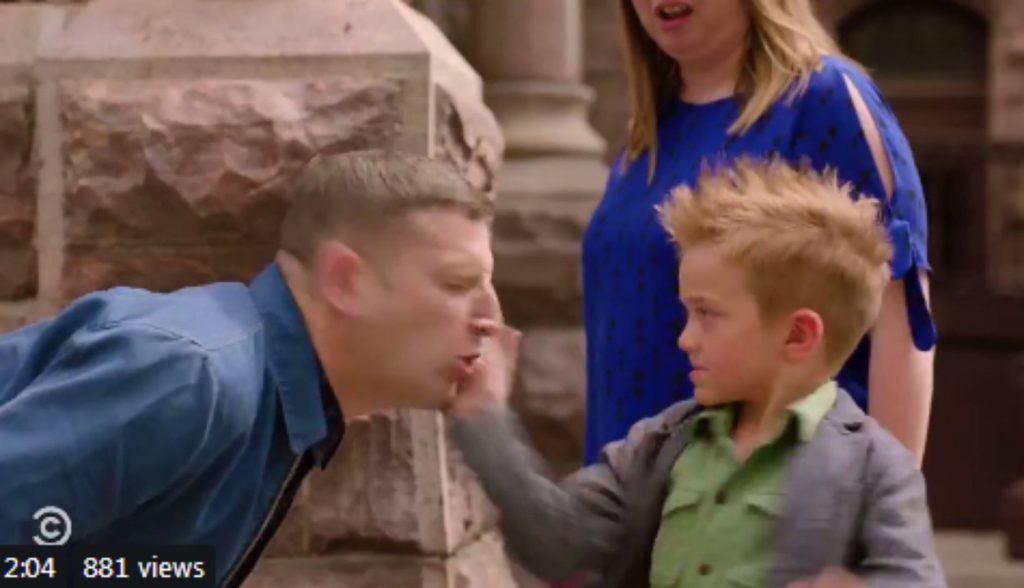 2. Detroiters
Season 2
Comedy Central
Once again, Detroiters was my favorite episodic sitcom of the year. It's hard to have anything new to say about what an utterly delightful show this is: The world is fully formed, it's got the best male friendship on television, and a hilarious stable of supporting characters, one of whom gets his own featured episode in "Mort Crim." This show is the best example of light, positive, joyous comedy on television.
The run of episodes from "Trevor" onward is one of the best sitcom stretches in recent memory, delivering on the wild absurdity, relatively low stakes, and hilarious side characters. The final two episodes add a little bit of dramatic and character examination to the equation as well. In penultimate episode "Little Caesars," Tim and Sam finally land the coveted titular account, only it turns out they did so only because Sam got hit in the head with a football at a charity event and Little Caesars want to use that, so Cramblin-Duvet has to decide whether the success is worth selling out their creative vision. In finale "Royals," Sam learns he's to be a father, and his own father offers him a steadier-paying job managing one of his Royals steakhouses. It may not ever be a real question whether or not Tim and Sam will get back together, but it is an examination of the values of maintaining friendship and magic in a world that seeks to stifle our joy and crush our spirits. And Detroiters truly is a magical show. (I also reviewed it weekly— are you starting to notice how frequently that pattern recurs in today's article?)
Sadly, Comedy Central declined to renew the show for season three, although it's not completely dead in the water. Watch the show, and you too will want to #SaveDetroiters.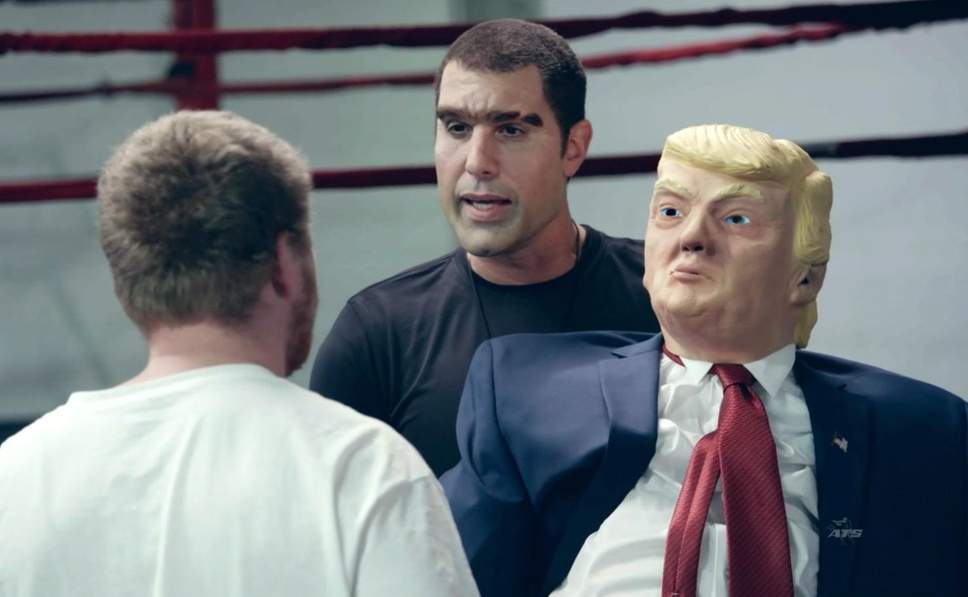 1. Who Is America?
Showtime
I have to admit being rather surprised that for two years in a row, the top show on my list is a one-time Showtime offering. But this year's #1 pick has less in common with Twin Peaks and more in common with another show that made my top category last year, Nathan For You. (Indeed, Nathan Fielder is credited as a director on two episodes of Who Is America?)
Sacha Baron Cohen's latest was impressively kept under wraps until a week or so before its debut. Even more remarkably, it first came to the public consciousness thanks to Sarah Palin trying to get out in front of the story on her interview for the show– an interview that didn't even make the final cut.
After watching Who Is America?, it's not hard to imagine how the segment on Palin– already ten years' old news by the time the show aired– didn't make the cut. Baron Cohen takes six new, unique characters– Erran Morad (pictured above); Dr. Nira Cain-N'Degeocello; Billy Wayne Rudduck, Jr., Ph.D; Gio Monaldo; Rick Sherman; and OMGWhizzboyOMG!– and paints a palette of America that ranges from the oddly sympathetic (some of the characters in episode 1, especially the art gallery owner) to the jaw-dropping (Jason Spencer, the mission to kill "members of antifa" at the Women's March) to the cold capitalist logic that allows human atrocities to continue daily (the yacht dealer confirming his willingness to do business with dictators and look the other way if his clients engage in human trafficking).
Bizarrely, critics seemed to have no regard or affection for this show at all. (Vox even published an article that Who Is America? was "too confrontational" for our times. Liberal politics in a nutshell.) I think it's absolutely a vital statement about what America has become– or, more accurately, has become more openly. The best example of that I can think of: Watch the segment of Borat as a country music singer in Da Ali G Show (yes, the "Throw the Jew Down the Well" one), and then watch the Who Is America? segment of the town hall in Kingman, Arizona. In the former, people are nervous and uncomfortable at first, then when they realize no one is going to judge them for joining in on the racism, they gradually begin to embrace the song and even sing along. In the latter, people are immediately and vocally racist toward the idea of building a mosque in town– even refusing the outs Baron Cohen gives them. (Nobody in the Borat segment would have dreamed of yelling out "I'm racist against Jews!")
And from beginning to end, even the stuff that didn't make the show made for the kind of incredible stories other shows could only dream of, from Palin's complaints before airing, to the Secret Service intercepting Baron Cohen and preventing him from getting his interview with Ben Carson, to Baron Cohen's disclosure after the series had ended that a Las Vegas concierge had actually confirmed to one of Baron Cohen's characters that he could procure him a barely-pubescent boy– and that he had told the FBI about this and they ignored the tip.
Audacious, hilarious, and as stunning and pointed a look at America as anyone made this year, Who Is America? may not have the rewatch value of some of our best sitcoms, but it's an indelible document of the late 2010s in America, a time when every simmering resentment, prejudice, and monstrosity had finally boiled over to the surface; a time when nothing about America– from the racism to the exploitation to the corruption to the cruelty– was hidden behind closed doors or respectable masks anymore.