If you missed them, Part 1 is here, Part 2 is here, and Part 3 is here.
These are the six shows that stood out to me above all the rest on television, for various reasons. I wouldn't call any of them perfect, but the highs they reached were sublime.
6-1. THE BEST OF THE BEST
6. Nathan For You
Season 4
To my mind, Nathan Fielder is one of our few true performance artists, someone who makes the term "culturejammer" seem relevant again with stunts like Dumb Starbucks, someone who somehow in our era of media saturation and constant surveillance manages to still surprise both us and the people who get caught up in the orbit of his show. With Nathan For You, Fielder sits in the intersection of reality television and satire, with his absurd pitches to small businesses to raise their profile and his complete commitment to seeing his ideas through, engaging with the hyper-reality created by the need for the business to draw attention combined with the effects the cameras themselves have on people. It's produced some of the most compelling, hilarious, and completely mind-bending television on air since its 2013 debut.
Though the show was a bit uneven this year, even lesser Nathan For You episodes are never dull or poorly done; the bar is so high for this show that they're just disappointing. But two episodes this season stood out in particular as classic Nathan For You. The first, "The Anecdote," features Nathan detailing his anxiety about being a boring talk show guest, and the lengths he goes to to craft the perfect anecdote for Jimmy Kimmel Live!, not only conducting research to determine what makes a talk show anecdote successful, but in typical Nathan Fielder fashion, insisting that he actually live out the events of the anecdote step by step and engineering them. It's a brilliant setup made all the better if you watched the interview, which aired before the season premiered, and you had no idea at the time just how staged it really was.
In the very best episodes of the show, Fielder's schemes allow some truly strange and fascinating people he encounters to unveil themselves, whether it's the realtor who claims to have been assaulted by a ghost in Switzerland, or the gas station owner who drinks his grandson's pee. (This season gave us a few new examples; my favorites were the old guy from "Massage Parlor" and the guy from "The Richards Tip" whose willingness to change his name to "Michael Richards" sets off a chain of events which eventually leads Nathan to found and publish The Diarrhea Times.)
The second great episode of the season focuses on one of these people: Bill Heath, first seen in season 2's "Souvenir Shop / E.L.A.I.F.F.", is a Bill Gates impersonator whose knowledge of computers doesn't even extend to reading a Wikipedia summary. Bill has been hanging around the Nathan For You offices and occasionally reminiscing about a woman he once loved whom he lost touch with fifty years ago, and in the two-hour season finale, "Finding Frances," Nathan probes Bill for more details and resolves to help him reconnect with her.
What follows is one of the most incredible journeys I've seen on television in a long time, made all the more remarkable by the reality element of Nathan's show. With a scripted series, we have some sense that the writer is at least going to bring us in for a safe landing; on Nathan For You, there is no such safety net, and the realm of possibilities suggested by this idea– that literally anything can happen– makes every scene gripping and intense, none more so than at the climax. I don't want to say too much more about the episode, if you haven't seen it, simply because I might prime your expectations, and it's better to go in free of them. Suffice to say, we learn a lot about Nathan and about Bill along the way– and, indeed, they learn a lot about themselves– and we get some stories that blur the line between Nathan Fielder the person and "Nathan Fielder" the character even more. (If you know that Fielder divorced in real life between seasons 2 and 3, the episode is that much more poignant.)
"Finding Frances" would be a runaway for best TV episode of the year and best meditation on aging and regret of the year– except that one show yet to come on the list makes its own very strong case for both of those things. Nevertheless, it's a stunning achievement that alone would lift this show into the conversation for the best television of 2017. The fact that even a lesser episode of Nathan For You is already better than almost everything on the air is just icing on the cake.
5. It's Always Sunny in Philadelphia
Season 12
It's remarkable enough that a show like Sunny can continue to be funny at all after twelve seasons; that the show's twelfth season managed to be one of the best comedies on television, with several episodes landing as immediate classics, is nothing short of astonishing.
It's remarkable how the show finds new depths of character to explore after all the time we've spent with the Gang. This was particularly true of Glenn Howerton's Dennis; highlights in that regard include "The Gang Goes to a Water Park," where Dennis goes full Paper Moon when he finds a potential protegé, and "The Gang Tends Bar," where, despite his usual portrayal as a manipulative sociopath, it turns out Dennis does have feelings, and they can be hurt.
These two episodes are also two of the episodes most like traditional Sunny, where the Gang hatches some form of scheme and splits off into various groups, or otherwise just hangs out at the bar. The show not only did those episodes well in season 12, but also hit it out of the park when it went high concept. "Old Lady House: A Situation Comedy" is a commentary on the inanity of television comedy as well as voyeurism and how being observed affects behavior, while also being hilarious in its observations. (Namely, Dennis notices that what could be dark scenes of abuse between Charlie's mom and Mac's mom can, with the addition of a laugh track, seem right at home in a Chuck Lorre comedy.) "The Gang Turns Black," meanwhile, is an homage to The Wiz, wherein the five leads come to after a power surge and discover they are all black. It's hilarious, with terrific and catchy musical numbers (Frank's, of course, is called "I'm Gonna Say It"), a meta element (they're all convinced they're in a body-swapping movie, so they try to pursue the solutions from other media in the genre to return back to normal), and a jarring ending that reminds us what exactly it means to be black in America.
The highlight of the season, though, is "Hero or Hate Crime?", wherein a competition over ownership of a lottery ticket leads to a dissection of problematic language vs. intent (which includes at least two of George Carlin's seven words that I'm not sure I've heard on basic cable before, and one much worse), as well as a very deep dive into Mac's psychology that pushes one of his biggest mental barriers until it finally breaks, in a scene that's both hilariously cynical and genuinely heartwarming.
The season finale suggested some potential permanent changes to the status quo; Charlie finally got his wish and slept with the Waitress (and of course, after all his years of pursuing her, he immediately comes to regret it), and Dennis, foreshadowed by his discovery of his feelings and need to pass along his wisdom to the next generation, decides to leave the Gang and help his North Dakota rendezvous (season 10's "The Gang Beats Boggs") raise their son. Howerton himself has said he wasn't sure if he'd come back to perform on the show for season 13; if he doesn't, this was a hell of a year to send Dennis Reynolds out into the world on.
4. Detroiters
Season 1
How did a quiet, unassuming, low-stakes show released on Comedy Central in February to little fanfare score so highly on this list? By being one of the most consistently delightful, enjoyable, breezy shows on television.
Starring co-creators Sam Richardson and Tim Robinson as best friends who own a small Detroit advertising agency (inherited from Tim's dad after he went "bonkers," in the parlance of the show), the show's plots often have little to do with the actual work of advertising, with the show instead focusing on low-key plots that depend on the small character interactions or innate goofiness of many of the people in the show's orbit. (One episode is set entirely at a birthday party for Sam's father; another's A-plot centers around Sam and Tim's preference for using the bathrooms on the unoccupied third floor of their building.)
Richardson and Robinson have an easy, lived-in chemistry that really does suggest they've been best friends for years, and their lightheartedness and charm are infectious. (Robinson's rubber face is also one of the show's secret weapons.) The specificity makes the show work: The details of the setting, as well as the characters, including the smaller roles, and their particular relationships with each other, indicate the two have really thought through the world they've created as well. (I have no idea how much their fictional Detroit resembles the real one, but both men grew up in the city and the show is shot on location.) It's the rare comic universe that arrives fully-formed and detailed, and it really makes the show click in a way it wouldn't if the creators were less certain about the world they wanted to build.
This is helped by the sheer range of oddballs that surround Sam and Tim, from the security guard who keeps pitching them horrible ad taglines ("Campbell's Soup: It's just wet-ass food!"), to the mom of the mom-and-pop furniture store who seems to have an oddly specific fixation on incestuous adolescent sexual confusion, to Mort Crim, the inspiration for Ron Burgundy, playing himself and delivering some classic non-sequiturs on the nightly news. ("And the proof turned out not to be in the pudding, but in the murderer's blood and semen.") But the show never treats these characters mockingly; Sam and Tim's optimism and good cheer are extended to the rest of the cast, and while foibles are gently teased, no one is humiliated or made to seriously suffer as a result. (Well, except Chrysler executive Carter Grant, but that ends up being plenty hilarious first in the pilot and again when it comes around to the season finale.)
In a year in which the real world was so often harrowing and brutal, and in which even many of our television comedies examined the dark souls of their characters, the light-hearted, low-stakes Detroiters may have been the most fun I had watching TV all year.
(See my reviews at the Leftorium.)
3. Review
Season 3
It seems crazy to rank a show this highly when it only aired three episodes all year, but I'm about to say something even crazier:
Review had the best series ending since The Shield.
The two endings compare in a similar manner: a man, alone, everything else that matters to him thrown away in pursuit of one thing. For Vic Mackey, that one thing was to get away with everything he'd done. For Forrest McNeil, it was the twin beliefs that life could be understood by reviewing it as a series of experiences, and that this task was so important that it required absolute commitment on his behalf.
That belief has taken him to darker and darker places over Review's first two brilliant seasons, as Forrest burned down his marriage, his relationship with his father (literally, in one sense), and nearly his entire life, culminating in the series of cataclysms in this final season, including his commitment to his life reviews leading him to sabotage his defense testimony at his own murder trial. (And yet, somehow, the only thing that truly bothered him through all this was when co-host A.J., filling in while Forrest reviewed "Being a Co-Host," declined to go through with a review.)
The final episode is the perfectly cruel twist on which to end the show; Forrest not only simply cannot take the out his ex-wife Suzanne offers him, but he cannot even admit the truth to himself in the end, and thus Forrest McNeil will remain trapped in a delusion, in a hell of his own making, completely disconnected from reality and human contact. This show was always funny and occasionally hard to watch when Forrest trampled over the relationships in his life, but this was an ending that punched you in the gut, made you shake your head, and say "Damn, that's perfect. I wish I'd thought of it."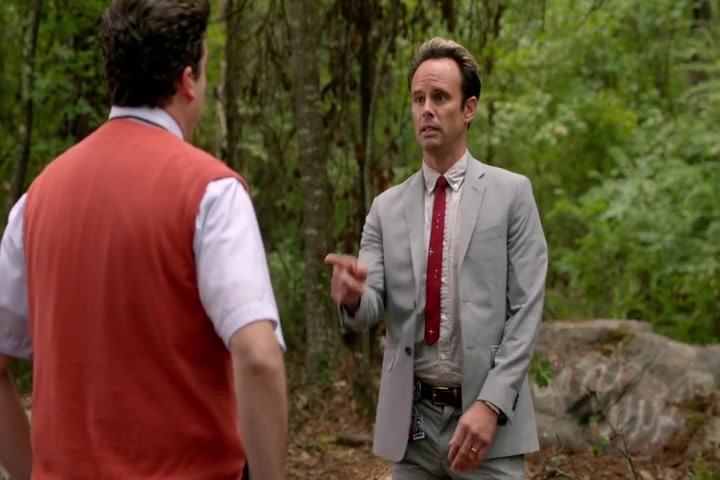 2. Vice Principals
Season 2
I said so much about this show in my weekly review series at the Leftorium, but my qualms about the show from season 1 quickly subsided when I'd seen the whole thing and realized exactly what it was all along. It's a show about two dysfunctional men who become real friends, and whose relationship and affection for each other makes them better people despite those dysfunctions. ("And I love you. Because I've learned platonic love can exist between two grown men.")
Danny McBride and Walton Goggins are as excellent as ever, as Neal Gamby's quest to return to his role at North Jackson High and find his killer intersected with Lee Russell's fumbling attempts to wield the power he's found himself with as principal, and the foibles they get into as a result. While the two often brought out the worst in each other when they combined forces in season one, that slowly changed over the course of season two, as the two became just what the school needed them to be– and what they needed each other to be– by the end of the series.
The show has a lot more going for it than just these two, in both performance and in commentary (it really is true what they say; high school never ends) but it's hard for me to find things to say that I didn't already say in my review of the series finale. (That reminds me, though: The strength of this season is a testament to allowing creators to wrap up their shows on their terms, without milking them for more ratings and more money, something that fellow Jody Hill – Danny McBride – David Gordon Green property Eastbound and Down suffered from.)
It manages to be everything I wanted from this show: Darkly hilarious, impeccably performed, consistently engaging. This season belongs up there with Eastbound and Down's first and Observe and Report as the best work Jody Hill has done to date.
1. Twin Peaks: The Return
Season 3
And here it is.
I did have some after-the-fact complaints– for one, the story was kind of thin when we look back on it, and a lot of branches on that tree petered out– but as a week-to-week watching experience, nothing has been this compelling for me since season 1 of True Detective. Lynch scratches so many of my itches regarding the unknown and the unknowable, the sense of time passing, and the danger of clinging to the idea of undoing the past. (And me, I love all that Black Lodge stuff.) Among a terrific cast, Kyle MacLachlan's performance stands out as someone who has to play initially three characters, which expands to six by the final episode. The fact that he's able to distinguish all of them so clearly through behavior, body language, and vocal intonation is a remarkable achievement, and he never feels unnatural doing so. It's my choice for TV performance of the year. (It's far from the only terrific one on the show; most every performance is excellent, with Naomi Watts perhaps ranking as my favorite among the supporting cast, and Jim Belushi– Jim Belushi!— as the most surprising.)
Nathan For You's "Finding Frances" wasn't the surefire best thing that aired on television in 2017 regarding aging and regret, in part because Dale Cooper's journey out of the Black Lodge was very compelling on those terms in its own right, but if I'm being honest, it's Eddie Vedder's performance of "Out of Sand" that seals it for me. All the heartbreak of regret and loss, of wishing for a past to be undone, that Dale Cooper undergoes over eighteen episodes, distilled into three minutes and forty-five seconds. (It reminds me of a line Don Henley used to describe "The Heart of the Matter" during a live acoustic performance– a better version than the album track, for the record: "Took forty-two years to write and about four minutes to sing.")
And the reason "Finding Frances" isn't the episode of the year is because Twin Peaks' "Episode 8" is, a visually stunning, harrowing allegory of the evil our desire to master nuclear annihilation has wrought. (Well, Twin Peaks being Twin Peaks, it's less "allegory" and more "literal manifestation of supernatural forces of good and evil," but, you know.) Twin Peaks delivered several other stellar episodes that have stuck with me long since, "Episode 3" and "Episode 16" in particular, along with a handful of scenes memorable, funny, or just plain harrowing, as the mythology of the world and the sense that all was not well continued to build.
Others will say it better than I say it. And others told better stories than Lynch/Frost did this year, made funnier episodes than they did, maybe even made more compelling characters than they did. But as far as absolutely captivating me each moment it was on the screen, and absolutely demanding I watch a new episode as soon as it was available, nothing matched Twin Peaks: The Return in 2017. It may be more impressionist than narrative, but it left one hell of an impression on me.
I was going to write more about my favorite episodes of television this year, but we're already at 3,000 words and it's quite late. So here's a list of ten episodes, each from a different series. It's good, probably. (Weirdly, it's nine episodes from nine of my top ten series– sorry, F Is For Family, I couldn't pick one standout episode– and then a tenth from much lower on the list.)
Twin Peaks: The Return, "Episode 8"
Nathan For You, "Finding Frances"
Review, "Cryogenics, Lightning, Last Review"
Vice Principals, "Venetian Nights"
Better Call Saul, "Chicanery"
It's Always Sunny in Philadelphia, "Hero or Hate Crime?"
Detroiters, "Husky Boys"
The Good Place, "Dance Dance Resolution"
Crazy Ex-Girlfriend, "I Never Want to See Josh Again."
Brooklyn Nine-Nine, "Game Night"