No reason to hesitate, so let's just jump into the second tier of shows I ranked this year. (You can see part 1 here if you missed it.)
24-15. PRETTY GOOD YOUNG GUNS (AND TWO OLD GUNS)
24. Unbreakable Kimmy Schmidt
Season 3
Season three of Unbreakable Kimmy Schmidt expanded our characters' quests for self-growth; no longer was this just about Kimmy trying to get past her trauma, but she's making everyone around her better people as well. Lillian, Jacqueline, and Titus all learn to take a chance on love (and Titus starts confronting what a shitty person he's been). Plus, we get great stuff like Kimmy as hostage negotiator, Jacqueline trying to taking down the Washington [BLEEP]skins, and Titus going LEMONADE upon seeing Mikey with another man.
Best of all, it gave us one of the catchiest earworms of the year: Titus, after taking a job recording vocals for a conspiracy theorist songwriter (Judah Friedlander) whose conspiracies are often racist, asks his soul for forgiveness before taking on the last number, a song that betrays all his principles. I'm talking, of course, about "Boobs in California."
23. Angie Tribeca
Season 3
When season 1 of Angie Tribeca dropped all at once last year, it came off like a fun Police Squad! homage, albeit one with a little bit too much winking and mugging. Season two represented a significant leap forward for the show, committing to the absurd reality of the world while also adding long-term plotting, dramatic stakes, and great guest appearances (Heather Graham and Maya Rudolph among the best). Season three continues this trend, with a hilarious running CSI riff about how many of the episodes take place in a different city. If you wanted something like Police Squad!, Angie Tribeca is the closest thing you'll get on our side of the shores1, and if you didn't get enough Deon Cole from Black-ish, you can rectify that problem here, too.
1 – Not to leave that implication hanging, I've heard good things about the UK's A Touch of Cloth, but I've never seen it.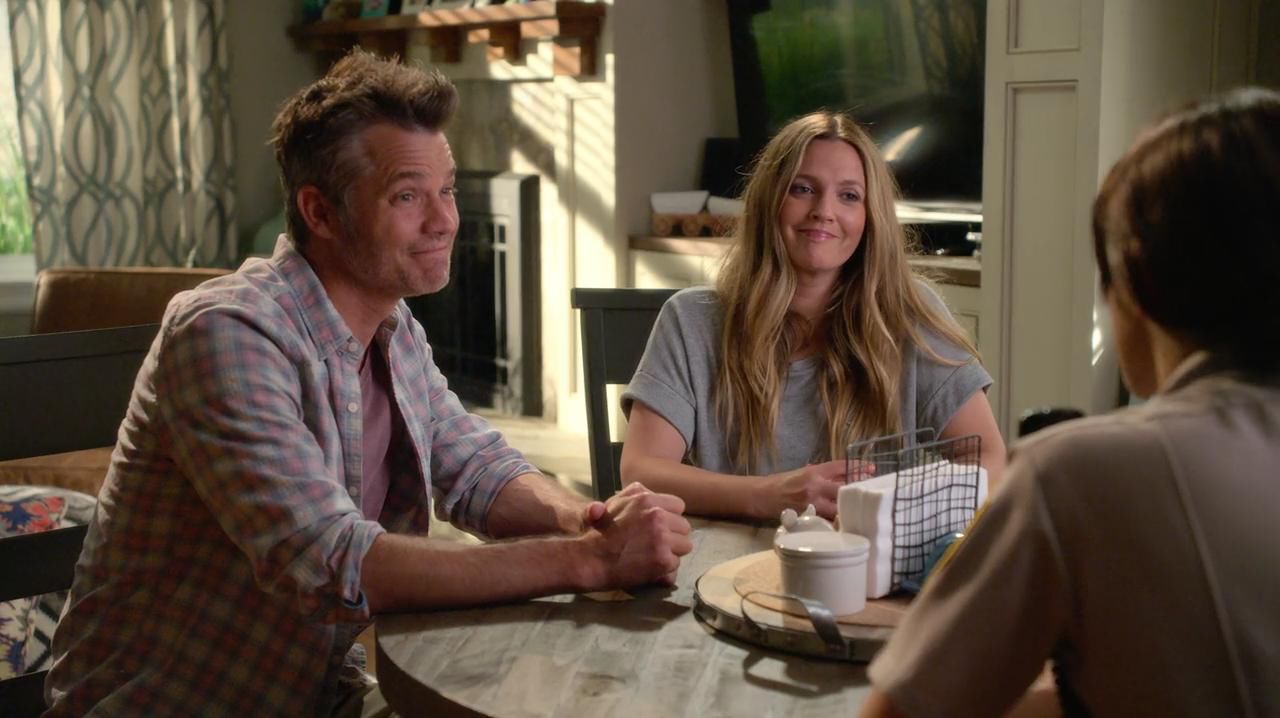 22. Santa Clarita Diet
Season 1
Surprisingly for a show starring Drew Barrymore and Timothy Olyphant, Santa Clarita Diet dropped to relatively little fanfare when it was released on Netflix early this year. Victor Fresco's latest high-concept sitcom, however, turned out to be a fun, breezy show (well, sort of, considering the topic) with enough momentum to keep the viewer hooked. The premise was simple: What if you woke up one day and somehow became a zombie who could only eat human flesh? That's what Santa Clarita realtor Shiela Hammond is dealing with, as her laid-back (and now put-upon) husband Joel tries to manage this with a minimal amount of murder, while also hiding it from their daughter and their nosy sheriff's deputy neighbor. Barrymore and Olyphant are great (the latter in particular is playing a type less Seth Bullock and Raylan Givens and more "high school athlete and surfer dude in his 40s"), but the real stars are the high school-aged kids, next door neighbor Skyler Gisondo and (especially) Hammond daughter Liv Hewson.
21. Trial and Error
Season 1
Anyone who's failed to fill their "mockumentary about a weird small town" hole since Parks and Recreation ended would do well to check out Trial and Error, a self-contained season about a murder trial in a small fictional South Carolina town. Perhaps the closest analogue is "Parks and Rec if Ben were the main character and also a trial lawyer." East Peck is easily as weird as Pawnee, the jokes never stop coming, and Nicholas D'Agosto (Masters of Sex, Review) makes an excellent straight man as the New York lawyer (and yes, in East Peck, "New York" carries the connotation you think it does) assigned to defend poetry professor Larry Henderson, charged with the murder of his wife.
John Lithgow is incredible as Henderson; he manages to be sincere and guileless, making you believe he actually didn't do it, while doing so many stupid, boneheaded, irrational things, and just plain ignoring his defense attorney's advice so often, that you believe he certainly could've done it. The whole cast is great; Lithgow likely won't be returning for season two, as the show will focus on a new case, but the best of the returning actors is Jayma Mays, who infuses DA Carol Anne Keane with an aggression and sexuality than can best be described as "scorching."
20. Superstore
Seasons 2 and 3
Anyone who's failed to fill their "breezy workplace comedy" hole since The Office ended would do well to check out Superstore, created by former Office writer/producer Justin Spitzer. Superstore is set in a Wal-Mart analogue called Cloud 9 and features Ben Feldman as the business school dropout who takes a job there on a whim, America Ferrera as the former teen mom who's been stuck in this management job to make ends meet for years, and Mark McKinney as the well-meaning but often milquetoast and inappropriate boss. (A highlight from the Valentine's Day episode is McKinney's Glenn realizing, during a sexual harassment seminar, that his pursuit of his wife, a co-worker at his father's store whom he asked out for a year and who only went out with him because his father threatened to fire her if she didn't, was inappropriate: "Jerusha, our whole marriage is based on a sex crime! No, no, no, you only think you love me. You were my victim!")
The whole cast is great; Lauren Ash is a particular highlight as a rough analogue to Female Dwight, similarly no-nonsense about authority and the rules while also lacking social graces and having weird obsessions of her own (in this case, birds instead of beets). An easy to watch and easy to rewatch hangout sitcom.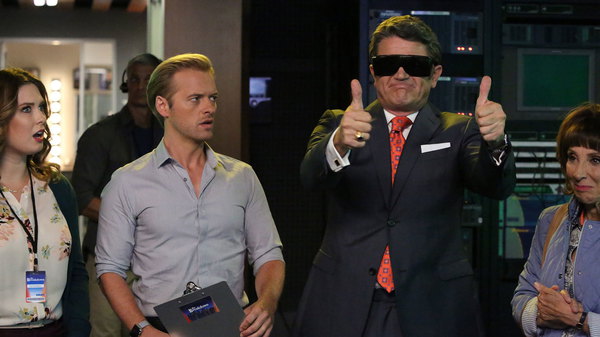 19. Great News
Seasons 1 and 2
Anyone who's failed to fill their "absurdist behind-the-scenes-of-a-TV-show comedy" hole since 30 Rock ended would do well to check out Great News, produced by Tina Fey and Robert Carlock, and created and run by 30 Rock writer Tracey Wigfield (also featured in the cast as Beth). 30 Rock was originally pitched as being about a news show, and Great News returns to that concept, with Briga Heelan (Ground Floor) as an up-and-coming, ambitious producer who doesn't have much of a personal life, and Comedy Legend Andrea Martin as her mother, a well-meaning meddler who takes an internship at the news network. It doesn't quite have everything 30 Rock did, but few shows could live up to that mantle, and it delivers absurd and quick humor as well as anything on TV.
The two news anchors are probably my favorite performances of the series: John Michael Higgins is predictably delightful as the bombastic veteran anchor Chuck Pierce, worried about becoming irrelevant in the modern age. (Check out his attempt to explain Internet acronyms from the season 1 finale.) But the revelation here is Nicole Richie, whose vapid, style-obsessed persona gives way to a lot of hidden ambition, killer business instincts, and in general much more savvy than she lets on. The show's a real treat, and arguably it, and not Unbreakable Kimmy Schmidt, is the true heir to the 30 Rock throne.
(And yes, believe it or not, all three of these previous shows aired Thursday nights on NBC. Is Must-See Comedy Thursday back? Check back in the next couple of days just to be sure!)
18. Curb Your Enthusiasm
Season 9
While this wasn't the most consistent season of Curb, the fact that it delivered as many laughs as it did after six years off the air was an accomplishment in its own right. Larry seems to have even fewer fucks to give now; you can almost see the wheels turning in his head as to whether or not he should say something, and then deciding to because he just doesn't care about the social consequences anymore. This occasionally results in absurd and unbelievable behavior from Larry, but those moments weren't enough to ruin the season for me, stacked up against the funny ones.
The seasonal arc, which revolves around Larry trying to put together a musical called Fatwa!, then having an actual fatwa declared on him after mocking the Ayatollah on Jimmy Kimmel, gave us some great comedy, particularly from guest appearances by Salman Rushdie and Elizabeth Banks. The whole season had some great guest stars; F. Murray Abraham and Lauren Graham deserve shout-outs as well, but the real treat is Lin-Manuel Miranda, who quickly develops a petty rivalry with Larry for the ages, one that ends in hilarious, winking fashion. And to top it all off, the show gave us "Foisted!"
17. The Marvelous Mrs. Maisel
Season 1
Well, I love standup comedy, and I love fast-talking, witty women set in a time period where they could be called "dames," so this was right up my alley. Amy Sherman-Palladino's latest focuses on a housewife who's driven to standup comedy by a personal crisis. (Oddly enough, the inciting incident is similar to that in Crashing, although here it's much more clear that the wronged party is in the right, and we actually see her struggle to recover from it, as well as take action to move forward, not just have breaks fall into her lap.) Occasional anachronisms aside– and my personal distaste for seeing a woman pine for a loser, no matter how much of a life they'd built together– the show is a blast. Rachel Brosnahan is pitch-perfect as Miriam "Midge" Maisel, whose quick thinking proves handy not only on a standup stage but also when sensing an opportunity (such as bailing Lenny Bruce out of jail when she's also arrested for "indecency"). Alex Borstein is also terrific as Susie, the comedy club booker who sees just how talented Midge is and decides to become her manager, also becoming her friend despite herself.
The show also depicts an accurate (from what I'm told) portrayal of Upper West Side Jewish life in the 1950s; my favorite performer in that regard is Tony Shalhoub as Midge's father Abe, a master of gruffness and deadpan comic timing. (Kevin Pollak, of all people, is a revelation as Midge's father-in-law Moishe, and I mean that in the most literal sense: I was shocked to discover Pollak was the actor in question.)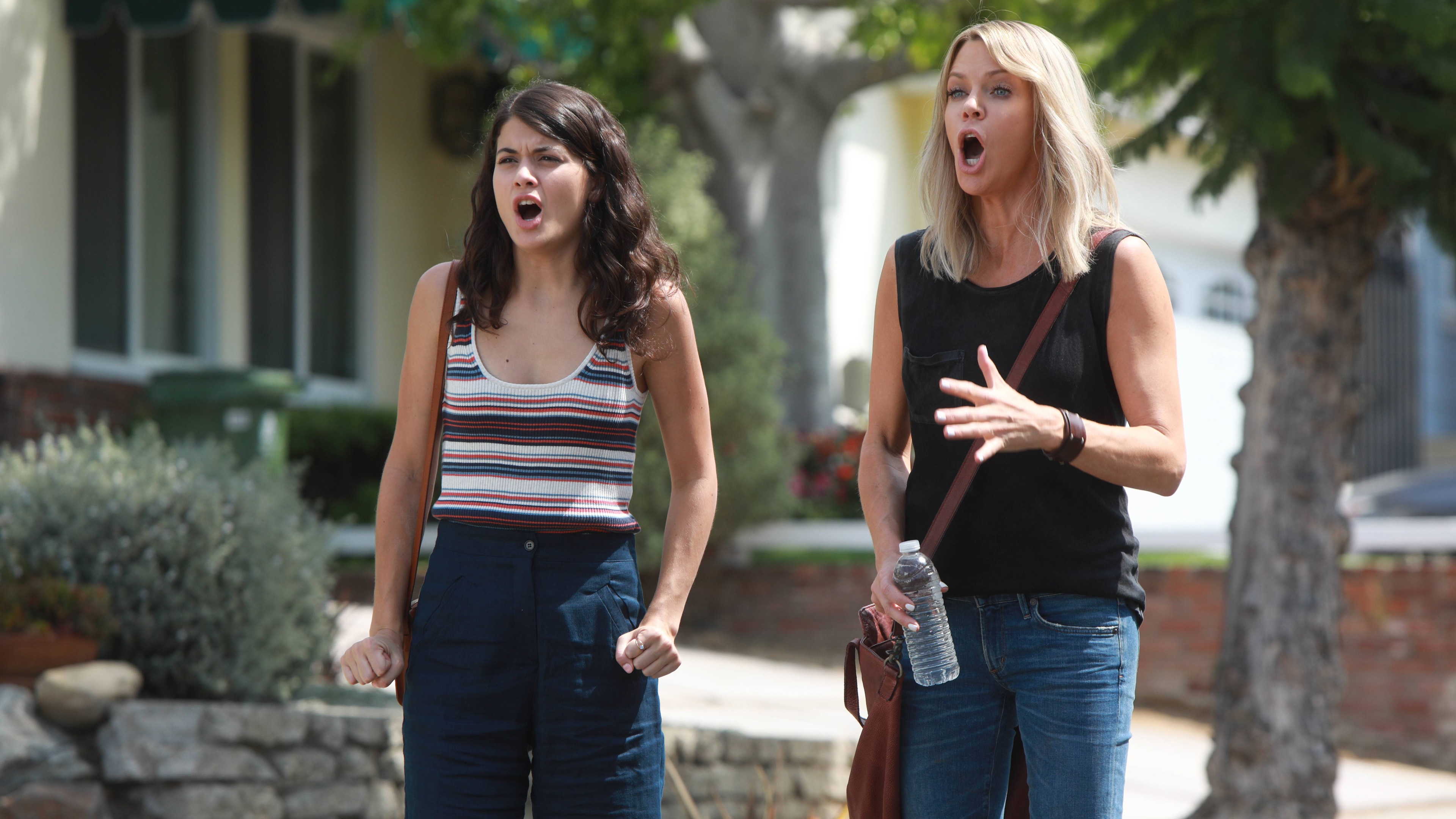 16. The Mick
Seasons 1 and 2
If you weren't getting enough Kaitlin Olson from It's Always Sunny in Philadelphia, then FOX's starring vehicle for arguably our funniest comic actress (and almost certainly our most gifted physical comedienne) will scratch that itch. Olson's Mickey is a similar dirtbag to Dee, but more of a shrewd scammer and with different motivations; she's now got to take care of her sister's children after their parents were arrested for massive securities fraud. What starts as a con grows into a grudging acceptance by all parties of the necessity of this arrangement, and it's consistently hilarious. Olson is of course terrific, but the rest of the cast steps up their game too, whether it's Scott MacArthur as Jimmy, Mickey's sort-of boyfriend and a wise old dirtbag fool; Sofia Black-D'Elia as high school senior and budding female-Dennis-Reynolds Sabrina; Thomas Barbusca as wussy, snotty embodiment of privilege Chip; Jack Stanton as guileless, sweet, yet accidentally terrifying Ben; or Carla Jimenez as the housekeeper Alba, whose main concerns are "protecting Ben" and "finally having someone to unwind and cut loose with." And yes, I just listed the entire main cast, because they are all that good.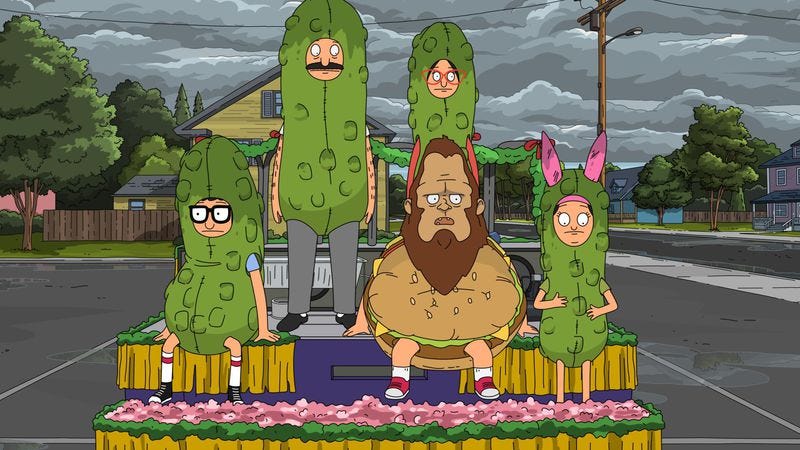 15. Bob's Burgers
Seasons 7 and 8
Another show whose consistent goodness and occasional greatness seems to be overlooked simply by being such a veteran. In many ways the spiritual successor to classic Simpsons, Bob's Burgers hasn't shown any hints of slowing down or declining in quality as it hits the midpoint of its eighth season. The Belcher family remains as weird and delightful as ever; Teddy has an even bigger presence, as the loyal and upbeat version of Bill Dautrieve to Bob's Hank Hill; the recurring characters are as always used well; and the show's even begun to experiment with form.  (The season eight premiere rotated numerous animation styles based on fan art of the show; the Christmas episode was the show's first official hour-long.) It's hard to find new things to say about the Belcher clan and the strange people that surround them, but sometimes, being just as good as ever and just as reliable as ever is good enough.
Coming tomorrow: Part 3 of 4.