(Warning: Minor, vague spoilers potentially ahead for every show mentioned)
While I do have impeccable taste, I thought it would be misleading to label this "The 30 Best TV Shows of the Year," because, frankly, there's just so much TV out there now that I can't say that definitively. I can say these are my favorites of what I watched, though, and although there are points at which I quibbled with myself over where to rank some of the shows relative to one another, these thirty are all good shows, and some are even great! What a year in television, that I can tune out of so many shows yet still find so many other good ones.
First things first: This list is dominated by comedy. I don't have much interest in TV drama these days, in part because my standards are so high for it: I need to be genuinely engaged and want to keep watching. I struggled to keep up with even Mad Men for a few years when its characters, particularly Don, really started to take on that circle-the-drain quality. And so much of what I hear about many prestige dramas is that they're almost inferior knockoffs of Mad Men, getting the symbolism but not the character; the slow burn but not the decision-making; the notes but not the music. And I ain't got time for that now.
Comedy, on the other hand: Well, a great comedy makes me laugh, makes me think, challenges me, has plot or characters that want me to keep watching more, or all of the above. (As does a great drama.) But a good comedy can just make me laugh consistently, and I'm happy. A less-than-great drama doesn't have that quality, and so then what does it have? Hence, why I watch so much more comedy than drama.
That said, the list certainly isn't devoid of hour-long shows, dramedies, or pure dramas. But if you want a list that compares The Americans to The Crown, you're in the wrong place. Just a heads up.
Now that we've gotten that out of the way, I'd like to open by talking about six shows I considered that didn't quite make it:
"Eh, It's Fine" Division
Crashing: Pete Holmes' based-on-his-real-life account of his wife leaving him and him doubling down on his commitment to standup (and, well, crashing on various comics' couches in the meantime) was pleasant enough and I wouldn't recommend avoiding it. However, Pete the character is kind of an empty not-a-man that good things just seem to keep happening to, and so as far as a portrayal of any sort of struggle in his comic process, it doesn't really work.
"Best Days May Be Behind It" Division
Veep: I had questions before season five over whether the show could maintain the same level of quality without Armando Iannucci in charge. After season six, I have my answer: No, it can't. My worries about the characters descending into cliché during season five were full-blown in season six; nearly everyone has been reduced to one character trait and the writing hits that note over and over. The only stuff that still works for me is Jonah, because of course a guy like that would keep falling upward the bigger and bigger an ass he made of himself.
The Last Man on Earth: Unfortunately, those critics in season one who thought the show focused too much on Tandy being stupid and obnoxious in a trite sitcom way over the uniqueness and potential of the show's setting ultimately ended up being right here, with the addendum that now Carol is also being obnoxious. Far too many of these show's plots have revolved around these two acting like idiots and/or socially unaware in an unrealistic manner, and eventually it just gets tiring.
Wet Hot American Summer: Ten Years Later: Another one that's fine but really doesn't have much compelling reason to exist, aside from Bookish Editor Melanie Lynskey and "Night Howlin'."
"Best Days Are Ahead of It" Division
Ghosted: It's a fairly slight comedy; centered around a secret government team of paranormal investigators, it's mostly an excuse to let Adam Scott and Craig Robinson riff. Still, that is plenty of fun; they've replaced the showrunner with Paul Lieberstein (The Office) going forward, so we'll see how that changes the tenor and quality of the show.
The Mayor: Fun show with a winning lead and a charming cast on the whole (and also David Spade– but don't get me wrong, he's great in this role). It's just too hard to make a "show of the year" judgment after eight or nine episodes, but I enjoy this show and hope it catches on.
Now, onto our formal list!
30-25. PRETTY GOOD VETERAN SHOWS
30. Silicon Valley
Season 4
This show is a mainstay of comedy lists, although I confess that I've begun to find the cycle of fleeting success a bit repetitive, and I don't know how well the show will be able to continue on without T.J. Miller. Still, though, there's a lot to like about this show. Perhaps my favorite moment is the Bloomberg interview with Jian-Yang, wherein he describes his "Seefood" (i.e. "Not Hot Dog") app, mostly by calling Erlich an idiot:
29. New Girl
Season 6
This one has been forgotten by many lists; it's only airing a shortened spring season, it's been around forever, and I suspect many people just don't remember it or figured it's already wrapped up. But in the half of season 6 we got in 2017, we got some great stories and comedy spun from them– the idiot models Cece represents, Winston looking for his real father, the revelation of Schmidt's first name– but perhaps none more noteworthy than, after six seasons, what appears to be a definite answer to the long-simmering will-they/won't-they, perhaps one of the last believable ones left on television.
28. Brooklyn Nine-Nine
Seasons 4 and 5
It's hard to have much to say about this show for the most part; it's been in a pretty comfortable groove for a while, so let's look at the ways they tried to keep the show fresh. "Moo Moo" was great and a probably long-overdue confrontation of abusive police, given the way this show tends to depict officers. The story that sent Jake and Rosa to jail didn't work so well and felt contrived; this ensemble is best when everyone's together (although, I have to confess, the fact that Gina was missing from the first nine episodes of season five not only didn't faze me at all, I started to wonder whether the show was better off without her). However, they've spun quite a few good stories out of the aftermath, from Jake's admission he's not ready for the streets yet to Holt's potential compromise to Jake's decision in "HalloVeen." Perhaps the best of all, though, is Rosa's discovery about herself and the steps she takes, particularly in "Game Night," to try to open up to others. The show's still consistent and the highs are as good as ever.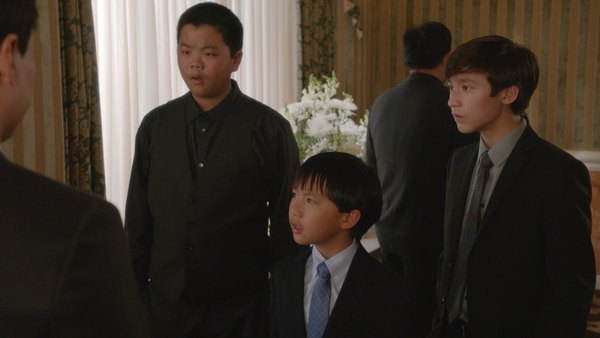 27. Black-ish
Seasons 3 and 4
26. Fresh Off the Boat
Seasons 3 and 4
It feels lazy to stick these shows right next to each other, let alone to write about them as one, but given the clear throughline of "shows that premiered in the same season starring non-white families explicitly navigating that experience in America, airing on ABC the same night," it seems natural, too. Black-ish is more likely to confront social issues, which can make the show more powerful when it hits, but the show can also get bogged down in Dre's general immaturity and need for attention and special treatment. (Sometimes, however, this ends up being hilarious, as with his resolution regarding Junior in "First and Last.")
I like Fresh Off the Boat better because it's more likely to drive for pure comedy and absurdity; for the best example of the latter, witness the development of Eddie's friends, especially Trent, whose particular convictions grow stranger and stranger each time we learn about a new one. The show is also well able to take on "important" matters when called for, and not just about the Huangs and the immigration experience; watch "A League of Her Own" if you don't believe me.
25. Game of Thrones
Season 7 (Miss Me With That "Part 1" Bullshit)
On the one hand, now that the show finally has the ball rolling on plot momentum, it's all plot momentum, resulting in one of the most gripping what-happens-next experiences on television, as all the years of buildup are finally paying off, with the same quality of performance and character we've become accustomed to by now. On the other hand, the writing often comes across like it knows which plot beats are absolutely necessary to hit, and doesn't really care about the details of getting there; this leads to lame stuff like the perspective on Sansa and Arya being unclear for most of the season, in a way set to deliberately trick the audience. It also leads to Jon Snow repeatedly making the stupidest decision possible yet being bailed out by his plot armor anyway. I wish I knew who first observed it, but the best piece of fan headcanon I've heard lately is that people follow Jon Snow because his ability to keep succeeding despite his bad decisions (even when those decisions literally kill him!) means he's obviously chosen by the gods.
Props to whoever decided to put Bran's narration of Jon Snow's true parentage over the scene of him fucking his biological aunt, because that was one of the funniest things I saw on television all year.
Coming tomorrow: Part 2 of 4