Once again, I tried to wait as late as I could to make this list to catch up on everything I missed. I may not have fully succeeded, but I've got a viable list here all the same. And I don't want to wait until February. You should also check the TV Moments of 2019 article I co-authored with wallflower; it's a handy companion piece to this article, as I tried not to repeat things I'd already written there. Anyway, let's talk about almost thirty TV shows I've seen!
I wish I could say there was a particular rankings-based method to how I divided the list, but in all honesty, I just wrote it out and then split it evenly by word count. The list is dropping in three parts, one each morning from Wednesday to Friday.
Onward with part one, which we'll get out of the way fairly quickly:
Stuff I Didn't See
Chernobyl, Succession, Watchmen
*shrug* I might get around to Chernobyl; it's short.
BoJack Horseman
I meant to finish this before I wrote up this article, but I've been putting it off for higher-priority stuff, and then I just didn't. (I was disappointed in season 5, but I've heard enough good things about season 6 to try again.) If it warrants mentioning, I'll write up an addendum once I get to it, or edit this article, or whatever.
Undone
I put this in for you, Julius. He says it's good. I'm gonna make some time to see it.
Now, the list: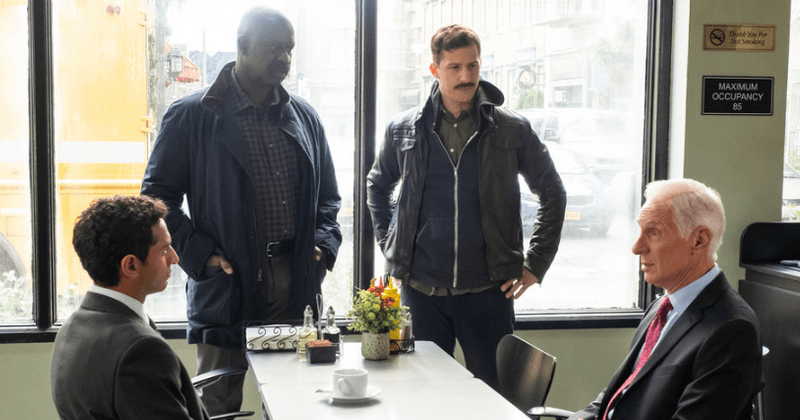 28. Brooklyn Nine-Nine
Season 6
NBC
Honestly, I could barely tell you a thing about this season of the show. But I liked it enough to keep watching every episode and to stay with it next season, and that's literally enough for this list.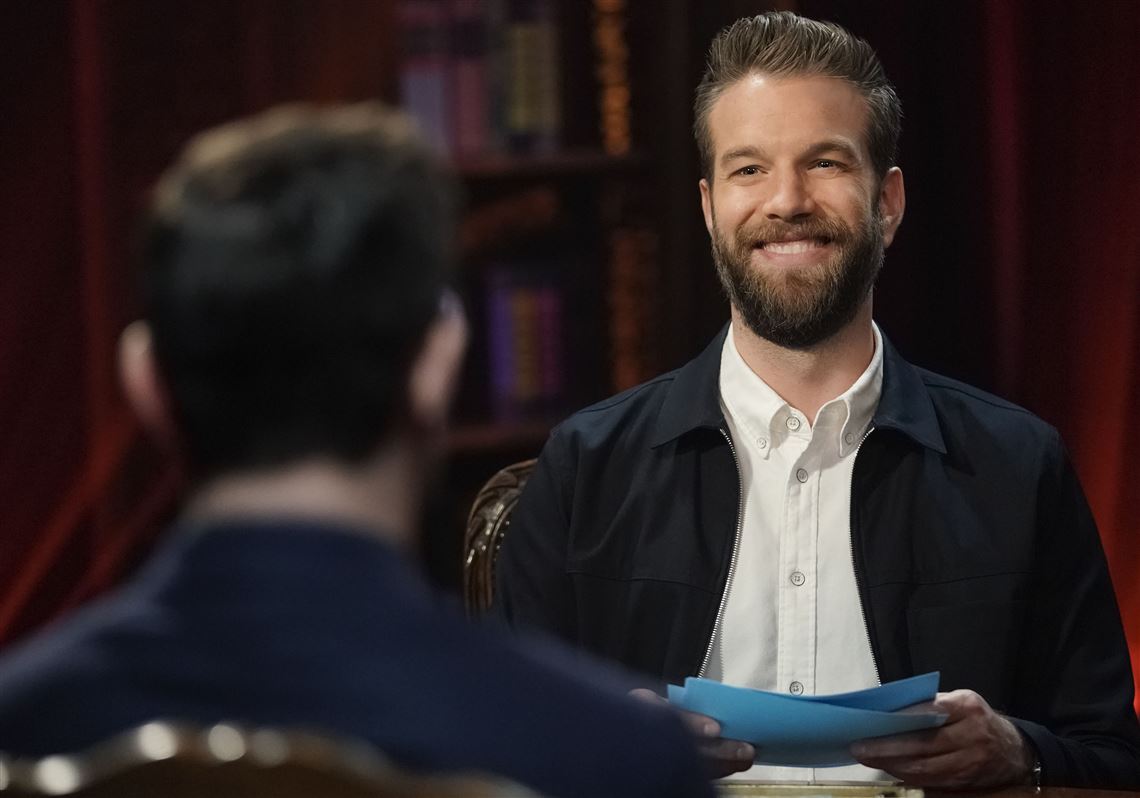 27. Good Talk with Anthony Jeselnik
Season 1
Comedy Central
Wish we'd gotten more than six episodes of this; I was a big, big fan of The Jeselnik Offensive. This format takes the energy down a notch, where Jeselnik sits down one-on-one with a variety of comedians, probably because Comedy Central didn't want to risk Jeselnik commenting on the news and making an entire continent pissed off at him again.
Still an enjoyable and funny show, though not one that had me singing its praises the way Jeselnik's last show did (or the way his specials often do).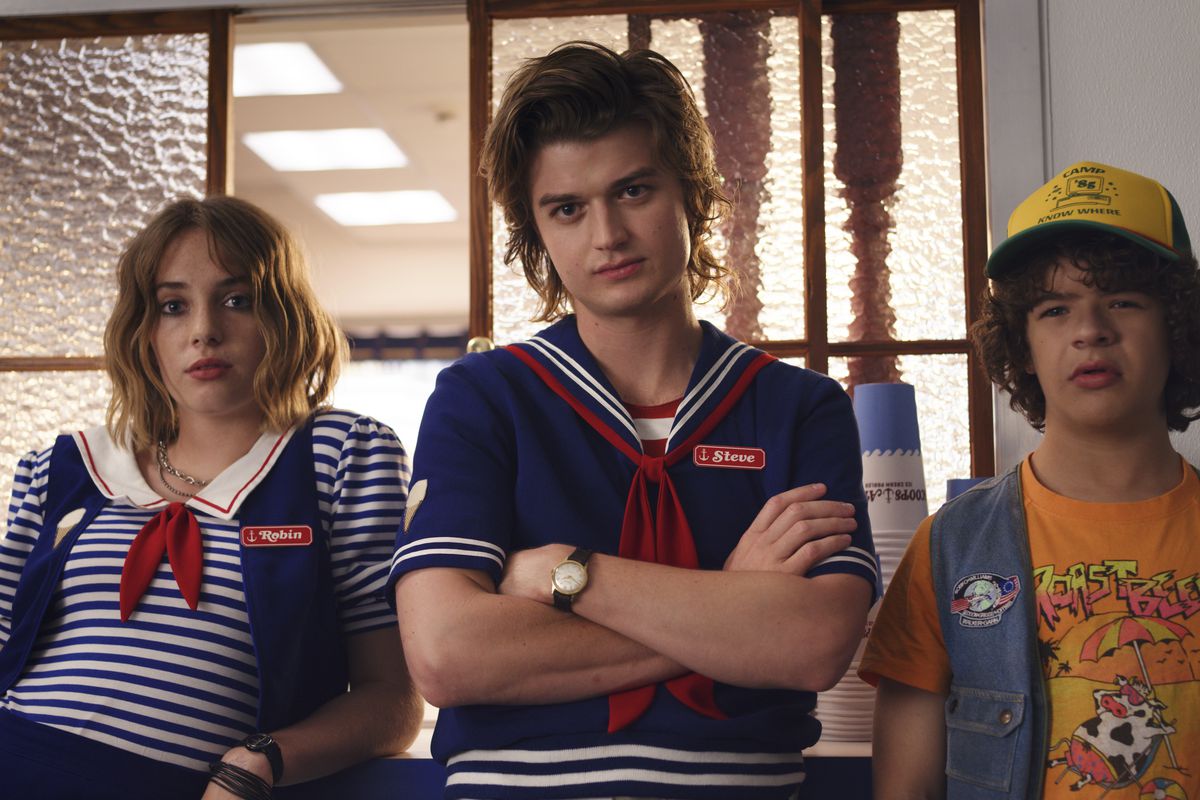 26. Stranger Things
Season 3
Netflix
This one suffered compared to the first two for two reasons: One is the opening couple of episodes, where Hopper inexplicably reverts to the same drunken misanthropic asshole he was at the start of the series. That compounded the second, where the big character moments for Hopper and Billy sort of lay flat– both of them were portrayed as such assholes that their Heroic Moment didn't create the desired response, and worse, didn't really connect to their past actions in the way good drama does (particularly Hopper's).
Nonetheless, most of the cast is as great as ever, some of the new additions are terrific (loved Maya Hawke this season), and the show managed to sustain my interest even as the plot built slowly (and was ludicrously built around Scary Russians, a trend that's worryingly formed in Hollywood since the 2016 election). So, it was fine enough to deserve mention here.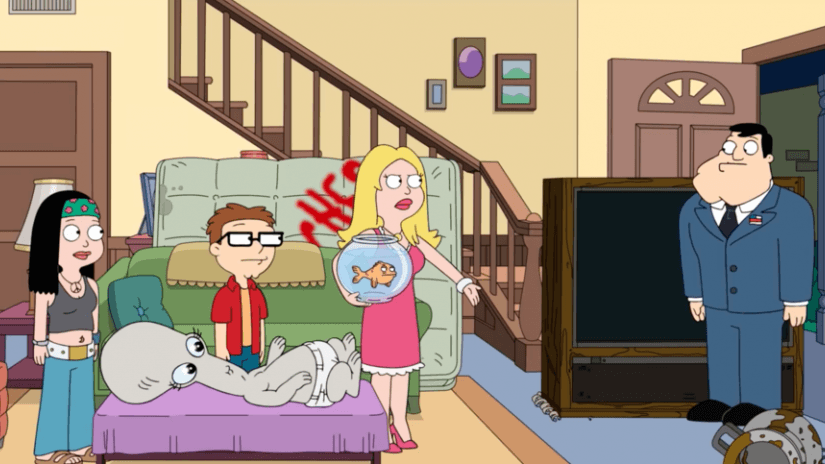 25. American Dad
Seasons 15 and 16
TBS
I've been sort of steadily catching up on American Dad, so admittedly it's a bit of a blur, but I'm astounded as to how well the show keeps up the quality and consistency this late in the game. It's not perfect– I have noticed the new seasons are leaning on gore-based humor a little much for my liking, where the comedy is simply supposed to come from how grotesque it is– but for a show that's been on this long, with 276 episodes at the time of this writing, the fact that it isn't a shell of its former self is an incredible achievement.
We got at least one all-timer in this batch, too: the Twilight Zone-esque "Rabbit Ears," wherein Stan finds an old, huge CRT TV on Heavy Trash Day and becomes obsessed with a Playboy After Dark-style show that has no listings or record of ever existing. "Top of the Steve," where Steve gets admitted to an all-girl's boarding school by mistake until Roger realizes he's dangerously close to spinoff territory, is also a highlight. And even though Family Guy (pre-cancellation) did a Willy Wonka riff already, "Jeff and the Dank Weed Factory" works because it involves Stan developing a grudging respect for Jeff after seeing him capable in his own environment. Also, it has Snoop Dogg.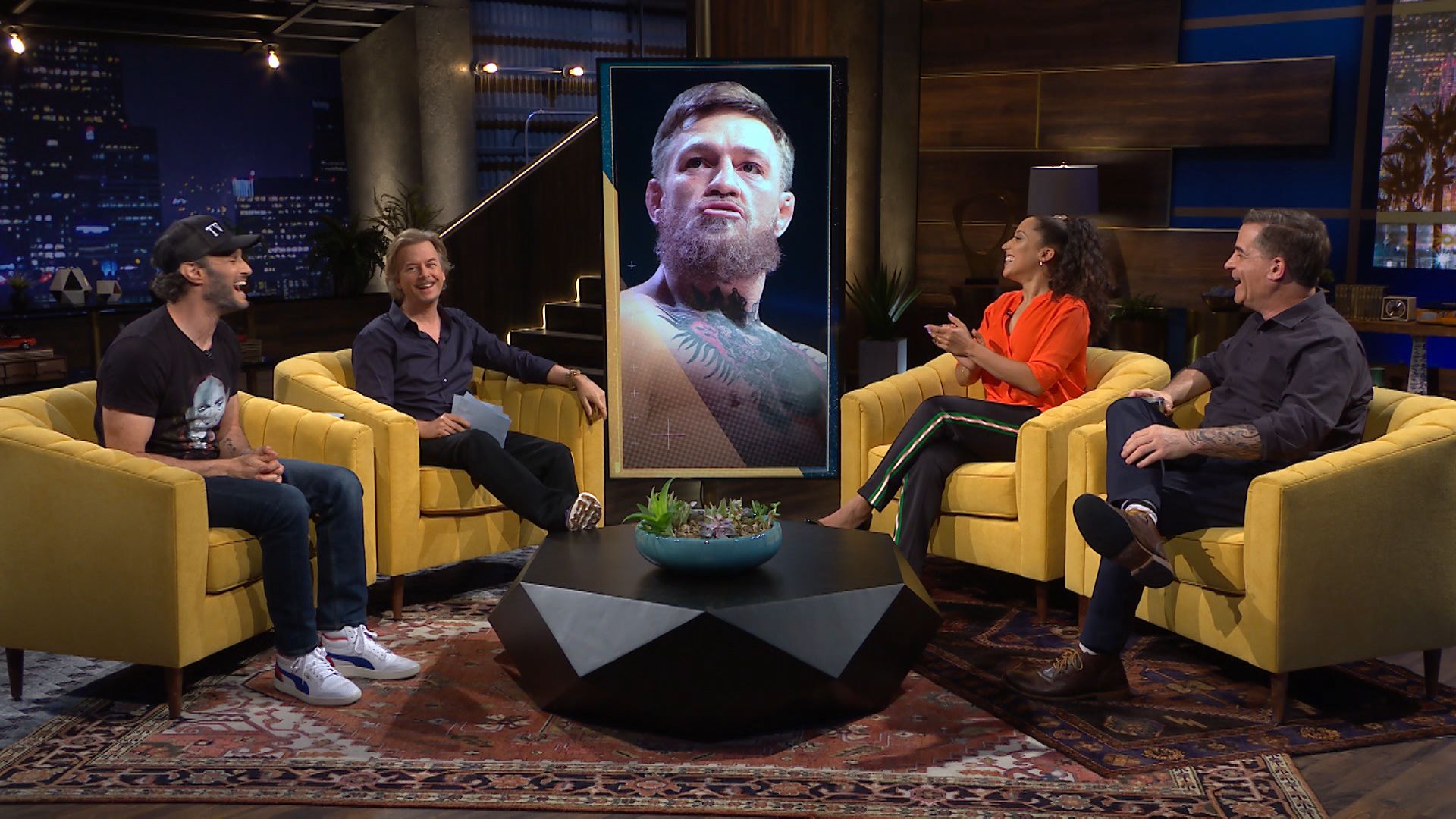 24. Lights Out with David Spade
Season 1
Comedy Central
I like my panel shows, I like my "comedians talking about comedy" shows, and this newest vehicle for David Spade not only cranked out a ton of episodes, but also had a wide variety of good guest stars, from comics more known to comedy nerds (Tim Dillon, for example) to old friends from his SNL days (Adam Sandler gets an entire episode as the only guest; the episode with past "Weekend Update" hosts is maybe the best of the season).
Spade does a remarkable job of keeping with the times, at a time when so many comedians his age seem to be railing about how they don't get young people and that's the young people's fault. He doesn't come across as someone trying to be younger than he is, either, just someone who's adapting to a changing world, and I appreciate that.
(Did you know David Spade was a main cast member on two different sitcoms that ran for seven seasons? Now you do.)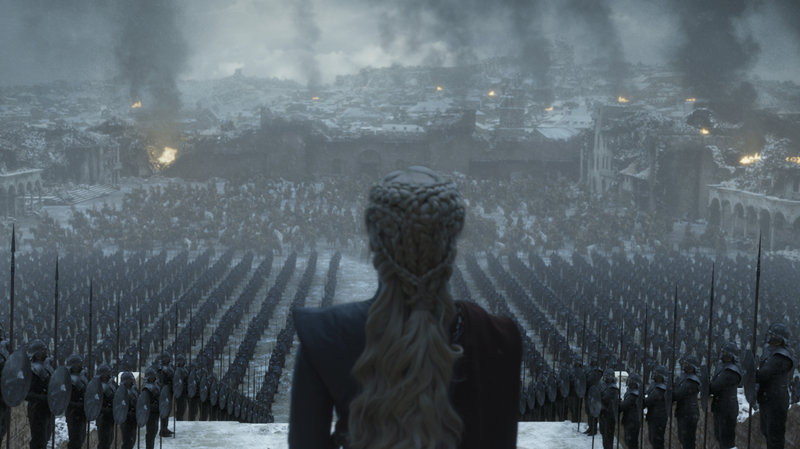 23. Game of Thrones
Season 8
HBO
First, I'm just going to say that I at least enjoyed the action and finding out exactly how all the major plot pieces finally fit together. I really enjoyed the performances, too; in the hands of lesser actors, the characters' behavior would have been incomprehensible. That said, I'm now going to repeat my post on "TV moments of 2019":
Game of Thrones: "Dany kind of forgot about the Iron Fleet."

The best thing you can say about season 8 of Game of Thrones is that the performances combined with the plot points let you construct a plausible narrative of character motivations for their decisions. Of course, the writing is supposed to do that work, and season 8 was a damning indictment of David Benioff and D.B. Weiss as storytellers. While the last few seasons, though often compelling, had moments where the writing clearly suffered from not having George R.R. Martin's text to draw from anymore, they were usually moments of dialogue ("You want a good girl but you need the bad pussy" is probably the leader for "unintentionally hilarious line of the decade"). This, though, was something else; Benioff and Weiss showed they had seemingly no idea how to construct a narrative, instead just making sure the final season checked off the narrative boxes they were told to.

Their lack of care and their disinterest was made even more clear by the "inside the episode" segments, where they offered no analysis or insight, often just repeating to the viewer what they had just seen on screen. The chosen moment is from a rare time where they tried to explain how a plot event happened; fittingly, their explanation is the lamest and most implausible one possible: the story's great conqueror simply forgot about an entire fleet of ships mobilized against them. You couldn't sum up the laziness Benioff and Weiss brought toward the series end better if you tried.

Fittingly, they'd go to compound their mistakes by talking at a panel how they essentially learned on the job how to run a $1 billion TV show, which almost immediately lost them their deal to write a Star Wars series. (The euphemism "scheduling conflict" has never been so transparent.) It's hard to come up with a bigger indictment of Benioff and Weiss' abilities than that they were in charge of what was arguably the most anticipated final season of television of the 21st century, and they bungled it so badly that the entire show has become an afterthought.
In the final analysis,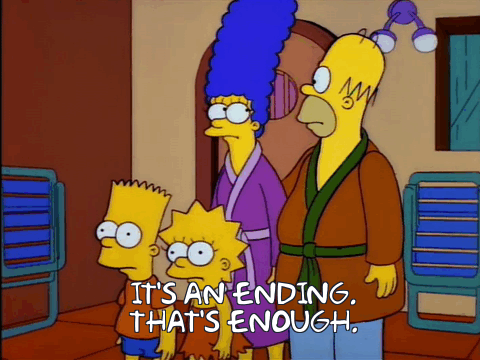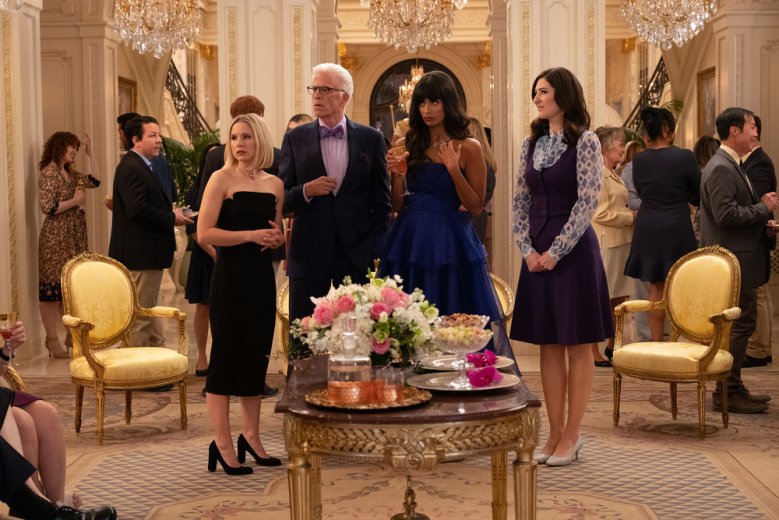 22. The Good Place
Seasons 3 and 4
NBC
Hoo boy. This show went from #8 in 2017 to #15 last year to #22 this year. It slipped last year in part because the early part of season 3 was kind of dull and wheel-spinning; unfortunately, the show has become more and more that with time. Whereas for two seasons the show burned through plot quickly and kept up the viewer excitement created by a world where plausibly anything could happen and the status quo could completely change at any time, the final two seemed to deliberately slow down, less interested in the metaphysics of its world than in rehashing old plots. (I don't know how many episodes or plots we need about our Good Place Crew trusting one another, but I do know we don't need this many of them reassuring each other that they're all great.)
Admittedly, this ranking might be colored by the episodes I've seen in 2020, wherein one was given to absolutely no plot at all, and another spent half its time on the "character reassurance" plot we've seen over and over. I was excited for a show that Michael Schur created with a strong and fast-moving plot that would outweigh the tendency toward stagnation and love-fests that previous showed he worked on or created fell into; it seems like, with the critical climax approaching, he's fallen into his old habits of "Everyone is great and everyone gets what they want." The performances and characters are still terrific, but The Good Place went from arguably the best show on network TV (as my 2017 rankings suggested) to not even the best show in its one-hour NBC time block. (Which, admittedly, still makes it one of the best shows on network TV. Just not the hilarious thrill ride it used to be.)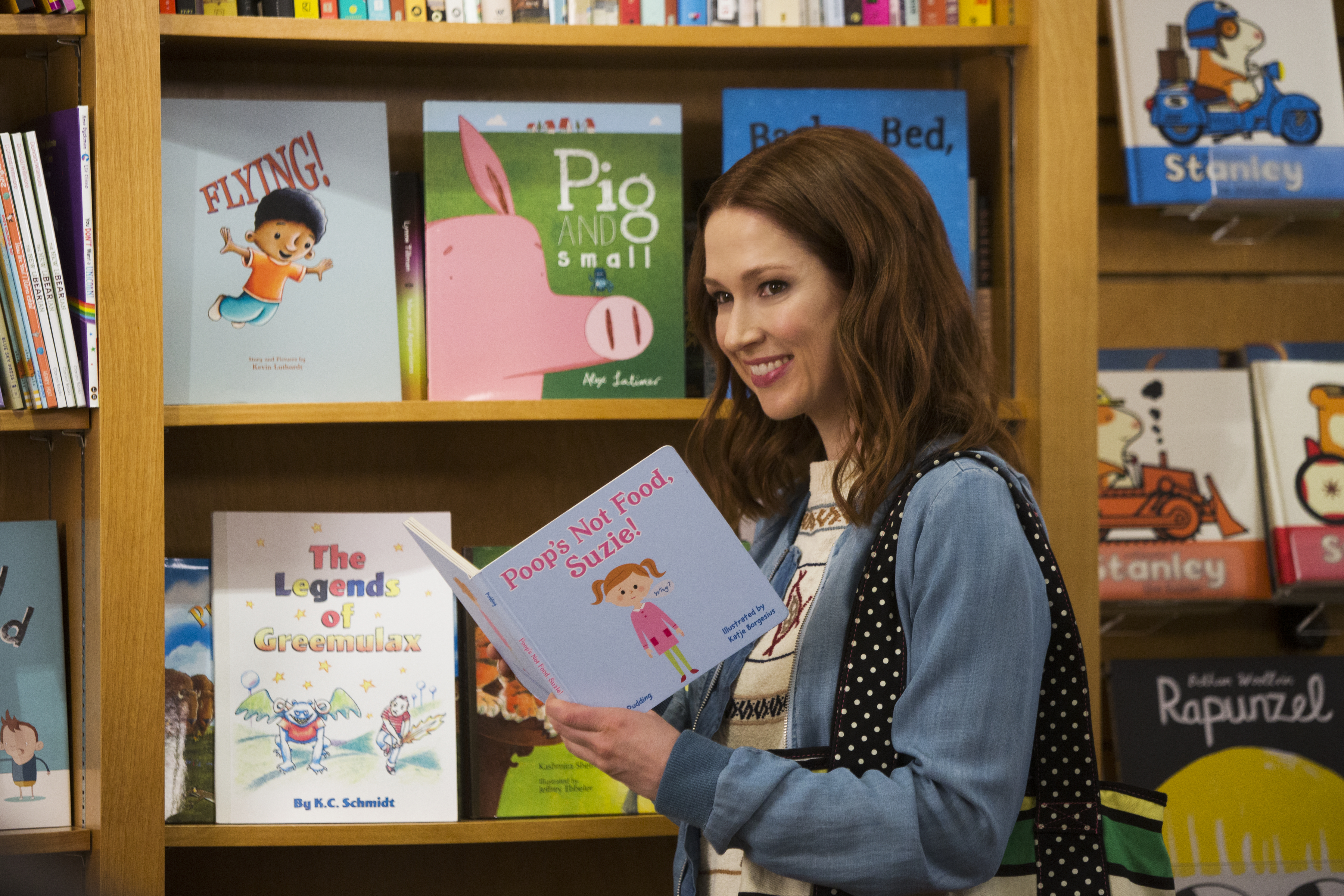 21. Unbreakable Kimmy Schmidt
Season 4 (Part 2)
Netflix
It's been nearly a year since this dropped, so forgive my shoddy writing. Kimmy Schmidt certainly delivered with a final season at a level with the rest of the show– and, really relevant to recent pop-culture discourse, one of the best Cats jokes I've ever seen. Kimmy gets a strong ending, too, sweet and in a way that feels appropriate and earned. Titus Andromedon remains one of the funniest sitcom creations of the last five years. Bon voyage, Kimmy.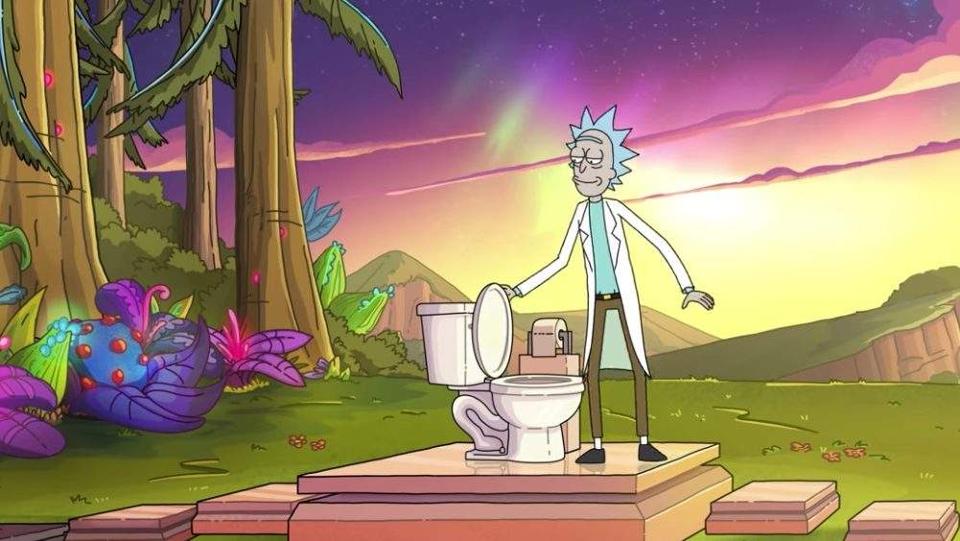 20. Rick and Morty
Season 4
Adult Swim
It's hard to rank this higher with only five episodes, especially when one of those episodes I found a bit disappointing. Still, this remains an incredibly funny show and one of the most inventive on TV, one which always carries the potential to be the best show airing, potential it occasionally lives up to ("Edge of Tomorty: Rick Die Rickpeat" and "Rattlestar Ricklactica" being the best examples this year).
You know what this show is; you know if it's for you.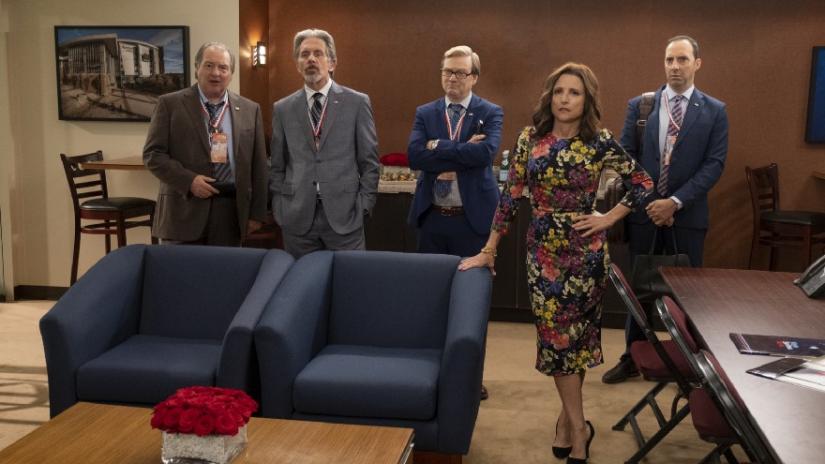 19. Veep
Season 7
HBO
Veep became a different show after Armando Iannucci left the series and handed showrunner reins over to David Mandel. I didn't care for Mandel's version as much, although it gave us at least one truly great comic plotline in the rise of Jonah, but the final season gave us a Veep ending appropriate for the show it became, if not the show it once was, as Selina mounts another run for president.
The ending of Veep carries some clear influence from The Shield, and its final scene resonates in the same way: Selina Meyer, having gotten everything she wanted, alone in her office, having destroyed every relationship she ever had to get there. It was strong and effective; after some early-season stumbles, the final season snapped into focus on Selina's will to power and what terrible things she would do to get and maintain it. By the end, she's driven off everyone who matters– her most consistent operative, Amy; her own daughter Catherine; even Gary, her unfailingly loyal bagman, gets the cruelest fate of all. A potent ending, even if an Iannucci-run show almost certainly would have taken these last three seasons a different direction.
One thing that really worked for me in the Mandel era: the rise of Jonah. It peaks this season, with more and more preposterous details coming out about his life and with him finding a strong support base among equally angry, entitled white males. This base of support allows him to broker a deal at the nominating convention; naturally, as we find out later, he almost immediately fucks it up.
The throw forward to Selina's funeral was a nice touch, too; it was worth seeing exactly how everyone's lives ended up (including, again, Catherine, living with Marjorie in Europe and not even attending, watching on TV with their now-grown son Richard). Perhaps my favorite touch of all– aside from, possibly, Selina's ex-husband Andrew turning out to have faked his own death (a strong possibility all along)– is Dan, who realizes that DC life isn't for him and becomes a southern California realtor with a hot younger wife. Okay, scratch that: It's President Richard Splett.
Part two of our list comes tomorrow morning and part three Friday morning.