This day was probably the hardest for me to sort out. I'm still not sure I'm happy with my rankings, and I might change them on another day, but sometimes you have to hit "publish." All seven are sitcoms of different types– short-run, network, animated, serialized– and all pretty good.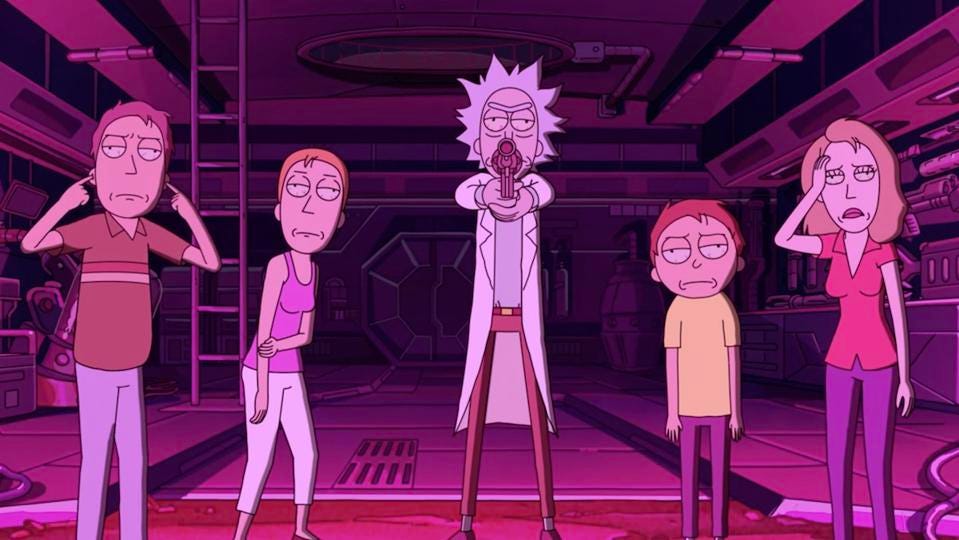 21. Rick and Morty
Season 6, [adult swim]
It feels a little strange to have a season I thought was pretty good on the whole this low, but it's been a strong year of television comedy. Rick and Morty can still be something of a mixed bag, although Rick's attempts to genuinely do better by his family end up steering this season in a much better direction on the whole. Some of the best episodes involve the great, inventive concepts the show does at its best, like the horror classic "Night Family," or the real consequences and cost of Rick's attempts to do the right thing, like "Analyze Piss." And then there are episodes with inexplicable incest undertones, and episodes that reveal, oh, Rick is still an asshole. But the highlights this season are strong, and even the incestuous episodes have their strong points in the comedy and plotting. All in all, a fine enough season, especially if you're already a fan (although I can't imagine anyone who isn't is still watching).
[
EDITOR'S NOTE: I learned about the charges against Justin Roiland, and the subsequent stories other women have shared about their interactions with him, while I was in the middle of writing this list. I don't know what this means for either of his shows– he has a co-creator on each, so they could theoretically continue without him– and I don't know yet whether I will continue to watch either of these shows even if they
do
continue. But after thinking about how and whether the news should affect either show's placement on the list, I felt like it wouldn't have been honest of me to drop the shows from the year-end writeup after finding out the news so far in time after I had finished both seasons and ranked both shows. So I've still ranked them based on my opinions of them after seeing them, without changing anything based on real-world events.
]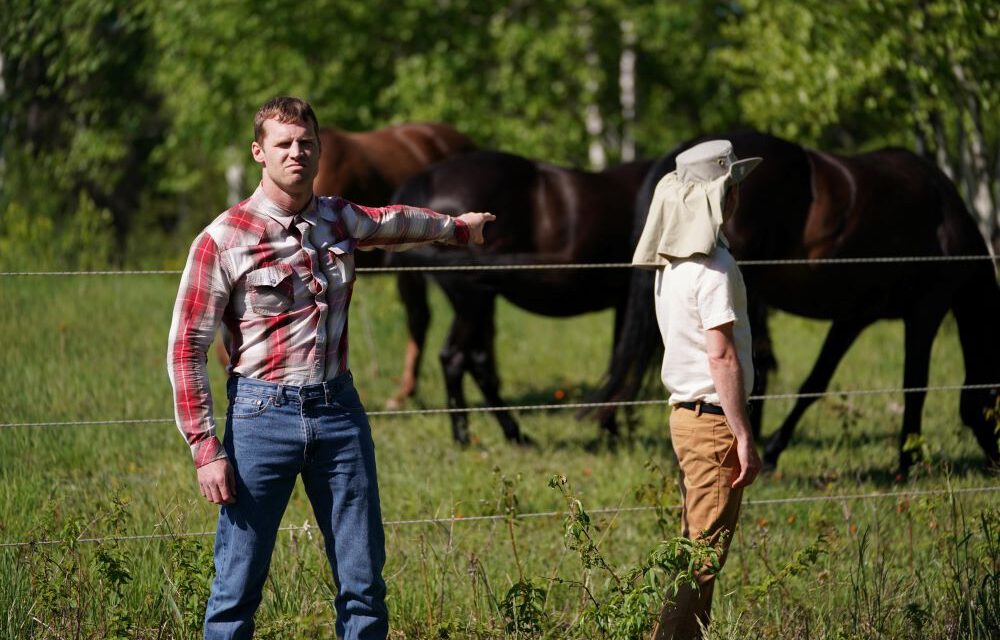 20. Letterkenny
Season 11, Hulu
On the whole, I thought this was better than season 10. There isn't much new ground to break for Letterkenny at this point, but all the signature verbal patter and social dynamics are still there, along with the usual rotating cast of characters. One particularly fun episode is "Influenzas," where the Letterkenny community deals with a unique strain of outsider coming to town: social-media influencers and wedding photographers who want to take pictures of Real, Authentic Rural Farm Life. Once Katy realizes how much they're willing to pay for this, this leads to competition between Katy, the McMurrays, and to a lesser degree the Dycks for the business of all these interlopers.
At this point– and it's wild to think that this show is on season 11 despite only premiering in 2016– there isn't a whole lot of new ground to cover in reviewing Letterkenny. The plots and the topics they riff on are individual to each season, but for the most part the formula is in place at this point– the hicks, the skids, the hockey players; the other townfolk making guest appearances; time on the farm and at MoD3an's; occasional scraps; sometimes outsiders causing problems (the "degens from upcountry" in the finale are this season's example). Letterkenny is Letterkenny, and if you haven't figured out yet if you enjoy it, this season probably won't change your mind. (And if you haven't seen it and you want to give it a shot, you should just start at the beginning.) I personally enjoy it, even if at this point it's hard for it to surprise me or exceed expectations; it's still a fun show to watch with a great cast of characters.
Final footnote: The show's occasional holiday special was delivered in early 2022 for International Women's Day, and that episode I quite enjoyed. Don't miss it if you plan on catching up.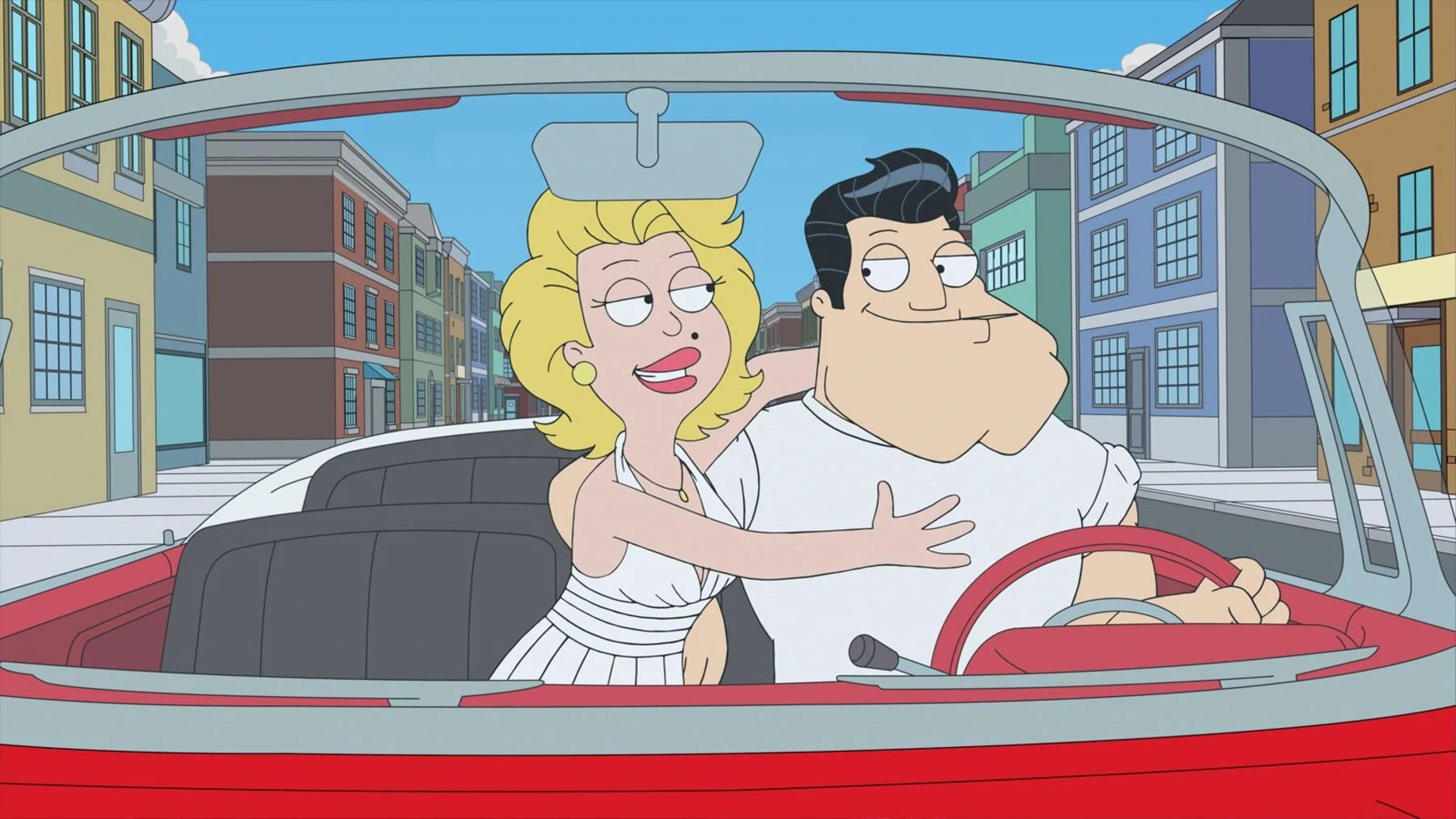 19. American Dad!
Season 19, TBS
American Dad! still manages to find ways to surprise and reach comedic heights this late on, and two episodes this season stand out in particular:
"Gold Top Nuts" is a bizarre story that kicks off with the Smiths finding themselves on an island with no memory of how they got there– or anything, really, including human civilization. As they try to piece together their own civilization and figure out what reality is, their biggest piece of inspiration is a VHS tape that only plays a commercial for the titular snack food, which leads them to form a cargo cult of sorts around it. (I feel like this episode is a reference or homage to some film I've not seen.)
The second is "American Dad Graffito," which kicks off with a suitably insane Stan idea: To save his favorite 50s-style diner (threatened into going out of business, in part, by Hayley's sub chain expanding and offering her the manager job at the new location) he's going to turn the entire town nostalgic for the 50s. This leads into a lot of great comedy, particularly in the slapstick misadventures of Stan trying to act cool and Roger filling in the Wolfman Jack role (even if he can't remember what his name is supposed to be), and of course a feud between Stan and Hayley that ends in the only way an episode with this title could– a drag race gone wrong, of course. (And a ridiculous Roger song which I still think about pretty regularly.)
Any show that runs this long runs the risk of becoming stale (and more often becomes stale or gets cancelled far before it gets to this point), but somehow, American Dad! has managed to maintain a pretty consistent level of comedic quality while still finding a way to make a couple of truly inspired episodes every season that rise above most everything else on television.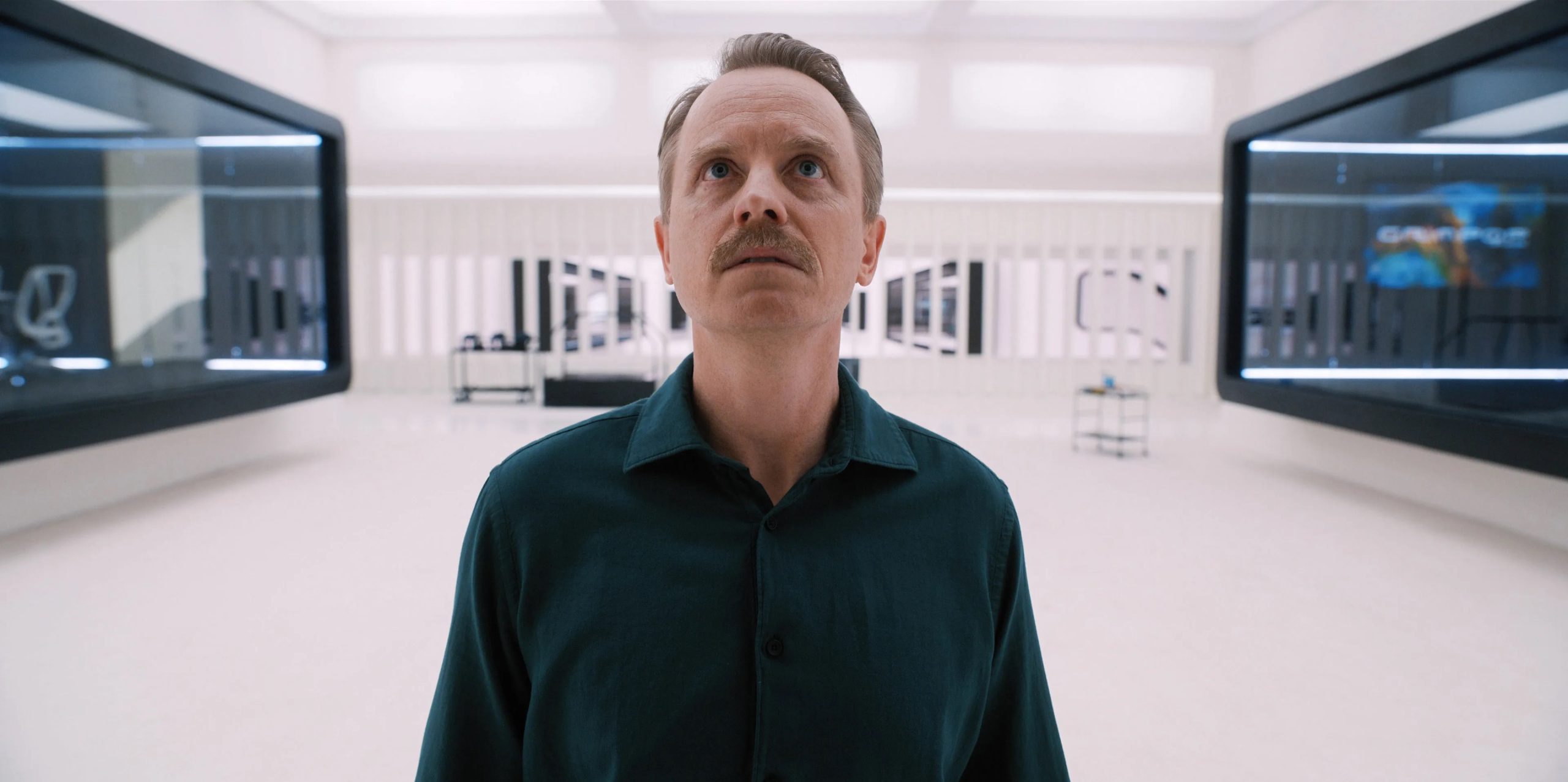 18. Mythic Quest
Season 3, Apple TV+
The end of Mythic Quest season 2 upended the status quo a bit, with Ian and Poppy leaving the MQ team to form their own startup, Brad going to prison for insider trading, and David left fully in charge of the MQ team and the upcoming MQ movie. The first episode also provides some closure on another unexpected upending, F. Murray Abraham (and thus, C.W. Longbottom) leaving the show. The rest of the season revolves around a number of disparate projects for our team: Ian and Poppy trying to learn to work together and sell GrimPop's big project to a VC funder; David (with the help of Jo) learning to assert his authority and trying to take command of the MQ movie project; Jo learning to make friends, somehow; Brad and Rachel (for entirely separate reasons… at least at first) trying to find where they really belong in the company; Dana leaving to work for GrimPop and discovering that she and Ian think uncannily alike. Perhaps the funniest runner of the season involves MQ director of HR Carol, who keeps making unconventional decisions that she thinks are going to sink her and get her fired, but always end up with her inexplicably promoted as a result.
This season focused less on the actual work of developing games than seasons past– and that extends to the obligatory one-episode flashback, which takes us to Ian and Poppy's childhoods, how they originally developed their passions for gaming and creating worlds, and ultimately to how they met. But it works really well on the level of the personal and interpersonal growth of these characters, and ends with a genuinely sweet resolution. The show continues to be a solid watch with a great cast that manages to get you invested in their stories and lives while also still being pretty funny.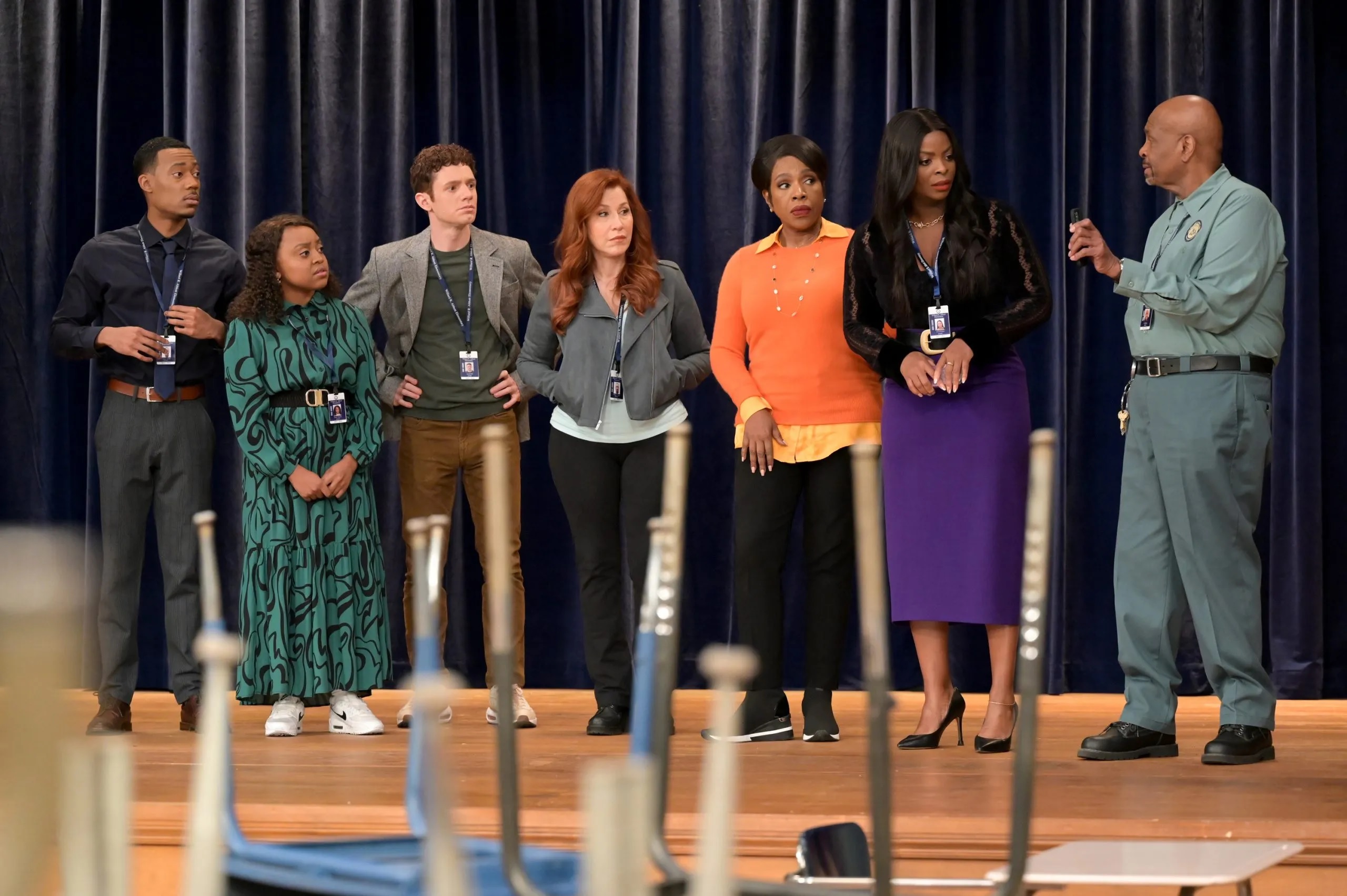 17. Abbott Elementary
Seasons 1 and 2, ABC
Abbott Elementary caught immediate buzz upon its premiere and exploded into a bona fide critical darling come awards season; while I might not be as high on it as the critics are, I can firmly recommend it as one of the networks' best offerings this year and probably the best sitcom still airing on network, pending whether anything takes a big leap in 2023. The show is shot mockumentary-style and focuses on an under-funded inner-city elementary school in Philadelphia, and the teachers of various personalities, levels of experience, and levels of dedication, and how they do their job the best they can and how they relate to each other. The main character here is creator Quinta Brunson as Janine Teagues, a second-year (when the show starts) second-grade teacher, whose naive optimism about what is possible and what her kids can do often ends up butting up against the cold reality of the situation (but in a much more comic way than that description suggests).
Alongside her are:
Fellow second-grade teacher Melissa Schemmenti (Lisa Ann Walter), a no-nonsense south Philly Italian broad who's willing to do whatever it takes to get things done around the school (even if that means using her ties to organized… "labor," let's say "labor");
 Jacob Hill (Chris Perfetti), the awkward, wannabe-white-ally history teacher the kids call "Mr. C" (for "Corny") and who was once devastatingly accurately described as "a human NPR tote bag";
First-grade teacher (and possible future love interest for Janine) Gregory Eddie (Tyler James Williams, who recently won a Golden Globe for the role), who started out as a substitute teacher with principal aspirations but has since settled into the full-time job, and while the show hasn't come out and said it yet, is almost certainly coded autistic;
Sheryl Lee Ralph as longtime and highly respected kindergarten teacher Barbara Howard. (Ralph's Emmy win for the role is well deserved; when pitching the role to Ralph, Brunson told her "We need a queen for this role," and that's exactly right, as Ralph's regal bearing confers the dignity and commands the respect inherent to the character.)
They're supported– so to speak– by principal Ava Coleman (Janelle James), who blackmailed her way into the role and seems to spend more time worried about side hustles and social media followers than doing anything related to the job; and William Stanford Davis as the wise (and occasionally a little nuts) janitor Mr. Johnson, who broke out during season 1 (being elevated from recurring to main cast in season 2) and is always wild-card comedy gold whenever he shows up.
The show probably got its high critical accolades for the realism with which it portrays the school's struggles and the creative ways teachers have to deal with them, lacking the resources to properly do so. But it also wouldn't work, and certainly wouldn't be as high on this list as it is, if it wasn't also very funny, and if it didn't do a great job showing how the teachers work together and relate to one another and how reality often rudely interrupts Janine's desire to be Pollyannaish in her optimism. With all the critical accolades it's brought to ABC, I don't think this show is going anywhere anytime soon, so you can probably expect to see it in our TV year-end reviews for some time to come.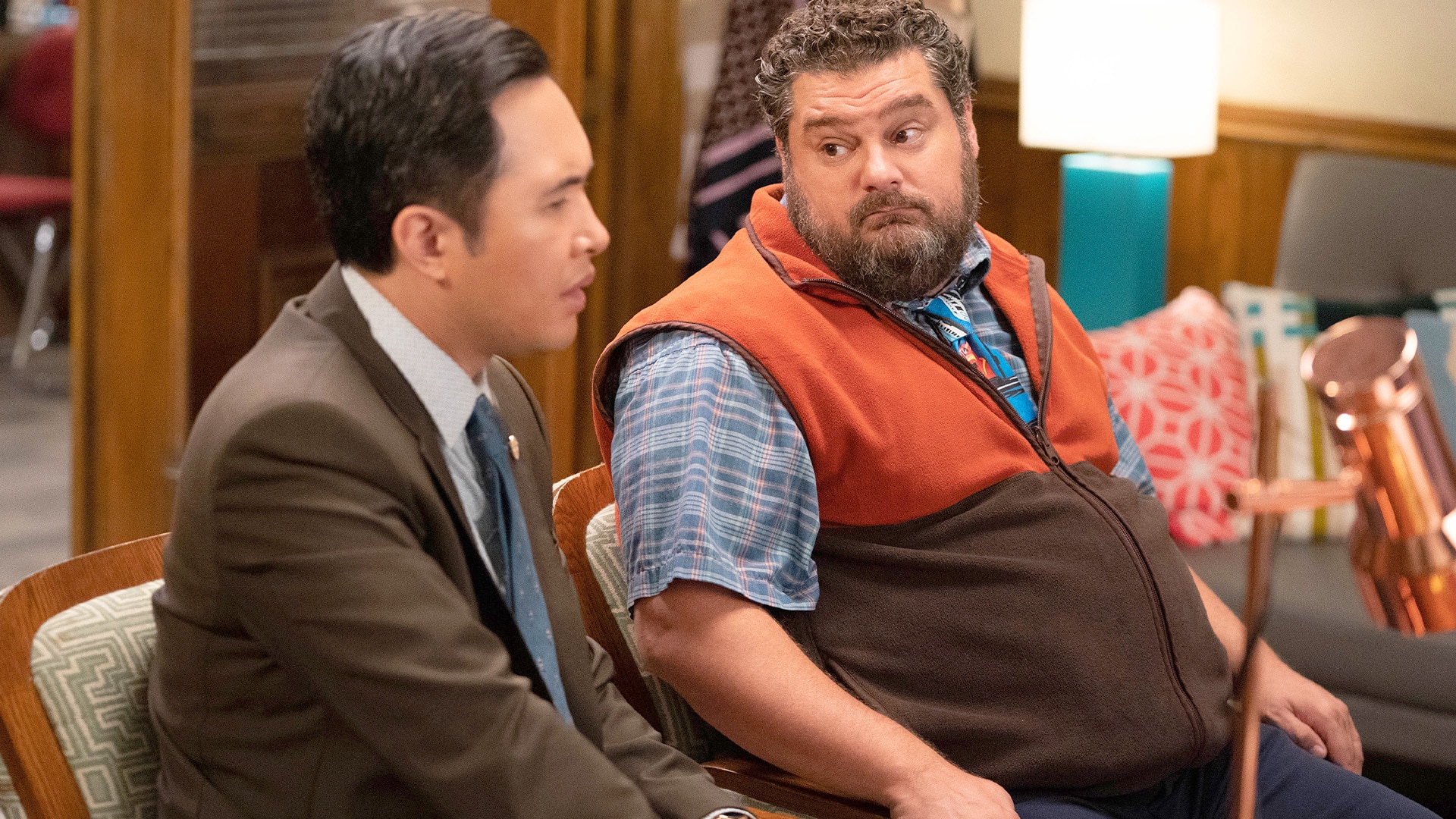 16. Mr. Mayor
Season 2, NBC
It's always a shame when a sitcom is canceled just as it's finding its stride. Mr. Mayor really got there at the end of season 1, once the show dialed in more on the offbeat 30 Rock-style humor and on the characters that really worked and on what made them work– particularly Bobby Moynihan's Jayden, at turns completely ridiculous and surprisingly competent. (How many other adult characters could plausibly ask a Minion for career advice?) The show also dialed back on some of the more annoying aspects of the generational divide with Neil and Orly (which often carried that unpleasant sensibility of older people writing about what bugs them about those damn kids instead of what those kids are actually like), and delved into more personal stories like their respective feelings about Orly's deceased mother. It did all this while keeping up the crackerjack joke pace with an excellent cast (I'm not sure anyone else outside of the Coen Brothers understands how funny Holly Hunter can be)*. Unfortunately, despite the show's significant improvements, it never found enough of an audience and was canceled after this season. It's still well worth your time as one of the best network offerings of the last few years.
(* – I'm already preparing for our loyal readers who actually watch movies to provide any number of examples that prove me wrong.)
15. Girls5eva
Season 2, Peacock
And we have back-to-back shows from the 30 Rock family tree. This ranking might suffer a bit from reverse recency bias, as it's fairly distant in the rearview mirror as I write this. That said, this year of TV was strong overall, so it's less a comment on the show to slip in the rankings like this and more a comment on what's to come. The show does have a bit of a "What next?" problem now that our underdog middle-aged reunited-girl-group has made it again, but it's funny enough not to matter. In season 2, our Girls work on recording an album and trying to get on a big enough tour to promote it, while also dealing with various facets of their personal lives: Summer having to navigate the divorce with Kevin and how to raise their daughter; Gloria being brought into confrontation with why her own relationships have failed and whether she can prioritize them over her work; Dawn considering whether to have another child and how that might affect the band's fortunes; and Wickie… dating a normal?! While the show didn't surprise on the level it did in season 1, it's not really possible for a show to do that once its expectations are set, and it remains very, very funny and well worth your time.
One note that I know will appeal to our readers at this site: The running gag from season 1 of everyone's favorite prestige-TV show being a parody of The Americans has been updated for season 2 so now everyone is watching a Succession parody called "Business Throne," replete with "fuck off"s and vulgar insults: "You look like a fucking dildo that melted in a dishwasher. Happy birthday, son."
Tomorrow: Day 4, as we inch closer and closer to the best of the best.