We're getting closer to the best of the best. These shows didn't quite make the cut for the top, but they're all terrific in their own way, and in a lesser year a few of them would have been contenders for the top five. Enjoy: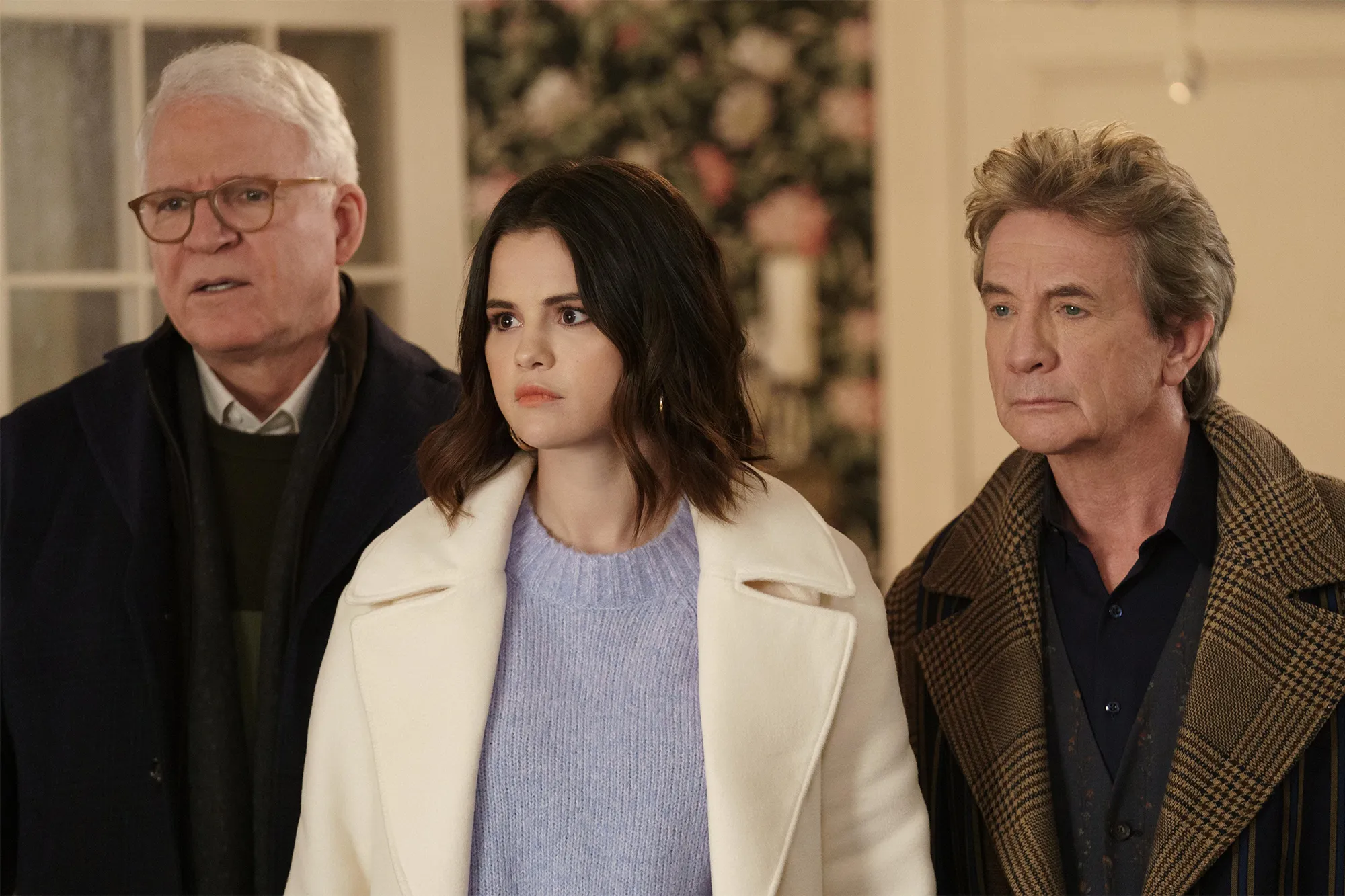 14. Only Murders in the Building
Season 2, Hulu
One of the last shows we blasted through to get it covered in the year-end writeup, and I haven't quite figured out how to rank it compared to season 1. Another show with a bit of a "What's next?" problem, considering how much season 1 was about these three lonely people coming together and finding a bond (and, also, solving a murder and becoming semi-famous with their podcast). The season 2 murder, laid out in the season 1 finale, seems to immediately point to our trio as suspects. The central mystery isn't quite as good as in season 1– although the reveal is a pretty satisfying scene in itself– but the season takes even more opportunity to explore our main characters, what drives them, what experiences in the past have shaped them, and that's very satisfying. We also learn more about the history of the Arconia and its longtime residents and their secrets (and in at least one case, the secrets of the building itself).
Fatherhood seems to be a strong theme of this season: Oliver is trying his best to maintain his relationship with his son Will, despite a piece of information that could gravely threaten it; we see the kind of father Charles could have been, when his sort-of-ex-stepdaughter Lucy comes to visit, and what he tries to be for her now; and we see Mabel reconciling her relationship to her own father and what happened to him, and how her coping mechanisms have started to cause real problems. We get some good guest appearances from Cara Delevingne and Shirley MacLaine, both artists with their own secrets… but really, is there anyone on this series who doesn't have a secret?
While I didn't think the mystery was quite as strong as the last one, the general twists and turns of it let us explore these characters very well, and they are really enjoyable to spend time with. Different than season 1, certainly, but another success in my books.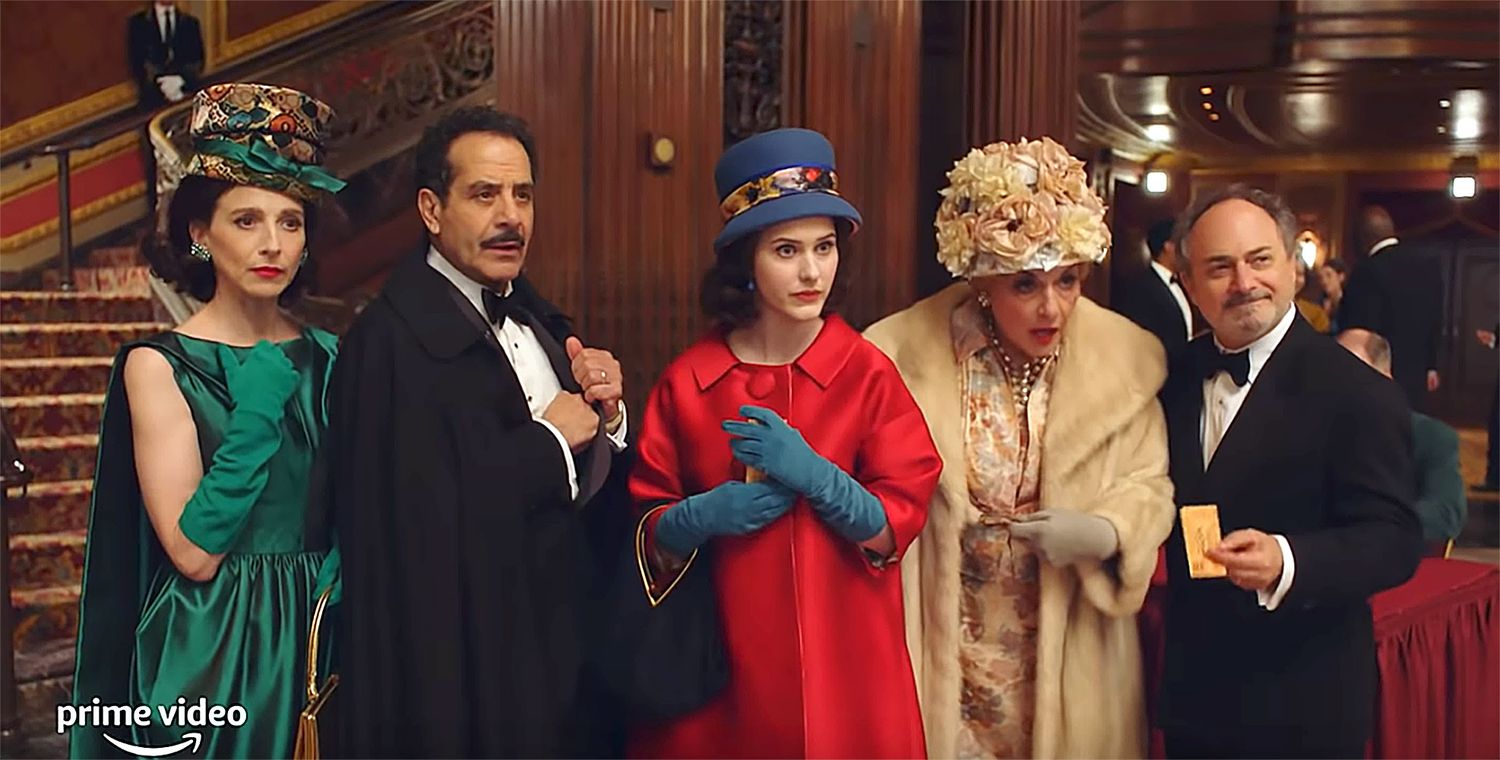 13. The Marvelous Mrs. Maisel
Season 4, Amazon Prime
More than two years after season 3 finished, Miriam Maisel and company finally return to the screen. Everyone's had their lives upended a bit by the ending of season three. Midge getting kicked off the tour with Shy Baldwin has her back at square one and figuring out how to rebuild her career. Abe begins working as a critic at the Village Voice and Rose starts up a matchmaking service, as the two of them finally get a chance to move out of Shirley and Moishe's house. Joel's club is going well– perhaps a little too well for the owners who don't want the attention success will bring to their illegal gambling den in the basement, although Joel's struck up a relationship with their daughter Mei, who helps smooth things over. And Susie finally starts expanding her management to other clients– in part due to Sophie Lennon's refusal to cut her loose; in part due to her strained finances brought about by her gambling problem.
Our characters end up going on a number of adventures this year that bring in a delightful crew of guest stars. Midge works her way into a new gig as the comic MC at a burlesque club, managed by Boise (Santino Fontana!). Abe reconnects with his old playwright friend who was blacklisted during their activist days, Asher Friedman (Jason Alexander!). And when Midge decides to get involved in Susie's personal life, she goes to the park where she makes clumsy inquiries about where to find a club for a certain kind of clientele, until a delightful and dapper older gentleman picks up exactly what she's putting down and gives her some tips– played by none other than John Waters.
Midge also reconnects with Lenny Bruce, who encourages and pushes her to dream bigger and not fear failure. Susie manages to get Sophie Lennon another major spot, this time on The Gordon Ford Show (Veep fans will immediately recognize Reid Scott as Gordon Ford), and this time she doesn't screw it up. Rose finds herself threatened by– and I mean this about as literally as I can– the heads of the five families of New York matchmaking. Abe is faced with a situation where he has to choose between loyalty to his community and his principles as a critic. And Moishe suffers a health scare, which leads to quite a lovely moment when he asks Abe to read the obituary he pre-wrote (although Abe's furious yet futile attempts to get it into the New York Times are pretty funny). Speaking of obituaries, Brian Tarantina, who played Jackie, the Gaslight's MC, died in between seasons 3 and 4. His character Jackie dies offscreen during the season, and there's a lovely tribute to both character and actor when Susie attends his wake and takes over another to give him an audience for her eulogy.
The next season will be the last, and I suppose one of the main questions will be whether Midge takes Lenny's advice and starts taking advantage of the bigger opportunities she's given. One thing's for sure, though, this was a terrific season in its own right, with the comedy and the pathos and the overall human element all working very well and in harmony.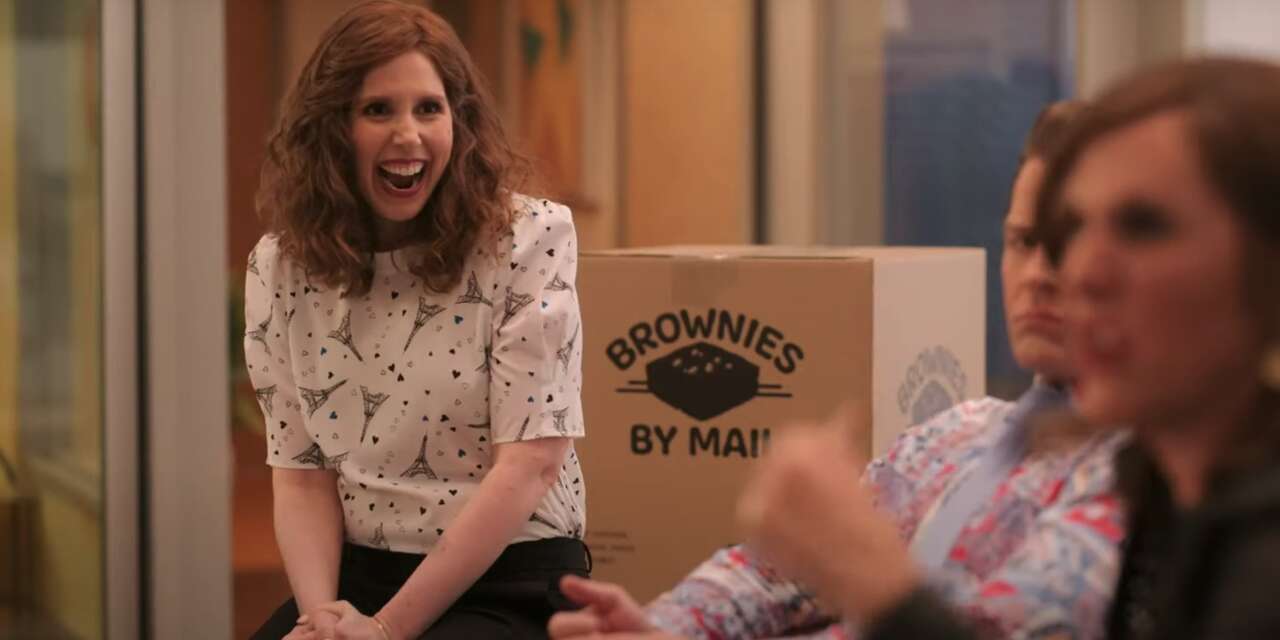 12. I Love That For You
Season 1, Showtime
It's about time Vanessa Bayer got a starring vehicle for her particular comedic gifts– the big-eyed, big-toothed, expressive face and smile that hide a deep social awkwardness and dark secrets. Bayer plays Joanna Gold, a survivor of childhood leukemia who's now in her thirties and has spent most of her life since being sheltered by her parents (and living with them, and working at the Costco her dad manages). She got through the tough times by watching the shopping channel SVN and in particular her idol Jackie Stilton (Molly Shannon). Then she gets a chance to audition and, after a poor test showing where CEO Patricia Cochran (Jenifer Lewis) tells her she has to figure out her hook, that she's not selling the products, but herself… she tells them her cancer has returned.
It turns out, despite her social awkwardness and tendency to fumble over words (like when trying and failing to brag to an old classmate talking about her nonexistent trip to Europe that "I've been to all sorts of Italy places"), she has a genuine gift for being a home-shopping TV personality, and as her star rises at the network and she begins to really bond with Jackie, the stakes of her secret coming out get higher and higher and the lengths she goes to cover it up get more extreme– particularly as her jealous nemesis Beth Ann (Ayden Mayeri) starts trying to sabotage her and snoop to find out what her deal really is.
It's well-constructed dramatically in that regard, and there's a ton of great comedy here that gives Bayer a chance to shine– not to sell the rest of the cast short. The combination of Joanna's social awkwardness and the tension surrounding her secret may be unbearable to some, but I loved it. Really terrific show that ends on a killer moment, too, which makes for a great season 2 setup if the show is renewed. I highly recommend you check it out and hopefully give it a shot to get that renewal.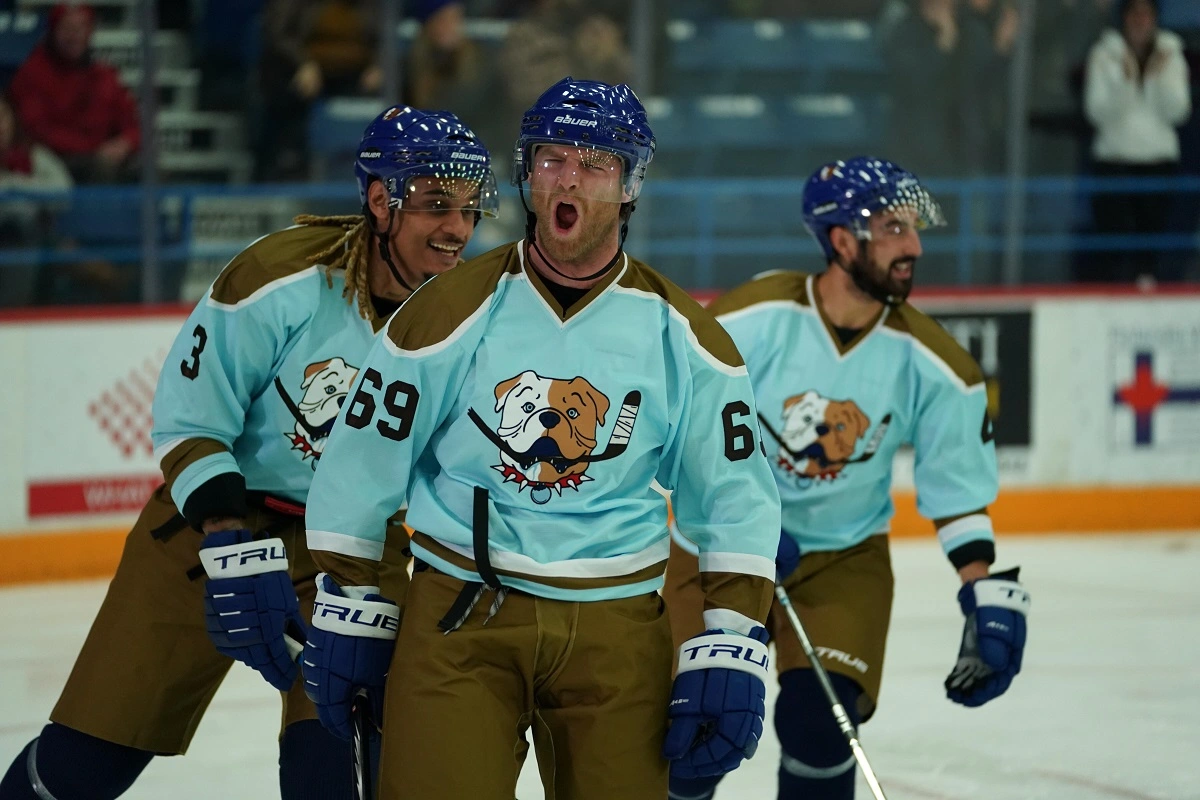 11. Shoresy
Season 1, Hulu
I was skeptical of how well a Shoresy spinoff could work, considering that on Letterkenny Jared Keeso plays him as an always-unseen character who mostly exists to insult Reilly and Jonesy (and their mothers) and to take shits in between hockey periods. So I was delighted to find that Keeso and company found a way to make Shoresy the character three-dimensional as well as surround him with a terrific supporting cast and a great story.
This Shoresy isn't just an insult machine– although he hasn't lost his way there– he's also deeply passionate about winning and team-building, possessed of a determination to do whatever it takes to succeed on that end, and perhaps most surprisingly for someone known more for fucking players' mothers, has a sweet little crush on the local reporter.
It's also a tribute to Jared Keeso's acting ability that Wayne and Shoresy could not possibly be more different characters in affect, voice, physical manner, manner of speaking, or of course motivations and priorities.
The plot involves Shoresy trying to save a team on the verge of disbanding; he takes personal responsibility for building a better roster, finding a better coach, and promising in the first episode to "never lose again."
Shoresy has to figure out how to set his ego aside at points, whether that's trying to recruit a goalie back to the team who's got some sore feelings about the circumstances under which he quit (the phrase "underwater squeezer" comes up a lot), or to have enough respect for his sidekick-turned-coach's new role to stop telling him to shut the fuck up, Sanguinet.
Very funny and captures locker-room camaraderie very well, on the level of Ted Lasso season 1 in that regard. Whether or not you're a Letterkenny fan– and if you are, the show's signature verbal patter is still here in spades– I think you'll find some very good stuff to like here.
Also, if I counted correctly, this is the lowest-rated of the shows I watched that hung dong, so, perhaps there's your simple secret to making a successful TV show.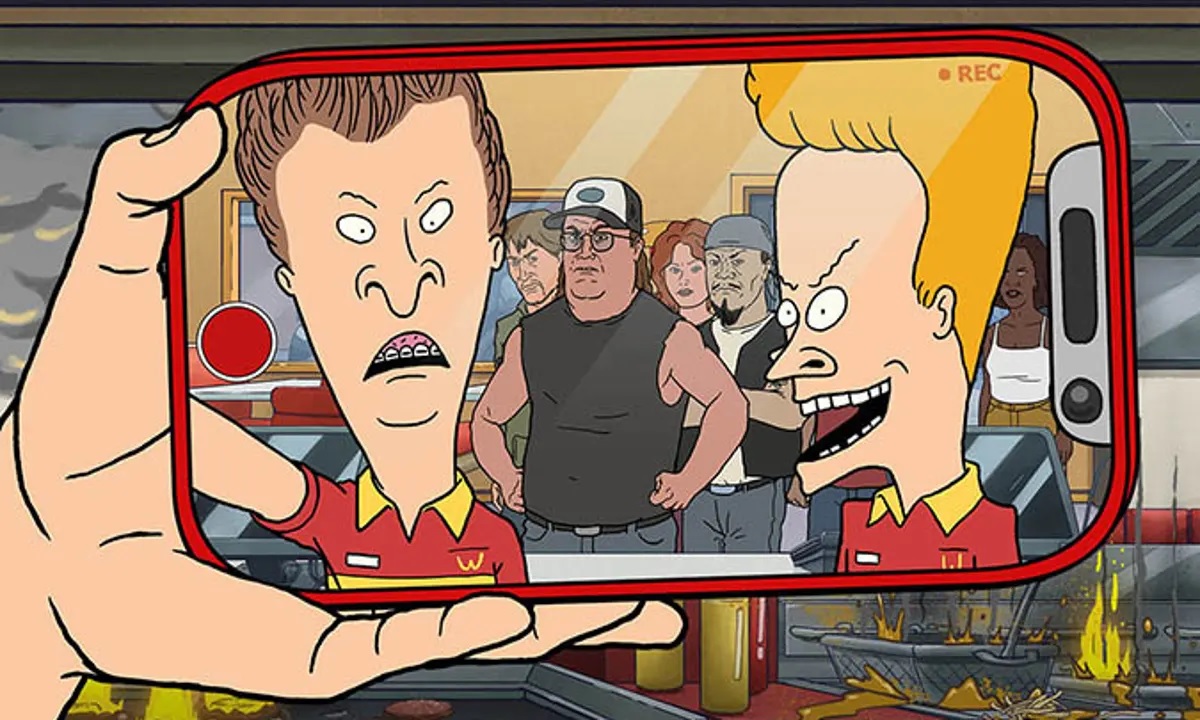 10. Beavis and Butt-Head
Season 9, Paramount+
(and a movie!)
Personally, I liked the 2011 revival of B&B, but it didn't seem to stick with the public for some reason. In 2022, however, the zeitgeist seems just right, as our country and its culture seem stupider than ever, and the explosion of TikTok, Twitch streamers, and YouTubers allows our dynamic duo to mine content to watch that goes well beyond music videos and MTV shows. The time was finally right for our eternal teenagers to return, and this season delivered on that promise. Beavis and Butt-Head get in stupid misadventures at home, at school, at Burger World, in an escape room, and more, while also watching music videos and YouTubers; the ASMR video is terrific, and Beavis has a surprising knowledge of lizards and BTS– and even has what would pass for a religious epiphany for these two at one point.
A fun twist on the classic formula is "old Beavis and Butt-Head"– a couple of the shorts throw us to the gruesome twosome in middle age (memorably previewed in the original series' "Naked Colony"), where the biggest difference in their lives seems to be that they drink beer now, Butt-Head is obese, and they have actual health problems. This can lead from jury duty to home aide to Beavis needing a kidney, but it's all really funny. That's the real key here: The show is so low-concept that it only works if it's really well-executed, and on that front, Mike Judge and crew seem to be back in as fine a form as ever. I've made no secret of my love of stupid comedy done smart (or music, for that matter), and Beavis and Butt-Head are as fine an example of the medium as they ever were.
And while technically Beavis and Butt-Head Do the Universe is a movie and not part of the TV season, I have to mention it because, besides simply being funny and a worthwhile watch in its own right, it provided me with the single funniest scene I saw on film or television all year: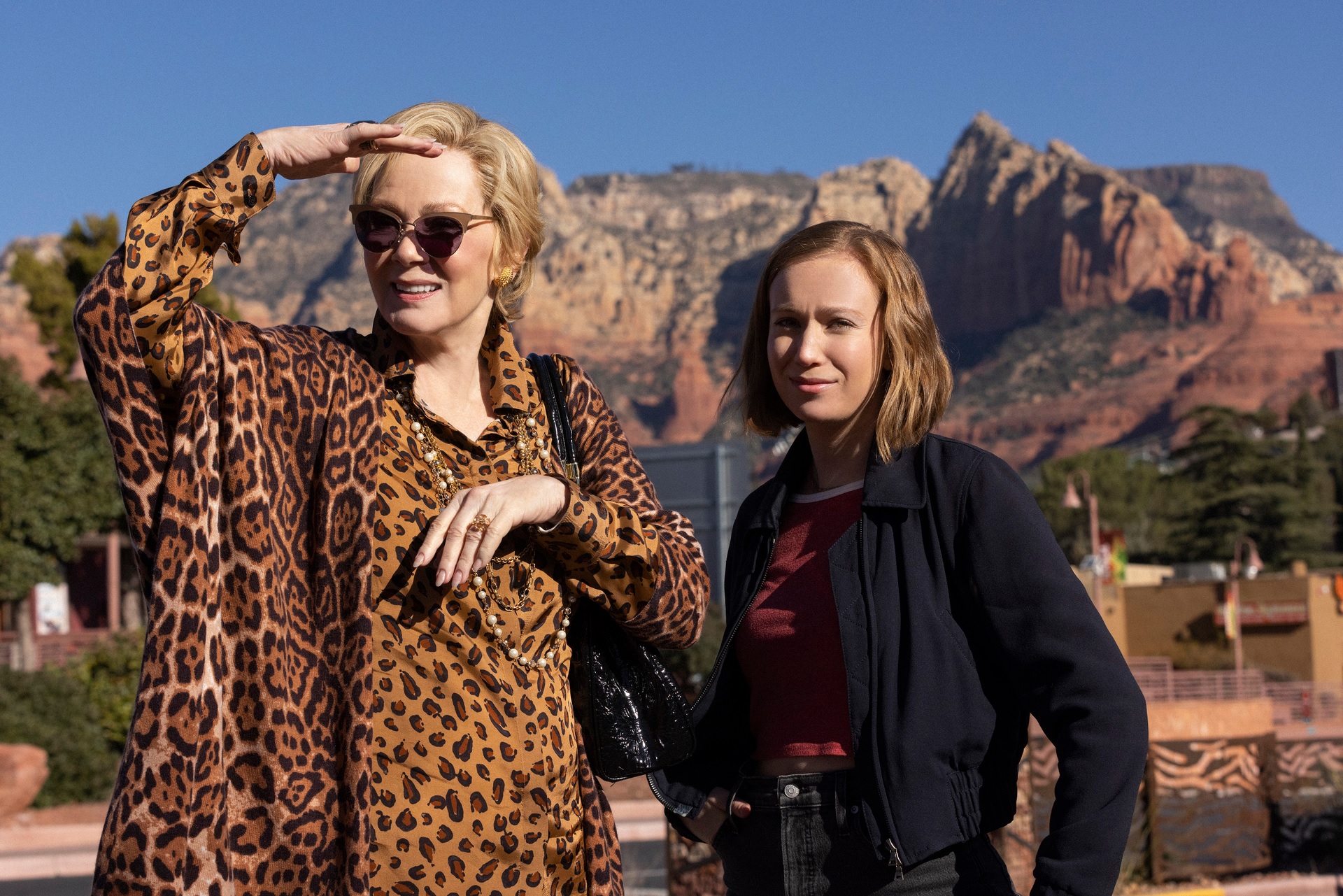 9. Hacks
Season 2, HBO
This season of Hacks is, I think, even better than the first. Having moved past the rough patches of Deborah and Ava getting to know each other (and Ava herself moving a bit past the snotty millennial who has to make a point of her woke bona fides and toward being an actual professional), the show now moves on to them seriously working together on Deborah's next big project.
Jean Smart is well-deserving of all the accolades she receives as Deborah Vance. Deborah is not just funny, but tough as nails and a lifelong fighter. Despite her wealth, Smart never plays her as driven by greed; she's driven by being a woman in a man's world for fifty years, someone who knows that in her position you have to fight for yourself to get every inch of respect and prestige (and, yes, money) that is rightfully yours.
In season two, Deborah's residency has ended and she's working on the new, more personal show we saw in the season 1 finale, and decides to take it on the road, with Ava and a support team in tow.
Even as Deborah and Ava continue to find a growing bond and mutual respect, Ava confesses about the e-mail she sent about Deborah, and Deborah sues her for violating her NDA. Deborah also doesn't let Ava forget about it through her series of knowingly petty gestures, although she cares enough for Ava to stick up for her when something serious arises. (Ava's father's ashes get thrown out at one of their stops, but the bus isn't going to make the next stop on time if it turns around. Deborah finally makes the call that they're going back to look for them. She may make Ava sleep in the most cramped bed on the bus and leave no room for her in the fridge, but she's not going to do that to her.)
The road show is a bit of a mixed success, with some audiences enjoying it but others not connecting, and one particularly disastrous set aboard a lesbian cruise gets Deborah and Ava thrown off the ship when the crowd turns on her after her crowd work. (Again, the fighter in her: She's used to having to stand up for herself, hit back, and never show weakness; that isn't what's going to play with this crowd.)
One of the best TV moments of the year is the titular moment in "The Click." Deborah confesses (albeit in part after an encounter with one of her stalkers who feels like her current show is missing what makes her Deborah Vance) that she knows her show isn't connecting with audiences and is trying to figure out why. What it comes down to, and what she realizes one moment on stage in her next performance, is that it's personal but not honest. She tells the story of her husband leaving her for her sister: "That was the worst feeling in the world." The facts are true, but when the crowd has a muted reaction, she realizes… the confessional part is not, and the bit takes another turn. It clicks.
"Actually, no, it wasn't. It actually wasn't the worst feeling in the world. The worst feeling in the world was losing a late-night show."
This gets the crowd laughing and engaged again, and she follows from there: "I mean, I had the opportunity to host my own late-night TV talk show. I would've been the first woman ever to do that. But it never aired. And that had been my dream, and I was so close. I got over my husband, but I never got over that." With a pretty funny tag about her daughter, too: "At one point, my little girl came up to me and she asked if it was her fault. And I said, 'No, honey. Of course not. I mean, the network loved you. It just…' And she was like, 'No, I mean when you and Daddy got divorced.' Oh, that!"
She's always been a fighter who hits hard; she's realized she needs to hit herself hard and square as well. It's not just about telling her true personal story, it's about being honest about who she is and her own mistakes and faults: Her career did come first, and that did in part wreck a lot of her personal relationships. Ava is reluctant at first to go through with it, but then Deborah explains– she'd been a punching bag for a long time based on a caricature of herself; this is different, it's about the real her, and it's her attempt to hold herself accountable. This ends up being the breakthrough the material needs.
The season ends on a moment of triumph and bittersweetness, with Deborah's new special a smash hit, and with Deborah making a big decision that seems callous but is actually far from it. This'll be sending everyone in a new direction for season 3, and I'm not sure how it's all going to work, but I'm eagerly awaiting it.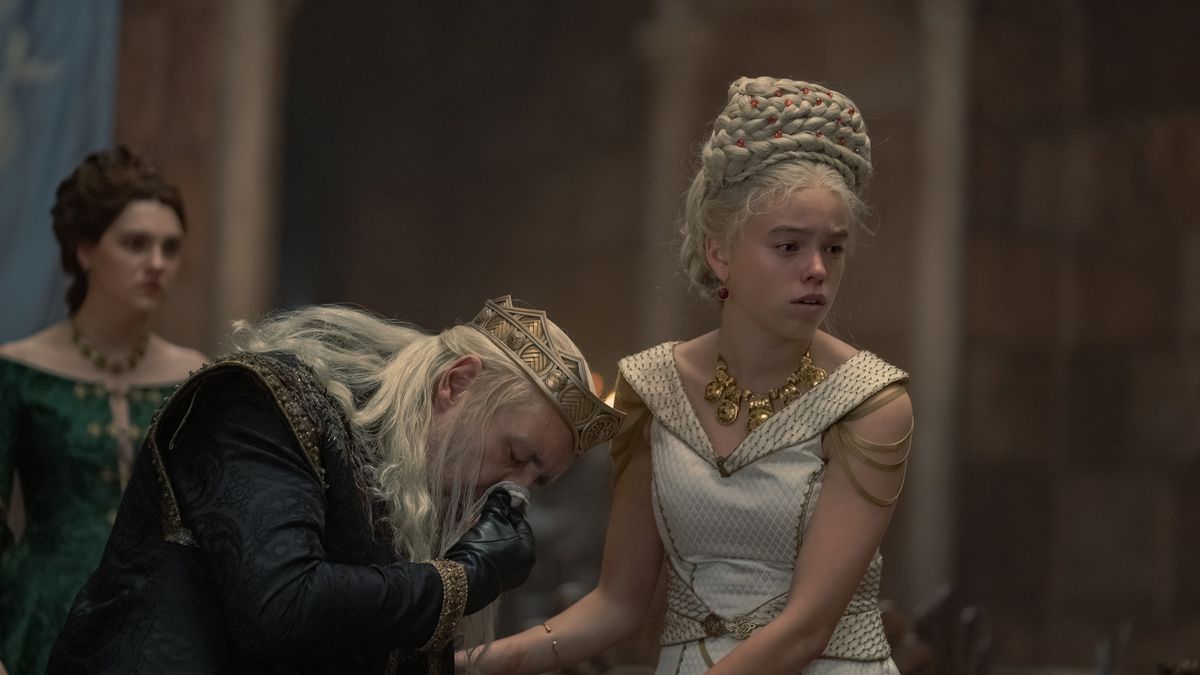 8. House of the Dragon
Season 1, HBO
Considering what a wet fart the finish to Game of Thrones was, I did not go in to House of the Dragon—  based in part off George R.R. Martin's spinoff novella detailing the history of the Targaryen dynasty and their civil war, set hundreds of years before the main series– with high expectations. That made it all the more a pleasant surprise when the show gave me exactly what I wanted from it: More court intrigue, more personal relationships, more well-crafted characters (which GoT may have started with but was pretty sloppy with by the end), and skipping in time to tell the important parts of the story rather than getting bogged down in side details while waiting for important things to happen (which Martin's novels certainly did after the initial trilogy). Indeed, sometimes the show skips so far ahead in time that parts are recast midseason. This first season contains all the pleasures of Game of Thrones at its best as well as some terrifically tight plotting.
Excellent work by the cast all around, both younger and older versions of the characters, and Paddy Considine's Viserys is a particular highlight, a king who wants to rule over a peaceful realm and wants everybody in his court to get along, and is always the last to figure out that even the king's desire for that is not enough to achieve it. Two of my other favorite performances come from Milly Alcock as the younger Rhaenyra Targaryen, and Matt Smith as Viserys' brother Daemon, a weird and nasty little guy who nevertheless is guided by real human emotions, motivations, and hurts.
The jockeying for power among the court and ultimately to inherit his title finds a permanent fracture between his daughter Rhaenyra and her loyalists, and his wife Alicent Hightower and her loyalists, in the last two episodes, setting up season two to give us the Dance of the Dragons of Westerosi legend.
Tomorrow: The cream of the crop, it rise to the top, it never eat a pig 'cause a pig is a cop.