Following The Ploughman's take on the best movie moments of 2019, I've compiled the same thing for favorite moments in television; my viewing was far from complete last year, so I've enlisted our most avid TV/streaming watcher, Ruck Cohlchez, to help out.  (He'll also have his Best TV of the Year series out soon.)  As always, challenge our contributions or add your own in the comments.
Tom Clancy's Jack Ryan:  "Well, you already wrecked my career, so fuck it."
The glorious trainwreck of the second season provided what nobody had been waiting for:  a TV series made for the Trump administration, where a white man finally has the courage to do away with expert knowledge, make one impulsive decision after another that makes no, y'know, sense, get a whole bunch of people killed, but in the end Drains the Swamp, defeats the Deep State, and Makes America Great Again through the power of Only I Can Do It, Believe Me.  (Hey Jack, I got an international crime for ya, it's called Wasting Noomi Rapace. Figure that one out, whydon'tcha.)  Michael Kelly expertly plays one of those experts (proving once again that WITHOUT QUESTION THE GREATEST CINEMATIC EMOTION IS EXASPERATION), but in the end, he has no choice but to join in the madness (an attack on the Presidential Palace of Venezuela on its Election Day, which what is this I can't even) with the season-defining line above.  Hope this doesn't turn out to be the most realistic show of 2019. (w)
Titans v. Patriots: Tom Brady throws the interception.
Well, yes, if we're gonna get all chronological and shit this was in 2020, but since it was on the first Saturday of the year and part of the 2019 season, let's do this:  the sports counterpart to Avengers: Endgame, as a team of plucky and wildly talented underdogs, one step at a time, brought down an arrogant supervillain.  This moment was exactly the Thanos Snap Failure: the Big Bad unleashed his greatest weapon only to discover it wasn't there anymore, and the Good Guys smashed it right back in his ugly-ass face.  No one said "and I. . .am. . .Iron Man" and the Patriots didn't disintegrate into ash (OK, that would be wrong) but Evil Got Owned, and what more can you ask for from entertainment? (w)
RC:  My NFL moment is going to be summarized in one image: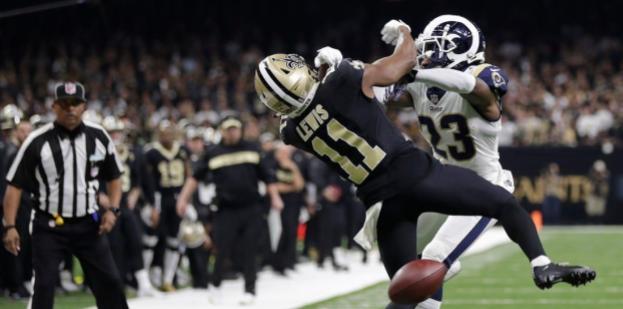 Corporate:  Christian DeVille's utterly insane toast
On the nihilistic hyper-capitalist satire Corporate, we mostly follow Hampton DeVille junior executives Matt and Jake (played by co-creators Matt Ingebretson and Jake Weisman), but my highlight moment from season 2 features two of Corporate's most batshit players: middle manager John (Adam Lustick) and CEO Christian DeVille (Lance Reddick). John has an understated serial-killer weirdness and mania, while Reddick gets to ham up a villain turn as Christian DeVille, taking his ability to inspire awe and terror and merging it with a ruthless megalomania.
In the season 2 premiere, John has recently gotten married, and is constantly talking about how great it is; of course, even the people who won't let on how they feel find this obnoxious. One great burn comes from someone who will let on how she feels, fellow middle manager Kate (a no-nonsense Anne Dudek), when John tries to imply that their previous tryst at a corporate retreat in season 1 might make this news difficult for her: "The moment your penis left my body, it was as if it had never been there."
But it's the closing scene, where Christian decides to offer John a toast at a meeting, that truly stands out. Christian starts the toast normally enough, preparing his audience for a joke, then launches into a bizarre, rambling, lunatic "joke" that gets funnier and funnier the longer it goes on and the more depraved it gets, ending with an anti-punchline that completely shits on (pun intended) the idea of love and romance and ends with Christian slowly pouring his glass of champagne on John's head before the meeting launches into a forced, maniacal laughter. An utterly astounding form of verbal ownage, moreso because it's not even clear how exactly it's communicating ownage, only clear that it will certainly get John to shut the fuck up forever about his marriage. "Well, anyway, to John!" "And his fucking wife!" (RC)
True Detective:  "You entertain a fantasy of strappin' white men to posts?" 
For some reason, Nic Pizzolatto doesn't get recognized for how funny he can be, possibly because the humor in True Detective is entirely character-based.  This moment, where Wayne (Mahershala Ali) takes half a beat and responds with "now and then, yeah" and Roland (Stephen Dorff) instantly follows that with "really?" cracked me up enough that I had to pause and rewind, and it also reveals a lot about the bond between Wayne and Roland (Dorff puts just a hint of "aw man, I thought we were friends!" in a single word) and what it means when they come apart.  Jeremy Saulnier edits and frames it as perfectly as the Coens or Chasing Amy, and it resonates all the way to the season's haunting, haunted last episode. (w)
Before I get to mine, I'll shout out a similar comic moment: Roland's flat "What." to Wayne in episode 1.
"I'm sorry, but I just can't remember."
My favorite scene of True Detective season 3 is the reunion between Old Wayne and Old Roland, five episodes in the making for us, a good twenty-five years for them. Wayne and Roland left things on bad terms (the last thing they did together, as Roland intimates, was kill a man), but now Wayne is 70, widowed, suffering the early signs of dementia, and is seeking out his old friend, the last person who can help him put his life together and give him some closure, who can help him remember who he is and was.
Roland is still angry; Dorff gives him so much empathy in every scene, matching Ali's level of performance the whole way. Roland is genuinely upset that his friend essentially abandoned him after they did a terrible thing together; he's hurt as much as he is angry, fishing for at least an apology. And that's when Wayne comes clean to him: He just doesn't remember.
"I don't, I, uh–can't remember my life, man. I can't remember my wife. I–I don't know. If you tell me I did something wrong, well, okay, I'm sorry."
Roland's anger gives way to his empathy here, as he accepts Wayne's apology, and through tears–over the hurt, over the years of friendship lost–the two men reconcile and decide, while they still have one last chance in this life, to get to the truth of the case that tore their friendship apart and upended their lives, and we go to credits with Warren Zevon's "Desperados Under the Eaves." What makes the scene work is the performances: "two men talking" is the basis for so much drama, and here, Ali and Dorff bring Wayne and Roland's decades of experience, wear, damage, and trauma to the scene, still working around and through old hurts but trying hard to find their thread of friendship, to be there for each other at the end, and to do what they once did best (and like Rust and Marty in season 1, to get to the bottom of a cold case no one else cares about anymore, if they ever did). Try not watching it through tears. (RC)
The Tick:  Arthur's mad skillz.
The Boys and Watchmen got all the attention, but The Tick may have been 2019's best take on the superhero genre, gently satirical but still about brave women and men who Do Good, and with a more grounded reality than either one.  The finest demonstration of that was almost a throwaway moment: confronting the convoluted superhero-regulating bureaucracy AEGIS, Arthur (Griffin Newman) brings in his experience in accounting to masterfully defeat a nigh-invulnerable enemy, paperwork.  It's a moment of triumph that's both based in character and recognizable to pretty much anyone who's ever done taxes or bought a house. So often in these works the sidekick never gets off the sidelines, and this was a moment of triumph for Arthur and for Newman (dig his little confidential chat with the AEGIS agent, and Peter Serafinowicz' genuine awe as the Tick), one more way The Tick stayed far away from the packaged grimdark of The Boys and learned from Shawn Ryan's rule:  you have to let your characters win sometimes. (w)
Fleabag: "I love you, too."
Fleabag was a delightful little show created by and starring Phoebe Waller-Bridge as a woman who struggles to be respectable, particularly in the eyes of her family, but as much finds conflict with them caused by her forthrightness and willingness to speak the truth vs. their passive-aggressive politeness, as by anything Actually Bad that she does. In season 2, widely heralded as one of the best TV accomplishments of the decade, Fleabag meets the Catholic priest who will be marrying her father to their godmother (Olivia Colman, the absolute best at that passive-aggressive needling in this show) and slowly starts to fall for him… and he for her! Obviously, this causes huge conflict for the priest, and the story sums up Fleabag in a nutshell: Not a bad person, in fact very warm and loving, but her honesty and emotional openness (and, well, physical openness– no, that's not the word, I'll come back to this [EDITOR'S NOTE: Are we not doing "phrasing" anymore?]) often cause conflict with the Polite Rules of Civilized Society and those who live by those rules.
This plot builds over the season, often in the background to some very funny moments– Fleabag punching out her brother-in-law; a delightful monologue from Kristin Scott Thomas– and reaches its resolution in the finale. The last line is perfect, summing up the emotional truth of the situation and that truth's conflict with our responsibilities and commitments as people in heartbreaking, poignant fashion. On the one hand, the truth of that line was never really a question for us in the audience; on the other, as delivered and in the context of the show, it's the exactly right bittersweet touch, one big heart to another, to send off the series. (RC)
Watchmen:  the title shots.
Damon Lindelof had some problems making this sequel to the legendary Alan Moore/Dave Gibbons comic book, but one of the places where he succeeded where others (i.e., Zack Snyder) failed was finding a visual equivalent to the original's style, rather than just using the pages as storyboards.  The credits used the same font as the comic, and every WATCHMEN appeared kinetically and in a specific way that related to the opening scene of its episode. (Favorite example: WATCHMEN replaced by MINUTEMEN to segue into a fictionalized version of Hooded Justice's origin, which the rest of the episode would render even more fictional.)  The episode title always appeared in the real space of the action, another way the title had the impact of the comic book's chapter titles instead of copying the format.  It's one of the many, many ways Lindelof carried forward the legacy of Moore and Gibbons, and that sense of legacy was often the best part of the series. (w)
Veep: Gary gets a visit from the FBI
The ending of Veep carries some clear influence from The Shield, and its final scene resonates in the same way: Selina Meyer, having gotten everything she wanted, alone in her office, having destroyed every relationship she ever had to get there. But it's not that moment I'll remember, or the flash-forward to her funeral (funny as it is): It's the moment where Meyer has taken the stage for her acceptance speech, and her endlessly loyal bagman Gary (Tony Hale) is standing offstage, when two FBI agents visit him. Needing a scapegoat for an embezzlement scandal, Selina has offered up Gary without his knowledge, the last person loyal enough to her not to roll on her. (And in true Mackey fashion, she doesn't look back: we find out at her funeral that she apparently never visited Gary in prison.) Gary's slow realization of what has happened and where that unfailing loyalty has gotten him is brutal and heartbreaking, as well as being the final nail in the coffin for Selina Meyer's soul. (RC)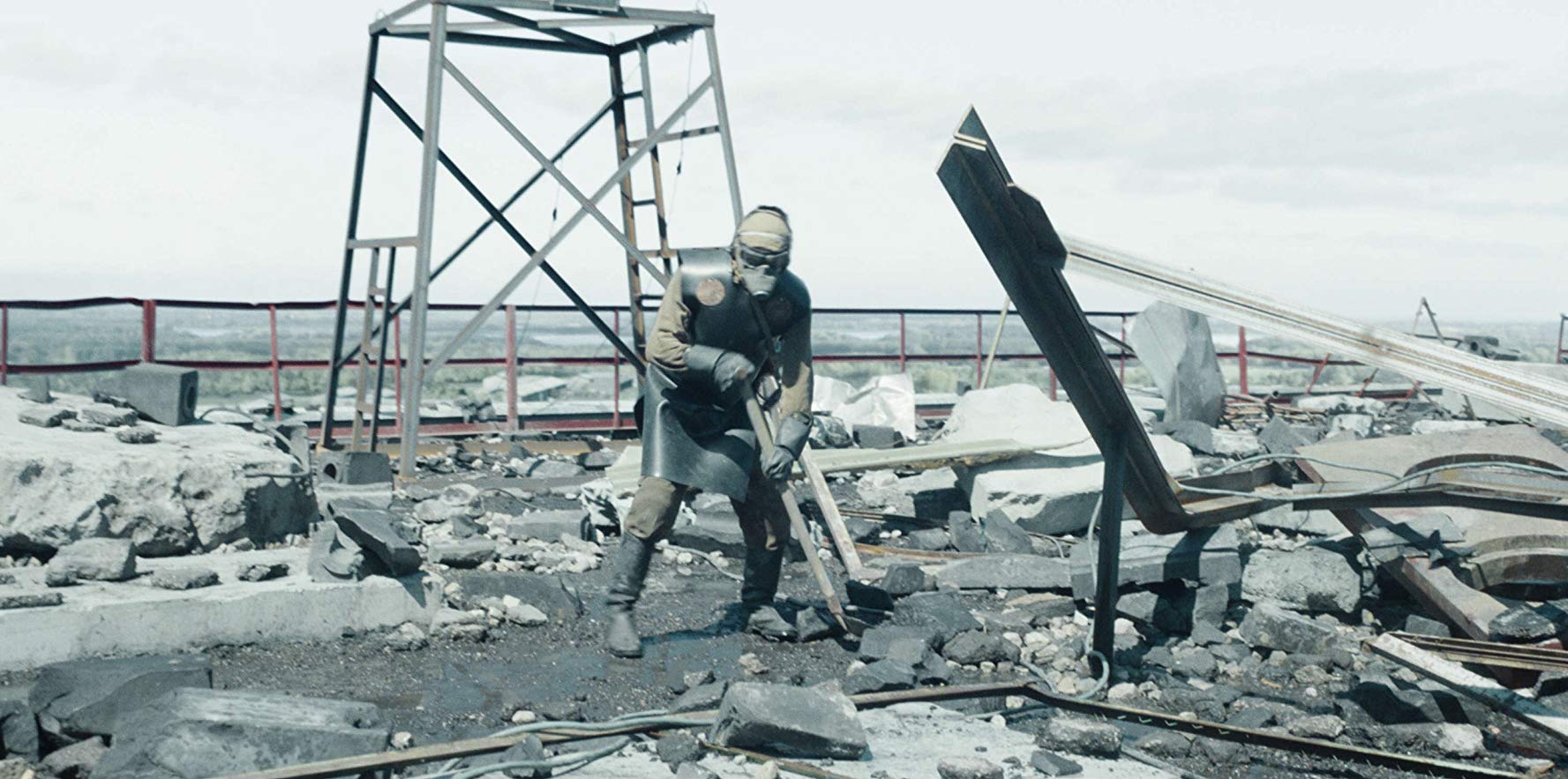 Chernobyl:  clearing the roof.
The power of the series was an echo of the heroism of those who dealt with the real event:  faced with a situation that had no precedent in earthly reality, people responded in the most straightforward way possible, no matter what the cost.  In the fourth episode, that situation is literally the most dangerous place on Earth (the word "literally" has to be honestly used for so much of Chernobyl):  the roof of a building, covered with radioactive debris.  After the high-tech options (robots meant for the surface of the moon) fail almost immediately, the job goes to squads of workers in radiation suits to shove the chunks of lethal graphite back into the shattered reactor building; the kicker is, each squad can work for ninety seconds maximum.  There's nothing exciting or innovative about the filmmaking, nor should there be; nothing takes us away from seeing a place where one stumble can kill you. It's something much worse than a war zone, shown as unsparingly as Threads. (w)
Amazon Echo "Cooking Together" commercial (late enough in 2018 that I saw it in 2019), because when was the last time you saw a pop culture father help his daughter get laid?  (Nice touch that she never reveals her date "Sam"'s gender, too.) (w)
Superstore: the ICE raid
I've called Superstore the true modern-day successor to The Office, and I stand by that, but the show has also demonstrated a willingness to deal with labor politics in a way that The Office rarely did. The closest The Office came to union talk was when Michael accidentally suggested the warehouse unionize in season 2's "Boys and Girls," an idea Jan immediately shot down with the reality of how corporate HQ would deal with a union (firing everybody, that is). Superstore, while certainly still a workplace comedy at heart, made unionization a major plotline of season 4; as the fight intensifies between Cloud 9 workers and management, the corporate office decides to retaliate in the season finale by calling ICE to raid the store. As we learned a couple of seasons back, Mateo is undocumented, so the raid leads to a thrilling sequence where the rest of the crew try to sneak Mateo out of the store before ICE can detain him.
It's rare I nominate a comedy for an unfunny moment–save an action-thriller like Barry–but in just a few short minutes, Superstore created a tense and thrilling sequence that rivals anything you might have seen in an action or drama show this year, while staying true to the characters and sharply commenting on life in America 2019, not through overt preaching but by showing exactly what would (and does) really happen if, say, Walmart employees tried to unionize. (RC)
Big Little Lies:  "How long are you going to punish me?" "For as long as I need, or want, I guess."
The first season told almost the entire story from the source novel, and told it well; the second season didn't have much reason to exist and didn't provide one.  Here, the honest, lived-in nature of the characters turned into David E. Kelley-style caricature, and apparently Jean-Marc Vallée took Andrea Arnold's direction and edited it in the style of his overdone Sharp Objects.  The most successful story was the least important to the plot, and the least edited:  the crashing of Reese Witherspoon's and Adam Scott's marriage, a brutal demonstration of what happens when the foundation of trust gets shattered.  What makes it so effective is how Witherspoon and Scott play against their natural sympathy and humor, portraying a wasteland of feeling where something is broken and there is simply nothing that can fix it.  Except for one line, never followed up, it's not made part of the main plot (one more way this season wastes its opportunities), and it's so effective that the inevitable reconciliation can't help but come off as false, or at least unearned.  (Again, though, the actors give it their all, and they bring off the season's best joke: "For better or for worse." "NO. Your worst is off the table.") (w)
I Think You Should Leave:  comic actors in their 80s
I could easily fill this section with six or seven sketches or lines or characters– "Baby of the Year" ("Fuck you, Harley Jarvis!"), "The Day That Robert Palins Murdered Me" ("It was also the night that the skeletons came to life!"), "Brooks Brothers" ("So is that guy!" "Oh, no."), and especially "Game Night," with Tim Heidecker's performance as the insufferable Howie, name-dropping obscure jazz legends both real and fictional, such as "household names like Roy Donk."
Narrowing it down to two, though, I land on two standout guest performances from actors who are in their 80s as of this writing. The first sketch, "Old Joe," might be my favorite sketch of the series, taking a deeply silly premise (which seems so obvious in hindsight that I'm surprised it's never been done before) to its logical conclusion. The "Old Joe" in question is played by Fred Willard; a local church's organist is sick and Old Joe has been asked to fill in for a funeral. Old Joe obliges, but has brought his own organ, a circus calliope. And plays exactly the music you would expect to hear from it. (If I had to pick a standout moment from this sketch, it would be when the first plate crashes on the ground.) Willard's cheerful, guileless performance, blissfully unaware of how inappropriate he is, makes the sketch, down to the details. (My favorite note in it is how casually he tosses plates over his shoulder to the floor.)
The other sketch is "Focus Group," where the star is the instantly memeable 81-year-old Ruben Rabasa. In a focus group conducted by an auto company, Rabasa gives a number of strange suggestions for what he wants in a car (a steering wheel that doesn't fly off, "stinky," too small for his mother-in-law to fit in). But the sketch takes an even stranger turn when normie Paul (played by co-creator Zach Kanin) criticizes his suggestions, and Ruben manages to get the entire focus group to turn on Paul. "You probably love your mother-in-law." "I actually do." "Oh my god, he admit it!" and "You flinched, Paul! Now you have to marry your mother-in-law!" stand out here, as does Rabasa's dabbing. But my favorite line is the one that's completely nonsensical in any other context but provides the perfect all-purpose insult for anyone who's ever seen the show: "You have no good car ideas." (RC)
GLOW: "I don't want to die."
Sebastian "Bash" Howard (Chris Lowell) is the trust-fund producer of GLOW, with a very patrician, dominant mother, and pretty clearly closeted to most people around him. It seems he's stayed in denial of this fact… until we get his stunning admission in the season 3 finale. In the season 2 finale, Bash married Rhonda, one of their performers from Britain who needed a green card to stay in the U.S.; after a scene late in season 3 where the two of them engage a male prostitute together, Bash has turned to drinking and holing up in his hotel room. When GLOW star and fellow producer Debbie (Betty Gilpin) visits him and asks him what he wants, he breaks down, responding in a way that suggests he knows exactly who he is and what exactly the stakes are for him:
"I want to stay married to Rhonda. I want to be the son my mom wants me to be. And I don't want to die."
It's 1986; the AIDS crisis is in full effect, with all the attendant fear and stigma; the stakes for Bash being out are real and terrible in a way we might not even consider from the perspective of 2019. They're personal, too: At the end of season 2, Bash's man-servant and companion Florian dies a few weeks after leaving his company, and Bash's phone call with the doctor at the hospital says it all while leaving it unsaid: "You're listed as the emergency contact… technically, pneumonia… Listen, you should also know that you may have trouble finding a funeral home that will take the body." To Bash, being who he is means risking the possibility of wasting away to a disease no one really understands and being abandoned by the people he loves; what seemed like a subconscious conflict suddenly becomes conscious with his declaration, a shock of reality like a punch in the chest. (RC)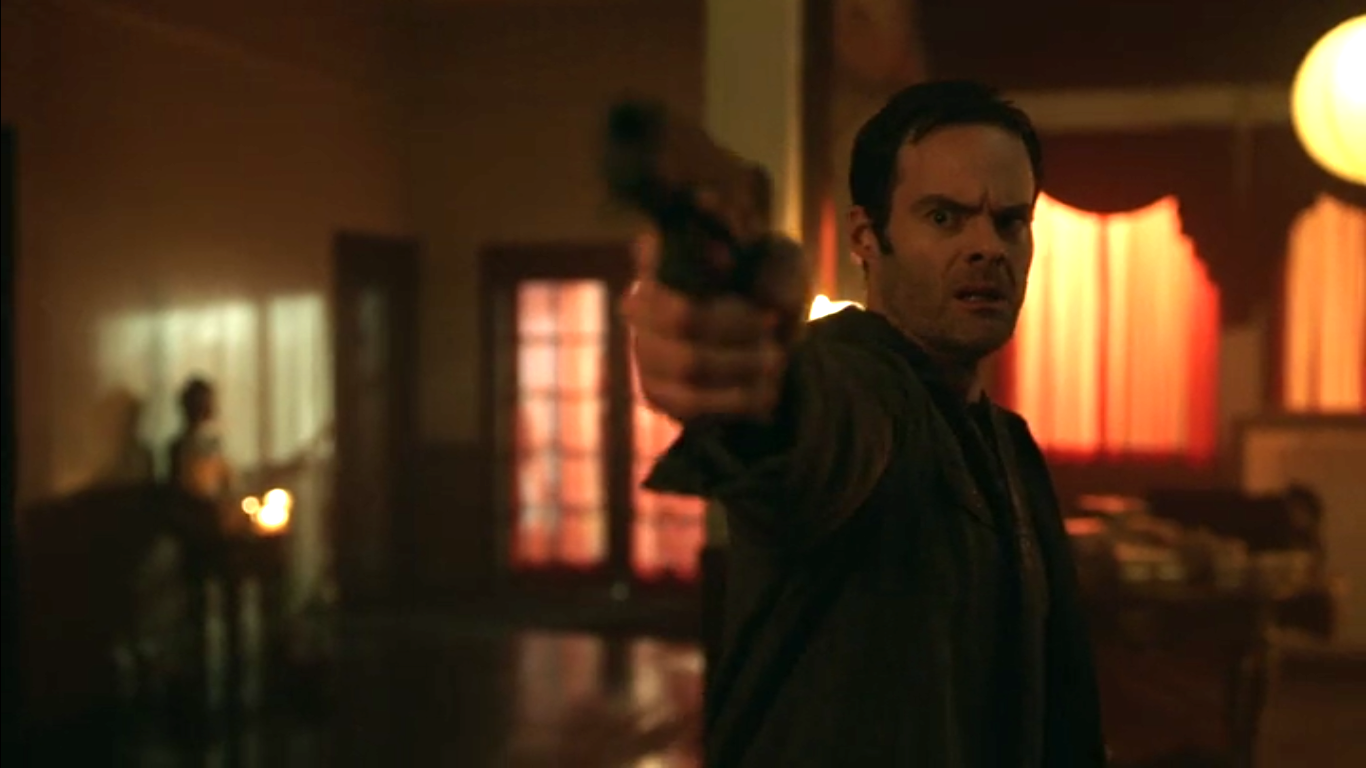 Barry:  RAMPAAAAAAAAAAAAGE!
Once again, the best-plotted show of the year, as Barry spent almost the entire second season trying his hardest to follow through on his promise of the last moment of the first:  "starting now," he's going to give up killing.  In a weaker show, he'd violate that for some cheap laffs in the first ten minutes; here, he succeeds, and that renunciation precisely drives the events right through to the finale, when, Taxi Driver-style, it all blows up real good.  (Bill Hader took on directing this episode as well as starring, and lifts at least one shot directly from Scorsese.)  For five impeccably choreographed and horrifying minutes, Barry slaughtered his way through an entire gang, bodies and blood in the foreground, background, offscreen, everywhere, including, just as in the first season, the one person with whom he had found some kind of bond.  As always, it was a consummating demonstration of character, an elegant hook back into the main plot (Barry's first shot paid off something at the beginning of this season and set up the next), and (in a wise man's words about another show) WHOLESALE FUCKING MEGAOWNAGE OF THE DARKEST VARIETY (w)
I can't argue with this pick for Barry— after an entire season of trying so hard not to kill, Barry redlines and goes on a rampage to find the man trying to destroy his life. Barry wants to be able to control himself, but he's an utterly impulsive killer, as we've seen.
I want to highlight two more moments, though: One, the talk between Barry and Gene in episode four, where Barry finally confesses to someone what happened in Korengal, and Gene gives him the fatherly advice he needs to hear: "I think you're deeply human. You did a terrible thing, but do I think that defines you? No." Also, don't tell that story to the acting class: "They will shit themselves. I mean, they're children." For a show that can go over-the-top, it's a rare quiet scene, and rarer still one where Barry actually finds the human connection and well-meaning mentoring he desperately needs.
The other is the bonkers "ronny/lily" episode, where Barry has been blackmailed into killing a man, and tries really hard to take another half measure, not realizing until too late that his target is not having it and that he's a Taekwondo master. And on top of that, he has a daughter who is apparently also a Taekwondo expert and behaves, as Barry's handler Fuches memorably puts it, "like a feral mongoose."  What follows is a hilarious series of inept misadventures, Barry trying not to kill people he needs to kill to keep up his illusion, and Fuches proving to have a, uh, poor way with children. Lily in particular extends this show's batshit energy as far as it can go without snapping; she seems unbelievable, but in the world we're already playing in and the things people in it do to survive and maintain their freedom, is she, really? (RC)
Veronica Mars:  the car bomb
Veronica Mars' fourth season, airing on Hulu twelve years after the show was cancelled from network (and five years after the Kickstarter-funded movie), suffered no drop in quality from the long time off– and arguably, with its return to focus on a single case, ended up being better than season 3. That case, involving someone setting off multiple bombs during Spring Break at Neptune, draws in a range of characters–politicians, businessmen, cartel hitmen, true-crime obsessives–and without spoiling much, it seems like Veronica and Keith, as they always do, save the day.
Except that there's one item in the case they've left unaccounted. I won't spoil it exactly–neither who the ultimate culprit is, nor their victim–but suffice to say, our criminal mastermind this season was more right than wrong about serial-killer fandom and fame, and was right about being able to pull off one more move that Veronica didn't anticipate. While an unexpected and tragic death was hinted at throughout the season, the one we got wasn't that, instead collapsing a different pillar of Veronica Mars mythology while opening up the door to a much more darkly noir tone for the show in future seasons. Veronica Mars has long been a loner, appropriate for a show that kicked off as "high school private eye tries to solve the murder of her best friend," and in some senses, the car bomb going off was a move over fifteen years in the making. (RC)
The Righteous Gemstones:  the optometrist's office, which was everything great about the season in three minutes:  the fearless acting (here it's Edi Patterson, Tim Baltz, and Jen Kober, but the entire cast was on their level), the characters that are as broad and silly as real people (Jody Hill and Danny McBride have never been interested in respectable characters, thank God), the mundane setting (every big grocery store has one of these), the emotional honesty, the dialogue that no one else could do ("make friends with him so you can sample-suck some clean dick"), the raw feeling from all the characters (Kober plays such protectiveness towards Baltz), and the unexpected moments of sheer grace (the header image is the final beat of the scene) that brought tears to my eyes.  Like their characters, Hill/McBride have been on a bumpy, imperfect, fucked-up journey, and they have never rendered that grace better than in this season. (w)
My Righteous Gemstones pick is "Misbehavin'." In fact, it might be my memorable moment of the year, an absolutely inescapable earworm that completely works as a good-Christian-living country-pop hit. The show had many indelible moments and scenes, but only one has hooked its way into my head such that I find myself singing it almost-daily and for no reason.
In interviews, Danny McBride said it was crucial to get the song right, because it had to be plausible that the song would launch Aimee-Leigh, Baby Billy, and Eli's church to stardom. McBride, co-star Edi Patterson, and composer Joseph Stephens worked together to create what honest-to-God might be the catchiest song of 2019. And even more specific to that, you know as well as I do that there's one line that sticks with everybody because it's so odd yet so vivid and so perfectly captures the sense of innocent childhood mischief: "Runnin' through the house with a pickle in my mouth." (RC)