Rather than trying to figure out the best movies of the year, I'd like to map the highs of my experiences with this year's releases. I'm not going to pretend my fondness for the movies didn't influence their inclusion or rankings here, but I feel better about reporting peak readings than deciding if Parasite or The Irishman deserves top billing (answer: both are top five).
I've tried to sample the best stuff throughout the year, but there are gaps a-plenty (I'm coming, High Life, Transit and Little Women!). It's inconceivable that there could be any omissions due to poor taste on my part, but please issue addenda and corrections as necessary in the comments.
Gemini Man – Stuff blowing up.
Ang Lee's latest high frame rate experiment created a couple sequences of amazing action hidden away in one of the worst films of the year.
Under the Silver Lake – The truth behind pop culture.
It's possible this bizarre, less-focused Lebowski cousin will be rescued by a devoted cult at some point. There's several reasons it shouldn't, but here's one curious scene in its favor.
Shazam! – Powering up.
I resisted this movie as hard as I could. A grown man who is literally a child on the inside is not what I feel like we need in the culture at the moment. But much of this movie is irresistible, especially in its climactic battle, kicked off by a genuinely fun surprise.
Hustlers – "Criminal."
An entrance for the ages as Jennifer Lopez takes control of the screen and reminds us the actor from Out of Sight and Selena is very much with us still. Welcome back, J-Lo.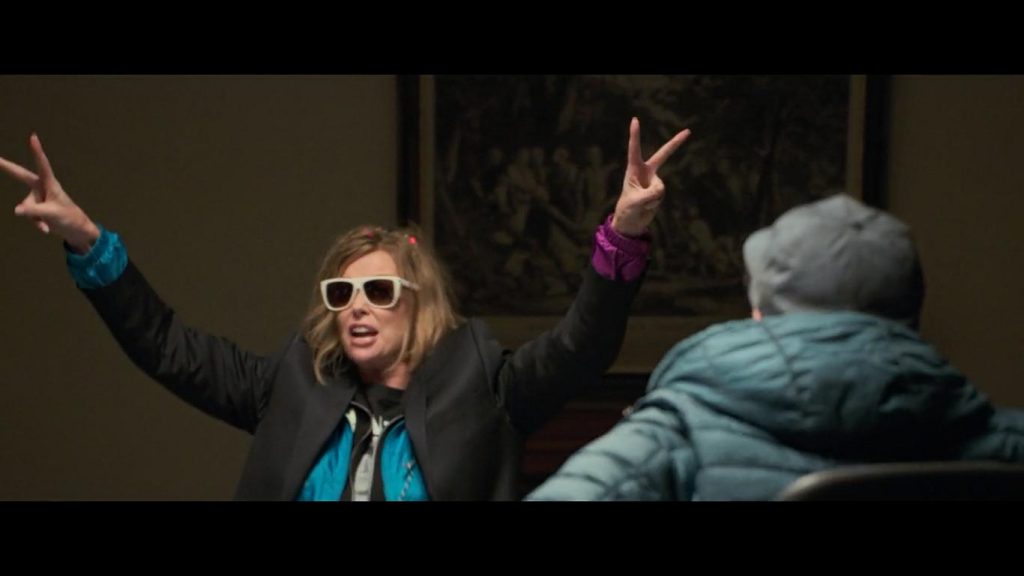 Long Shot – Negotiating under the influence.
Here's another reminder that this is a best-of list of moments, not movies, because this movie and its juvenile humor and shallow politicking won't find its way out of the bargain bin. But it did the nation a favor when it gave America's Greatest Active Movie Star Charlize Theron the opportunity to do a scene that wouldn't be out of place in Dr. Strangelove.
A Beautiful Day in the Neighborhood – Sixty seconds.
Did we need another Mr. Rogers movie? And this one has the same moment that made last year's list? What's this running down my face? OH GOD, NOT AGAIN. The amalgam of Marielle Heller's humanism and the legacy of Fred Rogers should be a controlled substance.
Avengers: Endgame – Cap uses Mjölnir.
Welp, it's done. They've played through the Endgame and let the sun set on the MCU. It was an incredible run and it's sad there won't be any more of these movies to enjoy but all good things must come to an end. Fortunately before retiring the brand they gave us one more blissful moment wherein a 90-year-old combat soldier beats the shit out of a purple alien with a big hammer. "I knew it!" says his friend, a literal Norse god, paying off a minor scene from a movie made four years ago. It was everything Marvel: ridiculous, ephemeral, and really fun.
Antlantics – Haunted.
Netflix renewed their love-hate relationship with cinephiles this year, continuing to marginalize or outright skip theatrical releases for its films and demonstrating a hot and cold relationship with films not incubated in its studios. On the plus side, it demonstrated some basic decency by letting films like The Irishmen run their credit sequences without thrusting viewers into The Ridiculous Six and, more importantly, gave a high-profile home to this meditative film about doomed love. To describe its shape in full would give away its best moment, a quiet one of confrontation. Like so many moments on this list it's a confrontation between the classes, but one surprising yet so quiet you'll be able to hear yourself gasp.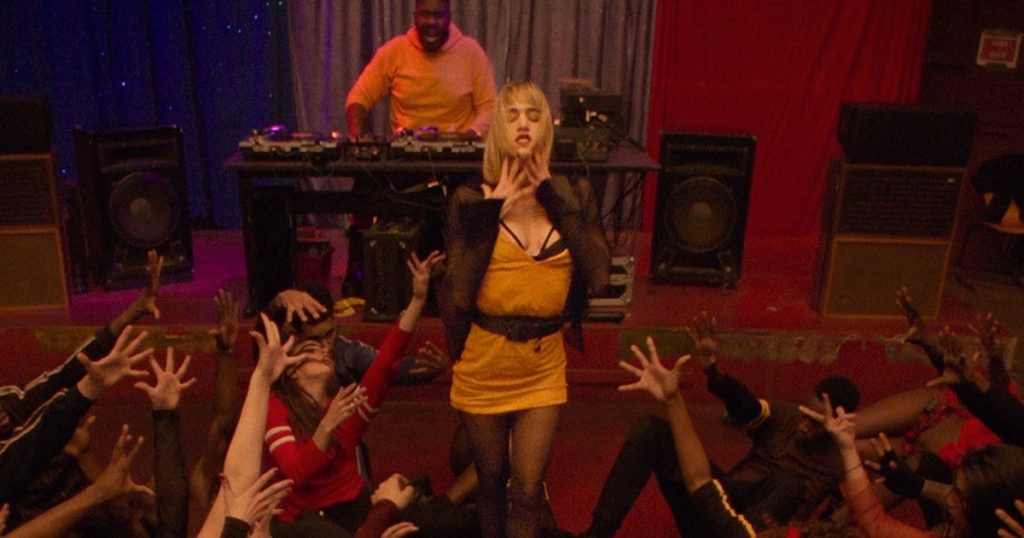 Climax – Bodies in motion.
I had originally included Joaquin Phoenix's dance across the steps in Joker until this movie reminded me how annoying I find attention lavished on poor dancing by amateurs, and though nobody's supposed to mistake this break for a legitimate hoofing number, much like Dancing with the Stars we only witness it because it's a star doing it as part of the marketing for a larger—dammit, it the Clown Prince of Crime just stole another chunk of discourse. Anyway, before Gasper Noe dunks you into a horrifying ecstasy bender he gives several straight minutes to professionals banging out some truly impressive dance moves.
The Lighthouse – A monologue about lobster.
This whole movie's existence is a moment. A black-and-white psychological horror film with Willem Dafoe and Robert Pattinson playing squabbling olde tyme lighthouse keepers in a wonky aspect ratio only had to be exactly that to be a seaworthy proposition. The salty conflict is steadily entertaining but it didn't get better than Dafoe's extended tirade – in meticulously researched period language, naturally – responding to a slight against his cooking.
Booksmart – Pool party.
Olivia Wilde's director's debut took the familiar formula of Superbad and, in the most visible of several updates to the tired way of doing things, replaced its bad-boy protagonists with two academically focused girls fumbling toward maturity. The film conscientiously foregrounds characters  usually marginalized in the "one last party" subgenre of high school films and the vibe of inclusion allows for new complications in the formula culminating in a sublime, dialog-free underwater sequence.
Uncut Gems – "Are you having a good time?"
Actually a set of meticulously shaped gems of varying quality, the Safdie Brothers' latest New York caper used Adam Sandler's well-known internal combustion engine to fuel Howard Ratner, a jeweler to the stars and gambling addict who gives the runaround to his clients, creditors and family in an endless chase of the high that comes with pulling off another upset win. In the most exhilarating final stretch in a movie this year, Ratner attempts one last victory and the result gave us the pieces of a heist, a gangster movie and a sports movie in one intense sequence. In the most succinct distillation of what makes Ratner tick, Sandler pauses for once before answering a rhetorical question with a grin: "Yes."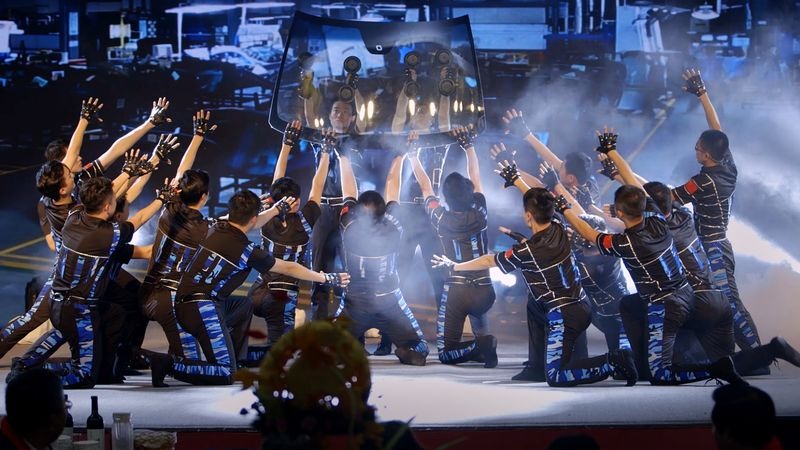 American Factory – Trip to China.
Documentarians Steven Boger and Julia Reichert used their unfettered access to the reopening of an Ohio manufacturing plant under Chinese management to give us that same access, letting the discoveries unfold before us as they did them. The movie turned on a dime for them – and us – during a trip to a sister plant in China. The harrowing safety conditions and the unfettered love for the company create a different kind of paradox than the American one where workers have a more adversarial relationship with a company whose jobs they need. Suddenly, it's a not so much a fish-out-of-water tale as a tale of two bodies of water with very different fish.
The Farewell – Ritual in the cemetery.
Speaking of Americans in China, Billi (Awkwafina) follows her parents when they return to China to say good-bye to her dying grandmother. Only, grandma doesn't know she's dying and decorum dictates they hold the secret from her. The tension between tradition and modernity is treated solemnly and comedically and in the case of a visit to the grave of a dearly departed, a little of both. If our customs around death look strange from the outside, well, they feel a little strange on the inside too.
Once Upon a Time in Hollywood – Sharon Tate watches The Wrecking Crew.
Sure, the ending screams to be the memorable moment but there's a few reasons it stands out in the wrong way, not the least of which is that it's a repeated trick from Tarantino's arsenal. The movie's nostalgia for the Hollywood of the 60s is embodied in Margot Robbie's performance as doomed emerging star Sharon Tate. Much of the story is given over to the rapidly declining careers of cowboy actors, but when Tate sneaks into a matinee of her new movie and enjoys the response of the crowd, Robbie exudes the excitement of starlet on the brink of success that we can't help but grin and root for. And she does it without any lines.
The Irishman – Frank speaks.
Here's a stumbling point in doing moments instead of movies because this is one of the best films of the year, but what to single out? The ending is a masterful anti-crescendo, the sum total of moments over its three-and-a-half-hour runtime – and a 30-year career before it – that give The Irishman its wallop. Instead I'll pull from the beginning, the very first shot, and the first hint of the subversion to come. It's a long interior tracking shot but instead of a happening night club or casino we're touring an old folks home. Rest on Frank Shereen, played by the aging Robert De Niro, who stares catatonically before interrupting his own voiceover to tell his story.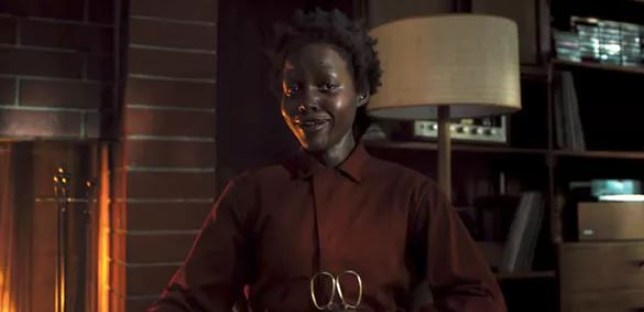 Us – "We are Americans."
It would be impossible to be taken by surprise again by Jordan Peele after the runaway success of Get Out. One of the many accomplishments of this follow-up is not getting swallowed by the anticipation of his sophomore effort. We knew the premise going in, but the giveaways in the previews and posters held one thing back – the entrancing vocal performance by Lupita  Nyong'o matching her eerie physicality as the murderous doppelganger Red. "Once there was a girl…" she begins, and we're enraptured as her voice releases generations of mystery and pain.
Parasite – An unexpected door.
Parasite is almost certainly the movie of the year, an easier standard to argue than objectively best movie of the year. It's an inventive and entertaining film emerging from the decade's boiling stew of class unrest and resentment. Every new surprise is candidate for this list but we'll choose the one that reveals a whole new level to the movie and sends the film tumbling on its unexpected yet somehow inevitable course.
Midnight Traveler – A moment of crisis.
A documentary shot on smart phones by an Afghan refugee family escaping a bounty by the Taliban would be a remarkable experiment at the least. Making it an extraordinary experiment, Midnight Traveler was shot by filmmaking married couple, Hassan Fazili and Fatima Hussaini, and so footage smuggled out (and assembled stateside by producer Emilie Coleman Mahdavian) has been filmed with the intentions of a visual storyteller. The situation is often harrowing and when it's not, the mundanity threatens to curdle into hopelessness. In the film's most remarkable sequence, Fazili searches a refugee camp for his missing daughter while cursing himself for still filming, hating himself for recognizing this as a crucial moment for a movie as well as a family crisis. It's a realization of the potential to tell one's own story, and an exploration of the pitfalls of doing so.
Her Smell – Heaven
Becky Something (Elizabeth Moss) is a punk rocker breaking down and taking everyone with her. That includes the audience who for three acts of a five act movie feel the weight and pull of Becky's destructive nature in the year's most impressive sustaining of tension. This tension is only very occasionally relieved by music. Becky provides the song for the film's only section of reprieve, a cover this time, and with only a simple piano accompaniment. It's an oasis, a timeout for something beautiful, and it's the kind of moment we hope for every time the lights go out, year after year.