Needless to say, the night is long and full of spoilers, so reader beware. This is a highly self-indulgent essay that the next few episodes of the show could render completely irrelevant, at which point I'll likely delete this and self-exile to Braavos and go into years-long training to recover. But this is, in a few words, why my initial reaction to "The Long Night" was so overwhelmingly positive.
---
To the extent that Game of Thrones has a thesis, it comes early in season two during an encounter between Cersei Lannister and Lord Baelish. The exchange is one of the most famous in the show: Baelish threatens Cersei with public exposure ("Knowledge is power") and Cersei, who has soldiers with weapons, lays it out plain:
"Power is power." It's easy to overlook what a (ahem) powerful line this is. Sure, it's clever and memorable, but we might also dismiss it as a tautology, a rhetorical flourish to mock Baelish's actual, physical weakness at that moment. Cersei has a point, though. Every major character in GoT can claim power of some sort, whether that power stems from physical ability, intellect, charisma and leadership, resilience, or some form of magic. But any kind of power is fickle, and the only proof of power is in its own application: that is, you have power to the extent that you can successfully exercise power in that moment. Baelish is right that knowledge can be power, but "knowledge" won't stand in the way of the sharp object aimed at his throat. The lesson nearly costs him his life.
This is Game of Thrones in a nutshell: testing the expectations of genre and narrative against the hard facts of power. We live within a cultural tradition of storytelling that places other values above pure power, and that has accustomed us to certain kinds of arcs and satisfactions around which our fictional worlds are usually molded. Martin loves applying real-world dynamics of power to those expectations, with often (pointedly) disappointing results. With that in mind, let's take a closer look at power dynamics in "The Long Night."
What is Jon Snow's power? We know he's a decent fighter but an abysmal strategist. His main power is his dogged sense of integrity, which makes others want to follow him no matter how unwilling a leader he may be. High fantasy tells us that integrity is a Value, and capital-V Values, like Truths, give us the strength to overcome any obstacle. Game of Thrones laughs at this and has been laughing since Ol'Integrity himself was beheaded at the end of season one. What is Jon's power now? Is "integrity" going to shield your face from a fire-breathing dragon?
What is Daenerys' power? She has bloodlines and dragons and followers. Her followers are not only ill-equipped for the environment, but they're organized by inept strategists. One dragon is now the Night King's and the others are rendered useless by the wights' blizzard. Various genre traditions tell us that Blood is Destiny, but will her bloodline stop a white walker? How powerful is Daenerys when she's an unarmed woman standing alone in a field of the resurrected dead?
What is Tyrion's power? He drinks, and he knows things. He developed a savvy strategy for saving King's Landing against Stannis' superior forces, but everything involved in the defense of Winterfell is a bust. He aches to leave the crypt and help the soldiers above, until Sansa sets him straight (more on this later). When danger does enter the crypt, what good is his golden tongue then?
What is Sansa's power? She understands the contradictions of leadership better than any of other would-be protagonists, and her lack of diplomacy with Daenerys is not a gaffe but a statement of purpose. She is the best equipped for the politics of the Seven Kingdoms, but she doesn't know the first thing about physical self-defense, even when armed with dragon glass. How powerful is her diplomacy against the dead?
What is Arya's power? She is stealth assassin who can blend into a crowd and approach her victims unseen. Her work is fleet and surgical, and of no use in a brawl, especially with her size. Stealth will get you past a few white walkers, but what if they already know you're there? What if there are far too many of them for you to pick off? Where is your power now?
One by one, "The Long Night" robs most of its characters, major and minor, of their power. Jamie's newfound nobility, Brienne's (literally) chivalrous swordsmanship, Grey Worm's lifetime of martial training, and so on and so on… none of these are a match for the hordes, no matter what kinds of stories we've been told a million times, and not only in fantasy. Our whole fictional ecosystem of values is predicated on the idea that Strength and Determination and Integrity and Destiny are the kinds of powers that guide us through the valleys of shadows of Death. As usual, it is Sansa alone who understands the bare truth of their predicament. When Tyrion whinges about his sense of uselessness, Sansa lays out the facts: "None of us can do anything. That's the truth." She means herself, and Tyrion, and the folks down in the crypt, but it's just as applicable to the people fighting above-ground. It's the episode's most important line.
---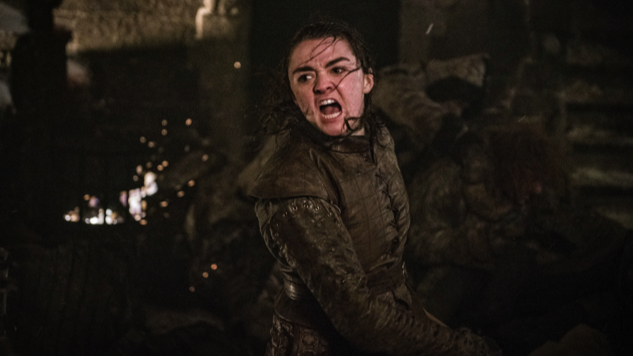 This all goes in-hand with the show's overall attitude toward storytelling. It's difficult to overstate just how much convention directs our experience as audiences. It can be deeply satisfying when a narrative finally settles into well-worn grooves, and this holds true for the big formal expectations, too: challenges lead to arcs, development leads to change, climaxes lead to denouements, etc. Martin's always delighted in destabilizing this process, but as many (including myself) predicted, he'd eventually settle into those grooves as the story reached its culmination. Instead, everything is destabilized once again, and permanently so.
But — and this is a key point in my own argument — I don't think anything here is arbitrary or capricious, that anything is being withheld just for the pleasure of withholding. That would make the episode, and the show, unsatisfying. Instead, I think Martin (or at least the show's version of him) is engaged with exploring the ramifications of Cersei's argument, that power is power and not subservient to narrative expectations, which creates a different way of watching that is satisfying in its own way. The hero can't win just because the story says he's a hero and heroes always win. When real power is tested, Davids don't often slay Goliaths.
I mentioned earlier that Baelish isn't wrong about the power of knowledge, he's just (almost fatally!) wrong about its application, about his ability to exercise his power at that moment. When the Night King reaches Bran, the horizons of possibility collapse to a single point where only one character's power is actually useful, and it's not the one with bloodlines or charisma or wit or resilience, and it's not the traditional fighters with no way of getting past the Night King's retinue. This is Arya's moment only because Melisandre alerts her to the convergence of her particular power and a brief opportunity to exercise it.
Game of Thrones didn't betray narrative logic or elevate a Mary Sue or whatever: it did to us what the Three-Eyed Raven did to the Night King, focusing our attention on the wrong players while the real setup was happening in full view, albeit in the margins. And because we've read — because we've been trained to read certain narrative gestures in certain ways, that heroes look a certain way and act a certain way and have prophesies guiding them a certain way, it was much easier to fall for that sleight-of-hand. I fell for it, too.
This is very serious stuff, but Game of Thrones has a genuine sense of humor about the way destiny, usually a shorthand for "storytelling architecture" in fiction, works. All the very ponderous exposition, the promises that various characters were born and cultivated and saved and re-saved just to play some role in the final battle turned out to be true, just not in the way any of them anticipated it. They're not heroes wielding their own power — their own will — in some satisfyingly Tolkienish way, but pawns of the Three-Eyed Raven, lined up in a row to pass Arya Stark across the field like a rugby football or else play defense while the important moves are being made. And that's all they are.
---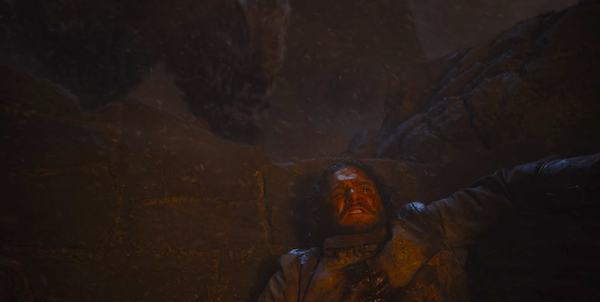 This all has delicious ramifications going forward. Let's ask a question that may turn out to be irrelevant but is nonetheless the central one for many of us: who deserves to be on the Iron Throne? Cersei is indisputably the most powerful at the moment, having most of the kingdom, a fresh army, and plenty of supplies (the state of Dany's dragon force being not yet clear), but the mechanisms of narrative — or of what we might call "narrative justice" — seem to preclude her "winning" outright. I can imagine a lot of ways the show might subvert narrative expectation once more (destroying the Throne entirely, a Jacobin revolt of some sort), but I don't anticipate Cersei getting a clean win here.
Dany's bloodline and willpower, not to mention the loooong seasons of on-the-job training to be a better ruler, seem to have been leading her towards the throne. Jon's parentage and nearly by-the-numbers fulfillment of the "reluctant hero" trope also seem pointed in that direction. Not for nothing was one of the most popular predictions the idea that the two would rule in tandem, somehow.
But will it feel deserved after watching them both flail around so helplessly against the Night King? Will it seem like Dany is the "rightful" (whatever that means) queen of the Seven Kingdoms after watching her sidelined so pathetically from the show's most important war? Does anyone want Jon as a ruler after seeing him hiding behind a rock, howling in impotence at an undead dragon? (Jon's pathetic howl is his best character beat in years, a genuine and hurt recognition that he has failed at his only job and when it mattered most. It's my favorite moment of the episode.) These are not rulers. They are pawns who, due to prophesy or bloodlines or sycophants, imagined themselves queens.
Heroes in fantasy novels often fail as part of some process of growth: they fail, they overcome, they succeed in the end. Heck, it's built in to the (overused, misunderstood) blueprint of the Campbellian hero, the "abyss" before his transfigurative rebirth. But this process requires a second chance, and here, the failure is terminal. The battle is over. There will be other earthly battles, but the only one that really "mattered" in an existential sense cannot be fought again, nor their inadequacies "redeemed." All that's left are the petty squabbles of the Shire. This realization, I suspect, is why there was such widespread disappointment at the way "The Long Night" played out: Game of Thrones has foreclosed the "redemption" part of the arc, cruelly from the point of view of narrative convention but neither unfairly nor without its own kind of thoughtful pleasure. This is the show I fell in love with so many seasons ago.
In a very significant way, Game of Thrones has done what I was always hoping it would, cutting the legs off the likely characters who would be king. Nor has it offered much hope of a replacement. Daenerys is right that Tyrion has largely proved a failure in practice. Arya's power proved itself in its application, but what power does she have of diplomacy, or management, or any of the skills necessary for statecraft? Sansa may be the savviest of the players left on the field, but it's unclear her interests extend any further than the North, and she didn't exactly acquit herself well in the crypts, either. What will the Citadel's history books say about these people? Are these your kings?
So no matter who "wins" the Throne, assuming there's even a throne to win after it's all wrapped up, it'll be a disappointment. And when I say "disappointment," I mean it in the same way that Ned's beheading was a disappointment, or the Red Wedding was a disappointment: an act of narrative destabilization that only makes the show's messy, unfair, violent world feel even messier, more unfair, and more violent. This is fantasy dashed on the rocks of realpolitik, the one bedrock that has stayed consistent through all the seasons. The only variable that matters anymore is power, and the more quickly the remaining characters accept that, the more honestly they assess when and where their powers are applicable, the more likely they'll spare their necks for another day ("Not today!"), which is maybe the only thing that matters. As Sansa says, "That's the most heroic thing we can do now: look the truth in the face."