Police Squad! has a notorious history that's been told many times over by now, a brilliant comedy by Zucker-Abrahams-Zucker that ran for all of six episodes in 1982 before ABC pulled it, famously saying that the comedy was too smart for their viewers and required too much attention. While revealing a sad truth about the intent of the American viewing experience, the justification also underscores just why this show was so brilliant: Nothing on the air at the time, and not a whole lot of shows since, rewarded paying diligent attention so consistently and thoroughly. It wasn't just in the number of background gags; the entire vibe of the show works best if you're immersed in it, fully aware of the contrast between the expected seriousness of a detective show and the absurd happenings on screen.
Police Squad! is, for the record, better than The Naked Gun series. The film trilogy changes the character of Frank Drebin for the worse; he's a bumbling fool who causes absurdity as much as he exists in it, a 1980s Inspector Clouseau. In the television series, Drebin and the rest of the department are entirely competent and always get their man. They just do so while delivering lots of deadpan literalism and surrounded by a world which exaggerates the tropes of the genre to their extreme (from death throes of gunshot victims to a shoeshine boy who has all the answers in the known universe for the right price) and even calls attention to them in ways that arguably break the fourth wall (for example, the green screen in driving scenes is made flagrant through such images as the Colosseum of Rome).
And of course, a show like this isn't complete without credits gags, and Police Squad! had two all-timers in its opening credits. The first to occur is the "Special Guest Star" of every episode, a famous TV actor of the time who would appear in the credits, only to be murdered during their appearance and never appear in the episode proper. (Your roster includes Lorne Greene, Georg Stanford Brown, Florence Henderson, William Shatner, Robert Goulet, and William Conrad.) The second gag occurred at the credits' conclusion: A voiceover announcing "Tonight's episode" with a title, only for the on-screen title to be completely different. Viewers also got a treat at the end of every episode; the standard cop-show ending of a closing one-liner the station laughed at before a freeze frame would be parodied in a variety of ways, whether the criminal they apprehended wasn't frozen like everyone else, or the coffee being poured wouldn't stop, and the cup ran over while the credits rolled.
For the record, my favorite joke of the series comes from the episode ("Rendezvous at Big Gulch" / "Terror in the Neighborhood") where Drebin goes undercover as a small business owner to investigate a neighborhood protection racket:
DUTCH: Who are you, and how did you get in here?
FRANK: I'm a locksmith. And, I'm a locksmith.
The one mistake the show made where the films have an advantage: Not having the foresight to see how history would make the casting of O.J. Simpson as Nordberg the most surreal element of the show. (That's not to say Peter Lupus isn't good in the role.)
Since Police Squad! has been so thoroughly covered by now– and really, if you haven't seen it, it's six episodes; what are you waiting for?– I wanted to use some of this essay to talk about its influence on later works. In cult shows and never-made pilots like Sledge Hammer! and Lookwell, the cop/detective action-show parody lived on. In particular, though, I want to talk about two of my favorite comedic works in this vein from this decade, one film and one TV show.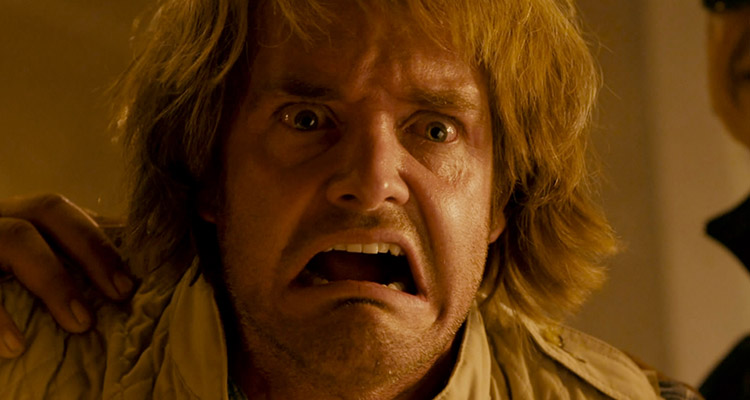 MacGruber
While "MacGruber" the Saturday Night Live sketch made for a pretty funny spoof of MacGyver-style action shows, the original material– essentially one joke; MacGruber is in various ways too terrible of a person to focus on the job before the bomb goes off– would have been too thin to sustain a feature film. Appropriately enough, in the move from TV to the silver screen, MacGruber changed the focus of its parody– from 80s action TV show to 80s action movie.
The ZAZ influence on MacGruber is most evident in the complete deadpan commitment of Jorma Taccone's direction. Like that trio demonstrated with Police Squad!, Taccone understands that the comedy is heightened when juxtaposed with the serious tones of the work it is spoofing. In Police Squad!'s case, it's the serious tone of a cop procedural surrounded by a world full of absolute absurdity, perhaps no more so than in their version of the hard-boiled detective dialogue. With MacGruber, it's the trappings of a glitzy Stallone or Seagal '80s action film against MacGruber himself, a simpering, pathetic, reprehensible human being, let alone excuse for an action star.
Commitment is the key word to what makes MacGruber succeed. Many such movies would pull their punches out of fear of alienating the audience. MacGruber does not pull its punches; appropriately, it bombed at the box office. However, I still consider it, nine years later, the funniest film released in the 2010s. (Admittedly, my film experience isn't what it used to be, but I really haven't seen anything that comes close, certainly not on pure laughter.) The same commitment elevates Police Squad! above The Naked Gun: None of the characters treat the absurdity as such in the TV show; it's all straight-faced.
The commitment goes beyond Taccone's direction; it's in the character of MacGruber himself. MacGruber is a dark, dark character. Not only is Will Forte 100% committed to portraying MacGruber as not only incompetent, but pathetic, cowardly, petty, and even monstrous, but the writing leaves no place for any softening traits or a redemptive moment. Indeed, each scene we get in that vein, where we might learn something deeper about our rough-edged hero that earns our sympathy, arguably makes MacGruber seem even worse. The purest example is when MacGruber tells Ryan Phillippe's Dixon Piper about his origin story with villain Dieter von Cunth (Val Kilmer), but it's even in the little character traits, like MacGruber instructing Kristen Wiig's Vicki St. Elmo, in disguise as MacGruber at Starbucks, that "MacGruber would never tip," or his Seagalesque commitment to never using guns falling by the wayside when he finally fires one and finds out that, hey, guns are really fucking cool! His "redemption" rivals Billy Madison in its perverseness: MacGruber talks about his skill of ripping out throats all film, which of course comes across like bullshit, and then in the climactic action scene, we find out he can actually do it. It's gross.
(And speaking of Billy Madison, given MacGruber's obsession with and eventual revenge on the guy who cut him off in traffic, he seems to be a combination of both Billy's petulance and the mania of Steve Buscemi's sniper.)
As with Police Squad!, tropes of the genre give way to exaggerated versions of themselves or a particularly outlandish reality. Perhaps no clearer is this seen than in the film's love scenes, filmed at first in soft-core candlelight-and-romance settings (Taccone has said The Room was an influence on these scenes) before giving way to the reality of the situation, MacGruber's horrific grunting and thrusting (Matt Singer describes it as "like a wounded animal")– and, even more preposterously, with his dead wife's ghost in one of these scenes.
If you want to read more about MacGruber, I highly recommend The Dissolve's Movie of the Week section on it. I kept this section of my essay short because that collection of articles covers everything you need to know, really.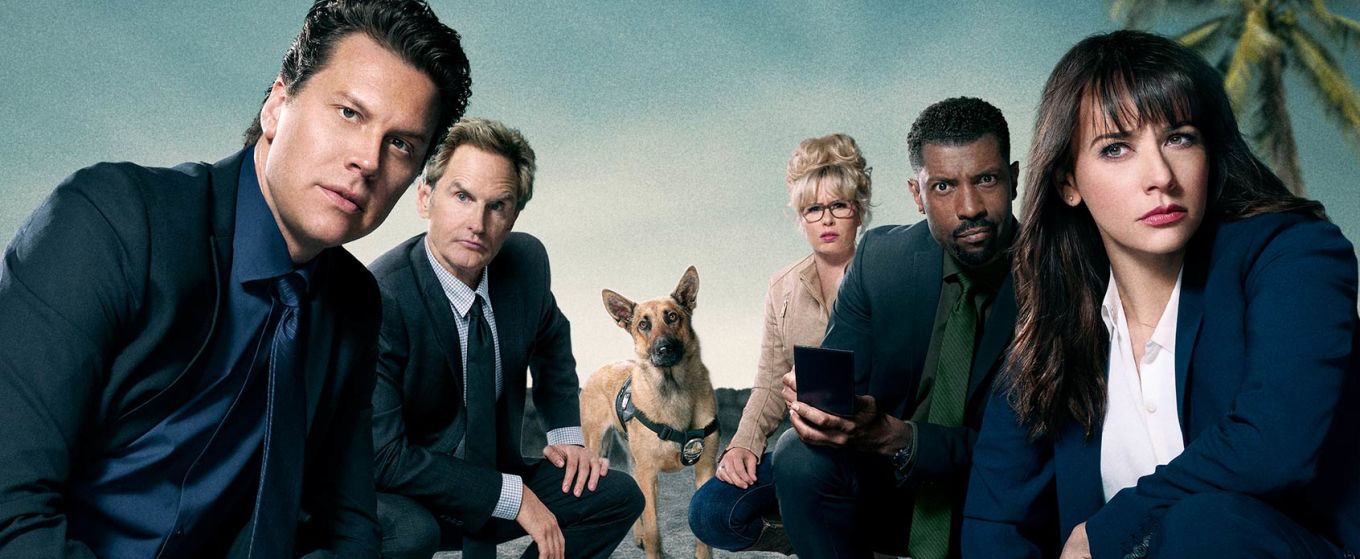 Angie Tribeca
Angie Tribeca is a much more direct homage to Police Squad!, updating the formula from parodying cop shows like Streets of San Francisco and crime dramas named after their lead characters, to spoofing the slick work of our 21st-century procedural-drama acronym soup. I confess I've never seen CSI, NCIS, or even NTSF:SD:SUV, but memetically they're present enough in the culture and I've seen enough procedurals (certainly enough Law & Order) to get the tone they're going for– rougher-edged shows of Police Squad!'s day replaced by glitzier, high-tech procedural setups and increasingly strange crimes. That's the world of Angie Tribeca, where the police are slick and the crimes are increasingly sensational and where the cast is killer–Rashida Jones, Jere Burns, Hayes MacArthur, Deon Cole, Andree Vermeulen, and really some other great recurring actors I don't want to spoil, plus a loaded roster of guest stars.
Some elements ring particularly true of Police Squad!'s influence, such as the one member of the force whose very presence is absurd. In Police Squad!, it was 7'2″ Tiny Ron Taylor as Al, who always stood so far out of frame his face was never seen on camera; in Angie Tribeca!, it's Detective Hoffman, who is played by a dog (Jagger is the good boy's name, if you were curious) but is evidently, from the interactions with other characters in the precinct, by all indications a human in-universe.
Angie Tribeca faltered a little bit in its first season by making a mistake akin to The Naked Gun movies– not incompetence in this case, but in letting the audience in on the joke. The first season is fine, but it has too many asides and reaction shots to be as effective as it could be if the whole show was played straight. Fortunately, season two corrected that problem as the show eliminated these elements and tightened up to become a terrific comedy of this genre.
Seasons 3 and 4 expanded the show's ambitions even further. Season 3 pokes fun at the numerous spinoffs of shows like CSI and NCIS by taking the unit to a different location every episode, from New York City to Miami to New Orleans. (Of course, only the most perfunctory explanation is given for why a special task squad of the LAPD is being sent all around the country.) The crimes take on an equally absurd nature, as pointed out by the title of episode 5– wherein a dead body falls from space— "This Sounds Unbelievable, But CSI: Miami Did It."
Season 4 mixes up the formula with some cast changes. Cole only guest stars (presumably busy with the Extended TV Universe-ish) and MacArthur (Angie's partner, lover, and baby-daddy Jay Geils) is gone. At the beginning of the season, Angie is sentenced to prison for twenty years… but we don't spend time there; we fast-forward until she's released, and neither her nor anyone else in the cast has aged a day. With the exception of one person: The son Tribeca and Geils had, now grown to age 22 and a member of the force. And named Angela Jr., or A.J. And played by a 48-year-old Bobby Cannavale.
In season 4, the unit is now part of a secret federal task force, and appropriately, the season's parodies expand beyond the police-procedural world, as many plots are a parody of some prominent film or TV show. The first episode takes on medical-romance-dramas as Tribeca goes undercover at a hospital (the romantic-entanglement role is played by Eliza Coupe). Scandal, Erin Brockovich, and National Treasure are all parodied, but of course, my favorite episode is "Freezing Cold Prestige Drama," a parody of television's Fargo, complete with overwrought score and nonsense-talking philosophical hitmen.
Of course, all these parodies wouldn't work if they weren't terrifically executed. The jokes are tight, the performances are on point (Cannavale as a sullen young man in season 4 is a delight) and the targets hit true. This is the rare show I can honestly say got better every season, and even though it's been unfortunately canceled, 4 seasons– 40 half-hours of TV in total– is still pretty terrific for a show that was this funny yet somehow never sustained any critical buzz.
Oh, also, it's called Angie Tribeca even though it's set in Los Angeles.
Of course, if you haven't seen Police Squad!, I urge you to do so posthaste. (I'm sure it's available somewhere; I have DVDs, myself, but I haven't looked into streaming.) If you have, and you're looking for more comedy in that absurdist vein, I think you'll find MacGruber and Angie Tribeca right up your alley.