Let's Scare Jessica to Death fits both as a late addition to the Year of the Month chronicle of 1971 and a segue into horror movie season. It eases into October like transitioning seasons, an eerie but almost gentle film. Despite the growing penchant for violence and gore in the independent horror scene, the scares don't come from Texas chainsawing. It can be just as frightening to get upper-New York stalked.
Jessica arrives in a rural area with her husband and a hippie friend. She's just released from a mental institution and her husband has given up a position with the symphony to settle in a rustic farmhouse for her health. But there's a squatter when they arrive at the house, an enigmatic drifter named Emily. Jessica invites her to stay. The next day Jessica begins seeing strange visions and hearing voices. She doesn't report these events, afraid of being accused of relapse. The events intensify, as does her suspicion of an attraction between her husband and Emily. Her past mental issues leave her – and us – unsure what information is real, what is supernatural and what is only in her mind.
Chronicling the production's title changes shows the strange push-pull of forces on the production. The film was originally conceived by writer Lee Kalcheim as It Drinks Hippie Blood, a broad horror-comedy about a monster that terrorizes counterculture youth until a motorcycle rider finally impales it on a pole carrying the American flag. Emerging Midwest director John D. Hancock agreed to do the film under the condition that he do a rewrite and he proceeded to retool it into a woman-centered subtle psychological thriller dubbed simply Jessica. Though the film contains no articulated conspiracy to frighten our protagonist unto the grave, Paramount expanded the title into its current form the better to go with its publicity campaign gimmicks that included horse-drawn hearses and plastic vampire fang giveaways.
Despite getting sandwiched between cruder influences, Hancock's vision prevailed. The hippie killing morphed into a mostly silent animosity between the townspeople and the outsiders, and the distributor's thirst for cheap frights gets sated by a handful of decent scares. Let's Scare Jessica to Death legacy lies with a tradition of characters – particularly women – who distrust their own perception, like the oft-cited Gaslight and last year's new take on The Invisible Man.
Jessica distinguishes itself further in many ways, spending more time in the cramped headspace of its heroine. The isolation from a confidant resonates even fifty years after its release. For a long stretch the horror comes from a fear of losing others' trust in her and a fear of losing trust in her spouse's motivations. Jessica is haunted by long hours of self-destructive thoughts as often as the supernatural. The voiceovers for her in-head mantras, often insulting Jessica or keeping her from reaching out sound soothing, like they were recorded by a children's librarian. It's a depiction of depression and its lonely and damaging hold over a person that makes the traditional terrors like vampires and ghostly apparitions nearly redundant.
It's too much to say Let's Scare Jessica to Death disappeared completely. After weathering mixed reviews  on release it gained a cult following. But for a long time it was a difficult film to find and see. It had one VHS release in 1984 but spent the better part of the next twenty years out of print. Last year the film was featured in a Criterion Channel collection of 1970s horror movies alongside better circulated and more often discussed titles like The Texas Chainsaw Masscare and The Wicker Man. On a recent episode of the podcast Blank Check, director Alex Ross Perry cited it during a discussion of the origins of John Carpenter's 1978 genre-defining Halloween. The connections between those low-budget movies are small but striking. For one thing Jessica's synthesizer score predates Carpenter's by seven years.
Which begs the question of how much going out of print affected Jessica's place in the history of the genre. Thanks to DVD and later Blu-Ray releases and to streaming services the film can get seen more widely than any time in its existence and perhaps worm its way back into the horror discussions that went on in its absence. Even in an era when it seems like nearly all movies are just a click away, there's discoveries to be made that can bend or shape our perception of movie history. So many other films still reside in the deep, ready to emerge.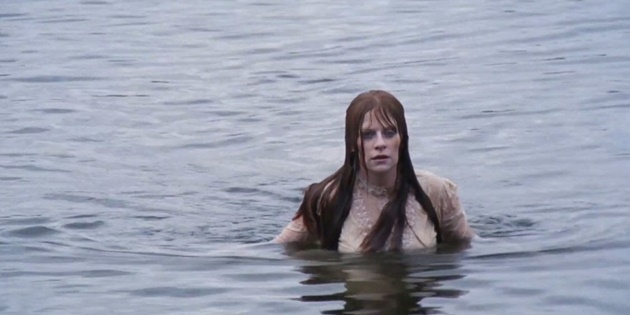 ---
Let's Scare Jessica to Death is available for rent on various services or for free in standard definition with ads on PlutoTV.
For more on the movie's making I recommend the chapter on the movie in Michael Doyle's book Hancock on Hancock.