The last time I checked up on ole Dr. Korchek, I was searching for bread crumbs that had come out about both of his upcoming projects. Some were (semi-)scoops, some were not, but I think I can safely say we all had a good time. Well, we're about to have an even better time, because actual news about a Soderbergh project has come out, and it's big.
At around 2 PM CST, Soderbergh started posting some cryptic tweets about forthcoming news. Given the amount of balls Soderbergh has been juggling recently, the news could be about anything, from Mosaic getting a release date to The Knick coming back to progress on the Panama Papers movie to Soderbergh finally goddamn finishing that reedit of Kafka. The actual news turned out to be none of the above.
It was right after the third tweet (and right when the tweets were deleted) that the news came out, albeit not from Soderbergh. No, the trades and film websites were the ones to break that Logan Lucky had been picked up by a studio. That studio is Bleecker Street, the upstart company (it only began in 2015) that's been releasing generally middling-to-pretty good prestige films and adult dramedies. Its biggest release was the 1100-screen release of Eye in the Sky, and given Logan Lucky's apparent crowdpleasing aspirations, I imagine this will be a big step up from that in terms of theaters and (hopefully) profits. But the bigger news comes from when Bleecker Street will be releasing the film.
Soderbergh promised at the time of the production's start that the film would be released on October 13. The problem is that October 13 is an absurdly stacked weekend, with Logan Lucky potentially having to compete against Darren Aronofsky's mother!, Tomas Alfredson's The Snowman, the Thurgood Marshall biopic Marshall, and Jaume Collet-Serra and Liam Neeson's latest collaboration, The Commuter. Not a good weekend to put a non-blockbuster in, due to the potential for audience cannibalization, and so Bleecker Street will instead be releasing the film on August 18. This weekend sees it competing with The Hitman's Bodyguard and The Nut Job 2: Nutty by Nature. Admittedly, audiences may be all comedic heisted out by the time they get out of Nutty by Nature, but I'm sure the novelty of Logan Lucky being the comedic heist movie out that weekend that's not down with O.P.P. will cancel that out.
But that's not all! Also included in these stories is the reveal that Soderbergh has created a new production company. The company, Fingerprint Releasing, was cofounded with former Warner Bros. head of distribution Dan Fellman, who is an executive producer on the film. Soderbergh said this on the subject;
This is the result of sixteen years of conversations I've had with Dan about creating a new distribution paradigm for star-driven, wide release projects. With 'Logan Lucky' I have the right movie, the right team, and the right partner in Bleecker Street to test some personal theories I've accumulated. It's put-up-or-shut-up time.
I dunno about you, but that reads an awful lot like Soderbergh is coming out of retirement with guns ablazing against the studio system. You shouldn't have crossed him, Amy Pascal, now he's mad and taking no prisoners.
And that's not even it! Not even the already-loaded cast is staying the same, as the news also reports that Dwight Yoakam, not on the film's IMDb page, is in the film as well. Knowing his previous roles, I'm assuming he's playing a complete violent scumbag, but I'm open to anything.
And lastly, here's the logo and first official image of the film. That's Daniel Craig in the front and Adam Driver and Chan-fried Po-Taters in the background.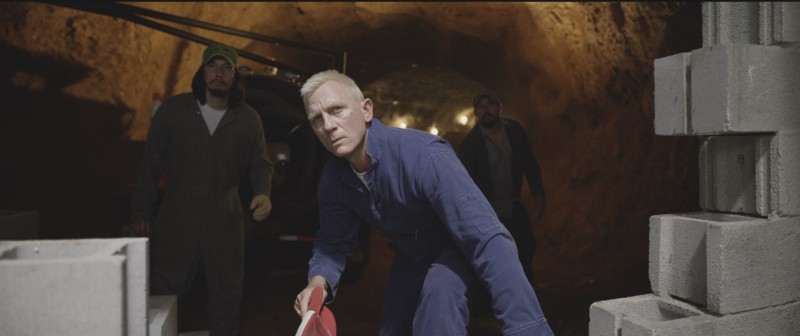 I don't know what they're looking at, but I'm assuming it's Benicio del Toro doing something shady. And now, finally with all that settled, I believe I can only react in one way.