Welcome to Pictures of a Revolution, a year-by-year study of the output of Revolution Studios. This year, Holly Hunter is going to become the Joker.
The Prelude
In 2003, Sony Pictures CEO and chairman John Calley retired. His retirement had been rumored for two years by that point, and the reports were that Joe Roth would be named as his successor. Between the announcement of Calley's retirement in February 2003 and the announcement of his successor in December 2003, Revolution Studios released Hollywood Homicide, Tears of the Sun, and Gigli. Accordingly, Roth did not get Calley's job. Instead, it was given to Michael Lynton, who had served under Roth as president of Hollywood Pictures during both men's tenure at Disney. Maybe this wasn't intended as a final twist of the knife in Roth's side, but it sure reads that way.
Roth and Revolution come into 2004 with their heads hung low. Before disaster struck, Roth and his executives were talking about extending the Revolution project past the 2007 expiration date of its original deal with Sony. Now they resigned themselves to finishing out the contract and letting that be it. And there would be no more ten-movie years for Revolution, this year we're back to six movies and none of them have budgets north of $66 million. Big swings are out of the picture for the time being, the goal this year is just to control the bleeding. Saying that they succeeded at this is maybe going a little too far, but at least they didn't fail miserably this time.
The Films
We're not covering many auteur works in this series from hereon out, since Roth put so much blame on those dastardly final-cut directors sinking his studio. Guillermo Del Toro in 2004 wasn't yet at that level of creative control, but he was definitely being noticed as a burgeoning auteur and Hellboy ($99.8 million, $66 million budget) was his first big-budget passion project. He'd been shopping it around Hollywood since soon after Mimic, but nobody could get past the title, let alone anything else about it, until Roth let Del Toro make it the way he wanted to. With concessions.
It's difficult to talk about Hellboy without eventually bringing up that Hellboy II: The Golden Army (not produced by Revolution or Sony, though Roth retains a producer's credit) is much better. It fulfills the promise of Hellboy and then some, letting Del Toro go crazy with Pan's Labyrinth fairy-tale elements, eye-popping monster designs, and goofy comedy. It's certainly the most Guillermo Del Toro movie, and very possibly the best one too. The first Hellboy is neither the most nor the best, though it's still a lot of fun. The obvious, much-cited problem is that Hellboy (brought to life by the performance that will define Ron Perlman for the rest of his life) is not quite the lead of Hellboy. The movie makes him share screen time with white-bread Agent Myers (Rupert Evans), a character who does not exist in the comics and whose main personality is that he's a human (like us!) who's surprised at all the non-human heroes he meets (like us!). I don't hate Agent Myers, but he's a net neutral at best as both a character and a performance and he never escapes the feeling of being a walking studio note. The petty, off-hand mention of his reassignment in Golden Army is the most acknowledgment he deserves. But Myers is also symbolic of a larger problem, one that falls at Del Toro's feet more than the studio's. Del Toro's two introductory franchise movies, Hellboy and Pacific Rim, both spend so much time explaining and laying the groundwork of their premises that they can feel like fun teaser trailers for sequels that are gonna really blow your mind (Blade II is the ideal for Hollywood blockbuster Del Toro, someone else covered all the mythos and he can just focus on adding cool shit to it). Now, this is still a movie where a gruff demon fights Rasputin and a Nazi blade-man, so there's a pretty high floor to how not-cool this movie could be, but it's still like so many origin stories, something to be gotten over with so you can get to the fireworks factory. But for how much it's outclassed by its sequel, Hellboy is at least made complete by Golden Army getting to the fireworks factory and staying there, while Pacific Rim now stands as a half-finished sentence.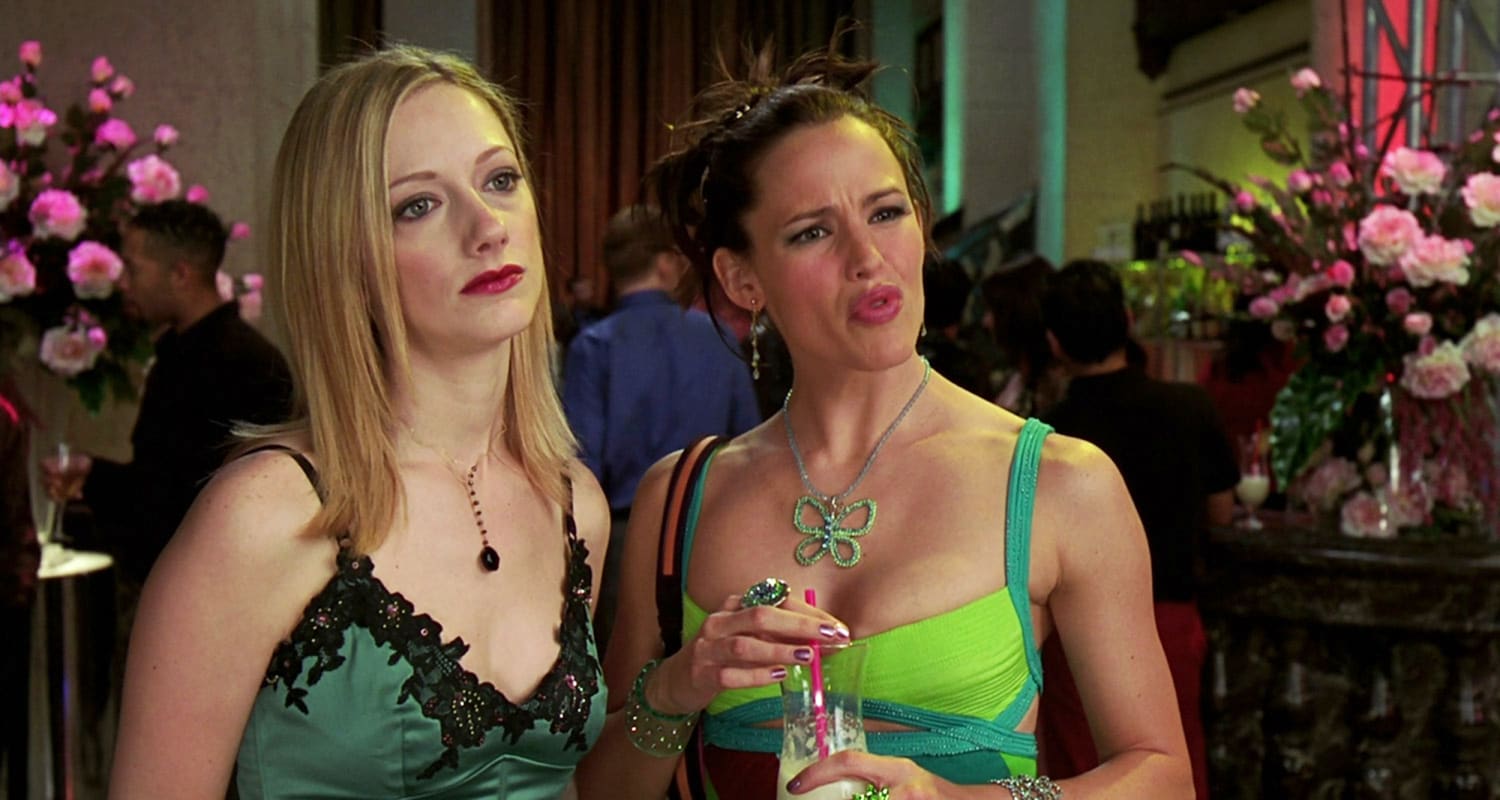 Revolution made some (some) successful movies, but I'd argue that two movies in their catalog place above all the others in terms of cultural staying power: Punch-Drunk Love (by virtue of Paul Thomas Anderson being one of the most discussed directors alive) and 13 Going on 30 ($96.5 million, $37 million budget). It's not just that it was successful, though its healthy box office-to-budget ratio does put it in a higher tier for a studio that so often couldn't tell its shit from its oatmeal. It's that it's maybe the only Revolution movie that's become a generational touchstone, a classic on the back of how many sleepovers it played at. I'm sure there are plenty of girls who grew up with Maid in Manhattan and still love it, but that's not the Revolution rom-com that can get invoked in an Ariana Grande video (next to more obvious 2000s teen classics like Mean Girls and Legally Blonde) with the expectation that her audience gets the reference.
It's easy to see why 13 Going on 30 struck a cord with teenage girls of the time, it takes the seemingly trivial problems of its audience very seriously. The first 10 minutes, before the body swap happens, maybe aren't Welcome to the Dollhouse but they sell the minor anxieties of early teenagerdom (a bad yearbook photo, a hopeless crush, sharing your favorite music with others and them not liking it, stuffing your bra) with surprisingly little sugarcoating, just the occasional "it's the 80s!" joke to separate it from anyone's miserable young-adult life. This grounding in something closer to reality than the average studio comedy does a lot to boost the subsequent escapism of Jennifer Garner reveling in the pleasures of being an adult with a lot of money and a closet full of shoes, what came before actually felt like it needed to be escaped from. But within the escape lies even more pain, the pain of realizing how much the nightmares of adolescence have fundamentally altered who you are as an adult. This is a sad but not sappy movie, there's no big tragedy but a lot of little missed opportunities and wrong turns that eat away at Garner like they eat away at most of us. When it needs to, it stings. And when it needs to be funny, it has Andy Serkis do the Thriller dance. Great decisions being made on both ends.
13 Going on 30 was announced with Renee Zellweger in mind to play the lead, and god bless Miss Zellweger, but this movie with her is fucking awful. Zellweger is such a big actress on any project that giving her the opportunity to play a 13-year-old is like handing a child a loaded gun, an excuse for cloying Jack-esque mugging. Jennifer Garner meanwhile inhabits this character so naturally, from her giddy body language to her limited vocabulary, that eventually I just forget I'm watching a grown woman impersonating a child and just see the child. It's as effervescent as you want a good movie-star performance to be and with the added difficulty of being that way in service of a premise that has every opportunity to be too creepy to stand; there's a reason Tom Hanks became a megastar after Big and just on the back of this performance, I think Garner should have too. Instead, she topped out at the B-list because she did a ton of forgettable crap after this. I doubt anyone at the time would've guessed that her screen partner, Mark "The Buffalo" Ruffalo, would maybe become a bigger star than her in the 17 years that followed. His performance here doesn't tone down the Method-y evasiveness of so many of his early performances despite this being popcorn fluff, put a mustache on this guy and I'd believe that he's telling Meg Ryan that women have no sense of cock giving blowjobs in-between scenes with Garner. They're an inspired screen couple for this exact reason, a woman who hasn't yet learned not to put everything on the surface and a man who bottled himself up so long ago it's just second-nature to him now. Their scenes together are where the movie soars, becoming a dialogue between innocence and experience as much as a rom-com. For this reason, it's a bit of a bummer that the third act becomes bogged down in magazine conspiracies (mostly driven by Judy Greer in her first rom-com also-ran part), it's an arbitrary conflict in a movie that was doing just fine with the inherent conflict of age.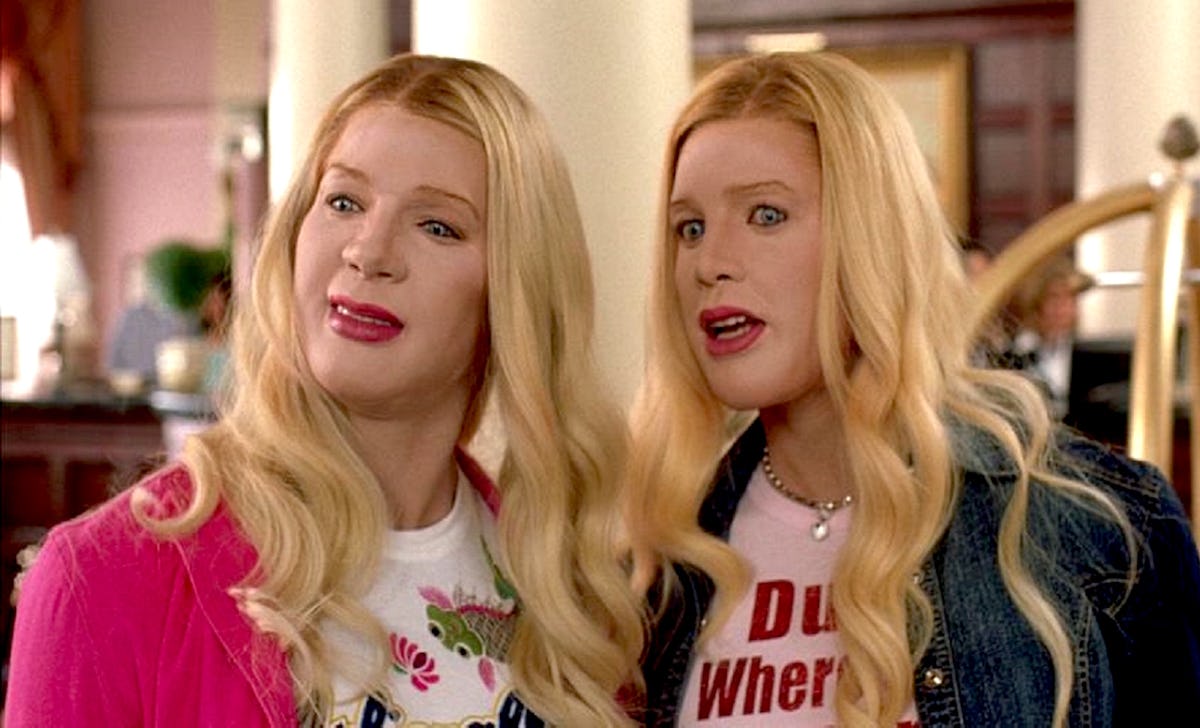 If I were to select one movie to sum up Revolution Studios, or at least the public perception of Revolution, it might very well be White Chicks ($113.1 million, $37 million budget). Revolution is seen now as a one-stop-shop for the most shameless kind of Hollywood stupidity, and few movies wear their stupidity with less shame than this. It's just what it says on the tin, a collection of "Black men do it like this, white girls do it like this" jokes with insane, uncanny-valley whiteface makeup. If that doesn't appeal to you, like it didn't to the vast majority of the 2004 critical community, there's nothing here for you (other than Terry Crews excitedly singing along to "A Thousand Miles", which should appeal to everyone). Certainly not the plot, which is as besides-the-point as it could possibly be. But if you're not opposed to laughing at prosthetic faces making expressions no human face should ever make (I will have nightmares about white Marlon Wayans with a mouth full of food), and if you can try to deal with the batshit logic that everybody is completely fooled by this ruse, there are some solid laughs to be had. Even at their best, the Wayans brothers' movies are pretty hit-or-miss, and this has both big laughs and whole scenes that just lie down and die (much of the climax is a complete snooze). But sometimes a scene that's otherwise just desperate may toss a brilliantly loopy joke at you out of nowhere, like Marlon advertising Kool-Aid as being full of "Vitamin C and riboflavin". And every scene with Terry Crews at least has his fearless, hilarious performance going for it, like Garner in 13 Going on 30 it's a true star-is-born performance.
As with so many 2000s comedies, including a few covered here previously, one has to contend with some unfortunate material before you get to the laughs. There's some sharp racial humor here, like the white chicks' friends (led by Busy Philipps) just needing a light push to start loudly singing the n-word while listening to rap, but there's also the egregious runner of the Wayans humiliating their rival at the FBI by throwing every conceivable Latino stereotype at him. And if the Wayans have a good handle on telling jokes about Black masculinity, they're less assured when dealing with Black women. The character of Marlon Wayans's wife is that she's over-the-top paranoid that he's cheating on her, the character of Shawn Wayans's love interest is that she smiles a lot. And then there's the expected wealth of gay and trans panic gags, which just suck and aren't funny (though I did enjoy the end reversal of Crews only being outraged that Marlon was pretending to be white). But also, and this is probably as personal as I'll get in this series, large portions of this movie worked very well on my trans-girl brain, all of them the scenes where the Wayans struggle to keep up feminine decorum while still supporting and empowering their female friends. This is a weirdly lovely, understanding movie about female friendship separate from it being a comedy, and it's more successful on that level for me than as a joke machine.
We've covered three movies with actual legacies in a row this year, time to get back to Revolution's bread and butter of instantly forgotten bombs. Up to this point, the most reliable performers for Revolution had been their rom-coms, but nothing good can stay for this accursed studio. The hot streak ended with Little Black Book ($22 million, $35 million budget), and so did the major studios' attempts to make Brittany Murphy a movie star. Little Black Book was the third of three consecutive attempts at Brittany Murphy star vehicles; Just Married made just over $100 million, Uptown Girls made less than half that, and Little Black Book made exactly half what Uptown Girls made. Between this and her tragic death in 2009, Murphy's only wide-release credits in a sea of nonexistent indies are supporting parts in Sin City and Happy Feet.
Murphy is not good in Little Black Book, but I don't think any actress could come out of this movie's frothing mania unscathed. It's difficult to sell Little Black Book as the act of madness that it is because anyone who hasn't seen it could make the argument that it's just one of many rom-coms where characters behave in crazy ways that get treated as normal. I won't tell you that Brittany Murphy tracking down her boyfriend (Ron Livingston)'s exes via his Palm Handheld is that much weirder than Meg Ryan stalking Tom Hanks in Sleepless in Seattle. But Nora Ephron compensates for that by making the tone light and bubbly, while this doubles down by making every scene as manic and unhinged as possible. A representative scene sees Academy Award-winner Holly Hunter snatching the Palm from Murphy's hands (knowing that it belongs to Livingston) and shoving it down her pants to use a vibrator, in public. Elsewhere, you have a giant flatulent dog who bosses Murphy around (a pale imitation of White Chicks's quite funny fart gags), a scene where Murphy has to be so willfully ignorant that she doesn't realize the "podiatrist" ex of Livingston she's seeing is actually a gynecologist, and multiple scenes where Murphy responds to stress by maniacally singing and dancing to Carly Simon (if you think there's no way you could possibly dance to "Let the River Run", you'd be right but Murphy and Hunter sure give it the old college try). Murphy cannot sell any of this as rational human behavior, she flails around and plays every scene as wide-eyed as possible, and the forced whimsy only makes her seem crueler when she torments the only character I have any sympathy for in the movie, Julianne Nicholson as Livingston's closest ex. But it's not like she's alone in being unable to translate this nonsense to recognizable emotion, Holly Hunter is one of the greatest actors alive and she is awful in this, she cannot make sense of this character's motivations and so she plays her like a pod person.
Between the overcooked schtick of the rom-com scenes, there's many scenes with Murphy and Hunter at work behind the scenes of a Jerry Springer parody hosted by Kathy Bates and produced by a badly toupeed Stephen Tobolowsky. For awhile it's just another element of stupidity here, the funniest story the movie can come up for it is grandmas who moonlight as strippers. But then it takes over the movie in one of the most baffling endings I've ever witnessed. It turns out Hunter, Bates, Tobolowsky, and seemingly every crew member on the show except one have been running a The Game-esque double-cross on Murphy, where she and her snooping ends up the subject of a live episode of the show without her or any of her targets' knowledge. I could not even begin to trace the logic of this ending, I'd need a diagram like the ones they used to explain the ending of the 2001 Planet of the Apes. When did this ruse start relative to the Livingston situation? How did Hunter convince any of the show staff this that was anything but a recipe for immediate and vicious lawsuits? And most pressing, is Murphy sharing humiliating revelations about Bates and Tobolowsky on-air part of Hunter's multi-layered plan? That last thing would not make any sense at all, Hunter could not possibly know exactly what Murphy would say to Livingston that would or would not reflect badly on the people Hunter is trying to humiliate. But the way Hunter seems to conduct the show like Ed Harris in The Truman Show suggests that everything that happens was part of her playing 6D chess to destroy daytime TV as we know it. All this wouldn't make sense even in the heightened satirical universe of something like Network, but coming at the end of an unusually stupid rom-com it's like staring into the eyes of madness itself.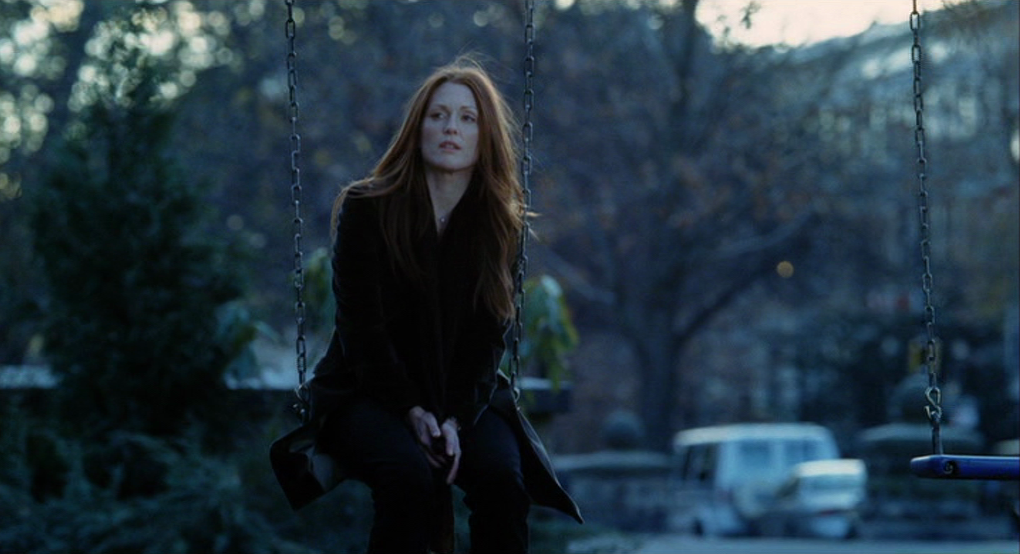 2004 is devoid of the core three actors who committed to three-picture deals at Revolution at its start. Adam Sandler and Bruce Willis will return in coming years, and Julia Roberts is already gone despite Mona Lisa Smile only being the second of her three pictures. But this year sees the Revolution debut of an actor who got to four pictures with them without a deal: Julianne Moore. Moore was hot off her 2003 dual Oscar nominations and apparently decided to give being the lead of junky studio potboilers a shot. The rom-com Laws of Attraction this same year was a flop (its failure led to a statement from New Line's distribution president that could be Revolution's motto: "It was a one-quadrant film and our quadrant didn't come") but The Forgotten ($117.6 million, $42 million budget) was a solid hit, though its title is all too apt for how it's been remembered in the years since its release. Moore's subsequent three Revolution movies skipped the "solid hit" step and were forgotten within the hour of their release.
The Forgotten is a good reminder that, for how often people complain about movies having too much set-up before the meat of the story begins, set-up can be an important tool for a narrative. For this movie, much of the dramatic weight should be in the set-up, in the establishing of Julianne Moore's character living her life after her son's death. That way, you feel the disruption of her grieving along with her when the plot kicks in and suddenly there's no evidence of her son ever existing. Instead of doing this, the movie makes the interesting decision to basically open mid-forgetting and blow through what would be the first half of many movies with this plot in 20 minutes, at which point she's already convinced fellow parent of a forgotten child Dominic West to remember his daughter. Hell, the much-maligned "it was aliens" reveal, which I assumed would be a dopey third-act twist like it is in so many post-Sixth Sense thrillers, happens within a half-hour; sure, they don't say it out loud at that point, but if you can find another explanation for Moore seeing a spinning, distinctly UFO-like shape manifesting in a cloud formation, then maybe you're a better movie watcher than I am. A good paranoia thriller, which The Forgotten is clearly trying to be, does not give the game away this quickly. With most of the mystery out of the way, the movie mostly offers a series of indifferent car and foot chases, where Moore and West outrun the dumbest NSA agents ever, as compensation. Occasionally it'll cut to Alfre Woodard as a police investigator who smells something fishy, but she only livens up the movie for a few scenes before she's yeeted into the sky. A lot of good actors get yeeted into the sky in this, and if this movie has any legacy it's that image, which is maybe scary when it happens under nightfall the first time but is very silly-looking when it happens several times in a row in broad daylight. But at least looking silly takes courage, being as boring as most of this movie is takes nothing at all.
It does not seem like Moore got the memo that The Forgotten is studio schedule-filler. She can phone in a movie that seems beneath her just like any other actor, but whenever the movie gives her any opportunity to (there's only so much strong emoting you can do when your only direction is to run away from the bad guys really fast), she treats this trashy assignment like another Todd Haynes movie. She's the only reason the abbreviated first act has any power, she doesn't just play the standard "people think I'm crazy" routine but sells that the pain is coming more from a freshly-healed wound being ripped back open. Then the wound is healed and she doesn't get much to do other than gawk at the sky that keeps claiming great character actors.
Two of the postmortems of Revolution's 2003 describe what was to be Joe Roth's second directorial effort for Revolution; Willie, a modestly-budgeted sports drama starring Ice Cube as a junior-high custodian given the chance to coach the school's basketball team. It was to be shot in spring 2004 for an end-of-year release. But then Roth received Chris Columbus's script for Christmas with the Kranks ($96.6 million, $60 million budget), based on a non-lawyer John Grisham novel, and decided on a whim to direct Kranks in that timeframe instead. Willie died an unreported-on death in the week of development between Roth first reading the Kranks script and him starting pre-production on it (don't feel too bad for Ice Cube, things work out for him next year).
Like Roth's previous film America's Sweethearts, Christmas with the Kranks takes place in a universe occupied by demons who only resemble human beings in flesh (Little Black Book opened by quoting The Tempest's "Hell is empty and the devils are all here," but that fits much better in front of this movie). It is a movie about a mundane decision (Tim Allen and Jamie Lee Curtis skipping Christmas to save money for a cruise) treated by everybody, including the people making the decision, as an act of blasphemy. To make it make any kind of sense, it demands to be read allegorically, but what is it an allegory for? The obvious answer is suburban conformity, since it's a movie about a town banding together against a family daring to do things differently, but making the person going against the grain as much a deranged asshole as the conformists shaming him certainly complicates that read. And any possible satirical read has to go up against the movie's happy ending being the Kranks giving into what their frightening neighbors are demanding and having Christmas after all. If one can take a sole message away from Kranks, it's that Christmas is the most magical time of year and also a capitalistic nightmare that turns us all into budding fascists. This makes it one of the most honest Christmas movies ever made.
Tim Allen (who we will encounter again in a future article) made a career of being a beleaguered fool in family comedies, thrown into crazy situations and coming out with the knowledge that family always comes first. He of course started that career after getting out of the drug-dealing business by ratting on all of his alleged friends, and now that that career has mostly dried up he's pivoted fully to being a dimwit Republican crank (but not a Krank) complaining about cancel culture. Within that career, there are not many parts that involve Allen playing close to as awful as he is in real life, not even his sole dramatic turn in Redbelt (of course, David Mamet at that point probably had a pretty high opinion of dimwit Republican cranks). If he plays a jerk, it's the light-comedy jerk who just needs to set his work aside for a little bit. But Allen's character in Kranks is the exception. Luther Krank is a cut-and-dry asshole, so toxically self-obsessed and uncaring even to his wife that a pat lesson about the importance of family won't do the trick with him. Sure, he should be able to take a simple vacation without his neighbors wanting him dead, but his smug arrogance in communicating this decision makes it hard to believe that he shouldn't get Wicker Man'd by his town. Luther Krank, perhaps ironically given Allen's own political leanings, is one of those people who puts the Bible in the fiction section of the Barnes & Noble and thinks they're reinventing the wheel doing so. Does this make him worse than the people crushing all dissent against the most commodified, commercial-pablum version of Christianity? No, but it makes him suck ass and at that point I'm not willing to take his side. And he's ultimately just as willing to throw a few bodies on the altar of capitalism as his neighbors. His "generous" act at the end of the movie to show that he's become a better person is to guilt-trip M. Emmet Walsh and his terminally ill wife into going on the cruise instead of the Kranks, even after the wife protests that her doctor would almost certainly not approve. In this movie's sick universe, this is such a good deed that it merits a compliment from Austin Pendleton as the real Santa Claus.
The Conclusion
Credit where it's due, Roth and Co. genuinely didn't fuck it up this year. Setting aside The Forgotten, you've got five movies that are at a minimum very interesting, and even The Forgotten, as the worst of the bunch, doesn't come close to the dregs of previous years. 2003 had higher highs but such debilitating lows that I'd be happy to take this year over it. Next year seems to promise a return to pain, but I'll see when I get there.
The Ranking (so far):
Punch-Drunk Love
Peter Pan
Black Hawk Down
The Missing
13 Going on 30
The One
Hellboy
Stealing Harvard
Anger Management
Mona Lisa Smile
Daddy Day Care
Christmas with the Kranks
The New Guy
Maid in Manhattan
The Animal
White Chicks
Hollywood Homicide
Little Black Book
America's Sweethearts
The Forgotten
The Master of Disguise
Darkness Falls
Tears of the Sun
xXx
Radio
Gigli
Tomcats
Up Next: I measure all 525,600 minutes of Revolution's 2005, maybe not in love though.