Audio commentaries are like the answer to the test posed by Gene Siskel:  a movie is good if you'd rather watch it than have lunch with the actors.  (Or, more broadly, the filmmakers.)  A good commentary effectively says, hey, why not do both?  Listening to people sit around, talk, gossip, tell stories is its own kind of entertainment and humanity.  There are a very few commentaries (The West Wing and Zodiac are examples) that go past that, and they improve the work itself because they deepen its themes.  Steven Soderbergh has always been known for giving great commentary, but the twin tracks on Ocean's Eleven (one with Matt Damon, Andy Garcia, and Brad Pitt; the other with Soderbergh and writer Ted Griffin) are in that rare space.  Both tracks, like the film itself, are detailed and unexpectedly moving works about solving problems, the pleasures of working with a crew of professionals, the sense of an inheritance between generations, and the beauty of New Vegas.
As a longtime fan of the 1960 original, what surprised me most about the remake is how tight it was–although really, that shouldn't have been a surprise once I knew Soderbergh was directing.  The original is something special, a perfect slice of a particular time and place, the Rat Pack (Frank Sinatra, Dean Martin, Peter Lawford, Sammy Davis Jr., Joey Bishop, and their hangers-on) in their element, Vegas at the height of the Eisenhower era.  (For those of us who are also fans of American Tabloid, Lawford probably met Barb Cathcart and tried to pimp her out to Sinatra on this shoot.  Glad she ditched him.)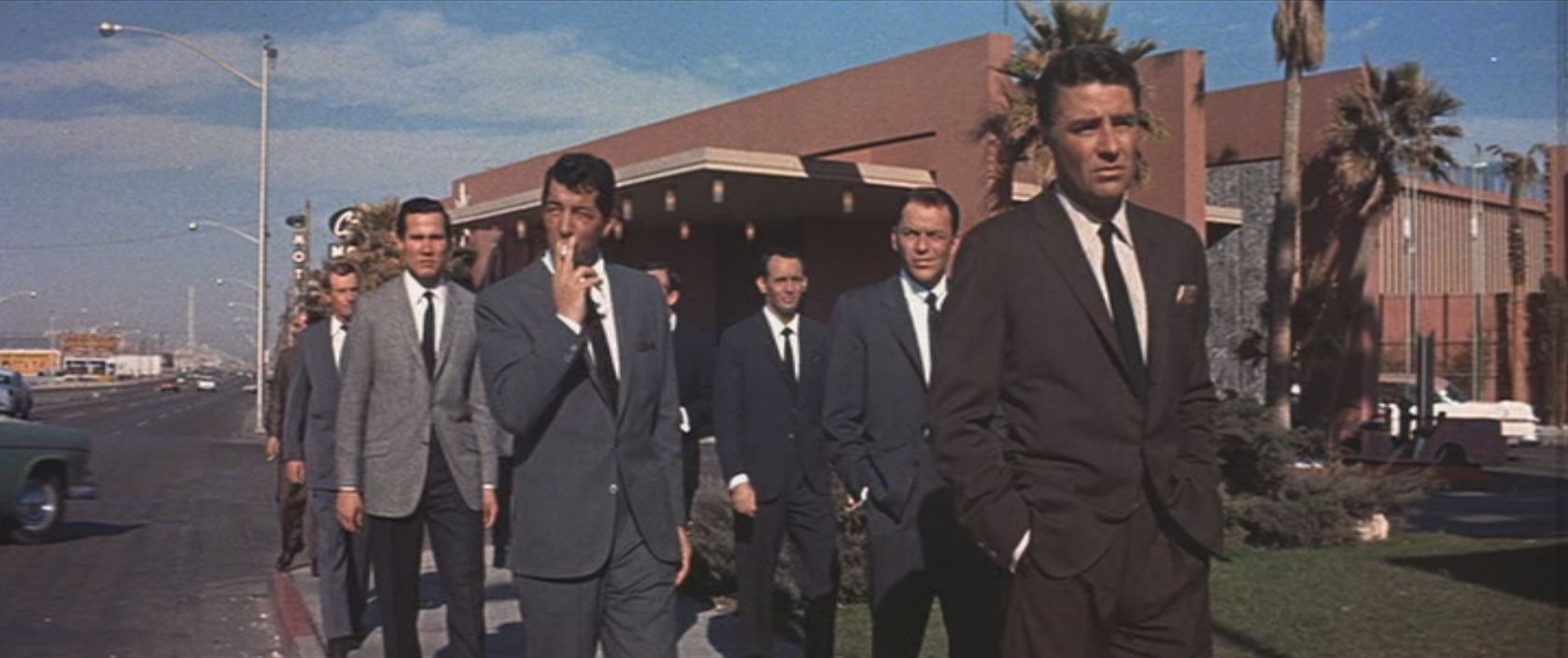 It's definitely ring-a-ding and the final shot, the beautiful losers walking down the Strip, can only be called Vegas Sublime.  It's not by any definition a well-made movie, though; it's a buncha charisma bombs goofing off on a studio paycheck and its real remake is Ocean's Twelve.  Soderbergh gonna Soderbergh:  he and Griffith made a much tighter heist film, especially in the flawless first act, placing details of plot (Casey Affleck's remote control) and style (Debussy's Clair de Lune on the soundtrack) that pay off at the end.  I'm quite happy that he's returning to this genre with Logan Lucky.  
SPOILERS FOR BOTH OCEAN'S ELEVENs BUT I DOUBT ANYONE CARES
Making a movie follows the classic heist plot: assemble the team, leader lays out the plan, team carries it out, obstacles arise and team improvises around them. (Sometimes Griffin's dialogue just makes this obvious:  "Call is at 5.30, makeup and costume.")  The making of Soderbergh's Ocean's Eleven actually follows the heist plot better than the film itself does; one of the weaknesses of here is that the plan comes off too perfectly. (This is a big difference with the original: here, the team gets away with the money and nobody dies. In Soderbergh's movie, anything that looks like a major problem has been staged.) The fun of a heist movie comes with the challenges and how the crew improvises around them, and there's a lot of that in the making of the movie.
As a director, Soderbergh is both analytical and improvisational, taking on each scene as a problem to be solved with his collaborators.  He says he hates to storyboard:  "that's fine when you're doing sex, lies [and videotape].  It's a little more precarious and nerve-wracking when you're doing it on a movie like this."  That's where the crew (including the actors) come in, and Soderbergh gives them lots of room to solve the problems with him.  Both commentaries relate how he most often gave direction to the entire cast, not just one person.  In the laying-out-of-the-plan scene, Soderbergh needed George Clooney at the front to explain but told everyone else to simply choose their own places in the room, and he would figure out how to shoot it then.  The actors are doing exactly what their characters are doing.  
The contemporary opposite of Soderbergh, just as good but with different methods, would be David Fincher.  For this scene, I have no doubt Fincher would have used a computer to previsualize the room and mark a place for everyone to go before he even let anyone on set.   Soderbergh is just as precise but prefers to find solutions while shooting.  On both commentaries, there's a discussion of a single barely-even-a-scene, just a moment of transition as Affleck and Scott Caan have to smuggle a safe containing Yen (Shaobo Qin) past security.  It took Soderbergh between 40 and 75 minutes to figure out how to shoot it, and he came up with a slow dolly-in on the safe as an Affleck and Caan's bluff went on around it.  Soderbergh's analytic style leads him to find ways of shooting that aren't naturalistic but scientific; a great Soderbergh scene doesn't call attention to itself, it feels like the only way we could see this. 
Pitt refers to Clooney as a "natural leader" and he comes off as one in Ocean's Eleven; he's given better performances but none more comfortable than Danny Ocean, wearing the character like one of his tailored suits.  As for Pitt, although Griffin says he didn't want any references in this film to the Rat Pack, Pitt does have a real Lawford vibe–not the most charming but the most competent, the executive officer to Clooney's general.  (He conveys the same feeling on the actors' commentary, doing the most talking and providing the most detail.)  Soderbergh is the leader of his crew, and if he doesn't have Clooney's charm (who does), he earns his leadership position by being accessible and honest, taking lots of suggestions from his crew and incorporating them.  Lots of details and dialogue came from the actors:  Affleck's "I don't have time for you. . .circus animals"; Garcia's sense of his Terry Benedict as a "mako shark," always on the move; pretty much Bernie Mac's entire performance.  A great crew has talent, and a great leader lets that talent do its best work, and Ocean and Soderbergh both know that.
The poker game early in the film is such a delight in the film and on the commentary.  The first half of the scene (Pitt's Rusty teaching actors how to play poker) was almost entirely improvised; the second half (Ocean shows up and he and Rusty grift the actors) was almost entirely scripted.  In that first half, Soderbergh smartly picks up a lot of little details from Pitt and the actors playing themselves (Holly Marie Combs, Barry Watson, Shane West, Joshua Jackson, and Topher Grace, who just about steals the movie.  Pitt sez "this scene was all Topher") that he can cut together later.  On the Damon/Pitt/Garcia commentary, all they can talk about during this scene is their experience as actors having to learn a particular skill (Damon mentions learning poker for Rounders) and utterly failing.  (When Jackson starts dealing to the right, Pitt just groans.)  It's a scene that takes place on several levels, most of them meta and all of them funny; the kind of moment that's unique to the profession of acting, and we get to hear about it.
In Ocean's Eleven, everyone has a job, everyone has a skill for that job.  One facet of the joy of being part of a crew is that you get to do that job.  Griffin carefully scripted this so that all of the players have something to do, even keeping a log of how long any character was out of the action.  (This was a point where Ocean's Twelve stumbled, sidelining some characters in jail, a duffle bag, or both for too long.)  Soderbergh matches that with some beautiful, complex, but never attention-getting "oners," single tracking shots that take in most of the cast doing different things–to my mind, these display a lot more talent than the tracking shots from GoodFellas or Touch of Evil because those shots just stay with two characters moving through different spaces.  Watching interesting people doin' interesting stuff makes for a pleasure all its own, even if the plot has no surprises; Soderbergh tells us "what came out of the previews was that people were more interested in the characters than the plot."  
Interesting characters are fun to spend time with, and Soderbergh and Griffin bumped up the hangout moments in editing and writing.  Of course, a commentary track is nothing but hangout, so we get to share in that great pleasure of any community:  gossip, not in the sense of rumors about what X really did to Y when they were both in Z, but just the rich details of working lives.  The film and the commentary both have that, whether it's some Howard Hawks–level banter ("Jimmy Turentine."  "Dead."  "No shit.  On the job?" "Skin cancer." "Go to his funeral?" "Dated his wife for a while") or actors laughing over the silly details of their profession (watching himself and Clooney react oh-so-seriously to an entirely blank screen, Pitt sez "grown men, nothing better to do.")  These are the kind of moments that aren't really about what's being said, it's about who's listening:  everyone speaks with the confidence that the crew gets what they're saying, and they do.  Griffin says of the caper films of the 1960s that inspired him–The Dirty Dozen, The Magnificent Seven, The Professionals–that they featured "guys who have a shorthand."  He wrote that into Ocean's Eleven ("not to mention the biggest Ella Fitzgerald ever") and everyone already has it in the commentaries.
The skillz and the gossip come together in the commitment to details, no matter how small or how personal.  Doesn't matter if it's Garcia ordering cigars ("The prop master–'anything you need?'  He didn't have to ask me twice.") or Pitt practicing being a guy from a 70s cop show when he says "Peck. ATF" or Garcia having to speak French, German, Italian, and a little Japanese for a twenty-second montage or Soderbergh working out whether or not to show faces in a critical scene, it all counts, and you can't pull off a good movie or a good heist without it.  A favorite detail of mine is the Bender-like line near the end "The van was filled with flyers, sir.  For hookers!" which just has a goofy brilliance to it.  (Griffin and Soderbergh, to their credit, are aware of the plot hole here, in that the flyers were carried out of the Bellagio vault with no explanation of how they got there in the first place.)  To convey the kind of movie he wanted, Soderbergh says "the word I kept using with everyone was 'elegant'" and detail work makes that.
Ocean's Eleven is utterly and unapologetically beautiful, giving us the pleasures of the surfaces of New Vegas without the slightest tint of irony or criticism.  This isn't the wasteland that Scorsese showed at the end of Casino, and as Pitt notes, it's not the seedy Purgatory that's used to demonstrate the Horrors of Gambling.  Soderbergh shoots in lush, burnished colors, making everything rich and glowing.  Having seen the last of Old Vegas and the birth of New Vegas, I am completely on board with this.  It's one of the ways Ocean's Eleven pays tribute to the original without ever explicitly invoking it; this movie is in love with its Vegas too.  There is so much beauty and strangeness there, and the Bellagio definitely has both; Soderbergh often catches the stained-glass ceiling in the lobby and Griffin makes Julia Roberts' character the curator of its art gallery.  (It's deliberately misportrayed in the movie, but that gallery is small, tasteful, and well-executed.  Why yes, I do have a souvenir Bellagio Fine Art Gallery coffee mug thanks for asking.)  Ocean's Eleven enjoys luxury, and lets us enjoy it as much as anyone who came up to Vegas for the weekend.
Another necessary joy of working in a crew is that you get recognized for your talents.  As in a Michael Mann film, it's only the professionals who can see the worth of other professionals; game recognize game.  Where Mann uses that to emphasize the loneliness of his professionals, Ocean's Eleven, especially its commentaries, portray the satisfaction, even the sense of identity.  You have to be a professional to fully understand and therefore fully praise another one; it's not something outsiders will get.  That may be especially true of filmmaking, where so much of the work is necessary to make it not seem like work.  You can see that in the film, in the way everyone does their task without flash or additional energy–for all the great comedy of Affleck and Caan, these two utility players just show up in scene after scene and do the job.  There's also a nice touch with Lyman Zerge, the arms dealer Carl Reiner's Saul impersonates:  after his pit boss reads off his qualifications, Garcia sez "never heard of him" and the reply is "that's why I don't doubt it"–a real pro doesn't advertise himself.  Another aspect of this professionalism:  people on a crew don't just inspire each other to do better, they make it necessary.  Damon got so good in his pickpocketing that Soderbergh had to screw with the frame rate to make it at all visible.  
Among each other, professionals can talk about what they do.  This crew is particularly generous to each other on the commentaries:  Griffin gets a lot of appreciation for his dialogue, with Pitt noting the 1940s aspect to it in the Clooney/Roberts scenes;  I suspect the appreciation from the actors comes from the fact that they have been given a lot of crap dialogue in their time.  Also, pretty much everyone is blown away by Bernie Mac's comedy and improv skillz, and that makes the fact that he's gone (he died not long after Ocean's Thirteen was released) even sadder.      
Working in the film industry gives you knowledge of the greats who work behind the scenes; it's one more way that legacies get handed down.   One who gets repeatedly mentioned is costume designer "Jeffrey Kurland, who also did Brockovich and most of Woody Allen."  (He also appears as a tailor, costuming Saul as Zerge; Soderbergh casts a lot of behind-the-camera people in front of it, and we haven't even gotten to the best one.)  At this point in his career, Soderbergh was working with his own crew and had settled into a strong filmmaking rhythm, pulling off five jobs (I mean movies) in three years, and the cast recognizes how unusual and effective that is.  (Griffin teases him about this:  "not everybody makes two movies a year, Captain Remake.")
A good crew is generational, mixing together young and old, and it carries a legacy and a history with it.  Ocean's Eleven does exactly that with its Eleven, ranging from new boy Damon's Linus (who gets in on a recommendation from his father) to the unknowns, Shaobo Qin's Yen and Eddie Jemison's Livingston ("He held his own," Pitt says; those of us who remember his compellingly emotional Nameless Numberhead Man weren't surprised), to the starring professionals Clooney and Pitt, to the old pros, Elliott Gould's Ruben and Reiner's Saul–Griffin says "Carl and I had been looking for something to do ever since The Dick van Dyke Show," a legacy from a generation ago.  Crews are how people learn a trade, especially ones that are so dependent on craft like filmmaking or theft.  (OK, there's also the problem of theft being illegal.)  One of the subplots of Ocean's Eleven is the crew training Linus in the arts of crime, and it generates some great comedy; for his part, Damon plays Linus as new to the game but not naïve, something that would sadly get caricatured in the next two Ocean's–actually, pretty much everything in Twelve and Thirteen turns into caricature.  On the commentary, Damon still sounds young, but more confident:  he's like Linus at the end of the movie, successfully done with his apprenticeship.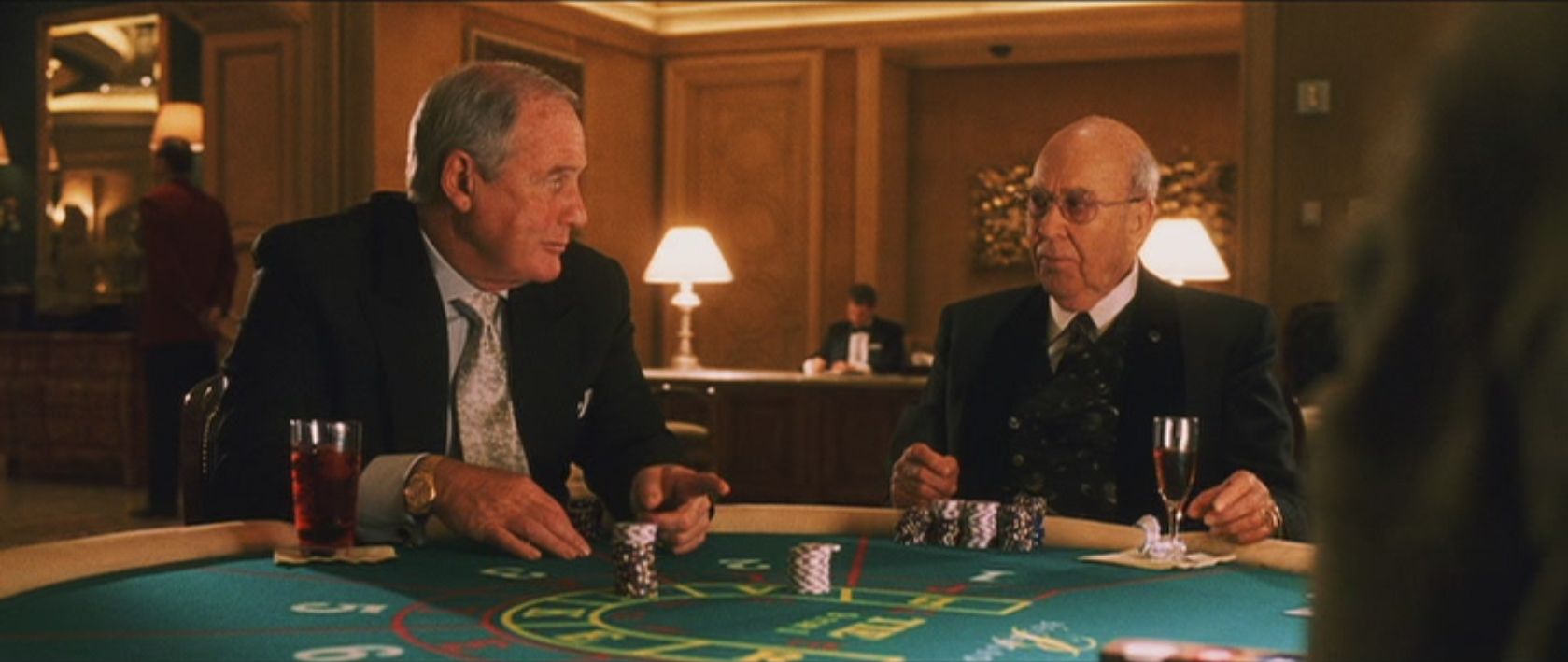 The great Old Pro behind the scenes is producer Jerry Weintraub, an old-school showbiz figure who gives the impression of having engaged in "legal activities, etc." for his whole career.  He has a brief cameo as a high roller talking to Saul and it's a great touch in all the commentaries that everyone imitates him–Griffin is convinced Damon is doing a Weintraub imitation when he sez "that's a horrible, horrible thing to say."  Weintraub was a music and movie producer who started his own agency in 1960; in Pitt's description, "Jerry's kinda the Pope of Vegas, been there since the days of Elvis and Frank" and adds, simply, "we literally couldn't have made the film without Jerry."  Weintraub was able to get Soderbergh access to parts of the casinos that no else could, allowing for things like staged gunfire in front of Caesar's Palace and scenes that take place on the floor and in the back rooms of the Bellagio.  He brought his own stories into production (Griffin would try to write stories for him and Weintraub would keep editing them in performance) and there's also something of Weintraub's own hipster drawl and personality (always calling Griffin into conference with "yo, Shakespeare") in the movie, especially in the character of Ruben.  That Weintraub died a few years ago makes the legacy even more touching, and no less funny.
It all comes together in the final moment in Vegas, Ocean's Ten (no Ocean) in front of the Bellagio fountain as the Clair de Lune plays.  (For the beginning of this scene, Weintraub was on the phone to the Bellagio to get the fountain to go off at the right moment.)  By now, I'd been thoroughly entertained by Ocean's Eleven but I wasn't expecting to be moved the way this shot does–and it's even more moving once you hear the commentary.  Early on, Damon (this is 2001, after The Talented Mr. Ripley but before the Bourne franchise, when he was more of a hot indie-film actor than a full Hollywood star) marks the difference between the kind of passing tabloid-fodder version of fame and the real thing:  
People in the casinos kinda freaking out when–I followed a few times as Andy and George and Brad and Julia were walking, I was a few steps behind and watching people taking pictures and going crazy.  And then we'd kinda get into a back room and you'd just see all the deference go to Elliott, go to Carl, people just crowding around Carl Reiner, listening to his stories.
For the final scene at the fountain, Soderbergh again told the actors to line up as they wanted to, and leave in their own time; in the first rehearsal, Carl Reiner left last and he kept that.  Soderbergh says "in the middle of it, Carl got a number of people kinda weepy" and Damon teases himself on the commentary for staying as long as possible, but it makes sense with that last moment.  He gets a nod of appreciation from Ruben, and then he's alone with Saul.  They're the same now, Linus and Damon, Saul and Reiner:  the new kid and the old pro, and all the new kid wants is that someday, he'll be Saul/Reiner, he'll be the guy that everyone ignores on the casino floor and everyone wants to hear in the back room.  And then Linus/Damon leaves, and Saul/Reiner has a last moment and a smile:  a man from history but not out of history, the old pro who did his job with a good crew on a beautiful night in New Vegas.  And from somewhere Jerry Weintraub smiles down on him.