This Week You Feel the Residual Effects Of:
Barbie (of course)
Oppenheimer (natch)
the combination of the two
the loss of a legend
a bomb about a bomb
Xerox!
Thanks to scb0212, Simon del Monteand Casper for contributing this week! Send articles throughout the next week to ploughmanplods [at] gmail, post articles from the past week below for discussion, and Have a Happy Friday!
---
At The Washington Post, Rob Tannenbaum eulogizes Sinead O'Connor:
O'Connor's stands could feel heroic to those of us who didn't have her tenacity, and she stood up for vulnerable people as well as herself. She boycotted the Grammy Awards in 1991, partly because the awards in rap categories were not broadcast. She advocated for Muslims and LGBTQ+ people and donated clothes and makeup to a trans youth charity, so young trans women could "enjoy being female." But the music business, and most of the media world, is run by middle-aged blokes, so O'Connor fought a lot of battles she was going to lose, which didn't stop her from continuing to fight. That friction, in addition to the abuse she said she'd suffered as a child at the hands of her mother, seemed to wear her down over the years. She wasn't less fierce, but she was less visible and productive. 
Fwiw, Morrissey is having none of it:
She had done nothing wrong. She had proud vulnerability … and there is a certain music industry hatred for singers who don't 'fit in' (this I know only too well), and they are never praised until death – when, finally, they can't answer back. The cruel playpen of fame gushes with praise for Sinead today … with the usual moronic labels of "icon" and "legend". You praise her now ONLY because it is too late. You hadn't the guts to support her when she was alive and she was looking for you. The press will label artists as pests because of what they withhold … and they would call Sinead sad, fat, shocking, insane … oh but not today! Music CEOs who had put on their most charming smile as they refused her for their roster are queuing-up to call her a "feminist icon", and 15 minute celebrities and goblins from hell and record labels of artificially aroused diversity are squeezing onto Twitter to twitter their jibber-jabber …
At The Ringer Ben Lindbergh wonders if studios will attempt to make Barbenheimer happen again:
Some studios didn't even wait for Barbenheimer's breakthrough to take the copycat approach. Last week, Lionsgate shifted the release of Saw X from its original October 27 release date to September 29, when Paramount Pictures' PAW Patrol: The Mighty Movie will also premiere. On Barbenheimer Eve, Lionsgate tweeted, "reporting for SAW Patrol, sir," while Paramount tweeted, "Seven tickets to Saw Patrol, please," with a #SawPatrol hashtag. A horror film and an animated kids movie make even odder bedfellows than Barbie and Oppenheimer. In a world where studios have broken the seal on "Saw Patrol"—even if in jest—could they contemplate turning Napoleon and Wonka into Wonkoleon? Anyone up for a six-plus-hour Killers of the Flower Dune dramatic double feature? Is someone cooking up a campaign to pair The Color Purple with Ferrari, both slated for Christmas Day debuts?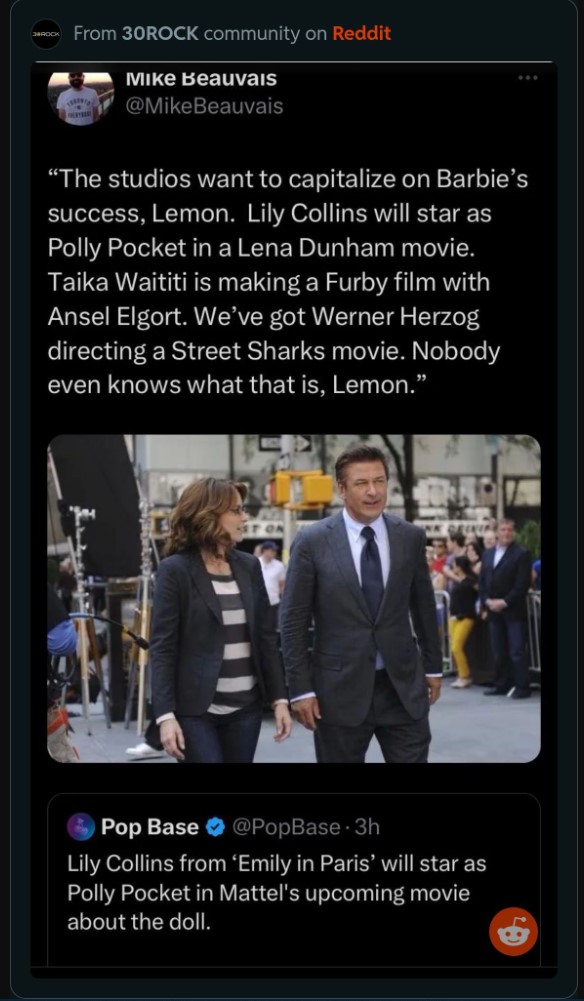 A review of Oppenheimer from Thomas Galkin of the The Bulletin of the Atomic Scientists, the organization that maintains the "Doomsday Clock":
Those with more expert knowledge of the history and science will doubtless have other things to say about factual faults in the film. Nolan has also been criticized before for his tendency to portray women unimaginatively through male eyes; "Oppenheimer" is no exception, though in this case, Oppenheimer's perspective is obviously the point. There are other critiques of the movie's accuracy and completeness that can be made […] But "Oppenheimer," after all, is Nolan's prismatic psychological study of one man's personal choices and struggles, not a history of the Bomb. And if audiences can concentrate through the movie's knotty and breakneck storytelling on its main dilemmas—whether or not building the bomb was the right thing, and how to live with the consequences—then the fragile moral journey that Nolan's version of Oppenheimer survives will be haunting and illuminating. Nolan's ability to transport audiences is undeniable. But like Oppenheimer's own ambiguous end, the destination remains uncertain.
Doing his own part for Year of the Month, The Reveal's Keith Phipps writes on 1947's The Beginning of the End , a (supposedly) true story of the creation of the atom bomb:
The Beginning or the End, the first film made about the development of the atom bomb, MGM's 'The Beginning or the End' announces it's not to be trusted with its first scene. Opening, a la Citizen Kane, with a newsreel, it depicts a gathering of "scientists and dignitaries" as they bury a time capsule at the foot of a redwood tree. The capsule contains a record of the atomic program, not to be opened until 2446, five hundred years in the future. Among its contents: a movie projector and The Beginning or the End, the film those in the audience showed up to watch. Those presiding over the entombment in this scene include General Leslie Groves and J. Robert Oppenheimer, only it's not them but, respectively, Brian Donlevy and Hume Cronyn, the actors playing them in The Beginning or the End. Somehow the movie includes footage of its own burial. Is this a post-modern head-scratcher or a lapse in logic that the film's creators hoped audiences wouldn't notice? Either way, it establishes the cavalier approach to the facts taken by an extremely serious film that's hard to take seriously. Though released with much fanfare in 1947 after a production process that included everyone from Albert Einstein to Harry Truman, the film fell quickly into obscurity. But it's fascinating as its own time capsule, capturing the American response to the atom bomb in the first years after Hiroshima and Nagasaki and the attempting to establish an official narrative about the bomb's implementation that would inform attitudes for years to come. It's a salve to the American conscience packaged as a hard-hitting docudrama.
For Newart, Louis Anslow looks back at the days when the publishing and espionage worlds cowered at the speedy information spread made possible by the photocopier:
Downsides of this supposed double edge sword – cited in Time – would be encouraging waste and slothfulness, on top of stifling creativity and punching holes in copyright laws. This last issue was of particular concern to publishers and authors, one that had been growing for more than a decade because, as Malcolm McLaren would put it in 1993, "Gutenberg made everyone a reader, Xerox made everyone a publisher…" A 1963 article – syndicated thoughout the US – painted a damning picture of the future copy machines would bring upon publishers and writers: "…the authors and book publishers of America are beginning to suspect that what is meat for the photocopying industry will turn out to be poison for writers."