Where were you, they'll ask, when the Streaming Wars wound down and Cinema Day was invented? And now you'll be able to answer: I was at The Solute, remembering the top movie moments of 2022.
As always, this isn't a runoff of the best movies of the year (any list not topped by Petite Maman isn't), but a countdown celebrating the moments that stood out and defined the year in movies. At least for this guy who probably saw more than average, but still laments some gaps (apologies to Park Chan-Wook and Noah Baumbach – I'm coming!) Every year I feel I give especially short shrift to foreign language films, most of which don't reach me until after the New Year. Please, add the missing data in the comments! What were the best movie moments of 2022 for you?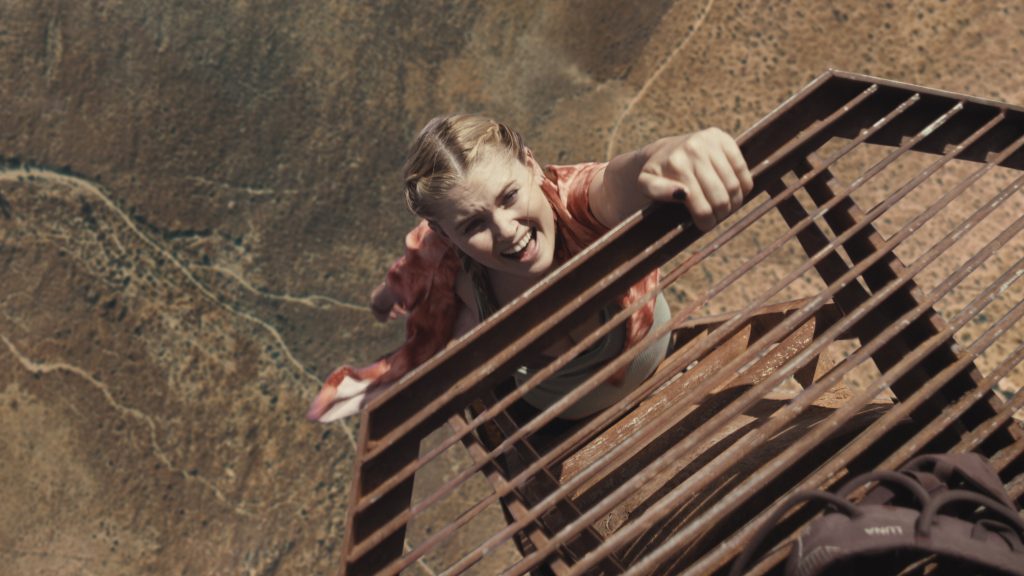 Honorable Mentions:
Top Gun: Maverick – The Part When They Fly the Planes Fast
Avatar: The Way of Water – The Part When They Learn the Way of Water
Fall – The Part When They Fall
Tom Cruise led a dedicated team of professionals on a seemingly impossible mission to get audiences back into theaters to watch a property other than a comicbook movie. And they succeeded gloriously. For months on end Maverick rewarding fans craving well-staged action in theaters. Next go-round – maybe a story worthy of this kind of attention?
Speaking of which… James Cameron's big screen spectacles feel the need to walk through familiar action beats to recoup their massive budgets, even though the biggest appeal is always the experience of the meticulous digital worlds rendered in cutting-edge 3D and high frame rate. In this sequel audiences were given time to explore the depths of the oceans of Pandora before the 'splodeys came back.
Far fewer screens showed Fall, the small-budget big screen spectacle, but those who did catch it were rewarded with a toe-curling adventure exactly as advertised on the poster. Is it more preposterous than a sixty-year-old fighter pilot or a planet of ten-foot-tall blue beings? Slightly. Is it more relentless with its danger and more clever in its twists? Hell yes.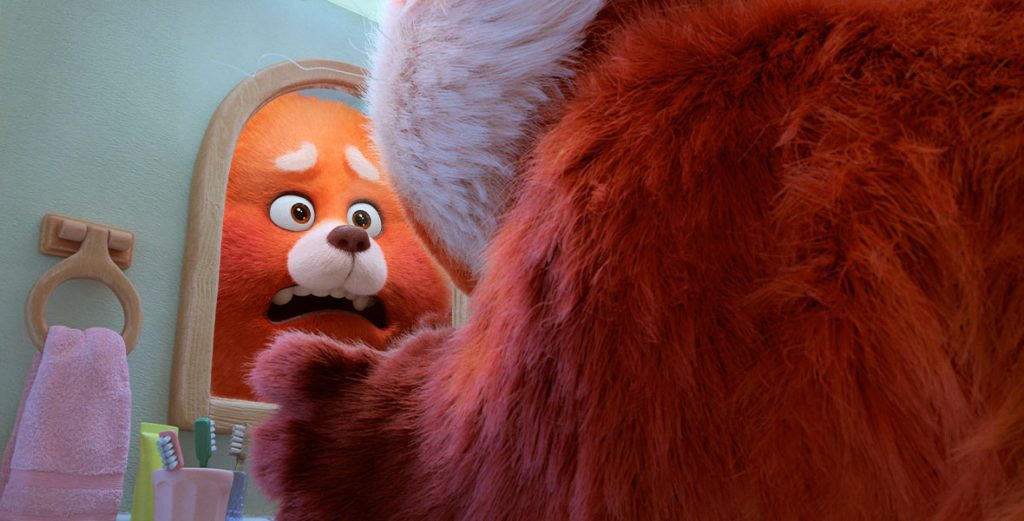 Turning Red – Boy Band Battle Royale
But not every movie had the chance to wow viewers on the big screen. Disney continued their trend of treating beautifully rendered Pixar movies like drawings for the refrigerator while reserving space in theaters for Lightyear and Strange World (Don't remember that one? Well, surprise! It's playing in a theater near you right now.) Fortunately, Domee Shi's movie has enough charm for whatever format it plays and continues the studio's superior handling of texture and tone.
RRR – Dance-off
The clip of a menagerie of animals attacking a swanky garden party may have gotten the clicks on Netflix, but we prefer to remember the CGI-free dance competition between legendary Indian actors Jr. NTR and Ram Charan, the super team-up none of the comicbook movies could match.
No Exit – Chekov's Cocaine
Another early streaming find, this one championed by the Solute starting with a mention in ZoeZ's Wednesday chronicles of worthy movies. Solid tension and plotting with a particularly memorable moment when our protagonist – a recovering addict who stumbles onto the plans of a dangerous kidnapper – needs a quick painkiller. Tense thrillers are always a good find and this one, ahem, nails it.
Catherine Called Birdy – Duel for a Daughter
A medieval coming-of-age charmer set in an era where Lena Dunham's 2022 might have been only slightly less appreciated.
The Northman – Naked Volcano Fight
I mean, I don't know what more I need to say to describe this one. Those manly dudes swung their swords at each other and also fought with weapons. Maybe if Robert Eggers had spent more time coming up with an equivalent line to "This is Sparta!" instead of making sure the hay in the wooden carts was the correct varietal this would have ranked higher. On the other hand, nobody dast speak that a movie with a trippy fantasy sequence featuring Bjork hasn't distinguished itself.
Barbarian – Cut to Florida
A mixed bag of a movie (though this one has plenty of defenders) can still make the list when it has a moment as arresting as a cut from darkest horror to brightest sunshine. A disorienting move from a movie that has cleverly keeps its hand hidden until it's forced.
The Territory – Fighting Back
One of the few breakout documentaries of the year followed the Indigenous Uru-eu-wau-wau people in the rainforests of Brazil as right-wing politics encouraged encroachment on their lands and set the complex ecosystems ablaze. Memorably, the film stops following and arms its subjects – with cameras – and lets us see the footage they collect as they go on a destructive mission of their own.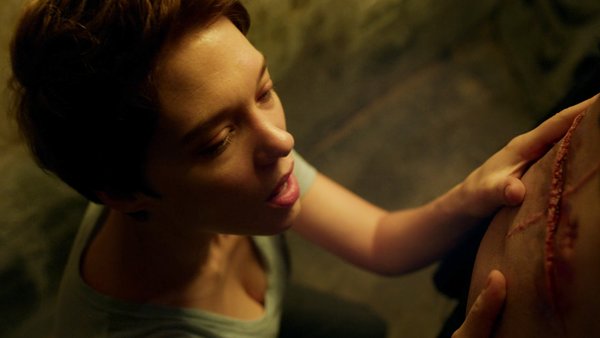 Crimes of the Future – Zipper
This rewarding return of the body horror master is unexpectedly maybe the second-most optimistic movie of the year. Yes this one, the one where Viggo Mortenson gets a body modification to allow easy access to his organs. Which naturally lends itself to pancreatic fellatio. Surgery is the new sex!
We're All Going to the World's Fair – Barn ASMR
Jane Schoenbrun's creepypasta mood piece crystallized an experience of online space and its loopy relationship with reality. But for just a taste of its merging of real and unreal space, consider a strange sequence where the closest we have to POV character takes her insomnia to a barn where she can project some YouTube ASMR. One persons' haunting gibberish is another's nightlight.
The Banshees of Inisherin – An Unwelcome Gift
Banshees has many words – dark and funny words from the fingertips of Martin McDonaugh – but its most memorable moment is an action, silent save for a distinct "thump" against wood, where we discover a threat carries weight beyond words.
Babylon – The End
Interesting to think what history will say about Damien Chazelle's wild ride, a eulogy for the first era of cinema that seems prepared to announce the end of another. You don't have to try too hard to find something to criticize in the excessive… well, everything. But some of the nastier reviews felt like rats snapping at the ship before swimming away. The final word from Chazelle is too grand and thoughtful to be dismissed easily, a sub-Oscar celebration of cinema's past that grows before your eyes into an argument for hope in its future. A fitting tribute to early Hollywood: grand and shameless.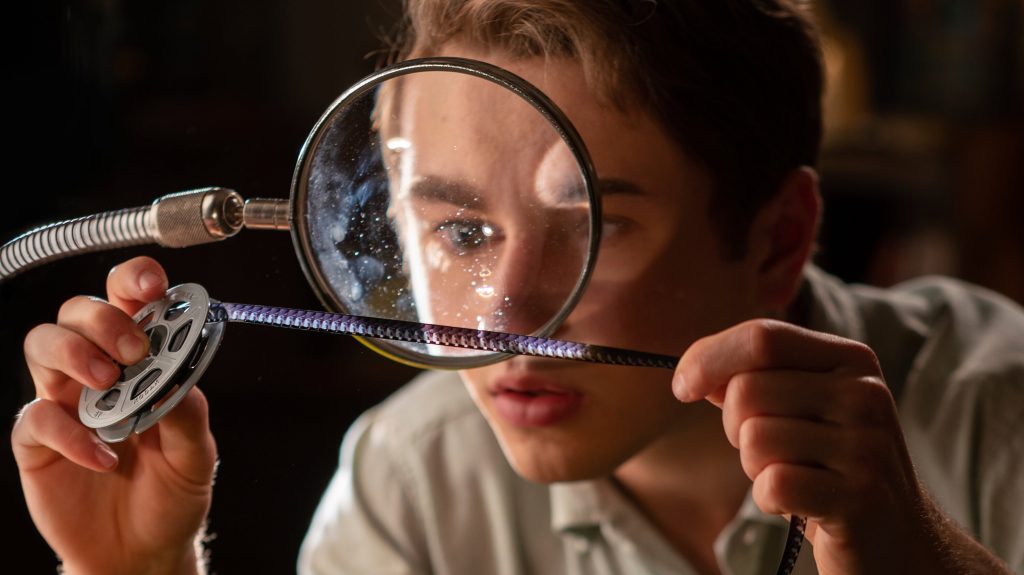 The Fabelmans – Home movies
Of course Spielberg's memoirs would take the form of a big screen family film. And of course its most powerful moment would hinge on finding a secret buried in strips of 8mm celluloid. The dialog-free scene with most of the light sourced through the film in a young man's fingers is the latest Spielberg masterclass in telling a story with editing, angle and light. And an even greater ode to the cinematic arts than the maximalist efforts of the previous entry.
Nope – Jupe's reverie
In a summer dominated by mostly forgettable dumbassery in the aforementioned Top Gun: Maverick and entirely forgettable dumbassery in the latest (and hopefully final) Jurassic World debacle, Jordan Peele countered with some quite memorable moments in his latest blockbuster, a sci-fi/horror film that delivered canny and specific images while leaving enough ragged edges around the story to tease the imagination. The greatest of these were in a b-plot memory by Steven Yuen's Jupe, a showman haunted by his own brush with the untamed.
Petite Maman – "Au Revoir"
Céline Sciamma's Portrait of a Lady on Fire entered another level of conversation in film circles when it got a surprisingly high slot in the latest BFI Sight & Sound poll despite the short time since its debut. We have a decade to debate that film's entry into the firmament, but her 2022 offering cements her status as an all-time filmmaker worthy of the discussion. Petite Maman is a slight, deceptively simple movie that never pressures the viewer to share its feelings. Dealing with the weightiest ruminations of childhood with a light touch, you won't even realize the depth of its effects until Sciamma knocks you over with a feather.
Everything Everywhere All at Once – Evelyn Gets her Powers
This year's best time at the movies attempted to transform self-loathing into power and dared to make the climax of its strange, at times sophomoric, opus the largest force of optimism since Annie declared the sun would come out tomorrow. It was the balm many sought and the movie-going audience rewarded the Daniels by coming out for the biggest indie hit in years. There's plum roles for Ke Huy Quan and Stephanie Hau (not to mention screen legends James Hong and Jamie Lee Curtis), but it's Michelle Yeoh's show from the moment she's told she's special – just not in the way she wanted to be.
TÁR – A Lesson in Bach
What good would it do to rehash the scene that launched a billion words? But the triumph of TÁR – besides making syntax pedants have to repeatedly look up the key for vowel accents – is how a scene where its title character engages in a pushy conversation about identity with a student speaks directly to a concern of 2022 without staying beholden to it. It's one piece of the symphony Todd Field dreamed up and Cate Blanchett delivers in her latest Career Performance. TÁR contains debate, drama, and mystery still to be mined. One could argue the scene in question doesn't even mean what it seems to mean for Lydia. One could argue a lot of things. And that's why it tops the list when it comes to the moments of 2022.