Movies talk to each other. What did the films of 2022 have to say? This is a look at how two movies from the past year tackle similar subjects in different ways. Be warned, SPOILERS for Everything Everywhere All At Once and Mad God follow.
Are we living in the best of all possible worlds? One way to watch a movie is to visit its world and live there for a while, in a place created by other people. Maybe they want the best for us, maybe not. But immersive as those worlds can be, they don't encompass everything – right?
Everything, Everywhere All At Once is a movie of multiple worlds, a multiverse, but is tied to one person. Middle-aged Evelyn is dissatisfied with her husband, her daughter, her life as a pretty crappy laundromat owner who's getting audited. She can't see that husband Waymond is ready to leave her and daughter Joy is nearly gone, depressed and hurt by her mom not acknowledging her sexuality. Evelyn's life is so crappy that its very crappiness is uniquely powerful — she learns she can jump across universes and harness the powers of other Evelyns who made different, non-laundry-based choices and became kung fu masters, famous chefs, hot-dog-fingered lesbians, etc. She's told this and pulled into battle by alternate universe versions of her family trying to stop a multiverse-destroying villain who turns out to be another version of Joy.
This dynamic runs through the whole movie — an expansion into Everything and any possibility, a contraction into the immediate family Evelyn already knows (and the IRS agent ready to clean out the books of the laundromat). At one level it is a necessary device, something that lets writer-directors Daniels Kwan and Scheinert go on jaunts to those other worlds while remaining tethered to variations of a few people instead of creating a constant barrage of randos across the universe. And it lets them not only go to weird places but do wild things while they're there (like bludgeon people to death with dildos) at an unrelenting pace that fully reflects the confusion and exhilaration Evelyn feels in discovering all these possibilities. And yet there are still odd circumscriptions. A comedic battle of butt-plugged bruisers places pixels over their junk; I've seen convincing arguments (on this very site) that the Daniels are playing off the comedy value of ludicrous censorship and that is very likely true, but the gag goes against the anything-goes spirit that the movie claims to embody. When you promise me the multiverse I need to see its dicks, otherwise it feels like I'm being sheltered. But by who? And why?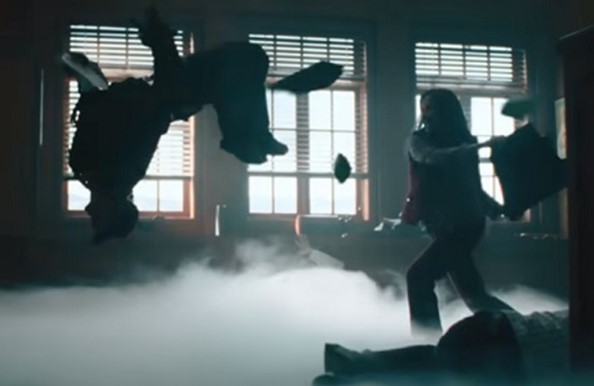 The Daniels do better with one of the biggest laughs I had at the movies last year – Racacoonie! What appears to be Evelyn's malapropism of a famous Pixar flick becomes its own entity, a chef with a raccoon instead of a rat under his hat. It literalizes the idea of universes springing out of the strangest places and is hilariously realized with a wacky puppet, and it's built into one of the many (many) emotional climaxes of the film to boot. Ratatouille is a Pixar movie that focuses on a young person's (well, rat's) growth and independence, but its reference here made me think of the larger Pixar dynamic where the focus is on adults or adult substitutes trying to protect or help a young person.
In EEAAO the alternate Joy who is trying to destroy everything is really trying to destroy herself after experiencing the entirety of the universe and determining nothing matters, and it is ultimately Evelyn who must convince her not to give into despair and to convince her own Joy that she is loved and needs to stay with her family. Stephanie Hsu as both Joys is not at the level of Michelle Yeoh as Evelyn(s) and Ke Huy Quan as Waymond(s), but she is also less of a character than they are. Much like the depressed adolescent Riley in Inside Out, who must be rescued by the anthropomorphic and adult-presenting emotions in her head, Joy is an object to be saved and the movie is about her saving. Save the universe, save the girl. This is the real reassurance that the movie's whirling conceals before hammering over and over again, that the world is not a cold dead place, that love matters and someone out there loves you. There's always Mom. Hi Mom!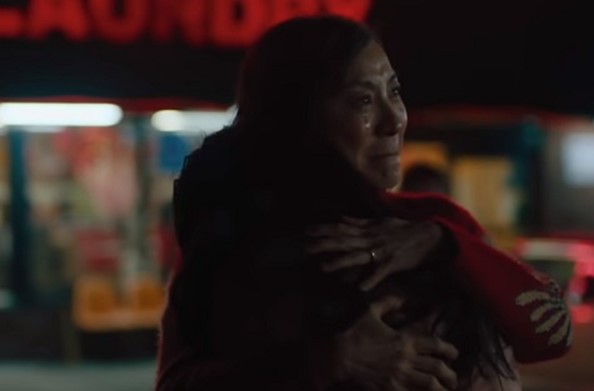 Mad God begins with a father, no, The Father. A Babel-esque tower reaches to the heavens before it is blasted by lightning and drowned in darkness, and what are very close to the only words in this 90-minute nightmare appear, some lines from Leviticus. "You will eat the flesh of your sons and the flesh of your daughters," the viewer reads. "I will turn your cities into ruins and lay waste your sanctuaries, and I will take no delight in the pleasing aroma of your offerings. I myself will lay waste the land, so that your enemies who live there will be appalled." This world is worse than cold and dead, it is alive with atrocity and ugliness.
Writer/director/animator Phil Tippett is a man who has defined many worlds with his work — the ED-209 in Robocop, the AT-AT Walkers in The Empire Strikes Back, the bugs of Starship Troopers, the dinosaurs of Jurassic Park. That last movie launched him into computer-generated effects and put a stop to a stop-motion film he had started developing in the early 90s, but he picked it up again in the 2010s and slowly pieced together an 80-minute film with other members of his studio (and while much of the film is stop-motion there are CG and live-action parts as well). There isn't a plot so much as events with more or less obvious connections and the movie roughly breaks down into thirds — the basic thread is how Alex Cox, living by himself in a blasted bunker, uses a diving bell to send machine-like men in gas masks down through a pit into unfathomable depths and other worlds in order to blow these places up with suitcase bombs. The machine-men assassins are not very successful.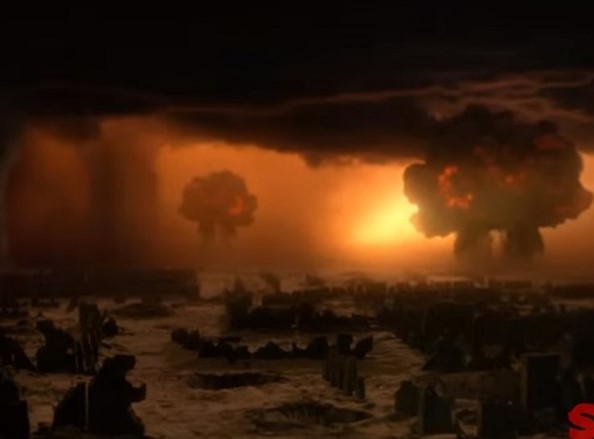 The best part of the movie is its first third, which is where much of the marketing imagery comes from, and which follows one of those assassins as he skulks through a dark hellscape ruled over by what appears to be a screaming baby. Little monsters are consumed by larger ones, creatures are stepped on and sliced open, as our assassin watches but does not intervene. A row of giants are perpetually electrocuted and shit themselves, the shit is pressed like Play-Doh into dusty mute turd men who wander around performing menial tasks for bulbous slave-drivers and are constantly getting run over or set on fire or shoved off cliffs or squashed by whatever it is they're pushing. Surprisingly quickly, this becomes darkly hilarious. "It's a living," other animated creatures in bad jobs famously joked about their predicaments, in this animation life is shit re-animated to shovel more shit and any similarity to a viewer's day job is surely intentional.
Nuking this awful place could only be a good thing and yet the assassin fails (like hundreds before him, if the scattered stacks of unexploded suitcases are any indication) and is captured and now it is his turn to be brutalized. His clothes are peeled off by malicious medicos in a shadow-puppet-esque ceremony that is creepier for what it conceals than what it reveals, succeeding in this way where EEAAO does not, and then his guts are gruesomely hauled out of his body while he is still conscious and a tube is drilled into his head so his dreams can be piped to a janky TV monitor. What this shows is the second part of the movie, another assassin's mission on a war-blasted planet that looks more like our own but has been nuked into desolation. It's ominous and not without its own eerie imagery (and like the entire movie it's full of tactile grotesquerie and the uncanny slumpy solid movements that make stop-action animation so compelling) but not quite at the level of the first sequence. Which truly ends as doctors pull a screaming larva out of the assassin and hand it over to a creepy floating being in a plague doctor mask.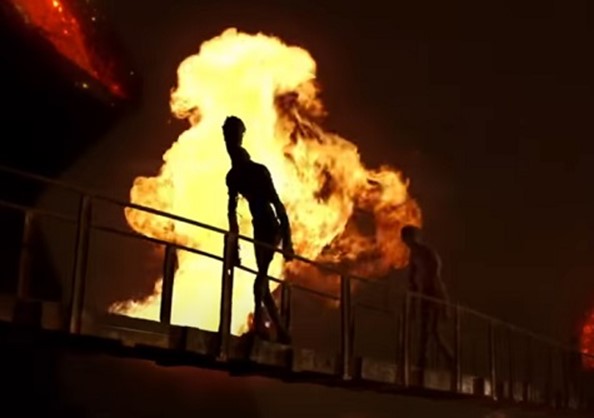 At this juncture the viewer might be wondering what the hell the point of all this is.The Daniels share a name but are a collaborating pair and their conception of the world in EEAAO is full of people interacting with each other (or their alternate selves) in a convoluted plot that introduces new goals and rules every ten minutes yet still builds to a final act of meaningful connection. Tippett is one man, and he presents one vision that meaningfully connects nothing. "In my anger I will be hostile to you," Leviticus reads, and Tippett is not-so-secretly the real mad god of the movie, creating and destroying because he wants to. Because he can. Mad God's credits include a lengthy Special Thanks section for the hundreds of people who donated on Kickstarter to fund the film, so maybe there are a few meaningful connections to be found in life. But there's another Very Special Thanks section with only a few people listed, and one of them is the animator Don Hertzfeldt, whose Rejected is one of the great movies of the 21st Century and feels like a guidepost for Mad God — both movies make use of blaring classical music, both depict worlds of often-hilarious over-the-top violence and both follow that absurdism into nihilism and horror and the universe collapsing in on itself along with its creator.
In the final third of the movie, the plague doctor takes the larva child to an old, scrunchy and near-Hensonic alchemist, who is almost cuddly except for all the times he tortures his pets, shocking and beating some more shit-shoveling animals and releasing a horrible predator into a terrarium with some peaceful, colorful sea monkey-esque creatures. The larger sea monkey, clearly a parent, bugs the fuck on out of there as the predator devours its child. No one is coming to save the children or love them here, and the alchemist squashes the larva child to death before grinding it to dust.
And then he and the plague doctor throw the dust into a void, and this is where the movie hits its most disturbing notes. Because the result is … beautiful? Colors clash and swirl in Brakhagian smears and motes, and a new world is created from the suffering and destruction of a child. Tippett does not justify this in any sense, he's just pulling life from horror like any god would, and time speeds up and slows down and speeds up again as the universe coalesces and becomes yet another world of nightmares, nuclear bombs and death. The alchemist's lair decays, he and everything in it turn to dust, and the last object in motion is of course a bird popping out of a clock to pronounce its verdict: CUCKOO! But the last scene of the movie is Cox staring down his pit, waiting for a sign. He doesn't even know. It's one more perversity in a film that doesn't even give the relief of true doom. I've watched Mad God twice now and will watch it again because of how bracing it is, how it's ready to show me a crappy world and let me wallow in it for 90 minutes. But bracing isn't the same thing as satisfying.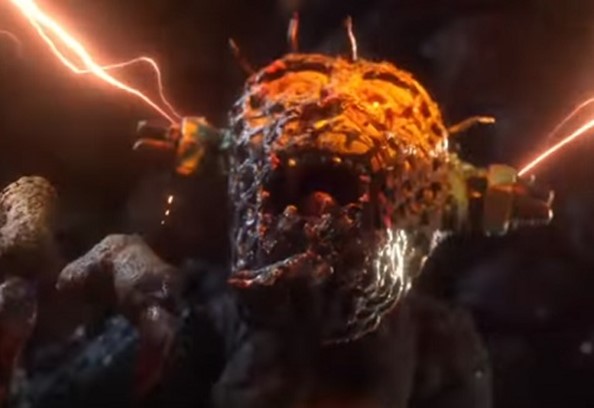 At the end of EEAAO, Evelyn gets a brief flash of how all of her other selves are doing across the multiverse (better than they were before, thanks to her actions) before narrowing her focus back to her own life. To have total perspective is to be a god and surely even a god would be driven mad — best to go back to doing your taxes. The mix of the mundane and the extraordinary is EEAAO's big draw, and its most famous scenes distill that to a simple and magical image, Evelyn and Joy as rocks finally able to "talk" with each other. And then, Evelyn moving despite her rockitude, reaching out to her daughter and jumping off a cliff after her. It's a parent destroying the laws of the universe to be with a child; it (purposefully?) looks like a Successories poster. Extraordinary and mundane, and the mundanity is what the movie falls back on, again and again. It says ordinary lives are important, but they're also extraordinary, but there's also nothing wrong with doing laundry and taxes with your loved ones.
Insisting this over and over doesn't reconcile the contradiction — it in fact calls attention to its Panglossian ignorance that the best of all possible worlds still sucks. I believe in love and hope, but I don't believe this movie. Mad God's parade of horror is just as exaggerated as EEAAO's cabaret of wackiness but it feels true to its dark vision. It doesn't pretend that everything is going to be all right, the message of the parent telling you that the nightmare is over and it's time to go back to sleep and embrace pleasant dreams. But while I believe in what Mad God is saying about the world, I want to believe in something more too. There has to be something else, right?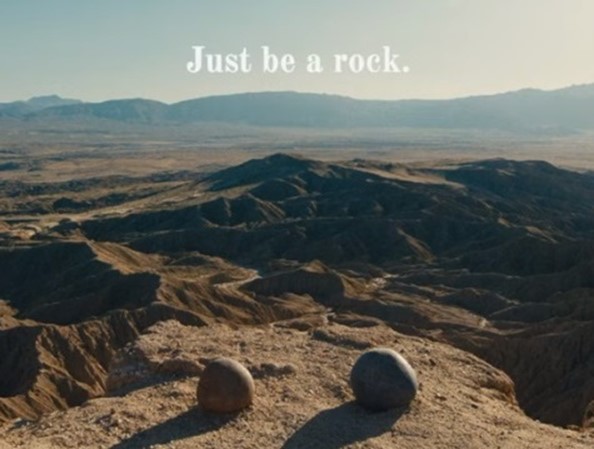 "Like a rock, like a planet, like a fucking atom bomb," Greg Graffin sings at the start of Bad Religion's "Generator," a song that is more than 30 years old but in those few lines effectively sums up EEAAO and Mad God. "I'll remain unperturbed by the joy and the madness that I encounter everywhere I turn." Well, that sounds more like EEAAO, actually. But the song has a push and pull, an uncertainty in its existence that it doesn't resolve with pat cheer. It was written by guitarist Brett Gurewitz and is largely a series of images adding up to a world that won't stop spinning, generating confusion and destruction. The atheist-yet-raised-Jewish Gurewitz makes sure to note "the blood on my door," and here's that original mad god again. The song builds to breakdowns instead of choruses, bassist Jay Bentley grinding away as Gurewitz, fellow guitarist Greg Hetson and drummer Bobby Schayer rejoin the song to start again and again, before Gurewitz takes a solo that is utterly lost, sputtering and diffusing into the void as the song pushes to a final destruction. Graffin leads a wordless howl, harmonies rising and falling with the rest of the band.
And then comes my favorite moment in music. Like a whip, Hetson's guitar lashes out; like a lifeline, it lands on people going under. And Hetson goes in after the rest of the band, slashing with purpose and furor, giving it everything he has. Why is this different than Evelyn the rock sliding down a cliff in EEAAO? I think because EEAAO plays at existentialism but has to guarantee a happy ending at best, and at worst define the happiness of a multiverse into a tiny world that's pretty much the same as it ever was, Mad God's hell with some googly eyes on top. In "Generator" there is no hope of being pulled out, the music fades as the generator grinds on but Hetson and the band are still bashing away, not mindlessly like one of the infernal machines in Mad God but with a noise only they can create. A song has something more than one movie's wishful thinking and another movie's endless misery. There are other worlds than these.