"I can't really tell objectively how sorry I should feel for myself. I don't give the same credibility to my being that other people give to theirs. Everything feels acted."
"Everything is acted."
"Whatever. With me there's some glue missing, something fundamental to everyone else that I don't have. My life never seems real to me." 
― Philip Roth, Sabbath's Theater
Except for that succession of the criminally insane who have enjoyed power since 1945, including the power to do something about it, most of the rest of us poor sheep have always been stuck with simple, standard fear.  I think we have all tried to deal with this slow escalation of our helplessness and terror in the few ways open to us, from not thinking about it to going crazy from it.  Somewhere on this spectrum of impotence is writing fiction about it–occasionally, as here, offset to a more colorful time and place.
–Pynchon, from the Introduction to Slow Learner
Avathoir: I can't believe it. After years of work, of reading millions of words and thousands of pages, we're finally at the end of the project (We will be doing a special bonus installment on Under the Silver Lake one of these days) unless good ol Tommy P. has one last trick up his sleeve, (which we will inevitably cover) I have now read every work of fiction by Thomas Pynchon. All the novels. The short story collection. wallflower, it's been an honor to do this project, and I'm glad you talked me into doing it in those dark days of November 2016, where it felt like there really wasn't anything to look forward to in the slightest. 
It's a shame that this was the thing we had to end his oeuvre on.

I read this book in a state of almost furious disappointment. Vineland was disappointing, to be certain, but it wasn't because of what the book was as much as what I sensed it could be, and how it missed the boat. This is different though. Pynchon's last novel to date, Bleeding Edge, is straight up bad. And not bad by his standards. This would, if it were a first novel of a young author, be considered an ambitious failure at best and a derivative ripoff at worst, and it can be at worst. I don't know how he could have missed the mark so badly. I'm stunned.
wallflower, in the months leading up to this exact moment, there have been hints that you hate this book. Now, the floor is yours. Do your worst.
wallflower: I didn't like this when I read it upon its 2013 publication, and I came back to it wondering if time and going through this series would change my mind.  On the reread, I found the same flaws as before (and we'll get to them, oh yes we will) and then I got to the end of chapter nine, about a quarter of the way through.  Pynchon takes the basic detective-story plot of Lot 49 and Inherent Vice and sets it in 2001 New York, another place, like 1970 Los Angeles and environs, that he knows well and personally.  The detective here is "Certified Fraud Examiner gone rogue" Maxine Tarnow, and at this point in the story, it's around springtime and she's hanging out with her kids and her ex-husband Horst, who tells them "I took a sublet on some office space down at the World Trade Center.  Or should I say up, it's the hundred-and-something floor."  Wait, there's more:  he takes the kids, Ziggy and Otis, to lunch at the rooftop restaurant there (this may be the only scene in the entire novel where Maxine isn't present, either as an observer or a listener, so it's darned important to Pynchon that he includes this) and we get this to close out the chapter:
On days of storm, according to Horst's co-tenant Jake Pimento, it's like being in the crow's nest of a very tall ship, allowing you to look down at helicopters and private planes and neighboring high-rises.  "Seems kind of flimsy up here," to Ziggy.

"Nah," sez Jake, "built like a battleship."
Really?  "Derivative" is most definitely a problem here, but derivative of Nicholas Fucking Sparks?  Like you said, if this was the first novel by an unknown author any responsible editor would flag this "heavy-handed and painfully obvious"; with Pynchon, it goes against practically his entire career.  He's never been one for cheap effects or foreshadowing–think of all the times he didn't do this kind of thing with the atomic bomb in Gravity's Rainbow.  One of Pynchon's great talents, present from the beginning in V., was his sense of scale:  the recognition of how historical events destroy any naive sense of humanism, and at his best, he created a broader and more resilient humanism from that.  This kind of oh-so-ironic detail (and there are more later in the book) reverses that, regressing past humanism into sentimentality.
So yeah, I'm afraid a lot of this Conversation will be answering the question "What happened to you man?  Your ass used to be beautiful," as Elmore Leonard sez.  Let's start at the beginning:  Pynchon has always come up with great, resonant titles, like his names; he's found little snips of language that have a poetry and weight to them.  The only time he went for something already out there (Mason & Dixon), he used a phrase that called up so much history.  "Bleeding edge," though, is goddamn corporate-speak; Lucas from the tech startup company DeepArcher defines it as "No proven use, high-risk, something only early-adoption addicts feel comfortable with," which (to refer to a much more interesting work about this time period made in this time period) is the kind of thing Jake Morgendorffer would have said and his daughter Daria would have mocked.  
It keeps going all through the book, a relentless barrage of tech speak, brand names, and cultural references.  At first I wondered if knowing this period and recognizing almost all the words was skewing my perspective, but no; the weakness here is that Pynchon refers to all this stuff but he doesn't do anything with it.  There's none of the elaborate and emotional symbolic schemes of the mathematics in Gravity's Rainbow and Against the Day; there's none of the evocation of a particular place as in V., Vineland, or Inherent Vice.  For the most part, Pynchon uses this language without any poetry or explanation, just to show us that he knows it, and when Thomas Pynchon reminds me of Ernie Cline, something has gone seriously wrong here.
Avathoir:  I talked about this problem with Against the Day, about Pynchon becoming lost with people and instead describing things, but…this is exponentially the worst offender. If there's not dialogue about technology or pop culture, the prose is referring to it. This is such a weird feeling, like he's cataloging everything his son was into during the years this book was set and leading up to it. Something like this can work, if he wanted to do an almost Tarantino style riff, but for all the shit Quentin gets he knows how to use his influences to build something new (most of the time).
This is in my opinion the worst part of this book: everything he's done here, he's done before and better. For the first time in his bibliography, I don't care anything at all about the overarching plot. I don't give a shit about the conspiracy, I don't have a single bit of curiosity about any of the details he's smuggled in. The only part of the novel that's even remotely interesting to me is Maxine and sons, who are a dynamic that we haven't seen from him before (mostly because Pynchon writes primarily about fathers, at least for his heroes), and who I honestly wished he'd focused the book on exclusively, if only because he's never quite committed himself to a family story. But then Horst comes in, and Horst is kind of horseshit, with his obsession with arcade games and his watching the BioPix channel (how can Pynchon make this joke not funny?) and just leaves you wondering what Maxine ever saw in this loser. Not to say that everyone outside of Maxine's sons isn't absurd: there's March, who is the single bluntest and least interesting character Pynchon has written since Scarsdale Vibe, but at least with Scarsy Pynchon wanting us to hate him makes us actually like him. When March does her terrible parable that literally ends with her asking us to go to her fucking website I almost screamed out loud in anger. What the fuck HAPPENED, Tommy? 
For me, I've got two possible answers, both of them depressing. The first is that Pynchon, like with our discussion of Richard Fariña, simply couldn't describe his personal experience honestly in the way that was needed, and as a result he got sloppy. I was not a New Yorker in 9/11. I've been a New Yorker, but reading this I just felt like I was looking into some exclusive club that I'll never get to be a part of because I wasn't there, man, and isolating your audience can only go so far.
The second answer, maybe more depressing, is that Pynchon is just over the hill now. He's lost his touch, he doesn't know how to write like he used to anymore, and we should just hope that he won't try again in order to preserve his reputation. Pynchon used to be capable of writing things nobody else could. This is a bad Don deLillo pastiche. 
wallflower: Speaking of another old artist:  one pleasure of watching The Departed was seeing how Martin Scorsese was now influenced by the filmmakers he influenced–the editing, in particular, owed a lot to Paul Thomas Anderson.  (Meta!)  That wasn't "a bad pastiche," though, because Scorsese still crafted something energetic and compelling out of all those influences.  Bleeding Edge also has the circular-influence thing going on, but it never comes alive, it never feels like Pynchon.  It just reminds me of other authors who did this better.
DeLillo is at the top of the list; he did the "New York at the end of an era" thing ten years before Bleeding Edge with Cosmopolis (one of his two good post-Underworld books to date) and did it way more personally and memorably.  It's just as saturated in the language of tech and finance as Bleeding Edge, but DeLillo does something with that language, explores it, riffs on it, turns it into a theme–watch how the discussion of time sets up the last pages.  Both books describe New York with a lot of care and precision, but DeLillo's comes alive, evocative as well as descriptive.  There are no dead patches in Cosmopolis (and I'm right there with you that the scenes with Maxine, Ziggy, and Otis are the best parts of Bleeding Edge); although we stay entirely in the consciousness of two people for the duration, everything we see through their eyes holds deLillo's attention, and ours.
Moving down the ranks of I Wish I Was Reading This:  the party scenes have been done better by David Foster Wallace (Infinite Jest) and Bret Easton Ellis (Glamorama), the tech world has been explored with more care and love by Douglas Coupland (Microserfs) and Neal Stephenson (Cryptonomicon).  (Glamorama and Microserfs are two of the best, most defining, and underrated novels of the 1990s; they capture both a time and the unique consciousness of their authors.)  Joan Didion went through 9/11 in New York just as Pynchon did; the difference is that in "Fixed Opinions," she was able to communicate the transformation in a way that he couldn't.  I agree with you that this was something enormous and transformative for him (and I know New Yorkers who've praised this work for how well it describes this moment) but somehow he can't make it real the way he's done with so much else in his career.  The work it most resembles, good and bad, is Art Spiegelman's In the Shadow of No Towers, the huge-format comic he released about 9/11.  In Maus, Spiegelman took literally decades to take his own story and his father's and turn it into something universal, the best work I know about the Holocaust; here, he never was able to tell any story but his own.  (He deliberately left out many stories about other people in writing it, including one that ended up as a mean joke in the first minutes of Rescue Me.)  Writing about Sam Peckinpah's The Killer Elite, Pauline Kael said it went beyond personal filmmaking into private filmmaking, and I just may not be the right reader for In the Shadow of No Towers or Bleeding Edge.
Pynchon's view of history is so conventional here as to break with the rest of his career.  (If nothing else, Bleeding Edge made me appreciate how tricky it is to get away with what he does; he usually has what Didion calls "a sapper's nerve" in his ability to manage so many disparate elements.)  In the rest of his books, history is never where we're told it is; in V. and Gravity's Rainbow, the almost ignored extermination of the Herero community in South-West Africa ("That is only 1 percent of six million, but still pretty good") becomes the origin point of the horrors of the 20th century.  In Bleeding Edge, everything we've been told is important is in fact important:  9/11, Saudi Arabia, Bernie Madoff, Rudy Giuliani.  This hurts the novel in two ways:  this is the first book in which Pynchon was telling me stuff I already knew (and badly–you are dead on about March, who manages to beat all of Against the Day in stridency), and Pynchon really has to contort the narrative to bring in this stuff.  Maxine gets to warn some Russians about Madoff in a scene that plays only as a yuge wink to the audience; and I'm half-convinced that Horst exists here only for that bit about the World Trade Center and to bring in the story of airline stocks getting shorted two days before 9/11.  This kind of thing isn't just convention, it's bad convention, and he used to know better.
Avathoir: So I guess we've talked about the fact that it's too personal material. Does that mean now that we get into the "He's Old Now" stuff? I guess that is the case! Your point about how Pynchon has stopped diving deep is a very good point. More than any book he's written, this one feels mainstream in that regard, like he started reading twitter threads (honestly, I'm surprised there aren't more references to social media in this. Thank god he's a recluse) rather than cracking a book about game theory for fun. 
At the same time, there is clearly a version of this book I think both of us would like, and that's focused on Maxine and her boys, who are all a bit junkies toward their obsessions, but who form the single healthiest and most conventional family dynamic in possibly all of Pynchon. It makes you long for a different book, but it's not the book we have. 
wallflower: Let's get into that "mainstream" issue, because you're right, and because it points to a larger problem.  Pynchon has always been a great and perhaps defining writer of paranoid narratives, which are not the same as conspiracy narratives.  The latter has much the same structure as the mystery:  there is a story, but there's another, more real story behind it, and the protagonist takes a journey from knowing the superficial story to knowing the real one.  The paranoid narrative starts as a conspiracy narrative but then swerves away, as the protagonist and we both discover that there isn't a single conspiracy behind everything:  just because the surface of the world isn't real doesn't mean there is a real world under it.  (Structurally, this is why it's so hard to find an ending for the paranoid narrative.)  Pynchon started his career right away with the paranoid narrative of V. as Herbert Stencil kept finding clues and the story kept falling apart; Pynchon even provided a talisman to track all through the novel (Victoria's comb) that didn't solve anything.  
Bleeding Edge goes wrong because it's Pynchon's first conspiracy narrative, and again, it's a conspiracy we've all heard before:  the 9/11 attacks were planned with the complicity of the American government, and Maxine stumbles across the Thing She Shouldn't Have Seen.  Also, did you know, man, that the Internet is a form of social control and was actually developed by the Defense Department?  (Out of courtesy to Pynchon, I won't include his rant against Metal Gear Solid; compared to this and this and this, it's simply an embarrassment.)  The struggle of the American Left, which was so vibrant in Vineland and so expansive if not as engaging in Against the Day has dwindled here to the same old clichés about all the evil things America has done.  (American ideologues of Left and Right flavors agree on this:  everything that happens in the world happens because of America, it's just that one thinks it's all bad and the other thinks it's all good.  To see Pynchon take this kind of attitude just reinforces the criticism of him that he's an American White Male Writer, and can't think of anything else.)  Pynchon manages to come off here as an old man both yelling at clouds and trying to fit in with the kids.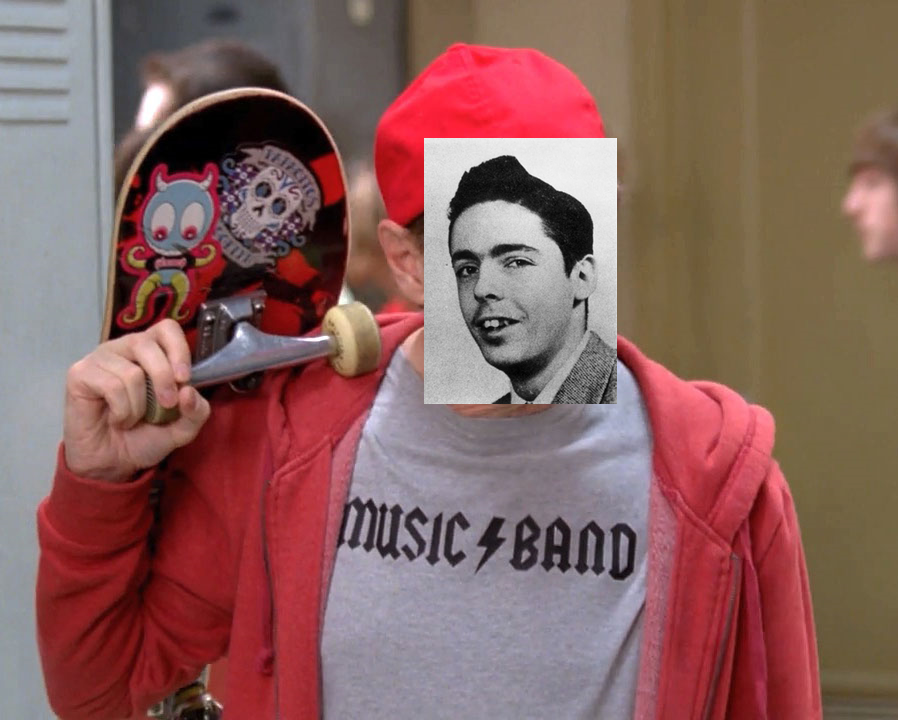 In 2013, this book felt outdated; in 2021, it comes off as particularly ugly, because when I say we've heard this kind of thing before, we've heard it from Alex Jones, we're hearing it from Sidney Powell and Marjorie Taylor Greene.  There are passages in Bleeding Edge where you could drop in the phrase "the Deep State" and they would look exactly the same, just as there are passages that could appear on the conspiracist website of your choice (pick your ideology) if they were less eloquent and concerned with spelling.  (Anyone who wants to say Pynchon is secretly Q, go right ahead–look at his initials and see which letter is missing.  BOOM, sheeple!)  Pynchon was someone who came from the Establishment and critiqued it all his life without ever once considering that the alternative might be worse.  In Gravity's Rainbow, Counterforce member Osbie Feel sez of the Establishment "That's exactly it.  They're the rational ones.  We piss on Their rational arguments"; as of right now, rationality is getting pissed on from everywhere, and a Counterforce is ascendant, with goals and success that Pynchon, for all his imagination, never saw coming.  If he wants to be relevant again, he can write about that. 
Avathoir: There's an Asimov story called "The Dead Past" which I'm not going into really but I think is relevant to this discussion. The basic plot is about a hero valiantly trying to defeat what he deems an evil establishment, only to upon doing so realizing that the so called evil establishment knew what they were doing, were trying to do the right thing, and his actions have ruined everything. It's kind of a Scary Door level twist, but the basic premise if basically the curse of this book: Pynchon wanted to be revolutionary rather than a reformer, and revolutionaries fail. Not to say reformers have a 100 percent success rate, but revolutions never match the ideal for which they strive. Pynchon used to be able to understand this, with Vineland anyway, and for a long time it seemed like he'd made peace with this. With Bleeding Edge he returns to a sort of juvenile mindset.
However, unlike you, I will mock the Metal Gear Solid rant, because I am 100 percent certain that Pynchon has not played that game, and the fact that he's insulting a game that is possibly the closest his style of storytelling and political perspective has ever gotten to the mainstream as an endorsement of the military industrial complex isn't just embarrassing, it's pathetic. This is no way to treat your acolytes. 
Jesus, this is depressing to talk about. I don't want to get into the 9/11 stuff really, except to say that complicity and neglect are not the same thing. Let's go for the retrospective, try to clear this out of our mouths. Right now, having read all of his fiction once, here is how I would rank the books, best to worst. 
Gravity's Rainbow

Mason & Dixon

Inherent Vice 

The Crying of Lot 49

Against the Day

Vineland 

V. 

Slow Learner

Bleeding Edge
Technically I'm cheating, since I could switch the top two around at any time, but one is more consistent while the other has the higher highs (not too hard to figure out which is which) If you don't have anything more you'd like to add, I'd love to hear your thoughts upon re-reading Pynchon, as well as your ranking at the moment.

wallflower: My ranking isn't all that far off from yours, with Vineland (natch) and The Crying of Lot 49 the biggest changes:
The Best:
Vineland

Mason & Dixon

Gravity's Rainbow
The Second-Best:
Inherent Vice

"The Secret Integration"
The Good:
Against the Day

V.

The Crying of Lot 49
The Meh:
Bleeding Edge

The rest of

Slow Learner
So, looking at the rankings (and no surprise that we put Mason & Dixon and Gravity's Rainbow in the top positions), what is it that makes Pynchon Great?  Great artists, in any medium, expand our world; we can see and hear and recognize things that we wouldn't without them.  To steal my own line, reality is much broader than realism, and great art demonstrates that.  What Pynchon shows us, what he got me to see, was the depth of our world, the complexity packed into its objects, colors, and actions, "the Soul in ev'ry Stone" as the next-to-last line of Gravity's Rainbow sez.  He didn't inspire me to see the world the way he does, but to see it at his level of complexity, and Bleeding Edge doesn't have that.  
He also takes such sheer pleasure in the American language, and it's, exactly, infectious; certainly he's infected my own language (and therefore thought) as much as Joan Didion or David Mamet.  "Sez," the way he uses punctuation, the metaphors that are bizarre and on-point, the references that are all over the place (the Coens are his truest inheritors here), the names, the names, the names:  this is all an act of joy, and one more way he reveals the world's complexity, taking a real language and building something equally complex on top of it, just because he can.  Like all great artists, that's something not-secretly integrated with everything else:  his plots are as complex as his sentences, his characters are as strange and singular and American as their names. 
Pynchon, like myself, can trace his family back to the British invasion of America, and his writing is a life-long reckoning with that legacy:  what did we make, what did it cost, and how do we live with it?  His commitment meant that he explored this idea far past any simplistic questions of guilt and into a realm where America, our crimes, achievements, and equations, had altered the substance of reality, which it has.  For a thing as large and amazing and terrifying as this country, Pynchon has created an oeuvre on a scale that it deserves, just like another writer in the Solute canon.  (The works of Ellroy and Pynchon answer the implicit criticism of the phrase "great white male writer," because few people have ever made us confront the legacy of white men like they have.)  Bleeding Edge comes across as weak because the scale just isn't there; to write about the Madoff scandal and Windows on the World just feels too small for Pynchon, where Inherent Vice could take a single missing person in 1970 L. A. and have the story effortlessly echo back to the lost continent of Lemuria.  
Avathoir: So here we are, lost on Lemuria. Our ship has been careened off by Pig Bodine and the Whole Sick Crew, and not a single post office box in sight to get us off. I have dropped all my Pynchon's except for Rainbow and M&D at a used bookstore: this is partially because I have run out of space and I needed to get rid of things, but also I think a good thing: Pynchon is nothing if not a cult author, a man who embodies so many ideas that shape not only how we see our world but the world itself it feels only fair to send these works back into the ether so some far-too-clever-for-their-own-good student can find them and continue the legacy. But I wouldn't hope for that with Bleeding Edge. If there is a book that could be struck from an author's bibliography, I would choose this one. It makes his work smaller, less important, even reactionary to a degree, although it's a different kind of reactionary-ness than usual. He should have stopped on Inherent Vice, because that is a story about going home: not just for Doc, but for Pynchon as well. Bleeding Edge is about how you can't go home again, but he doesn't realize this. I hope if he does decide to do a curtain call, he realizes that. There's still work that needs to be done. We still need him. We probably always will.