We're not through with the past, and the past is not through with us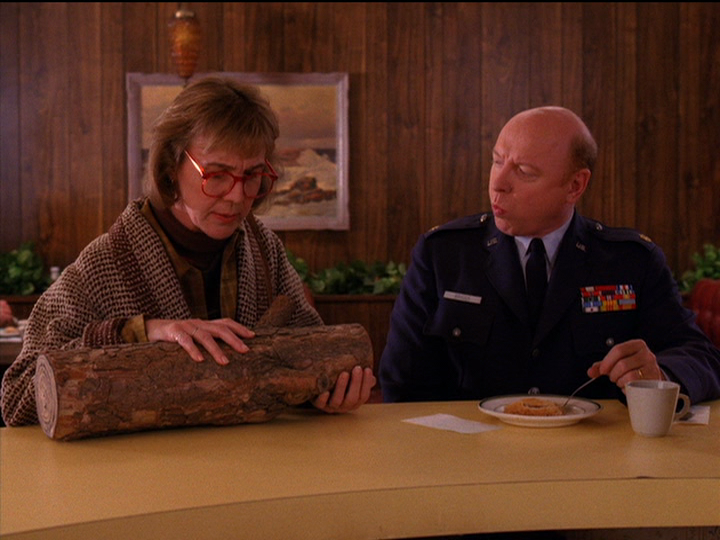 One of the reasons the back half of Season 2 grinds so many gears is that, since Leland's death, the themes have completely changed on us. The first 16 episodes, marked by Laura's killer, have the general theme of "Getting Away With It." Will Laura's killer get away with murder? Will Ben and Catherine get away with burning the mill down? Will Leo get away with burning the mill down and selling drugs? Will Dr. Jacoby get away with hiding evidence? Will Jean Renault and Blackie get away with blackmail? Will Leland get away with killing Maddy?
Leland's death changes the show. Where the front half was about the connected town and "Getting Away With It," the back half is about "The Past Catches Up To You." Leland's molestation as a child comes back to haunt him in the form of BOB raping and killing Laura. America's past comes back to haunt Ben in the form of the civil war. James is trying to run away from his past and ends up being a victim to it. Cooper is first haunted by his immediate past of going to One Eyed Jacks, then by Jean Renault, and finally by Windom Earle and Catherine. Josie is haunted by her dealings with Catherine and Thomas Eckhardt and Hank Jennings. Audrey's romance with John Justice Wheeler is based on an old friendship he had, where he carried her photo in his wallet. Little Nicky was haunted by the death of his step-parents and his mother. Even Super Nadine is trying to go back to her past and change her life for the perfect.
It's this narrow focus that made Fire Walk With Me such a potent episode following Leland's Death. Fire Walk With Me is all about Laura being haunted by her past, and trying to come to terms with the trauma that came before the show. In addition to Laura's past, it deals with Leland's past in murdering Teresa Banks, and David Bowie's cameo deals with the bad events he has witnessed.
I put this commentary here, a little after the midpoint of the back half of the season, because no other episode so embodies how the past always catches up with us. Karma permeates this episode like cherry pie and coffee permeated the first season. Everybody in town is having to live up or down to their past or trying not to recreate the conditions that caused unfortunate events to occur earlier in their life.
---
The Wreckoning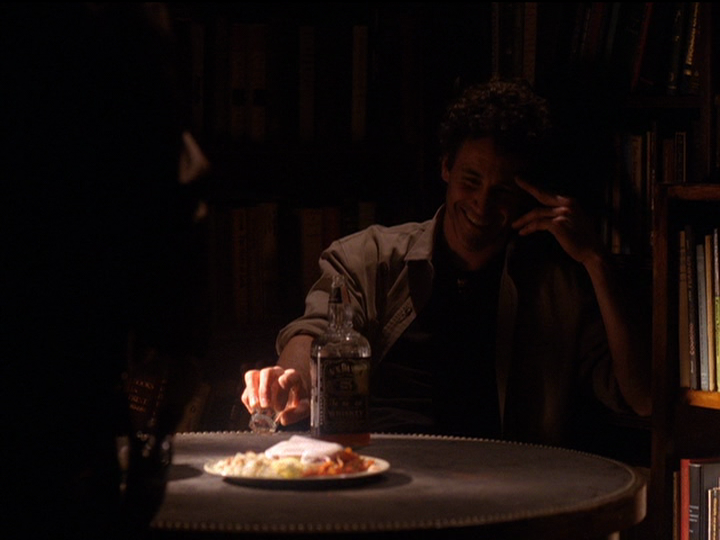 It's been 5 weeks since the last Twin Peaks episode, even if only one day has passed. A lot of time has passed since Josie was shot, and yet there's been no time at all. It's barely been 12 hours since Josie's mysterious death and subsequent transformation into a piece of furniture, but Harry is hitting rock bottom. He holed himself up in The Bookhouse where he has crawled into a bottle and died for a while. I get it. You find your girlfriend shooting her ex-husband and pimp, figure out that she has a criminal sheet a mile long with a trail of dead bodies, and then watch her die after you held a gun at her before she could shoot your best friend and fellow law enforcement officer. You're gonna need time to process and mourn. Sarah Palmer got three whole days to mourn the passing of her husband after finding out his true identity. But, Harry? People are already asking "if he's eating yet." It's not even been a day! Sheesh.
Harry's history is catching up to him. He knows he fucked up. He was having sex with a hardened criminal who was using him in the same was she was using Andrew Packard and Thomas Eckhardt. Maybe she did love him. Maybe she did love Andrew and Thomas at one point too. By the end, she manipulated all three men with her sexual wiles, and Harry loved her too much. He said that she made everything better without expounding on what was wrong before. Something dark was in Harry's past, something haunting. Something he keeps locked inside. We never find out what that was.
For the first time, we see an unhinged Harry, one full of rage and anger at the way life has treated him. It's a flip side to the calm, cool, collected Harry he presents most of the time, though he has shown his tendency to throw a punch at Albert. Here, though, he's raging at the outside world and the inside. He may seem like he's raging against the love of his life dying in front of him, and his discovery that she's not what she seems. But, he's also raging against crumbling of a way of life he once believed in.
Harry says at the beginning of the episode that the world is catching up to Twin Peaks, and at the end of his scenes, he says that he never went to China but Josie came to him. The story of Twin Peaks isn't just a story about the murder that rocked a small town. It isn't just about rape and incest and the evil that men do. Twin Peaks isn't just about how small town morality hides a festering cesspool of criminality and callous greed. Twin Peaks is also about the shrinking of the world to a global nation-state. Ben goes outside Twin Peaks to start One Eyed Jacks. Jerry goes out to other countries to find investors willing to pay to disrupt the town's industry. Josie came from China to foster that development. The Renaults came from Canada. Outside life is catching up to Twin Peaks and it isn't pretty.
It's not even been 12 hours since Josie died, and since Harry has been holed up inside his bottle, but the way Dale acts, he's been swamped in paper work for over a week. He's looking up how to file paperwork for Canada and the various governments involved in the murder and deaths of international citizens. The Canadian Renaults are dead, the Chinese Eckhardt and Josie…they all need paperwork filed. At least the autopsy has already been done on Josie, weirdly stating that she only weighed 65 lbs at death. Josie's soul was fairly hefty.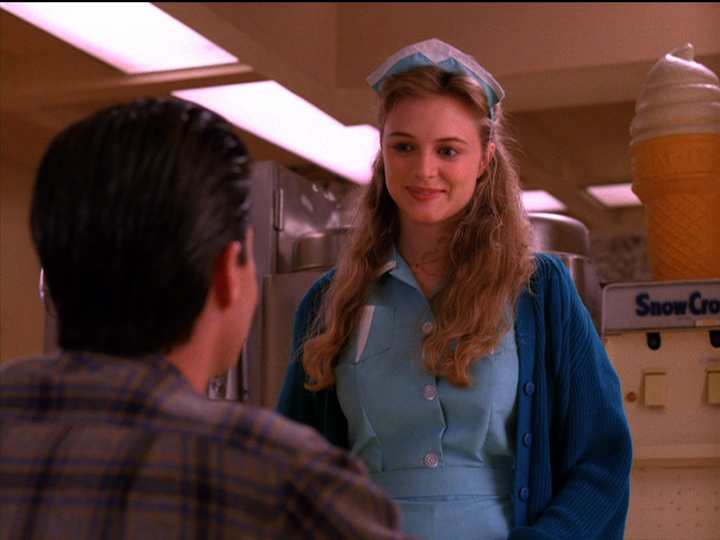 There is one thing that will bring Cooper happiness: Annie Blackburn, his love interest, has arrived in town. Heather Graham is gorgeous with a doe-eyed innocent school girl charm that might be hiding something more deceptive. She just came out of a convent that she's been at for years after a series of unfortunate events. She too carries the past around with her, but she carries it in the form of a scar on her wrist. She attempted suicide once, presumably that's why she was in a convent, but she's trying to make it on her own now. She tells Norma, "No charity." She's trying to get back on her own two feet.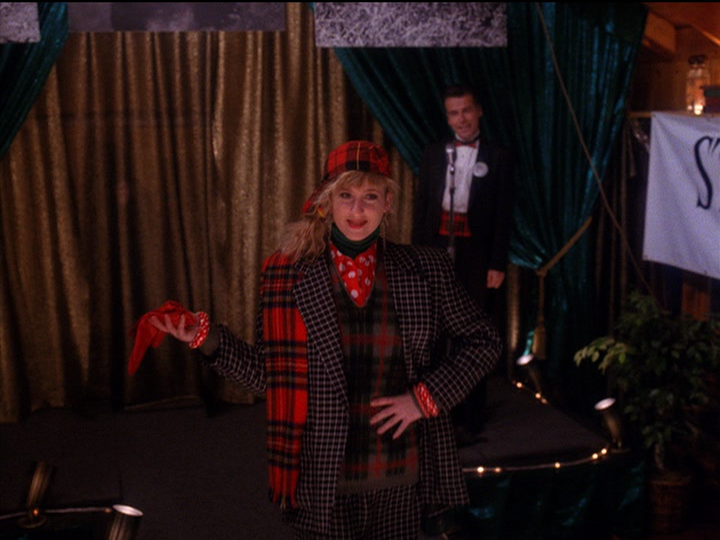 Even though Ben just thought up the pine weasel yesterday, today they're already having a charity fundraiser. Pine Weasel fashion show, which the Hornes have managed to throw together in the course of 24 hours. Listen, I dunno about you, but putting together a fashion show, even one as lame as this one, still takes effort and phone calls. If the Hornes and John Justice Wheeler weren't such consummate businessmen, they'd have a really good job doing party planning.
The day after Ben came out of his Civil War-themed insanity, he came up with the cockamamie scheme to "Save the pine weasel," a ferret that lives in the Ghostwood forest where he (and now Catherine) were planning on tearing down the forest to put up a parking lot and country club. Horne's plans were to make Twin Peaks into a vacation mainstay for the ultra rich, and profit from that with his hotel and One Eyed Jacks. A one stop hot spot for fun and sin. Unfortunately, One Eyed Jacks is now…well…I guess that's back in his hands? I dunno. After Jean Renault was murdered in the Dead Dog Farm, One Eyed Jacks never really is even referenced again. The Ghostwood property is in Catherine Martell's name. All that's left is The Great Northern.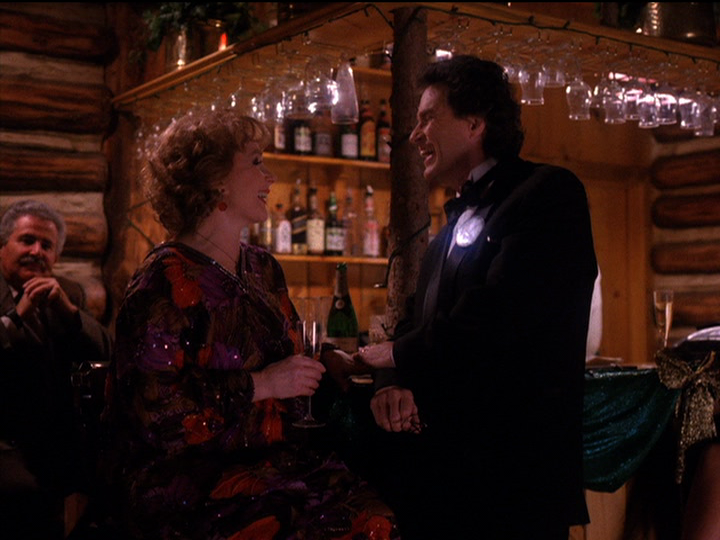 What is this attempt to save the pine weasel? Is it honestly and truly a way for Ben to scrub his soul clean (a way to wash away his past)? Or, is it a weaselly way to use environmental concerns simply to stop Catherine's development after he lost the contracts in his past. Ben insists that he's had a complete change of heart since the south won Ben's Civil War. But, Catherine and Jerry believe that his ostentatious display is simply a bold business plan to sabotage the development he lost, and that he hasn't actually changed. His visit with Mrs. Hayward is another sign that he's trying to fix the past, or maybe he's just stirring up the past for shits and giggles?
In order to combat the eradication of the Pine Weasel, the Hornes started the Stop Ghostwood campaign, a new charity for the Pine Weasel, and today they're throwing a fundraising fashion show to kick off the new venture. Dick Tremayne has decked out Andy, Lucy, and several of Twin Peaks' finest models in a variety of ugly-as-hell mismatched pseudo hunting clothes. Good god, this is the worst clothing one could find on a discount rack. Some of the pieces actually are pretty fantastic on their own (I love Lucy's worsted wool jacket), but mixed together is an eye sore of awful patterns.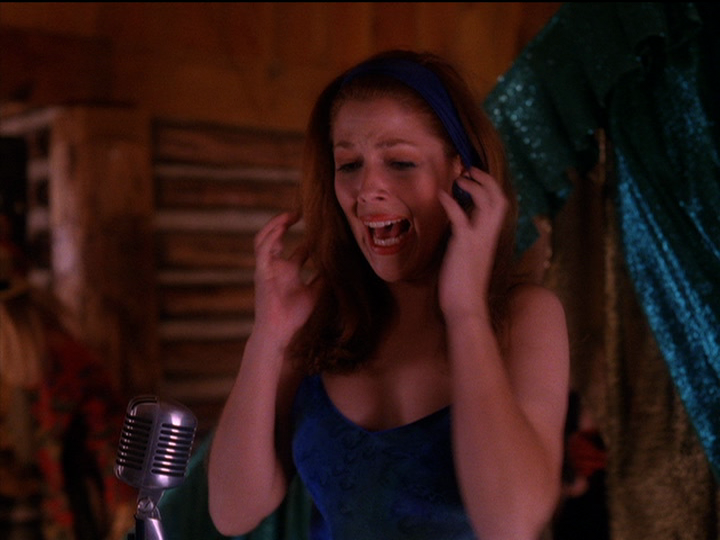 Luckily, everybody is saved by Twin Peaks' favorite dunce, Tim Pinkle. Previously, he mounted Pete's award winning fish (and Pete said that Tim might have shrunk it). Here, he's pretending to be an expert on the pine weasel, a cute cuddly little ferret, whom he holds up next to Dick. The pine weasel is attracted to Dick, and bites him on the nose. Of course, that means that he's set loose in the hotel and all hell breaks loose, throwing Audrey into the arms of John Justice Wheeler.
John Justice Wheeler is a man of impeccably weird timing. He asks Audrey out on a date while she's in the middle of planning the fashion show. Somehow she accepts and they manage to go on a picnic somewhere, where he sings to her. Even though he's involved with the charity, he only gets to the fashion show to see Audrey. This show is constructed so strangely.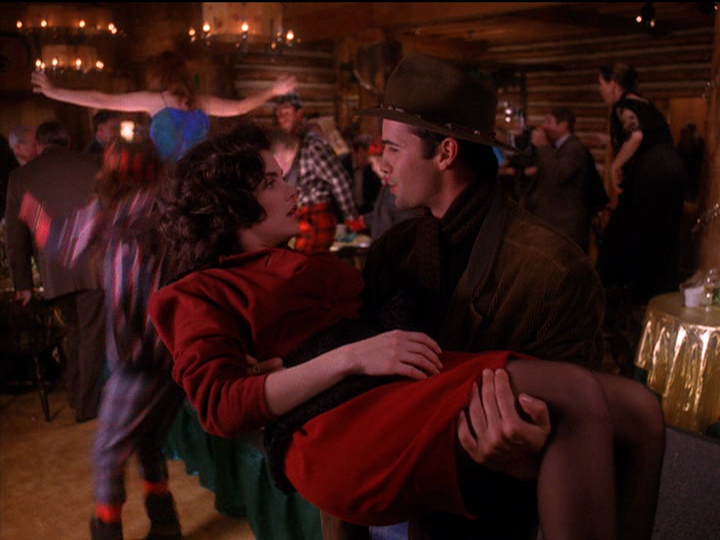 Yet, he's also one of the biggest signs that there hasn't been multiple days in between episodes. When he interrupts her in the midst of the fashion show chaos, he apologizes for the awkward dinner conversation that he had with Audrey the night before, and the episode before. We saw the dinner conversation. It happened last night. This is only one day later. And yet, they're already falling head over heels in love. Love works fast in Twin Peaks.
The other large sign that this is only one day later is Windom Earle, who sees Cooper's move in the Gazette, the one he posted in the paper yesterday. Pete's perfectly constructed move for a stalemate game is immediately detected as such by our criminal mastermind, who gets understandably pissed off. "Cooper doesn't know the meaning of stalemate!" he cries, immediately recalling his history of playing chess every day with Dale during their stakeouts.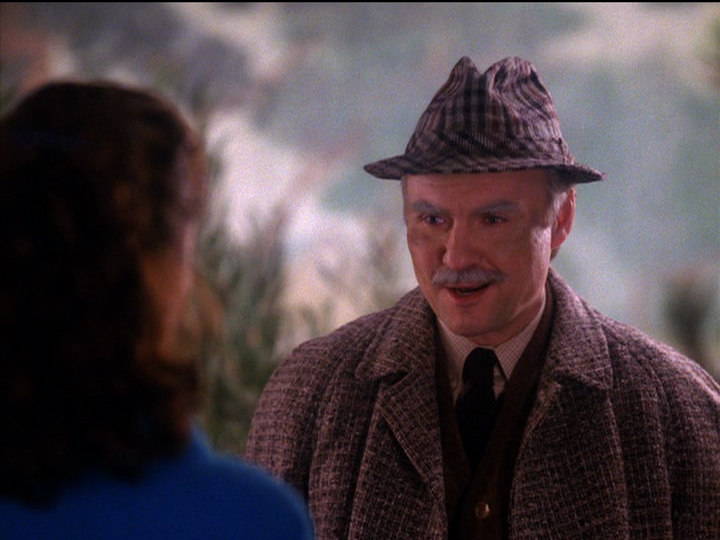 Earle immediately concocts another move and delivers it to the Haywards. He dons an old man disguise and pays a visit to Donna, stating that he's an old friend of her father's, Dr. Gerald Craig. Donna doesn't initially know the deeper meaning of this, but Dr. Craig is the name of one of Doc Hayward's old roommates. Her father knows something is wrong immediately when she states his name…Dr. Craig was his old roommate, who drowned on a rafting trip with Doc Hayward. The phone number left with the note is to a cemetery (Windom is sometimes successfully hilarious).
The Miss Twin Peaks contest is coming up, eventually hijacked by Windom Earle. Everybody in town gets involved in it, even if some women don't really want to be there. Today, Norma urges Shelly to try out for it, despite Shelly's reluctance. Her rejection of beauty pageants is hilarious though, "Miss Double R Diner, what would you do to bring about world peace?" "Well, I would bring all the world leaders together to form a circle and join hands. Because you can't make a fist when you're joining hands. *huge smile*"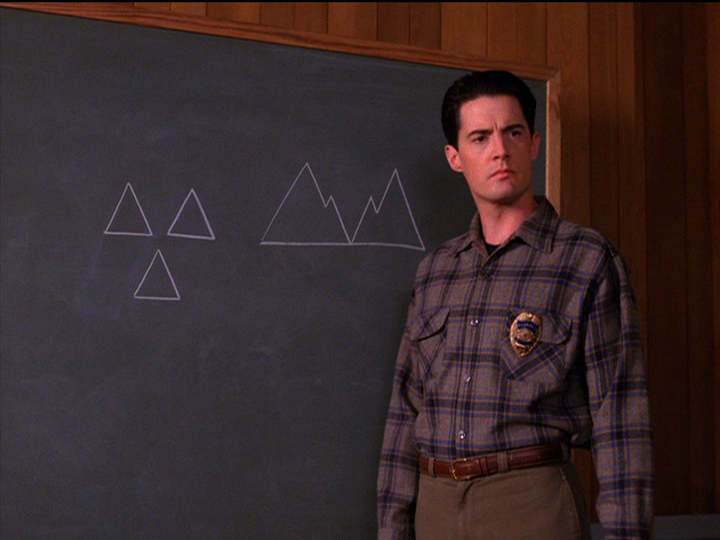 Major Briggs and The Log Lady are finding that their pasts are linked. Major Briggs disappeared in the woods in the episode after Leland's death, accompanied by a flash of white light and the sound of a hooting owl. This same set of occurrences happened to The Log Lady when she was a child. Major Briggs was branded with three triangles in a nuclear symbol underneath his ear. Margaret had the brand of a pair of mountains on the back of her shin. She also saw the sight and sound when her husband died in the fire so long ago. These are all related and will come to haunt the town as everybody's past is on a crash course for each other.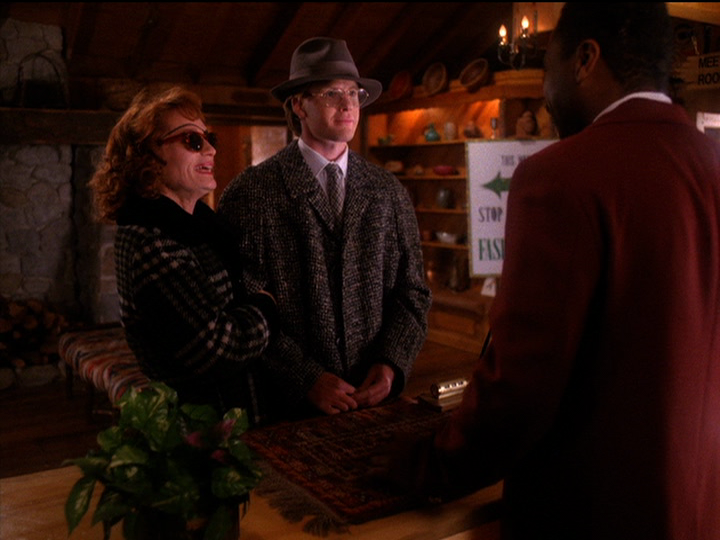 Super Nadine is still living out her past when she told Ed they were breaking up. She doesn't realize they're old and they were married. She doesn't realize this meant they were getting a divorce. She thinks Ed is taking this all too seriously because they're both teenagers. Even in Dr. Jacoby's office, she still wants to get her teenage years right, reliving her youth through her heightened adrenaline. After she confirms her breakup with Ed, she tries to get a room with Mike at The Great Northern, where Mike tries to be incognito for their intergenerational sex romp. He's not nearly as good at disguises as Windom Earle, because he is spotted by his schoolmate.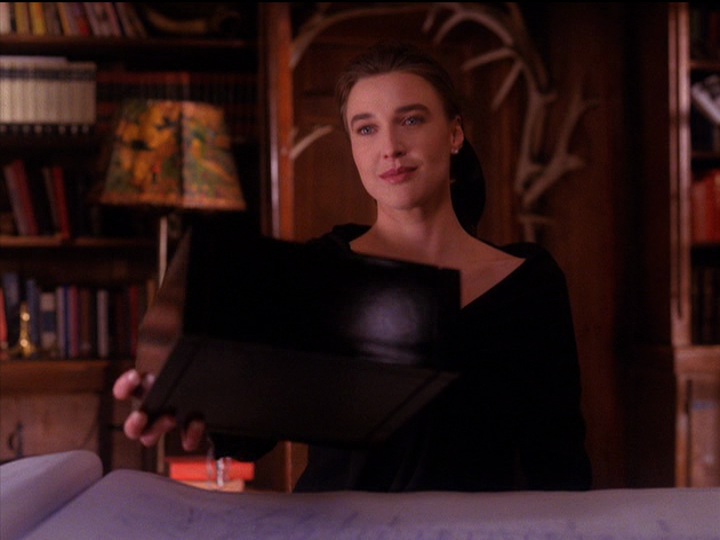 Then there's Catherine Martell. She gets a visit from a mysterious woman in black who accompanied Thomas Eckhardt during his arrival to Twin Peaks. Previously, the woman's main dialogue was a line in a foreign language that doesn't even get a subtitle on the Gold Box DVD. Visiting Catherine, the woman says her name is Jones and she's Eckhardt's executive assistant. Jones has one last surprise for Catherine from Eckhardt: a shiny black puzzle box with the phases of the moon on it. Everything is a puzzle in Twin Peaks, and Catherine's curiosity is piqued. Jones has one last puzzle for Twin Peaks audiences: her reasoning for knocking out the Bookhouse Boy keeping an eye on Mourning Harry, and then getting into bed with the sheriff. She'll make sure that his past will be coming back to haunt him.
---
Stray Notes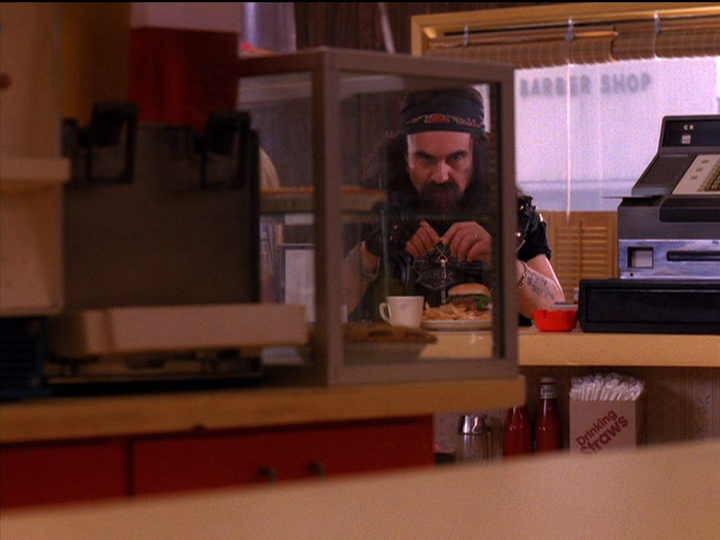 I love Windom Earle's disguise as a black haired hippy biker from the 1960s. But, he doesn't even take his hamburger with him.
Annie Blackburn's strong coffee is perfect. At least to Dale, it is.
Lucy is pissed that Dick is looking at all the models, but the pregnancy is not even mentioned in this episode.
"The knight has to do the little hook thing. It's a privilege. No one else gets to make that move." "I guess some people don't know quite as much as they think they do. Check!"
"Windom Earle's genius carried with it the vice of impatience."
After Albert's sudden appearance two days ago, he's gone again today. Damn, this show really changes people out in rapid succession.
I love almost everything Angelo Badalementi does, but the Double R's classic western country music on a violin has got to go, pard'ner.