Futile Diversions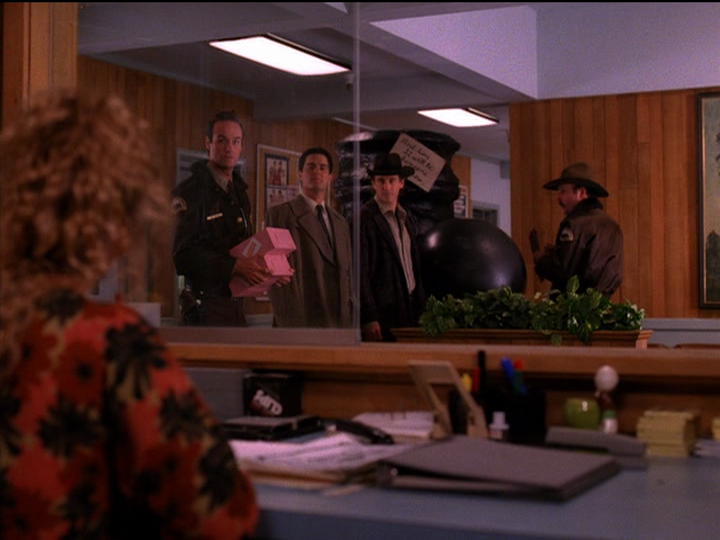 Cooper's in love. Though his symptoms suggest the onset of malaria, he's never felt better. He can't stop thinking about her. Even when he's working on the Windom Earle case and trying to figure out the Black Lodge map, but he can't stop thinking about Annie. He'll stop, and try to clear his brain, but getting back to the task at hand is increasingly difficult. Annie has the same symptoms, seeing Cooper's face in platefuls of eggs all morning. They're so in love, and that's dangerous right now.
Even though Heavy Metal Youth (aka Randy Tomoski) was murdered in a giant pawn, Windom Earle never made another move in his ongoing chess game with Cooper. Earle used to work in Project Blue Book, and his obsession with the black lodge brought him to Twin Peaks, and back into Cooper's orbit. The chess games were just a diversion while Earle tried to figure out where the Black Lodge was and how he could harness its power. It's not that Earle is exactly a mastermind and was figuring anything out on his own. He merely eavesdropped on the sheriff's conversations that led him to Owl Cave. Today, for the first time, he figured out something on his own: the drawings on Owl Cave are a map leading to the lodges, with the portal opening in two days.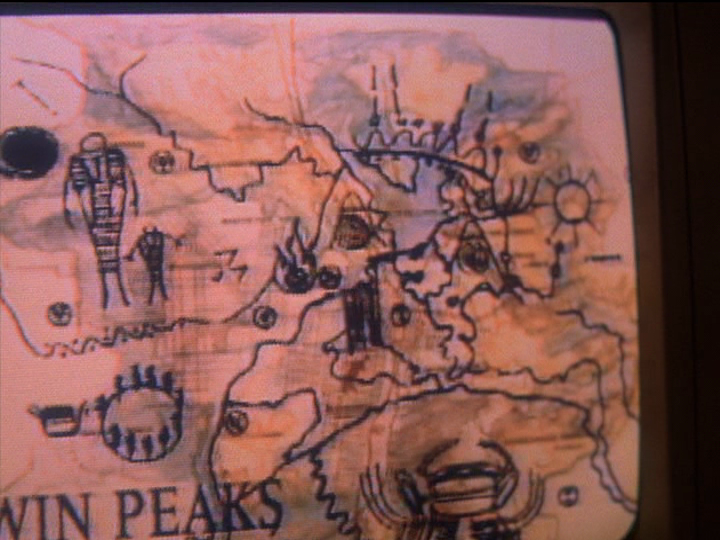 Neither Cooper nor Major Briggs have been able to make heads or tails of the map. They see all the symbols, but they haven't been able to connect it to the streams that run through town. Major Briggs has been too focused on Windom Earle to think about anything else, including his own safety. To rest his mind, Major wanders around in the woods to clear his mind, permanently it seems. Windom beans him over the head and kidnaps him so he can drill the Major for clues regarding the map. After pumping him full of drugs, the Major reveals the exact timing of the lodges, "When Jupiter and Saturn meet," before going mad while Earle figures out that the clues hold a map and a clock, and the time is drawing near.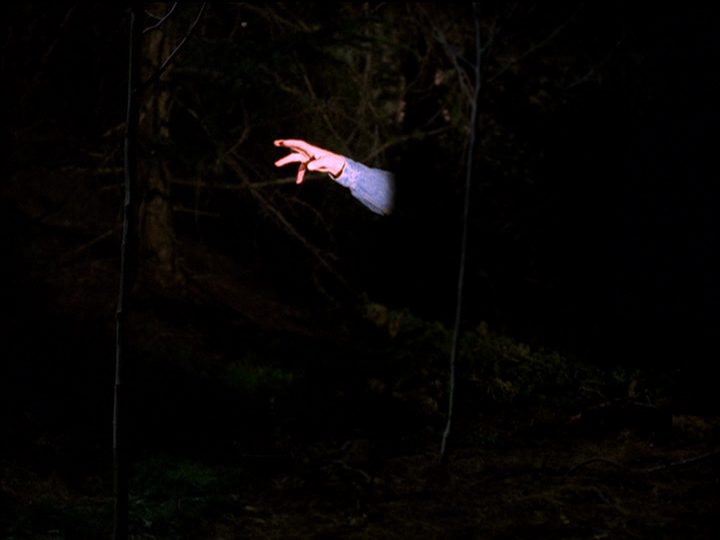 BOB is forcing his way out of the lodge, and finds that the celestial clock has made the powers of the lodge grow stronger. Even as people are trying to do good, the forces of evil are growing ever stronger. BOB is exiting the lodge with his right arm first, and the people in town can feel the change. There's a lady eating from the cherry pie of life whose right arm first starts twitching uncontrollably. (Note: The Man From Another Place is the MIKE's left arm not his right arm). Dale is the next person whose right arm starts twitching; he's looking out the window thinking of Annie. Finally, Pete's right arm begins twitching just after he takes Audrey to John Justice Wheeler's jet plane, where he finally has sex with her before taking off for Brazil.
Ben's search for truth almost derailed Audrey's search for romance after he sent her to Seattle. He is also disrupting the Haywards by re-courting Mrs. Hayward. Donna, suspecting something hidden between the two, unearthed her birth certificate that features no father on it. She also discovers an album of old pictures with her mom and Ben that are celebratory if not romantic. Considering how cold the Haywards seem toward the Hornes, seeing photos of the two with sparklers is disconcerting at best. Doc Hayward doesn't like this either, and tells Ben to back off. Of course, Ben remains ever the hardass, and strives to clean his soul even if it means hurting others in the short run. He approaches goodness like he approached hedonism; if anybody stands in between him and his desires, he will mow them down without a care in the world.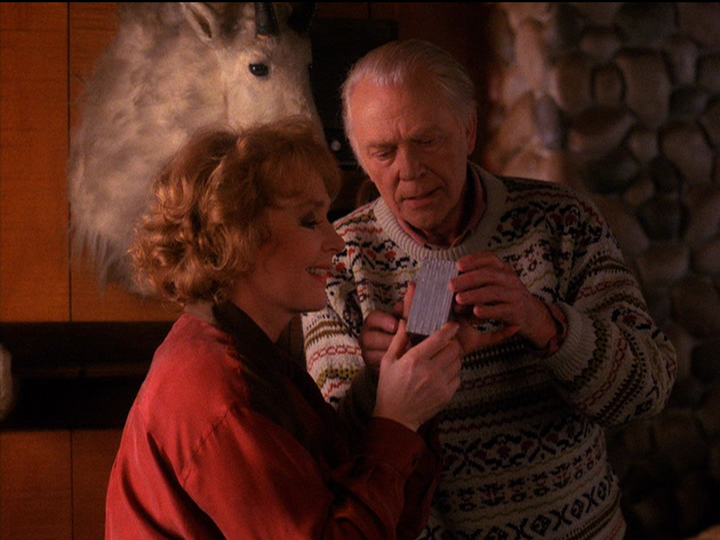 Ben's frequent accomplice is still trying to figure out Eckhardt's Puzzle Box #2 (the one with the phases of the moon and the various symbols). Catherine and Andrew are perplexed by the dial, though they've figured out that it has to do with a password. Andrew tries using various important dates – birth days, death days – and stumbles on the one that works: the day the box arrived. Inside the box is another box, which Andrew smashes with a rolling pin. There's another box inside that box, this one a solid looking piece of steel.
Seeing Gordon Cole make out with Shelly at the double R made Bobby Briggs jealous. Well, jealous enough that he realized he was kind of a dick. He says that he put on a suit, got a job with Ben Horne, and he acted like he was the most important person in the world. He doesn't mention his pseudo-romance with Audrey, but he apologizes for treating Shelly like shit. In the same breath, he almost proposes, saying he wants to live the rest of his life with Shelly, and she accepts.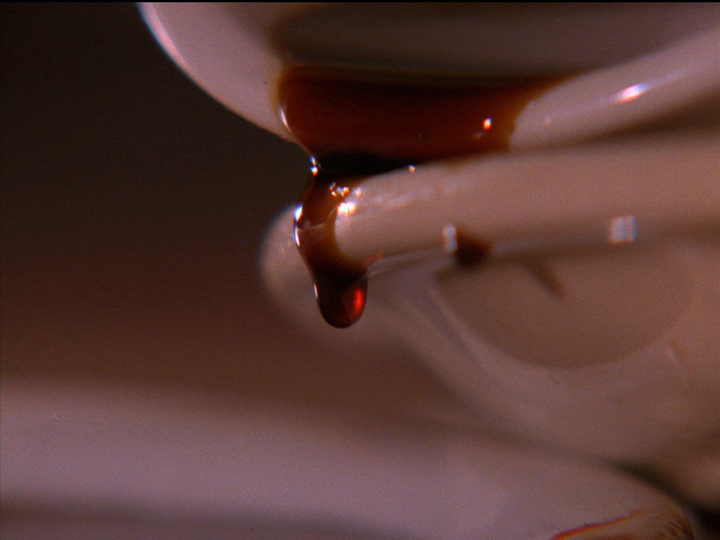 To help her win the Miss Twin Peaks contest, Cooper teaches Annie how to dance at the penultimate night of the Miss Twin Peaks festivities. He's been ignoring all the signs that this romance is bad news: Annie quotes Heisenberg at him, plates break and coffee drips onto the floor when they make out, and his arm shook when he thought about her. It's all bad news. But, he persists. Then he calls Annie "the queen," making a cue for the Giant to appear on stage and to try to tell him to stop. Even the mayor says "there's something wrong here." But, Cooper is so in love he can't hear the warning signs. Cooper and Annie persist in falling in love.
That's when Windom Earle lost his mind
---
Stray Notes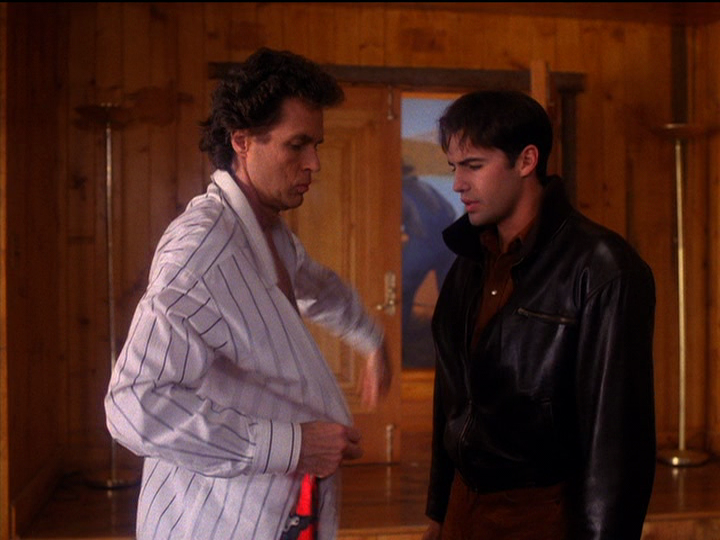 Lucy is going to decide who the father is after the Miss Twin Peaks contest. It will be D-Day.
"This ardent purity allows them to access a secret place where the cultivation of evil proceeds in exponential fashion." – Evil is like pollution, and the Black Lodge is Earth.
Windom Earle's computer is really 80s computer-y. That's not how computers work.
Fire Walk With Me's small bit of Philip Jeffries coming from Argentina was a loose thread intended for the original Season 3, and one couldn't help but wonder if Jeffries had anything to do with John Justice Wheeler's friend's death in Brazil, a neighboring country.
Billy Zane totally checks out Richard Beymer's body in the scene where Doc Hayward gives Ben a physical.
Lana the Succubus is such a terrible character.
1970s Ben looks like a character from Mr. Show.
As Audrey grabs Pete to take her to the airport to meet John Justice Wheeler, Pete looks up at the fireplace and says "Josie, I see your face." Originally, this was to have a special effect of Josie's face in the mantle.