Since Cinemascore began operation in 1979 only 19 films have received the lowest score. In this series I'll be reviewing those 19 films. This week, the film that asks the question, What if Poltergeist was The Amityville Horror?
So What is it?
 Darkness has the familiarity of an old campfire story. Anna Paquin is a teenager who moves with her family to a decrepit mansion in the Spanish town where her father grew up. Suddenly her younger brother (Stephen Enquist) is afraid of the dark. "It's different here" he says, cryptically. Later, less cryptically, "There are children that hide in the darkness and beat me up when the lights are off." Paquin puzzles over this, unsure what he means.  Her father (Iain Glen, both the weakest actor in the cast and the only one that realizes what movie he's in) begins acting erratically, unable to control his temper and occasionally succumbing to seizures. We learn he has Huntington's disease, although apparently a rare form of Huntington's that doesn't share any symptoms with Huntington's.  Her mother (the always wonderful Lena Olin) drifts into increasingly strained denial until we begin to suspect that it's not the dark forces of the house at play, but the dark forces of a poorly written screenplay.
As a family unit, this is a hard group to get a read on. Every member, including Paquin's grandfather (Giancarlo Giannini), has a distinctly different accent, hailing from Scotland, Singapore, Sweden, Italy, and Winnipeg by way of New Zealand, respectively. Some are better at approximating an American accent than others, but nobody seems to be trying to approximate the same part of America, nor does anyone seem particularly committed to keeping up the ruse.
The children's ages are also hard to pin down. Enquist was ten years old during the filming, and looks it, but he acts much younger, doing little else beyond coloring and whining about the ghosts that are bullying him. Paquin acts college-aged or even post-college-aged. She has a level of autonomy and self-reliance that's unusual in a teenager, and her relationship with her brother is more maternal than sisterly. But at other times, the film seems to imply that she is still in high school. She moved to Spain with her family (like a kid), but isn't sure if she's going to stay (like an adult). She has the childish desire to finish school with her friends, but is she going to try and support herself through senior year? Or does she mean college, in which case, why is her mom so against the idea? We also never learn the reason why the family moved to Spain in the first place.  And despite the fact that the film was shot on location in Catalonia, (and written and directed by native Spaniard, Jaume Balagueró) it hardly makes any use of the setting. The characters rarely leave their house and when they do venture out they never encounter a single Spanish speaker.
This is an atmospheric slow burn horror film that never bothers to build much atmosphere. As the story goes on, it becomes increasingly interested in its own explanation, and the second half is spent untangling a lot of the logistics of this particular haunting. Paquin, who is a smart and capable protagonist, does some detective work, and discovers the dark history of the house, her father, grandfather, and also some nonsense about a solar eclipse that the movie cares about a lot more than I do. But in the end, she can't stop what's coming, and the house gets pulled down into Hell, our protagonists with it, and everybody dies.
So Why the F?
Once again I've prioritized my own enjoyment over any sense of journalistic integrity, and watched the widely available unrated version of this film rather than the one that so upset audiences. But unlike In The Cut which removed 30 seconds spread across several scenes in order to avoid an NC-17 rating, Darkness removed a full 13 minutes in order to turn what was intended to be a hard R horror film, into a family friendly PG-13. This meant removing every bloody or disturbing image, including some moments that are integral to understanding the plot, and severely darkening several other scenes in order to hide any gore and/or actors that might be visible. Other inconsequential scenes were cut, like the introduction of Paquin's boyfriend, her family, or the villain.  The whole bleak butchered affair was ushered into theaters on Christmas Day 2004, where audiences complained that it was boring, incoherent, and hard to see.
So Were they right?
 When a movie gets butchered this way we like to imagine it was a great work of art, robbed from us by corporate greed. We hope for some bold artistic vision, too strange and unique for cowardly money men and risk-averse audiences. But sadly Darkness, even in its restored version, is a dud. This movie wouldn't have received an F; it's blandly competent, polished, well acted, and decently paced. But it's also a tired scenario that takes itself too seriously and relies too heavily on exposition (fear of the dark is, of course, tied to the universal fear of the known). Its bleak ending feels unearned, and worse, unaffecting. And the talented cast is wasted playing thinly written cliches. Darkness isn't an awful movie, it's just a thoroughly mediocre one in which every effective moment will make you remember some other better movie that you'd rather be watching. Audiences with a high tolerance for familiarity will probably find it adequately entertaining, but I wouldn't recommend seeking it out. The genre is too deep to waste your time on mere competence.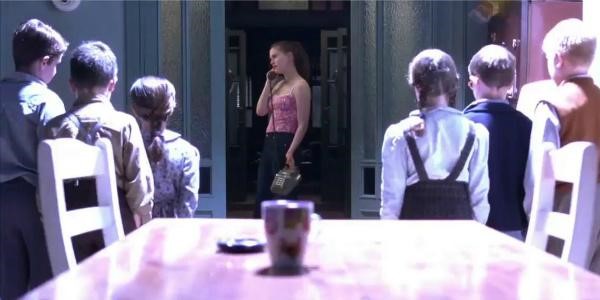 Next Time:  The prophetically titled Silent House.