Since Cinemascore began operation in 1979 only 21 films have received the lowest score. In this series I'll be reviewing those 21 films. This week, When a film is rated in the grip of a powerful rage… a curse is born.
So What is it?
The Grudge has had an unusual progression for a horror franchise. It began as a pair of short 3 minute segments on a made-for-TV horror anthology film, more the place you'd expect to find the last appearance of an iconic monster than the first. But the short segments impressed horror master Kiyoshi Kurosawa, who had already helped director Takashi Shimizu get the gig in the first place, and under Kurosawa's tutelage Shimizu was allowed to direct a straight-to-video feature centered on his characters. This movie was enough of a hit to earn a straight-to-video sequel, which in turn was enough of a hit that its follow-up, the third (or fifth depending on how you're counting) film in the franchise was finally given a full theatrical release.
That movie turned into a huge international hit, and the property was quickly scooped up for an American remake by a studio looking for the next Ring (B-). But despite the cynical trend-chasing nature of the project, Takashi Shimizu was brought in and given the chance to direct his own remake, now with a respectable Hollywood budget and a good amount of creative freedom. Which he did right after squeezing out another sequel for the Japanese market.
After watching Ju-On: The Grudge and its two remakes and reading multiple synopses of each, I still don't have the faintest idea of what actually happens in any of these movies. But what Ju-On lacks in plot it makes up for with genuinely disturbing imagery given a creepy authenticity by its low-fi aesthetics, a masterful skin crawling sound design, and a whole bunch of unique and inventive scares. The first American remake is a solid enough movie, but it's largely a slicker retread of the original. The higher production values and much heavier reliance on CGI rob the film of the ragged dangerous sensation of the Japanese original, and the scares are pretty much all restaged versions of its predecessor.
The remake gained mixed reviews, but was a sizable hit, and Shimizu was kept on for the sequel. That movie got worse reviews, and brought in about half the money at twice the cost. There was one more American sequel, this one written and produced by Shimizu but directed by newcomer Toby Wilkins, that went straight to DVD and it looked like the franchise had run its course, at least as far as American audiences were concerned. Real Horror Heads would always prefer the original to the PG-13 studio version, and more casual fans would remember it as the poor man's Ring, if they remembered it at all.
But in Japan the series has continued to be a juggernaut. Shimizu would be credited as writer and producer for two more Ju-On movies and as director of a video game adaptation before finally handing the series off to the next generation of filmmakers, who so far have pumped out three more films (including a crossover with Ringu). All said, the franchise has produced thirteen films, seven novels, three comics, one graphic novel, one tv series, and a video game. And so you can see why some Hollywood executive might think there was still some blood left in this particular corpse.
At first glance 2020's The Grudge looks like a cheap soulless cash grab, an unnecessary retread of an already exhausted premise. But at second glance there's a bit more pedigree around the project than you might assume. This is the first Grudge movie to reach theaters with an R rating, it has Sam Rami as an executive producer, and horror auteur Nicolas Pesce (Eyes Of My Mother, Piercing) writing and directing. So perhaps a third glance is warranted after all.
At third glance 2020's The Grudge looks like a cheap soulless cash grab, an unnecessary retread of an already exhausted premise. The movie is largely incoherent even by the already dubious standards of the franchise, with three crisscrossing narratives told non-chronologically. Sometimes we are given giant bold dates superimposed over the screen (can a font be tonally incongruous to a film?), but more often than not we are left to puzzle things out for ourselves. The movie is also intensely boring. The overqualified cast members are all giving the same monotone and detached performance, mumbling out of the sides of their mouths and staring at their shoes, as though they are as bored to be making the film as we are to be watching it.
It's also a remarkably ugly film. I think it's going for an early Seven/Fight Club aesthetic with an overcooked gross and grimy cinematography, but instead it just looks orange and blurry, like you're watching it on a broken TV. The editing is also distractingly bad, to the point that the film feels unfinished. And then there are the scares which come few and far between and are all of YouTube video quality. Are you terrified of half-second flashes of a woman with corn syrup smeared on her face, holding her head on a bit of an angle while that audio file of a guy smashing a violin into a piano blares momentarily on the soundtrack? Because that is pretty much all you're going to get. That is, if you can make it that far without dozing off.
So Why the F?
This is a very bad movie, and very bad in a wide spectrum of ways that seem designed to alienate any and every potential audience. The jump scare style is far too hacky and derivative for the arthouse horror crowd, but then the movie is way too slow and pretentious for the jump scare folks. The movie ignores almost all of the iconography of the previous films, but then is almost incomprehensible to the uninitiated, supposedly taking place concurrently with the three previous American entries. On the one hand you're expected to remember the name of the caretaker who gets killed before Sarah Michelle Geller arrives at the start of the 2004 version. On the other hand, the ghosts are no longer chalky skinned Japanese people, but instead ordinary looking Caucasians. And while the movie is gross enough and gory enough to be off-putting, it is also a very mild horror film with few scares and only a couple of shots keeping it from a PG-13.
It also doesn't help that half the stuff that happens in the trailer isn't in the movie. The DVD contains a full 32 minutes of deleted scenes including an alternate ending, and the whole thing feels like a rushed hack job.
So Were they right?
The Grudge is a hell of a lot better than Disaster Movie, I'll say that much. And, uh, I guess I'm glad everyone got paid. Lin Shaye seemed like she was having a lot of fun on the special features (and unlike her costars seemed aware that she was making shlock) so that's something. The bar's pretty low here, and no film has benefited from that more than The Grudge.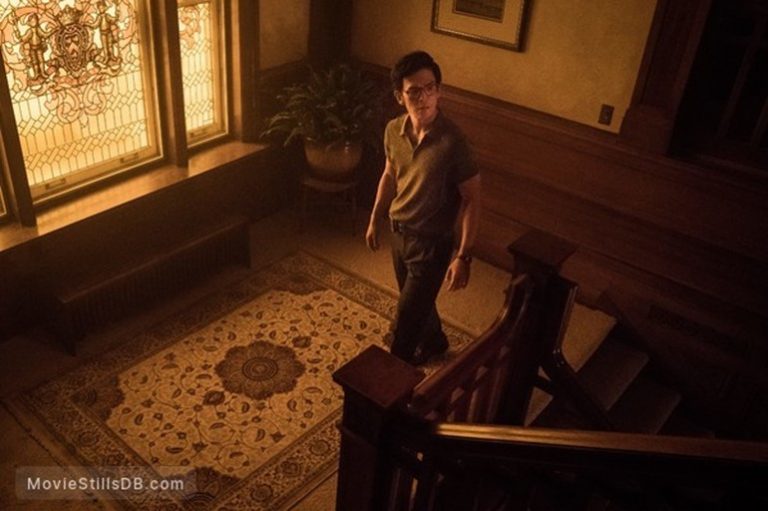 Next Time:  A misleading ad campaign and a weird ending leave audiences as angry as they are perplexed.