Since Cinemascore began operation in 1979 only 19 films have received the lowest score. In this series I'll be reviewing those 19 films. This week, the mind behind Donnie Darko and Southland Tales flirts with the mainstream, but ultimately stays true to himself.
So What is it?
Let's get this out of the way right off the bat. This movie ought to be called The Button. The button is the thing here. It's the decision that has to be made, and its status (pushed or un-pushed) drives the story. The box is just the thing the button sits on. Really, it's more of a pedestal than a box anyway, but you can't very well call the movie The Pedestal.
The Box is based on a short story by Richard Matheson, originally published in Playboy, and later adapted for an episode of The Twilight Zone (although not the good one, the lame 80s one). The premise is the same through all three versions; A mysterious man gives a young couple a button and tells them that if they press it they'll get a large sum of money (ranging from a million dollars in the film, to a lousy fifty grand in the magazine) but somewhere in the world a stranger will die. It's a thin premise, even for a short story, and the rules of drama give away the ending. They're going to press the button, and one of them will die, or else it's going to be a pretty dull 22 minutes.   In the print version the husband is pushed in front of a train and the fifty grand comes in the form of an insurance payment, the reasoning being that the wife didn't really know him. That feels like a cheat to me, but on the other hand, did you know they used to have short stories in Playboy? For what purpose? In the TV version the couple get the cash, and the button is then given to a complete stranger, implying their lives are now in somebody else's hands. And in the movie, hoh boy. The movie involves a vast conspiracy between Martians, God, government spooks, possessed Santa Clauses, girls from Boston, and powers far beyond the understanding of any screenwriter or film critic. But let's start at the beginning.
The movie opens, as all great movies do, with a wall of text. It's pretty much word soup, doesn't tell us anything the trailers haven't already, and ends with the phrase "More information forthcoming." A phrase that turns out to be something of a grim warning.  With the groundwork laid and the audience already thoroughly confused, the movie proper can begin, and surprisingly we're getting right to it. Cameron Diaz and her husband James Marsden wake up and discover a mysterious package on their front porch with a note saying a man will come by later to discuss it. The two go back inside and their son is standing at the top of the stairs and asks, "Did Santa come early?" Marsden gives him a look that can only be communicating, "Seriously? What are you an idiot?"  And the camera holds on his expression for a long awkward silence, before the three go to breakfast and we get to meet the family. The kid is one of those obnoxious precocious types that hasn't been in vogue since the 1950s. Marsden treats him less like a son, and more like a roommate that weirds him out. There are about eight different accents between the three characters. Diaz is the worst, with the least convincing southern accent I've ever heard, in film or in real life. It's a thick southern drawl that often comes off closer to British and occasionally drops completely for a few words or even a few sentences. As soon as you hear it you wonder how it got in the movie. Doesn't Diaz have people? Isn't there some agent or something to tell her you can't be caught on film talking like that? And did the director think it was good? Was it his idea, or was it something Diaz insisted on? Marsden is a bit better, with just a subtle, if wholly inconsistent, twang.  The sort of accent that would never convince somebody from the actual South, but might fool somebody from, say, Jupiter.  It gets worse when he's alone with Diaz. I like to think that he's covering for her a bit, intentionally sharing in her embarrassment.  But it's just as likely that her accent is so bad that it's warping his memory of what actual human beings sound like. The kid has the most convincing of the three, but in the next scene when Diaz walks him to the school bus, he's dropped it for a typical LA suburbanite.
Diaz puts their son on the bus, and as it leaves, Marsden pulls up next to her in a silver corvette.  Diaz responds by asking him, "A little early for a midlife crisis?" Which raises a lot of questions.  Is this the first time she's seen her husband's car? Did this guy with a wife and a 14 year-old son really just buy himself a two-seat sports car? The characters in this movie are constantly reacting to their surroundings with befuddlement. Later, when Maderson catches a glimpse of a weird intense kid who's been intimidating Diaz, he casually asks his friend, "What's up with that kid?" Nobody knows. Just a weird kid. Late in the movie one of the villain's cronies turns to him and asks, "But why a box?" Some questions should be left to the audience.
The couple go about their day at work. Diaz is an English teacher at a fancy prep school. The same prep school her son attends, though for some reason they drive separately. She teaches a class of about 11 kids in a room the size of a gymnasium. They don't have desks. One of her students asks to see her foot. She agrees to this, although she seems uncomfortable, and we see that she's missing her toes. A lot of the scenes in this movie work this way. A very laborious and artificial set up, leading to a reveal that is strange, but meaningless to the rest of the story. Cameron Diaz has no toes! -Bam!- James Marsden is at a NASA press conference. What about her toes? Forget about her toes!
Marsden works for NASA and designed a telescope to take pictures of Mars, and his boss (James Rebhorn) is giving a press conference on it. During this conference we get one of those badly ADR-ed lines clearly added in post production to help clarify the plot. In this case the line is, "could an ancient Martian civilization have left something behind?" And I can assure you it clarifies nothing.
Diaz returns home, and just as the note promised, a man (Frank Langella) shows up to discuss the button. The man is in the style of one of Rod Sterling's soft-spoken middle-managers of whatever great bureaucracy runs the cosmos. Friendly, and helpful, and modern. The banality of the bizarre. This being a big Hollywood production, he also has a massive anatomically impossible CGI wound across the left side of his face. The perspective on the thing never seems to line up, it's as though he had lost a knife fight with MC Escher. Langella lays out the scenario. Push the button, kill a stranger, get a million bucks, you have 24 hours to decide. Making the dilemma more difficult, the family has recently hit a series of financial setbacks. Marsden has not got the promotion to full astronaut that he was expecting, instead getting a smaller and presumably less lucrative promotion, and the tuition on their son's fancy prep school is going up, meaning that without this windfall they may need to move to a less lavash house, sell one of their sports cars, or (gasp) send their son to public school! Diaz calls this "living paycheck to paycheck" although I would go with "living beyond your means."
When Marsden comes home, Diaz fills him in, and he reacts with skepticism. This is a pretty major blunder for the story, because the premise is unbelievable. Once your character's have acknowledged that, there's no way to get them back to taking it seriously without making them look like idiots. And if they don't think the button is real, than they aren't really making a decision when they push it.
There are a couple of scenes where they discuss whether or not they can go through with it, and then Diaz impulsively pushes the button. It's the best part of the movie. 33 minutes in and they've done the thing. And suddenly you have no idea what the next hour and a half could hold. The suddenness of the decision, Marsden's shock at it, the lizard brain satisfaction of seeing a button that you aren't supposed to push get pushed. It's a great scene. There's nothing better than moving the plot forward faster than your audience is expecting.  The next morning, Langella receives the box and gives the couple their suitcase full of cash, and they react in horror. They try to refuse the money and take back their decision, but it's too late. This is a natural human reaction, but it's all wrong for the movie. This is a morality tale, and if the characters haven't consciously, purposefully, sinned, then their punishment will seem senseless and cruel.
With the short story now finished Richard Kelly is free to do what he'd like for the rest of the film, and he immediately launches the plot off a cliff and into orbit. The rest of the story is impossible to follow, with enough ideas for a dozen movies (all of them bad) and a rapidly escalating weirdness that violates any sense of story logic, or character consistency, or physical reality, but never violates the films serious and somber tone.
Marsden and Diaz go to a Christmas party where they receive a picture of Langella in one of those white elephant gift exchanges, and Marsden beats up the kid from Diaz's class. Later that night, Marsden drives home the babysitter (Gillian Jacobs), who could be anywhere from 15 to 30 years old. She's living in a motel with her parents, although we never actually see her parents. This surprises Marsden, who is often learning basic information about his life at the same time as the audience. During the drive she slips into a trance, accusing Marsden of having blood on his hands (which he literally does, from beating up that kid earlier), asks if "somebody's been pushing his buttons?" and is increasingly antagonistic and cryptic. She also gets a nosebleed. There are a lot of nosebleeds in this movie. In fact, it's probably safe to assume any nose I haven't described, is bleeding. The camera follows Jacobs back to her hotel room, and the other guests all come out in the hall and ominously stare at her while she passes. When she gets to her room she has a giant conspiracy board set up, which she seems surprised by. This is the last we see or hear of the character.
This is how the plot advances from here on out. Scenes escalate wildly but are completely detached from the rest of the story. Plot threads are introduced and immediately abandoned.  It feels like seeing a long running sci-fi show edited down to an hour and a half. A show that really went off the rails in the later seasons. There's a scene that begins with Marsden visiting the library to do some research and ends with him forced to choose which of the three pillars of water won't lead to eternal damnation. It's not a long scene. There's a scene where Diaz is on the phone with Langella and the next door neighbor begins staring directly at her with his mouth open as he circles her house. There's a scene where Marsden goes to the police station and asks to look around one of their murder scenes. They don't object, and even let him take some evidence home with him. The movie also starts inserting in shots of a wind tunnel, more or less at random.
There's too much exposition to call it dreamlike, but it's a bit like listening to a friend describe a dream. "So my son was locked in the bathroom, and I don't know why, but I just knew he couldn't hear or see anything, and I'm trying to knock the door down and my wife is there and she says 'you have to shoot me. It's the only way to save Walter' And I tell her no, you know, that we can get the door open, but she just keeps saying that again and again, "you have to shoot me. It's the only way to save Walter…"
Dude. That's pretty fucked up.
So Why the F?
It's probably the accents. Maybe the scarferchief. Or maybe it's the ending where the hero decides it's better to murder his wife than to raise a child with a disability.
So Were they right?
The Box is one of the most absurd movies ever unleashed on mainstream audiences. It doesn't accomplish any of the things it sets out to. It isn't smart, or thought provoking, or exciting, or thrilling, or scary. The plot is preposterous, and the actors make some baffling performance choices. But The Box also isn't lazy, or boring, or cliched. It's bold and ambitious and engaging and genuinely, sincerely, stupid. I guarantee everyone who gave it an F got a laugh out of it. I guarantee they had fun talking about it after or trying to describe it to their friends. The Box is a terrible movie. I loved it, and I recommend it to everybody.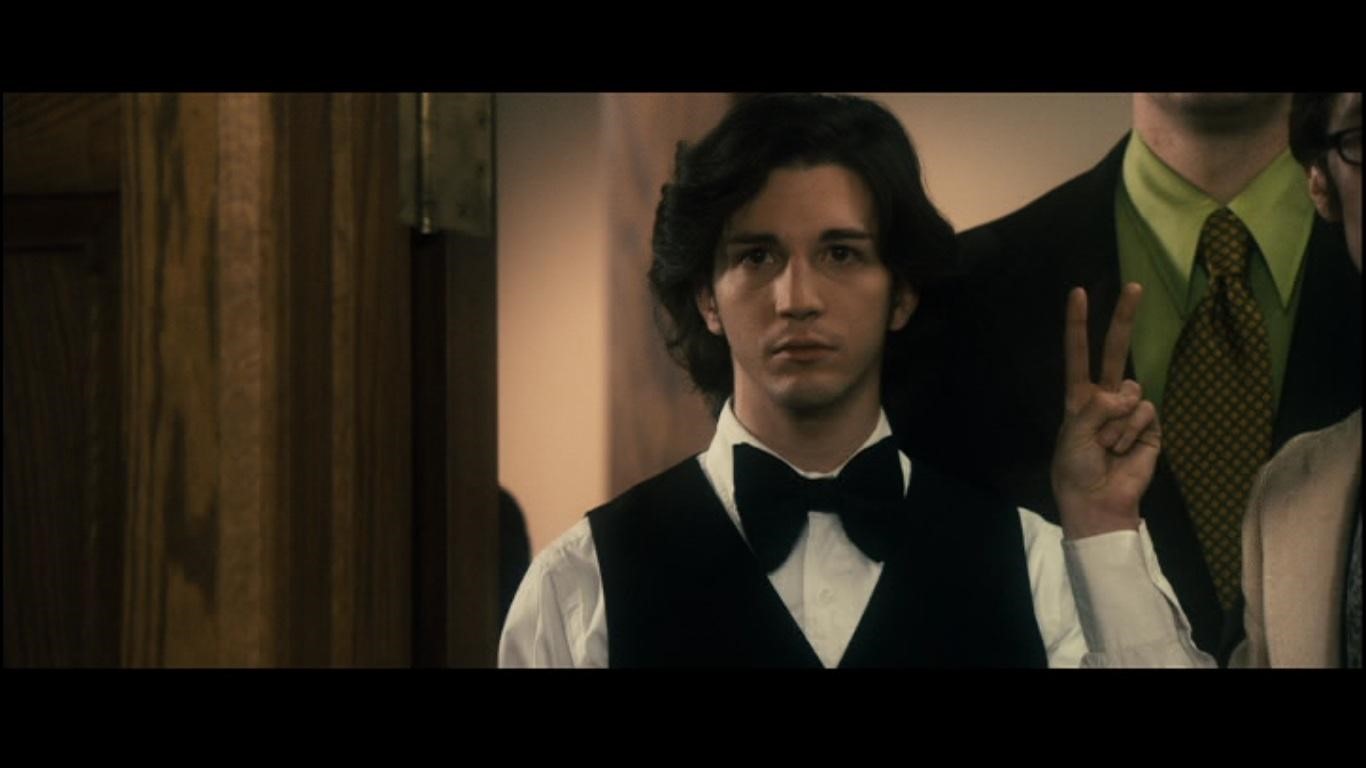 Next time: The true haunted story of the last exorcism of Emily Rose in Connecticut