Advise and Consent is a notable example of subtext—Gay Panic—overpowering the text. Envisioned as a political potboiler, the film ends up veering, both intentionally and unintentionally, into absurdist spectacle.
The film starts off at a rather high pitch: the U.S. president wants Robert Leffingwell to be his secretary of state. The Senate will determine whether he will be confirmed. What follows is an ethical test of Leffingwell's supporters, orchestrated by the majority leader, and opponents. And there's the disclosure that the president is in failing health and regards this confirmation as cementing his legacy as a global leader.
Despite, or because of, these loftily-stated intentions, things go very badly indeed, culminating in the basest form of blackmail imaginable in 1962. That's the sense of absurdity that director Otto Preminger wanted to project. At the same time, however, it's hard to imagine now that a flash point in the confirmation process is being soft on negotiating with Russia—in the Senate, no less (hi, Mitch McConnell!).
As it goes, the film has enough surface detail to make the story of how the Senate eats its own plausible. In the aftermath of the 1954 McCarthy hearings (where trumped-up charges of there being Communist sympathizers in positions of power were finally dismissed), it was still easy to slander intellectuals and nonconformists, and, to allude, by innuendo, to those whom were not to be spoken of, homosexuals, for political gain. A bulls-eye is already painted on Leffingwell: he's an academic and openly touts his non-orthodox views on foreign affairs.
The film unfolds like a chess match, but the acting can be as wooden as the pieces on the board, epitomized by George Grizzard as Fred Van Ackerman, a fanatical supporter of Leffingwell, who cooks up a blackmail scheme against Brig Anderson, the inexperienced committee chairperson, in retaliation for his appearing to side with Leffingwell's opponents. Frank Sinatra lobbied hard for the part of Van Ackerman, but Preminger, in full dictatorial mode, turned him down. No doubt Sinatra would have filled out the character, making him look more empathetic–and thus more dangerous.
The other problem is that Henry Fonda, as Leffingwell, doesn't get enough screen time in a film that has to manage an unwieldy cast. Fonda has a memorable scene where he downs a tall glass of milk in the kitchen—just a regular American guy, after all—yet the threat of political implosion feels less gripping when compared with the specter of thermonuclear war in Fail-Safe, released two years later, Fonda playing the president in that film.
The stage is set for the emergence of Leffingwell's nemesis, Seab Cooley, played to perfection by Charles Laughton. Laughton studied a real-life Southern senator for what would be his last role before his death, and he goes out in style. Unlike Grizzard, Laughton comes across as a rival surely to be feared the most. Behind his affected down-home Southern charm, he is calculating, ruthless, and a highly-skilled, fire-and-brimstone orator. To block the nomination, he coaches a government employee, who once was a member of Leffingwell's intellectual circle, to testify at the hearing that Leffingwell had taken up politically radical ideas in the past.
While Van Ackerman loudly protests that Leffingwell is being railroaded, Leffingwell tears into Cooley's witness. Later Leffingwell admits that he gave false testimony, using it as a pretext for withdrawing his nomination. But the president will have none of it—and what is made more explicit in the best-selling 1959 novel by Alan Drury, on which the film is based, he surreptitiously channels the information for blackmailing Anderson to Van Ackerman.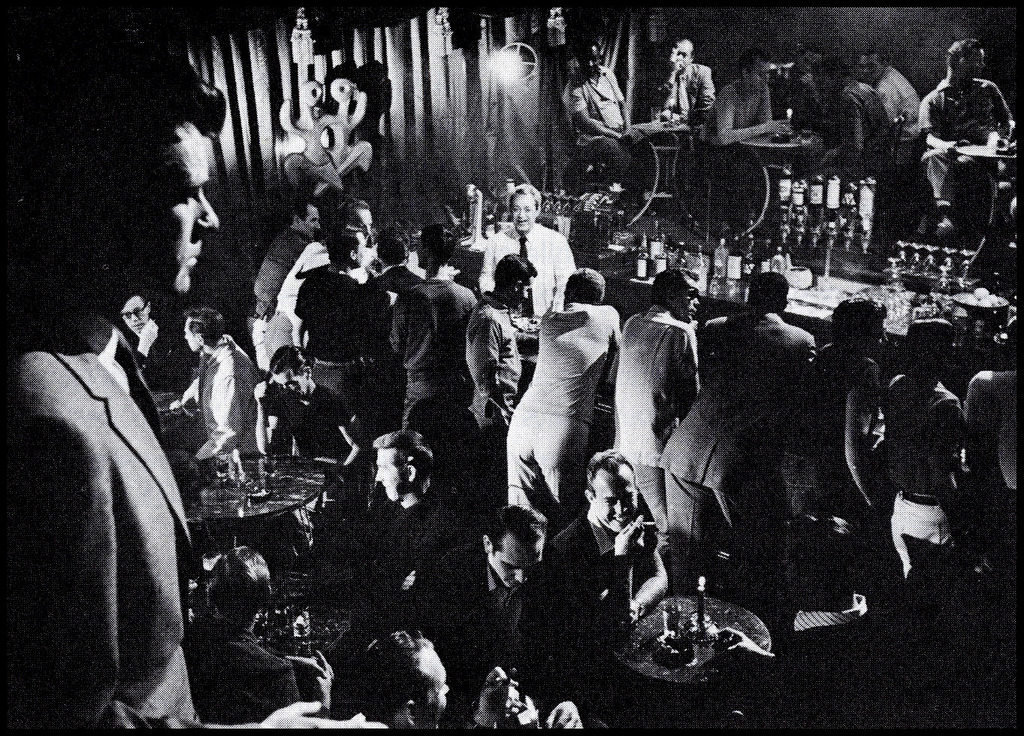 Anderson, caught in the middle, cracks when his wife starts receiving mysterious phone calls referring to something that happened years ago while he was stationed in Hawaii. Knowing, but not telling his wife, that he had an affair with a wartime buddy in the service, he flies to NYC to confront him. Although a few hours by plane, NYC appears worlds away from the staid suburban environs of Washington D.C. Anderson is sent to an underground gay club, where the confrontation, filmed and edited as a nightmarish vision of male sexuality, occurs. His lover says he needed the money, and, in a blatantly symbolic act, Anderson shoves him face down into a wet gutter before leaving. He returns to his office to cut his own throat, a private death which takes place off screen.
Cooley, upon receiving the news, knows that he went too far in playing hardball with Anderson. He responds by telling the majority leader that he is freeing his votes; that is, no one will be obliged, no matter what was already pledged, to reject the nomination. While Cooley's fate is unknown, Van Ackerman, told that he will face a severe reprimand for what he's done, leaves before the full vote in the Senate is taken, which, of course, subtracts one vote in favor of the nomination.
Matching Cooley's gamesmanship, the majority leader announces he too is freeing his votes. That would be enough to give the president, in his office listening in, a heart attack, and he dies shortly thereafter.
As the news of his death reaches the Senate, the vote is tied. The vice president (who presides over the Senate) refuses to cast the tie-breaking vote. The nomination fails. Making his first decision as president, he says he wants to pick his own nominee for secretary of state.
The anticlimax recalls the ending of Anatomy of a Murder (1959), previously directed by Preminger, in which a down-on-his-luck lawyer stages his comeback by successfully defending a man, only to have the man skip town before paying him. But the bleak humor of Advise and Consent feels more glib in the light of Anderson's ignominious exit in the middle of the night, giving him little hearing at all. His death becomes a conveniently-timed event that further ramps up the drama.
Advise and Consent, moreover, looks past the limits of its insistence that the debacle we've just observed somehow proves that the system works when more of the evidence would suggest otherwise. It could be argued, at the same time, that the film is breathtakingly cynical in its depiction of political survival at all costs, perhaps the lesson that hides in plain sight in Cooley's rhetorical bombast.
Background information: http://www.tcm.com/this-month/article/159645%7C0/Advise-and-Consent.html