In sports, there's an expression that's begun to make its way into the larger lexicon: "Putting on a clinic." We say a player or team puts on a clinic when they, in the course of a typical game, demonstrate such a grasp of the fundamentals of their sport that any observer not only enjoys the game as entertainment, they learn how the game is played simply by watching. Dwayne Dunham's family football comedy Little Giants is not the best film of 1994. It's not the year's best sports movie. Perhaps it isn't even the best family sports comedy. But Dunham and screenwriters James Ferguson and Robert Shallcross put on a clinic about how to set up situations and pay them off. Robert McKee ain't got nothin' on this crowd, as we shall see.
As the picture opens, we see confident tween jock Kevin O'Shea and his tagalong younger brother, the bespectacled Danny, journey to a local park in Urbania, Ohio, to play football. Neither captain picks poor Danny, even though one of them is his brother. Danny tries to save face by putting himself on the injured list. (Remember this bit.)
One dissolve later and we're 30 years in the future, where Heisman winner Kevin (Ed O'Neill) is now running tryouts for a pee-wee football league. The standout is his niece, Becky "The Icebox" O'Shea (Shawna Waldron, who would go on to play Michael Douglas's daughter in The American President). But when Kevin announces who made the team, Becky is left behind, along with her friends "Hot Hands" (he can't catch), Tad (the spindly one) and the flatulent Zolteck. Upset, Becky convinces her father, the hapless Danny (Rick Moranis), to start another team, which recruits several new misfits such as the sickly Jake, kicker Marcus, and Johnny, whose single character trait is that his dad is always traveling for business. At the grocery, Becky notices Junior Floyd (Devon Sawa) tossing long bombs of toilet paper (one of which Hamon manages to catch). While the others ask him to join the team, Becky is instantly smitten, much to her surprise and dismay.
Since a town can only have one team, the altacockers in the local diner suggest a playoff to determine which team gets to join the league. They also have a little fun pitting Danny and Kevin against each other in a car chase to recruit Spike, a newly-arrived football phenom with a way-too-into-it father (Brian Haley). (He spends one day on Danny's team before they figure it out.) After an evening where Danny introduces the "Little Giants" (Johnny's dad can't make it, of course), there are several montages contrasting Danny's sad-sack chaos with Kevin's precision drills. But Danny's team does have a stroke of luck when a bus of NFL Hall of Famers happens to break down near their practice field. (John Madden, Emmitt and Bruce Smith, Tim Brown, and Steve Entman cameo.) Meanwhile, Becky and Junior, hanging out together by the lake, see a teenage couple making out. Becky hints that she might like to practice kissing with Junior in quite a cute scene, but Junior is not yet ready for romance. The insecure Becky takes this to mean he'd be more interested in girly girls, and so she decides to give up football and join the cheer squad.
Waldron and O'Neill have a couple nice scenes around this topic. Kevin could be a mustache-twirling creep, as is common for the coach of the opposing team in kids' sports movies (and not just kids'). But in this picture, while Kevin is boorish, vain, and dumb, O'Neill invests him also with a good-hearted honesty. He legitimately cares about his niece and tries to give her good advice. His advice is terrible, because he's embedded in the Patriarchy. But he tries.
Finally, the day of the big game. Of course, with the Icebox on the sidelines, Kevin's Cowboys slaughter the Little Giants in the first half, 21-0. Despondent, the team decides to give up and to claim they're on the injured list, just like Danny did 30-some years before. But Danny resists; when he put himself on the injured list, he never got off of it. The Little Giants didn't come to win, they came to play. And even if the Cowboys are going to beat them 99 times out of a hundred, that still means there's a chance.
In the second half, the reenergized Little Giants make their biggest gain of the game on the first play — one yard. But this is enough to shake the Cowboys' confidence, and now is when the dominoes begin to fall. The Little Giants use the intimidation tricks Bruce Smith taught them to dismantle the Cowboys' defense. They have the self-confidence they got from Emmitt Smith's pep talk. And Zolteck uses Steve Entman's line that football is 80% mental and 40% physical to confuse the defenders. (I guess Tim Brown spent their whole visit in the john.) And this leads to Spike's dad, unbeknownst to Kevin, ordering his son to take out Junior with a dirty hit. Which works, but it has an unintended consequence.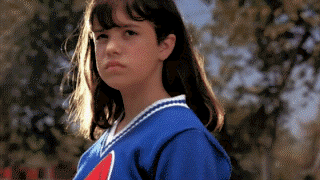 The rest of the picture continues to pay off all the setups so far. Hot Hands scores a TD by imagining the ball as a roll of toilet paper. Marcus finally gets it over the goalposts. The vainglorious Kevin's offensive calls are thwarted because everyone knows his favorite plays from his Heisman days. Zolteck demoralizes the defense by passing gas at them. (Hey, it's a movie for ten-year-olds.) And then there's the scene where they call a pitch to Johnny. "Pitch to Johnny! You can't pitch to Johnny. I'm Johnny!" But when his dad appears in the end zone, Johnny joyfully runs it in.
And this is why I think this movie, which made $19 million on a $20 million budget, is still worth talking about today. It can't be said to have been a groundbreaking work. But a neophyte screenwriter could learn a lot from how Little Giants parcels out character notes a piece at a time throughout its first 75 minutes so that the audience has everything to hand when it resolves them over its final 30. And for a kids' picture, at least one of those resolutions is interestingly ambiguous.