Jackie Chan is one of the three great physical artists in the history of cinema.1  He's the world's greatest stuntman, the world's greatest action star, and a genre unto himself.  In 1985, Jackie Chan released five separate movies.  He would appear in a trio of films directed by his childhood friend Sammo Hung, take another big swing at breaking into the American market, and find himself returning to Hong Kong defeated to direct one of the defining films of his career.
Chan received his formal training from a Peking Opera school as a child, before breaking into the industry in the early seventies as Bruce Lee's stunt double.  Lee took an immediate liking to his professionalism, recklessness, and skill.  And after Lee's death, Jackie was one of many actors tapped to fill the vacuum left in the industry.  This did not go well at first.  The Kung Fu film industry at the time took itself very seriously, and Jackie struggled in roles that were written with Bruce Lee in mind.  In 1978 he was loaned out to a rival studio for Snake in the Eagle's Shadow where he was given the opportunity to do his own stunt choreography.  Jackie infused his action scenes with a heavy dose of slapstick, and emphasized his pain and vulnerability over his strength and toughness. The movie was a success and was followed by the original Drunken Master later the same year.  That film was an even bigger hit, spawning a slew of imitators and propelling Chan into international superstardom.  Over the next few decades Jackie would release films at a prolific rate, continuously defining and redefining the genre he had helped create.  By 1985 his career was at a major turning point.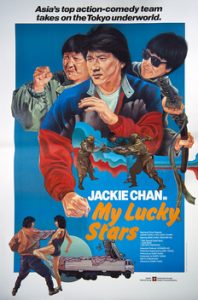 He started the year by setting a new box office record in Hong Kong with My Lucky Stars, a direct sequel to 1983's Winners & Sinners.  Despite their popularity in China, the Lucky Stars series has never translated well.  They're about five petty criminals, each with the personality of Pepe Le Pew, who get wrapped up in some nonsense that the movies themselves are barely interested in.  They play like poorly dubbed National Lampoon movies with a few huge action set pieces inexplicably inserted.  Jackie isn't even one of the Lucky Stars, he's just a cop they know. Winners & Sinners is worth seeing for a car chase where everyone's in cars and Jackie is on roller skates that ends with what has to be the largest and longest pile up ever filmed.  My Lucky Stars never reaches those heights but it's also less draggy overall.  Jackie is a supporting character who only shows up for a pair of bookending fight scenes, and neither are particularly inventive or memorable. The most notable thing about this movie is that it ends with a watch ad superimposed over the credits.  I'm glad that never caught on.
Jackie would also work with Sammo Hung on Heart of a Dragon, their attempt at a prestige drama. In this one, Hung plays Jackie's mentally disabled brother, a man who quite literally has the mind of a child.  It's sort of a mix between Robin William's Jack, Rain Man, The Little Rascals, and Commando.  It's constantly yo-yoing back and forth between hard melodrama and broad juvenile comedy, with just a bit of action at the edges.  That action involves a lot of Jackie shooting guns and not a lot of stunt work.  It's depiction of mental disabilities has not aged well.

And, My Lucky Stars 2: Twinkle Twinkle Lucky Stars. Hong Kong production cycles are fast.  My Lucky Stars 2 is actually the third film in the Lucky Stars series. There's a lot of this sort of thing in Jackie Chan's filmography.  He injured himself making this movie and so a lot of his scenes feature a stunt double and Sammo Hung had to replace him for the climactic fight.  If you only see four Jackie Chan movies in 1985, don't see My Lucky Stars 2: Twinkle Twinkle Lucky Stars.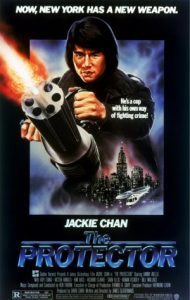 Jackie also made The Protector, his second attempt to break out in the American market. It was a complete disaster and set his American career back a solid decade.  The movie tried to turn Jackie into a typical stoic American action star — sort of a taller version of Sylvester Stallone. To do this they strip away all of the humor from his performance and try to keep him from doing any stunts or kung-fu.  If you hired James Glickenhaus to direct Singing in the Rain the first thing he'd do is tie Gene Kelly's shoe laces together.  If you hired him to direct The Muppet Movie he would lose the puppets and then move the whole thing to a brothel.  If he actually did land Stallone for a movie, he'd make it a musical.
Today Jackie Chan speaks eight languages and is also fluent in American Sign Language.  But in 1985 he had to deliver all his English lines phonetically, and any time his lips aren't visible, the dialogue is ADRed in a distinctively different voice.  Jackie plays a tough New York City cop who has to travel to Hong Kong alongside his new partner (Danny Aiello)2 to save a kidnapped heiress.  You're probably thinking, if you've got a star who doesn't speak English and you're setting the movie in Hong Kong anyway…
As sleazy Cannon-esque shoot-em-ups go it's not the worst, but it is one of the least imaginative. What little action there is is indifferently assembled, the plot is rote and cliched, and there isn't a single memorable line of dialogue.  Jackie was so dismayed by the quality of the film that he reshot and re-edited the whole thing for its Asian release, removing the nudity, gore, and language and adding a few action scenes and a few more turns in the plot.  This version is hard to track down in the States, but you can find some of the reworked fight scenes on YouTube and the difference is night and day.  There's so much dead air in the American fights.3  Someone will throw a punch, and then we'll cut to a shot of a bored man disinterestedly watching the fight, then back to the fighters standing around, then another punch.  The Hong Kong cut moves.  It's fast and dangerous and has a rhythm to it.  
Part of why Jackie Chan's the greatest action star who will ever live is that he's a genius.  He integrated slapstick and dance choreography into action scenes in a way nobody else had ever thought of.  He brought a vulnerability to his action that flew directly in the face of established wisdom. He understands how to tell a story and build character through action in a way that's nearly unparalleled.
And part of why Jackie Chan's the greatest action star who will ever live is that he's stupid.  He's a guy who will jump face first through a plate glass window or go roller skate under a semi truck.  In Project A Jackie has a stunt where he drops from clock tower 60 feet in the air, through a pair of awnings that were supposed to slow him down, but didn't, and lands on his neck.  Jackie demanded three takes because he thought he should say a joke when he gets up.  They could have just cut to him getting up, but instead he did the stunt three times.  That joke ended up being, "we have proven the theory of gravity"  which you will only find funny if you've just had a 60-foot dive cushioned with your brain.  When it came time to add action to The Protector Jackie told his costar (Bill "Superfoot" Wallace) to swing a running circular saw at his kneecaps as hard as he could and then swing it at his head.
But, the other part of what makes Jackie Chan great is that he's a worker.  He'll spend days shooting something as simple as tossing a fan in the air and catching it.  One of the best slapstick conceits is a chaotic thing falling into a neat orderly finish.  Jackie will achieve this by shooting take after take after take until fate concedes and does something funny.  He knows the nuts and bolts the industry. He brings out the best in his co-workers. He knows how to frame a shot.  And he knows how to edit action.  It's slow, tedious, and unglamorous work, and he has the patience to do it until it's right.  And seeing him salvage this awful film really illustrates how much of the industry rests on the unglamorous parts of the job.
Jackie also broke his hand during the production of this film.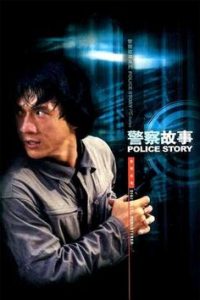 Not satisfied with simply reshooting Glickenhaus's movie4, Jackie decided to direct his own take on the police story, titled appropriately enough, Police Story.5The tagline for this film was "You may know the name, but the game has changed."  It's no exaggeration.  This film would mark the beginning of whole new era of action filmmaking  with Jackie Chan melding his approach with the more set-piece-heavy movies coming from the West.  Jackie conceived of the set pieces first, and then asked his screenwriter to fill in the connective tissue later. The plot is about what you would expect from that method, which is to say adequate and brief.  Jackie plays officer Jackie Chan6, a naming convention that is very common in at least the American dubs of his films, and that reflects a little of his influences too.  Not every Three Stooges film is in the same continuity, but they're all about guys named Curly, Larry, and Moe.
One of the first things we see is a cop gun down a suspect, and then the camera holds while that cop pisses himself and starts crying.  It's a big jab at the sort of American gun porn that Jackie had just escaped.  That scene continues with a car chase through a village down the side of a mountain, and when I say through a village, I don't mean through the streets of a village. I mean through the village itself.  Through houses and fences and over exploding propane tanks.  A massive ball of destruction rolling down the side of a cliff.  That leads to Jackie chasing a double decker bus on foot, being dragged by it, climbing it with an umbrella, and being swung wildly from the side while cars come thiiiiiis close to hitting him.  (Stay tuned for the credits and you might see them coming thiiiiiis close to missing him).  And the whole thing ends with a great sight gag.7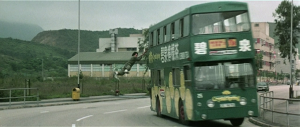 A beautiful witness gets assigned to Jackie's protective custody.  And then an assassin who is legally distinct from Michael Myers shows up.  The assassin is actually a friend of Jackie's, who's there so Jackie can pretend to rescue the girl.  But she proves to be less useless than expected, and keeps breaking vases over Mike's head, and Jackie has to Weekend At Bernie's his way through the fight in order to keep her from killing him.  The two leave and are attacked by real assassins in an absolutely stellar fight scene. This is another one of those fights where cars and baseball bats  come so close to smashing Jackie's head that you don't know how it was ever filmed. The action is incredibly fast, but the editing is slow, and you can watch several moves play out in sequence.  There's no way to fake this.  It's skill, and practice, and precisely timed choreography, and immense personal risk. Once again guns prove to be useless and needlessly dangerous.8
"We've got to get going," Jackie says at one point. "Those guys were for real.  The other guy was real too, but this time is really real."
"Is that why you're nervous this time?" Selina asks.
"Just get in."
There's a  certain childishness to Jackie Chan movies.  There's no sex, no cussing, and no blood.  The plots are simple and straightforward. The humor is as juvenile as it is universal, and it helps to keep the overall stakes of the films light and fun.  Even the end credits serve as a sort of public service announcement.   Don't try this stuff at home, kids, it's dangerous even for Jackie.  And everything is delivered with an immense enthusiasm.   But there's also a certain amount of prepubescent misogyny. Girls are dumb, you know, always talking about feelings or make-up, and not important stuff like kung-fu.  The vaudevillian style of humor also exaggerates this.  Everyone is unrealistically dumb, because they need to be to set up the gags.  (Jackie's girlfriend9 in this movie is more useless than the man-toddler in Heart of a Dragon.)  So it's always a nice surprise when these women show some intelligence and toughness.  I like Selina here.  She's a lot smarter than anyone gives her credit for and she also jumps off a five story roof into a swimming pool.  Jackie's movies would get a lot better about this sort of thing. By '92's Supercop he was working with Michelle Yeoh and creating one of the toughest, coolest action heroines ever.  Girls may have cooties, but that girl ramped a motorcycle onto a moving train.
The next scene involves Jackie getting hit in the face with a cake a bunch of times, and it's wonderful.  There's another fight scene, Jackie gets framed for murder, and then has to break into and out of the police station, and then we go to the big climax.
Everything converges at big shopping mall that seems to be made entirely out of glass.  Jackie's there, so is the witness who can clear his name, the villain, a briefcase full of evidence, and a seemingly endless army of thugs that need to be fought through.  Do you remember being eight years old and shoe shopping and trying to imagine what it would be like if you had to kung-fu your way out of here? This scene goes through every single scenario you could have imagined. People fight up escalators and down escalators. There isn't a raised surface in the entire mall that doesn't get backflipped off of.  There isn't a single pane of glass that doesn't get a body hurled through it.10  At one point, Jackie's fighting a guy on a motorcycle (if you're asking why a guy's riding a motorcycle through the mall then you're watching movies wrong) and he runs up the front of it and kicks the guy in the head, then takes the motorcycle and rams the guy through a dozen shattering display cases and pins him to a wall.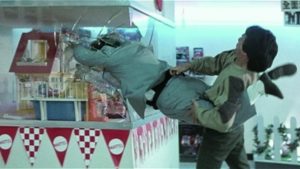 The showstopper involves Jackie jumping off a hundred-foot-high ledge, catching a vertical pole covered in electrical lights, and hurtling down through the last remaining window a hundred feet beneath him.  There's a way to do this stunt with wires and a harness and a safety net and a few edits.  Jackie did it by jumping off a hundred- foot- high ledge, catching a vertical pole covered in electrical lights, and hurtling down through the last remaining window a hundred feet beneath him.  He electrocuted himself, burned all the skin off his hands (the lights were running at full power), dislocated his pelvis, and shattered two vertebrae, nearly paralyzing himself.  There will never be another Jackie Chan because there never should have been a first one.  It's a miracle he survived his first movie and a separate miracle each and every movie he survived after that.  These stunts are reckless to the point of being suicidal. We often talk about the moral culpability of the audience. Is it okay to watch movies that say bad things or support bad people?  But what about watching people gamble with their lives for our entertainment?  With Jackie Chan there is a very real chance that any given movie will turn into a snuff film at any moment.  He never should have done any of this stuff.  But he did, and it does look better than faking it.  The movie shows this stunt three times in a row.  Just marvels at it.  Most movies try and make you forget you're watching a movie, try not to break the immersion of their constructed reality. Jackie Chan movies are always reminding you that they're movies, because the reality behind the movie is so much more exciting and awe-inspiring than any fictional story could be.
Jackie lands, he grabs the briefcase full of evidence, and kicks the bad guy into a shopping cart and through a display case.  And that's the end of the movie because epilogues are a waste of film stock.  The credits roll and we get to see all of the disastrous failed stunts as Jackie himself sings the theme song.  This was a new addition, too, and it's become an iconic part of what makes a Jackie Chan film.
Footnotes
1The other two are, of course, Buster Keaton and Gene Kelly

   Hats off to Danny Aiello who makes the most of a thankless role.  He's the second banna here, but still has to do all the talking in the movie, without ever showing up his star.  It's a bad movie, and he's miscast, but he's still doing solid work.  The man's a pro, and that's as evident when he's making schlock as when he's making a classic.

 3 When asked why the movie was so terrible, director James Glickenhaus responded, 

"Well, you know that's still the most successful Jackie Chan movie internationally and always will be because the American audience, the mainstream audience will never sit still for Jackie's style of action." First this is patently untrue,.

The Protector

grossed $900 thousand at the American box office.  Jackie's recut brought in another $13 million overseas, and even then it was by far the lowest grossing movie he released that year, never mind the rest of his career.  But putting that aside for the moment, that's got to be the lowest opinion of American audiences I've ever heard. If you can't even get your audience to sit still and focus for the action scenes, you've lost the war.  Glickenhaus has since retired from directing and now buys and sells expensive cars.
The DVD to

Police Story

has a trailer for

The Protector,

a 2005 Tony Jaa movie. Coincidence or spite? You be the judge.
Jackie would use generic and often meaningless titles, because when competing studios would learn about what he was working on, they would rush knockoffs and ripoffs into production, sometimes beating his release date.  Jackie worked fast, but not as fast as crews that didn't care about the product.  
This character's name depends on which version you're watching.  The dub calls him Jackie Chan, the subtitles Kevin Chan, and if you speak Chinese it's Chan Ka Kui.  Personally I like cutting the bullshit. That's Jackie Chan, I know it, you know it, why are we bothering with a fake name.  I wish more movies would do this.  It gives the star a larger than life presence.  It's more believable that Jackie Chan is also a police detective in Hong Kong than it is that somebody who is not Jackie Chan could move like that.
The climax of this scene was ripped off nearly shot for shot in the opening of

Tango And Cash

, with Stallone in the Jackie Chan role.  Time is a flat circle.
Jackie's car gets demolished in this fight, and the next scene has them driving with all the doors tied to the roof.  This is the sort of stuff that separates solid action movies from great action movies.
Maggie Cheung!  Don't worry kid, there are better roles in your future.
The nickname for this film on set was

Glass Story

.  The production used sugar glass that was twice as thick as normal because it looks more real.  It also slices you up when you get thrown through it, just like real glass.
Are you new to Jackie Chan and don't know where to start?  I recommend checking out his 90s Hong Kong stuff.  

Rumble In The Bronx, First Strike, Jackie Chan's Who Am I?,

and

The Legend of the Drunken Master.

 That period was the peak of his physical capabilities, insanity, and comfort with the English language.