The specter of the '60s, members of the silent generation pushing back against them and how many hippies went sour hangs over Joe like a cloud.  It's a dark, dark movie at times, where resentment against drug dealers pushes two men to push back.
Starring Peter Boyle as Joe Curran, a factory worker who doesn't seem to have a family outside of his wife Mary Lou (K Callan), and Dennis Patrick as John Compton, a wealthy advertising executive who lives with his wife Joan (Audrey Caire)on the Upper East Side. The Comptons have a daughter Melissa (Susan Sarandon in her film debut) who lives with her drug-dealing boyfriend.  When Melissa overdoses one night and John goes to retrieve her clothes, he gets into a fight with the boyfriend and accidentally kills him.  Going to a local bar to calm down, he hears Joe ranting to his drinking buddies about filthy hippies and John blurts out that he just killed one.  He tries to laugh it off to Joe but Joe just starts thinking…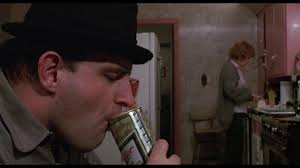 And that's when Joe calls Dennis up, just to chat, and the men fall into a weird relationship where the Comptons have Joe and his wife (played by the delight K Callan, by the way) over for dinner at their apartment and vice versa at the Curran's little rowhouse.  Joe and John talk about the murder and Joe expresses his admiration.  This all goes sideways when Melissa escapes from the hospital, hears John talking about the murder and confronts him over it before storming out.
John recruits Joe to help find her and they end up going through the sleazy side of New York at the time and after a night of violence and debauchery they find that she's gone upstate to a commune.  And that's when Joe breaks out the rifles he had back at out the house.
Where it goes from there I'll leave you to find out (this movie is an absolute recommendation) but I want to talk a bit about how this movie handles the Silent Generation vs The Boomers.  Joe looks like he's had some military experience (Peter Boyle actually did have some military experience before a breakdown) and he's part of that generation of "put your head down, not worth complaining too much, working on the factory line is how you get by" and I do understand how that might breed resentment at these filthy hippies with their free love and drugs and all that.  Joe never excuses how that resentment acts out but it certainly understands it.  (The one Oscar nomination for this was for the screenplay by Norman Wexler, who would also be nominated for Serpico, another great New York movie about the tensions between two groups.)
Like I said, it's a dark dark movie, one that verges on satire at times and is even darkly comedic.  The dinner scene at the Compton apartment almost plays like a Lubitsch class-satire as Joe is looking around at all the hoity-toity stuff and as you realize one thing this apartment has that his house doesn't; a ton of family pictures.  It's never made explicit in the movie, but Joe obviously craves just a bit that family connection that John has more than he does and it colors how much he wants to help John and how badly that all goes wrong.  
Sidebar: Wiki claims this is a 1970 movie but I was going off the Letterboxd release date thingy which said 1971.   Release dates were a weird thing back then and this micro-budget movie might have had some festival releases back in 1970 that accounts for the discrepancies.