Ah, the spring of 1995.  When Rob Roy could come out in April and Braveheart could come out in May and one went on to a huge amount of Oscar acclaim and the other…didn't.  
Both movies are a mix of fact and fiction.  Rob Roy is about Rob Roy MacGregor, a cattleman and eventual outlaw for participating in Jacobite uprisings against the British in the 1730s.  The movie has more sources to work with from the time so hews a little closer to his actual story whoile embellishing it a bit for dramatic effect.  (Some of the characters are variations on their actual historical personages, for instance.).  Braveheart is much more fictional; the events are compressed, stuff happens that was a century later and so on and so on.   
Now, I'm not a purist when it comes to historical dramas and their fealty to history.  You don't have to be perfect about it if you want to tell a good story.  (That said, Joaquin Phoenix is almost 50 when Napoleon was in his 20s when he tried to conquer Europe and I will fight on this hill that it's terrible casting, Ridley Scott.)  Both of the movies we're discussing fudge stuff for dramatic effect, to varying results, and I have zero issue with that.  But I do think it works better in Rob Roy, and maybe that's just because it's an absolutely better acted movie.
We all know Mel Gibson is a weirdo jerk but considering him as an actor he's simply not up to the level of Liam Neeson as a lead.  Neeson is simply more credible as an outlaw looking for revenge on the people who have framed him.  I believe in him as Rob Roy, a man who has been wronged by venal Brits trying to steal his land much more than I believe in Gibson, whose performance is frankly just a little too comedic.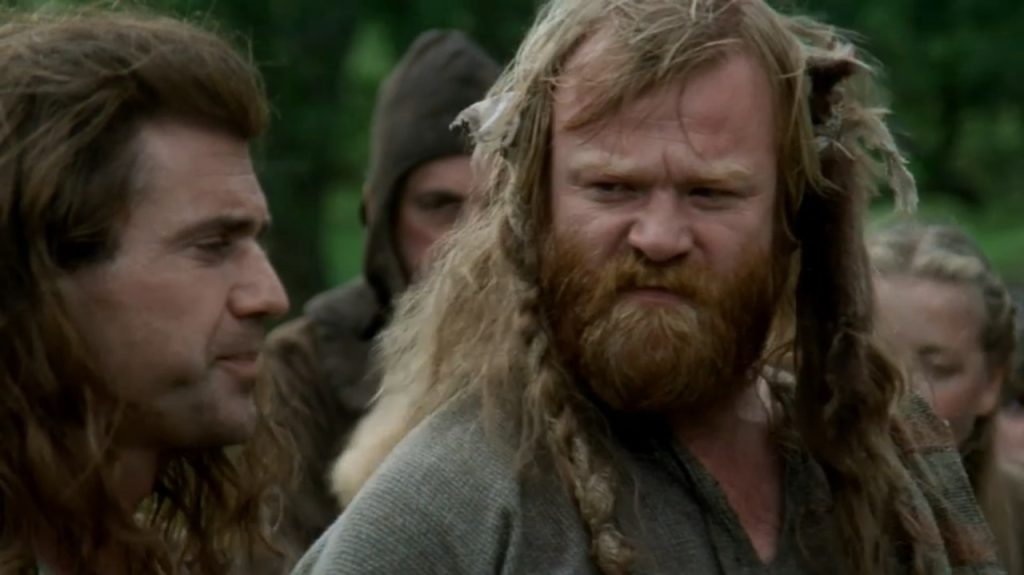 Sidebar: the supporting cast of Braveheart is also all better than its lead.  I'm pretty sure this is the first place I encountered Brendan Gleeson, who kind of gets sidelined in the movie and shouldn't have been.  He's fun and huge and it's a darn nice performance.  
Look.  I don't want to dig on Braveheart too much; a lot of it actually works very nicely.  But it's way too long and keeps hitting the same point about FREEEEEEDOM 20 times and it gets a bit much.  Rob Roy is much more a solid, tightly-woven tale that also has two of the best things of that year in movies.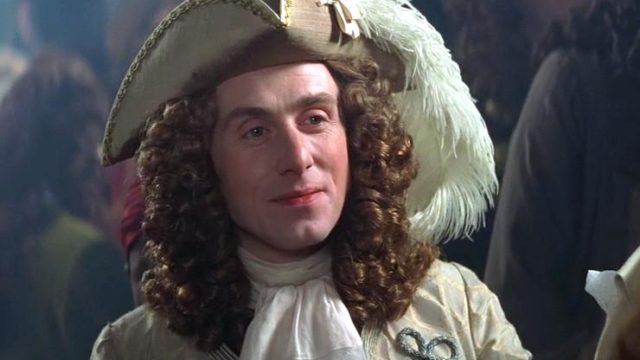 First off, Tim Roth.  I've spoken once in a while that I would love to see the Oscars release voting totals after, say, 25 years because I want to see how close he was to winning against Kevin Spacey for The Usual Suspects.  Roth, coming off the one-two punch of Reservoir Dogs and Pulp Fiction, is fantastic as this foppish, underestimated British swordsman who everyone underestimates and wins money for his employer by winning duels because he simply doesn't look like a warrior to them.  It's one of the great villain performances as you realize he's a lot more dangerous than you think.  Plus, goodness, he looks great in lace and wigs and waistcoats.
And then there is the climactic swordfight.  Rob Roy with a broadsword and Cunningham with a rapier and it's one of the best swordfights in movie history.  It's harsh and brutal and none of this flashy Basil Rathbone stuff (I love a great Rathbone fight, like in The Mark Of Zorro or The Court Jester, but it's very much stage fencing).  The fighting styles reflect the characters to great effect and emotion and should be remembered much more.
Yeah, no surprise.  I'm recommending Rob Roy much more.  It just plan works better.  (Braveheart is pretty OK though.  But good lord, in a year it was up against Apollo 13, Il Postino and Babe, that is the Best Picture winner?)
But here is where I go after both movies.  They both use sexual assault and rape as plot motivations I'm not giving 1995 a pass on that.  It's gross and terrible and should not be forgiven.  Sorry guys, do much better.  You don't have to do this and never should again but you probably will.