Happy Birthday, Captain America!
More specifically, today is Steve Rogers' birthday.  Born on July 4th in either 1918 or 1920 (it varies depending on the source, but what the hell, let's call today his 100th birthday), Steve for me is one of the two pillars of the Marvel universe.  He was there even before it was Marvel, first appearing in a Timely Comics book in 1941; there's a reason the modern Marvel comic universe brought him back when it got rolling in the 1960s, seemingly having been dead for twenty years.  He became the moral backbone of Marvel, the guy anyone could depend on to save the day and always do the right thing because he always knew the right thing to do. (Peter Parker is the other pillar, partially because he's the one who always questions whether he's doing the right thing.)
But this isn't about that Captain America.  It's not even about Steve Rogers.  This is the very first live-action Marvel adaptation: Captain America, a fifteen-chapter serial that played in theaters in 1944 (technically not a movie, but at 243 minutes I'm not going to quibble about that).  But what's kind of great and fascinating about this is that essentially…it's not really an adaptation at all.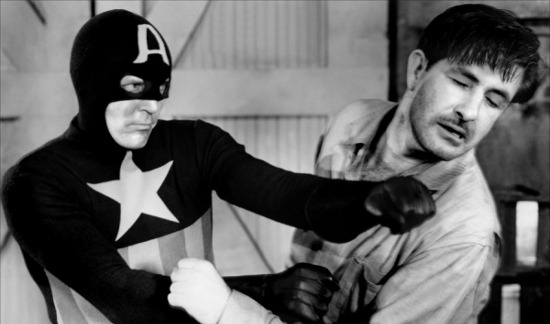 What we have here is a Republic serial (the last they did with a superhero) that manages to graft together Captain America with some very standard pulp fiction mad villain tropes of the day, sometimes entertainingly, sometimes almost hilariously clumsily.  Meet LA district attorney Grant Gardner (Dick Purcell), tasked with investigating a rash of suspicious suicides of prominent scientists who've been found with scarabs in their hands.  He and his secretary/platonic love interest, Gail Richards (Lorna Gray) are tasked with discovering what happened with these suicides (leave aside all thoughts of what a DA actually does; this serial certainly does).  Of course, Grant Gardner is also secretly that masked vigilante and defender of justice, Captain America!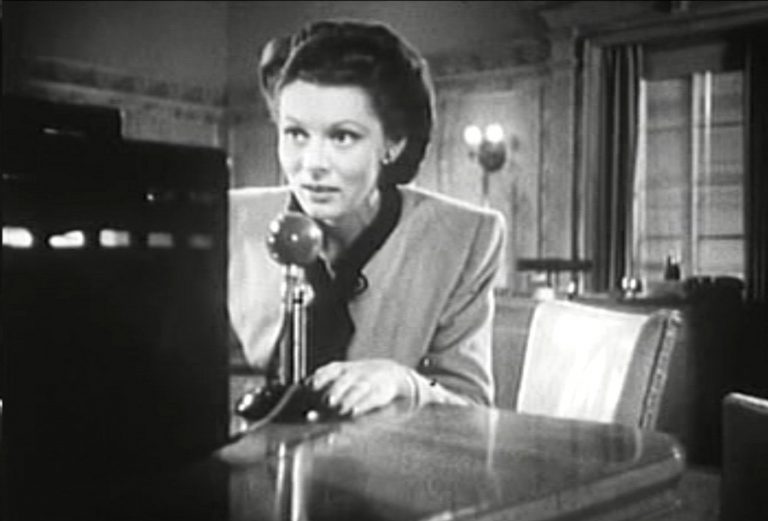 So no, no Steve Rogers.  No super serum. No punching Nazis and fighting in WWII (hell, no shield).  What we get instead is Captain America switching in and out of costume every fifteen minutes and tracking down your standard serial master villain, in this case The Scarab. He's after a mining device with the fantastic name of THE DYNAMIC VIBRATOR (which really, deserves to be capitalized), essentially a weaponized sonic drill.  Captain America must stop him while avoiding death traps, exploding barns, Gail's kidnappers, and also his DA job being in jeopardy from the Scarab's alter-ego of Dr. Cyrus Maldo, leading citizen.
Look, if you've seen a serial from the 1940s, you know what's going on here.  It's a lot of fun to watch one every few days (they should never be binged, what with the previouslies and the same darn credit sequence); these are exactly right to be shown before the main feature of the latest John Ford on a Saturday afternoon in 1944, right after the Prelude To Victory newsreel showing the liberation of Paris.  It's all rousing action of the time (so a lot of punching and some gunplay).  One of the fun things about getting older is learning how to watch older movies in the spirit they were intended at the time and this is a pretty great test case; if you can get into the spirit of the times, it's a very fun story.  (Also, or those familiar with how LA looks in movies these days, it's hilarious how quickly Cap gets from downtown to the future suburbs; no 2018 traffic sprawl here!)
Of course, what it is is…not really Captain America, and that's interesting to me.  It's a character name and costume borrowed to make a serial, something which made a lot more sense in 1944 when Captain America as a character was only the years old (and would only be published for a few more years before going moribund until his revival in 1964).  It would be 42 years before the next Marvel movie with Howard the Duck and another 25 after that for Captain America to appear again in Captain America: The First Avenger.  (OK, fine, there's some weird attempts in between, including a 1990 one starring JD Salinger's kid Matt from our old schlock friends at The Cannon Group.)  But this, this is the one that really did start it all, odd as it is.
Sadly, Dirk Purcell never lived to see this released.  Slightly overweight when filming Captain America, he collapsed and died of a heart attack at his country club a few weeks after filming.  There's a lot of speculation that the stress of filming the stunts in this caused too much stress on his heart.  His co-star Lorna Gray did much better; she married and retired a few years later and only passed away in April of 2017 at age 99; she was much honored in her later years (she was very prominent in Westerns and later received one of my favorite lifetime achievement awards just for the name, the Golden Boot).  
Captain America is an interesting artifact for the completist or anyone who just wants to see some fun serial, punching-bad-guys-in-the-face action from back in the day.  Come for the kitsch factor, stay for Cap riding his motorcycle around and shooting bad guys!