Note: This was originally written for a Lovefest in the comments of The Dissolve.
"There's no cure, only control. It's a lifelong condition."
"Being an asshole is a lifelong condition."
The standard line on The Ladykillers is that it's a work-for-hire gig that shows the Coens at a dead end, the movie that sent them on hiatus until the rejuvenation of No Country For Old Men. That's a bunch of garbage that deserves to be trucked out to an island of trash. Not only is The Ladykillers funny, with many moments of hilariousness, it's very much a Coen movie — reveling in American vernacular, wary of money, obsessed with the foibles of fools and the foolish, but amused by their antics. And it's of a piece with No Country and other, later, more praised films as well. Before the Coens examined the world without God, or without even knowing if God's there, they decided to be Him.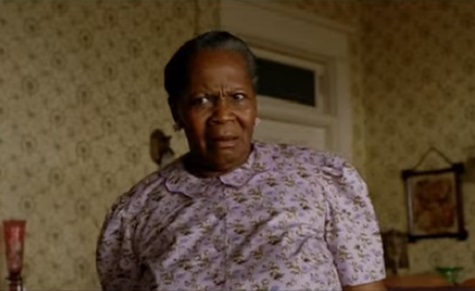 The Coens love genre and trope, the building blocks of story. They've made noirs and Westerns, hardboiled detective tales and gangster films, screwball comedies and quasi-musicals. In moving the British Ladykillers to Natchez, Mississippi (where the movie was filmed — although the city itself is never named, it's clearly Southern) and make its heroine a proud Black church lady, they're working in moral folktale and parable. The Devil comes down to the South (at one point he even holds a fiddle!) but is rebuffed by a salt-of-the-earth American who takes no shit.
The setup is a simple one — a gang of thieves posing as musicians moves into old lady Irma P. Hall's house in order to tunnel through her basement to rob a casino on the other side of her property. When she figures out what they've done, they try to kill her in order to prevent her from talking (The Gang Solves the Old Lady Situation), but that proves harder than expected. One by one, they wind up dead, by mishap or betrayal, and the lady winds up with the loot. There's no real nuance here; characters do not grow, and simple virtue is rewarded while obvious evil is punished. This probably contributes to the movie's lack of esteem as well. But decrying these tropes as such makes as much sense as criticizing The Big Lebowski's labyrinthine plot for being confusing or Burn After Reading's frenetic scheming for being farcical. These are the story's bones — its spirit is another matter.
Some of that spirit comes from the players. Any Coen movie is filled with weird and indelible characters, and The Ladykillers is no exception: casting director Ellen Chenoweth did superb work here. Marlon Wayans' loudmouth thug wannabe bounces off J.K. Simmons' condescending do-gooder demolitionist (or maybe just Simmons' magnificent Rollie Fingers-esque mustache) and relative unknowns Tzi Ma and Ryan Hurst play a stony Viet Cong tunneler and a mouthbreathing, musclebound heavy lifter with aplomb. Ma has maybe three facial expressions in the entire movie, while Hurst tortures his troglodytic rictus while attempting cogitation. They're overseen, speaking of ostentatious loquacity, by a joyously malevolent Tom Hanks, who revels in his superior tastes in clothes, culture, and language. He's McCarthy's Judge as buffoon, content to collect the world's knowledge and lord it over the rubes he manipulates and disdains. One of the standard lines on the Coens is that the more one of their characters talks, the less intelligent he is, and few can compete with Hanks' bloviation.
He really is fantastic here; he's chewing the scenery but entirely in the service of his blowhard character. Obviously, "We must have waffles! We must all have waffles forthwith!" is the big line but I am partial to "I was a positive lemur!" as he fails to climb a tree, justifying his attempt with lies about his callow youth. And his verbosity adds to his evil — at one point, he riffs on Shakespeare's "band of brothers" speech as he salutes his accomplices, using the language of glory to obfuscate his crime, and later he goes off on a Poe-inspired fantasy of giving Hall the "Cask of Amontillado" treatment. "Perhaps we could simply…immure her," he muses, and his lunacy is coldly credible.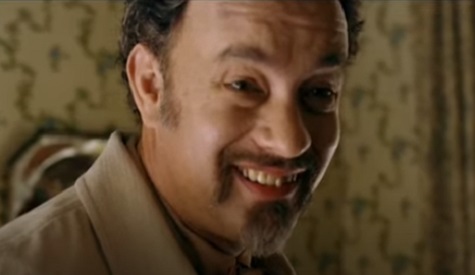 But what of the woman Hanks and his fellow ladykillers are up against? Irma P. Hall, in our introduction to her, is a blustery old biddy, railing against the "hippety-hop" music played by a neighboring youth (Hall's scornful reading of "Left my wallet in El SeGUNdo" is the platonic ideal of an old person hating on young person music). And she cannot be reasoned with or stopped once she starts talking. In some ways, she's a distaff version of Walter Sobchak, minus the profanity, of course. The Coens see much to laugh at in how Hall acts, but they see just as much to admire. Hall shares a lot with the Coens' other female protagonists, Fargo's Marge Gunderson and True Grit's Mattie Ross — she's determined and without time for bullshit, righteous but true, physically encumbered (Hall is a big, wide, old lady, Gunderson is heavily pregnant, and Ross, despite her rigid posture and bearing, is a young girl verging on tiny) but strong in spirit.
That last juxtaposition mirrors the clashes at the heart of The Ladykillers, between the physical and the abstract, the seen and unseen. This is probably the Coens' most vulgar movie, a lot of which is led by the eminently quotable Wayans ("You brought your bitch to the Waffle Hut?") Called on the carpet for catcalling at work, Wayans attempts to justify his words to his boss: "It was more than an ass, it was literature!" And later on, Hanks uses actual literature to flatter Hall's church friends, reciting selections of Poe's more romantic poetry. Dat ass and dose words are both tied to pleasures of the flesh, and, of course, the money Hanks and company are stealing has always been a symbol of desire gone wrong for the Coens.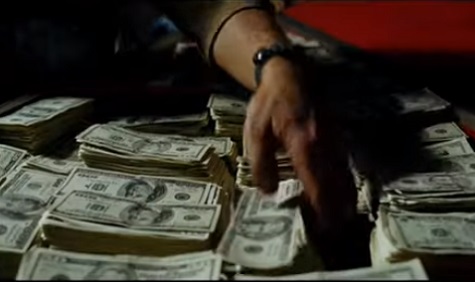 Vulgarity is not limited to language, though. The movie is obsessed with shit, as metaphor and as all-too-real object. "I ain't peeling no shit with my human hands!" a newly-hired Wayans exclaims early in the movie, failing to recognize that to be human is to be a shit factory. This is made explicit by Simmons' character, who suffers from IBS* at several points in the movie (none more amusing than during a haughty lecture to Wayans about how he rode with the Freedom Riders — he's literally full of shit). He's the one who delivers the start of the epigraph above, describing how he can't stop the flow but only manage it. Wayans is responsible for the dubious rejoinder. What is an asshole but the sender of shit? But what if the only way to stop the shit from flowing is to die?
The Coens are master surveyors of human foolishness, and we're never more foolish than when our bodies betray us. They shit, they crave food (pancakes house!), they flail in wrestling matches and drive us to innumerable idiocies in the name of lust and love. And they break down. Hall grouses about her piles to her dead husband, about whom more below. She shuffles along at a stately pace but has difficulty moving her frame up the stairs. There's an echo of this at the end of the movie, where the Coens return to Hall's church to let the gospel choir have the final words over the credits — the conductor helps another hefty woman down from the risers, and she slowly moves toward the microphone. Then she belts out a solo with impeccable phrasing and astonishing vigor. At that same church earlier in the movie, a preacher rails against "that golden calf, that earthly trash on that garbage island." The garbage island is not a metaphor, it's a real place where boats will haul the bodies of Hanks' gang and Hanks himself by the end of the movie. Is that all we are? Earthly trash to be dumped for the gulls and the flies?
The body lets us down and drives us to distraction and sin, and the Coens think that is hilarious. But our bodies and persons are capable of beauty too, and the Coens don't think that's trifling. The Ladykillers got some lazy comparisons to O Brother, Where Art Thou? in its soundtrack selections; people seemed to think it was using gospel and soul in the same way O Brother used old-timey music and dismissed T-Bone Burnett's work as a retread. But Burnett and the Coens have always been specific and incisive in their musical choices and there's an interesting live/recorded dynamic in Ladykillers. Hall initially rails against hippety-hop being played on a "blaster," i.e., boombox, and Hanks' crew uses another boombox to play classical music that they're "rehearsing" in the basement as they dig their tunnel. Recordings, music confined to a static body, are associated with wickedness, while the live church choir, made of bodies in motion, is virtue ecstatic. But both Ladykillers and O Brother share an unambiguous, unironic love of music and its transporting power. And despite how desire corrupts their appreciation, Poe and booty are worthy objects of appreciation too (it is really a fine ass).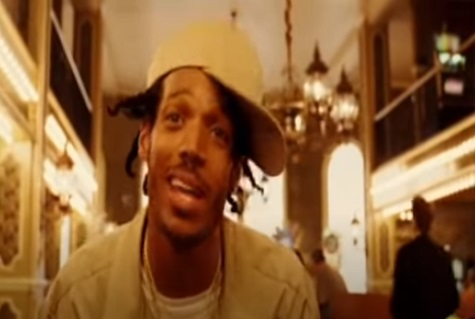 Music, invisible beauty, is the main bridge between the physical and metaphysical in the movie. (Even Wayans is listening to one of those boomboxes when chasing the callipygian object of his desire.) And even without music, Hall crosses that bridge a lot. Her husband, Othar, is long dead, but is still present in the form of a stern portrait that Hall talks to all the time. To the police who frequently deal with her complaints, she's talking nonsense, but she doesn't see the boundaries they do. And that lack of boundaries is given credence later on in the movie, when the most dangerous attempt on her life is foiled by the ringing of a cuckoo clock and a jar of false teeth — the sequence is filmed with the exaggerated angles and heightened motions of another Coen venture into the fantastic, The Hudsucker Proxy. And at the end, the attempted murderer dead himself, we see Othar's portrait with a knowing look.
Othar is who Hall turns to for guidance at her crucial moment. She's caught the gang red-handed and is ready to turn them in, but Hanks comes up with a great pitch otherwise — he promises the gang will donate half of their shares to charity, and give half of the total take to her own favorite nonprofit, Bob Jones University! And hey, this money was stolen from a gambling boat, a sinful enterprise, and because of insurance no one will really lose any money. At the "final reckoning," Hanks says, policy holders will be out one measly penny!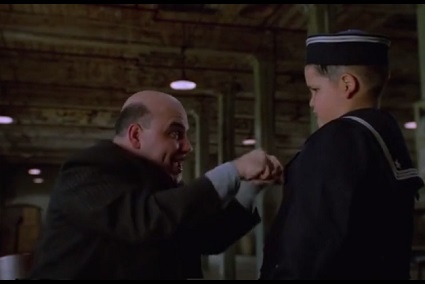 Throughout the movie, Simmons tosses off the reassurance "easiest thing in the world" when asked to do something, but the world is not all that's at stake (also, he's always and occasionally explosively wrong). Hanks' sell is seductive, but Hall, with Othar's uncompromising gaze to remind her, knows there's another, much more final reckoning in play here. She resists temptation. Or, in another word, backsliding.
At the beginning of the movie, the preacher at Hall's church has some words on that subject, warning his congregation of the dangers of backsliding and prescribing some healthy smiting to prevent such an occurrence, which if unchecked will take you straight to that damned garbage island. Hall takes that to heart, whomping Wayans with a pillow when he comes to kill her and shaming him into turning back. It's a cartoonish and hilarious scene — less hilarious is how Wayans flashes back to similar whoopings from his mother as he prepares to kill Hall. In these memories, Wayans' mother is a crude, violent lady watching The Jeffersons, a stereotype and a caricature. For all their love of American verbiage, the Coens can't play with Black language and culture the way they can with that of white ethnic groups and their increased focus on specific milieus in period pieces suggests they understand this limitation. Here their pride gets the better of them — even the movie's gods aren't immune from sin.
What saves all this is Hall, whose sincerity in smiting is harsh but pure — it isn't about her. Hall's murder is less of an issue to her than the fact of Wayans damning himself by commiting it. She's trying to save the soul of this misguided young man, just as she's hoping to steer the listeners of hippety-hop music away from that dangerous path, or how she hopes to reach out to millions through donating money to a university run by that charlatan Bob Jones. (And in Wayans' case, she succeeds — he refuses to kill her, but winds up accidentally shooting himself in a quarrel with the rest of the gang.) Hall is ignorant, but her intentions are good. That may make her a pain in the ass, but the Coens don't see that leading her to hell. It makes her human.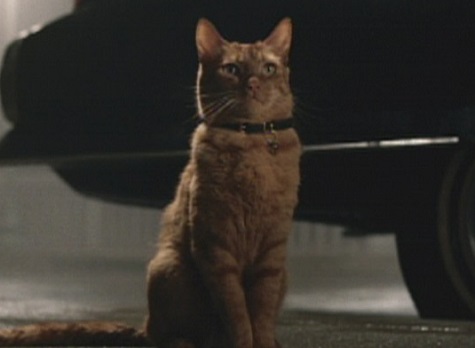 "We're only human," Wayans' casino manager (Stephen Root!) says as he takes a bribe, paving the way for the robbery and half a dozen deaths. It could be the Coens' mission statement. We're capable of the greatest beauty and dumbest shit imaginable, and settling for one so often doesn't mean the other doesn't exist. On the other hand, the sublimity of the former doesn't negate the hilarity of the latter. 
The recurring image of The Ladykillers is a godlike, overhead view of the gang's bodies being dumped over a bridge, landing like clockwork onto a barge heading for garbage island. But I don't think the Coens think the body is merely a vessel for the spirit, earthly trash to be transcended for something higher. Weekend At Bernie's aside, a dead body is never as funny as a live one, and the Coens rejoice in everything a body can get up to. It's the people who treat others' bodies as garbage, ignoring the spirit within, who soon become garbage themselves. That's the denial of humanity the Coens decry here and Hall's sincere elation when the sarcastic and ignorant police give her permission to donate the stolen money to Bob Jones University is the foolish humanity, shit and spirit intertwined, that they celebrate.
During her initial complaint to police at the beginning of the movie, Hall laments the presence of a certain word frequently heard in hippety-hop music. "2000 years after Jesus, 30 after Dr. King, this is where we are?" she asks. At first blush, it sounds like one of Tommy Lee Jones' musings in No Country For Old Men, about kids with bones in their noses and whatnot, despair at the collapsing of all that is good. As Jones learns, his gloomy cynicism is vanity. But Hall's bluster hides hope. There is good (Jesus and MLK are pretty stellar examples of goodness) as we move forward, it's just that there is always a chance to go bad as well. Most people in The Ladykillers make the choice to go bad, but it's their choice. Hall chooses otherwise and is rewarded with not just life, but the glory of other humans making a joyful noise in the film's final scenes. Here, if not always elsewhere, the Coens are benevolent gods. Must be the human in them.
*"IBS!" Simmons tells Wayans. "You be what?" is the confused reply. The Coens themselves cannot resist morally questionable joys of awful punnery.