In 2001, Kathleen Peterson was found dead at the bottom of her staircase, and her husband, Michael Peterson, was arrested for her murder.
The Staircase, originally an eight-part documentary series by Jean-Xavier de Lestrade, followed Peterson's trial all the way to his conviction. the show received sequel episodes in 2013 and 2018, when a key blood pattern analysis expert from the first trial was proven to have a history of massaging his experiments to benefit the prosecution. Blood spatter stains had been one of the tug-of-war ropes in the case: were they suggestive of murder, a bludgeoning? Or did they indicate that Kathleen Peterson had, as her husband's defense team claimed, most likely fallen down the stairs? The discrediting of analyst Duane Deaver was enough to get Peterson's conviction overturned, and the 2018 episodes documented Peterson's ultimate decision to take an Alford plea rather than risk enough trial.
***
Michael Peterson killed his wife, the argument goes. He obviously killed his wife.
Peterson was—possibly unbeknownst to his wife, probably unbeknownst to his wife, or almost certainly unbeknownst to his wife—bisexual, and, married or not, was in the habit of seeking out sexual encounters with men. His wife may have found out about either his sexual orientation or, more relevantly, the affairs, and this may have been enough for her to ask for a divorce.
If it was, Peterson chose her $1.5 million life insurance policy over the divorce. He beat her to death with an undetermined instrument, producing severe scalp lacerations—enough for her to bleed to death—and a stairwell that was drenched in a horrifying amount of blood.
Kathleen's death may, in fact, have been the second murder Peterson had staged. Elizabeth Ratliff, a close friend of Michael Peterson and his first wife when they'd been living in Germany, had also been found dead at the bottom of her stairs back in 1985. Michael Peterson was the last person to see her alive. Her death was originally ruled to be natural: an inter-cerebral hemorrhage related to the headaches she'd repeatedly mentioned before her death. Her body was later exhumed at the request of the prosecution, and another medical examiner declared her death to have been the result of a homicide.
Even if Elizabeth Ratliff's death was natural, it's possible that Peterson, having observed the case, decided to try to duplicate it in the hope of achieving the same quiet results and undramatic verdict.
He was having affairs—or regularly attempting to have them, at least. He benefited materially from her death. The crime scene was a gory mess, and his only alibi was having been outside at the pool. He killed her.
He had a large, well-funded defense team (at least until his appeal, by which time he was indigent and his old lawyer was representing him pro bono). It's harder to argue that someone with his resources just got steamrolled by the system.
The Staircase, you could say, is deeply flawed. It fails to put any real weight on the life insurance policy or on the snapped hyoid bone in Kathleen Peterson's neck. It downplays the significance of Michael Peterson's affairs. It offers limited access to the prosecution team and the members of Peterson's family—most notably his sisters-in-law and stepdaughter—who did not side with him, and it frames one of those sisters-in-law, in particular, as a kind of strident villain. All of this makes even more sense once you find out that Peterson was in a long-term romance with the documentary's editor.
***
Michael Peterson did not kill his wife, the argument goes, because his wife wasn't even murdered.
(Occasionally, someone brings up the possibility that Kathleen could have been murdered by an intruder, a technical possibility that nonetheless feels like a ridiculous grasping-at-straws. The internet has also become fixated on the more unusual theory that an owl did it.)
She fell down the stairs, possibly more than once. She had a .07% blood alcohol level, and her system also contained Valium, making her clumsier than usual.
She fell. Or an owl killed her.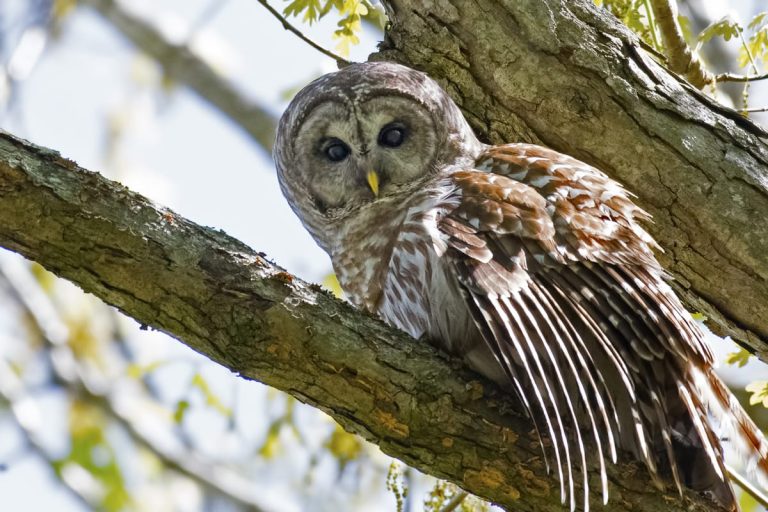 Or, alternately—maybe he killed her and maybe he didn't, but the prosecution handled the case so badly that they ruined any chance for us to know. The real truth was buried under a cascade of perjury, rigged science, homophobia, racism, and small-mindedness. Peterson should have been acquitted, because the only thing the state proved was that Durham, NC is a fucking terrible place to be on trial for murder, especially if you're queer.
The prosecution leaned heavily on Peterson's bisexuality, playing up the fact that they didn't just find porn on his computer but gay porn: "It's not the kind of thing your typical, average juror or typical average citizen would want to access or want to play out in their personal lives." Cross-examination demands that a male escort Peterson solicited specify that they were talking about having anal sex, something that gets reiterated in the closing arguments.
The prosecution's corrupt blood spatter analyst was white. The defense's was the Chinese-American scientist Henry Lee—and focus groups repeatedly dinged him for being "hard to understand" because of his slight accent, explaining that they stopped listening because of it.
One of the most prominent and persistent advocates for Michael Peterson's conviction was Kathleen Peterson's sister, Candace Zamperini, and she comes off horribly: a woman who aggressively takes everything in the worst faith possible. She scrutinizes an archive of Peterson's fiction and selectively reads out bits about murder, declaring that they must mean something. She decides to interpret a frustrated "Candance needs to shut her fucking mouth" as a threat. She gives interviews where she declares that no innocent person would ever plead guilty. ("Alford Schmalford.") When one of the loudest voices on the other side is someone this determined to be childish and hectoring—and at one point apparently quite racist, attacking the new black female prosecutor as obviously unprepared and unqualified for reasons that are never substantiated—it can't help but taint everything else by association. The case begins to seems willfully blinkered.
Then there's all the procedural misconduct. A missing blow poke, touted as a possible murder weapon, turns out to have been first found and then lost by the police. The blood spatter analysis is, as previously stated, conducted by someone whose history of slanting evidence had resulted in wrongful convictions before. Judge Orlando Hudson, who presided over both the trial and the plea arrangement, eventually admits that even he himself might have had a reasonable doubt, and questions his own decision to allow the story of Ratliff's death and the truth of Peterson's bisexuality to be admitted into evidence.
Maybe he's guilty, maybe he's innocent, but either way, the documentary does a good job of capturing that this was a clusterfuck.
***
While the miniseries was created largely before the post-Serial true crime boom, this last interpretation is right at home in the current documentary landscape. I genuinely like The Staircase and find it riveting to watch, but I ought to: it's squarely aimed at me. It's a familiar liberal true crime narrative: a wrongful conviction comes about because other people just aren't as enlightened as the audience of this particular documentary. We can see the small-mindedness on display. And there's a certain cynical, above-it-all comfort to saying that yes, this man probably did kill his wife, but I am sophisticated enough to understand that that "probably" isn't good enough and that, given the prosecution's blunders, he should never have been convicted.
I'm anatomizing my own position here, more or less. The Staircase is a very good documentary; simultaneously, The Staircase's seeming ambiguity is self-congratulatory at best and masturbatory at worst. There are a ton of problems with the American justice system, but most of them don't involve the wrongful convictions of rich white guys.
But while the series is not political—and it's not—and while it is not impartial—and it's really not, Lestrade nevertheless crafted a landmark work of true crime.
Partly that's because it's just plain entertaining.
The documentary crew is embedded with Peterson's defense team and family, and they're a smart, likable bunch of people. Attorney David Rudolf is the rare ordinary person nonetheless good-looking enough to be a professional actor, and he substantiates that with intelligence and humor and a weary charm; half the time, when he shows up on screen, my household's reaction was such that you'd think we were a bunch of sixteen-year-old girls encountering the Beatles. (DAAAAAAVID!) Peterson's adopted daughters Margaret and Martha—Elizabeth Ratliff's daughters originally, wildly enough—are notably kind, grounded girls whose love for their dad is apparent and heartbreaking. When we see them again in the 2013 and 2018 footage, it's a pleasure to see that they're doing well. Even Candace, as grating as she appears, makes for good TV.
Peterson himself can be quite sympathetic at times. He never has the gravitas he thinks he does—or, I suspect, the gravitas Lestrade saw him. (If you drink every time you see Michael Peterson standing alone, staring broodingly off into space, you'll hit the floor before you ever find out how the trial turns out.) Peterson is full of himself, prone to prosy asides about the bigger picture. He drives around Durham, pointing out its virtual segregation to the camera, theorizing about how the sensationalized nature of his trial may be a way to distract people from the real, ongoing problems with Durham. It's both a valid point and one that's more than a little suspicious coming from home—yeah, Mike, if I were on trial for murder, I'd also be firmly convinced that, darn it, all this was just a distraction from more pressing social problems! All this fits with the excerpts read from his novels, which are similarly pseudo-profound. And when he agonizes over the Alford plea and hems and haws about how he doesn't want to actually say the word "guilty," it's hard not to want to smack him with something.
But when he's with his kids, he's genuinely affecting. (So much so, perhaps, that I can't entirely blame the show from sidling away from how unsettling the tenderness between them would be if he really did kill their mother—or, in the case of Margaret and Martha, both of their mothers. It's a hard question to explore, especially in the face of the girls' obvious love for him.) There's no better moment for him than his conviction, when he's sentenced to life in prison. Peterson guards his reaction, retreating inward, showing nothing even as his family tears up and breaks down. When he's asked if there's anything he wants to say before the sentence is imposed, all he does is turn around to his kids. He says quietly, several times, "It's okay. It's okay. It's okay."
The documentary also has a wry sense of humor at times. When Elizabeth Ratliff's death suddenly makes the news, David Rudolf turns to the cameras: "Well, you guys just got a much more interesting film." In 2013, the documentary crew is hand-waved as: "I got this group of French people who are following me around with a camera." Watching David Rudolf try to get his tech support to show his PowerPoint correctly, slowly simmering with frustration, could come straight out of The Office.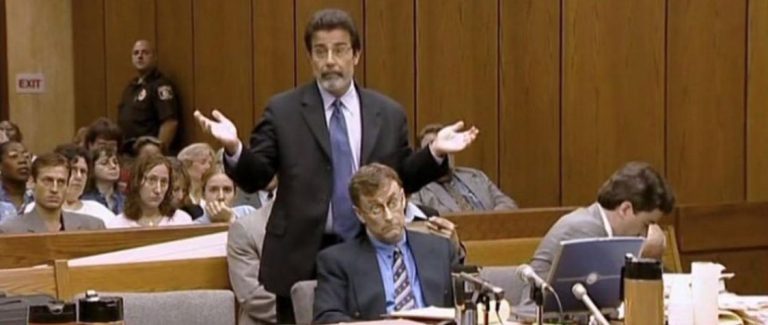 In particular, the cross-examination of male escort/former active-duty soldier "Brad" is an utter delight. Called to testify to the fact that he and Peterson had set up a date, Brad is friendly, sunny, and entirely straightforward. What sexual activities was he willing to consider? "Oh, well, just about everything under the sun." Who hires him? "Usually they are professionals, because my fees are quite high." Doctors, lawyers—and one judge. He looks up sideways at Judge Orlando Hudson and clarifies, "Not this judge," which gets laughs from the entire courtroom.
And there's plenty of poignancy, too. Not so much from Peterson's overworked moments of playing up tragedy for the camera, but from smaller scenes. Rudolf's post-conviction interview shows him to be genuinely shocked by the results of the trial: "It shook my faith in the justice system, in human beings, in my own abilities, in my judgment. In my sense of reality." Sisters Margaret and Martha end up on the opposite side of the family chasm from their former stepsister Caitlin, and they're acutely aware that that's a gap that they can't ever bridge. The sheer passage of time has its impact, especially when everyone reappears in 2013. As self-serving as Peterson's accounts of his affairs tend to be, there's something ultimately powerful about his eventual admission that, no matter what he said or implied before, Kathleen didn't know about his bisexuality, didn't know about his affairs—and now he wonders what would have happened if he'd been more open with her.
Most moving of all is a small appearance by Greg Taylor, a man who wrongfully served seventeen years in prison because of Duane Deaver's slanted testimony. He says simply and movingly that he missed his daughter's tenth birthday, her high school graduation, her college graduation, her wedding, and the birth of his grandchild. He looks at his daughter now like she's a stranger because, he says, "I don't know how she came to be about herself."
The show also offers valuable behind-the-scenes insight into the way legal defenses are constructed. We see Peterson being led through tongue-twisters and strategies to relax his walk. We see Rudolf wrestling with that PowerPoint that will later appear seamless. We see—most pointedly of all—the moment when the defense team hears that the missing blow poke has been found, and some of their official certainty about Peterson's innocence gives way to a muttered: "We need to talk to Mike. You need to make sure that if we test this fucking thing…"
And in the end, the problems that plagued the Michael Peterson trial are ones that it's worth talking about. It's important to document how prejudice, corruption, and incompetence can undermine cases and compromise justice—can both cause unjust convictions and allow murderers to go free, whatever you think happened here. If everyone involved had done their jobs, half of this story probably wouldn't have happened, and that's significant.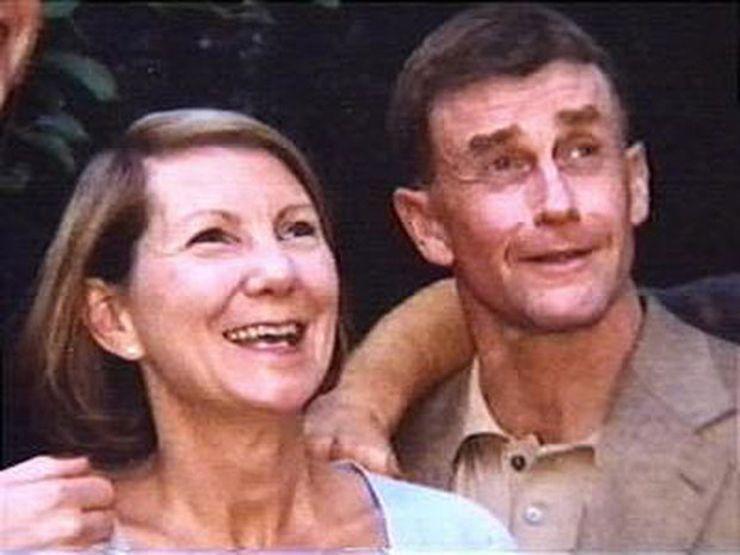 The Staircase is a flawed documentary. Its low-key vibe makes it seem more impartial than it is; while it may withhold its official ruling, it's still very clear who gets the story's sympathy and attention. As much as I personally dislike Candace by the end of the show, she's not wrong when she points out that Kathleen Peterson has been lost in all of this. That's one of the problems with wrongful conviction narratives—the crime they're addressing isn't the murder but the injustice, and, unavoidably, it feels like the original victim is less important and less worthy of our time than the man who might have killed her. Worse, the show leaves out key facts, sticking to the parts of the prosecution's argument that the defense can offer the best rebuttals to.
But despite all that, I still recommend this. At its best, it's thought-provoking and fascinating, with an almost Shakespearean family setup and a profound procedural struggle. It's a bridge to the new breed of true crime, one that's often more enamored with personalities and less stringent about dry facts, and it's almost a good medium between the two. It can't equal the best journalism. But it can almost equal the best crime fiction—and the limited truths it offers are often still revealing ones, and the questions it raises are tantalizing.