Looking back at John Ford's 3 Bad Men today, it would be easy to call it an "early film" — but the truth is, he'd already made more than fifty by 1926. It feels like one of the endless stream of Westerns he produced in his long career — but in fact, he took more than a decade away from the genre after this, not returning to it until the sound era with 1939's Stagecoach. And, like most Westerns, it feels like it takes place in the distant past — but the gold rush it depicts took place less than fifty years before the film was made. 96 years later, here I am writing about it, in a different country, in a different age, in a different world. And I'm here to say, in the parlance of our times, that 3 Bad Men, like…totally slaps.
Ford had really broken through as a major filmmaker with The Iron Horse a couple of years before; his early career had largely been defined by cheap, quickly made films, but his historical epic had been a big hit and made it clear that he was a major player. Despite the impressive spectacle, Iron Horse is a bit too much of a bone-dry history lesson for my modern sensibilities. 3 Bad Men combines that film's epic scope with a witty, romantic and adventurous story that still feels fresh today. Well, mostly — the usual disclaimers about classic Westerns do, of course, still apply.
Anyway, 3 Bad Men takes place in 1877, during the Black Hills Gold Rush. This was Sioux territory, so the native inhabitants have been relocated, as was the style of the time, and a proclamation has been made that people may settle and begin seeking their fortune in just a few days' time. One of the people headed to the boom town of Custer to try their luck is Dan O'Malley (George O'Brien), a good-natured cowboy with a harmonica on his belt and a song in his heart, and when he stops to help a broken-down wagon, he runs into Lee Carlton (Olive Borden), who is traveling with her father and a bunch of pedigree racehorses they hope to use to get a head start on the other gold-hunters. In the early minutes before these two meet, 3 Bad Men feels like any other run-of-the-mill Western with a lot of historical setup, but as soon as Dan starts Dansplaining wagons to a wagon owner the film comes alive — and at this point, I'd like to take the unusual step of preparing a comic-book-style re-enactment of the exact moment I realized I was going to love this movie — dialogue provided by dapper Dan O'Malley: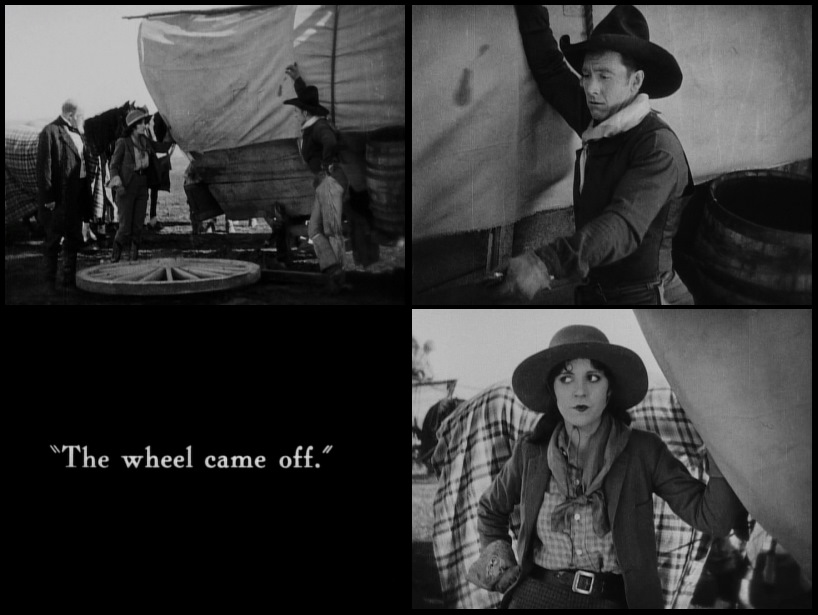 Dan redeems himself by fixin' to fix the wagon wheel, but despite the simmering chemistry between the young travelers, they go their separate ways. After all, we're ten minutes into the movie and we haven't met a single bad man yet! Something John Ford is keen to remedy, as a montage of wanted posters introduce us to "Bull" Stanley and his men, horse thieves with a collective bounty on their heads. They're traveling to Custer too, but in search of revenge rather than riches. Spying the Carltons' fancy horses on the horizon, they get ready to make their move — only to be beaten to it by a gang of younger, quicker horse thieves who take out Major Carlton before being scattered by "Bull" (the intertitles never stop putting his name in quotes, so why should I?)
Having lost her father before even reaching the camp, Lee immediately asks the three ruffians who've just accidentally saved her life and her horses, and the 3 Bad Men start the slow process of becoming the 3 Best Darned Men You Ever Did Meet. They'll fight for Lee, they'll seek revenge on the film's true bad man (the town's crooked sheriff) and, in an unexpected plot development so weirdly delightful I don't want to spoil it here, they'll reunite Lee with Dan O'Malley.
Even knowing that John Ford's prolific career included multiple comedies, the rom-com heart at the center of this epic Western caught me off guard on my first viewing, and it was no less wonderful on a rewatch. George O'Brien and Olive Borden are great together — apparently they were a real-life item around this time — and Borden in particular has incredible screen presence. Her story is one of those tragic ones Hollywood reserves mostly for its actresses: she was frozen out after refusing to take a pay cut when everyone started shifting to talkies, which led to a reputation of being "difficult to work with" and, despite having worked with Ford, Howard Hawks and Raoul Walsh in the '20s, she only made a few more movies after the advent of sound and died in poverty, aged 41. There are multiple scenes in this film where she made me laugh purely with her facial expression; it's such a shame that her career was cut short.
But for the duration of 3 Bad Men at least, she's a superstar. And the film rises to her level, with consistently witty intertitles and some dazzling action. The bulk of the film takes place in Custer, which is one of those wonderfully alive, bustling Western towns (the poster's claim of a cast of 25,000 doesn't even feel like that much of an exaggeration) and when the proclamation kicks in and the wagons set off into the Dakotas, it's breathtaking — Ford makes sure to capture the action from some inspired camera angles to really make put the rush in the Gold Rush. Inevitably, the finale whittles things down to a showdown between Lee's "Bad Men" and the Sheriff's actually-bad men, and the climactic shootouts deliver the goods. But it's the surprising heart in the first two thirds of the film that ensures the climax hits on an emotional level, too. It's wonderful to see a film that knows exactly when to deploy the major spectacle and when to zoom in on the smaller, quieter parts of the story.
3 Bad Men is currently available on the Criterion Channel with an absolutely wonderful score by Dana Kaproff, who uses familiar bouncy piano themes for the low-key scenes and brings in guitar and strings when the action shifts to the wide-open plains.