It was a year of getting back on the movie watching horse, falling off again, and navigating a disrupted – or is it permanently changed? – movie landscape. Blockbusters returned and there's a big uptick in music scenes here. This is an incomplete chronicle of not necessarily the best movies of this year (though I'll go to bat for more titles than usual on this year's list) but the peaks of the movie experience throughout 2021 and a chronicle of these past 12 months through the lens of our favorite art form.
It's incomplete because as always, availability for a Midwesterner in the United States informed my viewing (This is Not a Burial, This is a Resurrection technically had its premiere in 2019!) and some titles eluded me due to time and location. Titane left town too quickly, Parallel Mothers arrived too late, and like most of the country Memoria may not be eligible for the list in my area until sometime between now and 2030.
Hope you found some gems in your watching this year as well. Please add your picks in the comments below!
---
20-18 (tie):
Ghostbusters: Afterlife – Reforming the Team
The Matrix: Resurrections – Developing the Sequel Montage
Spider-man: No Way Home – The Guy Sitting Behind Me Yells "Oh, COME ON!" Through His Mask
This was not the first year to feature so-called legacy sequels, movie nostalgia has been mined ever since the crass Edison Kinetoscope cash-in "The Sneeze Returns" (1895). But never has the business side of equation been so apparent to audiences, meaning each return to a beloved property has a cynical veneer to navigate. You can ignore this like Jason Reitman, you can parody it like Lana Wachowski or you can septuple down and test the audience's limits like the MCU.
Of course, you likely didn't experience the third moment listed above unless you were one of the other eight people in my theater, or this guy was doing a roadshow of his brief interruption routine. And reports indicate it's much more likely you had a fist-pumping, applauding, laughing audience to watch the movie with. In both cases: Welcome back, movie theaters (where applicable).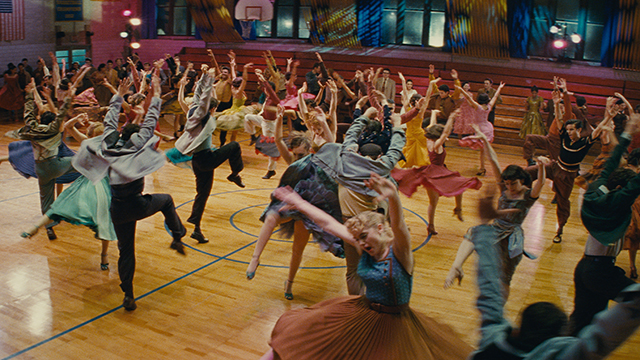 17. West Side Story – The Dance at the Gym
Plus there's this remake option. Put a classic text in the hands of Tony Kushner and choreography before the camera of Steven Spielberg and of course you're going to get fireworks. This astounding display of design and direction comes just under the wire before the love story interrupts.
16. Zola – Hotel montage
Janicza Bravo adapts an infamous Twitter thread and turns it into the year's most experimental and consistently funny option at the multiplex. The story's wildest moments are preserved or expanded in style, like a night of hustling that scrolls by. Bravo provides structure to a wild Internet story while keeping its viral appeal.
15. Nine Days – Monologue
A film on the razor's edge between maudlin and meaningful with the scale finally tipped to the latter by a grand, crescendo of a performance by Winston Duke.
14. C'mon C'mon – Star Child
Joaquin Phoenix shakes off the clown aftershocks and turns in his most natural and impressive performance in years. As part of his duties as Uncle Johnny he reads Claire A. Nivola's simple and emotional children's book. "Over the years, you will try to make sense of that happy, sad, full, empty, always-shifting life you're in," he quotes over images of those lives, a perfect thesis to Mike Mills's latest seriocomedy.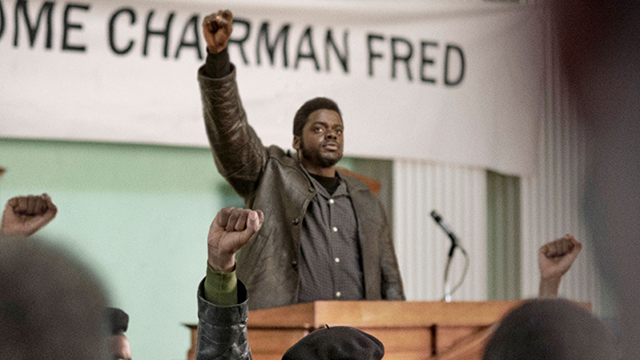 13. Judas and the Black Messiah – High Off the People
Here's an example of the strange time soup we've been living in: do you realize this movie was released and won an Oscar within the past 12 months? Thanks to revised rules in response to the COVID-19 crisis in 2020, this film could appear on HBO and be eligible an Academy Award in the same calendar year. But Daniel Kaluuya didn't win for the sake of trivia, he won on a powerful portrayal of Black Panther leader Fred Hampton. His performance reaches its fiery peak in a scene that gathers the threads of this historical epic before playing out its tragic conclusion.
12. Get Back – Billy Preston Arrives
A year of limited production may explain the presence of two music documentaries recut from archive material here, but Peter Jackson lavishing the amount of time he gives to hobbits on The Beatles was going to turn heads under any circumstances. The long stretches of time given to the process are the attraction here with the big rooftop concert merely dessert. With this in mind we award the best moment to the one where that spirit gets a shot in the arm as the lads put on their best behavior in the presence of guest Billy Preston who adds a rejuvenating jolt to the room.
11. This is not a Burial, It's a Resurrection – Comforted by Sheep
As I report every year, the downside to doing moments over whole films is it becomes more difficult to describe extraordinary movies that deliver a steady supply of minor moments culminating in a powerful whole. Case in point, this mesmerizing film featuring an incredible final performance from Mary Twala whose finale will not be described here. Instead we'll just mention just one of Lemohang Jeremiah Mosese's arresting images where Twala sits in grief as a herd of sheep approaches, as though the rural landscape is the only true comfort on offer.
10. Licorice Pizza – John Peters Returns
And then there are films that are entirely made up of candidates for moments. What to choose from this buffet of instant classic scenes? The finale? The opening? The truck? We'll go with something close to the last option that involves Bradley Cooper's hilarious turn as a notorious Hollywood character who keeps stumbling back into the kids' plan to get one over on him.
9. Mass – Plain Statement
A first-time writer/director making a drama almost entirely in a single room between four characters sounds like a shaky time at the cinema. But character actor Fran Kranz guides a cast of astonishing talent through a harrowing concept with the sure hand of veteran and makes this moving story about evil, sorrow, and grace the year's most surprising find. The film dances around its central incident for the first act, not in a taffy-pulling mystery way, but in a way that conveys how the past can radiate too much pain to look at directly. When one character finally evokes it directly, the movie itself reels.
8. The Power of the Dog – The Rabbit
Jane Campion returned to movies with this adapted tale of men battling their softer selves in an attempt to make headway in the frontier. If this sounds destined to play second banana to First Cow, Campion gives the story a bleeding edge that surprises even though a glimpse of Kodi Smit-McPhee's self-directed studies as a surgeon-in-training should tell us the true nature of this particular story.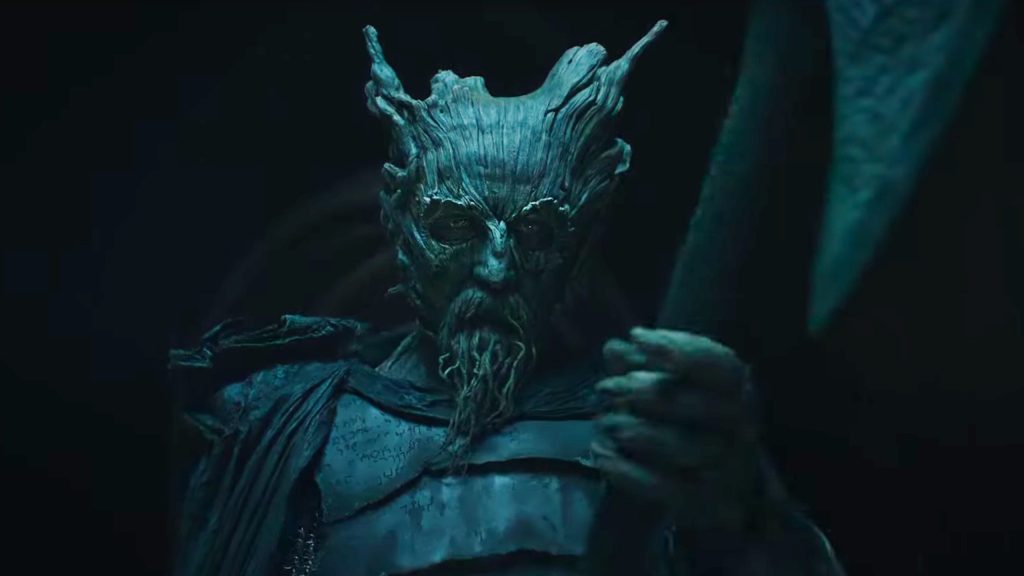 7. The Green Knight – Waiting in the Dark
Ridley Scott's knights in armor argued this year persuasively for theatrical spectacle by challenging each other to a Last Dual, but David Lowrey's imagining of a medieval fantasy poem demonstrated another benefit of the theatrical experience. There's a questing knight and giants and a monster armed with an axe, but the movie most memorably weaponizes a fantastic Dev Patel performance to create a curious journey that throttles the adventure's pace in unexpected ways. Late in the game the daring knight kneels and waits for the coming dawn and his fate. For a long period of screentime, longer than our patience, and then longer than our impatience, we wait with him. And it's lovely.
6. Old – The Baby
Old can be loved or disparaged or a combination of both, but one thing it should not be is overlooked. Not with Shyamalan rediscovering his ability to create tension out of a narrow selection of disturbing images with your aggressively stimulated imagination filling in the rest. Unlike this mysterious beach's unfortunate children (played by three different actors each), these tricks haven't aged a bit.
5. Malignant – [redacted]
Or maybe Shyamalan's somehow too subtle for you? James Wan's unremarkable spooky story gets interrupted by James Wan's twist of unchecked insanity. The giallo-inspired affectations seem like a liability until he matches them with appropriately-sized effects and action. Even if you're heads up enough to see what's coming, you cackle to see it in action in the year's most memorable use of special effects. Not the best of film of the year by any measure… but maybe the least optional?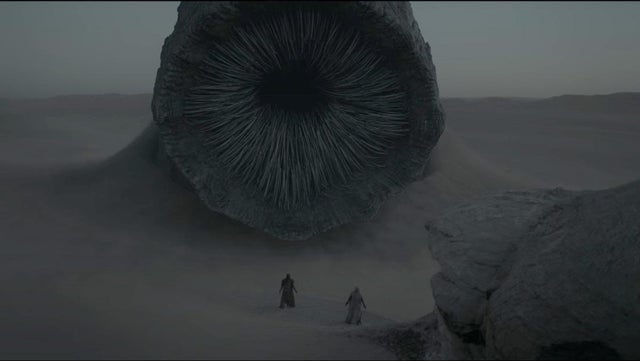 4. Dune – The Sandworm
The theatrical experience would need a few months after its return to score something like a victory over home competition. Also available to viewers as a streaming option on its release day, Denis Villeneuve's long anticipated Frank Herbert adaptation strove to reward audiences able and willing to experience it in on the big screen. The ambitions are epitomized in the rumbling anticipation of the massive sandworms that surface to devour unfortunate people and vehicles. Does it maybe resemble an anus? I submit that many worthy experiences involve an anus.
3. Summer of Soul (…or, When the Revolution Could Not Be Televised) – The Fifth Dimension
Ahmir Thompson aka Questlove rescues a documentary of 1969's other massive outdoor concert, the Harlem Cultural Festival, from a cultural memory hole. Seeing the footage of the performers is exciting in and of itself, and Thompson adds context with interviews of performers, organizers, and members of the audience of thousands. Like all concert films your highlight will depend on musical preference. I choose a performance of "The Age of Aquarius" aided by reminisces by band members Billy Davis Jr. and Marilyn McCoo as well as audience member Musa Jackson, whose astonishment at seeing his memories confirmed demonstrates the film's significance beyond a historical record.
2. In the Heights – "96,000"
There's an alternate universe where this exciting bit of choreography filmed in a Brooklyn public pool takes the top spot. Released to theaters in the U.S. in early June, In the Height's celebration of sueños y communidad seemed perfectly poised to capture a wave of optimism around the new COVID-19 vaccines and the reopening of theaters. Unfortunately the optimism about the pandemic and the movie's box office proved premature. The Delta variant chased away the prospects of a worry-free summer and Warner Brothers started poaching releases for premieres on the HBOMax streaming platform.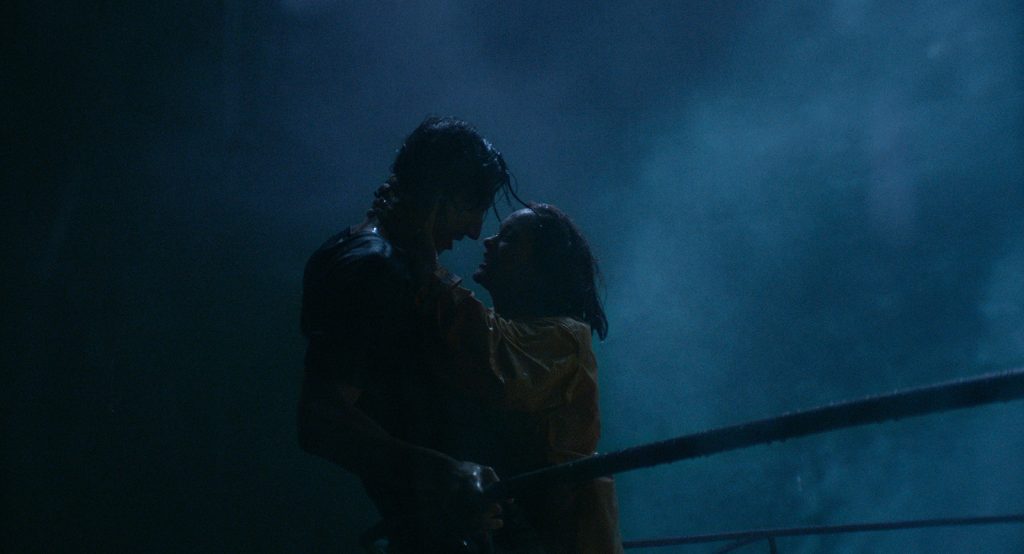 1. Annette – Storm at Sea
A film with aggressive theatricality even for a musical. There's an opening number with actors singing to the camera asking to start the show and then a famously eyebrow-raising casting choice for its titular character. But Leos Carax's showmanship leads to honest reactions, so it's appropriate that the most harrowing sequence is performed among massive, obviously rear-projected waves that nonetheless make an impact with each crash. The image doesn't have to be what we usually expect, the experience can vary, but we're always after that real feeling.