"Gangsters are foreigners. He's an American." 
– "Gramp Maple" in The Petrified Forest (1936)
In 1931, the gangster movie exploded into the national consciousness. Warner Brothers' January release of Little Caesar — which broke the record for highest attendance at Warner's flagship theatre the Strand in New York — signaled a swift tidal wave of shoot-em-dead gangster pictures. A lot of these movies have been forgotten, even by the film-literate, but their collective impact had a deeply lasting impact on American culture. Warner Bros. led the way, but all across Hollywood there was a strong movement towards the kind of urban toughness and common grit that gangster movies exemplified. New stars were being launched whose stardom would have seemed rather unlikely just a few years earlier. Take Edward G. Robinson, for example. Physically, he was a short, squat little man with sunken eyes and an oversized mouth, uncouthly decorated with pair of excessively fleshy lips —  bad looking enough that Bette Davis later revealed that most of the starlets at the studio refused to play love scenes opposite him. He didn't speak in the kind of mid-Atlantic affectation that stage performers were typically trained to perform in. Instead he growled out the sound of the Lower East Side streets where he grew up; his accent and cadence in films like Little Caesar and its successors was the basis for our "Nyaaaa, see," stereotype of old-time tough guys.
And he was a Jew.
The last part is rather important — before Robinson, there were certainly Jewish movie stars in Hollywood, but they tended to be comedians like Jack Benny, or singers like Al Jolson, or both, like Eddie Cantor.* They tended to come up through the jokey and jovial stage performances of vaudeville, rather than be dramatic heavyweights. But the spread of sound to Hollywood, ushered in by Al Jolson's The Jazz Singer — explicitly linking "talkies" with American Jews — changed that. We didn't just see movies anymore, we heard them, and uniquely American voices, voices with character and color, could now be faithfully reflected on the big screen, expanding and enriching the experience of watching a movie. And the voices of the ghettoes of the Lower East Side, which proclaimed their speakers' working class and "ethnic" nature, was a part of the new experience, an experience that could have alienated viewers, and perhaps did for some, but drew in and attracted many moviegoers across the country.
*Surprising fact: the star of 1903's The Great Train Robbery was a Jew, Broncho Billy Anderson, born Maxwell Aronson. 
A sign of the popularity of this new wave of movies was the fact that not four months after Little Caesar was making a smash in Warner Brothers' record book, The Public Enemy (also from Warner Brothers) was breaking the exact same record set by the earlier film, becoming one of the biggest hits of the year. The Public Enemy follows a lot of the conventions set by Little Caesar but stands out in certain ways which mark both the formula of the classic gangster movie, and the variations in formula that make all the difference.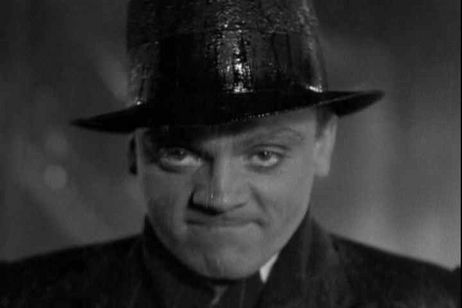 The Public Enemy, directed by William A. Wellman, is a looser, shaggier film than Little Caesar, for one thing. Unlike the Edward G. Robinson-starring picture, The Public Enemy does not boast the story of an eagle-eyed thug's undaunted rise to the top of the criminal pyramid. Instead it tells the meandering story of a small community, and how that community both affects and is affected by one of its residents, Tommy Powers. Unlike Caesar, it highlights and dramatizes the formative years of a young hoodlum long before he becomes a murderer — beginning with a pubescent Tommy (Junior Coughlan) playing pranks on neighborhood girls with his best pal Matt Doyle in the year 1909. With shots of the stockyards and slums of Chicago, director Wellman establishes Tommy's neighborhood as a hardscrabble, working class environment with decaying houses. When the scene shifts to Tommy's home, his father, a stern, Irish-accented Chicago cop beats his son with a leather strap, while his soft-hearted mother (Beryl Mercer) hems and haws over her little boy. Rounding out the Powers family is straight-arrow brother Mike Powers (Donald Cook), a bore and a stiff who works on a streetcar to afford night school, goes off to the Great War and ends up traumatized. With its focus on a dysfunctional family, t's easy to see why Sopranos creator David Chase would later cite The Public Enemy as a significant influence on his groundbreaking series.
Tommy and buddy Matt (played as an adult by Edward Woods) fall under the sway of local fence "Putty Nose," who seems to attract and groom young delinquents for a life of crime, until Tom has to deal with a raid by the cops and his "mentor" skips town. As the years go on, the grown up Tommy and Matt find a new economic opportunity with the coming of Prohibition, being enlisted by local saloon owner Paddy Ryan (Robert Emmett O'Connor) to serve as strong-arm enforcers in his new bootlegging scheme, bankrolled by flashy mob boss Samuel "Nails" Nathan. The small but powerful Tommy does well at the job, and gets the traditional symbols of nouveau riche wealth: the convertible, the newly-tailored suit, the platinum blonde girlfriend,* and he seems to be having a ball enjoying himself. All the while, his brother Mike remains emotionally shattered by his experience in WWI, and lashes out at Tom for gaining profit from a violence-laden business, to which Tommy snaps back "You didn't get them medals fer holdin' hands with them Germans!" With plotlines like this one, and with the emphasis on Tom's blue collar upbringing, The Public Enemy shows a keenness for the sociological elements often hidden in the genre, and anticipates Goodfellas's Henry Hill's rejoinders about "those goody-good people who worked shitty jobs for bum paychecks," by a good 59 years.
*I have previously written about the quiet and unorthodox sexual subtext of The Public Enemy, which can be read here.
And very interestingly, the film plays up the "ethnic" nature of the Powers family and their neighborhood. First of all, the casting of James Cagney in the lead role was a crucial decision — and one that almost didn't happen. Originally, Edward Woods, who plays Matt, was cast in the lead role of Tom Powers, and even began filming, before William Wellman recognized that Cagney had infinitely more charisma than the much more forgettable Woods. Woods was a taller, more handsome actor, WASPy and all-American, originating from Salt Like City. He looked like a classical silent movie star. Cagney on the other hand, was a stocky little guy, bug-eyed and red-haired — arguably the defining Irish-American star of the silver screen, then and now. The grandson of Irish immigrants, Cagney grew up in poverty on the Lower East Side of Manhattan, where he learned to be a damn good street fighter and an even better dancer. Everything about him, from his physical appearance to his machine-gun Noo Yawk line delivery, announced his ethnic Irish-ness and his big city slum upbringing. In 1931, less than three years after American voters couldn't bring themselves to vote for Irish Catholic presidential candidate Al Smith for fear of his un-American Roman popery, Hollywood's top Irishman was dancing and punching his way into the hearts of filmgoers.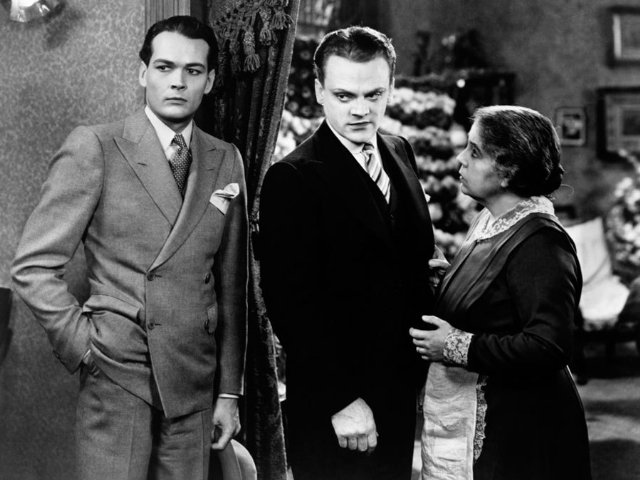 But beyond Cagney himself, director Wellman and screenwriter Harvey F. Thew were able to furnish The Public Enemy with other indicators of race and ethnicity: one Irish character reacts with shock (and apparent disgust) when learning that a Samuel Nathan — quietly but clearly a Jew — has donated flowers to the Powers family, alongside their Irish Catholic friends and family. There are Irish-brogued neighbors, and you can hardly make someone seem more Irish than giving them a name like Paddy Ryan (based on a real life bootlegger named Paddy Ryan, who ran the Valley Gang in the Bloody Maxwell section of Chicago). The filmmakers behind these movies trusted audiences to feel comfortable around these characters, despite (or perhaps because of) their violence, their slum backgrounds, their ethnic otherness. And for the most part, audiences responded in kind, making hits and icons out of these movies — with some limits.
While the dollars flowed, controversy was brewing as well, and it all came to a head in the neck of Tony Camonte.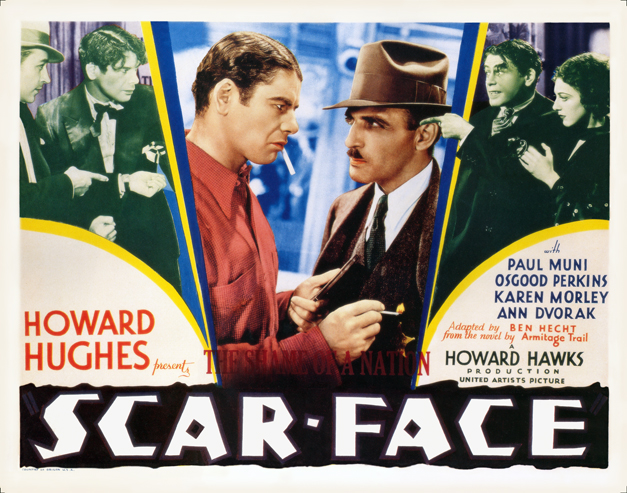 In 1931, one of the most famous men in the world was one Alphonse Gabriel Capone, a used furniture merchant from Chicago, Illinois.
We all know who Al Capone really was, and what he really did, but so did the United States government, and that proved to be a problem. While Al "Scarface" Capone was making himself into a celebrity, parading in front of news cameras, handing out turkeys on Christmas morning, giving press interviews, and showing up to the opera in a three-piece white suit or a fur coat, he could not help but attract the attention of law enforcement. And while Capone spent the roaring 20s enjoying good publicity as a kind of "Robin Hood" figure, the senseless brutality of the St. Valentine's Day Massacre of 1929 — a bloody gangland execution that killed an innocent mechanic who happened to be in the wrong place at the wrong time — and the impact of the Great Depression, which left millions of Americans hungry and homeless while a crime boss flaunted his wealth — turned the tide against him. This would soon result in Capone's Waterloo: tax evasion charges on his illegal booze empire. While all this was going on, another one of the 20th century's most famous men, eccentric billionaire playboy Howard Hughes, was soon to carve out the Capone legend.
Scarface was to be the name of the movie, planned as the most violent and most outrageous gangster flick yet: a kaleidoscope of bullets and bloodshed with young up-and-comer Howard Hawks (not to be confused with producer Howard Hughes) in the director's chair. The story was a lightly fictionalized version of the rise and fall of Al Capone: how murderous mobster Tony "Scarface" Camonte made his bones by killing Chicago crime lord Big Louie Castillo on the orders of gang lieutenant Johnny Lovo; how he got too ambitious and hotheaded, spurring on his boss Love trying to betray him; how he ended up killing Lovo and making himself the new boss; how he started a war and took on the city's rival gang; and how it all came crashing down.
Tony is one of the great characters of the Hollywood pre-Code era, a swaggering, smirking, and at times truly scary gorilla of a man. In a classical tragedy, the tragic hero was someone who possessed some kind of notable trait or extraordinary skill before succumbing to their fatal flaw. In Scarface, Tony Camonte's extraordinary trait is that he is extraordinary violent. It's not that he's a strong fighter, or a great shot; he's simply someone who first and truest impulse is to kill. Time and time again, he's warned off of violence by his bosses, by friends, and by family, which he ignores and chooses to go on killing. Camonte, played in a deliciously fun performance by actor Paul Muni, is the most purely vicious and bloodthirsty gangster protagonist of the era, and perhaps of all time. He makes Rico Bandello look like Joe Pesci . . . from the Home Alone movies. And in one of the defining twists that makes Scarface so essential in the evolution of the genre, Camonte's violence is — the film seems to suggest — the right answer. Every time he is warned off violence, he goes ahead and kills some people, and profits from it. He gains the world from murdering half the South Side of Chicago. Now, of course, is this the moral choice? Probably not, but apart from a single scene clearly thrown in to appease censors, there is no representative of "normal" or "respectable" society in the original Scarface — even the local beat cop seems corrupt, and most of the other characters are criminals. In other words, there are two kinds of people in the world that Hughes and Hawks created: killers who are bad at killing, and Tony Camonte. In the genre-requisite "protagonist has a falling out with his best friend" plotline, the conflict is not that Tony's right hand Guino (a sly George Raft) is trying to "go straight" like Joe in Little Caesar, but simply that Guino is fucking Tony's little sister Cesca (Ann Dvorak), who Tony probably wants to fuck. Even young Cesca is ultimately revealed to be a killer; when Tony impulsively murders Guino and ends up besieged by coppers, Cesca grabs a tommy gun and joins in with her big brother. Brother and sister, side-by-side, lusting and killing, purer than they've ever been.
This was some dangerous shit.
Even though the industry-wide Hayes Code mandating internal censorship was not yet enforced, regional certification boards still threatened the release of the film, and the crux of the issue was Tony's fate and the ending of the movie. In the original script, Tony ended the movie by being forced out of his home with teargas, firing his machine gun wildly at the police as they pump round after round at him. When the cops examine his dead body, they see that his index finger is still pulling the trigger of his gun, long after his heart and brain have shut down. Camonte — the pure Gangster — reduced to the simple bloodlust; devoid of money, devoid of possessions, devoid of friends, devoid of family, devoid of mind, devoid of body, left with nothing but the impulse towards violence. It would have been an electrifying — and true — ending, but Hawks and Hughes realized they'd be run out of the country on a rail if they attempted it, so they had to scale back. The filmed ending of the movie as it actually exists is a simpler and less grotesque version of the same: Tony is forced out of his home by the cops, and briefly seems to surrender before running off and being shot down in the streets. It's a good ending but not a great one.
Still, it seemed too radical for most censor boards. It seemed like Tony was escaping justice in some way, or dying in the way that he wanted to die. To appease the boards, Hawks hastily shot a new ending, without any of the original cast. This time, Camonte surrenders to the cops, and — with his back suspiciously turned away from the audience — is sentenced to death for his crimes. Tony ends his life in this version with a conclusive — and presumably justice-inducing — snap of the neck at the prison gallows. Amazingly, this still didn't pass muster with some regional censors, at which point Hawks and Hughes decided to say "Fuck it," and released their original cut in the states without strict censor boards, where the film was a smash hit, with the title somewhat modified to Scarface: The Shame of a Nation.
Which brings us back to those pesky public enemies, those dirty, vile, greasy-haired foreign immigrant gangster thugs who sneak into the country and threaten to send the good, God-fearing folk into ruin. Yes, Tony Camonte, complete with a borderline Chico Marx "you like-a dis" accent, his habit of whistling operatic arias, and his shawl-clad peasant mother, could only be Italian. It had been less than two decades since the U.S. immigration services had declared Southern Italians to be the very lowest and least assimilable of immigrant groups, naturally hot-heated and prone to criminal violence and bloody vendettas. A quick look at the cast of Scarface shows that despite the characters being almost entirely Italian — with names like Louie Castillo, Guino Rinaldo, Johnny Lovo, Angelo, Ben Guarino — only a single Italian-American actor was found suitable for the cast: Inez Palange, born in Naples, who played Tony and Cesca's mother. Most of the actors were "old-stock" Americans, with the notable exception of Paul Muni (a Jew, Muni was born Meshiliem Weisenfreund in Ukraine, and was a star of New York's Yiddish-language theatre industry) who could add his name to the list of great Jewish actors playing Italian gangsters, alongside Robinson and future movie mafiosi James Caan and Harvey Keitel. In one scene, a group of boringly concerned citizens advocate the wholesale deportation of gangsters, with one man patricianly pointing out that most organized crime figures "aren't even citizens."
In other words, in an age before Sinatra, before Joe DiMaggio, Italians still weren't really considered "American," they were foreigners, with strange ways and strange customs. They talked funny. They looked funny, all black oily hair or big mustaches. And here was a film that was wall-to-wall with Italians, and an extremely ambivalent and complicated reaction to them. It would not be incorrect to call Tony Camonte an offensive and caricatured stereotype, a crude burlesque of an Italian-American. Yet, it oddly works, because Muni plays him with such joie de vivre and energy that it's impossible to view him as a rote stereotype, but rather as a stereotype exploded to dazzling degrees. He is too big to be a stereotype, but is instead a singular and powerful figure, impossible not to watch. Ultimately, in the voyeuristic medium of film, watchability is perhaps the greatest way to get an audience on a character's side; a character that is passive yet unethical tends to provoke disgust, a character that is active and unethical provokes an uneasy but unfailing sense of camaraderie. Few films have ever traded on this complicated push-pull as much as Scarface.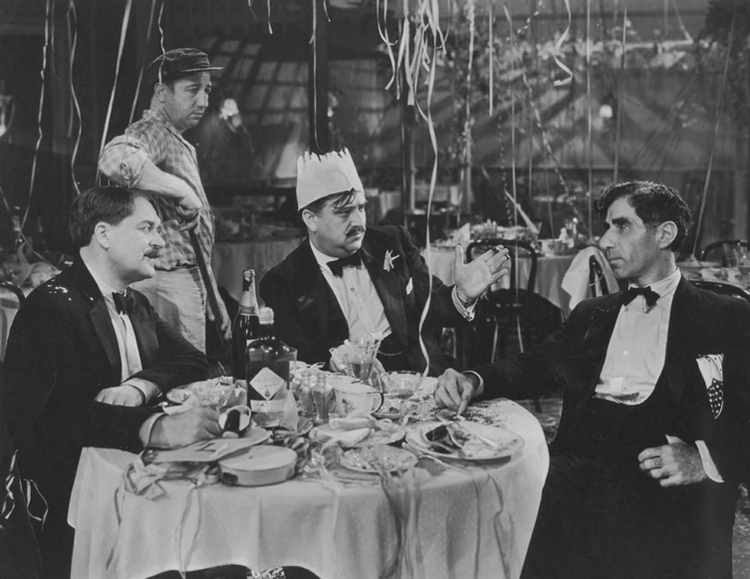 Major films like The Public Enemy, like Scarface, and even minor films like 1932's Cagney followup Taxi! (which is not really a gangster movie, but opens with Irish Cagney holding an un-subtitled conversation in Yiddish with a Jewish immigrant and whose centerpiece scene is set at a black nightclub, and simply had to be mentioned here) were provocative and confrontational; they fired a machine gun of immediacy into the audience, putting their slums and their ghettoes and speakeasies and saloons up on the screen, and the faces of the foreigners and immigrants who people like J. Edgar Hoover warned about.
And though audiences embraced these movies, there was enough resistance to put an end to them. Unlike today, when pizzerias and Italian restaurants in the states can perversely put pictures of murderers like Al Capone and John Gotti on their walls to give a place more "flavor," the Italian-American lobby of the 1930s was very conscious and worried about projecting an inappropriate image onto their community. Protests convinced the ever profit-minded studio heads, who were already beginning to self-censor and water down their films to make them "acceptable" for mass audiences, that the various white ethnic communities, most prominently the Italians, were valuable enough as to not risk a boycott. In the mid-1930s, after the first Golden Age of the Gangster, the Hollywood studios circulated memos and ordinances among themselves that explicit negative depictions of white ethnics like Italian-Americans were to be avoided.
As such, a sea change can be seen in films made after the Hayes Code was implemented. They are de-ethnicized. While Edward G. Robinson started out the 1930s as cinema's best Al Capone lookalike, playing characters like Enrico Bandello and Nick Venizelos, he ended the decade as a "Johnny Blake" or "John Harrington." And even in a masterwork like Raoul Walsh's 1939 film The Roaring Twenties, a film with a good feel for the sociological elements of the inner workings of New York City, the villainous gangster who holds court in an Italian restaurant with red and white striped tables, and wolfs down spaghetti while meeting with his competitors, is given the decidedly generic name of "Nick Brown." Not to be too glib, but I'd buy a guy like that as a "Nick Brown," or Edward G. Robinson as a "John Harrington," about as easily as I'd buy Edward G. Robinson as an "Edward G. Robinson," if you get my drift.
Those earliest gangster films had a bluntness with regards to a lot of things: violence, certainly, but ethnicity as well. In the end, Hollywood would, for the most part, choose to bury the ethnic nature of its gangster leads in favor of the kind of heightened artificiality that has always been Tinsel Town's trade. For decades the American gangster film had a code, a truce that ethnicity would not enter into the formulations of the gangster story. This truce would one day be broken, and it would be broken hard, but for now, this was the code.
And while still in its infancy, the gangster movie was soon beholden to many "codes" and "laws" and "truces" governing violence, sex, and storytelling content of all kinds, as the genre changed into something different — not necessarily better, not necessarily worse, but certainly different, adapting and expanding to the changing times like young Tommy Powers learning how to run bootleg liquor in the wake of Prohibition. Things were coming that would shape and mold the genre, things that would impact world affairs and underworld affairs alike.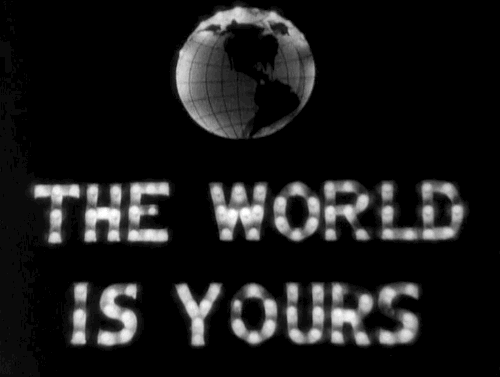 The series American Underworld will continue soon with a look at the gangster pictures of the late 1930s. The fantastic The Roaring Twenties is recommended viewing in the upcoming week.