Sometime between 1932, with the release of Scarface, and 1939, with the release of The Roaring Twenties, the overarching motto of the American gangster film had changed from "The world is yours," to "The world moves on."
The first Golden Age of the Gangster movie in the early '30s was a historical aberration, a perfect storm of shifting weather conditions that created the right atmosphere for such films to thrive. It was a combination of the introduction of sound to Hollywood films, the Great Depression re-inforcing the need for urban "social problem" films, and the lack of a widely enforced censorship code. It was that last fact that ended up making the difference in the years to come.
The gangster movie thrives on the "bad," the violent, the criminal, the sexually deviant, the antisocial. In an age when Hollywood was now afraid that Washington was gonna swoop in and start telling them what they could or could not put in their movies, the studio heads decided to come together and self-enforce a system of morality, one that would "clean up" Hollywood's act and prevent further criticism from hand-wringing moral puritans. Technically, the Motion Picture Production Code (or Hays Code) had been around since the year 1930, but was widely regarded as an unenforceable joke until July 1, 1934, when a new amendment required all films to pass censorship standards in order to be released. In this new world, the old gangster films were simply unacceptable, with their trafficking on the charisma of murderers and thieves. They would not be deemed suitable for an American audience.
But hey — there was a lot of money to be made in those gangster pictures. What was Hollywood gonna do? Stop making them? Hell no.
You just had to change them a little bit. First things first: what to do with newly-minted stars like Warner Brothers' roster of tough guys (nicknamed "Murderers' Row"): James Cagney of The Public Enemy; Edward G. Robinson of Little Caesar; and the now-forgotten George Raft, who was the coin-flipping sidekick in Scarface and grew up alongside real life gangsters Owney Madden and Bugsy Siegel. The public wanted to see them, but they were patently unsuitable for many of the kinds of films that were Hollywood's bread and butter. I mean, who in their right mind would put Cagney in chaps and spurs and call him a cowboy?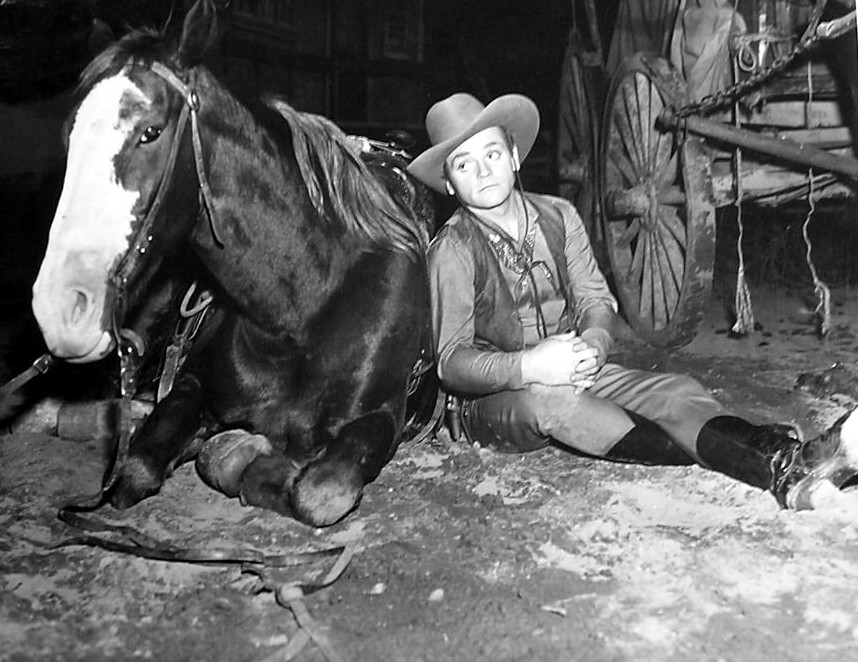 Ahem.
Anyways, Warner Brothers (and the other studios, but mostly the Warners) realized that the line between cop and criminal could be very thin. After all, what do we want to see both gangsters and police do in movies? Shoot, punch, chase, kill, run, and all around cause a bunch of mischief and mayhem. If the gangster has a badge, he has a society-endorsed license to kill, one that would protect him from the limitations of the Hays Code. So suddenly the Public Enemy became the Public Servant, in movies like 1935's G Men, where James Cagney played a New York lawyer from a hardscrabble background (with the hoodlum-esque name of "Brick," no less) who joins the FBI to avenge the death of a friend at the hands of a big time mobster, or 1936's Bullets or Ballots, where Edward G. Robinson plays a cop who goes undercover to infiltrate a crime ring. While not gangster films in the strictest sense, these films have all the fistfights, the tommy gun battles, the car chases, and the jazzy nightclub sequences that one would expect from a gangster movie. Yet these films did not seem to burrow their way into the collective imagination in the way that the real gangland flicks did.
But sometimes the gangster was still a gangster.
Sometimes he was a comedy gangster — Robinson was quick to jump into the oversized shoes of the clownish criminal, with films like A Slight Case of Murder (1938), where he self-parodied as a former bootlegger gone legit, dealing with in-laws and the fact that his beer tastes terrible but everyone is too afraid to tell him; or Brother Orchid (1940), a fish-out-of-water comedy where Robinson was a mob boss laying low as a novice monk. The latter film was promoted with the tagline "We'd like youse to meet Brother Orchid!" above a caricatured cartoon of Robinson — turning the street-slang patois of its gangster characters into a downright marketing tactic.
Cagney, on the other hand, moved away from gangster roles as much as he could, dabbling in musicals, screwball comedies, war movies, and even Shakespeare — in Warner's flop version of A Midsummer Night's Dream, alongside Mickey fuckin' Rooney as Puck — but when he did play a gangster, the results were softer than they would have been even a few years earlier. He earned his first Oscar nomination — showing how "legit" the gangster movie was slowly becoming — as mobster Rocky Sullivan in 1938's Angels with Dirty Faces. 
Angels with Dirty Faces is a cleaner version of 1931's The Public Enemy, with Cagney portraying gangster Rocky Sullivan, who is opposed morally by his childhood friend, former street kid turned priest Father Jerry (Pat O'Brien). The tactic of placing a "good son" figure alongside Cagney's gangster character — and Abel to his Cain, if you will — can be traced back to the earliest films of the genre. But consider the differences of the Pre-Code movies and the Code era movies. In The Public Enemy, Cagney's character's older brother was a hard-working, sober minded war hero, but he was also kind of a sap and a dullard, and the film sidelined him considerably because he was so minor and irrelevant to the gangster proceedings of Cagney's Tommy Powers. But in Angels with Dirty Faces, Pat O'Brien's good priest is the moral anchor of the film, and his attempts to reform his old pal Rocky provide the spine of the film.
Angels goes even further into sentimentality by saddling Cagney's gangster with a pack of dirty-faced juvenile delinquents who look up to Rocky, and the film climaxes when Cagney is sentenced to death and dragged to the electric chair begging and crying for mercy — and in the process, the juvenile delinquents, overseen by the saintly priest Father Jerry — lose their respect for him and are pulled away from a life of crime and towards a life of goodness, apparently. The earlier films had their moralizing strains, no doubt, but their gutter poetry was more likely to end with the gangster "fulfilled" through gunplay in the streets and an almost nihilistic squalidness. The religiously-coded heavy handedness of Angels with Dirty Faces marked a departure, and interestingly enough, gave the institutions of law and order a far greater hand in the undoing of the gangster. Now, a Rocky Sullivan could be chewed up and spit out through the due process and legal proceedings of the United States courts, rather than pumped full of lead by rival gang members and dropped off on his mama's doorstep, the way Tom Powers had been earlier in the decade.
Just as the gangster protagonist of Angels with Dirty Faces was paired up with a "light" counterpart in the form of Father Jerry, the filmmakers gave Cagney a dark counterpart, a kind of evil twin whose purpose in the film was to make sure Cagney looked like a wayward orphan in comparison.
And this evil twin was Humphrey Bogart.
Unlike Cagney, Robinson, or Raft, who made their way up from the slums, streets, and ghettoes of New York, Humphrey Bogart was the scion of a well-to-do Manhattan family, with the kind of "Old Money" and familial connections that enabled young Humphrey to attend the best prep schools on the East Coast. Raised to believe that acting was "beneath a gentleman," the young Bogart had managed to get himself kicked out of boarding school and find himself the victim of financial calamity due to a series of bad investments by his father, bottoming out in the gin joints and speakeasies of New York and deciding that the late hours of a stage actor suited his natural inclinations.
If he was, in fact, a natural actor, it took a while for him to make that clear. He spent about fifteen years shuffling back and forth from stage to stage, playing parts that the actor would later call "White Pants Willie" roles, playing effete gentlemen in drawing room comedies. He spent long periods of time out of work. In 1935, he was nearing forty, and with his long face and distinctive lisp, he seemed unlikely to make a breakthrough any time soon.
But it came all the same. The play The Petrified Forest was an oddball of a melodrama, telling of how a dissolute English intellectual winds up in a dusty Southwestern diner, and comes to play a key role when the diner is taken over by a fugitive bank robber hours later. That bank robber role, Duke Mantee, was played on the Broadway stage by Bogart, and proved to be a crucial turning point in the rest of his career. Warner Brothers swept in for the film rights to the hit play, and set about intending to cast the obvious fit for the part — Edward G. Robinson. Luckily for film history, the play's star Leslie Howard (contracted to do the film, too) insisted that Bogart was the right man for the film. Bogart walks away with the film, handily, playing his underwritten part with a real sense of both outward menace and internal fear.
He spent the rest of the decade as the Evil Twin Gangster, the guy who made Murderers' Row look like the Three Wise Men. Coated with a brand new Warner Brothers contract, Bogart got to spend the later years of the Great Depression playing wonderfully named villains like Rocks Valentine, Turkey Morgan, Baby Face Martin, and Chips Maguire.
Many of Bogart's films from this era were made alongside Jimmy Cagney, whose best role of the 1930s perhaps came in elegiac gangland drama The Roaring Twenties.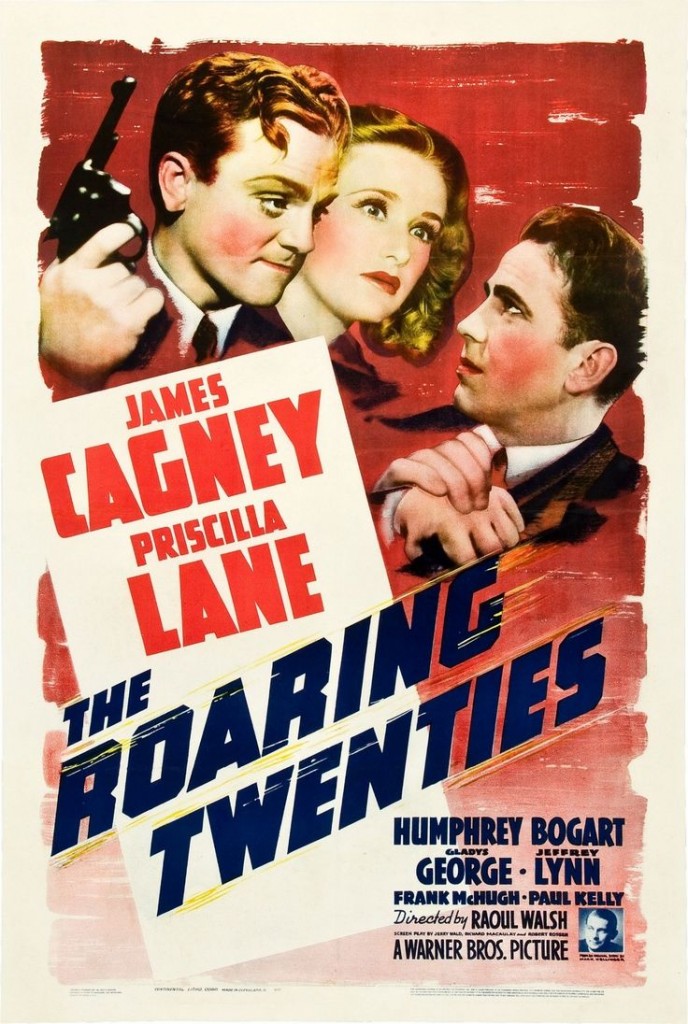 The Roaring Twenties, ironically, bookends the gangster films of the '30s, serving (unintentionally?) as a swan song for the genre as it existed at the time. It was the gangster drama as epic, seeking to chart the wild, tumultuous years in which it took place, and with the exception of Howard Hawks's Scarface, the film is probably the best of the decade.
Directed by Raoul Walsh, based on a Mark Hellinger short story called "The World Moves On," and loosely inspired by the life of rumrunner Larry Fay, The Roaring Twenties begins by turning back the clock. After a decade of the Great Depression, the audiences of 1939 were thrust into the movie by immediately be forced back, all the way back to the First World War, over twenty years earlier. A rapid montage directed by a young Don Siegel — showing, among other things, a globe dissolving into Mussolini's spherical head — ends with James Cagney's American soldier character Eddie Bartlett falling face first into the mud of a French battle field in 1918. After some combat scenes, we meet Eddie, and his two war buddies: Lloyd (Jeffrey Hart), an idealistic young lawyer, and the ruthless George (Humphrey Bogart), introduced smugly picking off a teenaged German soldier with his rifle. Eddie makes plans for when he gets home — he's going to go back to his nice job at an auto garage in New York and maybe even look up the beautiful blonde pen pal who writes him letters from the States.
The Armistice is declared, and the American doughboys go back home, but it seems their home does not want them back. Eddie's job at the auto shop has been given to someone else while he's gone, and new jobs are hard to find. Even the girl who sent Eddie letters turns out to be something of a daydream: she's just a high school kid who used her drama club's makeup to make herself look older, and Eddie decides to just let her be.
It's now 1920, and the world is changing. The Volstead Act has made the selling of liquor illegal across the country. Eddie has managed to find a job as a cab driver, and, in an unfortunate event, he is unknowingly sent by a passenger to pick up a shipment of alcohol from a swank speakeasy run by female bootlegger Panama Smith (Gladys George). Eddie is arrested and thrown in the slammer for a short stint, and when he gets out, Panama Smith — who, unknown to Eddie, is nursing a serious crush on him — decides to make it up to him by making him a part of her rumrunning operation. Eddie uses his taxi, and soon a whole fleet of them, to deliver booze around New York City. Eddie gains more and more success in the liquor business, eventually enough so that he can afford to hire his old war buddy Lloyd to be his lawyer.
After a few years, Eddie is surreptitiously reunited with Jean (Priscilla Lane), the high school girl, who has now become a showgirl, and he recruits her to come work in his and Panama's club as a cabaret singer. A subtle and quiet love triangle develops: Eddie is in love with Jean, who is fond of Eddie, but not in love with him, while Panama falls deeper and deeper in love with Eddie, who is oblivious.
Jean is not the only character from the past who makes a return — George (Bogart's character) has now gone into crime too, as a rumrunner for a rival mobster. George defects to Eddie's booming operation, but his ruthlessness becomes apparent very soon — trigger-happy, he kills a hapless warehouse guard over a years-old grudge, prompting a disgusted Lloyd to quit the business. Things start to go south and George betrays Eddie to his old boss, almost getting him killed. To Eddie's great dissatisfaction, Jean has begun seeing Lloyd. And his Eddie's personal life erodes, the world around him does too.
In 1929, the stock market crashes, and Eddie loses all of his fortune, which was tied up in too many speculations. Broke and deeply in debt, he is forced to sell his taxi company to George, who mockingly leaves him a single cab, a reminder of where he started and far he's fallen. The Great Depression has come.
Broken and humiliated, Eddie finds himself picking up Jean — now married to Lloyd — as a few years later. She tries to reconnect, but Eddie keeps himself at a distance in a heartbreaking scene that was later appropriated by Martin Scorsese for the end of Taxi Driver. Cagney was rarely better than he was in this scene, portraying the pain and longing of so many years buried beneath of standoffish façade.
Lloyd, the boring stick-in-the-mud, now works as a city prosecutor and is involved in a case against George, now a top-level gangster. He wants Eddie to talk to George and convince him to lay off the death threats, but Eddie only agrees when confronted by Jean. He meets with George, but old grudges die hard, and George is fatally shot by Eddie, who runs out of George's hideout before being shot himself by members of George's gang.
Eddie Bartlett ends the movie the way he began it: falling face first onto the ground. This time he will not get back up. The night is December 31, 1933, just as the shroud of Prohibition is being lifted from the country, and Eddie Bartlett lies face down in the snow with a bullet in back, dead on the steps of a church. His lifeless body is held by Panama Smith, the woman who loved him but who never got love in return. The police arrive and want to identify the body, asking her who the man was who lies dead in her arms.
Her words: "He used to be a big shot."
In the early gangster films, the death of the gangster was ironic, with a kind of stinging wit — for instance, Little Caesar died underneath a billboard advertising his best friend's new success in musical comedy. But the irony in Eddie Bartlett's death is outweighed by the genuine tragedy. He is the first cinematic gangster with pathos. He was the forgotten man, the man the country refused to do anything for. He fought in a war that was not of his making. He came home to find his sacrifices were unwelcome. He achieved some brief success, but had it taken away from him. And he died, shot in the back, alone and loving nothing that loved him.
The gangster films of the early '30s found things to like about their gangsters — The Roaring Twenties was perhaps the first to truly mourn a gangster. For there was little he could have done to change his fate; like the tragic heroes of Greece thousands of years earlier, his death was written in the stars, not in himself. Except this time, the "stars" were the World War I arms manufacturers, the Anti-Saloon League, and President Herbert Hoover, rather than the whims of the gods. He was a man who stopped running, only to find that it didn't matter because the world around him had, as Mark Hellinger's original story put it, "moved on" without him.
The Roaring Twenties is a masterpiece, and strangely prophetic. Could the filmmakers have known that the world they were living in was to change forever? Not just Hollywood, and not just the "American underworld," but the whole damn country? If they did not know that, something in their film nevertheless sensed it, as it serves as the cinematic death march not just of the Twenties, but of the Thirties, too. The world moved on.