Who Shot It: Robert Elswit. Elswit is best-known today as the man who shot Paul Thomas Anderson's Hard Eight, Boogie Nights, Magnolia, Punch-Drunk Love, There Will Be Blood, and Inherent Vice, and certainly he would earn his screen immortality just based on those excellent six films, each gorgeously-shot from beginning to end. But he's done more than those, much more, in fact. He started his career off with Rob Reiner's The Sure Thing, the lesbian drama Desert Hearts, and the Best of the Worst-approved heavy-metal horror flick Trick or Treat. Soon afterwards, he started to move into the mainstream with the help of director Curtis Hanson, for whom he shot Bad Influence, The River Wild, and The Hand That Rocks the Cradle. After River Wild came the beginning of his PTA collaboration, as well as the beginning of his minor sub-career shooting instantly-forgotten Miramax movies, including The Pallbearer, Bounce, and Impostor. Around this time, he also shot the forgotten middle child of the Pierce Brosnan Bond movies, Tomorrow Never Dies, plus David Mamet's Heist (they would work together again on Redbelt and Mamet's Funny Or Die skit Lost Masterpieces of Pornography) and previous entry Gigli. After this period, Elswit settles into something of a groove, alternating between action movies both dumb (Salt, The Bourne Legacy) and reasonably smart (the last two Mission: Impossible movies) and (mostly) superior adult-focused movies, like Good Night and Good Luck, Michael Clayton, The Town, Duplicity, and Syriana (let's forget about American Dreamz, shall we?). Other than Mission: Impossible – Rogue Nation, Elswit's most recent work is the surprisingly fitting double-feature Nightcrawler, a disturbing and blackly-comedic thriller which depicts California as an after-hours nightmare where the darkness doesn't do enough to hide the awful things going on, and Inherent Vice, whose vision of California is one of a gorgeous place, when you can see it past the fog, murk, and weed smoke. Elswit shot a recent entry, Guillermo Arriaga's The Burning Plain, and now makes his return to the series.
What Do You Mean, Story?: Merry Christmas from all one of us at Bad Films Shot By Great Cinematographers! To get you in the holiday spirit, I'll be covering a film that opens with the discovery of a snuff film and only gets cheerier from there.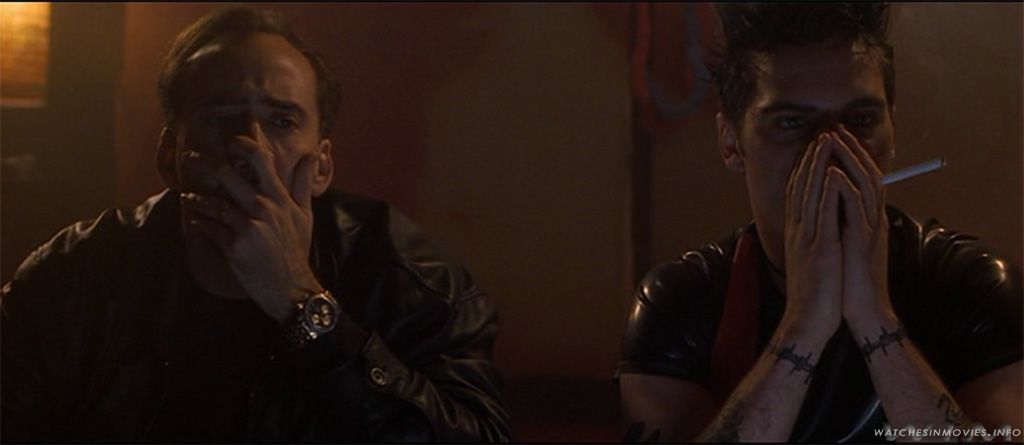 Seven is a great film, brilliantly-directed and -shot (more on the cinematography will come whenever I finish my retrospective on the work of Darius Khondji), thrilling, and gut-wrenching. Seven also was a very bad influence for the crop of thrillers that popped up in its wake. These movies decided to follow in Seven's footsteps by going all out with the graphic violence and torture and disgusting living areas without the artistry, flair, or details left entirely to the imagination (dig those strands of hair which are all we see of the box's contents) that Seven provided. This week's entry is a film even more connected to Seven than, say, the Saw movies and their ilk are (and not just because it has a title which just asks for an ad campaign saying "it goes one beyond Seven!"). 8mm is written by Andrew Kevin Walker, the writer of Seven. His script (which he had been working on to some degree since before Seven), about the snuff film market, was sold for a reported $1.75 million in the wake of Seven to Columbia Pictures. But even with it written by a scribe who turned graphic violence into a smash hit a few years prior, something with that subject matter would have to be toned down and lightened for mass-market consumption. Walker assumed he wouldn't encounter those problems after director Joel Schumacher, hot off making at least a sixth of America hate his guts for the rest of human existence, signed on. But shockingly, the man who directed a toy commercial two years before was all too happy to work with Columbia in watering down 8mm so that it could get farmers in Poughkeepsie to get off their tractors. Walker talked to the media about his dissatisfaction with the film, but obviously that didn't matter one wink to the viewing public, who made it the number one movie in the country in its first week of release despite bad reviews in addition Walker's protests. But regardless of all that, does it at least hold up to scrutiny better than the last Schumacher joint I covered on this series, The Number 23? I mean, yeah, but that kinda makes things worse.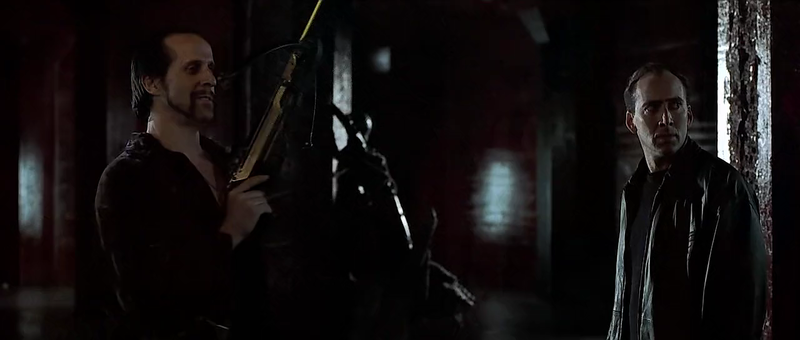 As the film opens, private investigator Tom Welles (Nicolas Cage) has gotten home from a job in Miami, only for his wife to question whether or not he's taken up smoking again. This is sadly only the beginning of a subplot about marital drama, perfunctory at best and a sad waste of Catherine Keener, playing Welles' wife. But anyway, he soon gets a call from the widow of a wealthy man, whose safe was revealed to contain the print of an 8mm snuff film. Welles is tasked with discovering whether or not the film is real, and after watching it, apparently depicting the murder of a teenage girl, he scours the missing persons database for a match, finding it in Mary Ann Matthews. He goes to Cleveland to visit her mother and former boyfriend, before heading off to Hollywood, where she wanted to make a living. There, he meets a porno shop worker with a name that suggests that he was bound to work to some extent in porn; Max California. Max is played by Joaquin Phoenix, in one of his very last roles as supporting color in a studio movie (the next year, he did Gladiator, and kind of blew up from there). By the virtue of being only a bit of a creep as opposed to an utter scumbag, Max is an ideal guide for Welles through the seedy underbelly of porn. Together, they discover that the man who directed the snuff film is, in Max's words, the "Jim Jarmusch" of porn, Dino Velvet (a truly bizarre Peter Stormare, even by the normal standards of Peter Stormare). Of course, I'm not sure that Max actually knows who Jim Jarmusch is, since, as I recall, Jarmusch's films mostly involve the juxtaposition of deadpan outsiders with classic images of America, while Dino Velvet's work looks like Marilyn Manson videos that were shelved because c'mon, even he knows when it becomes absurd and not scary. Velvet's in cahoots with an exceedingly sleazy talent scout named Eddie Poole (James Gandolfini in his last role as a "that guy" and not as "Hey, that's Tony Soprano!"), with mutton-chops big enough to be annexed by the U.S. just in case we don't get that he's a pile of shit. And also in the picture is the frequent star of Velvet's movies, and the one who killed Mary on camera, a hooded figure known only as "Machine". Can Welles stop these guys and prevent the rotting of his soul? Can Mary's mother find closure? Did Peter Stormare just try to eat a photo?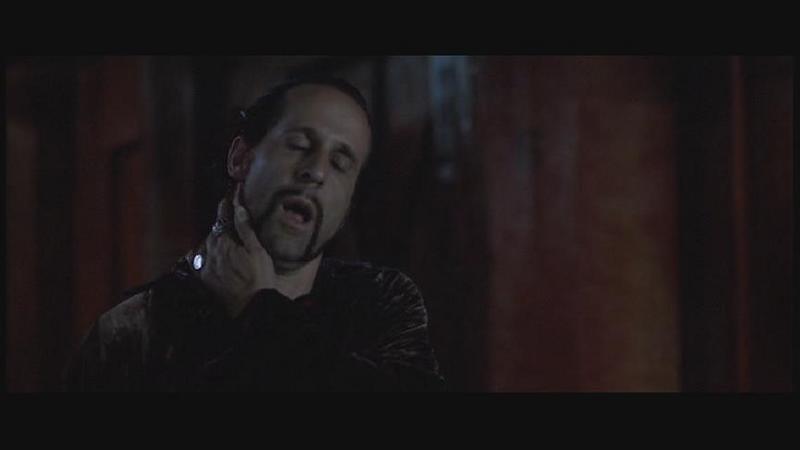 Even if I didn't know about Walker's misgivings about the film, this would have felt like a feature-length cop-out for me (especially with that ending which handwaves away a lot of gruesome violence with "ah well, they deserved it"). Yes, it does show some pretty graphic imagery, and it does explore areas of society which no studio film before or since has. But all this feels like windowdressing, while the meat of it is thoroughly standard-issue stuff. For fuck's sake, this is a movie that ends with not one, but two egregious instances of the Talking Killer, where Welles is fighting Machine while Machine treats him to a monologue on the nature of his evil, before getting stabbed, unmasked, and doing it again. The "mystery" is the furthest thing from compelling, the villains are so ludicrously over-the-top in their methods and actions (Velvet enjoys the pleasure that comes with shooting crossbows) that it's impossible to be scared by them, and the violence (stabbings, pistol-whippings, cut throats, beatings, unfortunate cross-bow accidents) is the same, forgetting that, like I said, most of Seven's violence was entirely off-screen. It's not the cast's fault, they're all good or at least entertaining (this won't be the place for "Nicolas Cage is such a bad actor lol" talk, because that's complete bullshit, he's a good actor and he's good in this), it's technically very well-made (just look at Mychael Danna's nervy score), and Schumacher stages at least one very suspenseful sequence (Welles searching through Machine's house for him, at first only soundtracked to a record skipping and then to Aphex Twin's "Come to Daddy", done all in one take). But Schumacher otherwise compromises what could've been something really effective, with the ending being particularly bullshit.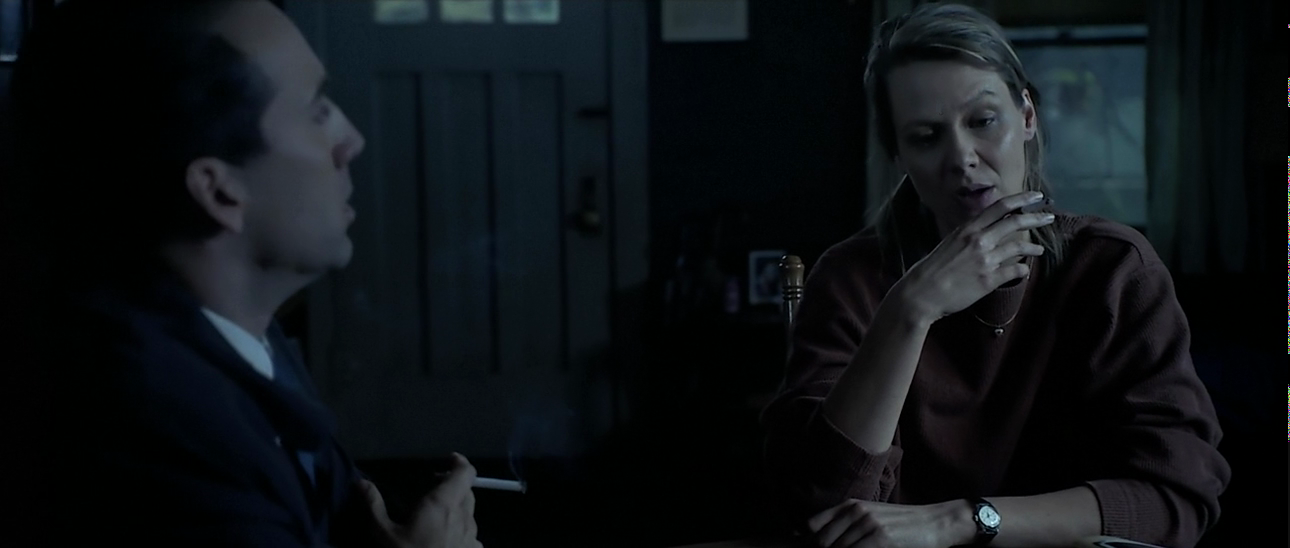 Screw That, Let's Talk Pretty Pictures: As with any Schumacher and Elswit joint, a lot of thought went into this movie visually. In fact, I might argue that the thought that went into the lighting choices was greater than the thought that went into adapting the script. The film has several different visual modes, switching out with each new location. As the film opens, the Miami scene is exceedingly bright and colorful, before the film sends the viewer back to reality with Welles when he goes back home, his home being murky and dark and the outside being dim and washed-out. This contrasts nicely with the house of the widow, which is rich with golds and contrast. And all those previous locations contrast nicely with the Cleveland scenes, which are so dismal and lacking in color and contrast that the viewer desperately wants to be anywhere besides there. Schumacher grants their wish by taking them to Hollywood, which looks gorgeous and sunny, while turning the viewer's desire for some light on its head by making it the seediest location yet. You want some sunshine, here's your fuckin' sunshine.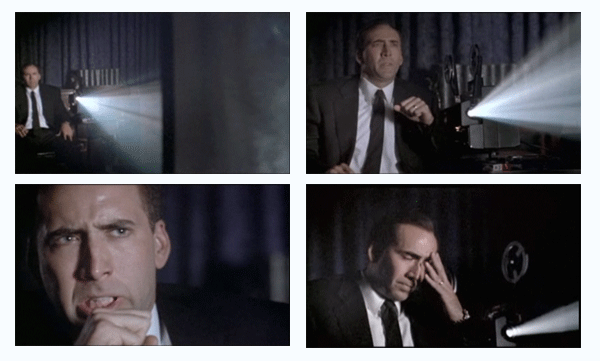 Favorite Shot/Sequence: The sequence where Welles watches the film is a masterclass in how to move the camera in order to show exactly what needs to be shown and hide what needs to be hide.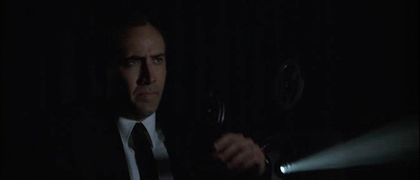 Is It Worth Watching: No.
Stray Observations:
More thoughts on Phoenix's performance will come whenever I post my retrospective on the work of Joaquin Phoenix. No, I don't think two Career View-type thingies is too many, because I currently have three in the pipeline.
Personally, I prefer Inherent Vice in terms of Elswit-shot, Phoenix-starring detective stories that are set at least partially in L.A.
Since this will be the last entry in the cinematographers series for the year, I'd like your permission to get maudlin for a second and mourn two of the cinematographers we lost this year; Miroslav Ondricek (Amadeus, Slaughterhouse-Five, if…., Ragtime, The World According to Garp, Silkwood) and Andrew Lesnie (the Lord of the Rings and Hobbit movies, Babe and Babe: Pig in the City, King Kong, I Am Legend, Rise of the Planet of the Apes). They will be missed.
Up Next: Merry Christmas! Hope this isn't you at your family's Christmas party: