In the spring of 1999, Stanley Kubrick, tired of negotiating with recalcitrant Warner Bros. executives, did not tell Terry Semel "if you strike me down, I will become more powerful than you can ever imagine" and he did not will himself into a heart attack, using his incorporeal form to possess Steven Spielberg.  Also, Spielberg certainly didn't have a spy in Kubrick's house staff on call to capture his last breath when he died, and Spielberg absolutely didn't draw the ten Sephiroth on the floor of a Los Angeles bathroom and breathe in Kubrick's ruah.  And Spielberg most definitely did not fly to England in the fall of 1999, dig up Kubrick's body, cremate it on the spot and then drink the ashes mixed with a rather frisky Cabernet Sauvignon.  None of these things happened, but you'd never know that from watching A. I.
We know the facts:  Kubrick had been developing Brian Aldiss' short story "Supertoys Last All Summer Long" as a science-fiction version of the Pinocchio fairytale since the 1980s; he had a story treatment and a thousand or so illustrations and storyboards.  Kubrick and Spielberg were friends who had a shit-ton of respect for each other and Kubrick had told him this project was closer to a Spielberg film.  (Many of us also suspect that Kubrick knew he couldn't use a child actor in his own kind of shooting schedule–he would age too noticeably.)  Whatever happened before, Spielberg took over the project after Kubrick's death, writing the screenplay from it (his only solo screenplay credit beside Close Encounters of the Third Kind) and directing.  Facts only get you so far in understanding art, though, and we'd know that even if we hadn't watched Eyes Wide Shut just two years before.  I can speculate on the psychological challenge Spielberg felt working on this, but if I'm gonna speculate, I'm going all the way with it.  So I'll continue with my theory of daimonic possession on this.
Some movies are the work of a unified artistic vision, and some movies are the work of a broken vision.  The latter generate all sorts of contradictions when you try and interpret them; they are strange and messy, and often compelling past any question of whether they're good or bad.  Often they're both, making us wonder how someone can be so brilliant and so stupid all at once.  I suspect it's because they don't have a choice about it; movies like this are works the artist has to make rather than wants to make.  Usually they only appear once for every artist, like Martin Scorsese's The Last Temptation of Christ, Woody Allen's Husbands and Wives, Steven Soderbergh's Schizopolis, and A. I.  (The full title is A. I. Artificial Intelligence but no one refers to E. T. The Extra-Terrestrial, so I'm sticking with the short version.)  Scorsese, Allen, and Soderbergh went to the core of their artistic worlds–really, the core of their faiths–in their movies, and here, Spielberg wrestled with Kubrick as Jacob with the archangel for 140 minutes.  That sense of struggle is clear on the screen, but as a shorthand I'll refer to A. I. as the work of a Cronenbergian fusion of auteurs, Spielbrick.
The core theme of A. I. was articulated by Alan Turing at the beginning of the computer age and it's continued in films such as Her and Ex Machina:  the true and only test of an artificial life is not how it acts, but how we act towards it.  In the film's first scene, Professor Hobby (William Hurt) sets the goal of his company, Cybertronics:  to create a robot child.  As an assistant, April Grace sets up the challenge of creating one:  not whether it loves, but whether it can be loved back.  It's the test of empathy, and it's also the test of storytelling, especially Spielberg's kind of storytelling:  can he use his artifice and technology to make us care?  Spielbrick takes this idea of empathy and pushes it farther than any other Spielberg film, and that's what gives it such unique and disturbing power.
The essential Spielberg element is in place here:  a suburban nuclear family (Frances O'Connor and Sam Robards) with the latest shiny things.  (The design of the home was part of Kubrick's development.)  Here they're grieving over their son, almost but not quite dead and preserved in that condition for five years now.  A doctor notes that medical science has advanced to the point where it can keep him alive and therefore deny them passage through their grief–"Martin is merely pending."  That's a hint of where all this will go, a suggestion that the success of technology can wreck our lives.  Robards volunteers them to take on a new, robot (in the film's terms, a "mecha") son, David (Haley Joel Osment), a beta-test version of Cybertronics' project.
Supercuts and online galleries and essays have been written about the Spielberg Shot of Wonder, the gaze of someone (often a child) awestruck by the marvels (often of technology) before them.  It's here a few times, but never so powerfully as when O'Connor "imprints" David, reading the code words that fully activate him.  (Now, we'd call it an unlocking code for the full features of the operating system.)  I am forever a sucker for moments when an actor changes their being physically; the best (CCH Pounder in The Shield, Meryl Streep in The French Lieutenant's Woman, and the heavyweight champion, Viggo Mortensen in A History of Violence) do it so subtly they seem to morph rather than move.  With the slightest opening of his face, David's being transforms from something mechanical to something–well, not exactly human, but most definitely not inhuman.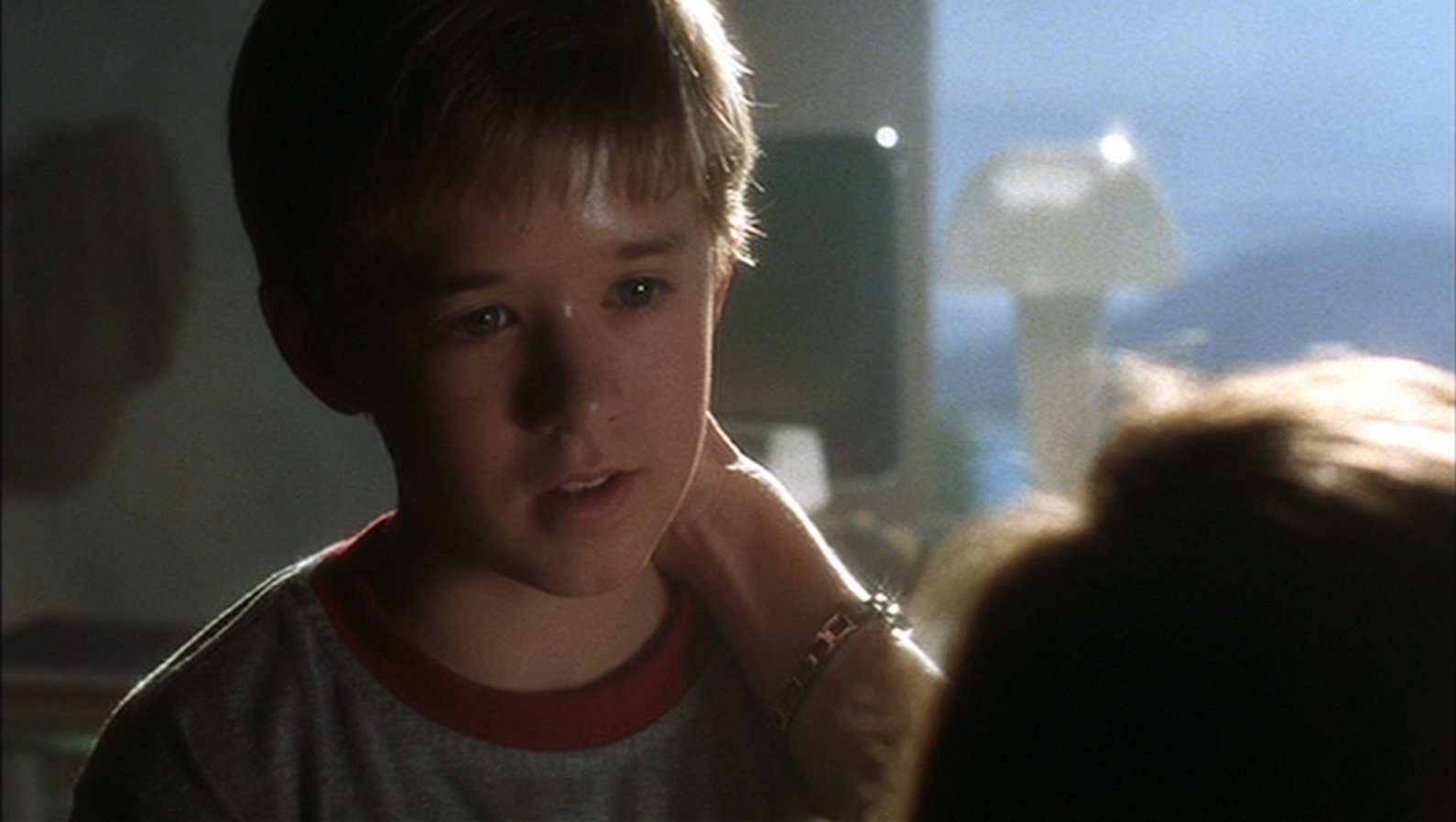 What makes this moment work, what makes it so different from every other iteration of this in Spielberg's films, is how Spielbrick spends the rest of the movie showing us the cost of that wonder.  It's a wonder made possible by technology, and again, that's not just the theme of many Spielberg films, it's also exactly what he does.  Here, we see that the wonder has brought David and his not-exactly-human self into the world, and that comes with a responsibility, for his family, and for us.  If we see a person, if it acts like a person, do we have to care for it like a person?  What will it do to us if we do, or we don't?
Spielbrick makes this question so tricky in the first hour of A. I., forcing our sympathy with David like Spielberg and then spinning that back on us like Kubrick.  Events and the camerawork make this a horror movie, a genre so close to fairy tales, but a horror movie where David alternates between the monster and the protagonist.  The music helps too; this is one of John Williams' rare later scores that's good.  In this hour, he models his score after Aram Khatchaturian's music in 2001, the music for the Discovery sequences.  (Later, he will channel Ligeti's.)  Spielbrick does a lot of spooky effects here (really all through the film) with faces and reflections; David plays as both person and image.  He also does a lot of things that are entirely mechanical, speaking in Robards' voice or simply appearing in a shot, pure horrorshow.  When the human son recovers and comes back into the family, it creates the most effective kind of horror, the kind with a substructure of psychology.  Here it's the conflict of two sons for the love of their mother.
Haley Joel Osment gives his best performance here, because he has to do something so tricky, evoking and denying our empathy in equal measure.  David is not a perfect replica of a boy, he's the first version, an experiment, and Osment plays him that way.  Even at his warmest moments, he's not fully human and that's necessary, because so much of how A. I. affects us depends on David being in a kind of Uncanny Valley of emotion.  That Osment never became a good actor as an adult shows that being a child actor is different in kind from being an adult actor.
O'Connor has the showiest role here, but Robards (with a permanent, practical, not-gonna-worry-about-it attitude) and especially Jake Thomas as Martin are great.  He's not hostile to David, he's curious, exactly as a brother would be about a new baby.  That leads him to play with David like a toy, and at his birthday party, David's subroutine to protect himself almost gets Martin drowned.  We've been empathizing with David as a person all along, but that scene brutally reminds us that he isn't one.  (It takes three adults to pry Martin out of David's arms.)  That's what leads O'Connor to take him back to Cybertronics to be destroyed, but at the last moment, she exiles him instead.  Spielberg has done so many scenes about the fear of children being sent away from their parents, but Spielbrick outdoes them all here.  The sense of a mechanical being never leaves David–in an instant, you can see the "grief" subroutine kick in, and that doesn't make it any less harrowing.  Besides, is there a difference between a subroutine and the blinding emotion of losing your mother?  It's the Turing test again:  if we feel empathy watching him, then isn't he real?  Philosophically multidimensional like Kubrick, emotionally clear like Spielberg, this scene brings the best part of A. I. to a close.
A. I. doesn't lose its energy and quality all at once.  Two things keep it going for a while, the first being the arrival of Jude Law's Gigolo Joe (whaddaya know?)  Like Osment, it's perfect casting and performance; Law does the pansexual boy-toy thing so well in so many films (Gattaca and The Talented Mr. Ripley among them) that making him the robot version of that comes across as necessary.  Of course you'd make him look like Jude Law.  He plays Joe as a little more stylized, a little more mechanical than David (Michael Fassbender clearly used some of his moves here in Prometheus) and no less attractive for that.  Because of that, he doesn't claim our sympathies the way David does; he's a guide, not a character, and an entertaining one at that, the Tin Man on this yellow brick road.
In Joe, David, and really all the robot characters, Spielbrick exploits the Uncanny Valley to the fullest, giving us creatures that (for example) have a perfectly human face and hair but nothing really in-between.  Although Osment and Law give the most important performances, the look of the film keeps our empathy off-balance too.  Visually, this movie is just glorious, giving us something new to see at every moment.  It's far more wondrous than Jurassic Park.  Spielbrick slows down the camera allowing us to simply gaze upon the neon wonders here as Kubrick would, but still retaining the fluidity of a Spielberg movie.  Spielbrick also keeps the camera farther back and keeps more space around the characters than Spielberg does; this is really effective in David's next-century suburban home.  As far back as Jaws, another director remarked that Spielberg must never have seen a play–he doesn't think in terms of a proscenium arch framing events, only the camera.  Sometimes (and here too), I think Spielberg has never seen a photograph either, only images in motion.
The second good thing is the Flesh Fair sequence, and when it starts to lose direction, so does the film.  For a while, though, it's a kind of terror that's new, something that combines the approaches of Schindler's List and Dr.Strangelove.  For everything that Schindler's List showed, the Flesh Fair, with robots getting shot out of a cannon, diced up, set on fire, and melted by acid, truly evoked the Holocaust for me.  This is what it looks like when you don't see people in front of you, you see things; this is what it looks like to truly be able to do anything you want with them.  (Having Chris Rock show up as a minstrel robot is jaw-droppingly vicious.)  One of the things that makes us human is our border with the nonhuman, and we can be so cruel to what's on the other side of that border.  Spielbrick shoots some of the action in the background of the shot, making it more everyday, more trivial, the real banality of evil.  Part of the power of science fiction is that it can take concepts and make them literal, and Spielbrick makes literal something that happened, but something few storytellers have been able to show.  It lands hard enough that when David escapes because the crowd doesn't want to hurt a child, even a robot child, it's A. I.'s first misstep, the refusal to follow through on his darker materials that's a recurring motif in Spielberg.
It's in Rouge City that A. I. goes seriously wrong.  Part of this is Spielberg's attitude to sex, which for better or worse stays prepubescent here.  We get before and after sex moments with Joe, but that's it.  (There's an effectively creepy moment with a dead woman and Enrico Colantoni, though.)  Rouge City is meant to be the capital of decadence here, and it's done as a 12-year-old would imagine it, all neon lights but nothing sexual about it, like a Disney ride of 1970s Times Square.  (If that's in fact what Spielbrick was going for, good for them, but irony is usually lost on me.)  Another part is that the narrative stalls out with riddles and word games; again, perhaps Spielbrick means this as part of the fairy-tale style but it still means a scene of sitting and listening to Robin Williams as an animated Einstein.  (These were the years of Patch Adams, Jakob the Liar, and Bicentennial Man, when a Williams appearance in a movie pretty much guaranteed you wanted to claw your eyes out.  Insomnia, One Hour Photo, and Death to Smoochy were just ahead, though.)  Also, having Adrian Grenier show up with his buddies–his entourage, if you will–doesn't help, although it's historically interesting to note that he was an instinctive douchebro even then.
The film picks back up as Joe and David head to a flooded Manhattan (the Twin Towers are still standing) and Cybertronics.  When David unites with his creator, it's another classic moment of science fiction literalizing philosophy, even theology.  You can compare it to Roy Baty meeting Tyrell in Blade Runner, the creation meeting the creator and asking the question:  why was I made what I am?  And why do I suffer what I am?  William Hurt plays Professor Hobby so well here; he's proud of David but with the love of a scientist, proud of how David reflects his accomplishments.  (Hobby modeled David's appearance after his own, lost son.)  David can desire now, and that he suffers from that desire is a further reflection of how well he was made.  (Again:  the Author of the world is the Author of suffering.)  There's no comfort for David here and then it gets worse, as he walks through the designs of himself.  When David walks down a row of Davids ready for shipping, he's more isolated and lost than any other Spielberg and possibly any Kubrick character, even E. T., even David Bowman.  No matter how far from home those two got, they knew they were real beings.  Here, David finds out he's product; it's a replay of a similarly great moment in Toy Story, as well as the best summary and criticism of Spielberg's career.  He was always a creator of artificial beings that embodied wonder and innocence and then he monetized the living shit out of them.  David turns away from this world, jumps into the water (image of his body falling like a tear down Joe's face, and damn) and then the story really takes a turn.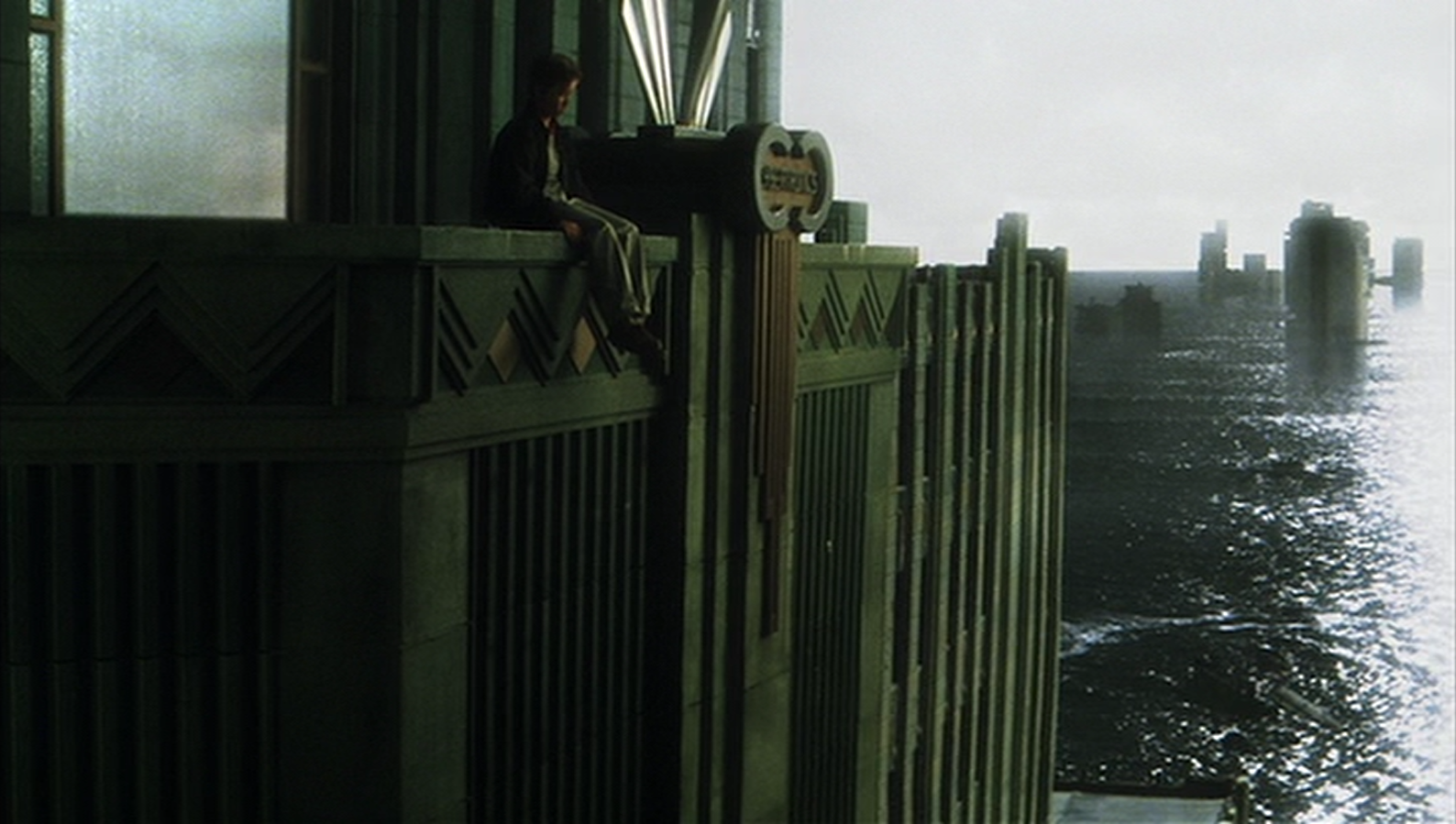 The films ends once, as David gets trapped underwater, praying to an image of the Blue Fairy Godmother in the drowned Coney Island, eternally frozen, his wish to be human never fulfilled.  And then. . .here come the aliens.  (IMDb lists them as "evolved mechas" but that doesn't alter their deus ex #feels status.)  I fully believe Spielberg when he says that the ending comes directly from Kubrick; he had a long history of stupid ideas for the ending of the films and getting talked out of them by his collaborators, and that didn't happen here what with him being dead and all.  Visually, the ending stuns; it looks like a realization of an early draft of the ending to 2001, and the aliens look like some of Clarke's descriptions of them in The Lost World of 2001.  (Something about the aliens' stances remind me of Randall Munroe's stick figures in XKCD, though.)  Narratively, though, it ends a film that's already ended and therefore can't help but be boring; a good rule for an ending is that it absolutely shouldn't make me check my watch.  Even if you accept it, Spielbrick feels the need to explain everything, right down to the crucial plot point of the lock of hair, in these last minutes.  (Seeing David's memories on the alien's faces:  good.  Subtitles for the alien dialogue:  are you fucking kidding me?)  It both stalls out the movie and insults our intelligence, and it's a problem so many Spielberg movies have.  He can be so good at suggesting things with images and then immediately undercutting them with the most literal explanation; literalism is the enemy of wonder.
The ending rights itself shockingly well in the last moments.  David's mom comes back and he has one perfect day with her, and then falls asleep.  The truest struggle within Spielbrick comes clear here.  Kubrick's best endings simultaneously acknowledged the universe's indifference (his word) and our ability to keep going in that universe.  Spielberg compulsively needs to stick happy endings on his movies, and they're the opposite of Kubrick's:  they continually assert that the universe is benevolent and will reward our characters.  (War of the Worlds may be the worst example of this.)  Spielbrick's ending here is a Spielberg ending, with the aliens as the force of benevolence, but he sets up strict rules and plays within them like Kubrick would.  This is the only possible happy ending for David:  one moment, held for all eternity, never to grow, never to learn, never to change.  (Also, the entire human race has died, so there's that.)  At the end, he becomes exactly what Professor Hobby said he would be at the beginning:  "a perfect child caught in a freezeframe, always loving, never ill, never changing" and he becomes that, forever.  He will never become a person.  It's Jack's fate in The Shining, but seen from behind those eyes.  The final shot is the most terrifying thing I've ever seen with the name "Steven Spielberg" on it:  a perfect Spielbergian vision of a suburban child, mother, and toy, with nothing around, the world destroyed, in a Kubrickian frozen forever.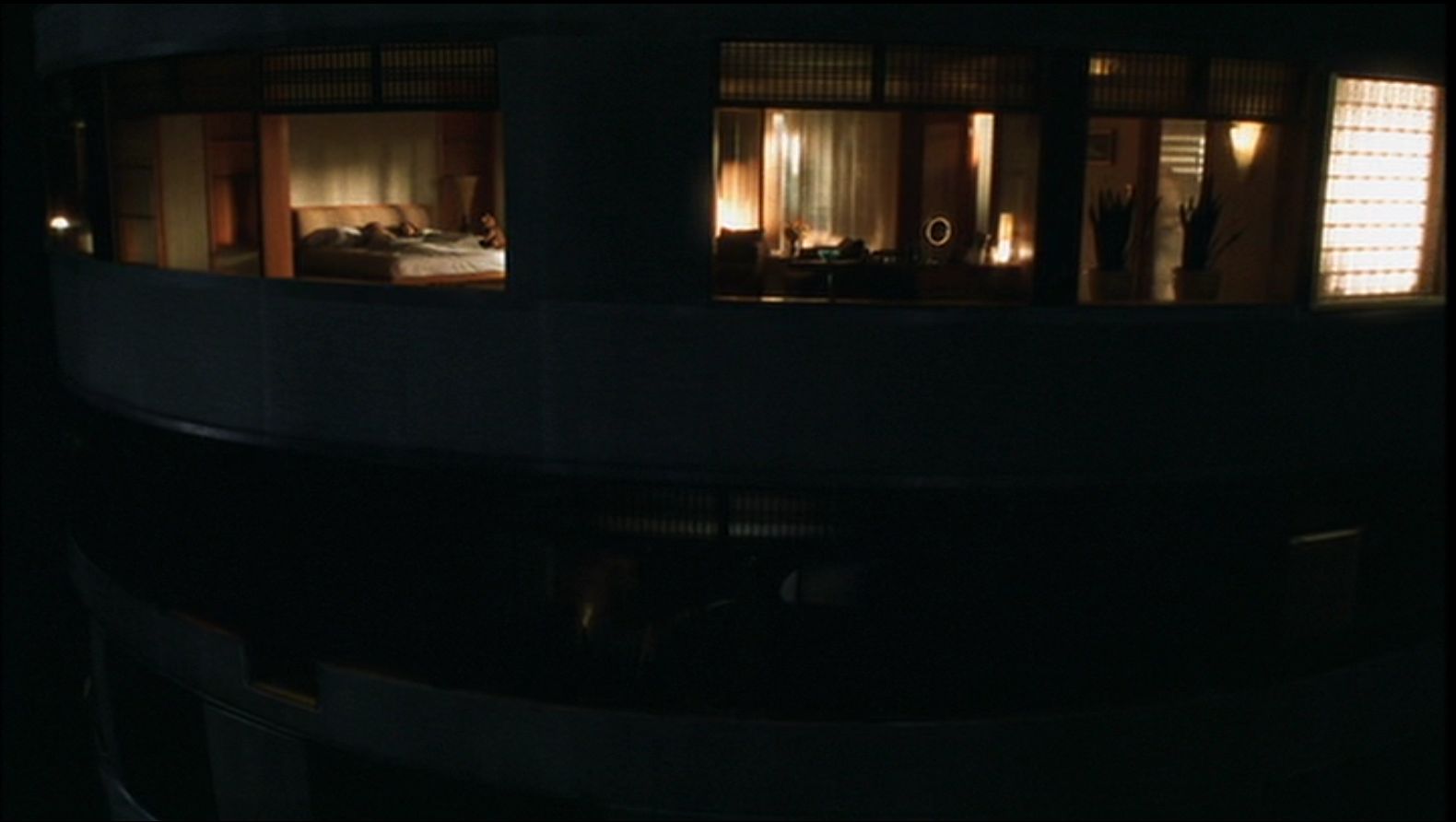 What came next for Spielberg, as Kubrick's spirit departed?  Morton Feldman said about the impact of John Cage "he gave me permission to do my work" and that's what Kubrick did for Spielberg.  Looking Spielberg's films of the 1990s (really everything from The Color Purple to here), they're mostly good films but they're works of duty, not art; they're the work of an artist who grew old without growing up.  If they needed to be made (whether as a social or a financial obligation doesn't matter), they didn't need to be made by Spielberg.  A. I. did.  Making this one liberated something in him, just as The Last Temptation of Christ did for Scorsese and Schizopolis did for Soderbergh.  After A. I., Spielberg went on the best, most joyful, and strangest run of his career, making Minority Report, Catch Me If You Can, War of the Worlds, and Munich, all films that got back to his love of narrative, his energy, and best of all his instinct for the utterly strange, like Tom Cruise chasing an eyeball down a hallway.  The singular, strange, clumsy A. I. became its own fairy tale, that of the boy who finally did what C. S. Lewis did: he "put away childish things, including the fear of childishness and the desire to be very grown up."  Whether or not it was real–no, it was real, whether or not it was literal–the spirit of Stanley Kubrick took on one last, difficult collaboration (he did so many while he was alive, why not one more?), a great, singular artist showed another the way back to his own singular greatness, and a movie that ended in an eternal stasis demonstrated the eternal life of those who create.
Spirits do exist.  Death does not end all things
And the pale ghost, victorious, escapes the flames. (Sextus Propertius)
Previously:  Eyes Wide Shut (1999)