"But Miles, meaningful relationships between men and women don't last. That was proven by science. You see, there's a chemical in our bodies that makes it so that we all get on each other's nerves sooner or later." -Luna Schlosser (Diane Keaton), Sleeper
The Narrator: I am only a recent Woody Allen convert, but I like to believe I've made up for time with the sheer devotion of my fanaticism. I own a majority of his movies on home video, even when there's little reason to do so (hello, September DVD that I watched once and will never return to again), I rewatch my favorites (as I am writing this, the Blu-Ray of The Purple Rose of Cairo is paused on my TV), and obsessively search for books by and about him (Without Feathers is practically the Bible to me). But while I still have a few films of his I need to see (mostly for concerns about quality), I think I can say that Woody Allen has never made anything like Husbands and Wives, and he never will again.
A little context, first. Husbands and Wives was Allen's third movie made in the 90s, and in many ways, the end of an era. It was his first movie since his very first not distributed by either United Artists or Orion (Orion went bankrupt before Husbands and Wives went into production, and he signed a deal for TriStar to distribute it instead), and his last to star Mia Farrow (for obvious reasons). Even more than a departure in general, it was a massive departure from the two films he made earlier in the 90s. Those two both skewed fantastical, perhaps as a reaction to the bone-dry seriousness of his last few films in the 80s. The first one, Alice, is a charming little movie about a pampered New York housewife who gets a series of herbs that turn her invisible, help her see the ghost of her dead first love (Alec Baldwin), and make her act on her feelings for the single-father jazz musician (Joe Mantegna) she has fallen for. The only way this movie is particularly relevant to a discussion about Husbands and Wives is Judy Davis's role (her first for Allen) as Mantegna's ex-wife (she certainly doesn't get nearly as much of a showcase there as she does in Wives). It rather strangely was nominated for an Oscar for Best Original Screenplay, and then Allen moved onto Shadows and Fog, a much more ambitious undertaking, a German Expressionist homage filmed in the largest set ever built in New York. It involves a seemingly superhuman serial strangler (although he does dabble in cutting people's throats), circus performers (including John Malkovich as the struggling artist so common to Allen movies, except he's a clown), an all-star collection of prostitutes, and a typically nervous Woody Allen character, all tied together with some sumptuous black-and-white cinematography (figures that Allen would go from one of his most visually mannered movies to his least visually mannered movie). Then came this movie to give everyone whiplash, but before we get to that, I want to get your take on all this. I know you run hot and cold on Allen (there's a reason this conversation isn't about Crimes and Misdemeanors), so what are you feelings on those films or really any and all of the movies Allen made prior to this one?
wallflower:  My experience was almost the opposite of yours:  Woody Allen, and the culture he so embodied, was what I grew up with; I knew what a Woody Allen Film was like before I ever saw one.  I'm the son of a man whose identity could be called "New York intellectual"; I grew up in the kind of homes that you see all through Allen's films, including Husbands and Wives (New Yorker magazines on the coffee table, tall, fully loaded bookcases everywhere, current hot literary property lying around–here it's Harold Brodkey's massive first novel The Runaway Soul, jazz and classical music playing, parties with everyone in business casual and their wineglasses) and with that unique combination of intellectualism, romanticism, and self-deprecation that Allen did better than absolutely anyone for about twenty years running.  I knew the attitude before I knew any of his films; it was as part of my life as easily accessible and as present as Lake Michigan.
I tracked his work all through the 1980s as I become more conscious of film.  I'm pretty sure my first Allen film was a late-night TV broadcast of Play It Again, Sam, and I caught several of his films throughout the decade, going backwards and forwards–Bananas, Sleeper, Annie Hall (which I loved for its sheer flexibility in narrative), Stardust Memories, Hannah and Her Sisters, Crimes and Misdemeanors (we all have at least one film where we disagree with everyone, and that's one of mine), The Purple Rose of Cairo, Broadway Danny Rose, "Oedipus Wrecks," Zelig.  (It's entirely possible I saw Interiors and/or September and completely forgot about them.)  As Tasha Robinson said, there was a time when you looked forward to a Woody Allen film, as something reliably smart, funny, and sophisticated, the way you'd get a new book by John Updike.  Read many of the books, too, dipping in and out of Without Feathers and other works.  I remember liking just about everything I saw, but never once being blown away until Husbands and Wives.  You're right that he's never done anything like this before or since, and I discovered something when I checked his IMDb page:  after seeing Husbands and Wives, I never saw another Allen film.   (I saw Barbara Kopple's 1997 documentary on his jazz tour, Wild Man Blues, but that can't really be considered "his" film.)  It's the best film I ever saw from him, and it ended something with me.
The Narrator: It does feel very final, in a way. What I've noticed with the films made after this is that they tend to be more visually no-frills than the excesses of the Gordon Willis or early Carlo Di Palma years. You likely wouldn't walk out of Hollywood Ending and think "Wow, that was really well-directed" (there have been recent Woody movies that have been well-shot, especially the Zhao Fei and Darius Khondji movies, but that's not the same thing). It's as if this movie took something out of him as a director, he got this all out of his system and all he wanted to do was finish his movies and go home afterwards so he won't miss the game. His next movie after this, Manhattan Murder Mystery, feels like a fun run more than a proper follow-up, something designed to blow off a little steam after the emotional wrecking ball of this movie. It's a very fun movie, but it feels like a stylistically similar b-sides collection included on the bonus disc of your favorite album (the Zooropa to Husbands and Wives' Achtung Baby, if you will, and that's not a diss on Zooropa or Manhattan Murder Mystery), and most of the movies that come after have the feeling that Allen has put his audiences through enough already, and now he's gotta make 'em smile again.
This also feels like the grand finale of many of Allen's most well-worn tropes. It's like Allen had been specifically cataloging all the archetypes he had come back to over his 25-year career, and then he made it his mission to destroy each and every one of them with this movie, as if it was a suicide run. There are very few ingredients here that haven't been featured before in an Allen movie; infidelity, Woody romancing a much younger woman, self-destructive romance (I'm thinking of Charlotte Rampling in Stardust Memories, particularly that heartbreaking scene that portrays her breakdown solely with a close-up of her face and some unnerving jump cuts), even the documentary framework. And yet, it really does feel like no other Allen movie, because the way he executes those tropes with a force that he hadn't before. For me, the movie's approach to all these archetypes is summed in the character of Sam (Lysette Anthony), Jack (Sydney Pollack)'s new girlfriend after he leaves Sally (Judy Davis). Often, Allen likes to include a dim-bulb in his movies, a character who knows nothing of Bergman or Antonioni or Marshall McLuhan's work (increasingly, it's been a woman in that role, like Mira Sorvino in Mighty Aphrodite, Lucy Punch in You Will Meet a Tall Dark Stranger, Jennifer Tilly in Bullets Over Broadway). This character is generally there to be laughed at for their inferior smarts or knowledge. Sam starts out that way, as an astrology-obsessed philistine who thinks that King Lear is named King Leo and who thinks she's outsmarted Ran by saying, with all the conviction in the world, that Shakespeare wrote in English, not Japanese (one of my all-time favorite Allen jokes, and in one of his dramas, no less). But who's laughing when she embarrasses herself in front of Jack's friends and Jack drags her into their car, while she's literally kicking and screaming for help (the world is a better place when you imagine any Oscar Sydney Pollack received for Out of Africa was actually retroactive recognition for his delivery of the line "Get in the car, you fucking infant")? Allen has a reputation of being his own toughest critic (which mostly comes about because he isn't bowled over by Annie Hall or Manhattan like the rest of us are), and this movies feel like the work of an Allen watching his old movies with a chainsaw in his hand (adding to this interpretation, Husbands and Wives is one of Allen's favorites).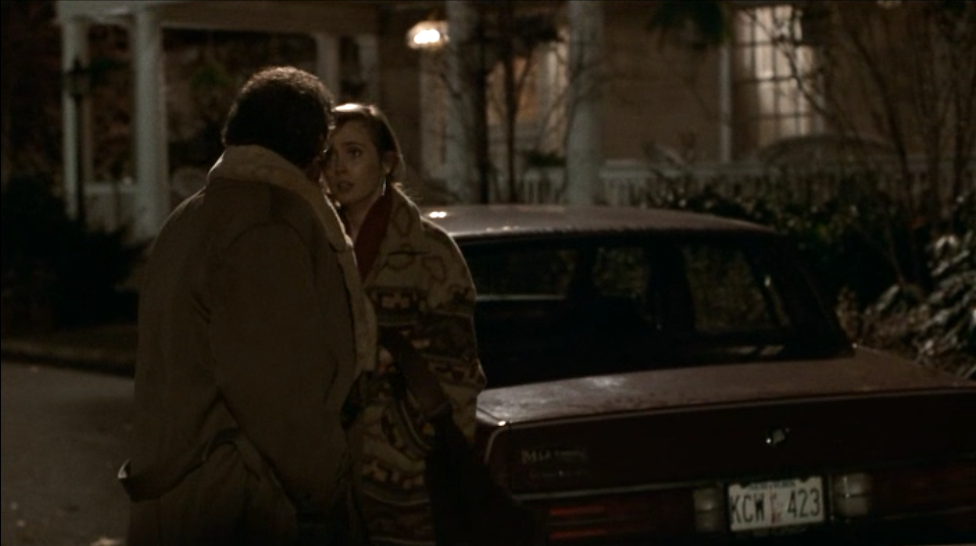 wallflower:  It's that force, that rawness, that distinguishes this from all other Allen movies.  We had both been remembering that scene when we set out to do this, but that raw emotion is there from the first moments of the film, when Jack and Sally announce to Gabe and Judy (Woody Allen and Mia Farrow) that they're divorcing.  It starts as a light, bantering scene as Jack and Sally come in, take off their coats, Jack and Gabe discuss where they'll eat, and then the scene turns ugly, as Gabe and Judy get more and more angry with them ("I'm appropriately angry," she says), more possessive, Jack and Sally keep trying to shrug it off, and it just gets worse and worse.  The aftershocks continue into the next scene, as Judy gets more and more worried about Gabe and there are doubts and worries flying everywhere.  What started like all other Allen films–well-composed in image, acting, and dialogue–has turned into something ugly and awkward, and it's gonna stay that way to the end.
That scene with Jack and Sam at the party–yikes.  It's ugly even before we get to the car.  Look at how it's staged and played:  Sam sitting, surrounded by three of Jack's friends (all older, all standing–they're literally talking down to her) and they're trying to get her to prove astrology, and she doesn't have the resources to do it.  There's no listening going on in this scene (there's really no listening throughout the whole movie), no attempt to find out what Sam thinks, just people who want to bully her into admitting they're right.  (They're doing this to a guest, for fuck's sake.)  There's an incredibly revealing moment when one of them says "I would love to get you together with my babysitter, she doesn't know anyone in New York" and Sam's so enthusiastic about that.  From Jack's and the guests' and I suspect Allen's perspective, babysitters are just people from another world and this is a way to get rid of Sam, but there's a possibility of a real connection there, something more than just the intellectual one-upmanship, and it gets discarded.
Jack finds out that Sally has been seeing Michael (Liam Neeson) and he just switches into rage, dragging Sam out of the party.  Has there ever been a scene like this in a Woody Allen movie?  It's not funny, it's not high drama, it's not poetry.  It's assault, and maybe the scariest thing about it is the party guests don't notice until the very end; I suspect it's Jack crashing into the cars that does it more than Sam's screams.  Allen's lack of interest in anything outside his own world has been there all through his career, but this scene, more than anything else, feels like we're standing outside that world and looking in on it, and it's horrifying.  All respect to how Anthony and Pollack commit to this scene; they're both fearless in showing Sam's desperation and fear and Jack's viciousness.  (Pollack always had one of the most necessary qualities for an actor:  an absolute absence of the need to be liked.)
That scene gets played out again between Gabe and Rain (Juliette Lewis), the student he's romancing (while trying not to admit to himself he's doing it).  She's an aspiring writer in his class who got his attention with her story "Oral Sex in the Age of Deconstruction."  (I think I laughed at that in 1992.)  Gabe has given her his novel-in-progress to read and she begins by praising it, but on a long taxi journey (the manuscript was lost, then found, and they're going to pick it up), he keeps insisting that she tell him what's wrong about it, and she starts doing just that.  The camera never leaves her face, and her criticisms become more and more like criticisms of Allen's body of work ("the way your people just casually have affairs like that. . . .The way your lead character views women, it's so retrograde, it's so shallow") and Gabe responds with whining (I'm not sure I've ever heard Allen sound so pathetic) and then arguing–not even arguing, but denying she has any right to say these things:  "I don't need a lecture on maturity or writing from a twenty-year-old twit."  He's not physically assaulting her, but he's trying to tear her down because she's not revering him anymore–and later, he says that's when he first became attracted to her.
The Narrator:  You mention the camera never leaving Rain's face during the cab scene, and that actually wasn't originally intended by Allen. He originally tried to fit both Gabe and Rain into one shot, but they both thought that shot looked ugly, so they did it with two cameras for Allen and Lewis, but the angle on Allen disfigured his nose, so he finally decided to just keep the camera on her the whole time (his thought process on this, according to his book of conversations with Stig Bjorkman, was "So then I thought, she looks pretty. Why don't I just leave the camera on her?"). But it works in a way that doesn't normally come for last-resort shots. It's entirely Rain's scene, regardless of what interjections Gabe has to say, so there's no particular reason the camera needs to pay attention to him when she's the one moving this scene forward. But even more than that, the lack of cutting (aside from maybe one jump cut) works because, in any movie, cutting suggests some brief passage of time, even if it's just shot-reverse-shot. It's comfortable, because it's subconsciously telling the viewer that time is moving at a nice pace. Here, it feels like an eternity from when Rain starts talking to when she stops because those nice cuts that assure us time is moving forward are missing in action, and it feels like we're watching this escalating fight in real time, which is much a slower beast than movie time.
A scene that you didn't mention was Sally's first post-divorce date with a colleague from work. The guy wants to take her out to see Don Giovanni and eat dinner with her, and all is fine and well, then Sally asks if she can use his phone, and she calls Jack and confronts him over who she perceives to be his mistress. At first, she tries to remain at least a little bit civil with her date, but as she keeps screaming at her cad of an ex-husband, she loses all concern about hurting this schmuck's feelings ("It's a Don Juan story, isn't it? Somebody should just cut their fucking dicks off" are her words about the opera). As with the cab scene, there's very little coverage here (the shot goes on for a Lubezkian length, if you will), and there's nowhere to hide for the viewer, for her date, or for Jack. And her date is never seen again, his probable trauma at being a piece of collateral damage during Jack and Sally's endless fighting relegated entirely to the viewer's imagination.
And then there's the sad saga of Michael. Michael is painted as an old-school romantic, a handsome guy with an Irish brogue, and a fondness for kissing in the rain and crying while reading Yeats. What we see of him suggests that he's a reasonably nice guy, someone who bends over backwards to accommodate even the most hateful person he sees. In this movie's universe, he is as lost as Tom Baxter (Jeff Daniels' character in the "fictional" sections of The Purple Rose of Cairo) in the real life, a matinee idol trapped in a John Cassavetes movie. Like Sally's first date, he's subjected to a fight between Jack and Sally (this time with the former actually there with them), although he has it even worse, especially when Sam walks in, having been left in the car (they drove straight from the party to Sally's house without so much as a stop at Sam's place) while her boyfriend goes to argue with his ex-wife. And then as the final indignity, when he calls it off with Sally, he ends up with Judy, or, more like it, Judy passive-aggressively twists him into ending up with her (when Judy's first husband offers dire warnings about her ways with him and Gabe, he only musters the bare minimum of a convincing argument to pass by Judy, who's sitting right next to him). He's next in line to have his soul crushed and end up being awful to everyone around him when Judy inevitably leaves him for someone else. It's a horror movie ending, all the more so because it's at the margins for much of the movie, Allen allowing the viewer to imagine the horror themselves.
wallflower:  If we keep talking about awful scenes in this movie, we'll recap the whole thing; it's one awful scene after another after another.  (Neil LaBute was taking notes, I'm sure; Your Friends and Neighbors ends with a version of the Michael/Judy final scene.)  I'll add one more:  the scene where we see that Jack and Sally are back together.  They're with Gabe and Judy at a small table in a restaurant (with the omnipresent wineglasses) and Sally tosses off a mention of Sam ("how long can you discuss physical fitness and the zodiac?") and everyone just chuckles.  She never was anything to Jack, or any of them, and she was never going to be; she was a minor plot point in his life and in the film–they've already reduced her to a one-liner.  At first I found it insulting, the way we see nothing of Sam and how she feels, but on reflection, it works.  Allen had no interest in her either; if he showed her, it would only be to make one more joke about her.  Earlier in the film, she says "I need some ginseng," and it's structured like a punchline, coming into a conversation with with no cue and serving as the button on a scene, transitioning us into the next scene where Gabe and Jack have a Serious Conversation.  (Allen cannot imagine someone who actually purchases ginseng.  If she said she was getting a Louis Armstrong recording, there would have been some conversation about that.)  As with the Michael/Judy ending, as with Sally's date, we're left to imagine her, and to see the cruelty of everyone else.
It's interesting what you said about the decision to never leave Rain's face, because it connects to the look of the film, different from all other Allen films.  It's not just the documentary format, but the use of handheld cameras and decisions like that made on the fly.   Probably the strongest use of the style comes in the Sally/Michael/and then Jack/and then Sam scene you just mentioned:  the handheld style means that even when the camera's focusing on one person, there's a sense that it could shift to anyone else.  It's a style well-suited for this feeling that anything can happen and it's not gonna be good, and it's the scene that has the strongest anticipation of The Shield, where this style was perfected.  Allen's other films always had this polished surface, like a nineteenth-century novel; they assure us that no matter what happens, everything will be described in an elegant and artistic fashion.  (Which is, briefly, my problem with Crimes and Misdemeanors.)  Here, for the first time in his career, I got the feeling from Allen of emotions and actions that were not appropriate, to use Judy's word.  They can't be contained, not by humor or philosophy or elegant music or references or a guest appearance from McLuhan or camera techniques.  (That scene you mentioned in Stardust Memories always felt to me like Allen was trying to distract us from the power of Charlotte Rampling's face.  The scene with Rain in the cab here does the opposite, enhancing the power of Juliette Lewis' face.)  Like another great film from 1992, Reservoir Dogs, every moment feels charged with an unprecedented sense of danger; every moment feels like it has the potential to turn into Jack and Sam outside the party.  Something as small as the detail of casting Ron Rifkin as one of Rain's lovers contributes to that; Rifkin has such a threatening presence–dude was the Big Bad of Alias for all five seasons–that when he shows up for his only scene, it's like James Caan wandered in from Thief.  He creates a genuine sense of menace, of "I don't care how many goddamn college degrees we have, I will throw down with you right the fuck now."
That feeling of danger extends to the lead performances.  I've always found the performances in Allen's films to be good, but never memorable.  His actors play characters, but don't create them; there's no one in Allen's films that has the iconic presence of the Dude, or Natasha Richardson's Patty Hearst (my favorite performance in all of film), or anyone played by Philip Seymour Hoffman.  (Although "Allen's casting choices could double as time capsules for which actors were bubbling up at the time of the film's production," he never worked with Hoffman.  You can see why:  when you cast Hoffman, there was the risk that something unavoidably real would happen.)   The only exception would be Allen himself, playing basically the same character in every film, until he assigned that role to younger actors (Kenneth Branagh, Jason Biggs, Will Ferrell, Larry David).  Husbands and Wives, though, has some of the best performances in the entire Allen filmography, and they're all by the women.
Judy Davis gave the best-known performance here, deservedly nominated for multiple awards.  She had her breakout with David Lean in A Passage to India and was in the middle of a great run here, just after Barton Fink and Naked Lunch with The Ref and The New Age (my favorite Davis performance) coming up.  She plays here the most hyperbolic version of the essential Allen character, the neurotic, hypercritical intellectual, so caught up in her own mind that she free-associates herself out of having an orgasm.  (Another scene that works because the camera never moves off a face.)  She's perfect for this role, and vice versa.  Davis is one of the fastest actresses I've ever seen; she seems to shift her entire expression in the twenty-fourth of a second between film frames.  You can see everything, especially her heartbreak and despair in the instants when she knows she's sabotaging herself, and she can't help it.  What makes her character and performance so necessary here is that Judy embodies the characteristics that doom everyone; she's not the bad woman here.  No one here can stop criticizing or defending themselves for a moment, it's just clearest with her.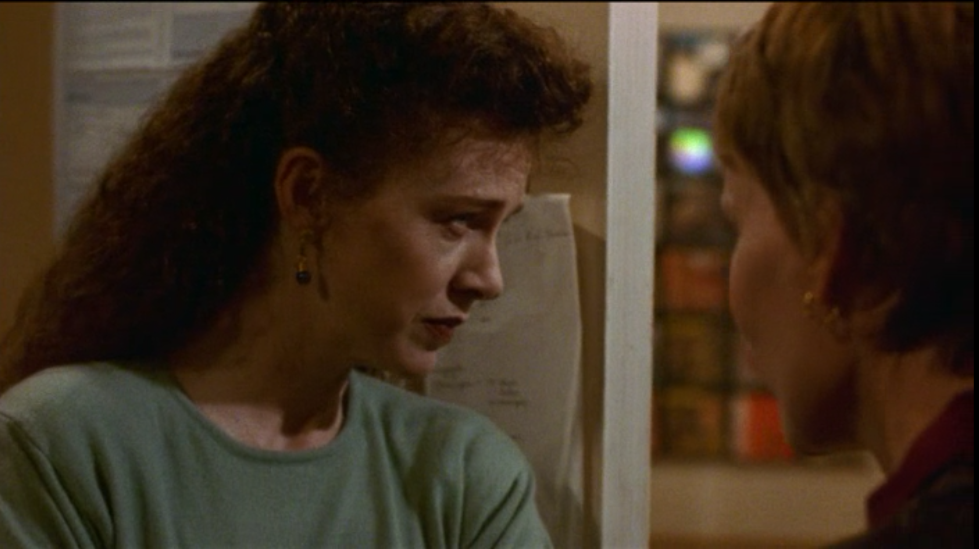 In contrast, Mia Farrow plays Judy with much more stillness and lack of expression, and it's just as compelling a performance.  She has the grace and bone structure of Renée Falconetti as Joan of Arc, but she has just as much damage as everyone else.  Her stillness isn't calm, it's the passive-aggressiveness that her first husband and you noted; Judy doesn't act, she asks questions and stays still and waits for you to come to her.  (That's how you train a dog.)  It's not a performance that asks for sympathy, but there's enough mirroring of Gabe's tone of voice, behavior, even clothing (she buries herself in plaid and sweaters) that we can feel that living with him so long, and knowing that she wasn't the great passion of his life, has done this to her.  How much of that is acting and how much of that is who Mia Farrow was by this point is left as an exercise for the reader.
The standout performance, and one I didn't appreciate until now, comes from Juliette Lewis.  She's as mercurial as Davis (she never stops touching her hair and face the same way Davis never stops changing expression) but there's a core to her that the other characters don't have.  Unlike everyone else, Rain goes by intuition rather than reason; in that scene in the cab, we can literally see her figuring out what she's trying to say, and growing more confident as she realizes it.  The button on that scene has her saying "well I'm worth it," and there's absolutely no doubt there.  (We don't track her character; certainty is an alien feeling in Allen's universe.)  She plays a very young woman who's first realizing her power with (not over) men, and isn't fully in control of that power–which means she isn't fully not in control of it either.  She's had three affairs with way older men (my vote for the funniest scene in the movie is after she tells the story of all three, ending with Rifkin as her analyst, and Allen cuts back to Gabe's face with a goggle-eyed what-the-actual-fuck expression), but she isn't the teenage temptress, and she isn't anyone's victim.  Watch her in the last scene with Gabe, as she asks for a birthday kiss–she's absolutely the one in control there, it's about what she wants and her agency.  (If you have any doubts about that, imagine the scene with Rain and Gabe swapping their dialogue.)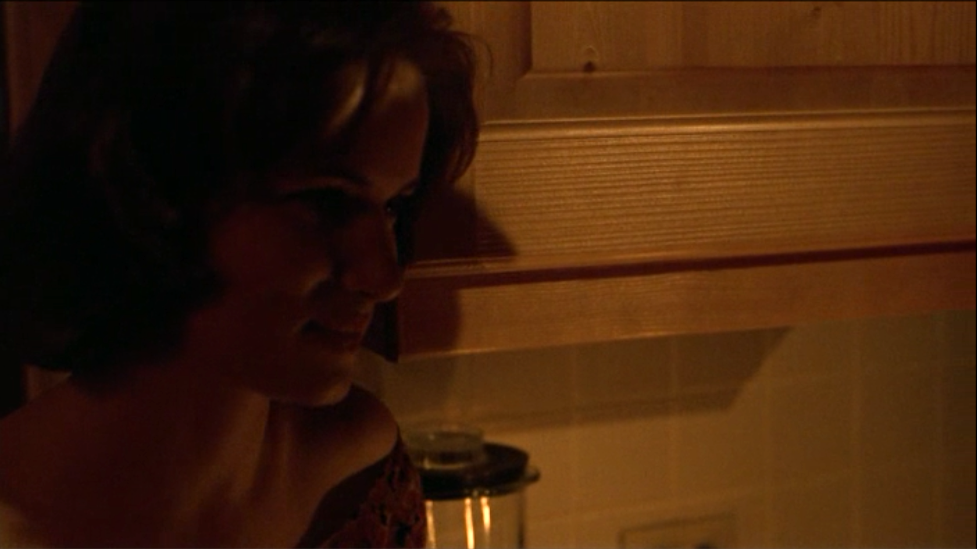 My best sense of Rain is intertextual:  jump forward five years, and she'll have put these affairs with older men in her past.  She'll be making her way as a young writer, and maybe she'll fall in love with someone unexpected who will judge her past rather than accept it.  She would be Alyssa in Kevin Smith's Chasing Amy (1997), and you know if anyone told her "those guys fuckin' used you!" she'd throw right back with "NO! I USED THEM!"  That's a moment that has the reality and the rawness and the pain and the camerawork of Husbands and Wives, and that may be the highest praise I can give Woody Allen.  Like Alyssa, Rain knows the story of her life belongs to her, and no one else.  She's the only one in the movie that I hold any hope for.
The Narrator:  What makes this movie even stronger for me is watching it next to its semi-predecessor, Scenes From a Mall, which, put bluntly, is Husbands and Wives for stupid people. The ingredients are there; couple's marriage unravels in a series of devastating fights in front of innocent bystanders, the Woody Allen character is having an affair, etc. But where this movie is uncompromising to the point of resembling a horror movie, Scenes From a Mall seems intent on finding ways to chicken its way out of that kind of turmoil. He just told her about his affair, but don't worry, there's a mime behind him mimicking his every movie, so it's alright! Look, black people rapping! It doesn't help that Paul Mazursky's direction is pedestrian in all respects, not the subdued, classy camera moves of Allen's previous movies, but just blandness all around. And whatever jabs it takes at California are facile and shallow (look, they're on their phones so often, what an original satirical gag that is!). It's exactly like this movie, if you squint your eyes and hit your head at the same time (although this movie is sorely lacking in people "seeing Salaam Bombay.")
What struck me about the movie's cinematography on this viewing is how it's not entirely a whole new thing for Allen; it's simply a much more aggressive version of Allen's preferred look for his movies (but that aggression is what makes its similarities harder to find). The color scheme and lighting is largely derived from the Sven Nykvist movies (Crimes and Misdemeanors and Another Woman, although not the Nykvist-shot Allen short film "Oedipus Wrecks"), which preferred slightly darkened lighting and an orange-brown color scheme. Husbands and Wives largely sticks to this pattern (nobody dresses in this movie with much more pizzazz than reddish brown or greenish brown), like it's keeping at least one connecting fiber with the previous movies so that it's at least moderately recognizable as a Woody Allen joint, or maybe it's just trying to lure the viewer into thinking that this is just like any other Allen movie (look at the color scheme you love!), at which point it makes sure the knives really come out.
As for your observations on the actresses; yes, yes, and yes. For all the complaints Allen gets about romancing younger women in his movies, his casting of these women never allows them to simply be "that young girl Woody presumably wants to screw". For all her initial naivety and fragility, Tracy in Manhattan seems, at the end, to be well on her way to becoming Rain, who seems well on her way to follow the path you outline. Both are the only ones particularly worth salvaging in either movie (hell, this movie might as well be named Manhattan 2: What Happens When People Stop Being Polite and Start Getting Real).
You talk about not knowing what's Judy and what's Mia Farrow in the performance, and while, for the most part, we don't, Gabe and Judy's final scene together, at least, was done after Farrow had found about Soon-Yi and after she had broken up with Allen over it. I can only imagine the strength that it took to come back and face him after all that, especially when the scene she had to shoot is one as shattering in its finality as their last scene together (there's no fighting there, no yelling like Jack and Sally, just small talk and futility). Her delivery of "It's over, and we both know it" is delivered with the sensitivity of "Honey, your fly's open", and after all that emotional turmoil, it hits even harder in its quiet form for the viewer, and probably for them too.
wallflower:  Yeah, there's such a range of ways in which this film lands its despair; it's not just Jack assaulting Sam, it's that kind of quiet and absolutely final ending too.  And that's a good point you've been making all through here about how this looks like another Woody Allen movie, and then it becomes something else.  In terms of his career entire, this is Allen's Punch-Drunk Love.  In the same way as that masterwork, Allen tells the same story he's always told about the characters he's always cast, but from a step back, without the sympathy and the veneer of humor, and what's there now is something raw, damaged, and occasionally very, very scary.
What happened next for Allen's career strengthens the analogy with Punch-Drunk Love and Adam Sandler.  Steven Soderbergh with Schizopolis, Martin Scorsese with The Last Temptation of Christ, and Steven Spielberg with A. I. all made movies that were as deeply personal, and as deeply disturbing as this one in their own ways.  Hell, Soderbergh also went through a divorce (although it wasn't the scorched-earth disaster of Mia and Woody–what could be?) and cast his ex; Scorsese went right the to core of his faith with his movie; and AI still seems to me the result of some kind of ritual soul-merge of Kubrick and Spielberg.  (I am not remotely kidding about that last one.)  And all three of those filmmakers went in new, different, and the most rewarding directions.  Allen didn't; there was no Out of Sight or GoodFellas or Munich ahead for him.  As I got the sense from everything I've heard, and as you know, he never did anything like this again.
Knowing that, the end of Husbands and Wives shifts from "bleak" to "devastating."  Watching it, I kept wondering who was making the documentary?  Who is that voice supposed to be?  It's not quite analytic enough to be a, well, analyst, not knowledgeable enough to be a journalist, not intimate enough to be the superego.  I think the key is Gabe's line "my heart does not know from logic" (so close to Allen's famous line about Soon-Yi:  "the heart wants what it wants"):  the documentary voiceover is reason, nothing deep about it, just that voice in one's head that asks "then why didn't you stop yourself?" or why do you listen to a stranger over a spouse?  And in that last conversation, Gabe has ended up alone, and for the first time, I felt like someone in the movie learned something; for the first time, I saw Woody Allen as mature.  He says he's writing a new novel, "less confessional, more political," and pause on that for a moment.  Gabe's earlier work felt like it was in what David Foster Wallace called the tradition of "Great Male Narcissists" of American literature–Updike, Norman Mailer, Philip Roth (Gabe seems to have about Roth's level of fame)–the ones who were forever writing about themselves and the pressures they faced and their existential anxieties and of course, about their dicks.  Writing a more political novel would break with that–it would at least push Gabe towards writing about others, about engaging with issues bigger than his own despair.  And then Gabe stops, says "Can I go?  Is this over?" and we cut to black, and the film is in fact over.
Like you said, it feels so final, in a way no other ending in his work does.  I usually avoid autobiographical/psychological readings, but here it seems like there's no way to do that; and a lot of us first learned about Freud through Allen, so it's his own damn fault.  Husbands and Wives is the manifest dream of Allen's affair with Soon-Yi Previn and divorce from Mia Farrow.  In Freudian terms, the manifest dream is the one you have to cover up the trauma you can't face (that's called the latent dream).  By trauma, I don't mean Allen was the victim (he wasn't) nor do I think he should be pitied (I don't); I mean only that what he did was unlike anything he'd done before; it could not be understood.  Iris Murdoch sez "when comedy fails what we have is misery, not tragedy."  In Husbands and Wives, everything Allen ever used–comedy, intellectualism, philosophy, romanticism, music, New York, technique, metafiction–failed, and he was left with the most despairing work of his career, and the most powerful.
The ending, then, feels like a turning away from what was revealed in Husbands and Wives, and now his entire career feels like that to me, like a large-scale defense mechanism.  At the end, Gabe has that brief moment where there's the possibility of engaging in a bigger world, what Wallace called "having loved something more than yourself," and then he turns away.  Keeping the psychoanalytic terms going, Husbands and Wives is the latent dream that all of Allen's other films are trying to deny.  Watching it was like watching your smart, witty friend suddenly shift into vicious but still articulate rage, and afterwards, the smarts and the wit don't ever feel the same again, because you know now the rage was always there.  In Allen's career, it's the Punch-Drunk Love and it's also the "Homer's Enemy," the Simpsons episode about Frank Grimes (or "Grimey," as he liked to be called).  After Husbands and Wives, Allen's (and his characters') neuroses and obsessions and defenses aren't cute or funny or romantic or philosophical, they're fucking toxic, and I want nothing to do with them.  I'd feel differently if Allen went in the direction of Soderbergh, Scorsese, or Spielberg, but as you said, he went backwards from this and kept on with the same stories, characters, and imaginary landscapes that he'd always had.  Like all great artists, Allen created not just a body of work but a particular world, and with this film he revealed what was so broken about it.  As I said, I knew that world, and after this film, I left because I didn't want to be part of it anymore; I decided that if I'm at the party, I don't want to be talking Mahler or be self-deprecating or anxious about my relationships, no matter how elegant or witty or profound that could be, and I don't want to be around the people who are doing that.  I want to find the Sam there and listen to her.